Boston High School:

Mike O'Keefe
April, 29, 2013
Apr 29
10:40
PM ET
By
John McGuirk
| ESPNBoston.com
BILLERICA, Mass. -- Baseball is not a game that allows much time for reflection -- good or bad.

On Friday, Chelmsford was on the wrong side of a gut-wrenching, extra-inning loss to BC High. Such defeats usually have coaches wondering aloud about the overall mental state of their team's psyche after such a calamitous loss. Lions coach Mike O'Keefe was no exception.

O'Keefe's Lions returned to action Monday with a task equally as difficult as the one they encountered a short 72 hours prior. Against unbeaten Billerica, Chelmsford knew they had to get to get the bats off their shoulders to have any chance. The Lions also understood what a victory over their border rivals would do for their spiraling confidence.

Chelmsford rode that premise all the way to a 14-6 victory at Hall of Fame Field, after scoring nine runs in the third and adding five more in the fourth.

"One of the things we preach all the time here is you learn from the past but you can't live in the past," O'Keefe said. "You learn from it, you let it go and you move on. We did that today. Our kids came out and swung the bats very well today. I know these kids have confidence in themselves but it has been lacking a little bit of late. Hopefully a game like this will improve our confidence a little more."

Falling behind 1-0 early, Chelmsford (6-3) took things over for good in the third by sending 13 batters to the plate. Billerica starter Robert Gambale was effective in his first two innings on the mound, but got punched around in the third as he allowed nine runs on nine hits and the Lions grabbed a 9-1 lead.

An RBI single off the bat of Mike DeDonato (3-for-4, three RBI) followed up by a run-producing triple from Russell Olive gave Chelmsford a 2-1 lead. The Lions bats, which finished with 16 hits overall, continued to pelt Gambale in the inning. Matt Rabbito doubled in Olive. Moments later Rabbito came around on Mike Rosa's line single. The assault continued after Chelmsford loaded the bases. A fly out produced another run and DeDonato returned to the batters box and promptly blasted a two-run triple off the fence in right field.

"We knew coming in this was going to be a big test for us," said DeDonato, a junior. "That's a great team we played and we knew we needed to come out swinging or else they would've put us away. Today we swung the bats well."

Reliever Chris Murphy took over for Gambale with two outs in the third, and was able to stop the bleeding for the time being. But entering the fourth, the junior righty wasn't as fortunate. Murphy open things by issuing back-to-back walks and serving up a soft single to load the bases with nobody out. That set things up for sophomore Ben Sauter (three RBI), who drove in a pair with a hard single to right to make it 11-1.

Before the inning was over, the Lions plated three more courtesy of a Jack Campsmith single, a pass ball and an RBI single by Tommy Bishop, extending the lead to 13 runs.

The Indians (8-1) mustered a mini-comeback against Chelmsford right-hander Quinn Cooney in the fifth on the strength of a two-run double from Alec Mattar and an RBI single by Max Frawley. Billerica added single runs in the sixth and seventh innings but the deficit was much-to deep to crawl out from.

"It was great to see them battle back," Indians coach Joe Higgins said. "Even though the score was so lopsided they never quit. This was just a stinker for us today. Hopefully it's a wake up call. I hope these kids now realize they need to bear down and know they need to play every game hard right from the beginning."
April, 26, 2013
Apr 26
11:35
PM ET
By
John McGuirk
| ESPNBoston.com
CHELMSFORD, Mass. -- Norm Walsh thoroughly understands the importance of depth. The longtime BC High head coach is cognizant of the fact that you can never have enough of it when the situation calls for it.

On Friday, Walsh summoned two players from his deep bench who, in turn, performed remarkably in helping lift the Eagles to a thrilling 4-2 extra-inning victory over Chelmsford at Ayotte Field.

With his starter Zach Dunphy having already thrown 75 pitches in just 2 2/3 innings, and the season still in its early-stages, Walsh needed save his senior's arm for the stretch run. Senior reliever Dan Cobban was brought in with his club trailing 2-1. For the remainder of the afternoon, Cobban was nothing short of brilliant in his 6-1/3 innings, allowing no hits and striking out five. The righty did his part, keeping BC High within striking distance until the offense flurried late.

"I just went out there throwing strikes and I knew my team could come back and get this," said Cobban. "As long as I kept them in the game I knew we could win it. We really needed this after our loss to St. John's Prep (6-5 on Wednesday). We had to get a bounce-back win and what better way to get it."

After the Lions plated a pair of runs against Dunphy, Cobban came in and stifled Chelmsford the rest of the way with a mix of fastballs, curves and change ups.

"Cobban was just unbelievable," Walsh said. "He completely shut them down by hitting his spots and keeping the ball down for the most part. He was simply outstanding."

In spite of Cobban's heroics on the mound, the Eagles were clinging to life support, down by a run with two out and no one on in the seventh inning. But good teams always seem to find way to come through and BC High (6-1) did just that.

Chelmsford pitcher Andrew Knightly, getting his first start of the year on the hill, was equally impressive. The senior limited the Eagles to a solo run on just two hits through his first six innings of work.

But in the seventh things changed dramatically. BC High senior Tommy Landry led off the frame by singling to left. Walsh had Nick Valicenti pinch-run for Landry. Valicenti advanced to second on a ground out and, following a botched pickoff attempt, took off for third. Lions centerfielder Tommy Bishop made a perfect throw to third baseman Conor Barry, who appeared to apply the tag on Valicenti just before the junior reached base. However, umpires called Valicenti safe.

Still in control, Knightly induced Sean Webster to pop out on the infield for the second out. Hoping for a miracle, Walsh opted to send out junior Andrew Jaehnig from the bench to pinch hit. The strategy worked to perfection as Jaehnig drove a Knightly outside fastball to right for a single to score Valicenti and even things at 2-2.

Knightly recorded the next out to avoid any further damage. But after Chelmsford failed to score in the bottom of the frame, Knightly, showing signs of fatigue, came out for the eighth and promptly issued a walk to No. 9 batter Nick Petchell. Lions head coach Mike O'Keefe made the decision to bring relief pitcher Joe St. Hilaire in.

"Andrew pitched a fabulous game for us today," said O'Keefe, his team dropping to 5-3. "He's a true pitcher who uses all of his pitches and changes speeds. He's not an overly intimidating presence on the mound but once you get up to the plate you realize how quick he is. He never beats himself. Every time he pitches he gives you a battle. After today he deserves to get some more starts for us. I'm very proud of the performance he gave us."

After Petchell was thrown out at second on a steal attempt, Hilaire surrendered a double to Dan Dougherty. But the senior managed to escape further trouble by and got out of the inning unscathed.

In the top of the ninth, however, he wasn't as fortunate. Hilaire set down the Eagles' first two batters with ease before Jaehnig singled to keep the inning alive. Luke Catarius followed with a long double to left plating Jaehnig and give the Eagles a 3-2 advantage. Billy Mitchell, pinch-running for Catarius, would later came around to score on Dougherty's ground single to right.

"After our loss to St. John's Prep on Wednesday it took us a while to get our act in gear," said Walsh. "Their pitcher did a very nice job keeping us off-balanced. It was getting somewhat frustrating but we were able to hang in there. Besides Cobban, Jaehnig was also unbelievable today. His hit ties it for us and later on he scores the winning run."

In the bottom of the inning, Cobban allowed a lead off walk before punching out the next three Lions batters to earn the victory.

Ryan Tufts put BC High ahead 1-0 in the first after stroking a Knightly fastball over the left field wall. But Chelmsford knotted things in the bottom of the inning courtesy of an opposite field RBI single from Mike Rosa. The Lions would take the lead in the third. Mike DeDonato tripled and scored moments later after Eagles left fielder Mike Roberts failed to corral Russell Olive's hard liner.

"Give BC High credit," O'Keefe said. "They're a very good team and very well-coached. We hung with them to the end but it just didn't work our way today. BC High will be in contention throughout the year but I truly believe we proved that we can play with them."
April, 7, 2012
4/07/12
3:46
PM ET
DORCHESTER, Mass. -- With a number of quality arms graduated from last year's squad, BC High's No. 1 preseason ranking in ESPN Boston's statewide poll is largely predicated on the number of live bats returning to the lineup. But if the performance this morning by senior righthander Johnny Arens is any indicator of the staff's quality, the Eagles might be OK in that department too.

Arens, a Milton resident, threw just four innings with the varsity last year. It wasn't a perfect outing for him, but he threw mostly fastballs, retiring the first 12 batters in succession -- including the first six all by way of fly-out -- en routed to a one-hitter in five innings of work. He fanned four batters and walked three, and managed to get out of a bases-loaded, no-outs jam in the top of the fifth inning to preserve a 2-0 lead.

After that, senior second baseman Chuckie Connors put on the finishing touches of what was a 5-1 win, lining a frozen rope to centerfield in the bottom of the sixth for a two-run single, the final runs of the game.

"I don't think he walked anybody until the fifth," Eagles head coach Norm Walsh said of Arens. "When I talked to him the other day, I said 'Don't walk anybody, and we'll be in good shape', because overall we're going to play good defense. So I was very pleased with that for him. He needed a good start."

"It felt good," Arens said softly. "I was a little off, but the defense definitely got it done."

The operative word there is defense. The Eagles (2-0) boast one of the state's best middle infields, and the leather was on display in the middle innings.

Arens walked the first two batters of the top of the fifth and then -- working from the stretch -- surrendered a Mason Trubey line drive single to center to load up the bases with no outs. Walsh sense discomfort from his starting pitcher working from the windup, instructed him to go back to the wind-up, and the results were much more favorable. Arens rung up Jake Kelley swinging, then Connor Barry hit into a 6-4-3 double play to end the inning and preserve the lead over the Lions (1-1).

Battling for Bases: The bottom of the fourth was a good demonstration in run production for the Eagles.

Up 1-0 in the bottom of the fourth, BC High's Chris Donovan manufactured a run with the benefit of two throwing errors by Chelmsford on pickoffs. After the first pickoff error that sent Donovan to second, Walsh called for a timeout, went out to meet Donovan and told him to beware of a wheel play the Lions might run.

After taking another bag on a pickoff error, he was sent home by a Ryan Tufts sacrifice fly to left field. Tufts initially went down 0-2 in the count to righty Tanner Houle, but battled back to a full count, fouling off two pitches before getting under a 3-2 curveball to complete the eight-pitch at bat

"I went up there taking first strike, and then I went behind," Tufts said. "I knew [with] a two-strike approach, you just try to protect and hit the ball into play."

Running on Rabbito: Chelmsford junior catcher Matt Rabbito has one of the best arms from behind the plate in the Merrimack Valley Conference, but the Eagles were not afraid to test it. They made three attempts to steal second, finding success twice.

"You don't run on the catcher -- you run on the pitchers," Walsh said. "We were looking for certain things in certain situations from pitchers, rather than so much for the catcher. Obviously if he can't throw, then yes, but we knew he could throw. So we're keying much more off the pitchers than we are off the catcher, and then count situation and you know, you're looking for off-speed, stuff like that to run on."

Hill hurt: Chelmsford third baseman Derek Hill left the game in the third inning with a knee injury, and was replaced by Barry. Head coach Mike O'Keefe didn't yet know the extent of the injury, or timetable, after the game.

"It looks like he twisted his knee, seemed pretty stiff, so we'll re-evaluate that when we get back," O'Keefe said. "Hopefully he's going to be OK. I saw something was wrong. I should have called a timeout and let the guy know I wasn't realy going to see my pitcher, I knew something was wrong with him. But hopefully he'll be fine."
April, 5, 2012
4/05/12
10:47
PM ET
By
Tom Layman
| ESPNBoston.com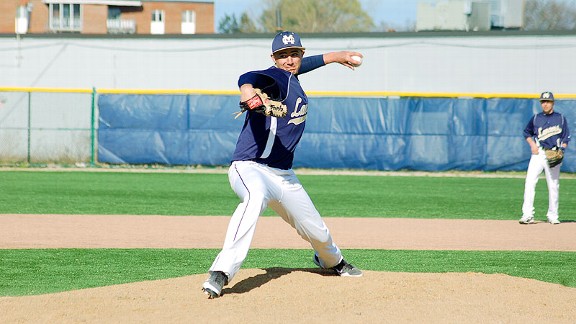 Brendan Hall/ESPNBoston.comJunior lefty Joe Velozo (8 K's) looked promising despite picking up the loss for Malden Catholic.
MALDEN, Mass. — Mike O'Keefe knows that nothing is going to come easy for his Chelmsford baseball team this season, and he got a real good sense of his team's resolve in the very first outing of the year.
The Lions watched a 2-run lead dissipate with one swing of the bat in the seventh inning, but rallied back with three runs in the top of the eighth without recording a hit to snare a 6-3 extra-inning affair over host Malden Catholic (0-1) yesterday.
"I was really proud of our guys," said O'Keefe. "We didn't put our head down and we sort of clawed back right away. That's the type of team that we are going to have to be. Those are the types of games that we are going to be in all the time. We aren't the type of team that is going to pound people and score 10 or 15 runs."
Jake Kelley was maneuvering his way through the Lancers lineup through 6.2 innings, but hit a bit of a thud on the way to the complete game victory. Lucas Lott worked a two-out, pinch-hit walk and the next batter, Steven Passatempo, made everyone's afternoon a little longer with an opposite field home run to right to tie things at 3.
The Lions wasted little time to help pick up their starting pitcher.
David DeDonato worked a leadoff walk and Mike DeDonato had an interesting time trying to get the former into scoring position. Mike DeDonato fouled off his first two bunt attempts and fought off a couple pitches before the Lancers' catcher had a tough time handling a high pitch from Paul Campbell. David DeDonato moved to second base and Mike DeDonato finally worked a walk after a nine-pitch at-bat.
Matt Rabbito got the intentional pass to set up the force at any base, and Tom Murphy put the go-ahead run back on the board with a sacrifice fly to right.
"I saw fastball right down the middle and saw the infield in, so I had to get a sac-fly to get the runner home," said Murphy, who went 1-for-3 with two RBI. "That was the most effective way to do it."
Mason Trubey stung a grounder to shortstop, but the throw to first was high and mishandled by the first basemen to allow two more runs to come home for a 3-run lead and silence the Lancers bench after the tying home run seemed to energize the home dugout.
"When you grab momentum like that you have to finish it off," said Malden Catholic head coach Steve Frecker.
Joe St. Hilaire closed things out with a 1-2-3 inning for the victory. Kelley was charged with three earned runs on five hits with four strikeouts and three walks in seven innings of work.
Lancers' Lefty Sharp Early:
For three-plus innings it looked like the Lions wouldn't be able to touch Joe Velozo.
The Lancers lengthy junior lefty was hitting both corners with his fastball and challenging right-handed hitters inside to burn through the first 10 hitters of the game. He struck out six in the process — including back-to-back on six pitches to start things.
The second look for the Lions' heart of the lineup was a little bit different. The Lions stung three straight hits in the top of the fourth to grab a run, and Mike Rosa tacked on another run with a sac-fly to right for a 2-1 lead.
"We were just looking to stay back on his ball," said Murphy. "He's a good pitcher."
"He was dominating," added O'Keefe. "The first time around we tried to muscle up a little bit and swing harder instead of staying within ourselves and try to shoot the ball the other way."
Velozo was tagged for three runs on four hits in 6.1 innings with eight strikeouts.
June, 9, 2011
6/09/11
1:04
AM ET
By
Andy Smith
| ESPNBoston.com
LOWELL, Mass. -- It would be very difficult to find a baseball player in Massachusetts that had a better day than Adam Ravenelle Wednesday.

Mere hours after the Lincoln-Sudbury senior was drafted by the New York Yankees in the 44th Round of the Major League Baseball entry draft, he went out and hit for the cycle in a Division 1 North quarterfinal game against Chelmsford, helping propel his team to an 8-1 victory at Alumni Stadium.

The Warriors will play the winner of Thursday night's matchup between Lawrence and Acton-Boxborough, at Alumni Stadium, for the Division 1 North Championship Saturday at LeLacheur Park.

"I would definitely say this is a pretty good day for me," he said after the game. "There was a lot of anxiety all day, leading up to the final moment I did get drafted, but once I did get drafted, the weight was lifted off my shoulders and I kind of got to relax a little bit and play a game that I love. So it was a good day."

The Vanderbilt commit had no problem focusing on the task at hand, even with it being such a momentous day. He went 4 for 4 at the plate with a walk.

"If anything, it made me have more of a positive attitude because I was up and I was excited so I came in here excited and we got the job done," he said.

On the field, L-S (21-4) was able to overcome a tough fielding day for the position players with exceptional offense and pitching. Carl Anderson pitched five scoreless innings, and was able to get himself out of trouble when in difficult spots in the game. In the fourth inning, with runners on second and third with one out, he struck out one hitter and got the next to fly to center to get out of the jam.

"He gave us fits," Chelmsford head coach Mike O'Keefe said. "We got a little bit out of our comfort zone and tried to do things that we're not really capable of doing and got a little bit away from the plan that we had. You tip your hat to the kid."

The lefty exited the game with six strikeouts, while giving up only three hits and two walks.

"He did that on four days rest," L-S head coach Kirk Fredericks said of Anderson. "We were looking for five innings, but didn't know if we'd get two, didn't know if we'd get seven, but we were looking for five. He did a great job and gave us a chance to win the game."

A walk, fielding error, and single gave Chelmsford (16-8) the bases loaded with one out in the fifth, but L-S caught a break to keep the game scoreless. Dom Zaher, Chelmsford's No. 3 hitter, hit a scorching ground ball at second baseman Ryan Bassinger, who was unable to handle it.

The ball ricocheted off Bassinger's body, however, right into Dan Cellucci's waiting glove at second base. He tagged the bag and threw to first to finish the double play and keep the Lions off the board.

Those breaks in the game and the scoreboard helped mask the five errors the defense made, which was uncharacteristic for a team like Lincoln-Sudbury.

"We were gross today, absolutely awful," Fredericks said. "We hit the ball a little bit but we were awful. Defensively, mentally, we're a very tired team. We're terrible defensively and we're struggling to be able to get bunts down, base running, etc. etc. So we're not playing well right now."

The Chelmsford bats did not come through until the eighth inning when back-to-back hits by Matt Rabbito and Kevin Driscoll plated the only Lion run of the game. Even then, the L-S bats answered back in the bottom of the inning with back-to-back triples by Ravenelle and Michael Barry and a single by Keith Anderson to put two more runs on the board.