Boston High School:

Mike Orloff
February, 4, 2011
2/04/11
1:52
AM ET
By
Brendan Hall
| ESPNBoston.com
BOSTON -- Two weeks ago, Mike Orloff's phone went off during class, as sometimes happens these days. And when he looked down at the missed call, he was startled to see a Los Angeles area code number.
"I couldn't for the life of me guess who it was going to be," the Lawrence Academy senior laughed as he recalled the story of how he ended up just minutes earlier this Thursday evening, from the 37th floor of the 40-story 28 State Street skyscraper in Government Center, signing a National Letter of Intent to play football at UCLA next fall.
Turns out the mystery call was a voicemail from Rick Neuheisel, head coach of the Bruins, and he had just finished watching his film 10 seconds ago. Not only did he love the linebacker's physical, downhill style of play, and natural nose for the ball, he wanted him to call back immediately and come down to Westwood for an official visit.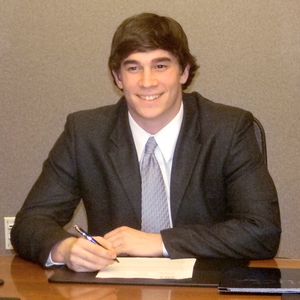 Brendan Hall/ESPNBoston.comSenior linebacker Mike Orloff switched his commitment Monday from Iowa to UCLA and signed his letter of intent Thursday night in Boston.
Orloff had verbally committed to Iowa last summer, but couldn't resist. He flew down for an official visit last Friday, and by Monday he had made up his mind to switch his commitment.
On Thursday night, high above the downtown Boston skyline, he and six of his Spartan teammates signed National Letters of Intent to play Division 1 football at the FBS or FCS level, bringing the Spartans' amazing run these last two seasons -- 17-1, with two ISL championships and a NEPSAC Bowl victory -- full circle.
Wednesday's National Letter of Intent signing day for football prospects was one that lacked drama, with all of the top in-state prospects already committed. But it was quite an anomaly, with 13 players signing NLI's to Division 1 FBS schools from the ACC, Big East, Big Ten, Conference-USA, Pac-10, Mountain West and MAC, most significantly Brockton's Albert Louis-Jean (Boston College), Rivers' Taariq Allen (Nebraska) and St. John's of Shrewsbury's Richard Rodgers (Cal). One of Orloff's teammates, three-star wideout Marcus Grant, signed with Iowa; they were joined by running back Anthony Knight (Nevada), tight end Clay Horne (Villanova), linebacker Dan Giovacchini (Brown) and linemen Max Ricci (BC) and Ryan Welch (UNH).
It's a level of depth not seen year to year in this state. Allen, for instance, will be the Huskers' first scholarship player from Massachusetts since Peabody's Grant Miller in 2002; before that, you have to go back to Lincoln-Sudbury's duo of Mike Croel and Joe Sims in the 1980's. Louis-Jean, meanwhile, is the No. 9 overall cornerback in the nation by ESPNU's rankings, and committed to Miami last March before dropping the Hurricanes following Randy Shannon's firing as head coach.
"Being from Mass, and seeing other kids from Mass going on to big places, Taariq going to Nebraska and Albert going to BC, and all of us in this room, it's been incredible," said Grant, a Carver native, moments after putting the ink on his paperwork. "To see people you've known for so long, going on to play big time football, it's been a pretty amazing experience for me."
IOWA DILEMMA HITS HOME
Grant was in Iowa City this past January 21, a Friday, the day after a number of players performed an intense squat workout that has since come under scrutiny from the national media. Grant said he saw "players limping, looking like they couldn't move, couldn't even go out at night to hang out."
He didn't put too much weight into the scene until Monday rolled around and reports surfaced that 13 players were hospitalized with rhabdomyolysis, a stress-induced syndrome that can cause kidney problems and damage cells. The news has resonated back in the Boston area, as Duxbury native and linebacker Shane DiBona was among the 13 hospitalized, while strength coach Chris Doyle hails from Quincy.
Earlier today, University of Iowa Hospitals and Clinics spokesman Tom Moore told the Associated Press that three employees were in the process of being terminated over a breach of players' medical records, while two more were handed five-day unpaid suspensions.
Grant says he sticks by the Hawkeyes, and that the news has not had an affect on his commitment.
"It was crazy," Grant said. "First thing I did was talk to my recruiting coordinator, Ken O'Keefe, and he actually had no idea at the time because he was out on the road. It was crazy, but then again they said it wasn't anything to do with people on the team doing something illegal or anything. It wasn't too concerning, you've just got to take care of your body when you do a gruesome workout like that."
When asked how much of an affect the highly-publicized incident had on him switching his commitment from the Hawkeyes, Orloff swiftly responded, "Absolutely not, absolutely not. I mean, coach Doyle is one of the most respected people in that business. As far as I know, he's one of the best, so that has nothing to do with it."
February, 2, 2011
2/02/11
2:15
PM ET
The first day of the football National Letter of Intent signing period has arrived, and we've got you covered all day (though we'll probably be buried under snow ourselves). Here is a list of Massachusetts athletes committed to Division 1 programs headed into today's big day.
Any commitments can be sent to Scott Barboza at sbarboza@espnboston.com or Brendan Hall at bhall@espnboston.com.

(NOTE: The Ivy League does not recognize National Letters of Intent)
DIVISION 1 FBS
Taariq Allen
, Rivers – Nebraska
Manny Asprilla
, Everett – Boston College
Dalton Gifford
, Bridgton Academy (Maine)/Barnstable – UConn
Marcus Grant
, Lawrence Academy – Iowa
Harry Keselman, Oliver Ames - Temple
Anthony Knight
, Lawrence Academy – Nevada
Albert Louis-Jean
, Brockton – Boston College (enrolled in January)
Brian Miller, Andover
– Boston College
Paul Nwokeji
, Thayer Academy – UConn
Rodman Noel
, Milford Academy (N.Y.)/Everett – NC State
Mike Orloff
, Lawrence Academy – UCLA
Liam Porter
, Natick – Boston College
Max Ricci
, Lawrence Academy – Boston College
Richard Rodgers
, St. John's (Shrewsbury) – Cal
Andrew Siden
, Natick – Tulane
DIVISION 1 FCS
Jeff Anderson, Longmeadow - Brown
Ryan Barrett
, Holliston – Bryant
Connor Candito, Bridgton Academy (Maine)/St. John's (Shrewsbury) - Sacred Heart
Jamie Casselbury, Philips Andover - UMass
Connor Caveney, Cushing Academy - Sacred Heart
Matt Costello
, Everett – Princeton
Jeff Covitz
, Reading - Bryant
Ryan Delisle
, St. John's Prep – Harvard
Anthony Fabiano
, Wakefield – Harvard
Ryan Flannery, North Attleborough - Columbia
Justin Flores, Tilton School/Woburn - Maine
Dan Giovacchini
, Lawrence Academy – Brown
Will Guinee, Malden Catholic - Dartmouth
Greg Hilliard
, Suffield Academy (Conn.)/Brockton – UMass
Clay Horne
, Lawrence Academy – Villanova
Brandon Howard, Worcester Academy/King Philip - UMass
Randall Jette
, Martha's Vineyard – UMass
Isaiah Jones
, Mahar - Maine
Andrew Kestenbaum
, Dartmouth – Rhode Island
Ben Koopman, Marblehead – Holy Cross
John Lavin
, Falmouth – Bryant
Dan Light
, St. John's (Shrewsbury) – Fordham
Harrison Lyons, Avon Old Farms (Conn.)/Norwell - Bryant
Alec May, King Philip - Georgetown
Brian McDonald, Hebron Academy (Maine)/Westwood - Sacred Heart
Andrew Mizzoni
, Gloucester – Holy Cross
Obum Obukwelu
, BC High – Harvard
Ben Patrick
, Rivers – UMass (preferred walk-on)
Jason Richard, Milford Academy (N.Y.)/Weston - Sacred Heart
Peter Savarese, BB&N - Dartmouth
Zach Smerlas
, Lincoln-Sudbury – Brown
Keshaudas Spence, Taft (Conn.)/Catholic Memorial - Sacred Heart
Charlie Storey
, Milton Academy - Dartmouth
Brian Strachan
, St. Sebastian's – Brown
Cam Sullivan, Westfield - Bryant
Jeff Synan, Plymouth North - Bryant
Ben Ticknor
, Milton Academy - Dartmouth
John Wallace
, Somerville – UMass
Ryan Welch
, Lawrence Academy – UNH
Conor Wyand, Nashoba - Brown
DIVISION 2 RECRUITMENTS REPORTED
Nick Broughton, Marblehead - Merrimack
Matt Delaney, Barnstable - Assumption
Chris Mooney, Stoneham - Assumption
Mike Muir, Xaverian - Bentley
Bobby Richman, North Attleborough - Bentley
Chris Unis
, Gloucester - Merrimack
DIVISION 3 RECRUITMENTS REPORTED
Eric Bertino, BB&N - Middlebury
Ned Deane
, Andover - Amherst
Mike Devin, Bridgewater-Raynham, Bowdoin
James DiBlaisi, BB&N - Trinity
Josh Friedland, Marblehead - Bates
Jake Giovanucci, Dexter - Bowdoin
Mike Gustafson, Belmont Hill - Washington & Lee
Brett Harasimowicz, Duxbury - Middlebury
Mike Hogan, St. John's (Shrewsbury) - Wesleyan
Matt Perlow
, Marblehead - Bowdoin
Mike Tomaino, Gloucester - Bates
February, 1, 2011
2/01/11
6:21
PM ET
ESPN's Roger Brown is reporting that Lawrence Academy senior linebacker
Mike Orloff
de-committed from the University of Iowa yesterday, and issued a verbal commitment to UCLA the same day.
According to Brown, Rick Neuheisel called Orloff two weeks ago and offered him a scholarship. Orloff decided he wanted to take an official visit last weekend, and the Iowa coaching staff told him they needed to know his final decision by Monday. He called the Iowa coaches Monday with his decision to de-commit, and followed that up with a call to UCLA.
The 6-foot-2, 210-pound Orloff, a two-star prospect from Danvers, told Brown he had no previous contact with UCLA until Neuheisel called. Irv Eatman, a former two-time Lombardi Award finalist for the Bruins and whom Orloff called a volunteer assistant at UCLA, sent Neuheisel's staff some film of Orloff, and things progressed from there.
"I considered the offer and decided I would go visit," Orloff told Brown. "I just felt that UCLA was a better fit and I place where I have a better chance to succeed on and off the field. I felt like it was the place where I can be most successful. It had nothing to do with me not liking anything about Iowa.
"They don't look at Massachusetts kids very often. They told me I might be the first player from Massachusetts they've had on their team. Certainly the first in a long time."
December, 8, 2010
12/08/10
6:07
PM ET
Offense
QB – Eric Bertino, Sr., BB&N
QB – Charlie Storey, Sr., Milton Academy
QB – Shaquor Sandiford, Jr., Rivers
RB – Ben Patrick, Sr., Rivers
RB – Chris Coady, Jr., BB&N
RB – Anthony Knight, Sr., Lawrence Academy
FB – Tommy Kelly, Sr., Nobles
TE – Josh Rivers, Sr., Roxbury Latin
OL – Jeff Winthrop, Sr., St. Paul's
OL – Max Ricci, Sr., Lawrence Academy
OL – Eric Olson, Jr., BB&N
OL – Paul Nwokeji, Sr., Thayer
OL – A.J. Walsh, Sr., Rivers
WR – Taariq Allen, Sr., Rivers
WR – Marcus Grant, Sr., Lawrence Academy

Defense
DL – Tyler Cardoze, Sr., Lawrence Academy
DL – John Bergantino, Sr., Belmont Hill
DL – Dan Connaughton, Jr., BB&N
DL – Ryan Welch, Sr., Lawrence Academy
LB – Dan Giovacchini, Sr., Lawrence Academy
LB – Peter Savarese, Sr., BB&N
LB – Brian Bowser, Jr., Belmont Hill
LB – Nick DiChiara, Jr., BB&N
DB – Mike Orloff, Sr., Lawrence Academy
DB – Brian Strachan, Sr., St. Sebastian's
DB – Joe Giandomenico, Sr., Roxbury Latin
DB – Ben Ticknor, Sr., Milton Academy

November, 20, 2010
11/20/10
6:20
PM ET
By
Neil Carroll
| ESPNBoston.com
EASTHAMPTON, Mass. -- The Salisbury School trailed Lawrence Academy 14-0 at halftime, and anyone watching the game at Sawyer Field in Easthampton can tell you things did not look good for the Knights. However, during the intermission Salisbury head coach Chris Phelps preached his faith in the Knights, and the team took hold of the pep talk.

"The halftime speech was just something we talk about all the time," Phelps said after the game. "It was 'With belief and hard work, anything can happen'."

"Basically coach just said, 'do what we've done all season…believe in each other and know that we can win'." Salisbury quarterback Bobby Wood said.

In the second half, Salisbury rallied together -- starting with a 100-yard blocked field goal return by Marc Mauro early in the third quarter -- and mounted a captivating 24-21 comeback over Lawrence Academy to win the 2010 Tom Flaherty Bowl.

The Knights struggled mightily on offense in the first half but used their success on special teams and defense to spur the group to victory.

"I think they take it personal if they aren't playing up to their potential," Phelps said of the team's motivation. "It was kind of one of those inner strength-type things. The guys didn't want to let their brothers down and they came out here and worked hard."

Even though the Salisbury offense gave the ball away on a fumble on its first possession of the third quarter, the defensive unit provided the team with a spark. On the next drive the team's defense forced Lawrence to attempt a 45-yard field goal, which was consequently partially-blocked and then returned 100-yards by Mauro to put Salisbury on the scoreboard for the first time all game.

"I said you know what, 'maybe a block, we're down, what the hell? Something could happen," Mauro candidly said after the win. "I stepped back there, it got blocked, and I took advantage of the opportunity."

"That set us off right there. That ignited us," said Wood about the return.

The touchdown gave Salisbury new life in the game. Following the score, the defensive unit came out and forced Lawrence to go three and out but also delivered a huge blow to the Spartans core.

Quarterback Mike Orloff finally succumb to physical injury on a 5-yard run in the third, after playing over a quarter of the game with a bad knee. In the first quarter, Orloff ran a keeper 41 yards down the right sideline, but was leveled on the end of the play by Mauro.

Orloff landed awkwardly then, and was examined by Lawrence trainers for a few minutes after but eventually returned to the action -- hobbling on one leg after every play. However, in the third quarter he ran up the middle and after he fell to the ground, it was evident that he would be unable to return.

"They all battled," Lawrence coach Mike Taylor said about his team's injuries. "We lost Orloff, we lost Dan Giovacchini in the first half, so it was a struggle -- it's an uphill battle especially against a good team like [Salisbury]."

Giovacchini, the ISL player of the year and a presence at middle linebacker for the Spartans, went down in the first half after carrying the ball four times for 22 yards. In the first half, Orloff totaled 66 yards rushing on six carries, and was 6 of 10 passing with 135 yards and one touchdown and one interception. Wide receiver and fellow co-captain Marcus Grant filled in for Orloff at quarterback.

But, after Orloff left the game for good, the Crimson Knights struck with a 97-yard touchdown pass from Wood to wide receiver Michael White and tied the game at 14 points.

"It was one of those things that when I called it I thought 'this could go completely the opposite way'. " Phelps admitted about the call. "We maxed up the protection and protected our backside and took a shot at it."

Salisbury went up by three points on a 22-yard field goal by Patrick Mazeika with 7 minutes, 19 seconds left in the fourth, and then later stopped Lawrence on a fourth down pass in Salisbury territory. The Knights put an exclamation on the comeback when they went up by 10 after a 62-yard Mauro touchdown late in the fourth.

LAW 7 7 0 7 --- 21
SAL 0 0 14 10 --- 24

First Quarter
LA - Grant 4 pass from Orloff (Dominik Kozlowski kick)

Second Quarter
LA - Tony Knight 14 pass from Orloff (Peter Taylor kick)

Third Quarter
SS - Mauro 100 blocked field goal-return touchdown (Jerry Silvery kick)
SS - White 97 pass from Wood (Silvey kick)

Fourth Quarter
SS - Mazeika 22 field goal
SS - Mauro 62 run (Mazeika kick)
LA - Clay Horne 33 pass from Grant (Kozlowski kick)
November, 13, 2010
11/13/10
12:45
AM ET
By
Phil Perry
| ESPNBoston.com
AYER, Mass. –- This was the game both Buckingham, Browne, & Nichols and Lawrence Academy had been anticipating all year. And after a season's worth of thought and preparation, Spartans coach Mike Taylor broke out the game plan he had set aside for Friday's occasion.

"Everyone thinks we're a running team," he said. "Tonight we aired it out. We've been saving that all season for this special event."

Lawrence Academy rode an impressive passing attack to a 36-7 drubbing of BB&N, to win the Independent School League championship and finish the season at a perfect 8-0, for the second consecutive season.

Quarterback Mike Orloff completed 13 of 20 passes for 261 yards and two touchdowns, and he made it look routine.

By the end of the first quarter he had completed all five of his passes and led the Spartans to a 13-0 lead. He hit Clay Horne (three catches, 45 yards) with his first two throws, which set up an Anthony Knight 23-yard touchdown run.

On LA's next possession, Orloff hit his future University of Iowa teammate Marcus Grant (seven catches, 153 yards) three times. On the third strike, Grant got behind everyone in the Knights' secondary and reeled in a 56-yard bomb to put the Spartans up two scores.

"Linebacker right? [Orloff's] supposed to be a linebacker in college," Grant said. "But he was chucking the rock around. He did a great job. I had confidence in him all year that he could do that and tonight happened to be the night that he showed that."

Just before the end of the first half, LA continued its aerial onslaught. On fourth and 17 from the 21 yard line of BB&N (7-1), the Spartans drew a pass interference penalty in the end zone. They capitalized on the opportunity when Orloff rolled to his right and found Grant dragging his feet for the touchdown as he dove out of bounds. The score made it 23-0 going into the half.

And while the Lawrence crowd ogled the air show, the Spartans were similarly efficient on the ground. Knight (11 caries, 81 yards), a bruising running back headed to North Carolina State, finished the game with 124 yards from scrimmage and added a second touchdown late in the third quarter to make the score 36-0.

"You just saw one of the best performances any high school team can put on," said BB&N coach John Papas. "They have weapons everywhere and when they play well as they did tonight, they're relatively flawless. I don't know who can beat them. Our kids' effort was phenomenal. We played our tail off. But that football team — it was like a track meet."

Defensively, Lawrence Academy didn't allow a completed pass until the third quarter They forced two turnovers on downs, a fumble and two interceptions. Matthew Harnum's pick set up Knight's second touchdown scamper.

BB&N running back Chris Coady ran for 81 yards on 21 carries, scoring on a four-yard touchdown run in the fourth quarter to spoil LA's shutout.

"The defense has been the strength of our team," said Orloff, who also plays safety. "We've got all those weapons on offense but out defense has really been our strength. We got a ton of turnovers, giving us good field possession. That's what makes it easy for our offense."

When the final seconds ran off the clock in the fourth quarter, Taylor was doused with Gatorade and Spartans supporters flooded the field. After a year of waiting, Lawrence Academy had won its second-straight ISL title.

"It's absolutely awesome," said Orloff, as players and fans lingered well after the lights went out. "Just trying to savor the moment."

LAWRENCE ACADEMY 36, BB&N 7

BBN – 0 0 0 7 - 7
LA – 13 10 13 0 - 36

First quarter
LA – Knight 23 run (Dominik Kozlowski kick)
LA – Orloff 56 pass to Grant (kick failed)

Second Quarter
LA – Kozlowski 27 kick
LA – Orloff 11 pass to Grant (Kozlowski kick)

Third Quarter
LA – Owen Moore 4 run (Kozlowski kick)
LA – Knight 16 run (kick failed)

Fourth Quarter
BBN – Coady 4 run (Ralph Malin kick)
October, 16, 2010
10/16/10
7:19
PM ET
By
Corey J. Allen
| ESPNBoston.com
BYFIELD, Mass. -- Lawrence Academy came to Governor's Academy for a win, and they got one, but it was not a giveaway. The Spartans fought for four quarters, keeping the Govs to just one score on their way to a 20-7 win.

"There's two ways to play our team," said Lawrence Academy (4-0) coach Mike Taylor. "Either you lay down and die or fight. These guys did a heck of a job fighting."

And to the end they did. With 4:20 left in the game and Lawrence Academy leading 20-7, Governor's Academy's Kirk Ryder recovered a fumble at the Govs' 40. A three pitch flea flicker from Tate Jozokos to Frank Barba brought the Govs down to the 24, within striking distance of making the game a one score tossup.

"It was definitely supposed to run a little smoother," said Jozokos, referring the two players who were nearly tackled before he got the ball again. "I just ran to space, chucked it up and hoped for the best. It was definitely supposed to run smoother; it was kind of scary actually."

Two plays later Governor's Academy gave up the ball, but a Lawrence Academy three and out gave them one more shot at the end zone.

The Govs got down to the 12, but Lawrence's Dan Giovacchini (six tackles) stopped Elijah Morrissey for a five-yard loss, finally quelling the fire that the Govs kept up all game despite the disparate size matchup.

"Our kids, when they play with some emotion and some passion, they bring it pretty well," said Govs' coach Mark Gerry, who said he suited up 27 players for today's game.

"The kids knew they were in this game, they knew they could play with these guys and I can't say enough about their character, their persistence and their heart. 'The few, the proud' we call ourselves when we come out to practice. Numbers are one thing, but having the right kids on the field is another thing."

If this were a fight, Governor's Academy (1-3) landed one early on the Spartans' chin. Morrissey took a sweep right fifty-five yards for a score with under a minute gone in the game.

"We knew they'd be flying after the ball," said Gerry. "So we figured we'd try to trick them. We got a break, a good run and went up early."

But the extra point Camden Means put between the uprights would be the last time a Govs' player would be responsible for the ball passing the plane.

Five plays after the failed onside kick by Governor's, Daniel Giovacchini bounced outside left and dodged tacklers en route to a 24-yard touchdown run. The failed rush attempt left the game at 7-6.

Governor's came out flat on the next drive. Attempting a double reverse, the first play went for a six-yard loss. On the next play, Lawrence Academy's Ryan Welch body slammed Govs' quarterback Jozokos for a three-yard loss.

"Ryan Welch, probably the hardest player on the team," said Lawrence Academy's quarterback and safety Michael Orloff. "Doesn't get a lot of credit, but he's the one in the trenches getting held, cut and all of the dirty stuff that happens to him. I give him a ton of credit. He's an animal on defense."

A two yard-gain on the next play finished the three and out series for the Govs. Lawrence Academy scored six minutes later on a silent snap quarter sneak to the left by Orloff (9 rushes, 45 yards), catching The Academy defense off guard. This time, a failed passed left the score at 12-7 with 24 seconds left in the first quarter.

With 6:44 left in the first half, Lawrence Academy recovered a fumble at the Govs' 37 yard line. Five plays and 2:25 later, Marcus Grant caught an 11-yard toss from Orloff in the front right corner of the end zone. Orloff ran for the extra point for the Spartans' final score of 20-7.

"We're a tough football team," added Taylor. "Next week, we've got another team on the schedule. I don't even know who it is, because we take it one game at a time."

Who's your daddy?
With 6:19 left in the third quarter, Orloff went down on offense and limped off the field favoring his right leg. Governor's got the ball back, and began to drive. That's when the Lawrence Academy sideline began the slow chant, "Daddy's baaack". They were referring to Orloff, who went on to make three of his seven tackles of the day on that drive.

"They used to call me general," said Orloff. "Being quarterback and being safety… they knew that when Daddy came back into the game everything was going to be alright."

Lawrence Academy 20, Governor's Academy 7

Law (4-0) 12 8 0 0 --- 20
Gov (1-3) 7 8 0 0 --- 7

G – Eli Morrissey 55 run (Joe Uglietto kick)
L – Daniel Giovacchini 24 run (rush failed)
L – Michael Orloff 4 run (pass failed)
L – Marcus Grant 11 pass from Orloff (Orloff rush)
July, 28, 2010
7/28/10
7:23
AM ET
By
Brendan Hall
| ESPNBoston.com
The marriage between Lawrence Academy lineman Max Ricci and Boston College will either begin or end on Saturday.
Correspondent Roger Brown notes today on his recruiting
blog
that on Ricci's unofficial visit to Chestnut Hill earlier this month, BC head coach Frank Spaziani asked him to make a decision on their scholarship offer by July 31.
With only one other Division 1 scholarship offer, from Bryant, but interest picking up from North Carolina, Nebraska and Tennessee, the 6-foot-4, 350-pound Ricci has a tough decision on his hands -- lock it up, or test the waters.
"Tennessee said they want to see me for a visit, so I'm hoping to hop on a plane before July 31st," Ricci told Brown. "I wouldn't be unhappy at BC, but I have until the 31st. Why not use that time?"
It's a situation not unlike the one Natick's Scott McCummings experienced last summer, headed into his senior season. Syracuse had asked McCummings, a quarterback recruit for the Red and Blue, to make a decision on his commitment to the Orange before the season. When he expressed a desire to take official visits during the fall, 'Cuse reneged on their scholarship offer. McCummings ended up committing to UConn, which was the first school to offer him to begin with.
Should Ricci commit, that would make it four Spartans to commit to a BCS conference school, the others being Anthony Knight (NC State), Mike Orloff (Iowa) and Marcus Grant (Iowa). BC offered Grant after he had already committed to the Hawkeyes.