Boston High School:

Mike Ottersburg
September, 4, 2012
9/04/12
1:03
PM ET
Football in Everett is the constant pursuit of perfection. While Super Bowl seasons are celebrated, they're also stacked up against each other. Each in the line of champions who roll through the Crimson Tide's ranks are exalted. But they're also put to the test of time, with one group's achievement forever debated against the greats.

With that said, Everett is coming a season for the ages. While running to a perfect record and a Division 1A Super Bowl, the Crimson Tide put forward one of the most dominating performances the city has ever witnessed. Everett's margin of victory averaged nearly 30 points per game last season, while quarterback Jonathan DiBiaso broke the state single-season touchdown pass record with 44.

Everett loses a few key components from the 2011 squad, including their signal-caller as well as the tough-running Vondell Langston, but its core remains largely intact.

As the Crimson Tide break camp in 2012, questions swirl around the intrigue of who will take over the quarterback duties with a hotly contested battle between Pat Long and Lukas Denis running through the preseason. There was also the speculation Everett might go back its old ways, John DiBiaso's earlier edition, more 10 yards and a cloud of dust – an intriguing option with the Crimson Tide returning a line that averages more than 300 pounds across.

Yet, for all the questions, the Crimson Tide is the runaway favorite to repeat as Div. 1A Super Bowl champions.

And while Everett may have some things to sort out in the early season, John DiBiaso is banking on one of the Crimson Tide's key returnees to shoulder a load.

The similarities between the aforementioned Langston and senior Kenny Calaj are many, from stature to their styles of play. Langston, now at UMass, was in his Everett career a kind of Kevin Faulk, the player on a successful team who does a lot of little things very well that often goes unnoticed. Whether it was in blitz pick-up, providing DiBiaso time to throw, or his responsibilities at linebacker, Langston was a dependable, heady player.

Of course, Langston and Calaj worked in tandem during the last couple of seasons at Everett.

Calaj has lined up all over the field on offense – from the backfield to the slot – and held down the weak side linebacker role on defense.

But now DiBiaso is counting on the 5-10, 195-pounder to take on a feature role.

"We're counting on him to replace Vondell [Langston]," DiBiaso said. "We want him to be able to replace the carries Vondell had and with his ability to catch the ball out of the backfield, we're able to do some different things."

Calaj is the only member of Everett's class of 2013 to have started since freshman year (although jack-of-all-trades Gilly De Souza also place kicked in 2009). His blend of speed, power and good hands make Calaj a tough matchup. When spread out wide, he has the ability to bowl over defensive backs. While running out of the backfield, he's tough enough to run in between the tackles.

Defenses also have to keep honest with Everett's talented pass-catchers Jalen Felix and Jakarrie Washington working on the perimeter.

"Sometime [defenses] will overload one side and try to guess our plays," Calaj said. "But it's hard to guess who's going to get the ball with us because we have so many weapons."

And, of course, there's the offensive line, led by Notre Dame commit John Montelus.

"They're the hardest workers," Calaj said of the line. "They're big, but they work hard, too. They're the ones who sweat the most in practice, they're tough."

On defense, Calaj comprises a veteran linebacker core alongside returning starters Jeff Soulouque and Omar Graciano and rising junior Angel Duarte.

Calaj has heard from a smattering of both FBC and FCS schools. Boston College has inquired about his defensive talents while Bryant has told Calaj they'd integrate him into the offense.

But that's all out of sight and out of mind for now. In a place like Everett, all that matters is here and now and the opportunity to claim a third straight Super Bowl title.

"I want to win another championship, that's it," Calaj said. "Then I'd have three rings."

EVERETT AT A GLANCE
Coach: John DiBiaso (21st season at Everett, 252-63-1 overall)
Last Year: 13-0, won Division 1A Super Bowl
Key Returnees: Kenny Calaj, Sr. WR/S, 5-10, 195 lbs; Jakarrie Washington, Sr. WR/DB, 5-10, 175 lbs; John Montelus, Sr. OT, 6-5, 315 lbs; Mark Fils-Aime, Sr. OG, 6-1, 280 lbs; Mike Ottersburg, Sr. OG, 6-1, 310 lbs; Pat Sullivan, Sr. OT, 6-1, 270 lbs; Gilly De Souza, Jr. WR/DB/K, 5-11, 165 lbs; Jeff Soulouque, Sr. OLB/TE, 6-2, 225 lbs; Omar Graciano, Sr. DE, 6-4, 215 lbs.
Strengths: Offensive line, wide receivers, secondary, kicking game.
Weaknesses: Inexperience at quarterback.

Outlook: The $25,000 question with the Crimson Tide is whether they'll be more run- or pass-oriented this season. When confronted with the question, John DiBiaso said it comes down a matter of numbers. "I think it will be dependent on the game and depend on how many guys they bring into the box. We'll adapt with whatever they bring to us." While Everett might not be able to post a 500-point season as it did last year, they'll be equally adept playing at a hurry-up tempo as they will be able to play ball control. Perhaps the hidden strength of this squad lies in the secondary with De Souza, Felix and Washington. DiBiaso had high praise for De Souza, who contributes in all three phases of the game, likening his football I.Q. to that of former ESPN Boston Mr. Football award winner Matt Costello (Princeton). Once again, the Crimson Tide will play perhaps the state's toughest schedule; each of Everett's first six games are against Top 10-ranked opponents. The slate opens with a vengeance in a matchup of defending Super Bowl champions against Leominster on Friday at Doyle. "That's a big game for us, it's a big game for them," DiBiaso said. "You can bet all of Central Mass. will probably be there. We'll be ready though. It's going to be exciting."
October, 15, 2011
10/15/11
11:04
PM ET
By
Brendan Hall
| ESPNBoston.com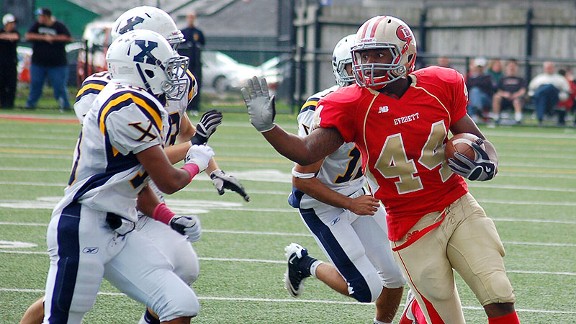 Brendan Hall for ESPNBoston.comDonning the jersey of his close friend and injured captain, Everett's Vondell Langston went off for a career-high 203 rushing yards and two scores on 15 carries.
EVERETT, Mass. -- Buck McCarthy sat on the Everett High sideline slouched in a chair, crutches laying in front of him, his left leg heavily casted, and could only gaze out at the game unfolding that he'll never be playing again.
"It's horrible," he said, his eyes glued to the game. "I worked so hard for the team, and we all worked so hard together. But hey, that's football."
But the senior captain, who both dislocated his left ankle and broke his left fibia in a win over Barnstable, was far from forgotten in the No. 1 Crimson Tide's 42-21 homecoming win over No. 5 Xaverian. Senior Vondell Langston -- his close friend, and running mate in the linebacking corps -- switched from his No. 4 jersey to McCarthy's No. 44, and left the injured linebacker's nameplate on the back of the jersey. Before kickoff, he promised McCarthy a touchdown.
So naturally, the 6-foot-1 senior went off for a career-high 203 rushing yards and scored twice -- both in the fourth quarter. His first, a 13-yard draw that he cut to the right hash marks after shaking a Hawks linebacker, gave the Tide (6-0) a 28-13 lead; after Gilly De Souza kicked the extra point, Langston ran over to McCarthy and told him, "I told you I was gonna come through for you."
"That meant a lot to me," McCarthy smiled. "We're best friends. I love that kid, man."
Langston's second score essentially put this one out of reach, putting the Tided up 35-21 on the Hawks (4-2) with seven minutes to go. Stretching to the ride side of the field, Langston strafed along the line of scrimmage before slipping inside of a vicious crackback block by wide receiver Jalen Felix (10 catches, 145 yards, TD) and plowing to paydirt.
For Langston, it's the least he could do for his good pal.
"It's unfortunate that he's not out there with me, side by side, but I definitely wanted to do something special for him," Langston said. "I put on his jersey, and told him I was going to go hard for him."
Like many of the Tide's performances this season, this one started off slow. Xaverian's D.J. Pagliuca opend up the scoring with a 22-yard reception from Austin DeCarr with 6:02 left in the first half, marking the first time the Tide had trailed since giving up a quick score early to Leominster in Week 1.
But Everett quickly fired back, and from there the momentum rolled. Kenny Calaj (133 yards offense) capped an 11-play, 83-yard drive with a 10-yard plunge to knot it at seven. Five plays into the next Everett drive, Calaj took a dumpoff pass in the left flat, cut to the left sideline and raced his way into the end zone for a 40-yard score and a 14-7 lead. It was the last time the Tide trailed in the game.
Passing marks:
Up to this point, the Tide absorbed their fair share of criticism in the passing game despite the high point totals they'd accumulated (39.8 points per game). From head coach John DiBiaso down to his son and quarterback Jonathan, and everyone in between, nobody seemed overly enthused even as the 30-point decisions continued to pile up.
Today, however, was a day of concession. Jonathan spread the ball around evenly to Jakarrie Washington, Jaylen McRae and Felix, as he finished within four passing touchdowns of the state's all-time record of 85.
"It was very good -- and under adverse conditions," smiled John DiBiaso, noting the strong winds to start the game. "We had a couple of bumps in the road, but I thought we did a good job. They're a good team. The way I said it, we were maybe two holding penalties and an interception away from scoring 60 points.
"That -- how can you complain? How can you, like, say 'Jeez, you know, we're not playing'...We're like three plays away from 60 points against a real good team. We're hitting all cylinders, getting better and better at it. The one thing we were able to do was balance out the plays now."
Jonathan finished with 308 yards passing with two touchdowns and a pick, and added a 39-yard scamper with 5:34 to round out the scoring. Meanwhile, the offense overall put up 565 yards.
When the game started, Jonathan was putting a little too much air under the ball and letting the wind get under it. As the game progressed, he shortened up his release and started firing darts across the middle of the field and to the flats, with Felix the biggest benefactor.
"We made adjustments, and when we started getting going in the second quarter, it's hard to stop us," Jonathan said. "We're a high-tempo team, we have five great athletes with the running backs and wide receivers, it's so tough to stop us that we can hit you at any point, and it showed. People stepped up today."
Respect the run:
Langston was truly a benefactor today, rushing for a career-high 203 yards on just 15 carries as the Hawks found themselves conflicted on whether to stack the box or not. The Hawks maintained consistent pressure in the trenches thanks to junior defensive tackle Maurice Hurst Jr. (sack); but at the same time, Langston reeled off runs of 26, 32 and 50 off of simple draw plays.
Chris Calvanese (one interception) manned the secondary well as the free safety, but underneath it was the sturdy Langston's hard-nosed running style that kept the defense honest.
"They were overplaying the cutbacks a little, so I just used my eyes," Langston said, while noting Brandon Conde's admirable job filling in at guard for the injured Mike Ottersburg. "My offensive line did a great job. They were just opening the holes, and I run through them."
Quarterback controversy?
Calvanese was back in the lineup today, and was under center for the game's first series. But Calvanese, the team's incumbent, found himself mostly lined up at wideout today.
Head coach Charlie Stevenson likes Calvanese's athleticism, and used him all over the field, taking end-around handoffs and option pitches out of the slot, and sometimes going deep on fly routes. Calvanese finished with four catches for 84 yards and a touchdown (a 61-yard gain), and added 15 yards on the ground on four carries.
Meanwhile, junior Austin DeCarr has been topped out at 91 miles per hour on his fastball in the spring and summer, and it showed on the field this afternoon. He finished with a very respectable 13 of 27 for 204 yards and three touchdowns, with one pick.
The gut feeling is that Stevenson will continue to platoon these two, but without compromising Calvanese's exemplary speed. Look for the traditionally-conservative Hawks to get a little more creative as they head into the Catholic Conference season.
Felix the Cat:
To say the least, this was a breakout game for Felix. At times the junior showed flashes of Manny Asprilla by doing what the former ESPNBoston All-Stater and Boston College freshman did best for the Tide: taking short passes in the flats or in space downfield, and making defenders miss.
Several times, Felix took a quick screen by the sideline and juked several defensive backs en route to a first down. His touchdown catch, meanwhile, came on a 10-yard skinny post from the right slot that Jonathan hit perfectly in stride.
"I love to challenge one-on-one," Felix said of those short screen passes. "I like the challenge. I like when my team pushes me, I like when they depend on me, and I depend on them [too]. When that play comes up, we look forward to it."
EVERETT 42, XAVERIAN 21
XAV (4-2) 0 7 7 7 --- 21
EVE (6-0) 0 14 7 21 --- 42
Second Quarter
X - D.J. Pagliuca 22 pass from Austin DeCarr (Jules Murphy kick) 6:02
E - Kenny Calaj 10 run (Gilly De Souza kick) 3:28
E - Calaj 40 pass from Jonathan DiBiaso (De Souza kick) 22.3
Third Quarter
E - Jalen Felix 20 pass from DiBiaso (De Souza kick) 8:04
X - Chris Calvanese 61 pass from DeCarr (Murphy kick) 7:03
Fourth Quarter
E - Vondell Langston 13 run (De Souza kick) 9:43
X - Mike Warren 19 pass from DeCarr (Murphy kick) 8:02
E - Langston 18 run (De Souza kick) 7:23
E - DiBiaso 39 run (De Souza kick) 5:34
September, 5, 2011
9/05/11
6:04
PM ET
By
Brendan Hall
| ESPNBoston.com
John DiBiaso isn't having any of it.

No, the Everett head coach has been around way too long to get caught up in minutiae like, oh, the latest MIAA realignment bumping the Greater Boston League down to Division 1A. The spectre of postseason matchups with schools from the Big 3 or Catholic Conference -- of whom the latter many are routinely on the schedule -- have been replaced by contenders from the Dual County, Old Colony and Northeastern/Cape Ann Leagues, all considered inferior leagues to the ones with member schools that routinely appear on Everett's non-league slate.

"Last I looked, Bridgewater-Raynham beat Xaverian and Brockton last year -- I dunno, maybe I'm wrong," DiBiaso cracked with his trademark dash of bluntness. "I don't know how good the teams from the Dual County League are gonna be, how good the teams from the NEC are gonna be, I don't even know if B-R's gonna represent that league.

"Right now I'm worried about Leominster, and then next week Springfield Central. If I'm starting to worry right now about how we're looking for the playoffs, I'm not doing my job."

Nor is he having any of it when it comes to the critiques of two of his star players in spite of recent success. His son Jonathan threw for a state-record 43 touchdown passes last year to just four interceptions as the Crimson Tide handily won the Division 1 Super Bowl, yet he faces repeated criticism among the college scouting fraternity for his unorthodox, sometimes elongated, throwing mechanics.

"That is what the scouts and all those people say," he said. "I've been around this for 30 years. Pull out or Google Sonny Jurgenson, considered the greatest natural passer in the history of the NFL. Google him and watch his motion. There was big criticism about how his motion was too long, throws like a baseball and all that. All he did was become a Hall of Fame quarterback.

"Doug Flutie, Google him, watch his highlights, tell me he didn't have a long release. There's too many critics now, we're in the information age...My assessment with all my guys is if they can do their job and productively perform, that's fine with me. We went 12-0 last year and they all did their job."

All that said, Jonathan has been working hard in the offseason on improving those mechanics in question, bulking up to 197 pounds and reportedly shortening up that release. We'll find out on Friday how that works out, and whether he still has that Byron Leftwich-esque throw from the hip -- but again, none of that is a concern to the overall bigger picture.

"It's like a little kid shooting a basketball. You see guys shooting from the waist and pushing up, but by high school they've adjusted because they're bigger and stronger," John DiBiaso said. "Is his motion textbook perfect? No, but neither is Tom Brady's. Everyone says Aaron Rodgers has the perfect release. That's great, but Drew Brees doesn't have a perfect release and look how he's turned out. Not everyone has to be 6-5, 230 pounds and have a perfect release. You make do with what God gives you."

The elder DiBiaso doesn't stop there, making a case for senior Vondell Langston, an ESPNBoston Preseason All-State at linebacker and considered one of the state's elite at picking up the blitz in pass coverage.

Oakland A's general manager Billy Beane has a quote about this kind of stuff -- "we're not selling jeans" -- and that seems to be the larger point DiBiaso is making with his son and with the 6-foot, 220-pound Langston.

"I voice my opinion that he is as good a linebacker as there is out there," DiBiaso said of Langston. "I'm not trying to downgrade anybody else or put them down, but a lot of these guys are getting scholarships and I'm perplexed as to why he's not getting any, you know?"

Just a guess here...is 2011 the year of Everett against the world?

At the junction of Routes 99 and 16, it very may well be. But outside the Everett bubble, the perception is almost the reciprocal -- who's going to take down the juggernaut?

Two years ago, after taking a pounding up front in a shocking 48-14 loss to Dracut, the offensive line is undoubtedly among the state's toughest. Led by senior Nick Stanfield, the line will average nearly 275 pounds across. All are juniors with the exception of Stanfield, and from that junior John Montelus figures the get the most attention; the 6-foot-4, 290-pounder already has four BCS offers despite not turning 16 yet, and has begun drawing comparisons to former Somerville great and current Lions tackle Gosder Cherilus.

DiBiaso feels this year's group has improved at run blocking. Asked if the team will be more balanced in its playcalling as a result, DiBiaso panned, "It just depends on what they give us. Teams that are gonna drop eight guys in coverage, we'll run it down their throat. If they bring seven into the box, we'll throw the ball."

The biggest holes to fill are at the top two wide receiver spots, where the Tide graduate arguably its best 1-2 punch in school history in Manny Asprilla (Boston College) and Matt Costello (Princeton). A pair of promising juniors will step into the void in Kenny Calaj and Jakarrie Washington, the latter of whom is expected to fill Costello's deep-ball role.

Defensively, look for the Tide to be stout up the middle, with Langston and senior Chris "Buck" McCarthy calling the shots at linebacker and defensive tackles Milton Lopez and Paul Markini plugging gaps at defensive tackle. Senior Ralph Jonathas appears to be on the path of a breakout campaign in 2011 after promise at the end of last season.

EVERETT AT A GLANCE

Coach: John DiBiaso (20th season at Everett, 239-63-1 overall)
Last Year: 13-0, won Division 1 Super Bowl
Key Returnees: Jonathan DiBiaso, Sr. QB, 6-1, 197 lbs (2,885 passing yards, 43 TD, 4 INT); Vondell Langston, Sr. RB/LB, 6-0, 220 lbs; Ralph Jonathas, Sr. DE/TE, 6-2, 215 lbs; Buck McCarthy, Sr. RB/LB, 5-11, 190 lbs; Nick Stanfield, Sr. C/DL, 6-4, 230 lbs; Kenny Calaj, Jr. WR/S, 5-10, 195 lbs; Jakarrie Washington, Jr. WR/DB, 5-10, 175 lbs; John Montelus, Jr. OT, 6-4, 290 lbs; Jaleel Wingard, Sr. WR/DB, 5-8, 160 lbs; Mark Fils-Ames, Jr. OG, 6-1, 270 lbs; Mike Ottersburg, Jr. OG, 6-1, 310 lbs; Pat Sullivan, Jr. OT, 6-1, 270 lbs; Gilly De Souza, Jr. WR/K, 5-11, 165 lbs; Milton Lopez, Sr. DT, 5-10, 275 lbs; Paul Markini, Sr. DT, 6-3, 220 lbs.
Strengths: Passing game, speed, offensive line, linebackers
Weaknesses: How do you replace Manny Asprilla and Matt Costello?
Outlook: Everett is famous for the faithful's incredibly high standards on the gridiron, and with a demotion to Division 1A in the latest MIAA realignment, anything less than a Super Bowl victory will be devastating in Crimsonville. But certainly, the cards are stacked heavily in their favor. Jonathan DiBiaso is 26 touchdown passes away from breaking Tom Colombo's all-time state record of 85; and while the Tide graduated their greatest wideout tandem in school history with Matt Costello (Princeton) and Manny Asprilla (Boston College), there is still plenty of firepower at the skill positions. Washington and the Calaj showed promise as sophomores a year ago playing the opposite side of Costello and Asprilla, and figure to make a smooth transition. On the line, the guy to watch is undoubtedly Montelus, who has four offers from BCS conference schools despite still being 15 years old. Defensively, the secondary will be stout as usual, while Jonathas should bring some considerable heat off the edge.