Boston High School:

Mike Rando
June, 4, 2013
6/04/13
11:16
PM ET
By
Mike Scandura
| ESPNBoston.com
WALPOLE, Mass. -– As far as Walpole coach Bill Tompkins is concerned the longer the game and the tougher the opposition the better.

Tompkins' philosophy was underscored Tuesday when the top-seeded Rebels twice rallied for an 8-4 victory over No. 8 seed Barnstable in an MIAA Division 1 South quarterfinal game.

"You know I'm an advocate of nine innings," Tompkins said after the Rebels (19-3) came from behind for the second consecutive tournament game. "We play nine innings in the Bay State League and I think that's a huge factor for us –- a real huge factor for us.

"We're also a Division 2 club. We play Division 1 clubs all the time, nine innings. That's why I like to pop up and play (D-I teams). We can compete against these teams."

Besides the fact his team "competed," Tompkins paid the Red Raiders (13-7) a great deal of respect.

"That's the best team we've played this year," he said. "I was really impressed with that team. They ran, they were good hitters and they played good defense. That pitcher (Dan Holzman) was real tough. We knew he had thrown before and he was tough.

"We felt that if we could keep it close and work him into the late innings he might get tired or slow down a little bit. We also noticed he had more trouble throwing strikes from the stretch than he did from the windup. Our kids are battlers and they're nine-innings tested. We know it's a long ballgame and we can come back. We did it before and we did it today."

Red Raiders strike first: Barnstable nipped Walpole starter Tom Farrow for a first-inning run on consecutive singles by Dan Walsh, Dylan Morris and Terrence Muchia.

The Red Raiders scored twice in the fourth –- the highlight being Cody Pasic's booming triple.

But Barnstable got one run back in the fourth on Boston College-bound John Adams triple and Cam Hanley's groundout.

The Rebels tied it in the fifth on Ian Fair's double, Mike Rando's single and Bobby Ivatts single. But Barnstable took what proved to be its last lead in the seventh on Chris Fowler's double, a wild pitch and Walsh's single off reliever and eventual winner Nick Cordopatri.

Walpole exploded for five runs in the seventh on four hits, one walk, one error and a hit batter.

Ian Fair, who reached on a single, scored the tying run on a wild pitch.

Then Hanley delivered the key hit, a two-run single that produced a 6-4 lead.

"(Hanley) had the key hit but our lineup up and down produced today," Tompkins said. "Rando had three hits. Bobby Ivatts, who's been in a little bit of a slump, got a big hit. Obviously, Adams is a hitter. Fair got three hits near the bottom of the order.

"I thought Tommy Farrow kept us in the ballgame (he worked 6 1/3 innings and allowed four runs on nine hits replete with zero walks and five strikeouts). He's a battler. He mixes his speed. He's not overpowering."

Confidence not lacking: Barnstable coach Joe DeMartino expressed the opinion that from pitch one to pitch last, his team never was out of contention.

"We held our confidence the whole game," DeMartino said. "There were a couple plays that allowed them to score a few runs in one inning. But you couldn't feel it on our bench.

"We were confident. We had every thought in the world that we were going to win this ballgame. Unfortunately, it didn't turn out that way but you must give the guys credit for having that type of attitude."
November, 22, 2012
11/22/12
4:00
PM ET
By
Corey J. Allen
| ESPNBoston.com


WEYMOUTH, Mass. -- Coach Barry Greener and the Walpole Rebels will not be going to the playoffs this year, but the Weymouth Wildcats will.

On Thursday, it didn't matter much as the Rebels laid a licking on Weymouth, scoring 35 unanswered points in the fourth quarter to cap off their 48-21 shellacking.

"I think our senior and junior class have a strong will to win, but we practice hard and we practice long," Greener said regarding his team's ability to turn up the tempo and keep the energy burning until the clock wound down it's final second.

Mike Rando scored his third touchdown, a 34-yard run, with 46 seconds left in the game.

"We are in phenomenal shape endurance-wise," added Greener.

The teams were tied 7-7 coming out of the locker room. Walpole failed to convert a first down on the opening possession of the second half, but on the third play of the following Weymouth drive, sophomore Andrew Papirio intercepted the ball and brought it across the 50 to the Weymouth 40. Rando scored his first on the day with a pass from Will Bolster on the next play putting Walpole up 13-7. A failed kick left Walpole up by only 6.

Weymouth would take the next 4:21 to score and put up an extra point to regain the lead at 14-13. The Wildcats scored again on a Dave Harrison run nearly four minutes later at 9:02, but this would be the last score for the Wildcats, making it a 21-13 game.

P.J. Hales took the following kickoff 88 yards up the right sideline in 15 for a score, and the ensuing EP made the the tally 21-19, Weymouth. Walpole, however, recovered a fumble on the first play from scrimmage on the ensuing Weymouth drive. Four plays later Hanley ran in for his second touchdown of the day while Rando added the extra point rush to begin the blowout that was to come with a 27-21 lead that grew exponentially.

"We just meshed together well as a team," said Rando of the stark contrast in offensive production from 7 points in the first half and 41 points in the second. "At halftime, we made a few adjustments and came out flying."

THE GRASS IS ALWAYS GREENER WHERE YOU WATER IT
Although coach Barry Greener will not be going to the playoffs this year, he was happier than a hog in a pigpen after the game, as the match he had looked forward to all year was now under his belt.

"It's not the playoffs; it's not a chance to go to Gillette. The Weymouth game, to me, is the biggest game of the year. That's the way it is," said the 1967 Weymouth graduate.

Although Greener played offensive guard and nose guard in the 1960s for Weymouth, there is no second guessing that he is a Rebel. "I came here in 1972 and I haven't been anywhere else. And I won't be going anywhere. The guy I worked with for my first 20 years in Walpole, the legendary John Lee, he was a Newton North graduate, class of '52, and the Newton North game meant so much to him."

WHEN THE GAME IS OVER ...
Rando and Hanley relayed after the game that they had been playing football together since they were waist high to their present selves and that being tied at halftime was not a good feeling for the team, especially the seniors, some of whom would be playing in their last football game ever.

"We put everything we had on the field," Hanley said.. "We knew it was our last time."

... BUT THE REBEL LIVES ON
Although Rando and Hanley will not play for the Rebels as footballers any longer, they and the other captains handed the invisible torch to the underclassmen in the postgame huddle. This is not the first, nor the last time this act of brotherly love and pride has been acted out as the trees lose their leaves and the last insects look for sustenance to survive the recurring, wicked New England winter.

"It's been passed down for forty-plus years. It's a great tradition, great records, starting with coach Lee back in the late sixties and it's our pleasure… and our honor to be a part of this program and our duty to pass it down to the younger kids," dictated Rando.

Wal (10-1) – 0 7 6 35 -- 48
Wey ( 8-3) – 7 0 7 7 -- 21

Wey – Dave Harrison 72 run (Ozzy Colarusso kick)
Wal – Cam Hanley 1 run (Colton Mitchell kick)
Wal – Mike Rando 40 pass from Will Bolster (Kick failed)
Wey – Harrison 1 run (Colarusso kick)
Wey – Harrison 17 run (Colarusso kick) 21-13
Wal – P.J. Hayes 88 kickoff ret. (Rush failed) 21-19
Wal – Hanley 1 run (Rando rush) 27-21
Wal – Rando 52 run (Mitchell kick) 34-21
Wal – Steve Thulin 32 run (Mitchell kick) 41-21
Wal – Rando 34 run (Mitchell kick) 48-21
November, 10, 2012
11/10/12
2:18
AM ET


NATICK, Mass. – With a crucial Bay State Herget division game against No. 5 Walpole on Friday and coming off last week's upset loss to Wellesley, No. 21 Natick was again confronted with a question of defense.

Yes, the Redhawks' own defense hadn't put forward their finest effort against the Raiders six days earlier, but the looming question headed into Friday's matchup was whether anybody – including Natick's potent passing attack – could score against a downright dominant Rebels defense. Walpole hadn't allowed a single point in six weeks entering.

However, Natick quarterback Troy Flutie was again able to make plays with his arm and his legs, accounting for all three Redhawks touchdowns in a 21-14 victory over the Rebels. Sophomore wide receiver Brian Dunlap, despite being met with blanket coverage, was able to grab six catches for 132 yards and two touchdowns. And that once maligned Natick defense ratcheted up the intensity to hold off Walpole's comeback bid in the fourth quarter.

"We came into this game, we thought we were going to score," Dunlap said. "We weren't worried about their record and what had happened in the past with point or whatever. We just wanted to do our thing, play our game."

Natick now controls its own destiny in the Herget, despite last week's hiccup. The Redhawks (9-1, 8-1) can now clinch a playoff berth with a win in their Thanksgiving Day game against Framingham.

Walpole (9-1, 8-1) was stung by early miscues, which set up both of Natick's first half-scores.

The Rebels scored on the game's opening drive, marching 75 yards downfield on a 13-play drive culminating in Mike Rando's 20-yard touchdown catch from Will Bolster. But a miscue on a Walpole punt erased the advantage by the time the first quarter was out. With 15 seconds to play in the first, a high snap on a Walpole punt gave Steve Thulin no time to kick the ball away. After a last-ditch attempt to throw the ball, Natick took over at the Rebels' 25-yard line. One play later, Flutie connected with Dunlap for their first scoring play.

Natick again forced the Rebels into a mistake with 5:35 remaining in the second. A forced fumble created by Redhawks defensive tackle Matthew Palmer was recovered by defensive end Trenton Wright. The turnover immediately paid dividends for Natick with Flutie hitting Dunlap on a 40-yard hookup for a 14-7 lead.

The ultimate statement of will by the Redhawks offense came with their first possession of the second half.

"That was the game, that first drive, obviously, in the second half, was the game," Natick head coach Mark Mortarelli said. "That's what we wanted to do. It was great to see our offense do that."

The Redhawks took the ball in the second half and Flutie zipped down the field in six plays. Flutie personally accounted for 62 yards on a 70-yard drive to open the third quarter, making a statement against the Rebels' previously impervious defense. He finished the drive with a 1-yard touchdown run which proved to be the game-winner.

"All of our receivers had big games, Miguel [Rodriguez], Justin [Robinson], Andrew [Boynton], and Alex Hilger, coming off an injury," Flutie said. "I thought we ran the ball pretty well. Nick [Lee] did a good job coming back from his injury, too."

The Rebels fought back to make it a one-possession game with 4:24 to play on Bolster's second touchdown pass of the game – a 26-yard fade to Brad Webber. The play, which came on fourth and 11, almost was not as Natick thought it had recovered a fumble (by Flutie) on the previous play, but instead the Bolster pass to Chris Collins was deemed incomplete.

Walpole would get another three cracks at the tying score late in the fourth, but its possessions ended in a punt, an interception and a turnover on downs in succession, as Natick's defense answered the bell. Flutie capped the defensive performance with an interception, the Redhawks' second of the game.

"Coach Mort [Mortarelli] did a great job with our defense after that loss to Wellesley," Flutie said. "He knew we had an embarrassing afternoon there. He knew that he wasn't to let that happen again. I think all of us worked really hard, we put the Wellesley loss on us. So we tried as hard as we could and we just made plays out there."

SUREING UP, UP FRONT
Walpole was able to find success in the running game, behind another big effort from junior Connor Moriarty (21 carries, 120 yards), but Natick's defensive line was a strength. The group of Robby Beausoleil, Ross Brayman, Jack Lowell, Palmer and Wright were active in the backfield. They helped shut down Walpole's passing attack, after being burnt by Chris Sarni and Wellesley last week, in addition to a strong night from Flutie (INT, 3 passes defended) and Mike Abbruzze.

"We wanted to keep everything in front of us and not give up a big play," Mortarelli said. "Obviously, when [Rando] was playing, he's pretty explosive, we didn't want to see him take off on us. We made a couple adjustments in our defense, we rolled up our safeties."

Walpole – 7 0 7 0 -- 14
Natick - 7 7 7 0 -- 21

First quarter
W - Mike Rando 10-yard pass from Will Bolster (Colton Mitchell kick)
N - Brian Dunlap 25-yard pass from Troy Flutie (Sam Lenson kick)

Second quarter
N - Dunlap 40-yard pass from Flutie (Lenson kick)

Third quarter
N - Flutie 1-yard run (Lenson kick)
W - Brad Webber 26-yard pass from Bolster (Mitchell kick)
October, 20, 2012
10/20/12
12:10
AM ET
By
Tom Layman
| ESPNBoston.com
WALPOLE, Mass. -— There's probably no way Barry Greener is just going to use this play every time his offense gets inside the 30-yard line.
But outside observers might not blame him if he does.
Chris Collins and his big frame splits out wide against a defensive back and the tight end uses his body to outmuscle, out-jump and out just about everything against a smaller defender in a jump ball scenario in the end zone.
[+] Enlarge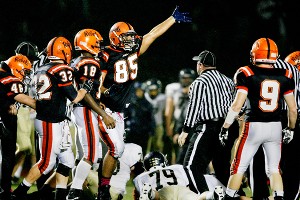 Jon Mahoney for ESPNBoston.comTight end Chris Collins was at his most dangerous tonight on the perimeter, where he hauled in two touchdown passes off of 'Go' routes.
Walpole used that play -- let's call it "Go, Collins" -- twice to perfection last night in a 31-0 trumping of Needham at Turco Memorial Field. The rest of the Bay State Conference, and Eastern Mass., might want to take notice when big No. 85 jogs towards the linesman and sets up as a wide receiver. Because more likely than not, quarterback Will Bolster is going to find his target.
"That's a little mismatch," said Greener. "We have it and we use it. You don't have something like that every year, so when you have it you might as well use it."
Collins has the build of a power forward and is very much in the mold of Antonio Gates, in terms of how the Rebels are deploying him. Collins finished with three catches for 55 yards and two scores against the Rockets (5-2).
"I used to play basketball, so I'm used to posting people up," said Collins. "Bolster is a great quarterback. Credit to him and the offensive line for blocking."
The play will give the Rebels options when defenses try to gameplan on how to stop the tight end from getting a seemlesly easy touchdown. Just let Barry Greener tell you in the only way coach Greener knows how.
"He's improved a lot," said Greener. "Chris, in my opinion, is still a better defensiver player and he is a offensive player. Now he's starting to get a clue on offense. Defense is more instinctive. A lot of times we are slanting or angling. It's more instinctive. With offense you have to have a grasp and a knowledge of the game. What are we trying to do on offense? What is your role? Why are you out there? He blocks very well. He's a great stock blocker.
"He's there to block and try to create a mismatch with a smaller cornerback. If they are out there to double him then we try to overload the other side. It's pretty hard to double Collins if you've got three receivers to cover on the other side. It's tough to cover unless you bring in a dime coverage with six defensive backs. Then we are going to run the ball at you."
[+] Enlarge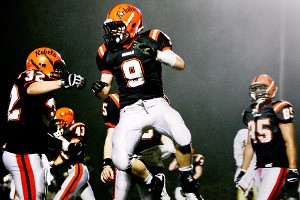 Jon Mahoney for ESPNBoston.comRunning back Connor Moriarty filled in admirably for the injured Mike Rando, rushing for 122 yards and a touchdown.
FILLING IN FOR RANDO
Mike Rando is still in a walking boot, but Greener said his running back/defensive back will be out of the boot on Saturday and will most likely be ready for the heavyweight matchup against Natick.
The Rebels had plenty of options to counter the loss.
Connor Moriarty rushed 16 times for 122 yards and a score, Cam Hanley added a score, and Steve Thulin gained tough yards through the middle of the field to keep the offensive churning in tough weather conditions.
"Our running backs coach said this isn't Team Rando, it's the Walpole Rebels," said Moriarty. "We really stuck to that tonight and it paid off."
That being said, Rando's health will be key for the Rebels as they look towards the playoffs.
"He's a great defensive player," said Greener. "He plays safety, corner plays in the slot, he plays tailback. He does everything. He can cook hot dogs at halftime."
CHARTER DOWN
Ryan Charter didn't play the second half for the Rockets after taking a big hit on the sideline late in the first half. The junior quarterback sustained an injury to his throwing hand and had it taped after the game was over.
"We don't know," said Needham coach Dave Duffy. "We are going to get it X-rayed and we will see what his family says. Hopefully he will be back. He's a big part of our offense."
October, 19, 2012
10/19/12
1:28
AM ET
FRIDAY
NO. 23 NEEDHAM (5-1) AT NO. 6 WALPOLE (6-0)
The Skinny: The Rockets received some help in the Bay State Carey race from Natick last week when the Red Hawks came away with a win at Weymouth. However, Needham will need to capitalize on that break with a win over the Herget's other undefeated entrant. Rockets running back Mike Panepinto continues to be one of the great breakout stories on the year while the Rebels will need to shuffle the deck a little with the loss of Mike Rando, who'll be out several weeks with an ankle injury. Of course, the Rebels counter with one of the more consistent and underrated linebacker units in the state, led by Cam Hanley and Steve Thulin.

Scott Barboza: Even sans Rando, the Rebels still have enough horses in the barn. Walpole, 26-21.

Hall: Losing Mike Rando, for however long a period of time, hurts. But this Rebels defense is still talented enough to get the job done and slow down Team Panepinto. Walpole, 20-7.

NO. 11 KING PHILIP (6-0) AT MANSFIELD (4-2)
The Skinny: This much anticipated Kelley-Rex matchup features one of the state's premier defenses against a recharged Hornets offense. Brett McEvoy anchors the Warriors defense, which has surrendered just six points a game through the first six weeks, along with Joe Johnston. Kyle Wisnieski has held down the quarterback position admirably in his first year as starter, but hasn't stared into a defense quite like that of the Warriors. If he has time to throw, Mike Hershman and Brendan Hill provide big-time targets. Let's not forget that last year's installment of this battle was the coming out party of KP quarterback John Dillon, who nearly lifted the Warriors to victory in a second-half comeback bid.

Barboza: Defense wins in big games, right? It's been a while that the Warriors last had Mansfield's number, but this is the year. KP, 20-14.

Hall: Can't have any pudding if you don't eat your meat. Mansfield, 24-21.

Wakefield (6-0) at Burlington (5-1)
The Skinny: Depending on how Stoneham does this weekend, this one's for at least a share, possibly sole possession of the Middlesex League's Freedom Division (can we just call it Small to alleviate any confusion?). Burlington has had some injuries, but still boast the league's top rushing attack led by Marcus Odiah and Anthony Cruz. They'll meet a Wakefield defense that features a number of playmakers and hasn't allowed a point in 11 quarters. With Dan Cardillo (ankle) gone, there's no real superstar for Wakefield -- but sophomore receiver Bruce Brown will be one to watch, coming off a 124-yard performance last week in a shutout of Wilmington.

Barboza: I'm calling this a split decision. My fan section vote goes to the Red Sea. But the action on the field is dictated differently. Burlington, 8-6.

Hall: This one will be close, and the Warriors might not solve Burlington's rushing attack, but they'll make a big stop late. Wakefield, 17-10.

Mashpee (4-2) at No. 25 Abington (6-0)
The Skinny: This is a battle for sole possession of first place in the South Shore League, with both teams sitting tied atop the league standings at 3-0. The undefeated Green Wave have been getting some terrific defense all season, and feature one of the more unheralded versatile athletes in senior Babila Fonkem. Mashpee stumbled out of the gates, with losses to Nauset and Austin Prep in the first month, but has rebounded with a three-game win streak. Leading the attack have been running backs Malik Lee and Jared Taylor, as well as emerging quarterback Cody Bingham-Hendricks.

Barboza: Fonkem provides the highlight reel plays running and on special teams, but Brian Kilmain and Jack Malafronte give the Green Wave balance. They're the difference. Abington, 28-20.

Hall: For the first time in three years, I managed to get through our picks on video and our podcast without mentioning my parents are Abington High Class of '79 (self high-five, folks). Don't get it twisted, though, that has nothing to do with why I've soured on Mashpee since the preseason. Abington, 28-17.

NO. 2 EVERETT (5-1) AT BC HIGH (2-3)
The Skinny: The Eagles are finally starting to heal, with starting quarterback Brendan Craven seeing action last week against Marlborough and running back Brandon Owens getting back into the mix. While they're still missing a couple key cogs on defense, Owens will help bolster BC High's run defense against Everett's double-wing-based ground attack. The Crimson Tide also have been nursing some injuries in recent weeks, but Jalen Felix returned for last week's game at Xaverian and Jakarrie Washington ran for three scores. Gilly De Souza, the glue that holds Everett's secondary together, continues playing with an ankle injury and didn't see the offensive side of the ball last week, but he's remained rock steady (as he has since freshman year) in the kicking game.

Barboza: BC High is pumped and ready for this one, but De Souza provides the game-winning boot late. Everett, 17-14.

Hall: Won't be fooled again. Everett, 24-10.

SATURDAY
XAVERIAN (1-5) AT NO. 21 BRIDGEWATER-RAYNHAM (3-3)
The Skinny: This one has the potential to please fans of power football. The Hawks could go heavy in the backfield with Hunter Taute with Mike Brennan doubtful for this weekend's game after a late injury in last week's loss to Everett. Or, the Hawks could air it out behind Austin DeCarr whose hit on touchdown passes of 30-plus yards in each of the last two weeks. The Trojans will look to pound the ball behind breakout sophomore running back Brandon Gallagher and a physical offensive line anchored by Joe MacInnis. Senior quarterback Jordan Cohen also gives B-R the opportunity to strike downfield while rolling out of the pocket.

Barboza: I went with the Hawks last week and promptly was served some humble pie by Everett's offensive line postgame. I'm sticking with my gut this week. Trojans have controlled this matchup in the last two seasons. B-R, 21-17.

Hall: Historically when the game slows to a ground-and-pound stalemate, the odds favor the Trojans. B-R, 20-10.

No. 18 Leominster (4-2) at No. 20 St. John's of Shrewsbury (4-2)
The Skinny: Back at the start of the season, we pegged this as must-see action to circle on one's calendar. It's still one of the games of the year in Central Mass., and we could even see a rematch come playoff time, but let the facts stand. Leominster and St. John's quickly fell from the Top 10 in the last several weeks; Leominster looked shaky in an upset loss to Wachusett and win over Algonquin, while St. John's has surrendered 100 points total in the last two games.

Barboza: That Pioneers defense tightens some, but just not quite enough to stop the Blue Devils. Leominster, 34-28.

Hall: If there's anything we've learned in the last two weeks, it's that if you can run on St. John's, you can go all Barry Switzer and "hang half a hundred on 'em". Leominster, 40-35.
September, 24, 2012
9/24/12
12:18
PM ET
By
Brendan Hall
| ESPNBoston.com
THE CONTENDERS
Drew Belcher, Jr. QB, Reading
Tossed four touchdown passes in the Rockets' 32-0 shutout of Arlington.

Brian Dunlap, Soph. WR, Natick
Caught six passes for 147 yards and two scores in the Red Hawks' 33-7 win over Milton.

Jalen Felix, Sr. ATH, Everett
Taking primarily handoffs in the Crimson Tide's 19-7 win over St. John's Prep, carried 12 times for 96 yards and a touchdown.

Troy Flutie, Jr. QB, Natick
Completed 14 of 21 passes for 275 yards and three touchdowns, and added 35 yards on the ground, to eclipse 300 yards from scrimmage in the Red Hawks' 33-7 win over Milton.

Jon Hurvitz, Sr. RB, Duxbury
Racked up 185 all-purpose yards and five touchdowns in the Dragons' 42-14 win over New Bedford, with 140 yards and four scores coming on the ground.

Marcus Odiah, Sr. RB, Burlington
Ran for 243 yards and four touchdowns in the Red Devils' 48-28 shootout win over Belmont.

Nick Peabody, Sr. QB, Barnstable
Completed 27 of 39 passes for 402 yards and five touchdowns in a 35-14 win over Sandwich. Peabody currently leads the state with 13 touchdown passes through the first three weeks of the season.

Andrew Smiley, Jr. QB, St. John's (Shrewsbury)
Went over 330 yards from scrimmage for the third straight week, this time completing 14 of 26 passes for 207 yards, and adding 126 yards with two scores on the ground, in a 21-6 win over Catholic Memorial.

Jonathan Thomas, Jr. RB, St. John's Prep
Carried 19 times for 101 yards in the Eagles' 19-7 loss to No. 1 Everett.

Quron Wright, Sr. RB, Holy Name
In the Naps' 43-6 win over Arlington Catholic, Wright carried the ball just six times for 216 yards and touchdown runs of 56, 64 and 81 yards. In the last two weeks, he has just 11 carries but for 365 yards and six touchdowns. For the season, that's currently an absurd 16.9 yards per carry.

ON THE RISE
Garrett Carlos, Sr. RB, Somerset-Berkley
Carried four times for 187 yards and four touchdowns in the Blue Raiders' 49-6 win over Tri-County.

Justin Mount, Sr. ATH, Westford
In the Grey Ghosts' 27-12 win over Malden Catholic, ran 105 yards, caught another 90, and added an interception. In three games, he has 496 yards rushing and three picks.

Aaron Owens, Sr. RB, Springfield Central
Carried 17 times for 127 yards and three touchdowns in the Golden Eagles' 32-12 win over Chicopee Comp.

Jon Ojuwkwu, Sr. RB, Nashoba
Ran for three first-half scores, including the opening play from scrimmage, in the Chieftains' 42-3 win over Algonquin.

Mike Panepinto, Sr. RB, Needham
Ran for 103 yards and four touchdowns in the Rockets' 42-7 rout of Braintree.

Mike Rando, Sr. RB, Walpole
Went off for big gains in the Rebels' 46-13 win over Brookline, totaling 120 rushing yards and a score on just three carries, and hauling in four passes for 80 yards.

Rob Rapoza, Sr. RB, Mansfield
In the Hornets' 31-16 win over Dracut, he had 20 carries for 248 yards and three scores, and added fourth touchdown on a reception.

C.J. Scarpa, Sr. QB, Andover
Completed 18 of 31 passes for 255 yards and three scores, and added a fourth touchdown on the ground, in the Golden Warriors' 34-0 win over Methuen.

Jimmy Sullivan, Sr. QB, Nauset
Ran for 190 yards and three touchdowns in the Warriors' 34-14 win over Mashpee.

Cody Williams, Jr. QB, Springfield Central
Another solid outing for the junior, completing 11 of 15 passes for 220 yards and two scores in the Golden Eagles' 32-12 win over Chicopee Comp.
August, 28, 2012
8/28/12
4:03
PM ET
By
Brendan Hall
| ESPNBoston.com
Barry Greener had just coached his Walpole Rebels to a last-second, playoff-clinching win over rival Natick in early November 2011, for the Bay State Herget title, and was asked bout simulating the Red Hawks' hyperactive tempo. Never one to mince his words, Greener adorningly illuminated his own hectic practice tempo, saying, "It is absolutely massive friggin' chaos out there."
"They don't have time to get down in their stances, we're running plays at them so fast," he
told reporters that night
.
Scouts from their would-be opponents, undersized but frenetic Dennis-Yarmouth, were in the bleachers that night. They served up chaos of their own two weeks later, in a Tuesday night Division 2A playoff, attacking them at a pace unseen even in that Natick win, for a 46-20 whooping that wasn't as close as even that lopsided score would indicate.
Reflecting on that outcome nearly nine months later, Greener recalled a conversation at a gas station last month with former Red Sox manager Joe Morgan (himself a lifelong Walpole resident) going back to that night – "I've known Joe for a long time, Greener recalled. "He said, 'I was up in the stands with a friend, I turned to him and said this game is over before it starts'."
Greener continued, "It was a mismatch. They were so much more athletic, they should have been No. 1 in the state [in ESPNBoston.com's poll]. I've been to every Walpole game since 1972, and that's the best team we've played in 25 years. They were unbelievable."
OK, now to the present day. Four of the Rebels' best players were out of the lineup that fateful Tuesday night, and three of them – running backs Mike Rando and Cam Hanley, and wideout P.J. Hayes – are back, with weighty expectations.
The 5-foot-10, 180-pound Rando suffered a season-ending ACL tear in the second week of the season, but appears to have come back stronger than ever. Greener raves about Rando, with his blend of 4.5 speed and exceptional vision, evoking shades of one of the greatest ever to come through Walpole, 2010 graduate Ryan Izzo.
"I call them 'Izzo Eyes', he sees daylight where nobody else sees daylight," Greener said. "Rando's got great vision – are they Izzo's vision? Probably not, but Rando's is pretty good. Rando is the complete package, the perfect player, great teammate, great leader, great worker, just does everything right on and off the field. If you had all Rando's, you'd feel guilty even signing your paycheck. It'd be too easy.
"If an Izzo comes around once every 25 years, Rando comes around every 10, and I'll be retired before the next one. He's just a pleasure to coach, and he doesn't need a lot of coaching. You tell him once and he gets it."
Hayes also suffered a season-ending ACL tear in week three of last season, but came back with a strong indoor and outdoor track campaign, with impressive personal bests in the 55 (6.45), 100 (10.73), 200 (20.04), and long jump (20-foot-1). However, he has been battling back issues this training camp, and will be out until week three of the season.
Still, with Hanley in the mix, and a solid returning nucleus in the trenches, the Rebels ought to be flexible. They found success with double-tight packages last season, and will utilize them again this season. Though with the number of athletes on the perimeter, Greener will quickly spread them out the gameplan stalls.
Defensively, the Rebels will be just as flexible out of a 3-4 front. One of the most impressive displays of this flexibility last year may have come in that very same Natick game, when they kept just five defenders in the box but for the most part didn't allow for many leaks.
The 6-foot-4, 260-pound Collins should be a disruptive force yet again. A preseason ESPN Boston All-State selection at tight end, Collins is a Division 1-caliber talent who in all likelihood projects on the defensive side of the ball. Last season, he ranked third on the team in tackles. As instinctive and physical as he is, Greener suggests his best playing days "may come after he leaves Walpole."
To this point, Collins has received interest from UMass, New Hampshire and Rhode Island, but to this point it is just due diligence. Prep school is also potentially an option for him.
"He does have unbelievable upside," Greener said. "He's strong, fast, and boy does he get to the ball. The thing he's gotta understand if signs a D1 deal, they're all gonna be like him, theyre all like you , so it boils down to technique and who plays the best, to get the most playing time."
WALPOLE AT A GLANCE
2011:
9-3, lost in Division 2A Playoffs
Coach:
Barry Greener (4th year, 29-6 overall)
Key Returnees:
Chris Collins, Sr. TE/DE, 6-4, 260 lbs.; Mike Rando, Sr. RB/DB, 5-10, 180 lbs.; P.J. Hayes, Sr. ATH, 5-10, 170 lbs.; Cam Hanley, Sr. RB/LB, 5-10, 210 lbs.; Steve Thulin, Sr. RB/ILB/P, 5-9, 190 lbs.; Ricky Ordway, Sr. OT/NG, 6-0, 260 lbs.; Ryan Finn, Sr. OLB, 5-11, 180 lbs.; Dave Driscoll, Sr. OL/LB, 6-0, 190 lbs.
Strengths:
Returning seniors, leadership.
Weaknesses:
Experience at offensive/defensive lines, secondary.
Outlook:
The Rebels return six starters on both sides of the ball, and Greener will be counting on that veteran leadership to carry them to third straight Bay State Herget title and playoff berth. Rando and track star Hayes went down with season-ending knee injuries in consecutive weeks last September, and while Hayes is on the mend again with back issues, Rando has looked "phenomenal" in the preseason according to Greener. Flexibility appears to be the operative theme so far in Walpole. Offensively, the Rebels will utilize double-tight packages out of the I formation, but can spread it out if the gameplan calls so. Defensively, Greener will once again utilize a 3-4 base, with Division 1 prospect Collins setting the edge. At times the front was unwavering, as evidenced in last year's win over Natick, when they left five in the box and were able to contain one of the state's most efficient spread schemes. That battle with the Red Hawks decided the Herget, and barring a surprise run from Norwood or Wellesley, it will once again determine the Rebels' Post-Thanksgiving fate.
April, 21, 2012
4/21/12
3:56
PM ET
By
Tom Layman
| ESPNBoston.com
MANSFIELD, Mass. -- It's hard to miss the bats at the top of the Walpole Rebels lineup if you are an opposing pitcher.

When the bottom of the lineup can provide that same punch for the Rebels then the Bay State Conference and the rest of the local nines should be on alert.

The Rebels pounded out 13 hits and got multiple-hit games from Tom Farrow and Mike Rando in the final two spots of the lineup to squeak past host Mansfield, 7-6, in a nonleauge afternoon game.

Farrow and Rando each went 2-for-3 with an RBI, and Rick Ordway delivered with a single off the bench to push the Rebels record to 7-0.

"We feel we are a decent hitting club," Rebels said head coach Bill Tompkins. "If the top half doesn't do it, then we hope the bottom half can. That's certainly the way it is, and the bottom half did do a good job today."

The Hornets answered a two-run top of the first inning with two of their own off Rebels starter Mike Baryski.

Then the bottom of the order took the game back for the Rebels.

Ordway entered the game in the top of the fourth as a pinch-hitter and beat out an infield single to lead off the inning. Ordway took second on a passed ball and Farrow hit a fly ball to right field that got in when Steve Nagle tripped and injured his leg (more on that later) on the play.

Ordway scored on the play for a 3-2 lead and Farrow ended up on third base. Rando roped an RBI triple to right center and John Adams brought the nine-hole hitter in with a sacrifice fly to center field.

"The biggest hit today was Rando's triple, because that took the game back for us," said Tompkins.

The top and middle of the lineup still provided the punch as well for the Rebels. Adams delivered with the sacrifice fly in the fourth and stung a couple of balls right at Hornets' position players. Craig Hanley collected three singles in four plate appearances, and his brother, Cam, added a pair of hits.

NAGLE INJURY COULD PROVE COSTLY
The Hornets are much better than the 1-7 record they sport this season based on the close game they played against an undefeated elite team, but an injury to one of their leaders could prove costly.

Steve Nagle, who was 2-for-2 in his first two plate appearances at the top of the Hornets lineup, had to leave the game in the top of the fourth after he went down awkwardly trying to track down Farrow's sly ball to right.

Nagle had to be helped off the field from his teammates and head coach Tim Graham was hoping that a serious injury could be avoided that could derail his senior leader's season.

"It's a huge loss because he's a fantastic player," said Graham. "I'm hoping it's a little sprain. Never had an injury before and he's played for me for three years."
October, 30, 2010
10/30/10
12:34
AM ET
By
Neil Carroll
| ESPNBoston.com
NATICK, Mass. -- Natick freshman quarterback Troy Flutie had 288 all-purpose yards for the Red and Blue, but his performance was not enough to knock off the visiting Walpole Rebels at home Friday night.
No. 24 Walpole (8-0) did not have a standout performer in the 29-20 victory. It instead used a variety of methods in order to take down Natick (4-4) -- including a return of a blocked point after touchdown attempt that gave the Rebels momentum late in the game -- and clinch a Division II playoff spot.
[+] Enlarge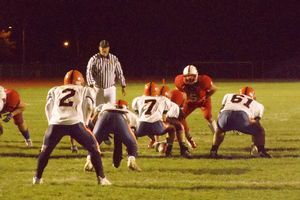 Courtesy Neil CarrollWalpole's Troy Salvatore (7) and Kenny Woods (2) helped the Rebels clinch a Division II playoff berth with a 29-20 win over Bay State rival Natick.
"It was a total team effort," Walpole head coach Barry Greener said. "We don't have that one guy -- it's really just a bunch of guys that just keep fighting and that's what happened here tonight."
Greener stressed the importance of all phases of the game, but in particular his special teams unit.
As the third quarter ended, Natick was awarded a first and goal situation with the ball on the 2-yard line and trailing 20-16. The Walpole defense stuffed the run on three consecutive plays forcing the Red and Blue to go for it on fourth down.
Flutie stood in the pocket to deliver a 5-yard touchdown pass to receiver John Bishop to tie the game at 20. But on the ensuing point after try, Walpole junior Dan King burst through the right side of the offensive line to block the kick, and Chris Norberg took the loose ball 65 yards to the end zone.
Norberg's scoop and score that Greener called "the turning point in the game" put the Rebels up, 22-20, and left Natick reeling after losing the momentum they had gained from the previous score.
Then Walpole put on a clock-management clinic, killing seven minutes in the fourth quarter on an 11-play drive, that spanned 62 yards and culminated in a 9-yard Troy Salvatore touchdown run. Salvatore was second in rushing for Walpole with 54 yards on 10 carries and two touchdowns. The senior was 9 of 13 for 129 passing yards with a touchdown pass to sophomore Mike Rando.
"It was crazy," Salvatore said of the win. "We were hard on the offensive line all week and they came out tonight and did a hell of a job blocking -- we were able to run the ball a lot -- and the defense stepped up."
Running back Kenny Woods ran the ball 15 times for 115 yards for Walpole and was second in rushing only to Natick's Flutie.
Natick's offense struggled in the first quarter, but came back strong in the second. Flutie finished the game with 14 carries for 129 yards and a rushing touchdown, but also completed 10 of 23 passes for 159 yards and a touchdown.
Although he threw an interception late in the fourth quarter, in his second career start, Flutie looked calm behind center while being indoctrinated into the Natick-Walpole rivalry and the Bay State Herget.
"We told the kids coming in that this was going to be a tough game, Walpole [versus] Natick is always a war," said Greener. "[Natick] is not a four-and-three team, they are a much better team than that."
"We always battle, that is the thing about our kids" Natick head coach Mark Mortarelli. "Down fourteen-to-nothing, nobody was panicking. We got a couple of touchdowns quickly, and going into halftime we knew we had a chance."
The win puts the Rebels in the driver seat of the conference and now has them eyeing a perfect record, but also keeping a lookout for No. 22 Weymouth in a heated Thanksgiving day clash.
"Now, we have to set a new goal," said Greener. "Our goal now is to win the whole Bay State title."
W 7 7 7 8 -- 29
N 0 14 0 6 -- 20

First quarter
W- Rando 36 catch from Salvatore (Tim Crowley kick)
Second quarter
W - Rando 9 run (Crowley kick)
N - Flutie 36 run (Sam Lenson kick)
N - Glenn Duffy 2 run (Lenson kick)

Third quarter
W - Salvatore 1 run (Kick failed)
Fourth quarter
N - Bishop 5 catch from Flutie (W - Norberg 65 fumble recovery return)
W - Salvatore 9 run (Crowley kick)