Boston High School:

Mike Roy
April, 11, 2013
4/11/13
1:00
AM ET
By
John McGuirk
| ESPNBoston.com
GRAFTON, Mass. -- The events which took place last June at Rockwood Field in Worcester are scrapbook material now. After 10 months of celebration, pats on the back and congratulatory messages, the Grafton High softball team is back at work.
What is different this year than in years past is the Indians return as defending Division 2 state champions. But if you ask any of the returning players about last season's magical run, they are quick to point out that was last year and this is this year.
[+] Enlarge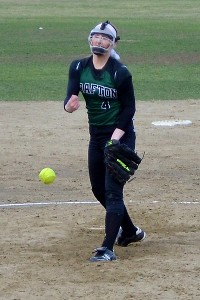 Scott Barboza/ESPNGrafton hurler Kendal Roy registered an 18-1 record and a 0.72 ERA last season as a sophomore while earning ESPN Boston All-State Team honors.
What Grafton accomplished a year ago was historical and undaunting. The Indians were considered a strong program, according to those who follow this game closely, but not one who was expected to vie for a Central Mass. crown let alone a state championship. But this team refused to buy into the banter. From the opening game of last season, Grafton ran amuck through Central Mass., winning its first 19 games. A setback against St. Peter-Marian did little in changing the course of the Indians prolific ride. They rolled through the Central Mass. postseason tournament, bumped off Western Mass. champ Hampshire Regional in the state semifinal, before slipping past Abington to secure a state crown.
"There is no way I will ever forget the experiences of last year," said junior pitcher Kendal Roy, a key component to last season's success after going 18-1 inside the circle, sporting an 0.72 ERA and recording 176 strikeouts. "That was the best time ever. But it's 2013 now and 2012 is over. It's a new season. We have some new girls added this year and lost a couple from last year's team. What we did last year doesn't matter anymore. We need to come out this year and redeem ourselves and show we are still the same team.
"We are young and even if we don't win we know will live another day and move on. I think that's the way to view all of this."
Starting on varsity as a freshman, Roy, who was selected to last year's ESPN Boston MIAA softball All-State Team, carried an overall record of 43-5 into the 2013 season. It's unfathomable what that mark could be once she graduates next year. Roy has become one of the premier hurlers in the state and should carry that torch through the next two years.
"We know we have one of the best pitchers in Central Mass.," 14-year head coach John Gemme said. "In most cases, once we get a lead you start feeling a little more comfortable with Kendal [Roy] on the mound. She never gets rattled and she never thinks she is better than anyone else on this team. I know in a lot of cases where someone gets most of the accolades and it gives them a big head but that has never been the case with Kendal."
When asked about her own personal accomplishments, Roy is quick to defer the spotlight on to herself, instead choosing to talk about team achievement. That is one of the reasons why the chemistry among this group has remained so positive. Everyone on this team gets along with one another and there is not a shred of animosity to be found. To a player, the Indians play as one complete unit. Their mission and purpose approaching each season never changes.
"One thing about this team is we have very few who take the winters off, put the glove away and don't see it again until now," said assistant coach Mike Roy, Kendal's father. "That's why we are where we are. The majority of these girls are constantly working on their game throughout the winter months because they want to get better."
You will often hear music blaring from a boom box inside their dugout, as part of the Indians' pre-game routine. During games, team members huddle in unison to sing songs and shout out various chants of support. In essence, you would be hard-pressed to find another program more loose, upbeat and relaxed as this one.
"As long as we are doing what we are supposed to be doing out on the field I don't think it's a problem for us to have some fun while we do it," said Tara FaFord, a senior third baseman who will play at the University of Bridgeport next season.
It's no secret that teams will be gunning for the Indians this year, although Grafton is already off to a 5-0 start. That is the scenario most teams face in their attempts to defend a title.
But Grafton offers up a simple response: bring it on.
"We know everyone we play is going to bring their best game at us," senior catcher and Bryant University commit Ali Page said. "Every team we play is going to look at us like it is their Super Bowl. Last year, we were very methodical in how we did things and took a game-by-game approach. I feel we need to continue to do that again this year in order to remain successful."
One thing that doesn't get brought up is the added pressure of trying to win back-to-back crowns. Talk of a repeat is never uttered. At least not yet. Gemme says he prefers to play out the regular season first and see what happens from there.
"Last year these girls showed up everyday trying to get better at something," he said. "This year we are approaching it the same way. As a coach you ask yourself what do I need to do to make us get better because everyone else you play against is going to try and knock us off. Those teams are going to continue to work to get better and we need to do the same thing."
Only one time last season did Grafton not play to its capability. What a late season defeat to St. Peter-Marian, a team that finished with 11 losses and failed to qualify for the postseason, did was only spoil an opportunity for a perfect season and, in turn, serve as a wake up call.
"Getting that taste in your mouth of losing was something we hadn't experienced all year," FaFord said. "We sort of forgot how to lose so after losing that game we all agreed that we never wanted to feel that way again."
Added Roy, "The St. Peter-Marian loss was probably the best thing that could've happened to us. We were so high about being 19-0 heading into that game and to be taken out by a team that didn't even make the districts proved that we are human and we can lose a softball game if we fail to show up and play."
March, 4, 2013
3/04/13
12:39
AM ET
By
Mike Abelson
| ESPNBoston.com
BOURNE, Mass. -- For one fleeting second everything stopped.

With Norwood down one and the clock winding under 30 seconds, a freak bounce put the puck in John Galvin's wheelhouse and Hingham goalie John Grenier completely out of position. Galvin whiffed on the shot and Hingham held on to win a wild 5-4 Division 1 South quarterfinal yesterday at Gallo Arena.

"They played a great game, with intensity and fired up," Hingham coach Tony Messina said of the Mustangs. "For some reason we didn't. I told them we have to work the whole first period. They came back every single time. They weren't very hard shots but they got through. It's tough to explain."

Hingham set the tone early.

Sam D'Antuono scored 3:07 to put the Harbormen up early. D'Antuono and his linemate, Matt Brazel, combined for six points on the afternoon.

Norwood answered late in the period with goals from Dan Wiseman and Jack Sheehan to go up 2-1 after 15 minutes.

D'Antuono scored 28 seconds into the second period to tie it, and Hingham continued to control much of the possession, but Norwood was able to capitalize on their chances. Mike Roy scored midway through the second to tie it.

Brazel scored 73 seconds later to put Hingham up 3-2.

"They're go-to guys, it's obvious," Messina said of D'Antuono and Brazel. "That line was out there the all the time."

Justin Ryder buried a rebound at the 5:53 of the third to put Hingham ahead to give Hingham its third lead of the game. Norwood's Jordan Davis stepped up between the pipes, turning aside 26 shots, but the Hingham attack was too much.

Luke McInnis tipped a shot in with just under two minutes to go. Sheehan scored 27 seconds later with an extra attacker on the ice, which led to the frantic final minute, but it wasn't enough.

"We hung tough, kept plugging away," Norwood coach Bill Clifford said. "If John gets that one at the end we're tied at five.

"I told them to keep their heads up. They're champs in my book. They won their league, and went down swinging."

FORGETTING THE PAST
When asked about transitioning to the South tournament after the loss against Central Catholic, Messina smiled and said "What loss to Central?"

Messina said that his squad has taken a water-under-the-bridge attitude to the game and is full committed to winning D1 South and the state title.

"I think they probably think about it every day, but we tried to refocus the next day," Messina said. "We've have had two games in this tournament so far so I'm hoping they've refocused and forgotten about that game."

FISTS FLY
After Hingham won a defensive zone faceoff with nine seconds left, one of the Harbormen pinned the puck to the boards and killed the final seconds. In the ensuing scramble Norwood's Rourke Flynn was dropped from a hit from behind.

Flynn took exception to the hit and after some pushing and shoving he, and Hingham's John Carlson, dropped the gloves and started fighting while a fracas involving at least half a dozen players broke out that took over a minute to bring under control.

Flynn was assessed a game misconduct retroactively while Carlson was not assessed any penalty.