Boston High School:

Mike Schiavi
September, 10, 2011
9/10/11
5:42
PM ET
By
Adam Kurkjian
| ESPNBoston.com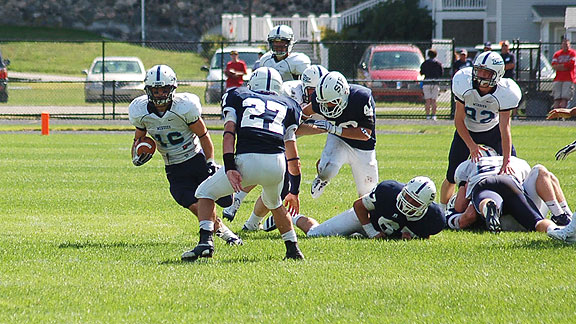 Brendan Hall/ESPNBoston.comDracut junior Zach Bassett came up with the game's first score and was in on a slew of tackles on Saturday.
DANVERS, Mass. -- St. John's Prep is usually the team with the big, experienced offensive line and overpowering ground attack.
Saturday at Cronin Memorial Stadium, however, it was visiting Dracut which fit that bill, and the result was a 13-7 win.
"We've got a lot of things to work on," Dracut coach Jason Houston said. "It wasn't pretty."
Indeed, it was a sloppy game on both ends. But if you think a senior group of linemen pushing its way forward on both sides of the ball is attractive, yesterday's performance by the Middies (1-0) was a thing of beauty. Dracut, looking to reach its fourth consecutive postseason appearance and third straight out of the Merrimack Valley Conference's Small Division, received the requisite might from seniors Anthony Metzler (5-10, 280), Mike Schiavi (6-4, 285), Conor McAnespie (5-10, 185), Jack Whelton (6-3, 200), Shawn Butt (5-11, 260) and Jacob MacShane (5-11, 200) to make up for the loss of reigning MVC Lineman of the Year Peter Salem, who was out nursing a minor injury.
Quarterback Jimmy Ryan, a junior making his first start, rushed for 103 yards and a touchdown on 19 carries and completed 10-of-15 passes for 113 yards. The Middies scored on a 2-yard Zach Bassett rush and a 16-yard zone-read keeper by Ryan in the second quarter to take a 13-0 lead into halftime.
Alex Moore (26 yards rushing, 74 receiving) dove over from a yard out for the Prep's only score with 2:58 to go, but the Middies picked up three first downs and forced the Eagles to burn their remaining four timeouts.
Game over.
"I look at it as a win is a win," said Bassett, who rushed for 47 yards and also made a key fourth-down stop on Prep quarterback Tommy Gaudet to start the third quarter. "Every win is huge, especially one like St. John's Prep. But we're going to look back, enjoy it tonight and go after it on Monday."
Some other observations...
Middies swarming:
Dracut's defense was billed as a strength coming into the season and it lived up to that reputation Saturday. In addition to the play from the linemen, the linebackers out of Dracut's 3-5-3 alignment were all over the field. Tony Ngeth, Bassett, Matt Ferrazzani, junior Pat Noonan and Ryan Schwartz were suffocating. St. John's Prep inexperienced offensive line opened very few holes and those that did appear closed fast.
"I wouldn't want to play this defense," Ryan said with a smile. "They're phenomenal. They're fast. They're strong. They just know where to be at all times."
Filling big shoes:
Ryan stepped in for his first varsity start and wasn't fazed one bit by an excellent group of defenders on the other side of the ball. He executed the zone read properly and made accurate throws in the short-range passing game. He did exactly what the offense asked him to do and more, and it looks like Dracut is going to be set at the quarterback position for another two years. He has a good group of skill players to work with in junior Bryant Tuff, Dante Torres, Ferrazzani, Bassett and Leo Lakmany. All four showed good hands and nice toughness after the catch.
Green in the trenches:
The Prep replaced every offensive lineman and it showed. The youth up front resulted in a lot of false starts and missed assignments. That will work itself out in time, though, as the Eagles were cleaner in that regard in the second half. The Prep was also missing senior Brennan Giles (6-2, 286), maybe the team's most experienced player in the trenches. Either way, Dracut had the advantage up front.
Promising Prep D:
The Eagles are going to be excellent on defense. Even with the offense sputtering like it did for most of the game, the Prep defense managed to shut out a good Dracut offense in the second half. Junior nose guard Corey Jean-Jacques (5-11, 291), a wrestling standout who just came out for football this year, is a nice anchor with ends Owen Lynch and junior Anthony Bongiorno providing speed off the edge. Junior Lucas Bavaro, sophomore Sean Smerczynski, junior R.J. Pizzano and sophomore Jonathan Thomas are a nice corps of young linebackers, while juniors Moore, Gerald Kahari and Jack Sharrio are hard hitters in the secondary. Once this offense starts clicking, look out, because the Prep's defense is good and will be even better in 2012.
DRACUT 13, ST. JOHN'S PREP 7
DHS (1-0) --- 0 13 0 0 - 13
SJP (0-1) --- 0 0 0 7 - 7
Second Quarter
D - Zach Bassett 2 run (Jacob MacShane kick)
D - Jimmy Ryan 16 run (kick failed)
Fourth Quarter
SJP - Alex Moore 1 run (Connor Shaw kick)
August, 25, 2011
8/25/11
5:27
PM ET
By
Andy Smith
| ESPNBoston.com
DRACUT, Mass. -- It is a humid, overcast afternoon as coach Jason Houston and his Dracut High School football team put the finishing touches on their first of two Thursday practices in a field hundreds of feet behind the football complex. The practice has already ran beyond its original noon ending time, but it's this extra time that could prove valuable in the future for the No. 19 Middies.

During one drill, Houston is taking a hands-on approach, acting as a quarterback while trying to teach his linebackers their proper gap-filling assignments on running plays. After each snap, they ask him questions about pre-snap adjustments, what to do when a player goes in motion, and so forth. The second-year coach answers them all, expecting that uncertainty one week into preseason camp. The questions have to be answered now, because once the season starts, the competition will not wait for them to work things out.

On the first Saturday of the season, the Middies play No. 12 St. John's Prep. Four of the six weeks after that, they face off against Merrimack Valley Conference Large competitors Billerica, Central Catholic, Lowell, and Chelmsford. That is stiff competition, to say the least.

"Playing St. John's Prep is going to be quite the task for us, where we're only returning four offensive starters," said Houston. "But it's a good way to gauge ourselves in the season and you can't get better by playing teams that are worse than you. You have to play teams that are better than you. That's why we play SJP, we scheduled Brockton a few years ago, and had Marshfield and Westford the last few years."

"We know going in that we might lose one, maybe two of those games, but we'd like to split our non-league games," he continued. "That way, when we get to the MVC Large teams, we're a little more ready to play those teams. We should have all the kinks worked out by league play."

One of the important new offensive starters is quarterback Jimmy Ryan. He spent two years as a backup to Matt Silva, who graduated, but this year he will be thrown into the metaphorical fire that is the MVC. He seems up for the challenge. Also graduated is Chris Malonis, who paired with Silva to be one of the most prolific pitch-and-catch combinations in the MVC.

"I'm excited (to take over at QB)," said Ryan. "I know there's a history of great quarterbacks here, from Coach (Bobby) Russo, (Matt) Grimard, Tim Dillon, to Matt Silva of course. I don't want to be the guy to let everyone down, but I think I can do it. I've been in this system for two years now and I know we have a great coaching staff here so I think I'll be ready."

"I know the schedule isn't easy, but the coaching staff does a great job preparing each week and coming up with schemes and all that, so I think we'll be ready no matter who we're playing," said Ryan.

Malonis was back at practice Thursday, helping lead the scout team offense and acting as quarterback during wide receiver vs. defensive back drills. He and Russo still being around the program can only help Ryan as he grows into his role.

As practice ends and Houston addresses his team, he acknowledges there is more work to be done. He knows how much he's going to rely on his new starters on both sides of the ball if he wants to get back to and make some noise in the playoffs.

Can his team do it? That's a question that can only be answered once the season starts.

DRACUT AT A GLANCE

Head Coach: Jason Houston (2nd season, 8-4)
Last Year: 8-4 (Lost to Reading in Division 2 playoffs)
Key Returnees: Zach Bassett, Jr., WR/OLB 5-8, 170 lbs., Dante Torres QB/DB 5-11, 160 lbs., Jimmy Ryan QB 5-10, 160 lbs., Peter Salem, Sr., OL/DL, 6-0, 225 lbs., Tony Ngeth, Sr. RB/LB, 5-9, 170 lbs., Mike Sarault, Sr., RB/LB, 5-7, 165 lbs., Ryan Ignacio, Sr., RB/LB, 5-10, 170 lbs., Nick Dubuque, Sr., OL/DL, 5-6, 185 lbs., Anthony Metzler, Sr. , OL/DL, 5-10, 280 lbs., Mike Schiavi, Sr., OL/DL, 6-4, 275 lbs., Nick Staub, Sr., OL/DL, 6-2, 230 lbs., Tom Babaletos, Sr. OL/DL, 5-11, 250 lbs., Matt Ferrazzani, Sr., TE/LB, 6-0, 190 lbs., Ryan Schwartz, Sr. WR/DB, 5-9, 160 lbs., Shawn Butt, Sr. OL/DL, 5-11, 245 lbs.
Strengths: Experience on both the offensive and defensive line
Weaknesses: Youth in the secondary, only returning four offensive starters, untested players at the skill positions
Outlook: With so many new players on offense, Dracut will try to rely on its defense through the first few weeks of the season. It will also try to take the pressure off its new quarterback. "Early on we'll probably lean on the run game a lot more than what we've done in the past," said Houston. "I don't know if we'll be throwing the ball and gun-slinging it in the first couple of weeks, but we should be alright. We'll probably look to control the clock with the run game and rely on our defense to get some big stops early, get the offense in some third-and-longs. We're more experienced upfront on defense so we might be able to do more stuff, play more man-to-man and put some pressure on guys. That will play into our gameplan of controlling the clock and controlling the tempo. Keep the other offense off the field so we can grind it out with our offense." They will look for balance on offense, not just in run versus pass, but also spreading the ball around through the air. If Dracut can achieve that, they will surely make noise in the MVC and stand a good chance at coming away with their fourth league title in as many years.