Boston High School:

Mike Welby
December, 18, 2013
12/18/13
9:27
PM ET
By
John McGuirk
| ESPNBoston.com
FRANKLIN, Mass. -- Westwood knows it caught a break. But in the world of competitive sports, no one is about to complain, especially if you happen to be on the winning side.

In tonight's Tri-Valley League early-season showdown, it appeared as though the Wolverines would have to settle for a tie against rival Medway at the Staff Sgt. Pirelli Veterans Memorial Rink. Westwood was nursing a one goal lead through much of the final period until Mustang junior Kevin Kaufman ripped a shot from the left circle that eluded all-everything goaltender Will Ribas to knot things up.

As the clock ticked down to a few precious seconds, the Wolverines made one final rush into the Medway zone. Junior captain Ken Mackin let go of a shot from about 20 feet out. The puck hit the stick of Mustang goalie Mike Purnell and soared into the air. Kaufman, standing alongside Purnell, tried to swat the puck mid-air away from the net but instead, the puck deflected off his stick and went backwards into the net with 16 seconds remaining giving the Wolverines an unexpected 2-1 triumph.

"We kept skating but I don't think this was our best game and it wasn't Medway's best game either," Wolverines head coach Mike Welby said. "We tried to keep skating with those guys and put pucks deep and tried to work the puck to the net. We knew their goalie was good so we knew a second goal would be tough to come by. It's tough to see a game end like that where it goes off their own player's stick but that's the way it goes sometimes."

With the victory, Westwood improves to 2-0-0 while Medway drops to 0-1-0.

The Mustangs controlled most of the action. The Wolverines had trouble containing the puck at both ends of the ice due in large part to a solid mix of fore and back checking by the Medway defense. That, in turn, led to some quality chances offensively.

However, in spite of holding a 24-13 advantage in shots through two periods, the Mustangs trailed 1-0. At 12:50 of the middle frame, Wolverine forward Mike Riley gained possession of the puck after it caromed off the back dasher and onto his stick. The junior, left all alone in front, slipped a shot by Purnell.

"We tell our kids all the time to get the puck to the net and get bodies to the net," Welby said. "Good things will happen. Fortunately, tonight something good happened for us."

Throughout this contest, Medway was left wondering if it would catch a break as easily as Westwood did. For the first time all game, the Wolverines opened the third period the aggressor. Looking to add to its lead, Westwood put up a couple of quality chances on Purnell (18 saves) but came away with nothing to show for it.

With just under nine minutes remaining, Medway freshman Andrew Diebus had his team's best chance of the evening after rifling a hard wrist shot at Ribas.

But the netminder reacted quickly by sticking his left pad out and turning the shot aside. Ribas, who last year maintained a productive 1.50 goals-against-average, looks to be on track for another stellar season between the pipes.

"A lot of our success has to do with the way our defense plays," said Ribas, finishing with 31 stops. "If I do let up a rebound it's always going in the corners. I think our team is extremely deep this year and I think we're going to give everyone we play a good run. We hadn't beaten Medway in five years so it feels pretty good. I felt we all played very well tonight."

With the clock showing less than six minutes to play, the Mustangs finally caught a break after Medway defenseman Joe Reissfelder was sent to the penalty box for interference -- the first and only penalty charged to the Wolverines all night. It took but eight seconds for Medway to capitalize on the man-advantage thanks to Kaufman's tally coming at 9:12.

During the final four minutes, both teams worked feverishly in their attempts to score the go-ahead goal only to come away empty. That is until the fluke score in the waning seconds which left the Mustangs a bit stunned.

"I told our kids how proud I was in the way they fought back," Medway head coach Chris Ross said. "Westwood has a very good goaltender and we knew we had to throw a lot of pucks toward the net and jump on rebounds. We just couldn't bury our chances when we had them. We weren't getting there for any loose rebounds. We were getting some good first shots but not getting good second opportunities off the rebounds."

Ross continued, "In the third period we started doing that a little more and were able to tie things up. But sometimes when you put yourself in a situation late where anything can happen, sometimes anything does happen."
February, 21, 2012
2/21/12
12:28
AM ET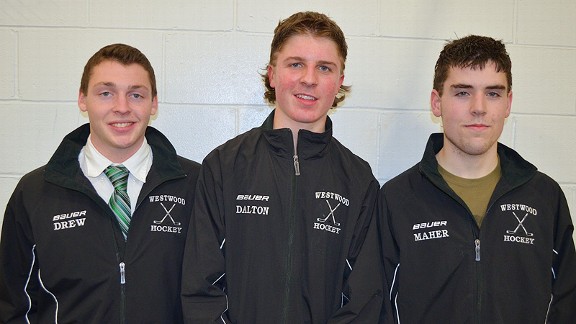 Scott Barboza/ESPNBoston.comWestwood senior captains Jake Drew, Brendan Dalton and Shane Maher are the stewards to the state's longest continuous playoff streak, which the Wolverines have run to 30 years this season.
CANTON, Mass. – The playoffs must seem a birthright to all Westwood hockey players through the years.
The Wolverines, yet again, have qualified for the MIAA tournament this season. That means any player who has slipped a spoked "W" sweater over their head during the last 30 years has played a postseason game. Westwood's 30-year playoff streak is the longest such streak in Massachusetts hockey. During that span, the Wolverines have racked up 19 Tri-Valley League championships and four state championships (1985, '91, '92 and 2002).
Even though the postseason has come as sure as the turning of the calendar, it hasn't all been easy for the Wolverines.
This year's model graduated 17 players from the team of one year ago, including ESPN Boston All-State "Best of the Rest" selection goaltender Chris Treon.
"There were some question marks coming into this season, definitely," Westwood head coach Mike Welby said Monday, after the Wolverines' 2-2 tie with Holliston at the Canton Metropolis.
But the streak alone has become a motivating factor for its inheritors.
"The streak can be a big cloud over our heads sometimes," Wolverines senior captain and defenseman Shane Maher said. "My brother played and every game he texts me asking me how we did. Our focus this year was just getting there, getting the points we needed to qualify.
"Now, that weight's off our shoulders, so we can concentrate on going on to the playoffs."
Like any other high school hockey program, Westwood has no means of grabbing players from beyond its realm. It's part of what makes the Wolverines' accomplishment that much more astounding. Oftentimes, the town's brightest hockey stars end up at private or prep schools, or they go the junior route.
What has fueled the Wolverines, year after year, is a sense of pride shared by its players: Pride in team, pride in living up to lofty expectations, pride in those that have come before them.
"It's a big tradition to live up to," said senior captain Brendan Dalton, who leads the Wolverines with 22 goals and 29 points in 17 games. "This year, with 30 years on the line, it was a big motivating factor."
In many instances, Westwood's players can trace their connection to the program through their families, as their coach does.
Mike Welby was the third of four brothers to don Westwood sweaters.
The Wolverines tradition runs though the current locker room as well.
Several of Westwood's players, Jim Conway Jr., Chris Ruggiero Jr. and Jack Swartz, are sons of former Wolverines.
"The ones with fathers I don't know, my brothers probably played with them," Welby said.
It makes for a tight-knit community, one that centers around the rink. It also means there's a net of support when times get tough.
Last week, Chris Ruggiero Jr.'s father died suddenly. He was 40. One of the most decorated players in Westwood history, Chris Sr. was an all-star with the Wolverines before going on to play at UMass-Boston.
He was buried in Westwood on Monday.
Tuesday marked Chris Jr.'s return to the ice. Following the game, he walked from Westwood's locker room into the Metropolis lobby. He walked through the double doors with hockey bag weighing heavily on his shoulder. Chris Jr. was met by a welcome party of family and friends. Gathered in a semicircle, they were clapping for him, most of them Wolverine veterans.