Boston High School:

Mike Young
June, 14, 2014
Jun 14
10:41
PM ET
By
Chris Bradley
| ESPNBoston.com
WORCESTER, Mass. -– For the first time in the infantile history of their program, the Pope John Paul II Lions are state champions.
One year after a heartbreaking loss to Lowell Catholic in the MIAA Division 4 State Championship game, the Lions came back to complete an incredible 26-1 season, knocking off Western Mass. champion Hopkins Academy 3-0 on Saturday at Fitton Field in Worcester.
The Lions were led on the mound by senior righthander Austin Houlihan, who gave up just a lone hit while pitching a complete game shutout. He struggled with his control early on, surrendering three walks in the in the top of the first inning, but quickly found his comfort zone after PJP jumped out to an early lead.
[+] Enlarge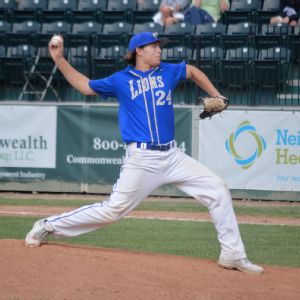 Brendan Hall/ESPNBoston.com Austin Houlihan pitched a shutout for Pope John Paul II, which won a state title in just its fourth season of varsity.
"I didn't really happen to have my best stuff today, but I just knew that if I threw strikes that the defense would make all the plays," Houlihan said. "I definitely give all the credit to the defense today, they did it all. This is the greatest feeling that an 18 year-old kid can have...It's just the best feeling that I've ever had."
PJP got a quick lead in the top of the first, Matt Santos smashed a double deep to left field and Colin Russell drove him in two batters later on an RBI single.
"The double down the line was big and then Colin Russell had a big two-out hit. I think once we got that and Houlihan started pitching with a lead that that made all the difference in the world," Pope John Paul coach Mark Santos said, "We were so close a couple times, it wasn't our cleanest game offensively, but I don't think were ever really in doubt -– I thought the game was in control most of the way."
The Lions added to the lead in the third inning, when Santos came in for his second run of the game. Senior Ben Gibson started off the fifth inning with a base hit and came around to score on an RBI single by Mike Young, which proved to be all the insurance that Pope John Paul would need.
"I felt pretty comfortable, my first couple at bats they were trying to pitch to me away -– nothing I could hit," Gibson said. "Then I had two strikes on me in that third at bat, I fought one off at two strikes and luckily it found its way through on the ground."
The Lions slammed the door shut from there, as Houlihan and the defense were untouchable the rest of the way– retiring the side in each inning after the third.
"Once you get a lead it's so much easier to pitch with a lead so I give the credit to our lineup, and of course our fielding," Houlihan said. "Our fielding is up there with the best in the state. We knew we had the caliber to compete in any division, and personally I think we could compete in any division state championship that was going on."
A historic season:
The Lions finish their season at 26-1, bringing home a state championship trophy in just the fourth year of the program. Pope John Paul was considered a serious contender to qualify for the inaugural Division 1A "Super 8" tournament, until a 5-2 loss to Barnstable in mid-May took them down a peg. Still, the Lions managed to get one vote in the first round of nominations at selection time, which has to be a considered a victory considering the school's status.
Despite the disappointment of not getting into the tournament, Santos reiterated to his team to control what they can control.
"They were disappointed, I told them 'listen, to even be nominated is such an honor.' We've got 135 boys in our school," Santos said. "They just looked at it like you know what? Now we have a chance to go out and win a state championship so let's go do it. They worked so hard, they took it to another level when we got to the tournament -– their focus was just incredible. It was great to see, this is a great group of guys."
"I would credit this to our hard work and our work ethic," Gibson said, "We work the hardest that I've ever seen, everyone's doing what they have to do to be a better player – everyone has that ethic all the time."
May, 6, 2014
May 6
1:10
AM ET
The United States Hockey League (USHL) hosted the first phase of its two-day draft proceedings on Monday.

Here's a list of players with New England ties who were selected Monday, listed by overall selection:

14. Jake Ryczek (Ludlow, Mass.), D, Selects Hockey Academy - Sioux City.

23. Jamie Armstrong (Warwick, R.I.), LW, Neponset Valley - Muskegon.

38. Luke McInnis (Hingham, Mass.), D, Hingham - Youngstown.

54. Johnny Leonard (Amherst, Mass.), F, Springfield Cathedral - Green Bay.

59. John DeRoche (Lynnfield, Mass.), F, Boston Junior Bruins - Cedar Rapids.

63. Liam Murphy (Killingsworth, Conn.), F, Avon Old Farms - Waterloo.

81. Michael Fahie (Pembroke, Mass.), F, Noble & Greenough - Youngstown.

83. Logan Drevitch (Middleborough, Mass.), F, Boston Bandits - Des Moines.

90. R.J. Murphy (Needham, Mass.), LW, St. Sebastian's - Dubuque.

91. Mike Young (Medford, Mass.), D, Rivers - Cedar Rapids.

98. Monte Graham (Hanover, Mass.), F, Thayer Academy - Tri-City.