Boston High School:

Missouri
October, 23, 2012
10/23/12
11:15
PM ET
By
Roger Brown
| ESPNBoston.com
La Salle Academy (R.I.) running back Josh Morris has been nursing a sprained ankle for much of the season, but it hasn't hampered his recruiting situation.

Yale head coach Tony Reno recently told Morris he'd like him to join the Yale program next season.
"I started to build a good relationship with Yale last spring," Morris said. "I visited and camped there last summer. The Yale head coach kept calling me every week during the season to make sure I was still interested and letting me know he was still interested in me.
"Last Thursday he told me: You have an offer from Yale."
[+] Enlarge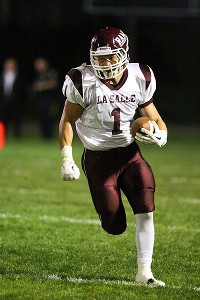 Courtesy Josh MorrisYale is the latest school to offer La Salle Academy (R.I.) running back Josh Morris, who was the Rhode Island Gatorade Player of the Year as a junior.
Morris, who was the Rhode Island Gatorade Player of the Year as a junior, has offers from four other FCS schools: Brown, Bryant, Monmouth and Valparaiso.
Morris is being recruited primarily as a running back, but he could also play slot receiver or defensive back for Yale. Morris said he'd prefer to play offense in college.
"I like the ball in my hands," he said. "Yale offered me as an athlete – that's what [Reno] said. They would probably put me at a position based on whatever else they get in their class.
"I really do like the Ivy League. It's hard to pass up an Ivy League education, but I'm keeping my options open to see what else might be out there."
Morris injured his ankle during a victory over South Kingstown on Oct. 5. He scored three touchdowns in a 41-24 triumph over Bridgewater-Raynham the following week, but said he's been playing at less than 100 percent since the injury.
"I haven't missed any games, but it's been lingering," Morris said.
Morris rushed for 1,278 yards and 16 touchdowns on 134 carries last season. He also caught nine passes for 175 yards, and averaged 39.8 yards per kickoff return.
He's run for 613 yards and 11 touchdowns in six games this year.
New Hampshire may be the next school to offer Morris, who has generated interest from several Patriot League and Colonial Athletic Association schools.
"A lot of schools are on the cusp [of making a scholarship offer] right now," Morris said. "My senior film could determine whether schools pull the trigger [on an offer] or not."
Decision time:
Tabor Academy's Tevin Montgomery, a 6-foot-4, 295-pound defensive lineman, said he will announce his college choice on Dec. 1 at his school. He has narrowed his choices to Boston College, Vanderbilt and Virginia.
"But I don't know if I'm going to make a big scene," Montgomery said. "I might just call the school and let them know."
Montgomery, a three-star recruit, is the top-ranked uncommitted player from Massachusetts in the Class of 2013. He also has offers from Temple, Massachusetts, Connecticut, Rutgers, Maryland and Missouri.
Catching a Crook
: Worcester Academy quarterback D.J. Crook is generating plenty of interest, but is still waiting for his first scholarship offer, according to Worcester Academy coach Tony Johnson.
"He's got interest from Holy Cross, Princeton, Dartmouth and a few others from the Patriot League – Lafayette and Colgate," Johnson said. "And there are a few schools interested from the MAC, like Akron and Massachusetts.
"You know how it works. He's gotta get that one offer, and then a few more come in quickly. I think he's done enough."
Crook played a Barnstable High School before choosing to spend a postgraduate year at Worcester Academy. He missed four games because of a fractured thumb during his senior season.
Big man not on campus:
Four-star offensive lineman John Montelus was scheduled to take his official visit to Notre Dame last Saturday, but had to postpone the trip when Everett High School's game against BC High was postponed from Friday night to Saturday because of heavy rain.
Montelus, the No. 1 prospect from Massachusetts in the Class of 2013, said he will reschedule the trip. Montelus committed to Notre Dame following the team's spring game in April. He is the only New England player ranked in the ESPN 300 (No. 292).
Back in motion:
Ansonia (Conn) High School running back Arkeel Newsome has gained 884 yards through six games this season.
Newsome, a junior who has scholarship offers from Connecticut and Massachusetts, led the nation in rushing last year, when he set a Connecticut record by gaining 3,763 yards.
Newsome's playing time has been limited this year because Ansonia is 6-0 and has won all six games by at least 28 points. Ansonia has scored at least 35 points in each of its six games.
Recruiting information regarding high school or prep school players in New England can be sent to Roger Brown at rbrown@nhfootballreport.com.
April, 1, 2011
4/01/11
5:25
PM ET
ESPN's Roger Brown checks in today on his
recruiting blog
with Catholic Memorial quarterback
A.J. Doyle
, who took unofficial visits to North Carolina and Maryland last weekend and is scheduled to attend practice at Boston College tomorrow.
UMass was the first to issue a verbal offer to the 6-foot-3, 226-pound Lakeville native, who is an ESPNU150 Watch List candidate. Western Michigan was the second to offer, last Thursday, and his first FBS offer. He's also drawing interest from Michigan, Missouri, Penn State, Iowa, Syracuse and UConn.
"The No. 1 thing schools say they like about me is my size and arm strength," Doyle told Brown. "They say I have a good frame. I've also been told I have good composure in the pocket. I'm not flustered when people are flying around me. I think I have good accuracy. I'll make throws some quarterbacks are afraid to make, and at no time am I going to shy away from a hit."
Doyle said he has no favorites at this time, telling Brown, "Any school that asks me, I'll be happy to throw for them."
For more recruiting updates on New England's top high school football talent, be sure to check out Brown's
blog
.
March, 1, 2011
3/01/11
11:07
AM ET
ESPN's Roger Brown
checks in today
on his recruiting blog with two of Catholic Memorial's highly-touted football stars for the Class of 2012, quarterback
A.J. Doyle
and athlete
Armani Reeves
.
Reeves was down on the Rutgers campus last weekend for a 7-on-7 tournament, and while Scarlet Knights head coach Greg Schiano was out of town, Reeves may be getting some news soon.
"They told me they really like me," Reeves told Brown. "I think Coach Schiano was at a Nike convention. They told me they might have some good news for me when he returns."
Reeves, who was an inaugural
ESPNBoston All-State
selection this past fall, currently holds offers from 11 Division 1 schools, among them Boston College, UConn, North Carolina, Missouri, Virginia, Penn State, Wake Forest, Michigan, Stanford, Northwestern, and Maryland.
Brown writes that Reeves likely won't pick a school until after his senior season ends.
"The schools that have offered all intrigue me," Reeves told Brown. "They're all good schools academically and really good programs."
Meanwhile, Doyle picked up his first offer last week from UMass, and it likely will not be his last Division 1 offer, as BC, UConn and Syracuse have all shown interest in the 6-foot-2, 225-pound junior's services.
For more updates on New England's top football talent, be sure to check out Brown's
recruiting blog
.