Boston High School:

Morgan Cahill
February, 10, 2012
2/10/12
2:15
PM ET
By
Gary Hawkins
| ESPNBoston.com
That Travis and Karen Magnusson would become high school basketball coaches, given their backgrounds as point guards and students of the game, seemed inevitable. So does the success that the husband and wife coaches are having this season at their respective schools.

Travis, who coaches the Dirigo High School boys team, came within a whisker of a perfect season before falling to Spruce Mountain, 39-34 Wednesday night. Still, his Cougars finished the regular season at 17-1 and enter the upcoming Western Maine Class C tournament as the top seed. Karen, who coaches the Cony High School girls team, finished at 18-0 Thursday and her Rams will enter the Eastern Maine Class A tournament as the top-seeded team.
There wasn't much talk between Karen and Travis about going unbeaten this season — both recognize winning a state title as a larger goal — but it's still hard to avoid.
"Honestly we try not to do it," Karen said. "But it's something that comes up with other people."
The couple rarely get to see one another's teams play since they usually play on the same night. Fans at both schools, however, recognize what's going on.
[+] Enlarge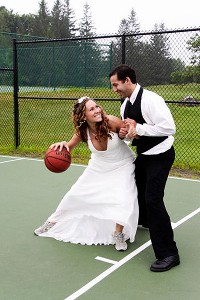 Courtesy of Karen Magnusson Travis and Karen Magnusson are having success coaching high school hoops in Maine.
"It's almost like we share our programs with each other," Karen said. "His fans ask how I'm doing and my fans ask how Trav's doing."
The Magnussons are both basketball junkies, a passion that began long before they met at the University of Maine at Farmington a few years ago. Karen Sirois starred at Cony in Augusta while Travis played for Georges Valley in Thomaston. Both played point guard at UMF and each of them totaled over 1,000 points and 500 assists in their careers.
Farmington women's coach Jamie Beaudoin and men's coach Dick Meader saw coaches in the two long before their playing careers ended.
"I knew from the first moment I watched her play that she was going to be a coach," Beaudoin said. "She was able to see things on the floor that many times an experienced coach wouldn't pick up on. She's just a student of the game."
Meader echoed those thoughts about Travis, who served as a varsity assistant at UMF the year after he graduated. Travis was hired as boys coach at Livermore Falls a year before Karen go the job at Cony so she helped him out and gave him an unbiased look at the players and the team.
"There was nobody I listened to more, especially with my team that first year," Travis said.
Travis turned the Livermore program around, reaching a tournament prelim game his first year in 2009 and the tournament itself the next two. He lost his job when Livermore and Jay high schools combined this year to form Spruce Mountain, but when the Dirigo job opened up he applied. The Cougars reached the state final last year and return many of those players.
The Magnussons talk basketball most of the time, often while breaking down film at home another or swapping drills.
"I get some of my plays and sets from him," Karen said. "I know his personnel, we definitely help each other out. Sometimes we sit up until 11:30 or 12 talking about it. We watch game film together. It's like having an assistant coach at home."
They also share a similar philosophy, borne from the way they played the game.
"We both like to run and gun, play pressure defense and give our players freedom to take shots." Travis said. "As I've gotten older I've realized the importance of quality shots."
The Magnussons are competitive by nature and haven't played a serious game of 1 on since Travis came away with a bloody nose when the got together on the court in college.
"He's competitive and I'm competitive so we never really have the fun 1-on-1," Karen said.
Well, they did have a little fun on the court on the day they were married, playing a friendly game, she in her wedding dress and he in his tuxedo.
They'll get a chance to watch the other's team play in about 10 days when their teams will be favored to win regional championships at the Augusta Civic Center.