Boston High School:

Morse
September, 16, 2013
9/16/13
4:45
PM ET
By
Matt DiFilippo
| ESPNBoston.com
If you're even remotely curious and you've met Miracle Trimble, you've probably wondered what the story is behind her first name.

As many times as she's answered the question, Miracle still thinks her mother tells the story better.
"When I was five months pregnant with Miracle, they found a cancerous tumor," Emily Trimble said. "They took out my whole womb with her in it. They took the tumor out and put her back in, and she finished cooking.
"She had a 50 percent chance of living. Actually, she saved my life, because if I hadn't been pregnant, I wouldn't have known anything was wrong."
In some ways, Miracle was still fighting the odds until last year, when she scored 32 goals as a sophomore for Morse High School, and made the all-state girls soccer team.
[+] Enlarge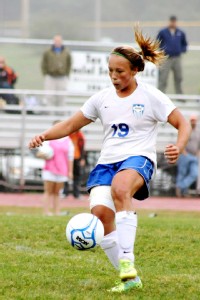 Sheri Simmons Morse (Maine) junior Miracle Trimble has faced long odds in life and on the pitch to becoming one of the states best girls' soccer players.
"Miracle is a soccer coach's dream," Morse coach Steve Boyce said. "She loves the sport, and as a result, she'll do anything to be a positive influence on the field. She'll track the ball, and if she loses it, she'll track back and get it. You don't often get someone who loves the game, and is also pretty good at it."
"I'm in love with soccer," Trimble said. "It's like food for me, too. I mean, I love food, but soccer's the best. I always strive to do better and show people wrong from when I was younger."
Trimble said she began playing soccer in rec leagues in Bath, and immediately fell in love with the sport. She kept playing, kept trying to get better, but wasn't sure the sport loved her back.
"I was thinking about quitting soccer when I was younger, because no one really believed in me, except for my family," she said.
For Trimble, that came to a head when she was on the eighth grade varsity team. As Trimble tells the story, she rarely got playing time, and went to see her coach after getting in only for the final minute or so of a game.
"I asked her what I needed to do to be a better player," Trimble said. "She said, 'Well, you're not up to par for the varsity.'"
A short time later, Trimble and her family were online, searching for a field she could play on by herself to get more practice. During this search, they found out about the Seacoast United team.
Critics of pay-to-play programs will say that they prey on kids just like Trimble; they'll tell Player X that even though she can't play for her middle school team, they can make him a star if Player X's parents shell out some money and stay committed to the program. But in this case, Trimble really was that good, and playing for Seacoast United made her even better. Trimble still plays for Seacoast United, as well as in an Olympic Developmental Program.
"My parents cart me all over the United States for me to play soccer, because it's what I love," Trimble said.
Trimble made the varsity at Morse as a freshman, but there weren't many opportunities to show her increased skills. She played behind Tori Field, who scored 44 goals as a senior that year and now plays at the University of New England.
"I played right bench," said Trimble, who scored four goals that year. "I never subbed in, basically."
Trimble became a starter last year, and quickly started scoring goals. She stands about 5-3 or 5-4, but her speed and tenaciousness allow her to find the ball and get it past defenders.
"She is probably one of the shorter people on the field, and she had five header goals last year that were just phenomenal," Boyce said. "She shoots well with both feet, and she's surprisingly quick. You might think she's not going to get by you, but if she's determined, she'll do it."
Then there's Trimble's shot. If you don't think someone Trimble's size can move so fast, you'd really be stunned by her power.
"My goalie doesn't like doing shooting drills with her," Boyce said, remembering a recent practice. "Her shots were typical turf field shots – low and hard. When my keeper went down for it, it would hurt her wrist. Or if she had to blunt it with her foot, it would hurt her foot. So she wouldn't make an extra-special effort to make a spectacular save on those shots."
Morse went all the way to the Western B final before losing to Falmouth. As the Shipbuilders kept winning, more and more teams designed their defenses around the girl who scored 32 goals, sometimes assigning two or three people to keep Trimble from doing her thing.
"It's hard," Trimble said. "It makes things harder, but it makes me better as a player. It's not just a 'me' sport, it's a team sport. It makes me a stronger player, and a better person."
October, 11, 2011
10/11/11
2:04
PM ET
By
Gary Hawkins
| ESPNBoston.com
Paula Doughty is in her 31st year as field hockey coach at Skowhegan Area High School. She's posted a career record of 414 wins, 80 losses and 17 ties and her teams have captured 12 Class A state championships, including last year's. Prior to losing in the state final in 2009, the Indians had reeled off eight state titles in a row.

Doughty was named National Field Hockey High School Coach of the Year in 2004 and 2008 and more than 80 of her players have gone on to play in college. One of her players has been a first-team national All-American while two have made second team All-American and 22 have been regional All Americans.
Q: How did you get into coaching?
A: "I was in college from '70-74 and I officiated. I graduated from the University of Maine at Farmington and student taught in Skowhegan. In August they called me and said there was a job opening and they also needed a field hockey coach. I played in high school and I officiated so I had quite a lot of experience and I knew the game."
Q: What attracts you to the sport?
A: "It's evolved into a really fast, fabulous sport. It's just become better and better. First we lost the offsides, advancing became incidental and the obstruction rule is lenient today. In field hockey it takes years to develop the stickwork to be able to play. I also like it, and this sounds sexist, because it's a women's sport in the United States."
Q: When did Skowhegan turn the corner?
A: "Probably in the late '80's. We were really good in the '70s, then soccer came in. I was really hurting for athletes. All the athletes went to soccer but then it balanced out."
Q: How has the program stayed so strong?
A: "I work very hard. I have three of our four coaches who have worked with me forever. I would say a shared coaching philosophy and consistency. We do the same thing K through 12 and I work with everybody K to 12."
Q: How big is the youth program?
A: "It's growing, but it's growing statewide, it's not just us. Today we had a tournament for fourth, fifth and sixth graders and there were 12 teams here and every town brought 30 kids. One thing about field hockey in Maine, there's a lot of opportunities and we can compete. It's hard for Maine kids to compete in a lot of things but in field hockey we're doing really well. A lot of kids feel entitled but Maine kids aren't like that. They work really hard."
Q: How many of your players have played in college?
A: "We've had about 80 kids play in college. My first player was Kim Jewell Bodwell in '78 and she played at the University of Maine. Our first Division I player was Wendy Obert in 1989 and she played at Northeastern. Right now, we have nine (playing in college) and we have three seniors who are going D-1 next year."
Q: How has the game changed?
A: "It's changed in every way. It's faster, it's more skilled. The amount of penalties are nothing what they used to be. You've got to be very, very skilled. It's fun to watch. Today the game is a turf game. We play on turf as much as we can. It's no longer a grass game. We practice in the gym a lot. Our field is as close to turf as you can get, but it's still grass."
Q: How is this year's team?
A: "It's a great team. The last 14 years have been great teams. The kids I have now are much more versatile. Even five or 10 years ago, they were one-dimensional ... Most of my kids I can put in any position. Messalonskee is very good. They're going to be our biggest competition in the state. It's too bad we're both in Eastern Maine. But in sports you can't take anybody for granted."
Q: How long do you want to coach?
A: "I'll coach as long as I think I can. I'll retire from teaching in a while but I'll keep coaching. I'm smart enough to know if I'm not as good as I was."
October, 5, 2011
10/05/11
10:54
PM ET
By
Gary Hawkins
| ESPNBoston.com
Dave Halligan has coached soccer for 33 years, the last 25 at Falmouth High School where he has won nine state championships. This winter he'll begin his 25th season as head basketball coach with the Yachtsmen, having won four state titles.

Dozens of his former players have gone on to succeed in college soccer, including Roger Levesque, who was named Pac-10 Player of the Year at Stanford and currently plays for the Major League Soccer Seattle Sounders.
Halligan recently answered questions about his soccer program for a Q-and-A:
Q: What makes Falmouth soccer so successful?
A: "We have a good program and we have a lot of good people running it, right from Saturday morning soccer to travel teams to guys that work in premier programs."
Q: How involved are you outside the high school team?
A: "When my kids went through I was involved in everything. I started youth, travel, premier and instructional programs. The first year we had 38 kids in the program. Now we have over 600. I think the key is numbers playing. (At the high school) we have 62 boys and 42-plus girls playing."
Q: How did you get into coaching?
A: "I played soccer in college but I went to school to be a basketball coach. I coached JV soccer at Greely for a couple of years then I went
to Cape Elizabeth and worked with Leroy Rand. After that I came to Falmouth. Back then there were no state championships, just a few teams
playing in (the) Triple C (Conference).
Q: How does Maine high school soccer stack up against other states?
A: "We have some excellent programs and players. The state is so spread out, but we have some kids playing pretty well. We have a lot of kids playing at the NESCAC schools. That's pretty good soccer. Just because you're from Maine it doesn't mean you can't aspire to the highest levels. If they want to play hard and work hard they can accomplish a lot."
Q: What do you do in the offseason?
A: "What's an offseason? The offseason is the two weekends I spend with my wife."
Q: What's the biggest difference between coaching soccer and basketball?
A: "Basketball is more like chess where you can adjust every time down the floor. Soccer is more like checkers. Once the game starts there's not a lot you can do."
Q: How have premier teams changed the game?
A: "I think it's broken down some of the (high school) rivalries. They're friendly rivalries now but I think they play harder. They don't want to
lose to their buddies."
Q: Why do players need high school soccer?
A: "Because of some of the other values we try to teach. The goals in high school are a lot different than in premier. In high school, 90 percent of the players aren't going to go on. Last year when we didn't win (the state title) the kids said what they liked most was going to practice."
Q: How is this season playing out?
A: "We lost 2-1 to Yarmouth and beat Cape, 2-1. Cape beat Yarmouth 2-1 so it's pretty even. We lost a lot of kids from last year's team. We're
basically a young team but we have high expectations. We're probably doing better than we hoped for. .I've been real pleased with my kids."
Q: Do you employ a specific style at Falmouth?
A: "Obviously we like to control the ball. We like to play with speed and skill. We don't want to slug it out with you. We want to be more skilled
if we can. Sometimes it works, sometimes it doesn't."
Q: How long do you anticipate coaching?
A: "As long as I'm having fun, as long as I enjoy practice and enjoy the kids. I still do."
September, 14, 2011
9/14/11
2:55
PM ET
By
Gary Hawkins
| ESPNBoston.com
The first two weeks of the Maine high school football season produced a number of surprises.

Here's a rundown of some of the highlights in each of the three classes:
Class A
Cheverus keeps rolling along despite the loss of several players from last year's state championship team. Senior Cam Olson stepped in at quarterback after playing behind Fitzpatrick Trophy winner Peter Gwilym for two years and last week threw three touchdown passes. Spencer Cooke, who scored four TDs in the state game last fall, has emerged as one of the state's top running backs. The Stags are 2-0 and have outscored opponents 94-21.
Lawrence keeps rolling along in Class A's Pine Tree Conference. The Bulldogs traveled to Bangor and knocked off the Rams 32-25 last Saturday night to go to 2-0. Shaun Carroll led the way with 224 rushing yards and four touchdowns, Lawrence has won its last 11 regular season games, dating back to a 2009 loss to Bangor. Prior to that, the Bulldogs had won 36 regular season games in a row. They are 8-1 against Bangor since 2005.
Many high school handicappers picked Bonny Eagle and Windham among the teams to beat in North Division of the Southern Maine Activities Association (SMAA), but both teams are winless after two weeks. Windham fell 28-20 to a strong Deering team last week while Bonny Eagle fell, 31-28, to upstart Massabesic. Lewiston, one of the PTC favorites, dropped to 1-1, losing 48-27 to Messalonskee, another team that has emerged as a contender. Along with Massabesic, Sanford is the surprise of the SMAA South. Last week, the Redskins knocked off a good Scarborough team 23-12 for one of its biggest wins in years.
Class B
This class is the most competitive in the state at least at the top where four teams in each of the two divisions are unbeaten. Included in those ranks are the two teams who met in the state final last fall, Mountain Valley and Leavitt. Mountain Valley has outscored opponents 81-23 so far while Leavitt, led by quarterback and linebacker Jordan Hersom, holds an 83-12 advantage over opponents.
Mt. Blue may be the most dangerous contender in the class. The Cougars dropped down from several years in Class A this season and in two games have outscored the opposition 87-6. Falmouth, Wells and Fryeburg are also 2-0 as are Waterville and Gardiner. The latter two teams meet Friday night in Gardiner. Waterville must find a way to stop running back Alonzo Connor who is looking to eclipse his total of 31 touchdowns form last year. In two games so far, Connor has scored 10 touchdowns.
Falmouth, which has outscored opponents 98-7 plays this week against Marshwood.
Class C
Foxcroft Academy and Yarmouth are the talk of Class C so far. They play in different divisions and don't meet in the regular season, but could well square off for a state championship in November. Yarmouth is the defending state champ and so far the Clippers have scored 92 points and allowed seven. Foxcroft has been equally impressive outscoring opponents 108-8. There are contenders in each division. Bucksport, Orono and John Bapst are all 2-0 in the Little Ten Conference headed by Foxcroft while Freeport and Lisbon are unbeaten the Campbell Conference South along with Yarmouth.
Maranacook and Winslow are 2-0 in the Campbell's North division and play this week in Winslow. The Black Raiders dropped down to Class C this season and are cruising so far, but they'll face a big test in Maranacook and 6-foot-4, 210-pound running back Luke Emery.
February, 24, 2011
2/24/11
2:26
PM ET
By
Gary Hawkins
| ESPNBoston.com
It's tournament basketball week in Maine and there's no more exciting time in high school sports. Schools in four classes are playing for regional titles at the Bangor Auditorium, the Augusta Civic Center, the Portland Expo and the Cumberland County Civic Center. State championships will be contested next week.
Here are some of the highlights so far:
Boys Class A

In Western Maine games, top seeded and unbeaten Cheverus struggled before getting past No. 8 Marshwood 52-40. Louis DiStasio led the Stags with 16 points. Second-seeded Bonny Eagle won its quarterfinal against Westbrook but No. 5 Portland upset No. 4 South Portland behind 19 points from Mike Herrick and No. 6 Deering knocked off No. 3 Thornton, 41-33. The seedings held in the quarterfinal round in Class A East with No. 1 Bangor, No. 2 Hampden, No. 3 Edward Little and No. 4 Mt. Blue all winning.
Kennebec Valley Athletic conference southern division player of the year Bo Leary led Edward Little past Mt. Ararat with 28 points and 13 rebounds. Northern KVAC player of the year Graham Safford led Hampden past Lewiston with 22 points. The semifinal matchup between Bangor and Mt. Blue featured a pair of coaches with over 1,000 combined career wins. Bangor's Roger Reed has 554 while Mt. Blue's Jim Bessey has 463.
February, 9, 2011
2/09/11
5:09
PM ET
By
Gary Hawkins
| ESPNBoston.com
No team in Maine and perhaps in New England epitomizes the feeling of small-town basketball the way the Jonesport-Beals Royals do.

The towns of Jonesport and Beals Island are located along the coast in Washington County in a region commonly known as Downeast Maine. They're separated by a short bridge that spans a channel known as Moosabec Reach and many of the residents fish the blustery Atlantic year-round or drop lobster traps into Penobscot Bay.
There are still elementary schools in each community but the high schools combined over 40 years ago to form one of the state's boys basketball powers in Class D.
Shortly after they combined ,the Royals reeled off five state titles in the early '70's, under legendary coach Ordie Alley. Alley stepped down five years ago for health reasons but still attends games regularly to watch his grandson Matt play. In all, Jonesport-Beals has won nine state championships and played for 13. But it's been since
1993 since the Royals last claimed a Gold Ball, the trophy symbolic of a state title.
'They're getting itchy," athletic director Diane Clark said of the fans. "I think this year there's added excitement."
The added excitement stems from the team's record — they were 14-1 heading into Wednesday's game against Deer Isle-Stonington — as well as a special dedication for the season.
January, 27, 2011
1/27/11
5:01
PM ET
By
Gary Hawkins
| ESPNBoston.com
Scarborough High School graduate and defenseman Jake Rutt will play hockey at the University of Maine next season on full scholarship. Rutt, who played at St. Dominic his freshman and sophomore years, is currently playing for the New Hampshire Junior Monarchs in Hooksett, N.H. to gain a year of experience before college. He recently consented to an interview.
Q: What have you gained from your year with the Monarchs?

A: "This is my second year, and first PG year with the Monarchs, and I am very glad I did it. I've learned a lot not just about the sport but also outside the hockey rink. I have an apartment with three others on the team and learned life away from home. For next year, I feel like I will be able to jump right into Maine's lineup and be an impact player. The PG year gave me time to develop including strength, speed and my decision making on and off the ice."
Q: Did the Maine coaches think you needed another year of work? Did you?
A: "When I first committed, they told me I needed a year to develop and I understood as much as I wanted to go up to Orono and play instantly. I needed to be patient and Coach Sean Tremblay and Coach Matt Dennehy (of the Monarchs) worked on my areas of improvement to make me a more solid player."
Q: Are you taking any classes in the area, or is it strictly hockey?
A: "I will be taking a class this summer but during the season I did not. It is mostly hockey and it's a great lifestyle. If you treat it like a job then that's when you find you will improve the most. I also have a job near the rink at a pizza place called the Pizza Man. I am a delivery boy. So between delivering and hockey, that mostly fills up my week."
Q: What area do you think you needed to improve in the most?
A: "There's always something I can improve on because no one's game is perfect but if i had to choose one area it would probably be my decision making and this will take time. Studying other defensemen with the same attributes as me will help. The extra year with the Monarchs has helped tremendously."
Q: Why did you decide to attend Maine? Were there many other offers?
A: "I didn't hesitate when Maine offered me. Playing youth hockey in Maine, the Black Bears were always a topic of discussion around the local youth rinks and it was a dream of mine to play for my home state. At the time of my commitment, a lot of D1 schools were asking about me through Coach Tremblay, including a handful in Hockey East, but I had my mind set on Maine."
January, 14, 2011
1/14/11
2:28
PM ET
By
Gary Hawkins
| ESPNBoston.com
Peter Webb of Stetson has been the State Basketball Commissioner in Maine for the past 21 years. The commission oversees the five officiating boards in the state and is responsible for assigning officials for tournament play. Webb, who officiating high school and college games for 30 years, took time out recently for a few questions.

Q: How has officiating changed since you began?
A: "To a great extent it hasn't changed. Statewide. The big change is an increase in ongoing communication throughout the state, on the administrative and training side. Results statewide are a more consistent application of the rules. Years ago, the biggest difference is the offense was favored, which is not the case today. Today every situation matters the same to both teams."
Q: Assess the state of high school officiating today.
A: "We believe high school officiating in Maine is in very good order. Schoolboy and schoolgirl basketball remains a major focal point from November to early March way beyond many other states. With the scrutiny there is out there, it speaks well of the time and effort that is put into basketball officiating in Maine."
Q: Are there enough officials?
A: "Yes, not an overabundance but an ample supply. Annually each of the five boards of officials sponsor an extensive course each fall for prospective officials. It's followed up by a written exam and a floor test."
Q: How is the training?
A: "Maine has a near 70 year relationship with IAABO, the International Association of Approved Basketball Officials. Videotapes and DVDs are used in addition to observations. Maine has always paid attention to training."
Q: Three man vs. two man — how much better with three?
A: "There's no question it's better with three. I observe about 150 or 160 games a year. And I do observe beyond Maine in another role I'm in. Eighty percent of the games I see need the service of a crew of three. The game changed from an officiating point of view drastically with the three-point arc. It requires a substantially different responsibility for the trail official. The other thing is there was a day when most of the defensive pressure didn't come about until two or three minutes left in the game. Today, typically with boys and girls there's pressure all game long. We've had crews of three completely in our tournaments for at least a dozen years. About 30 percent of the regular season games are crews of three. It isn't a great difference in cost."
Q: Are there any points of emphasis this year?
A: "There are five points of emphasis this year, arrived at by the national federation for state high schools. The points of emphasis for this year, both for the NCAA level and high school, include rules enforcement. Really it means don't bring your personal version of the rules to the game. The second point of emphasis is on sportsmanlike behavior of players and coaches. The third point is pretty much contact, especially on the perimeter. Officials have been encouraged to give that a lot of attention. The fourth point is closely guarded situations. The rule is six feet between the offensive and defensive player. The fifth one is referred to as the principle of verticality. Just because the defender is airborne, it doesn't make him wrong or the offensive player wrong. But they must be vertical. It also applies in rebound play, too."
Q: What's most difficult call or rule to enforce?
A: "The most difficult rule to enforce is traveling, no question. You have to watch the defender and a third person coming to set a screen while also watching the person with the ball. That's what makes traveling difficult. A block-charge is probably the easiest rule for a well trained official."
Q: Have fans or coaches changed in their approach to officials?
A: "Overall I don't think it's changed. I think schools have changed their approach to how they regulate them."
Q: How are officials chosen for the tournament?
A: "There's a long-time system in place. They have to have officiated a minimum of 50 regular-season Heal point games overall and 15 in that season to be eligible to be considered. They must also be fit and injury free. The commissioner has to have seen them officiate. Forms are sent to schools and coaches say who they would recommend. We usually have just about 100 for the three tournament sites. Coach recommendations and regional board recommendations are given consideration. I finalize it.
Q: What makes a good official?
A: "The quality official is someone who probably has a basketball background. From that point on, you truly have to have a passion for officiating. It's obvious you have to have a mastery for the rules and the mechanics. You also have to be high on the composure side. It's a rare official who gets to the varsity level in Maine prior to
five years. Without the commitment and passion you're not going to make it. Basketball is played in a big living room compared to other sports and the emotions are high. The people around the court, it's kind of like Sunday school, you have to forgive them when they complain. The good official gets every bit as much of an adrenaline flow as a ballplayer when he's doing things well."

BOYS BASKETBALL TOP 10
1. Cheverus (7-0) The defending Class A state champions continued to roll through Western Maine with a 51-35 win against a good Thornton club in Saco.

2. Camden Hills (9-0) Keegan Pieri, a 6-foot-6 guard, returned after a month-long suspension to help the Wndjammers win 74-48 at previously unbeaten Winslow.

3. Bangor (8-1) After an opening loss, the Rams have reeled off eight straight, including Tuesday's 49-35 win at Mt. Blue.

4. Hamden (7-2) The Broncos lost a 57-55 squeaker at Mt. Blue then bounced back with a 66-45 win against Messalonskee.

5. Edward Little (8-1) The two-time defending Eastern Maine champs downed Mt. Ararat 63-42 then nipped Brunswick 64-63.

6. Mt. Blue (7-2) The Cougars knocked off Hampden at home 57-55 but faltered a couple of nights later in losing to Bangor, 49-35.

7. Mountain Valley (9-0) The Falcons are going for their second straight unbeaten regular season. They recently faced their toughest test to date in a 52-45 win over Dirigo.

8. Thornton (5-2) After a 5-0 start the Trojans lost 50-48 to Deering then were beaten at home by Cheverus, 51-35.

9. Cape Elizabeth (6-1) After a loss to Yarmouth, the Capers bounced back with wins against Greely and Gray-New Gloucester.

10. Ellsworth (8-0) The Eagles remained unbeaten but face their toughest test of the season this week against unbeaten Mount Desert Island.

MILESTONES

Junior point guard D.J. Johnson of Islesboro scored his 1,000th point recently against Calvary Chapel.

Senior forward Maggie Sabine of Oak Hill topped the 1,000-career point mark with a 21-point performance against Rockland.

GIRLS' BASKETBALL TOP 10
1. McAuley (7-0) The Lions, who routed Scarborough and topped Bonny Eagle, 48-33, await a couple of late-season tests against in-town rival Deering.

2. Cheverus (7-1) The Stags' only blemish is a three-point loss to McAuley. They're coming off a 34-point win against Thornton.

3. Deering (7-0) The Rams had surprisingly close wins against Biddeford (48-37) and Thornton (53-46).

4. Morse (10-0) The Shipbuilders remained unbeaten with a big 59-47 victory against previously unbeaten Edward Little.

5. York (10-0) The defending Class B champions downed Greely 48-22 and have yet to be challenged.

6. Leavitt (10-0) The Hornets kept pace with York in Class B West with a 66-61 statement win against Nokomis.

7. Gorham (6-1) The Rams, whose only loss is to unbeaten Deering, cruised to a big victory against Kennebunk this week.

8. Windham (7-2) The Eagles' only losses tis seaosn are to McAuley and Cheverus. Next up is a key test against Gorham.

9. Edward Little (8-1) After losing to Morse in a battle of unbeatens, the Red Eddies bounced back with wins against Brunswick and Mt. Ararat.

10. Hampden (8-1) After losing a showdown against Edward Little, the Broncos rebounded with wins over Mt. Blue and Messalonskee.

BOYS' HOCKEY TOP 10
1. Lewiston
2. St. Dominic
3. Biddeford
4. Brewer
5. Falmouth
6. Houlton/Hodgdon
7. Waterville
8. Greely
9. Edward Little
10. Cheverus

WRESTLING TOP 10
1. Noble
2. Camden Hills
3. Massabesic
4. Belfast
5. Mountain Valley
6. Lisbon
7. Marshwood
8. Mt. Blue
9. Fryeburg
10. Dirigo
December, 30, 2010
12/30/10
5:51
PM ET
By
Gary Hawkins
| ESPNBoston.com
Little has changed among the top five boys' basketball teams in the state, with the exception of a one-point loss by Hampden to Lawrence. Here's a look at the Top 10 teams in Vacationland.

Cheverus (4-0): The top-ranked Stags continued to roll with a 49-28 win against Portland. In a previous game, Kennebunk tried to slow things down against Cheverus and nearly pulled an upset before losing 31-25. The Stags are averaging 57 points a game while giving up a paltry 29.
Edward Little (4-0): The Red Eddies rolled to a pair of victories against Oxford Hills (67-45) and Brewer (65-47), getting 28 points from Bo Leary in the latter game. Next up for EL is Messalonskee with a Jan. 4 date looming at Hampden.
Camden Hills (6-0): The Windjammers cruised past Oak Hill 92-41 to run their record to 6-0, but they've shown some vulnerability this season, one in which point guard Keegan Pieri has yet to play due to suspension. They squeaked past Medomak Valley 84-82 and held off Gardiner 62-54.
Thornton (4-0): The Golden Trojans remained unbeaten with wins against Gorham and Bonny Eagle. Next up are road games at Sanford and Deering before a home showdown Jan 11 against Cheverus.
Hampden (4-1): The Broncos were upset 50-49 at Lawrence when Spencer Carey hit a 3-point shot with three seconds left to play. They remain one of the state's top teams, however, and will try to confirm that against Edward Little at home on Jan. 4.
Bangor
Mountain Valley
Ellsworth
Scarborough
Greely
COULOMBE IS CENTER OF ATTENTION
Alexa Coulombe is a 6-foot-2 junior center playing for Catherine McAuley High School in Portland who has already verbally committed to play basketball for Boston College. As a sophomore she averaged 10 points, 13 rebounds and six blocked shots a game with a high of 16 in one contest. She took time for an interview at a recent holiday tournament:
Q: Why do you attend McAuley?
A: "My parents wanted me to get out of the public school system and go private."
Q: Why did you choose Boston College?
A: "I've wanted to go there since I can remember. It's close enough to my home, it's not really far away. A girl on my AAU team went there before I did and I really like the coaches. Everything clicked really well."
Q: Why such and early decision?
A: "I did a lot of work this summer and I thought about it a lot and what school would work for me. I figured out, why wait? It was kind of a no-brainer for me."
Q: Did you consider the University of Maine?
A: "I was basically looking more south. I knew I wanted to get out."
Q: When did you start playing basketball?
A: "In third grade. Because I was always tall (my parents) said why don't you go try it. I did, and I liked it."
Q: Do you feel more comfortable on the perimeter or in the post?
A: "Originally I was a post player, but I had to work a lot (on my perimeter game) on my AAU team. I was in the 3 spot. I had to transition completely out of post play. I had to have a guard mentality. (My AAU coach Kara Leary) really helped me with that."
Q: Where do you need to improve?
A: "I need to become stronger. I need to be a better guard, a better shooter. I work out all the time but I'm not a really big person."
Q: What are your other interests?
A: "I don't play any other sports. I'm into basketball all the time. I'm in a lot of clubs and I'm an ambassador for the kids coming into (McAuley)."
Q: What are you long-term plans?
A: "I don't really know. I think I'm just going to take it as it comes."
GIRLS' TOP 10
McAuley (4-0): Catherine McAuley High of Portland remained the state's top girls basketball team following a 45-42 win over Cheverus. Despite having two Division I bound players in Becca Knight (Maine) and Alexa Coulombe (Boston College), the Lions have yet to completely jell. They lost by four to Deering at the Capital City Hoop Classic in Augusta, but don't play the Rams in regular-season games until the end of the season.
Deering (5-0): The Rams stayed unbeaten with a 51-45 win against south Portland in which University of Vermont bound senior Kayla Burchill scored 32 points, including seven 3-pointers. The Rams don't play against McAuley until Feb. 3 but did knock them off in a Christmas tournament 53-48 this week.
Morse (6-0): The Shipbuilders are cruising with recent wins against Cony and Lawrence. Nikoline Ostergaard, the team's point guard and an exchange student from Denmark, is drawing interest from U.S. colleges.
York (5-0): The defending class B state champions look like the team to beat again this season. The Wildcats knocked off previously unbeaten Greely 54-28 last week and there don't appear to be many challenges on the horizon.
Cheverus (4-1): The Stags led McAuley last week for most of the game before falling by three points and remain one of the teams to beat in Western Maine Class A. They host a solid Windham team next week.
Hampden
Leavitt
Skowhegan
Medomak
Gorham
BOYS' HOCKEY TOP 10
No. 1 Lewiston remained unbeaten with a 5-2 overtime win last week against rival St. Dominic. Between the neighboring schools have more than 40 New England high school hockey championships. The Blue Devils showed a little early season vulnerability, though, when they were tied, 2-2, by Biddeford.
Lewiston
St. Dom's
Biddeford
Falmouth
Brewer
Thornton
Greely
Bangor
Houlton/Hodgdon
Edward Little