Boston High School:

Mount Desert Island
June, 8, 2012
6/08/12
12:53
PM ET
By
Gary Hawkins
| ESPNBoston.com
Abbey Leonardi concluded her stellar high school running career last Saturday with a pair of wins at the State Class A track and field championships. The Kennebunk senior won the 1,600 and 3,200 meter races despite missing a month of training this spring with a strained tendon in her leg.

Leonardi finished the 1,600 in 4 minutes, 56.87 seconds, a little more than five seconds off her state record pace in 2010. She caught Lawrence's Erzsebet Nagy on the final lap and held her off down the stretch.
"I missed more than a month of training," Leonardi said, "so it was just more about being mentally tough."
Leonardi won 3,200 later in the meet in 10:45.49, again a few seconds off the state record she set in 2010. In four years, Leonardi has posted four cross country individual championships and 12 outdoor track titles. She holds state records in 1,600, mile, 3,000, 3,200 and the two mile.
She is widely considered Maine's best female high school runner since Joan Benoit Samuelson, who won the inaugural women's marathon at the 1984 Olympics. This year Leonardi finished fourth in the prestigious Foot Locker Cross Country Nationals, setting a PR of 17:35.30 in the 5,000 meter event.
"What we've tried to do is not go too crazy with her in high school and chase every big meet," her father Jack said.
Abbey will attend the University of Oregon next fall on a running scholarship and will step on campus with plenty of gas left in her tank. She hasn't run indoor track in high school nor has she over-trained.
"I actually think she can get a lot better," her dad said. "We've tried not to stress her too much. I think Abbey's at the low end of the top kids in high school in terms of mileage."
Her dad got her started in running and said he got up to speed in training methods as she progressed. He credits middle school coach Mike LeBlanc as an important influence. As she's grown older, Leonardi has trained with Kristen Barry, a former 2:40 marathon runner and Falmouth's Sheri Piers, the top American female finisher in this year's Boston marathon.
"She definitely has some physical talent but she works as hard as anybody at it," jack Leonardi said of his daughter. "She's really methodical about what she does. She's pretty educated about what she's doing."
Leonardi won't complete in this weekend's New England meet in Saco, but will follow a training regimen to get her ready for cross country season next fall. Her only appearance in the new England cross country meet was her freshman year when she finished first. Oregon is one of the country's strongest track and cross country school. Last fall, the Ducks placed fifth in the NCAA cross country meet and return five of their top seven runners.
"She had lots of opportunities (to attend other schools)," Jack said, "but she definitely is choosing to jump into the big pond. If she didn't give the biggest stage a chance, she wished she would have."
Leonardi, who has a twin sister, is a straight A student who also loves to cook.
"She'll probably end up studying business and hope to apply that in some food area," her father said.
February, 10, 2012
2/10/12
2:15
PM ET
By
Gary Hawkins
| ESPNBoston.com
That Travis and Karen Magnusson would become high school basketball coaches, given their backgrounds as point guards and students of the game, seemed inevitable. So does the success that the husband and wife coaches are having this season at their respective schools.

Travis, who coaches the Dirigo High School boys team, came within a whisker of a perfect season before falling to Spruce Mountain, 39-34 Wednesday night. Still, his Cougars finished the regular season at 17-1 and enter the upcoming Western Maine Class C tournament as the top seed. Karen, who coaches the Cony High School girls team, finished at 18-0 Thursday and her Rams will enter the Eastern Maine Class A tournament as the top-seeded team.
There wasn't much talk between Karen and Travis about going unbeaten this season — both recognize winning a state title as a larger goal — but it's still hard to avoid.
"Honestly we try not to do it," Karen said. "But it's something that comes up with other people."
The couple rarely get to see one another's teams play since they usually play on the same night. Fans at both schools, however, recognize what's going on.
[+] Enlarge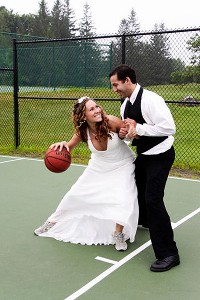 Courtesy of Karen Magnusson Travis and Karen Magnusson are having success coaching high school hoops in Maine.
"It's almost like we share our programs with each other," Karen said. "His fans ask how I'm doing and my fans ask how Trav's doing."
The Magnussons are both basketball junkies, a passion that began long before they met at the University of Maine at Farmington a few years ago. Karen Sirois starred at Cony in Augusta while Travis played for Georges Valley in Thomaston. Both played point guard at UMF and each of them totaled over 1,000 points and 500 assists in their careers.
Farmington women's coach Jamie Beaudoin and men's coach Dick Meader saw coaches in the two long before their playing careers ended.
"I knew from the first moment I watched her play that she was going to be a coach," Beaudoin said. "She was able to see things on the floor that many times an experienced coach wouldn't pick up on. She's just a student of the game."
Meader echoed those thoughts about Travis, who served as a varsity assistant at UMF the year after he graduated. Travis was hired as boys coach at Livermore Falls a year before Karen go the job at Cony so she helped him out and gave him an unbiased look at the players and the team.
"There was nobody I listened to more, especially with my team that first year," Travis said.
Travis turned the Livermore program around, reaching a tournament prelim game his first year in 2009 and the tournament itself the next two. He lost his job when Livermore and Jay high schools combined this year to form Spruce Mountain, but when the Dirigo job opened up he applied. The Cougars reached the state final last year and return many of those players.
The Magnussons talk basketball most of the time, often while breaking down film at home another or swapping drills.
"I get some of my plays and sets from him," Karen said. "I know his personnel, we definitely help each other out. Sometimes we sit up until 11:30 or 12 talking about it. We watch game film together. It's like having an assistant coach at home."
They also share a similar philosophy, borne from the way they played the game.
"We both like to run and gun, play pressure defense and give our players freedom to take shots." Travis said. "As I've gotten older I've realized the importance of quality shots."
The Magnussons are competitive by nature and haven't played a serious game of 1 on since Travis came away with a bloody nose when the got together on the court in college.
"He's competitive and I'm competitive so we never really have the fun 1-on-1," Karen said.
Well, they did have a little fun on the court on the day they were married, playing a friendly game, she in her wedding dress and he in his tuxedo.
They'll get a chance to watch the other's team play in about 10 days when their teams will be favored to win regional championships at the Augusta Civic Center.
October, 7, 2010
10/07/10
12:13
AM ET
By
Gary Hawkins
| ESPNBoston.com
Two more teams were knocked form the ranks of the unbeaten in Week 5 of high school football. Thornton Academy of Saco had outscored its Class A opponents 201-13 coming into its game against Deering, but the Trojans were dominated by the Rams, 35-6.

Deering quarterback Jamie Ross did most of the damage, passing for 125 yards and three touchdowns while also rushing for 134 yards and two more scores. Deering sustained its only loss in Week 3, losing 34-12 to Bonny Eagle.
In a Class C battle of unbeatens, Yarmouth's Bryce Snyder kicked a 28-yard field goal with 19 seconds left to lift the Clippers to a 16-14 victory over Lisbon. Yarmouth, which has only had varsity football for five years, was led by Anders Overhaug who rushed for 169 yards on 14 carries.
There are only 12 unbeaten teams left in the state, five in Class A — Cheverus, Bonny Eagle, Lawrence, Lewiston and Bangor. That number will be reduced this week when Lawrence hosts Lewiston. Unbeaten teams in Class B include Gardiner, Leavitt, Cape Elizabeth and Mountain Valley while Stearns, Winthrop and Yarmouth are all 5-0 in Class C.
Top performances:
Rockland's Derek Miller scored eight touchdowns in a 66-6 rout of Dexter. Miller passed for one score, rushed for five, caught one TD pass and scored another on a punt return.
Cony's Luke Dunklee threw for 158 yards and two touchdowns and also rushed for 205 yards and two scores in a 28-21 win against Brunswick. Duncklee has rushed for 13 touchdowns and 743 yards and passed for three scores and 653 yards.
Messalonskee's Keenan Knox rushed for 176 yards and four scores in a 48-8 win over Brewer. Knox has rushed for 827 yards on the season.
Bonny Eagle's Matt Rollins passed for three touchdowns and rushed for two more as the unbeaten Scots downed Massabesic, 40-20.
Traip Academy's Tyler Nay rushed for 203 yards and four touchdowns as the surprising Rangers moved to 4-1 with a 34-25 victory over Livermore Falls.
John Bapst's Jordan Charpentier passed for four touchdowns in the Crusaders' 36-13 win over Foxcroft Academy.
Big games to watch for:
Oct. 15, Bangor at Lawrence. A potential battle of Class A unbeatens if Lawrence gets past Lewiston this week. The teams were in the same position last season when Bangor nipped Lawrence 28-21 on its way to a state title appearance.
Oct. 16, Bonny Eagle at Cheverus. Bonny Eagle has developed into a Class A power under oach Kevin Cooper, winning four state championships in the past six years. Cooper is assisted by his father Pete who led Lawrence to several state titles. Cheverus' program has been resurrected under John Wolfgram, the state's winningest coach. Wolfgram and Pete Cooper met a number of times when Wolfgram coached Gardiner to three state titles in the late '70s and '80s.
Oct. 22, Gardiner at Leavitt. Another potential battle of unbeaten teams in the Pine Tree Conference's Class B division. Both are led by outstanding juniors, Gardiner by running back Alonzo Connor and Leavitt by quarterback Jordan Hersom. Leavitt is defending Class B state champ while Gardiner won the title in 2007.
Oct. 29, Cape Elizabeth at Mountain Valley. These teams gained a measure of statewide immortality when the film "The Rivals" was produced in 2008 documenting the rivalry between wealthy Cape Elizabeth and Rumford, the mill town where Mountain Valley is located. It was recently shown on the Smithsonian Channel. So far this season, Mountain Valley has outscored opponents 212-12 while Cape holds a 152-27 advantage.
Gardiner's Connor sets school record
Gardiner High junior running back Alonzo Connor has packed nearly a season's worth of statistics into his first five games. The 6-foot-2, 185-pound tailback has already rushed for 1,022 yards and 17 touchdowns.
Two weeks ago against Mount Desert Island, Connor rushed for a school record 346 yards and scored five touchdowns. He also scored five times the previous week in a week against Waterville.
Against MDI, Connor pulled off one of the most memorable runs in school history. With Gardiner at the MDI 35 and a second left in the half, quarterback Spencer Allen threw a screen to Connor who headed down the left sideline. He ran into a pack of defenders near the 20-yard line and reversed fields, circling back 15 yards to pick up blocks. With all 11 defenders in pursuit, he weaved his way through traffic, took a hit near the goal line and scored. The run brought the Tigers in a 21-all tie and
changed the momentum of the game.
"That's the best play I've ever seen," Gardiner coach Jim Palmer said. "I've never seen anything like that."
Football Top 10
1. Bonny Eagle
2. Cheverus
3. Bangor
4. Lawrence
5. Lewiston
6. Mountain Valley
7. Deering
8. Leavitt
9. Scarborough
10. Cape Elizabeth
Leonardi's big day
Kennebunk High School junior Abbey Leonardi won the annual Festival of Champions cross country race in Belfast on Saturday.
The race attracted over 100 boys and girls teams and nearly 1,300 runners. Leonardi finished the 5K course in 17 minutes, 58 seconds while Madison junior Matt McClintock won the boys race in 16:06. Leonardi has long been considered one of New England's top distance runners. She won the New England high school cross country race her freshman year and last spring as a sophomore set state records in the 1,600 (4:51) and 3,200 (10:42) meter runs. She followed by winning the New England 3,200 in 10:26. She closed her sophomore year by placing fourth in the 3,200 in the New Balance Nationals, also in 10:26. The 5-foot-1, 16-year-old placed second last year in the Foot Locker Northeast Regionals and 22nd in the national race.
Scarborough won the boys' team title at the Festival while Cheverus captured the girls' title. In the latest girls' coaches poll, Cheverus is ranked first with Cape Elizabeth second. In the boys poll, it's Gorham followed by Falmouth.
Boys' soccer Top 10
1. Bangor
2. Scarborough
3. Yarmouth
4. Portland
5. Ellsworth
6. Brunswick
7. Cape Elizabeth
8. Gorham
9. Maranacook
10. Camden Hills
Girls' soccer Top 10
1. Brunswick
2. Scarborough
3. Yarmouth
4. Bangor
5. York
6. Cheverus
7. Hampden
8. Waterville
9. Thornton
10. St. Dominic