Boston High School:

Nate Anderson
January, 12, 2013
Jan 12
12:50
AM ET
ROXBURY, Mass. -- Shaquan Murray is a serviceable defender, a quality athlete, but above all else he is a shooter. So as he mired through a lethargic shooting slump in the first half of a gritty game against rival Madison Park, in the notoriously-unfriendly Madidome, the New Mission junior guard did what many a shooter will do -- he kept shooting.

In need of some spark after some dizzyingly sub-par shot selection through the first 26 minutes, New Mission rode a wave of momentum with back-to-back three-pointers from Murray that knotted the game at 57-57 with less than three minutes to go.

The Titans took the lead for good on a Juwan Gooding three with 1:39 to go, and escaped the Cardinals' gym with a 69-64 win to remain in first place in the Boston City League's top tier (6-3, 4-1). With the loss, the MP Machine fell to a surprising 1-5 in the league.

"I know that kid was going to come up big for us," Mission head coach Cory McCarthy said. "That kid, man, he's still learning the game, but he's going to be special. He's going to be special. No matter what, he always lets the game come to him. The game will always find him. He's a good kid, man, good kid."

Murray finished with 15 points, second-most on the team. But prior to his two big fourth-quarter buckets, he was just 4-for-11 from the field.

"You've got to keep shooting," Murray said. "When I was struggling, my coach was telling me to go to the basket and be aggressive, and that's what I was doing. Then when it opened up for me to shoot, I knocked them down when they counted. I kept shooting."

A few minutes later, the sophomore Gooding (17 points, five assists, five rebounds) gave the Titans the lead for good, getting a wide-open look along the left wing directly off an inbounds pass from under the baseline.

Give due credit to Gooding and his feathery, high-arching stroke from deep. But the look was made possible thanks to a heads-up maneuver from junior center Fred "Bam" Rivers (seven points, seven rebounds). Seeing Gooding with plenty of space around the three-point line, Rivers found the MP body closest to the Gooding -- in this instance, near the intersecting corner of the volleyball lines -- and flashed a quick screen.

"Fred was so smart," Mission head coach Cory McCarthy said. "He came off his guy, and just banged the guy. It was a little bit of a flare. That wasn't the play, but Bam is so smart."

From there, 6-foot-7 senior forward Nate Anderson came up with two big steals to help seal the win. First, he snatched an outlet pass near the scorer's table, and called a timeout. Of the timeout, Gooding fumbled away the inbounds pass. At the other end, however, Anderson sagged deep into the lane and ripped the ball out of a Cardinal player's hands, with under a minute to go.

Gooding was tasked with free throws, and he did his job to seal the win. In the fourth quarter, Gooding was 6-of-8 from the charity stripe.

"Nate's a defensive presence, and he shuts down an entire side," McCarthy said of Anderson. "And I'm very serious. He may not score a ton of points, he'll grab some boards and get you some blocks, but man, there's no stat for how valuable he is this year."

Seniors Isshiah Coleman and Brian Jones were the only other Titans in double-figures, with 10 points each -- in Coleman's case, despite foul trouble for most of the evening.

The last three minutes were quite a turnaround from the way things had started off. The Titans shot 38 percent from the field (12-of-31) in the first half, and through three quarters were just 35 percent. That included a 1-for-18 margin from three-point range.

"Our shot selection was so poor for 29 minutes of this game," McCarthy said. "[The last three minutes] We decided to play New Mission basketball. It's hard when Nate [Anderson] is in foul trouble. Nate can't be in foul trouble, bottom line. He's the key to our defense, and he and Isshiah [Coleman] had three fouls each in the first half."

Senior forward David Stewart turned in a monster game for the Cardinals, leading them with 17 points and 16 rebounds, while junior guard Terrell Matthews added 16 in the loss.

"He played his butt off," MP head coach Dennis Wilson said of Stewart. "He played like a warrior, like the guy I know he is, and has been for me for four years. [He's a] relentless rebounder."

Accusations of 'classless' play: Wilson was none too happy following the loss, going so far as accusing the Titans of using low-brow tactics to gain an edge. Wilson's inclination stemmed primarily from an episode during a free throw attempt in the second half, when a Mission player stood next to a Cardinals player as he spoke with Wilson, and refused to move away when asked.

Wilson was not pleased the with this, and had some choice words for the player; at one point, one of Wilson's assistants stepped between the two.

At another point in the game, the same player fell to the floor after being pushed by a player, but in a manner close enough to possibly be perceived as embellishment. After the buzzer sounded to end the first half, an MP player was given a technical foul for retaliating to some extracurricular play; Percio Gomez hit both free throws to cut MP's halftime lead to 32-30.

"Nothing's wrong with a physical game and being aggressive," Wilson said. "But when you show no class, when you're doing bush league things, when you're going outside the lines, when players are disrespecting the opposing coach, that's not what this is all about. That's not what basketball competing is all about. They need to have more class, they need to understand what real sports is all about -- sportsmanship, compete, battle.

"But the classless stuff, and the disrespect -- players disrespecting the coach, flopping, them trying to start trouble and bait players -- that stuff is sickening to me."

Told later in the evening by phone of Wilson's words, McCarthy reiterated what officials had said -- that what his player in question was doing was within the rules.

"If a player is on the court during a live ball, he can stand anywhere he wants. It's not to offend the other team, its just he's staying on his man," McCarthy said. "It's not like he [Wilson] was calling out plays and we were stealing plays. You're not going to find anybody outside the city that is going to say this is a classless program. Only people in the Boston City League feel a certain way about New Mission, because they feel we haven't paid any dues.

"As far as the ruling, the referee came over and explained to coach that my player being there is 100 percent legal. Anyone that knows me knows I don't tolerate my kids doing the extracurricular. If I thought it was wrong, I would have had him move, but the court belongs to the players, not the coaches. And after the game, all his players hugged my players."
January, 9, 2013
Jan 9
11:15
PM ET
By
Josh Perry
| ESPNBoston.com
HYDE PARK, Mass. -– They were just too big and too deep.

Even with star player Nate Anderson forced to the bench with foul trouble, the New Mission frontline still boasted no player under six-foot-four. The Titans' bigs dominated the paint throughout and kept East Boston from getting into its offense.

Senior forward Isshiah Coleman picked up the slack for Anderson with a game-high 17 points and nine rebounds to lead No. 3 New Mission to a 66-42 victory over No. 10 East Boston in Wednesday night's City League clash.

New Mission's performance was even more impressive considering that it had not played a game in 11 days. Head coach Cory McCarthy had his team prepared, and the Titans (5-3) jumped out to a 12-0 lead in the opening four minutes.

"We practiced hard and that's all it really comes down to," he explained. "I think that tonight we stuck with the game plan. Today, they played a smart game. We stayed in the passing lanes, we tried not to let them reverse the ball, and we did what we're supposed to do."

East Boston (5-3) came into the game shorthanded. Senior forward Kenny Ramos and leading scorer Rasheed Bell were both out injured, which left the team with limited options on the post. This was a situation that the Titans were happy to exploit.

He said, "We have height for days. I know the whole game people heard me screaming to get the ball inside, but when you have arguably the biggest team in MIAA, why not?"

Despite falling behind 12-0, despite being shorthanded, and despite turning the ball over 15 times in the first half against New Mission's punishing 1-2-2 zone, East Boston managed to get themselves back into the game.

A pair of layups by senior guard Pat Santos, who led the team in scoring with 14 points, and a three from sophomore Dion Knight pulled Eastie to within six points at 22-16. Just when it seemed that the visitors might go into halftime with momentum, New Mission rattled off seven straight points including a three at the buzzer by Shaquan Murray.

East Boston head coach Shawn Brown was disappointed in how his team started, but was impressed by its ability to get itself back into the game in the first half.

"We got some stops but we couldn't score," said Brown. "I thought they weathered the storm in the first half. I thought the three at the end of the half was tough, but it always felt like a 10-point game. I was pleased with the effort of my guys in the first half."

The difference in the game was New Mission's ability to create turnovers on defense. By using the six-foot-seven Anderson at the point of the 1-2-2 zone, it seemed as though the trapping and pressing extended from halfcourt to the baseline and sideline to sideline. There seemed to be no passing lanes for East Boston, which ended the game with 29 turnovers.

"Nate is such an athletic freak and he had no idea how good he could be," said McCarthy. "You just have to put him in a position where he can do the right thing by accident. We put him at the top of our halfcourt set and he took away one whole side of the court on the ball reversal."

He added, "I thought we really defended well. Once you start forcing turnovers without getting stretched, you're in good shape. I think we left a lot of points out there but...hey, we won the game."

Brown also pointed to his team's turnovers as the key component to the loss and a problem that his team needs to fix going forward this season.

He said, "With 29 turnovers you're not going to beat anybody, let alone a team like that. There was a worry coming in about their length and it definitely affected us."

New Mission controlled the second half with Coleman and Anderson (eight points) adding to their highlight reels with several powerful dunks. Sophomore point guard Juwan Gooding scored seven of his nine points in the third quarter to help build the lead while Murray finished with 11, including six in the second half.

Knight joined Santos in double figures for East Boston with 11 points and senior guard Stanley Harris added six. Brown gave several players called up from the JV squad a chance to get experience in the fourth quarter.

The game threatened to get out of control early in the fourth quarter after Coleman received his second technical foul of the game for a dunk after the whistle. A later incident followed a whistle in the lane and saw a player from each team sent to the locker rooms. Gratefully the game ended without any further issues.
January, 6, 2013
Jan 6
11:04
PM ET
By
Chris Bradley
| ESPNBoston.com
With the majority of teams about a third of the way through their regular season schedule, we reflect on individuals who have stepped up for their team when the lights are bright, underclassmen who have exceeded expectations, and breakout players to keep an eye on for the rest of the season. Included also are comments from opposing MIAA coaches, on the condition of confidentiality.

***

REASSERTING THEIR TALENT

Nate Anderson, 6-7 Sr. F, New Mission
Anderson's improvement has been well documented this year, especially in his rebounding and effort on the defensive end of the floor. New Mission lacked floor leadership last year, as seen with their early bounce from the Division 2 North tournament, but Anderson has stepped up in a big way this year for the Titans, who have perhaps the toughest schedule in all of MIAA hoops. How far supremely-talented New Mission goes in this tournament this year will ride largely on the shoulders of their senior forward.
Opposing coach's take: "I always thought Nate was talented and wondered why he never played more. He's about 6-6, 6-7, which is a center at this level, but he handles the ball and is mobile like a guard. Now that he is a senior and he has become older, more experienced, and is coming out of his shell, I think he has the potential to be dominant."

Sam Dowden, 6-5 Sr. F, Andover
Expectations were high for Andover coming into this season, with several veteran guards back and one of the area's more formidable frontcourt duos in Dowden and sophomore Connor Merinder. Merinder has been out of action since mid-December with a wrist injury, and since then Dowden has stepped up in a big way for the Golden Warriors. Andover sits at 5-2, with their only losses coming by a point to top-ranked Central Catholic and by ten to second-ranked Lowell. Dowden has led them in scoring and rebounding thus far, but he and the Warriors have their toughest challenges ahead of them with four MVC teams ranked in the top 15.
Opposing coach's take: "A matchup nightmare because he can post up against smaller players and is extremely skilled on the perimeter when you try to match up with a bigger player on him. Sam never seems to get rattled or take bad shots during a game. Plays the game the right way and is always a class act on and off the court."

Tyler Nelson, 6-2 Jr. G, Central Catholic
Nelson is the most dangerous shooter in the state, undoubted and no questions asked, but what has made him stand out so far this year is how versatile he has become. Playing AAU this summer with BABC, Nelson had a significant opportunity to improve his ball handling, his ability to run an offense, and his defensive reliability. At the end of last season Nelson's name was always came accompanied by remarks about his shooting ability, but he has become one of the better all-around scorers in the area and a reliable floor leader for Coach Rick Nault.
Opposing coach's take: "I think he's very crafty. I think that he has high IQ. You cannot relax at any time, because he'll knock down three's. If you over-close on him, he's crafty enough to take that extra dribble and get by you and make a play for somebody else or use his pull-up. So that's what I'd say, very crafty, intelligent, high IQ, smart basketball player."

Derek Collins, 6-1 Sr. G, North Andover
Yes, another sniper from the Merrimack Valley. Collins came back and is having a solid year for the Scarlet Knights after missing the majority of last season with a back injury. North Andover is one of the best teams in Division 2 this year, currently sitting at No. 14 in ESPNBoston.com's poll, and while their strongpoint is in their frontcourt with Isaiah Nelsen and Chris Bardwell, Collins prevents other teams to be able to double down on Nelsen and Bardwell very often because that would leave the sharpshooting Collins open in his favorite part of the floor.
Opposing coach's take: "Extremely confident player who can take over the game at any point. Derek has learned how to move without the ball which makes him a much more dangerous offensive player. As a 6-2 guard Derek is much bigger and stronger than most guards he matches up with so he is able to to use his size and strength to score in the paint."

Riyadh Asad, 6-1 Sr. G, West Springfield
Springfield Central got a lot of the pre-season hype following their 24-1 state championship season, starting this season at No. 1 in our preseason poll. However, West Side has emerged in the opening weeks of the season as the potential favorite in Western Mass. Division 1, and Asad is a big reason why. He's averaging just over 21 points per game and has shown to be one of the best guards in Western Mass. With Central looking particularly unreliable early on, we could be in for an adventure in Western Mass the rest of the way, and if Asad can keep up with his high-scoring efficiency, West Springfield is a team to keep an eye on from here on out.
Opposing coach's take: "Asad is one of the more talented players in western Mass. His ability to create and make shots is what stood out to me. He's also been working on his off ball movement ( using screens, cutting hard. etc) which will carry over well for him at the next level. Preparing for him you have to tell your team to be prepared at all times because he loves to shoot!"

Brendan Hill, 6-5 Soph. F, Mansfield
Mansfield is one of the favorites to take Division 1 South, and Hill is a big reason why. Also a football star, Hill's strong hands, crafty footwork, and innate competitiveness have translated to the basketball court this winter season, as perhaps the most reliable player on one of the best teams in the state. Hill got minutes last year as a freshman, but really broke out this summer playing for BABC, where he was able to work on his post moves and improve his outside shot.
Opposing coach's take: "Brendan Hill is the most unselfish player in the MIAA. I don't know what kid comes off a summer playing with BABC and doesn't demand the ball every possession. He's a raw Pat Connaughton without the athleticism. He can stretch you, suck the help in and make the right kick out almost all the time. He can dominate offensively but has to get stronger to absorb the banging he will have to take in the Hock league."

***

FRESH ON THE SCENE

Kareem Davis, 5-8 Soph. G, Lowell
Like any sophomore, he needs to continue to hit the weights so that he doesn't get pushed around by stronger guards, but Davis has proven to be one of the state's best young point guards. Lowell sits as the second-ranked team in the state right now, with a showdown on Jan. 18 with top-ranked Central Catholic coming up quickly. Going up against one of the state's best guards in that game in Tyler Nelson, we'll soon see how for real Davis is.
Opposing coach's take: "Kareem is an excellent ballhandler who sees the floor well. He has complete confidence in his abilities and isn't afraid of anything. What makes him hard to cover is that not only does he push the ball up the floor so quickly, but he can also shoot."

Adham Floyd, 6-1 Fr. G, St. John's (Shrewsbury)
In going through the top 25 poll, there are few freshmen, if any, who are bringing more to their team right now than Floyd; through six games, he is the Pioneers' second-leading scorer with 9 points per game. With senior captain Ken Harrington out injured for the near future, St. John's will somehow need to make up for that productivity in the backcourt – the crafty freshman will take his lumps, but he'll be better for it in the Division 1 tournament, where the Pioneers are infamous for out-executing their opponents.
Opposing coach's take: "Adham is a very talented young man who works hard on his game. He has a very good skill set. He can handle the ball with both hands, he rebounds well and is not afraid to take the big shot. He also plays with poise beyond his years...He is going to be a handful for years to come."

Ben Judson, 6-4 Soph. F, St. John's Prep
Judson's coming-out party was Friday night against BC High, where the sharpshooting sophomore led the Prep with 20 points on their way to their most important win of the season -– he had five threes. This St. John's Prep team has bought into Coach Sean Connolly's system and has no problem scrapping on defense; if Judson can continue his standout scoring performances, this team is a legitimate contender to knock off Central Catholic in Division 1 North.
Opposing coaches' take: "He really didn't get a lot of time last year, they had a lot of older guys and he had to wait his turn. But already this year he has been one of the best shooters in the area. He's big and long for a guard. If he gets bigger and improves off the dribble, we're talking about a scholarship-level player."

Giulien Smith, 6-1 Soph. G, Catholic Memorial
Smith has been the scorer that Catholic Memorial needed this season, especially after the Knights graduated two thousand-point scorers in Dan Powers and Matt Droney. The crafty left-hander has been one of the state's biggest breakout stars thus far, scoring 21 against Lincoln-Sudbury, 16 against Rhode Island power St. Raphael's, and exploding for 28 points in a win over Bay State Conference favorite Newton North. The Knights have emerged as a legitimate top 10 team behind Smith, and have the potential to stay in the top 10 from here on out if their high-scoring sophomore can keep up his effort.
Opposing coach's take: "He's a terrific player, and is really, really smooth. He shoots it, handles it, gets to the basket, has great poise and a pretty good tempo to he's game. I think he's got a big upside."

***

PLEASANT SURPRISES

Allijah Robinson, 6-7 Jr. F, Charlestown
He's bounced around high schools, but it appears that Robinson has found his niche and is becoming quite the on-court leader at Charlestown. With forward Freddy Oliviera playing the post, Robinson has had the opportunity to play his more natural position on the wing -– where he can create his own shot and beat defenders to the rim off the dribble.
Opposing coach's take: "At 6-foot-7, Alijah Robinson is clearly a matchup problem for any opponent in the state. I was impressed by his nice shooting stroke. Once he beefs up a little more and bangs inside more, he will be even more of a force than he already is."

Charles Collins, 6-0 Sr. G, BC High
On most other teams in the state, Collins would be a star. The Eagles have their scorer in Jameilen Jones, but so far Collins has been the perfect complement to his good friend and backcourt mate. His outside jumper needs improving, but Collins has been a floor general for BC High at point guard, often showing to be an extension of Coach Bill Loughnane on the floor. Because of his high basketball IQ, matched with his gifted athleticism, he is one of the more college-ready prospects in the state.
Opposing coach's take: "Charles Collins is a consistent jump shot away from being the MIAA's most versatile player. He can beat you many ways off the drive as well. He is a coaches' point guard because he can not only put offensive pressure on another team, defensively he can take an opposing teams' point guard completely out of his game."

Drew Healy, 6-7 Sr. C, Lowell
Healy can block shots, hit the mid-range jumper, he rebounds at a high rate, and he runs the floor like a deer. Lowell has one of the most talented assortment of guards in the state, and Healy's low post skills make it difficult for opposing defenses to focus on one or two players. Veteran guards always win ballgames in the MIAA, but when thrown together with a 6-foot-7 big man with standout upper body strength, this Lowell team has state title potential written all over it.
Opposing coach's take: "Drew is interesting because he is nowhere near Lowell's top option. He played limited minutes in the Greater Lowell Holiday Tournament, but is very effective when he is on the court. He rebounds well and blocks shots well. He would score much more if Lowell focused on him in the paint and got him the ball. I understand why -- Jonathan Perez and the other Kareem Davis are the focus of the team."

Alex Cooper, 6-6 Sr. C, Wachusett
If you're Central Mass. team trying to earn respect, the one and only way to do that is to beat St. John's, and behind Cooper, the Mountaineers did just that, knocking off the Pioneers last week at the Laska Invitational. Cooper's game isn't always pretty, but he seems to have a knack for getting it done when Wachusett needs him the most, getting double digits in both points and rebounds in wins over St. John's and Doherty. Wachusett shot up the polls to No. 8 after beating the Pioneers, but they have plenty of challenges ahead, with Algonquin, Worcester South, Brockton, St. John's, BC High, and Cambridge still on their regular season schedule.
Opposing coach's take: "He doesn't get outworked. For what he lacks in skill, he makes up for in hustle, and he leads by example."

Dakari Hannahwornum, 6-7 Sr. F, Dorchester
26 points and 28 rebounds. Yes, you read that correctly, Dorchester's standout big man put up 26 and 28 when they beat previously-ranked Madison Park on Dec. 21. Hannahwornum can be an X-factor for the Bears in their run to a Division 2 South title, especially with his ability to take over games from the low block and overpower teams on the glass. Dorchester has been the breakout team in the Boston City League this year, and behind their skilled big man, they have the talent to be in a game with any given team in the state on any given night.
Opposing coach's take: "He's raw but has good potential, he needs to go to a juco or a D2 [college] where they can work with him year round. He erases a lot of defensive mistakes by tossing shots away from the rim."
December, 15, 2012
12/15/12
2:01
AM ET
CHARLESTOWN, Mass. -- It was a physical contest to open the loaded Boston City North slate for both squads. But more importantly, at least for New Mission, it was an ugly contest.
History shows that when New Mission is "playing ugly"
like they did in their 2010-11 state championship season
, they tend to win. So while the No. 4 Titans' 87-60 win over a green Charlestown squad was full of turnovers and fouls, it was also full of floor burns, hard elbows and overall just getting nasty with one another.
Just how head coach Cory McCarthy likes it.
"If you remember my previous season [2010-11], we've never been pretty," McCarthy said, alluding to his 2011 MIAA Division 2 state champion squad. "Last year, I think we got a little too pretty, trying to do cute things like hit three's off of curls and stuff like that. So I think this year, we just got dirty again. We scratched, scathed and clawed again. That's New Mission basketball."
At the same time, there was something organic about the Titans (2-0) when sophomore point guard Juwan Gooding (23 points, five 3-pointers, seven rebounds) was in his element. The 6-foot Dorchester resident accounted for the Titans' first 11 points, including back-to-back-to-back three-pointers, to kick things off and put the Townies (0-1) in hurry-up mode early.
"I was just feeling it," Gooding said of the opening minutes. "I had my stroke going. When I hit one, I just thought I'd keep going."
At the other end, Gooding at times brought frenetic energy, meeting the ballcarrier at half-court and tried to pin him to the sideline, keeping his arms and hips active in an effort to try and jar the ball loose. Towards the end of the first quarter, this led to an easy breakaway layup by Shaquan Murray (14 points) that made it 17-10. Gooding finished with four steals total.
That defensive mentality -- harrass your man, invade his personal space, make him uncomfortable -- has permeated for years. But on this night, Gooding's hot hand from the outside was just as contaigious.
The Titans hit 11 three-pointers in all, seemingly none more important than the back-to-back sequence that made it 60-42 with less than three minutes to go in the third quarter. First, Percio Gomez (11 points) caught a sideline inbounds pass from Murray at the right elbow, then immediately kicked it back to Murray, who had strafed towards the corner. The next time down, Gomez took the ball at the right wing and drove deep baseline, kicking back out to Gooding for the 18-point advantage.
Mission closed the third quarter leading 71-45, after Gomez was award three free throws at the buzzer, having nailed five 3-pointers in that stanza alone. Six-foot-4 junior Fred "Bam" Rivers provided some muscle underneath, coming up with 10 points and nine rebounds.
Charlestown got a bulk of its production from 6-foot-6 transfer juniors Freddy Oliveira (15 points, eight rebounds) and Allijah Robinson (11 points, eight rebounds).
Breaking the Zone:
Charlestown broke out of a midseason slump last year by switching to a 2-3 zone (for seemingly the first time in school history), and rode that all the way to a Division 1 Eastern Mass. championship berth at TD Garden. Head coach Edson Cardoso says he still plans to mix things up between zone and man this season, but early on the Townies had some great possessions in the 2-3 zone defense, getting deflections up top from Robinson and Jimmy Edwards, as well as junior Taris Wilson.
Yes, the Titans attacked the zone with perimeter shots, hitting 11 three's. But on some nights, perimeter shots is not how you beat the zone -- sometimes, that's how the zone beats you. Mission, however, turned it on Charlestown by throwing some 2-3 offense right back at them.
"Most teams set up in a 1-3-1 against a 2-3, we run a 2-3 against a 2-3," McCarthy said. "We bring the three against the two, so we just go odd-even, our odd against their even, and then we just weave them. Then eventually, we duck a big in and throw it over the top, and we have isolation. So, that helps us playing against man or zone.
"For me, I struggled last year trying to figure out how our offense works. I think we have something that works, because I have such smart guys in the high post -- Chima [Ebele], Fred [Rivers], Nate [Anderson] when he's healthy. We're versatile, and we're not the same team as last year."
Anderson easing back:
Six-foot-7 senior center Nate Anderson has been slowly making his way back into the lineup, after being hamstrung the last week or so with an ankle sprain. Tonight, he got most of his minutes late in the game and nearly unnerved McCarthy when he went up for a dramatic tomahawk dunk in transition, missed, and hit the floor hard with a hard foul.
A few possessions later, Anderson broke to the top of the key for a deflection and steal, then broke away for a thunderous one-handed slam, drawing a wild reaction from the crowd with about two minutes to go in the game.
"Nate sideline to sideline is just disruptive," McCarthy said. "And he has it now, he has the passion now."
Bridges remains out:
Sophomore point guard Greg Bridges remains out of the lineup, and McCarthy says the 5-foot-7 spark plug isn't even practicing with the team right now.
Bridges started as a freshman last season for the Titans, and built up some hype for 2012-12 after an explosive showing at AAU Nationals last July, reportedly hitting 11 three-pointers in one game.
"He needs to take some time off, that's all," McCarthy said.
And the reason?
"Nothing really, other than to really focus on his future -- and he has a future," McCarthy said. "And we want to make sure we secure a future for him. He's a good kid, he just has to have some maturity."
The next Rony?
Cardoso was asked about the play of Gooding, and he brought up a familar name in Townie basketball folklore -- Rony Fernandez, the point guard who catalyzed the Townies to their first North sectional title since 2005 last March, and subsequently was named to ESPNBoston.com's MIAA All-State Team.
"He reminds me of Rony a little bit," Cardoso said. "Similar game, you know, Rony could shoot from deep, Juwan can handle it...He's a tough matchup, he's going to hurt a lot of teams."
November, 30, 2012
11/30/12
12:03
PM ET
By
Chris Bradley
| ESPNBoston.com
CAMBRIDGE, Mass. -– Notes and observations from last night's scrimmage between talented ISL squad BB&N and Boston City League power New Mission, considered one of the favorites to make a long run in the MIAA Division 2 basketball tournament:
Pressure D the key:
New Mission set the tempo from the tip-off, getting in the face of BB&N's guards with a 2-2-1 full court press, and then falling back into man-to-man. With their guards getting jumped every single time they crossed halfcourt, BB&N had a hard time getting anything going offensively early on, and New Mission had many 2-on-1 lay-ups in transition as a result.
Anderson Playing Inspired
: Forward Nate Anderson was an enigma last year for New Mission, to say the least. However, the 6-foot-7 senior has come back this year and completely transformed his body, effort, and inside game. Defensively, his effort was top-notch while he showed a combination of versatility and aggressiveness in his offensive game. On many occasions Anderson ignited the fast break, distributing the ball on the offensive end of the floor or finishing it himself inside. He's playing faster, stronger, and with much more energy; if he keeps that effort going for a whole season, coach Cory McCarthy's team is a state title contender.
Isshiah Coleman will also be a force on the post this year for the Titans. The 6-foot-5 senior has long arms and great timing, and as he proved on Thursday night, he will be one of the most intimidating shot-blockers in the MIAA.
Titans Deep At Guard:
There will be no shortage of playmakers are guard this year for the Titans. With sophomore point guard Greg Bridges serving a suspension due to an unexcused absence from practice, junior Shaquan Murray and sophomore transfer Juwan Gooding stepped up and did a lot of New Mission's scoring, standing out especially in the first period where New Mission beat BB&N 26-5.
Gooding, a Bay State League all-star last year at Milton High, has the talent to become one of the MIAA's most prolific scorers. His jumper from the outside is lights out, he uses a quick first step to get to the rim at will, and yet he still manages to give more effort on the defensive side of the ball than on offense, as seen by the several turnovers he forced in the game.
New Mission guard Percio Gomez was a pleasant surprise. Gomez is a senior whom McCarthy says has truly earned the minutes that he will get this year. He's a strong, quick guard with a great-looking outside shot who can be expected to be an underrated rotation guy for the Titans.
Underrated Prospects
: BB&N has a couple of talented sophomore guards to keep an eye on the next couple years.
Koby Antwi's athleticism was very impressive, several times finishing tough shots around the rim. On one occasion, he crossed up Gooding and finished an acrobatic lay-up through two New Mission defenders, drawing "ooh's" and "ah's" from the crowd.
The other guard, Nick Jacobs, was playing his first game since an ACL injury, and did a nice job of managing the BB&N offense. As he continues to get back to full strength, he will be a tough player for ISL opponents to stop.
Nick Tarantino, a 6-foot-6 junior, had a hard time with Anderson and Coleman early on, but started to play a lot more aggressive in the final period. He didn't seem afraid to throw his body around, he was all over the glass, and he showed that he can step out and hit the three.
November, 25, 2012
11/25/12
1:34
PM ET
With the first MIAA-sanctioned practices of the 2012-13 season set to commence tomorrow, today we're looking at the top storylines and top players from across the state.

Check back with us later in the preseason for our first Top 25 poll and our Preseason All-State Teams. But for now, here are the storylines to watch, and our projected Super Teams.

***

Brendan Hall
ESPN Boston High Schools editor

Reading Machine Rages On
Had it not been for Andover and superstar Nicole Boudreau, the Division 2 state champ Reading Rockets would have been garnering far more attention last season. The Rockets were one of the state's most dominant forces from wire to wire, going 25-0 en route to the program's first state title. They were one of the state's most explosive offenses (64.3 points per game), and blew out nearly everyone -- their average margin of victory was 27.1, with their only threats coming in the North final (49-46 over Arlington Catholic) and Eastern Mass. Final (71-64 over Scituate, in overtime).

The conversation in Reading starts with Richmond-bound guard/forward Olivia Healy, a two-time ESPN Boston All-State and one of the early favorites for our Miss Basketball award. The 5-foot-10 senior can play any position on the floor, excels on the boards, and is as physical as they come. But every superstar needs a supporting cast, and you can't do much better than Assumption-bound guard Morgan O'Brien in that regard.

With Andover expected to level off following the graduation of one of the MIAA's best ever (Boudreau), we're most likely looking at Reading starting the year at No. 1 in our statewide girls' poll, which will be released later this preseason.

Fierce, Fierce City A
Over the offseason, the Boston City League voted overwhelmingly to split into three tiers for boys basketball, based on competitive balance. And with it, the city's "A" division instantly becomes the state's toughest league. City A is comprised of Brighton, New Mission, Madison Park, Charlestown and East Boston -- all teams expected to start the season in our statewide Top 25 poll -- and with the new scheduling setup, we're looking at appointment viewing in the city nearly every night.

Charlestown-Eastie, Mission-Brighton and Eastie-Madison are the city's three fiercest basketball rivalries. Now, on top of those series, we're getting two installments of Mission-Madison, Brighton-Eastie, Charlestown-Mission, Madison-Brighton, and so forth. Brighton and MP figure to be the favorites here, but this is going to be an absolute grinder of a league. Of the highest degree.

Swat Team
Anyone that watched the University of Kentucky last season can tell you how valuable Anthony Davis was despite an unpolished offensive game. Heck, he was named the Most Outstanding Player of the Final Four despite going just 1-for-10 from the field in the championship game.

Last year our Defensive Player of the Year award went to a guard, Stoughton's Marcus Middleton, but I'm looking at a number of frontcourt shot-blockers to contend for the award. Any conversation about swatters in the MIAA has to begin with New Mission's Isshiah Coleman, but keep an eye on Cambridge's Fredens Deneus, a 6-foot-6 junior who is expected to have a breakout season. Rockland's Tyler Gibson, a UMass-Lowell commit, will alter many a shot in the South Shore League. Also keep an eye on Holy Name's Dan Kegbeh, only 6-foot-1 but blessed with some impressive ups.

On the girls' side, Holy Name's Brianna Frias is my early favorite for Defensive Player of the Year. The 6-foot junior committed to Providence over the summer, and averaged six blocks per game last season as the Naps went 20-0 in the regular season and captured the No. 1 seed in Division 1 Central.

Sizzlin' Sophs
Across the state, there are a number of Class of 2015 players to get excited about. Springfield Central's Chris Baldwin has yet to play in an MIAA game, having played his freshman season down the street at Hillside School, but he is already garnering significant hype. Wakefield's Bruce Brown showed freak athletic ability at times during his freshman campaign for the Warriors, and figures to be regarded as one of the state's elite by season's end. Same for Mansfield's Brendan Hill and St. John's of Shrewsbury's Davon Jones.

Central Catholic junior Tyler Nelson is on the short list as everyone's favorite shooter, and deservedly so, but Newton North sophomore guard Tommy Mobley is as automatic as they come. He plays a different role for the Tigers than his older brother, 6-foot-8 Yale forward Greg Kelley, did several years ago. But when you talk about the elite shooters in the state, Mobley has the potential to be in that conversation.

Also keep an eye on Falmouth guard Craig Green, a three-sport star who's already on the radar for track and field. He turned many heads last June, when he placed third in New Englands in the 100-meter dash. He has run as fast as a 10.6 in the event so far in his young career.

On the girls' side, we all know the capabilities of Braintree's Molly Reagan. The 6-foot-1 center was a key cog in the Wamps' run to the Division 1 South title last March, and she already holds Division 1 offers. On the flip side, Archbishop Williams' Jaylen Williams committed to Penn State this past summer despite playing limited minutes for the Bishops.

But the potential speaks for itself. For one, Williams is 6-foot-3 and long. For another, there is plenty of pedigree. She is the daughter of former New England Patriots defensive lineman Brent Williams, and the younger sister of two high Division 1 college football players -- North Carolina offensive tackle Brennan Williams, and Ohio State linebacker Camren Williams.

Open Waters in the North
I'm not sure which will be the more interesting race in the North -- Division 1 girls, or Division 2 boys.

In Division 1 girls, we're looking at a number of contenders in the North. Nobody's counting out Andover in spite of the talent graduated, but it should be an interesting race in the Merrimack Valley Conference with Central Catholic and Billerica figuring to start the year high in many polls. Lincoln-Sudbury will be another contender, led by Lafayette-bound forward Ashley Lutz, as will be Lynn English and reigning Northeastern Conference MVP Catherine Stinson. The ultimate wild card might be Cambridge, led by Georgia Tech-bound guard Donnaizha Fountain. And don't count out Somerville, either, with Indira Evans in the fold.

Division 2 North will be an interesting bracket. New Mission returns a strong core, but so does Brighton, behind returning All-State guard Malik James, forwards Nick Simpson and Prince Unaegbu, and one of the state's best shooters, Daivon Edwards. Ditto Wakefield, with Bruce Brown expected to have a breakout year alongside seniors Kendall Hamilton and Mikol Blake-Green.

SUPER TEAMS

Boys
G - Jameilen Jones, Sr., BC High
G - Tyler Nelson, Jr., Central Catholic
G - Malik James, Jr., Brighton
F - Kamari Robinson, Sr., Springfield Central
F - Tyler Gibson, Sr., Rockland

Girls
G - Donnaizha Fountain, Sr., Cambridge
G - Sarah Hope, Sr., Medway
G/F - Olivia Healy, Sr., Reading
F - Ashley Lutz, Sr., Lincoln-Sudbury
C - Molly Reagan, Soph., Braintree

***

Ryan Kilian
Editor-in-Chief, New England Prep Stars

Central Reign
Can Central Catholic represent Eastern Massachusetts in the state finals this season in Division 1? Central returns a battle tested and veteran group that represented EMass Division 1 as the top seed in last season's MIAA tournament. Central boasts key returnees Tyler Nelson, Joel Berroa, Doug Gemmell and Nick Cambio.

Veteran Sophomore Talent
Mansfield's Brendan Hill and Wakefield's Bruce Brown are two of the top returning players in Massachusetts. They are also only sophomores. Both sophomores started and lead their respective teams deep into tournament play as freshman and we can expect even bigger seasons from both this year.

Best Frontcourt?
Massachusetts has a very strong group of point guards this season but the depth in the frontcourt is down in part of the continued flood of players to prep schools. New Mission (Nate Anderson and Isshiah Coleman) and Central Catholic (Gemmell and Cambio) are at the top of the frontcourt ranks but look out for North Andover and Charlestown to also have improved front lines with the development of returning veterans as well as additions of new talent to the mix.

Replacing Boudreau
It will be impossible to replace two-time Miss Basketball Nicole Boudreau (Boston College), but Andover does return senior Devon Caveany, and the glue of the squad in top defenders Jackie and Rebecca Alois. Expect some more classic Central Catholic and Andover battles for years to come in the MVC.

Special time for City of Braintree
The city of Braintree boasts some the best young female talent in the state, with Braintree High School and Archbishop Williams sharing city quarters.

Braintree returns Coach of the Year Kristen McDonnell and a lineup featuring returning senior Rachel Norton, and sophomores Ashley Russell, Bridget Herlihy, and Molly Reagan. Archbishop Williams returns Southern New Hampshire commits Olivia Conrad and Sara Ryan along with Alana Gilmer and Penn State commit Jaylen Williams.

SUPER TEAMS

Boys
G - Bruce Brown, Soph., Wakefield
G - Tyler Nelson, Jr., Central Catholic
G - Jameilen Jones, Sr., BC High
F - Brendan Hill, Soph., Mansfield
F - Kamari Robinson, Sr., Springfield Central

Girls
G - Kayla Burton, Sr., Newton South
G - Donaizha Fountain, Sr., Cambridge Rindge
G - Olivia Healy, Sr., Reading
G - Tajanay Veiga-Lee, Sr., Fenway
F - Saliah Serrette, Sr., Weston

***

Chris Bradley
ESPN Boston correspondent

Springfield Central Is Back
Saying that Kamari Robinson and sophomore transfer Chris Baldwin are the best frontcourt in the state is no stretch. Robinson helped lead Central to last year's division 1 state title, averaging a double double while the Golden Eagles went undefeated against MIAA opponents. The 6-foot-7 Baldwin is already drawing in interest from high major division 1 college programs. A strong, athletic forward who is known for his rebounding and sky-rising dunks, he'll make quite a duo with Robinson, a member of last year's ESPN Boston All-State Team.

Senior Cornelius Tyson could be primed for a big year as well. The 6-foot-1 guard made quite a showing in last year's state championship game against Brockton, knocking down four 3-pointers in the second half to lead Central to the Division 1 title.

Can anyone knock off St. John's of Shrewsbury?
The Inter-High has two legitimate Top 25 teams in Worcester South and Doherty. Will this finally be the year that St. John's doesn't run away with the Division 1 tournament in Central Mass.? The Pioneers have won five consecutive Central Mass. Division 1 championships, and return yet another talented core from last year's team. Sophomore point guard Davon Jones has already asserted himself as one of the best guards in the western half of the state, juniors Charlie Murray and TJ Kelley will be a tough duo on the post, and 6-foot-5 senior Ken Harrington is one of the best shooters in central Mass.

Brighton looking for revenge
Last year's loss to Mahar in the Division 2 state title game was demoralizing to say the least for the Bengals, but another year of maturity should help Brighton come tournament time this year. Junior playmaking guard Malik James will be one of the very best in the MIAA, and he'll have plenty of weapons around him with forward Nick Simpson and guards Theo Oribhabor and Daivon Edwards. The Boston City League will be a rock fight this year, but battle-tested Brighton will reap the benefits of a tough schedule come tournament time.

New Mission young, but talented
Sophomore guards Greg Bridges, Randy Glenn, and Juwan Gooding will make for quite a show this year when put together with 6-foot-5 forward Isshiah Coleman and 6-foot-7 forward Nate Anderson. The Titans will be young, with less experience at the guard position than many of their opponents, but when all is said and done this could end up being the most talented team in the state this year.

Who will emerge in D3?
Picking favorites in Division 3 is like splitting hairs. Wareham has Darien Fernandez, a waterbug considered one of the best point guards in the state. Danvers returns four starters from last year's state title team. Quaboag has one of the best inside-out duos in D3 with Thomas Jankins and sophomore Jake Wisniewski. Hopedale has a deep, versatile lineup. Whitinsville Christian has won three straight central Mass. championships. Out in Pittsfield, St. Joseph Central returns the majority of their core from last year's state finals team—including scoring guard Taverick "Tank" Roberson. Any of these teams could emerge and make a deep run into the tournament in February and March.

SUPER TEAMS

Boys
G - Malik James, Jr., Brighton
G - Tyler Nelson, Jr., Central Catholic
F - Jameilen Jones, Sr., BC High
F - Kamari Robinson, Sr., Springfield Central
F - Tyler Gibson, Sr., Rockland

Girls
G - Kayla Burton, Sr., Newton South
G - Sarah Hope, Sr., Medway
G - Donnaizha Fountain, Sr., Cambridge
F - Casey McLaughlin, Sr., Central Catholic
F - Olivia Healy, Sr., Reading

March, 28, 2012
3/28/12
6:49
PM ET
With the unveiling of our MIAA All-State Teams for Boys and Girls late last week, the 2011-12 basketball season has come to close. But before we officially slam the book on another exciting season of hoop, and move on to spring sports, I wanted to get out a few thoughts on the landscape for next season.

To whet your appetite for the 2012-13 season, here are my early projections on the state's must-see teams to watch:

BOYS

Central Catholic - Plenty of talent returning with this squad, which captured the No. 1 overall spot in Division 1 North despite missing Luis Puello (ankle) for most of the season. ESPN Boston All-State guard Tyler Nelson returns as one of the state's top shooters, but the Raiders also return all three of their regular bigs in Joel Berroa, Doug Gemmell and Nick Cambio.

New Mission – Apparently it's never too early for bulletin board fodder, because head coach Cory McCarthy is already making some barnstorming rounds, telling ESPNBoston.com this afternoon that if the Titans don't win the Division 2 state title next year, "I should be fired." Bold, yes, but it's hard not to like a lineup of Isshiah Coleman, Nate Anderson, Greg Bridges, Damion Smith and Shaquan Murray. There is some promising talent in those ranks.

Mansfield – Folks are talking about the Hornets being one of the South region's top teams in two years' time, between promising freshman Brendan Hill and sophomore Michael Hershman. I'm of the camp that believes with those two versatile parts, paired with a terrific coach in Mike Vaughan, the future is now.

Taunton – Shaquille O'Neal Davis. That's legitimately his full name, and one you certainly will not forget by this time next year, for reasons that have nothing to do with The Big Aristotle.

West Springfield – Terriers return virtually everyone, including Chris Lipscomb, Paul Bessette, Andy McNulty, Dewey King, and leading scorer Riyadh Asad. West Side is the early favorite next year in Division 1 West.

St. John's (Shrewsbury) – Junior transfer Tarik Octave was one of the nice surprises of the playoffs, and freshman Davon Jones has shades of former Pioneers great David White all over him (Doesn't hurt that Jones was also the Pioneers' starter at safety last fall, too). A boat load of underclassmen return, including Ken Harrington and T.J. Kelley, which should more than make up for the graduation of Matt Palecki.

Danvers – Falcons graduate 6-foot-7 center George Merry, an ESPN Boston All-State selection, but return some terrific guards. Nick McKenna, Nick Bates, Eric Martin and Dan Connors can all shoot the ball, and are perfectly-suited for John Walsh's four-out offensive system. My early pick to repeat at D3 champs.

BC High – Eagles return what ought to be one of the state's best backcourts in point guard Charles Collins and ESPN Boston All-State swingman Jameilen Jones. Throw into the mix one of the region's best basketball minds in Bill Loughnane (he of four state titles) and it's hard to think of the Eagles as anything but a favorite in the South.

Springfield Central – A plethora of talent graduates, including Chris Prophet, Lee Turner, Jevaughn McMilian, and ESPN Boston Super Teamer Tyrell Springer. But All-State forward Kamari Robinson should have another terrific season, and the way Cornelius Tyson exploded onto the scene in the Division 1 state final makes us all wonder if he's about to realize the potential that many in the Springfield area have been talking about for so long.

Stoughton – Super Teamer Aaron Calixte and Defensive Player of the Year Marcus Middleton formed the state's best backcourt in 2011-12. If all goes as planned, they'll be well-equipped to defend that notion next season.

Wareham – Vikings might not endure an unbeaten regular season again next year. But another year of All-State point guard Darien Fernandez means they're not going anywhere.

GIRLS

Braintree – Wamps started three freshmen this year: Ashley Russell, Bridget Herlihy, and 6-foot-1 center Molly Reagan. Expect them in conversation for state title contention from now until their time runs out in 2015.

Archbishop Williams – Ditto the Bishops, who have two 6-foot freshmen to look forward to the next three seasons. Add in sophomores Olivia Conrad and Leah Spencer, and their fiery mouthpiece Sara Ryan, and this could be another top-five team come December 2012.

Reading – The Rockets made a flawless run through the Division 2 gauntlet, winning their first Division 2 state title in school history as one of two final unbeaten squads in Massachusetts. Two-time Middlesex MVP and ESPN Boston All-State Olivia Healy returns, as does guard Morgan O'Brien.

Andover – Golden Warriors are expected to come down to Earth with the graduation of two-time ESPN Boston Miss Basketball, Nicole Boudreau, and UConn lacrosse commit Ally Fazio. What might be overlooked amidst Andover's unprecedented run to a third straight state title is that there were plenty of terrific complimentary backcourt pieces in the underclass.

Central Catholic – Raiders treaded water after some injuries early on. But once junior forward Casey McLaughlin was back to full strength, they made a run all the way to the Division 1 North semifinals. Have to imagine they'll be in conversation again next year.
December, 29, 2011
12/29/11
1:23
AM ET
DORCHESTER, Mass. -- Since the matchup was first announced last summer, basketball fans of all levels all around the greater Boston area had been eagerly awaiting the arrival of Jersey City powerhouse St. Anthony to the Kroc Center, to take on rising Boston power New Mission.
Tonight in front a packed house, and greeted pre-game by a performance from local hip-hop artist Moufy, the much-anticipated game -- the nightcap of the first day of the first annual Shooting Touch Shootout -- had arrived. And in short, the Friars played the part of an overwhelming Goliath, while the defending MIAA Division 2 state champion Titans played the part of David -- minus the rock.
The Friars (5-0) overwhelmed the Titans from start to finish, at one point going 15 minutes without allowing a field goal, cruising to an all-too-easy 68-25 win.
St. Anthony's 6-foot-9, UCLA-bound star Kyle Anderson got off to a sluggish start, but came around to lead the team with 12 points, seven rebounds and six steals in three quarters of action. 6-foot-6 senior center Jerome Frink led the way on the boards with 10 rebounds.
From the get-go, it was evident that the Friars' speed and length was going to be a significant problem for the Titans (3-2). Jonathan Deane gave the Titans their only lead of the game, albeit a brief one, with a gliding layup for a 4-3 score. That was four minutes into the game, and would be the last Titans field goal for the next 14:28; they hit just five free throws the remainder of the half to trail 30-9 at the break. Leroy Hamilton ended the drought with a euro-step in transition, to cut it to 35-11.
"We came out ready to compete, but the plan fell apart once guys stopped believing in what we wanted to do," Mission head coach Cory McCarthy said. "Young, inexperienced, looking at the crowd, they played into it. They were in awe of them. If you're from the city, you're not supposed to be in awe of anybody...we were ready to take pictures.
"We can't fall in love what they do. We looked like a JV basketball team today. That's not indicative of our talent, the character of our kids, it's not who we are. It's not New Mission basketball."
And when they stop playing New Mission basketball, McCarthy continued, "bad things happened", referring to last night's poor start in the BABC Holiday Classic against St. John's Prep -- Mission trailed 18-2 after the first quarter.
McCarthy did say "we played a better first quarter than last night", though how much better is up for inspired debate. Like the Prep game the night before, the Titans were overwhelmed to start; but the Friars posed a plethora of matchup nightmares that few teams in the talent-rich Garden State can tango with, let alone the Bay State.
Up top, 6-foot-3 junior guards Hallice Cooke and Josh Brown harassed the Titans' guards high around the perimeter, cutting off lanes to the basket, trapping at the sidelines, forcing sloppy handoffs and arguably sloppier shot selection at times. When the Friars went to a 2-2-1 press, deploying four defenders high in the backcourt and a deep trailer, players like Anderson, Brown and Tariq Carey were able to pick pockets from the middle of the floor.
The masterstroke came in the second quarter, where the Friars didn't allow a field goal -- even better, they yielded just seven field goal attempts for the quarter.
It doesn't get any prettier on the boards. The Titans were outrebounded by nearly a 4-to-1 ratio.
"At this point through five games, no one's been able to get any rhythm going against us," Friars head coach Bob Hurley said. "We mix it up a little bit, we play man, play a little press, and we don't expect to press against smaller teams. But we did manage to get a bunch of turnovers off of it today because we're long, and Kyle had a bunch of good plays in the press.
"We played a little zone in the back, and we're very long and we heard from last night that they had trouble shooting the ball well, so we thought the points we were going to lead them with were forcing them to make outside shots with big, long guys going after them."
Mission stars benched:
McCarthy sat two of his starters and star players, junior forward Nate Anderson and freshman point guard Greg Bridges, for the first quarter for arriving late to a shootaround this morning. Could their presence have stopped the early bleeding? That's up for debate, but perhaps McCarthy should get some credit here for sticking to his principles -- even with a monster opponent like St. Anthony on tap.
"It affects the team, but I gotta do what I gotta do," McCarthy said. "Right? That's number one...sorry, I'm not going to tolerate that at New Mission."
A Modest Proposal:
McCarthy was asked how the experience of playing against St. Anthony's length will help them out when they get back to playing the smaller squads on their MIAA schedule, and he used his answer to springboard into a topic that has become a growing hot-button issue among the public school coaching fraternity the last few seasons: out-of-season contact.
Rule 40.1 in the current MIAA Handbook states:
"Unless otherwise permitted in this rule, between seasons a coach may conduct a meeting(s) with team candidates only to elect captains, collect equipment, issue equipment, to provide for physical examinations, to conduct legitimate fund-raising events, or to offer wellness workshops or activities."
"This is what we produce, and you wonder why prep schools are stealing our kids," he said. "Because our kids can't practice and work with our kids year-round. You're telling me as a coach to be a role model for four months out of the year. That's the situation we're dealt with as coaches, and I feel handcuffed that way.
"They're telling me to take eight months off. I shouldn't be taking eight months off, I should be working with my kids year-round. We should be able to work with teams year round, and this is an indictment. We can't match up with a team like this when we've had three weeks of basketball working with them. That [St. Anthony's discipline] was instinctive. Right now, we're robotic."
McCarthy's comments will likely rub some the wrong way. But with an increasing number of students transferring high schools once or twice, usually to prep schools, more and more state-association schools are becoming frustrated with having less control, and the inability to take action. Sanctioning a limited number of days out of season, some feel, would at least give coaches the ability to check in with players, see where they're at, and offer instructions to make sure they're prepared when tryouts begin.
Either way, we're sure McCarthy's comments will be sparking up plenty of debate.
December, 11, 2011
12/11/11
11:43
AM ET
RANDOLPH, Mass. –- While some schools across the state kicked off their regular-season basketball schedule this weekend, for others it was an opportunity to get in one last tune-up before the game start counting for real. All Saturday long at Randolph High School, a number of teams got in two scrimmages at a time, including Foxborough, Concord-Carlisle, Dennis-Yarmouth, Weston, North Quincy, Marshfield, Randolph, and Rhode Island power La Salle Academy.
The most anticipated games came in the evening, where defending Division 2 state champion and preseason No. 3 New Mission squared off with two rising D2 powers ranked in ESPN Boston's preseason poll, No. 13 Stoughton and No. 5 King Philip.
Each game consisted of two eight-minute quarters. Stoughton blew the doors off of Mission in the first quarter, 25-2, but the Titans stormed back and won the second quarter 18-2. KP took the first quarter of its scrimmage with Mission, 13-4, and played to a 9-9 tie in the second.
Duke Nukem:
One of the most impressive performances of the night had to be that of Antonio Ferreira, Stoughton's senior spark plug around the rim. Much of the attention with Stoughton this preseason has come as the result of the Black Knights' dynamic backcourt of Aaron Calixte and Marcus Middleton; but with a visible lack of size, the slashing abilty of the 6-foor-3 Ferreira comes as a positive.
[+] Enlarge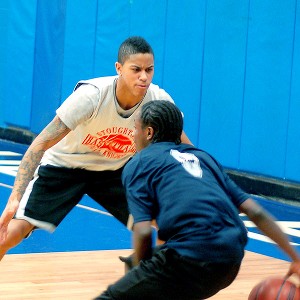 Courtesy of Brendan Hall Stoughton forward Antonio Ferreira was a spark plug against New Mission and will play an integral role in the front court as the season wages on.
The Denver Nuggets have Chris "Birdman" Andersen. The Knights have Ferreira, a lanky, wild-looking ball of energy equipped with a thick Mohawk and sleeve of tattoos running down his right arm –- including his nickname, "Nuke", inked boldly in Olde English lettering along his outer forearm. In the first quarter against New Mission, Ferreira had three blocks on Mission's touted forward Isshiah Coleman, and had some overall terrific rotations in the low post.
Ferreira's emergence could be just what the Knights need to divert attention, and could be a nice story to boot. He came up through the Stoughton youth system, moved to Worcester at the start of high school, only to return last year and inch along, in the words of head coach John Gallivan "very slowly."
"We sorta saw a light come on in his eyes this year," Gallivan said. "He's playing with unbelievable passion and confidence, and as you saw tonight, he gets up quick. He's about 6-2, but he plays like he's 6-6. I thought he was the most dominant player out there for the first four minutes tonight."
Also of notice was the emergence of senior forward Steffan Jackson, who hasn't played since his freshman year due to academic troubles. Jackson drew the biggest crowd reaction in the first quarter when he made a block on the defensive end, then came down in transition and shifted his torso 180 degrees mid-air for a reverse layup over the 6-foot-4 Coleman.
"He obviously made some mistakes out there like he was in his freshman season two and a half years ago," Gallivan said. "But still, he made some unbelievable athletic plays."
Angle pursuit:
If you followed our football coverage this fall, you've probably heard us mention a few times about the skill crossover between lacrosse and football, especially with skill positions. Stoughton had success this fall in football, especially in the secondary with Middleton and Calixte, and that closing speed translated nicely in the Knights' 2-2-1 press.
"Aaron and Marcus have been playing together since the fifth grade in football, basketball," Gallivan said. "They know each other, they know what the other one's doing, and they were really effective."
Coleman gets his work:
New Mission head coach Cory McCarthy said the scrimmage with KP was a game "they had circled on their calendars for a while", and it might have something to do with the above video. That's Coleman dunking on two Warriors players last September at the Beantown Hoops Shootout.
[+] Enlarge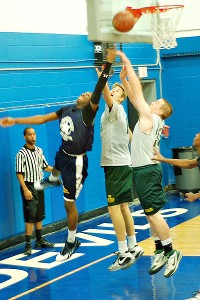 Brendan Hall King Philip's Maryland-bound forward Jake Layman had some nice rotations but "has a long way to go," according to coach Sean McInnis.
Against KP, Coleman was saddled with the task of posting up Jake Layman, the Warriors' Maryland-bound superstar forward. In the first quarter, Layman came up with a block of Coleman, then played a smart rotation by cutting off his driving lane; when Coleman tried to go opposite baseline, Layman stretched out just long enough for a help defender to cut in and help stuff the forward as he tried to hit a reverse layup.
Then in the second quarter, Coleman returned the favor. He forced Layman into a bad shot, then took a charge on the next possession. Then for good measure, Coleman took one more charge the next trip down, before capping it off with another vicious block.
"I thought we played Layman well tonight," McCarthy said. "But we weren't consistent with it. We weren't learning from our lessons."
Said KP head coach Sean McInnis of Coleman, "This has been an ongoing thing, this matchup, and hopefully we get to see them one more time [in March]. I thought Isshiah is tremendous, and has come a long way since August alone. He's a tremendous player."
Growing pains:
At 6-foot-8 and a gifted skill set, and already ranked in the Top 50 for the Class of 2012 by ESPNU, Layman will inevitably win games with his length at this level. But no matter his star power, McInnis said Layman "has a long way to go."
Layman came up with back-to-back steals of entry passes on the wing, but he also had some struggles around the rim and turned the ball over when bringing it up. Ballhandling no doubt will be an area of improvement going forward.
"We're definitely going to be working on ballhandling, and being able to shoot up off the dribble," McInnis said. "I think those two things right there will make Jake a better player. But he'll make all of us better players, as we get Jake to be able to do that."
December, 8, 2011
12/08/11
3:33
PM ET
Here is ESPN Boston's preseason MIAA All-State boys basketball teams:

FIRST TEAM
G – Steve Haladyna, Sr., St. John's Prep
G – Luis Puello, Sr., Central Catholic
F – Jake Layman, Sr., King Philip
F – Joey Glynn, Sr., Cardinal Spellman
F – Keandre Stanton, Sr., Lynn English

SECOND TEAM
G – Aaron Calixte, Jr., Stoughton
G – Matt Droney, Sr., Catholic Memorial
G/F – Tyrese Hoxter, Jr., Charlestown
F – Isshiah Coleman, Jr., New Mission
F - Nate Anderson, Jr., New Mission

THIRD TEAM
G – Colin Richey, Jr., Whitinsville Christian
G – Matt Mobley, Sr., St. Peter-Marian
G – Rony Fernandes, Sr., Charlestown
F – Jarrod Neumann, Sr., Northampton
C - Kevin LaFrancis, Sr., Acton-Boxborough

May, 30, 2011
5/30/11
5:06
PM ET
Tomorrow at 7 p.m. at Waltham High School, the Boston Warriors AAU program will hold its 3rd Annual College Showcase Night to showcase its juniors and sophomores, as well as several uncommitted seniors.

The evening will begin with 45 minutes of individual skill work, with the players split up between big men and guards. Former Providence College and Atlanta Hawks star Troy Brown will be working the big men; Watertown High coach Steve Harrington, a two-time MIAA state champion coach, will be working out the wings and guards.

The last 75 minutes all of the players will be split up to run five-on-five games on both courts, in front of the college and prep school coaches on in attendance. Below is the preliminary list of players expected to be in attendance:

Kachi Nzerem, 6-5, New Mission / Marianapolis
Nate Anderson, 6-6, New Mission
Kenny Reed, 5-10, Reading
Matt Droney, 6-4, Catholic Memorial
Max Risch, 6-6, Old Rochester
Jared Lewis, 6-3, Malden Catholic
Jordan Lewis, 6-1, Malden Catholic
Corey Gomes, 6-6, Uxbridge
Abiodun Akanni, 6-4, Fitchburg
Ryan Jann, 6-3, Westford Academy
Jerry Ellis-Williams, 6-5, Reading
Tyson Hallowell, 6-2, Middlesex
Sam Musler, 5-11, Belmont
Isshiah Coleman, 6-5, New Mission
Leroy Hamilton, 6-3, New Mission
Anthony Bell, 5-10, Boston Cathedral
Tony Alexander, 6-3, Boston Prep
Kyle Howes, 6-1, Maynard
Chris Murray, 6-1, Littleton
Joseph Connelly, 6-1, Beaver Country Day
Mark Melanson, 6-2, Burlington
Patrick McHugh, 6-4, Watertown
Isaac Carp, 5-10, Pingree
Ben Lawhorn, 6-3, Lincoln-Sudbury
Terrence Manning, 5-10, St Rafael's (R.I.)
Mario Payne, 6-0, Lincoln-Sudbury
February, 26, 2011
2/26/11
7:03
PM ET
Every year, there is that one special player who erupts abuptly onto the basketball scene in March and puts many a college scout on notice. Think back to 2005, when Newton North's vicious backcourt of
Anthony Gurley
and
Corey Lowe
shone in the Tigers' first of two straight Division 1 state titles.
We saw it again in 2008, when Central Catholic's 6-foot-11 sophomore
Carson Desrosiers
filled the lane impressively and showed off his range for the Raiders in their D1 state title. We saw it again in 2009, when Lynn English's
Ryan Woumn
dropped 39 points on Brockton in the D1 EMass Finals. And we saw it again 12 months ago, when
Pat Connaughton
averaged 21.7 points and 19 rebounds as St. John's Prep made a surprise run to the D1 North finals.
So who is the next Connaughton, Woumn or Desrosiers? Below are nine underclassmen who could fit the bill.
JAKE LAYMAN, KING PHILIP
6-7, Jr. F
Why he matters:
Layman has been nothing short of phenomenal for the Warriors this season, as they set a program record for wins (14) and ended a 15-year postseason drought. Averaging 24 points, 13 rebounds and 4.8 blocks on the season, and coming close to a quadruple-double in a game against Stoughton earlier this season, don't be surprised to see him put up those kinds of numbers in the postseason. UMass, Providence and Boston College have offered him, while Notre Dame, BYU and Texas A&M have shown heavy interest.
What opposing coaches are saying:
"I think he could be a Dream Teamer this year, if you want my honest opinion. He's one of the top three players in the state. He can jump out of the gym, shoot three's, post you up, just an unbelievable talent…He can be the biggest prospect in the state of Massachusetts as far as I'm concerned. He is a major, major talent...His athleticism, he's so athletic for a 6-9 kid, and like I said, he has point guard skills. Kevin McHale moves inside, three, four, five dunks a game, just stuff you don't see in high school anymore. I mean he's one of best players I've seen in last 15 years, to be honest with you...Holy God. The thing with him is how skilled is in all facets of the game, how he runs the floor, he's so athletic. He honestly, and I hate to use the same terms over and over again, but a very high ceiling."
Scouts Inc.'s analysis of strengths:
"A long and athletic player, Layman has a terrific set of physical tools. He stands a legit six-foot-seven with great length and a solid frame which will eventually support a good deal of muscle mass. He is a very good athlete and gets his head on the rim between his length and leaping ability. He has good touch on his jump shot and projects as a very good three-point shooter down the road with a little refinement to his technique. He is a potentially versatile defensively who can change the game with his length on top of the press."
ESPN's Adam Finkelstein:
"Jake Layman may have more upside than anyone in the MIAA. At 6-foot-7 with long arms, a good frame, and athleticism that allows him to get his head on the rim he is the prototype high-major forward. He doesn't yet realize how good he is but has a tremendous future in front of him."
JARED TERRELL, WEYMOUTH
6-2, Soph. G
Why he matters:
The sophomore led the Bay State Conference in scoring (15.1 points) this season, and while those aren't eye-popping numbers, Terrell is a sight to be seen. In the mold of slashers like Charlestown's Akosa Maduegbunam, Terrell is an off-guard in a linebacker's body, able to create his own shot off the dribble but at his best when charging through the lane. Quite simply, there are few in Massachusetts with such physical maturity at this age. He's drawing an assortment of Division 1 interest, from the Atlantic-10 all the way up to schools like Washington and Clemson.
Opposing coaches:
"Jared Terrell is one of the purest athletes running around, if not the best athlete running around in the state. I think when he eliminates his dribbles and everything else like that, and just looks to take it to the hole, he can't be stopped...It's tough to make a comparison, because I think he's one of the top two athletes in the state. But as his progress keeps going up, I mean the sky's the limit. Historically? I don't know, because I'm not ready to give anything to these new jacks yet, but if I were to make a comparison I'd say his older brother Royce."
Scouts Inc.:
"Terrell is a power guard with a strong body and bouncy athleticism. He is as aggressive as he is powerful, getting after people on the defensive end and going hard to the rim offensively. He is a versatile defender who can make plays in full court pressure situations and also lock up opposing scorers in the half-court, bodying up with his upper body without fouling. Offensively, he has a good first step and quick springs and shows no fear attacking shot blockers."
Finkelstein:
"Jared Terrell is as explosive of a guard as you will find in the MIAA. He is powerful and athletic, allowing him to go through contact to make plays above the rim. If he can add a consistent jumper to his offensive repertoire his recruitment will go to the next level."
AARON FALZON, NEWTON NORTH
6-7, Fr. F/C
Why he matters:
While Falzon isn't the Tigers' top scoring option -- that falls unto guards Mike Thorpe and Avi Adler-Cohen -- the younger brother of senior Tevin Falzon is a game-changer in the middle. With his long arms and ability to step out to NBA-range three's, he has already drawn comparisons to former Tigers great and current Yale freshman Greg Kelley. The sky is the limit for Aaron, as the 14-year-old continues to grow and fill out.
Opposing coaches:
"I think his ceiling is just through the roof, he is certainly super skilled for a big kid. He has a very good touch. Right now, facing the basket is where he's best, but as he gets stronger he'll get more confident down on the low blocks. He's real tough...For us, the problem with him is clearly the size advantage. But in general, he's so skilled. With him, if a typical big guy covers him, you can draw them away from the basket, because he's got range up to and beyond the three-pointt line. The few times I've seen him go to the blocks, he's very skilled, and has versatility on defense with his length, but he's a real nice player...He's very similar [to Kelley], at 6-7 when you can draw guys out like he did. If he can extend the defense and open up shots in the lane for guys like Thorpe and Adler-Cohen, he's a tough guard for us."
Finkelstein:
"Aaron Falzon fits the new style big man in that he has the size to play down low but the skill set to step away and stretch the defense. With three more years to continue to develop his game and body, he has a chance to be a very highly pursued prospect if he continues to do the right things."
JACQUIL TAYLOR, CAMBRIDGE
6-9, Soph. C
Why he matters:
Taylor dominated the glass this year for the 19-1 Falcons, and has served as a wonderful complement to guards Deondre Starling, Kyroe Qualls-Betts and his brother, 6-foot-5 junior Maurice. There may not be a longer starting five in the state than Cambridge, and at the center is Jacquil, who runs the floor well for a player his size and can change momentum in a snap with one of his thunderous two-handed slams. A handful of Division 1 schools, including UMass and BC locally, have expressed interest.
Opposing coaches:
"He is a diamond in the rough. He's going to be real good, high-major maybe, with his shot blocking ability and rebounding ability. He's not as good as Nerlens Noel, but he's that type of player...His length is his strength, I'd say right now -- defensively especially, and on the glass, too. I think his offensive game will get better, but in terms of what he does around the basket, he's impressive...Jacquil has tremendous upside. I think he's getting ready to have breakout in the state tournament this year. Both him and his brother Mo are two outstanding basketball players."
Finkelstein:
"When you are big and mobile you have a chance to be very good and that's exactly what Jacquil is, not to mention a long lefty. His potential has never been questioned but now it's time to turn those tools into production on a consistent basis."
ADAM BRAMANTI, MASCONOMET
6-2, Jr. G
Why he matters:
One of the Cape Ann League's leading scorers (19.7 points per game), he is the cousin of Andover star
Joe Bramanti
, and could be ready to carve a name for himself on the family tree. Like Joe, he is an exceptional shooter -- most recently, Adam hit seven 3-pointers in a game with Manchester-Essex in late January -- who can give good chase on the perimeter.
Opposing coaches:
"He's a fantastic shooter. If he's on, it's in. I've seen him hit nine, 10 three's in a game, he's fantastic. He can work a little bit on his dribble-drive and finishing, but as far as being a shooter, he's top-notch."
Scouts Inc.:
"A very skilled guard with a high basketball I.Q. and terrific feel for the game, Bramanti is well schooled in the fundamentals of the game. He is an excellent three-point shooter who makes shots with deep range and also changes speeds with his dribble to get himself into the lane. He is a very efficient scorer off the catch, being tremendously efficient with his body movements, and owning a terrific shot fake. He always has his head up, has very good court vision, and can deliver quick passes off the dribble with a quick flick of his wrist."
Finkelstein:
"Adam Bramanti is a super skilled young guard with a high basketball I.Q. and instinctive feel for the game. Give him a year or two for his body to catch up, and his stock is bound to take off."
KEANDRE STANTON, LYNN ENGLISH
6-6, Jr. F
Why he matters:
In short, the junior is another one of those under-the-radar prospects. Stanton has had a breakout campaign this season for the 19-2 Bulldogs, complementing electric senior Travonne Berry-Rogers very nicely with his slashing ability in the post. With his size, length, and athletic ability on the break, Stanton has drawn comparisons to former English great
Jarell Byrd
, who is currently doing a post-graduate year at St. Thomas More (Conn.).
Opposing coaches:
"We're athletic, [but] he's freakishly athletic. The things he can do, even when he attacked the rim off the bounce, he tried to get a dunk a few times. He went right at us. Jimmy [Zenevitch, of Central Catholic] scores a lot, but he is also a good defender as far as bigs, and this kid went right at Jimmy. He's a great player, incredible athlete, and he's going to be a handful in the tournament...He's real skinny, but has a lot of athletic ability. He needs to play more. He has some big upside, too, but he needs to work on his ballhandling skils before he moves on to a higher level, because that's what he'll be with his size."
Finkelstein:
"Keandre Stanton has proven his worth this year at Lynn English but is still relatively unknown outside of Massachusetts' borders. A strong state tournament could be the first step towards a breakout summer."
TYLER NELSON, CENTRAL CATHOLIC
5-8, Fr. G
Why he matters:
The freshman, who is averaging nearly eight points a game off the bench, could very well end up winning a game for the Raiders in the postseason. He scores in bunches, often coming into the game and knocking down a pivotal three-pointer. When bringing the ball up, he directs traffic in the half-court calmly but smartly, and is unafraid to bark orders at one of his senior teammates. Overall, he's shown a maturity well beyond his years in his rookie season on the Raiders' varsity -- of course, it doesn't hurt that his father is an advance scout for the Utah Jazz.
Opposing coaches:
"He's probably the best shooter in the state, and that's no lie -- he's a deadly shooter. He's a baby he could only be an eighth grader for all we know, but the stronger he gets the better he'll get...He's gonna be a scholarship player someday, he has a real high basketball I.Q., no lie."
Finkelstein:
"Tyler Nelson gives Central Catholic a big boost with his three-point shooting and looks to have a very bright high school career in front of him. Any player who can make shots in bunches has a potential niche at the next level."
NATE ANDERSON, NEW MISSION
6-6, Soph. F
Why he matters:
Anderson is still relatively unknown on the big stage; and between the Titans' star-studded backcourt of Samir McDaniels, Darius Davis and Kachi Nzerem, the young Anderson gets a limited amount of touches, and often comes off the bench. With his ability to handle, Anderson's future with Mission could be in more of a point forward role, though in the possessions he plays around the rim he shows adept skill and rebounding and blocking. In short, Anderson's a question mark right now, but a year from now could be a firm exclamation point. A good run in the playoffs, though, could serve his stock well.
Opposing coaches:
"He has big upside, and we'll see that the more he plays and the more touches he gets. He's gonna be going to college somewhere, very athletic. He's good."
Finkelstein:
"Nate Anderson has all the physical tools for the next level with a long and strong body to match his high level athleticism. He makes his biggest impact on the defensive end right now but has shown good potential as a face-up four who can attack less mobile big men with his dribble."
CORNELIUS TYSON, SPRINGFIELD CENTRAL
6-1, Soph. G
Why he matters:
After a strong summer with the New England Playaz, the sophomore brought a considerable amount of hype with him to the Golden Eagles. And needless to say, at 11-9, they've grossly underperformed after starting the year off at No. 6 in ESPNBoston's MIAA Top 25 poll. This may be a head-scratcher, considering he's averaging just six points a game, but it's hard to ignore his creativity and the praise he's earned out of season.
Opposing coaches:
"Corn is quick as lightning, great little stroke, great on-ball defender. He's fearless, he'll step in and take a charge against 6-11 kids, he doesn't care...He's a great point guard with great instincts, knows how to find the open man, get to a guy going through the air, he's talented. On the AAU circuit, he's a 20-point scorer."
Scouts Inc.:
"A talented young point guard who already has a good understanding of how to distribute the basketball. Tyson has terrific court vision at a young age, makes good decisions handling and passing the ball against pressure, and can also get into the lane to create shots for himself and his teammates. He has also developed into a consistent shooter from behind the three-point arc. He has a terrific feel for the game for such a young player, already making good use of jab steps, jump stops, and other crafty maneuvers to open up passing/driving lanes."
Finkelstein:
"Tyson is a good looking young point guard who shows a mature understanding of the position for someone his age. He not only hits the open man but also has the creativity and vision to make plays for his teammates, making him very unique."
OTHERS TO WATCH
Aaron Calixte, Soph. G, Stoughton
Matt Droney, Jr. G, Catholic Memorial
Joey Glynn, Jr. F, Cardinal Spellman
Jameilen Jones, Soph. F, BC High
Jarrod Neumann, Jr. G/F, Northampton
Kenny Reed, Jr. G, Reading
Colin Richey, Soph. G, Whitinsville Christian
Damion Smith, Fr. G, West Roxbury
Michael Thorpe, Jr. G, Newton North
Brendan Hall is a high school editor for ESPNBoston.com. Follow him on Twitter.
December, 23, 2010
12/23/10
1:50
PM ET
By
Adam Kurkjian
| ESPNBoston.com
New Mission boys' basketball coach Cory McCarthy isn't one to make excuses for the lack of resources at the pilot school run out of the old Mission High building in Roxbury, where he's also the dean of students.

If anything, one gets the sense that he likes it better that way.

"We work with a lot less," he said. "No gym, no time no space, smaller school; we're the poorest of the poor in the city. But we feel like we have kids that buy into that underdog mentality. It feeds our mentality."

Still, "a lot less" is a relative term. Back in 2005, when McCarthy was still coaching the girls team -- which he led to a Division 4 state title in 2007 -- New Mission didn't even have a bus at its disposal, so both the boys' and girls' programs traveled to away games using public transportation.

McCarthy remembers one night in particular when the New Mission coaches and players from both teams were stuck at Somerville's Sullivan Station.

"It was below zero, 12:30 in the morning," he said with a laugh.

McCarthy made sure every player on the team got home before walking to his home in Ashmont from Field's Corner.

That devotion to his players is the primary reason why McCarthy, who never played varsity basketball in his entire high school career while attending East Boston, is such a successful coach. The No. 4 Titans, who made the turnaround from a 5-17 team to Division 4 state champion last winter, have moved up to Division 2 and are one of the favorites to bring home that crown this season.

Of course, it doesn't hurt to have the talent on the roster that McCarthy can work with. Players like Samir McDaniels, Kachi Nzerem, Darius Davis and Nate Anderson are some of the best in the area. But that's not what makes the Titans tick.

"Cory is like these kids' father," said assistant coach Paul Mahoney. "People don't get that. People on the outside don't understand that. He'd give his right arm to every one of these kids."

"These guys are quality guys," McCarthy said of his players. "I love these kids. I would do anything for these kids. And I feel like they will eat glass for me."

Loyalty is one of the four tenets that McCarthy runs his program by. On the back of the team's warm-up jerseys is the acronym "FLDC," which stands for "Family, Loyalty, Discipline, Character." McCarthy, who readily admits that he defers to Mahoney when it comes to the X's and O's, learned to foster those qualities from Mike Rubin, the former East Boston coach who is now the principal at that school. McCarthy said he learned everything he needed to know about "building a program from scratch," which he essentially had to do at New Mission.

"Absolutely, you've got to be like a family," said Rubin. "I remember once going on a trip to Hope High School in Providence, Rhode Island. And I said on the bus, 'I don't ever see your fathers at the games.' And one of the kids says, 'Coach, you're our father.' Cory might have gotten that from me. That was always a priority for me. No matter what kind of problem they had, they could call me at three in the morning (and I'd help them out)."

Davis, a senior guard, might have said it best.

"[Coach McCarthy] is like a brother, a father; he's like everything to us. He's like our real family. If we get into trouble we can call him. He'll come help us. We can talk to him about anything. He's just a big role model."

McCarthy views his role as basketball coach as only part of the job. His primary concern is not just getting his players into college, but getting them to graduate from it. He proudly reels off the statistic that, since New Mission opened in 1999, every boy and girl to attend New Mission has made it to college. Prospective students have to go through an interview process to get in.

With players graduating and moving on to college in droves from New Mission, McCarthy feels it can offer everything a prep school can. But in the current state of affairs, prep schools are able to swoop in and cherry pick all the best talent in the city, as many players believe it's their only means to making it to college, causing McCarthy to quip, "Basketball is dead in the city of Boston."

McCarthy, who graduated from UMass-Amherst and still plans one day to pursue a law degree in disability and elderly advocacy law, doesn't discourage kids from going that route. After all, the prep schools have everything in the way of resources that New Mission doesn't, including its own gym. The Titans both play their home games and practice at the Tobin Community Center. But McCarthy doesn't mind the prep school coaches hovering around the program trying to take some of his more talented players.

"They can come and look at my boys all they want," he said.

"At New Mission, we have a lot of opportunities," Davis said. "Cory helps us out, AAU and all that. The other schools, (other players) don't have an opportunity. So prep schools, they can come in and give them that. … If they had a settled program at the high school, they'd stay in the city."

And while his players are staying in the city, McCarthy wants them to look beyond a basketball scholarship. His preference is to have his players know what they want to do when basketball is over, and that message has gotten across.

"I haven't figured out what school I want to go into but I know what I want to study: physical therapy and athletic training," said senior forward Charles Gunter. "That way, when I can't be on the court, I can be next to the court helping other players: looking at them, giving them tips on what I used to do, also helping them how to stay healthy."

"In the future I want to be in law enforcement," said McDaniels, a senior captain who is one of the more highly-touted prospects on the team. "So when I go to school I'm looking to study criminal justice. And basically, at the end of the year, I'm just going to pick whoever has the best criminal justice program and whatever best fits me athletic-wise and academic-wise."

That scholarly attitude is one that wasn't always there for every player. But at a school like New Mission, which only has about 60 kids in every grade and each is required to wear a uniform, those who aren't serious in the classroom when they enter the building are by the time they leave it.

"For a kid like Charles [Gunter], when we tried to get Charles, everybody said, 'Don't get him. Don't take this kid in your school,'" McCarthy said. "Samir [McDaniels], [they said], 'Don't take this kid at our school.' All these kids they said don't take them. We took them because those guys are character guys, you've just got to find it. Character's within, everybody's got it."

"[New Mission] teaches character," Davis said. "Coming to New Mission, I knew the word character, but I didn't have lots of it. And they helped me as a young man see the word different. [They] helped me with my studies, see that studying is important. And they helped me. When I was in middle school I was a C and B student. But as I came into New Mission, they helped me as a person and now I'm As and Bs, honor roll student."

McDaniels missed the team's first game against St. Mary's (N.Y.) with an ankle injury, a 72-61 loss. As he stood in the locker room at East Longmeadow High School, he echoed a common belief among the players and coaches as to why the Titans are so successful.

"New Mission is the best thing that ever happened to me because these dudes are like my family," McDaniels said. "We hang out out of school, in school. We help each other in the classroom, outside of the classroom. These dudes are my brothers, always and forever."

Meanwhile, McCarthy lamented the team's mistakes and lack of effort in the first half which caused them to fall in a hole they could never crawl out of. Still, as he stood outside the entrance of the high school in the shivering cold, one positive aspect of the trip was not lost on him.

"Oh, to have a bus that's warm, as opposed to being at Sullivan Square at freaking 12:30 in the morning."

He paused and looked into the bus.

"I might have to drive the boys home though," he said, "because the bus driver, he doesn't look like he's going to drop guys door to door."

And while McCarthy said it with a hint of frustration, it was only a hint. If anything, one got the sense he liked it better that way.

Adam Kurkjian can be reached at adamkurkjian@yahoo.com