Boston High School:

Nate Pomeroy
November, 20, 2012
11/20/12
1:20
PM ET
For the first time in site history, we're pleased to announce that ESPN Boston will honor the top boys' and girls' MIAA soccer player with its first-ever Mr. and Miss Soccer Awards this year.
The winners will be announced on Monday, Dec. 3, but we've whittled down our lists to a final five candidates today.
Without further ado:
MR. SOCCER FINALISTS:
Felix DeBona, Sr. F, Somerville
- The D1 North champions were led by DeBona's 29 goals, including the lone goal against St. John's Prep that clinched the sectional title. DeBona's scoring propelled the Highlanders to 15th in the NSCAA national rankings, a Greater Boston League title, and an undefeated regular season.
Dave MacKinnon, Sr. GK, Oliver Ames
- MacKinnon was named an All-American for his commanding play in net for the Davenport division champions. He gave up only four goals during the regular season with 13 shutouts and was named the Hockomock League MVP. In the playoffs, MacKinnon's save during the shootout helped the Tigers beat league rival Franklin in the opening round.
Nate Pomeroy, Sr. F, Groton-Dunstable
- Pomeroy, who is bound for Brown University next season, notched two goals in the D2 state finals to clinch back-to-back titles for the Crusaders. Pomeroy was named to the All-New England team and named Mid-Wach B MVP this season. He had eight goals in the 2012 postseason run.
Cody Savonen, Sr. F, Nauset
- Savonen led Nauset to the D1 South sectional quarterfinals and eclipsed the 20-goal mark for the season. He had a hat trick in a 3-0 win over Plymouth South that wrapped up the third Atlantic Coast League title of his career and scored the winner in the opening playoff game against Wellesley.
[+] Enlarge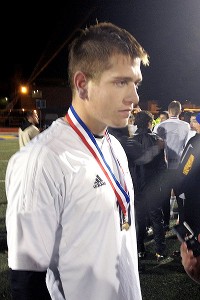 Courtesy of Josh PerryNeedham senior captain Mac Steeve led the Rockets to a Division I state title and is a finalist for our inaugural Mr. Soccer Award.
Mac Steeves, Sr. F, Needham
- The Rockets all-time leading scorer was named an All-American this season and led Needham to the Division 1 state title. Steeves also showed his ability to step up in big games. He scored both goals (and drew the penalty for the second) against Somerville in the state semifinals and scored the winning goal in the state finals against Amherst.
Honorable Mentions:
Osla DeBrito (New Bedford), Mike Lynch (Weymouth), Thayrone Miranda (Somerville), Brandon Miskin (Needham), Ryan Rose (Acton-Boxborough), Justin Rothemich (Sutton), Zach Scafati (Franklin), Stowe Simonton (Concord-Carlisle), Dave Stapleton (Oliver Ames), Brandon Vazquez (Amherst).
MISS SOCCER FINALISTS:
Lauren Berman, Sr. F, Canton
- With over 40 goals this season, Berman was the standout player for the Davenport division champions and a Hockomock League All-Star. Berman's accomplishments earned her All-American status and she will be playing in the ACC for the University of Maryland next season. She finished her career with over 130 goals.
Kristi Kirshe Sr. F, Franklin
- Kirshe eclipsed the 100-goal plateau for her career during the D1 playoffs. She scored in the state semifinal and scored both goals to lead the Panthers to the program's first-ever state title.She is an All-American as well as the state MVP. Compiling more than 30 goals this season, Kirshe helped a young Franklin team to an undefeated season.
Jen Narlee, Sr. M, Medfield
- Narlee is the leader of a very strong defensive unit for the D2 state champions. A physical presence in the center of the field, Narlee does many of the little things that do not get on the scoresheet. Many of the Warriors' opponents saw their attacks snuffed out by Narlee's positional play. That strong defense has helped Medfield win two of the past three state titles.
Andrea O'Brien, Sr. F, Concord-Carlisle
- O'Brien finished her career with over 100 goals and will take her talents to Boston College next year. An All-New England selection and submitted for All-American consideration, O'Brien helped lead the Patriots to a Dual County League title and to the second round of the tournament.
Kimberly Slade, Sr. F, Nashoba
- Slade is one of the brightest stars in the Central region. The senior forward was an All-New England selection and her playmaking ability helped lead the Chieftains to a sectional title and trip to the state championship game, where she scored the team's only goal.
Honorable Mentions:
Kendall Andrew (Oliver Ames), Mimi Borkan (Medfield), Jillian Cavanaugh (Belchertown), Taylor Cogliano (Franklin), Laura Courtney (Nashoba), Hayley Dowd (Peabody), Caitlin Harty (Beverly), Maddie Jolin (Bishop Feehan), Alexa Poulin (Central Catholic), Kayla Steeves (Needham).
November, 17, 2012
11/17/12
10:53
PM ET
By
Josh Perry
| ESPNBoston.com


WORCESTER, Mass. -- Nate Pomeroy's seventh and eighth goals of the postseason helped fire the Groton-Dunstable Crusaders to their second straight MIAA Division 2 boys' soccer state title. The Crusaders beat South sectional champions Medway 2-0 on Saturday afternoon at Worcester State University's Coughlin Field.

After sending two shots narrowly wide from the edge of the box, Pomeroy opened the scoring from the unlikeliest of positions.
The senior forward drove at the Medway defense and took the ball all the way to the end line before sending in a shot across the face of goal. Somehow, despite having no angle, the ball snuck past Mustangs keeper Brian Kokoszka.

In the 57th minute, Pomeroy struck again. Mike Keating played a long free kick across the box and Pomeroy was on hand to power a header into the roof of the net and make the score line more comfortable for the Central champions.

Groton-Dunstable coach Sean Wisbey spoke after the game about the contributions of his star player and the need for Pomeroy to step up and replace the production lost from last year's squad.

"This was Nate's time to shine," Wisbey said. "I told him, 'This is going to be your moment to lead us.' And, you know what, he comes out and scores two big goals for us."

Pomeroy was also part of last season's state champions, but was unable to get on the scoreboard against Concord-Carlisle. According to the future Brown Bear, he saw much more of the ball this time around.

"It was good that we were able to get the balls to me this game," he said. "I didn't feel as much pressure as I did last season. I didn't feel as much pressure with the man-to-man marking, which gave me more space."

Pomeroy talked through scoring the first goal from a seemingly impossible angle, "I kind of just put it across to see what would happen and it deflected off the keeper's leg and it went in. It was great to get the momentum, I think it probably shocked them and put them back on their heels."



Medway (19-4-1) had several early opportunities stopped by Crusaders keeper Connor Maguire. The best chance fell to junior striker Justin Kaplan on the far post for a cross but his volley was blocked by a scrambling Maguire.

Sophomore Brendan Robinson also had a shot blocked on the line by Groton-Dunstable defender Adam Kmetz.

Mustangs head coach Jeff Hallenbeck admitted after the game that if Medway scored those early games, it could have shifted the momentum.

"If we'd have gotten those breaks we would have settled down probably a little bit more, and it would have been an entirely different game," he said.

Medway was notably without striker Matt Coakley, which forced freshman Jacob Warren to start up front, but also had injuries in the midfield that affected the team. Junior midfielder Aidan Burke and sophomore Adem Karacaoglu were not able to play and they left a big hole in the center of the park.

"Matt's loss impacted us greatly," Hallenbeck said. "He was a huge loss, but our biggest loss was Aidan Burke. When he went down it depletes our midfield core then we lost another one last game (Karacaoglu) so now we're down two central midfielders and it was too much for us tonight."

The Crusaders controlled the second half and limited Medway to long-range shooting and set piece chances. In fact the best two chances of the half fell to the Mustangs, but neither was on target.

Wisbey raved about his experienced defense, in particular center back Mike Keating, and its ability to shut down the Mustangs.

"I brought back three of my starting backs from last year's state championship team," Wisbey said. "I put him (Keating) back there about four games into the season. Since I put him back there, we have been 17-0-3 in the last 20. They don't give you a lot of opportunities."

Having gone through a championship run last season, Wisbey and his team understood the pressure of the state finals and it enabled them to be more relaxed than they had been in 2011.

"Realistically we went into this game with no stress tonight," he said. "We had gone through this journey where last year we were the nervous team. This year we weren't nervous at all. Win or lose, this is a celebration of all that these kids have done."


September, 12, 2012
9/12/12
2:09
AM ET
NORTHBOROUGH, Mass. -- Tuesday's cross division Mid-Wach matchup between No. 2 Groton-Dunstable and No. 8 Algonquin served as an early season guage for both teams.

Yet, neither of the Central Mass. power were able to gain a foothold in action as the teams settled for a 1-1 draw.

Algonquin midfielder Connor Henry opened scoring in the 32nd minute with a strike off a free kick. The Tomahawks (0-0-1) held onto the lead behind goalkeeper Liam McCarthy until the second half, in the 52nd minute when G-D's Mike Keating struck from inside the box.

Here are a couple observations from match:

GETTING BACK TO WORK
Ken Morin's Tomahawk side had to wait until Tuesday to kick off their season. Their season opened in earnest against the reigning Division 2 state champion Crusaders.

With a young returning squad, Morin's goal was simply to get back on the pitch.

"They've been waiting for this game for three weeks now. There's no substitute for the real thing and it was great for them to get back out there."

BUILDING STEAM
It's been a tough start to the season for G-D which opened with No. 12 Worcester North (a 5-3 win) before Tuesday's match. The Crusaders are also playing without their starting goalkeeper and right back, but G-D showed a robust defense against the Tomahawks.

Keeper John Nyilis has filled in for the first two matches and showed good instincts against Algonquin, making a couple key stops in addition to breaking up several chances with his play in the second half.

The other notable absence has been the zero in the goals column next to striker Nate Pomeroy's name. The Brown commit hasn't found the back of the net yet, but that's no neccessarily a bad thing.

"We're getting scoring from a bunch of players," G-D head coach Sean Wisbey said. "Obviously, Nate [Pomeroy] is a marked player and defense are paying a lot of attention to him, but he'll get his goals, too."

G-D also pushed the offensive pace in the second half of Tuesday's matchup, going with a 3-3-4 out of the half.

"We were getting bottled up in the middle, so I told the guys at halftime to start looking to the wings and try to spread them out," Wisbey.

Eventually, the Crusaders found the equalizer and escaped with the point.

G-D will play Nashoba Thursday before wrapping up its home-and-home series with Worcester North on Saturday.
November, 19, 2011
11/19/11
8:43
PM ET
By
James Walsh
| ESPNBoston.com



WORCESTER, Mass. — The Groton-Dunstable Crusaders denied the Concord-Carlisle Patriots a chance at a three-peat with a 2-0 victory in the division two state championship game on Saturday evening.

Dan Beyh scored the game winner in the 61st minute, after coming on as a substitute.

"Dan Beyh has come off the bench all season for us to give us a spark," said Crusaders head coach Sean Wisbey of his senior forward. "I felt half way through the half let's bring him in and see if he can give us that extra edge."

The action started right out of the gate. In the third minute, C-C captain Chris Walker-Jacks lofted in a free kick from the midfield line into the Crusaders' 18-yard box. The cross bounced towards teammate Scott Brazina, who was just unable to connect with a shot. Any contact would have put the Patriots ahead early on.

In the fourth minute Crusaders forward Chris McKinney hit a well stuck low shot on net, but Patriots keeper Cray Novick got down to his left in time to make the save.

The half's best chance came during a mad scramble in from of the goal of C-C (16-5-2) nearly 16 minutes from the break. G-D's leading scorer, Nate Pomeroy, had a point blank shot saved by Novick, and a scramble between Patriot defenders and Crusaders forwards ensued before Novick finally covered up the ball.

The teams went into halftime tied at 0-0.




The second half opened up like the first half ,with each side having a quality scoring chance. The Crusaders (21-1-0) had theirs come first in the 47th minute when Pomeroy had a cross deflected down by the C-C defense. The deflection went straight to G-D midfielder Doug Rosa, but the junior's shot went left of the goal.

In the 51st minute Patriot midfielder Stephen Yen crossed the ball right to Brazina, who has wide open on the back post, but his shot rolled just wide of the post.

Beyh's breakthrough finally came in the 61st minute. Left midfielder Alex Merlino made a few nice moves to lose his defender then sent his right footed cross to the back post where Beyh was waiting, and he finished with his right foot across the goal.
Apparently Wisbey knew that Beyh was going to score the match winner.

"My coach told me 'you're going to score that goal'," Beyh said. "I knew that today we'd be state champions, but I didn't know I'd be the one to score the goal."




In the 76th minute, Ben Chilcoat made the save of the season for G-D on a Mikey O'Brien shot. O'Brien left a few defenders in the dust before unleashing a shot from eight yards out, only to be denied by a diving Chilcoat.

"Reaction honestly," said Chilcoat when asked how he pulled the save off. "I don't even remember, it was that quick."

With just over two minutes remaining the Crusaders doubled their lead thanks to Merlino. The senior took advantage of a few missed clearances by Concord-Carlisle and took his chance well for a 2-0 final.

"It felt great," Merlino said about scoring the inscurance goal. "Iit took awhile, we were persistent, but we got our goals."