Boston High School:

Nate Robitaille
June, 18, 2011
6/18/11
12:39
AM ET
FOXBOROUGH, Mass. -- With about five minutes remaining in Friday's Shriners All-Star football game at Gillette Stadium, Tyllor MacDonald knew his team need a big play. The North squad was trailing the South, 14-10, and driving into North territory.

That's when the Lynn English standout laid a wicked hit on North Attleborough's Dan Johnson, prying the ball free. MacDonald capped the play by falling on the loose ball and gaining possession for the North.

North quarterback Cal Carroll of Methuen took care of the rest, leading the team on a 13-play drive to victory that he capped with a 1-yard touchdown run to the North a 17-14 victory.

"As saw [Johnson] coming across the middle and I hit him as hard as I could," MacDonald said of his game-changing play. "I just knew that I had to. I had to pick my team up."

With the ball back in his hands, Carroll led North downfield, completing two key pass attempts for 37 yards on the drive. The Rangers' signal-caller found Everett's Matt Costello, ESPN Boston's inaugural Mr. Football Award winner, for a 22-yard connection on third and 16. Two plays later, Carroll hit BB&N's Peter Savarese with a 15-yard pass to give North a first down and goal at the South 5-yard line.

Carroll then punched in the game-winning score with 1:33 remaining.

"I think once we connected on that third and long, I think we really felt like we were going to pull through in the red zone," Carroll said.

Trae Weathers provided the counterpunch to North's aerial attack, which was quarterbacked by both Carroll and Dracut's Matt Silva. The bruising Revere running back was named the North's Offensive MVP following his 12-carry, 70-yard performance, forming part of a talented backfield alongside Gloucester's Jordan Shairs.

"We saw the ISO was working," Weathers said. "We were just trying to pound it in. It'd been working all game, so we just stuck with it."

Not to be overlooked was North's defense, which racked up five sacks including three consecutive sacks of Holliston's Sean Mayo to negate South's final drive of the game, sealing the win.

The Dexter School's Jake Giovanucci capped the performance with two sacks in the final minute. Billerica's Justin Hood, Lynn Classical's Daniel Omorgie and Gloucester's Chris Unis collected sacks for North.

"We really came together as a unit the last two weeks in practice," Giovanucci said. "We had a lot of really skilled guys. It's tough to block four skilled pass rushers. Someone might get the sack, but the other guys were taking up blockers."

South opened scoring with Mayo connecting on a 10-yard touchdown pass to Attleboro's Nate Robitaille with 6:49 remaining in the first quarter.

Carroll came back to tie the game with a 5-yard touchdown pass to Tewksbury's Anthony Acari with 9:25 to play in the second. Costello added the extra point to tie the game, 7-7.

North would take the lead into the locker room at halftime following James Brao's 24-yard field goal with 5:01 remaining.

South reclaimed the lead four minutes into the third quarter with Scituate's Tyler Park connecting with Cohasset's Jack Carrier on a 15-yard touchdown pass.
October, 11, 2010
10/11/10
2:14
PM ET
Another Monday, another wrap up of another stellar week of football. Here's a look back at the weekend that was, and what we've learned...
METHUEN'S OFFENSIVE LINE IS GOOD. LIKE, '97 BRONCOS GOOD.
"Best offensive line in the state," repeated Ryan Savastano to reporters, after marching his Methuen Rangers teammates to a 31-21 win over Chelmsford, to the tune of 223 yards on 32 carries.
Sometimes the o-line shoutouts can be a forced axiom grilled into a kid's head from the coaching staff --
mention the line, mention the line!
-- but in Methuen's case, these are far from canned quotes.
With quarterback Cal Carroll treading carefully with a hairline fracture on his left (non-throwing) thumb, the Rangers dialed up inside zone runs almost exclusively against their Merrimack Valley Large counterparts. The gameplan was methodical and pretty simplistic -- Savastano zone left, Savastano zone right, Carroll keeper, vertical pass, rinse and repeat -- and yet Chelmsford's vaunted defense, hailed by some as one of the state's best, struggled all night to put a helmet on the ball carrier on running plays.
Led by Steve DiZazzo and Dan Cormier on the left, and Sean Whittaker on the right, the senior-laden line has excelled in a zone-blocking scheme. With a linebacking corps as active at Chelmsford's, led by Zach Hayes and monster middleman Tim Joy, the Rangers often chipped off double-team blocks and accelerated downhill to drive the outside shoulder of a linebacker or defensive back away from the play. Sometimes, though, they simply pushed back the defensive linemen right into linebackers.
"I thought the o-line got some great push," Methuen head coach Pat Graham said. "It was probably tough for Tim (Joy), with the d-linemen getting knocked back into him a little bit, I'm sure it was tough for him to try and find the running back. Ryan's just a little guy, he's behind all those big guys, it's just tough to find him sometimes. But the big thing is our o-line got a great push up front."
Graham, one of the area's best coaching minds, has kept his quotes pretty vanilla and straightforward so far this season, to keep his players grounded and focused. But after a win as impressive as last Friday's, even Graham has to let out a sigh and a smile.
"Chelmsford's one of the best teams, year in and year out, in the state," he beamed. "It's a great feeling."
...ALL OF WHICH MAKES PLYMOUTH NORTH'S WEEK ONE WIN OVER THE RANGERS THAT MUCH MORE IMPRESSIVE
The Eagles, led by ice-in-his-veins running back Matt Walsh, are essentially a muffed two-point conversion attempt from being 4-1 and an ESPNBoston Top 25 team. In Week One, North held the Rangers to just one touchdown, and escaped with a 13-7 win thanks to a 70-yard Walsh touchdown run with four minutes and change to go.
Last Friday, it was Cody Merritt providing the spark, scoring three times (two rushing, one receiving) to lead the Eagles to an impressive 20-7 win over Bridgewater-Raynham.
Week by week, as the Rangers continue to pound away at the MVC's best and brightest, that is looking more and more intriguing.
JUST HOW GOOD IS ST. JOHN'S OF SHREWSBURY?
The No. 3 Pioneers lambasted cross-town rival Shrewsbury High, 52-7, their second straight week hanging half-a-hundred on the opposition. That brings their scoring margin through five games to 221-34, with a state-best average of 44.2 points per game.
A quick look inside the numbers:
Yards per game: 372.6
Yards allowed per game: 243
Points allowed per game: 6.8
Dan Light, Sr. QB: 48 carries, 426 yards, 8 TD; 44 of 77 passing, 935 yards, 15 TD, 3 INT
Richard Rodgers, Sr. WR/DE: 18 catches, 372 yards, 7 TD; 5 sacks
In Week Two, the Pioneers pasted Longmeadow, 37-8; the Lancers visited Catholic Memorial last Friday and beat them on a last-second field goal, 27-26. Two weeks ago, St. John's clobbered Fitchburg, 56-12, in the rain; last Friday, the Red Raiders almost beat Brockton, faltering in the fourth quarter.
We'll see just how good the Pioneers are this Saturday, when they travel to St. John's Prep to take on the No. 16 Eagles, and on October 30, when they host No. 1 Xaverian.
R-E-S-P-E-C-T
Akin to Aretha Franklin, or that old Adam Sandler album skit, Norton is just asking for a little of it these days.
"We didn't get shown much respect in our league and everyone thought Westwood was going to beat us," Lancers junior running back Zach Schweiger told correspondent Phil Perry on Friday. "Everyone thought their big running back [Sean Amaru] was going to do a whole bunch against us but we shut him down and executed on offense."
With a convincing 28-6 win over Westwood, the Lancers have certainly earned it, sitting at 5-0 and the prohibitive favorites to win the Tri-Valley League.
Norton stands a game ahead of Holliston, Medway and Westwood (all 4-1). Perhaps, more importantly, the Lancers now have recorded wins over Medway and Westwood with only an Oct. 22 date with the Panthers remaining on their slate.
ROUGH AND TUMBLE SOUTH SHORE
Speaking of potential Division IIIA playoff scenarios, it's anybody's guess which team will survive what has shaped up to be a very tough South Shore League.
Cohasset (5-0) remained unbeaten against another formerly unbeaten squad in an upstart East Bridgewater team Friday night behind Thomas Flibotte's 101 yards on 18 carries. Meanwhile, Rockland (28-0 win over Hull) and Abington (34-0 whitewashing of Carver) also improved to 5-0.
However, things at the top could sort themselves out pretty quickly as the Skippers host Rockland this weekend (Friday, 6 p.m.) and the Green Wave travels for a tough road game at Masphee (4-1, 1-1) Friday at 7 p.m.
All will be appointment viewing.
DOUBLE DRAGONS
The play of Duxbury quarterbacks Matt O'Keefe and Kane Haffey puts head coach Dave Maimaron in an enviable position every weekend.
Typically, O'Keefe and Haffey split time under center. They have combined for a .567 completion percentage and have both had success moving the ball down the field. On the season, O'Keefe has completed 31 of 48 pass attempts for 449 yards, seven touchdowns and one interception. Haffey has gone 37-of-72 for 490 yards, five touchdowns and one pick.
But Maimaron's depth at quarterback only helps when the injury bug comes calling.
When it became apparent Haffey wasn't going to be able to go in Friday's game at Quincy, there was no sweat calling upon O'Keefe to carry the load. The junior responded with a 242-passing yard performance and accounting for all of the Dragons' five touchdowns (four passing, one rushing).
HEAD OF THE CLASS
VALVOLINE PEAK PERFORMER OF THE WEEK: TYLER COPPOLA, SR. RB/DB, ST. JOHN'S PREP
What else is there to say after a performance as dynamic as Coppola's? Last Saturday against visiting Mount St. Joseph of Baltimore, the senior carried 19 times for 338 yards and five touchdowns, with all five of his scores coming on runs of 42 yards or more. Adding in return yardage, he finished the day with 473 all-purpose yards and a long ride home for the visiting Gaels. Yep, not a whole lot of hyperbole needed after this one, but with a day like that, credit is due to the Eagles' offensive line led by Nathan Cyr.
THE CLASSMATES
Brian Bourque, Sr. QB, Reading
- He totaled 183 yards of offense (135 passing) and four touchdowns as the Rockets cruised to a 42-0 beatdown of Wakefield.
Jonathan DiBiaso, Jr. QB, Everett
- The coach's son threw for six touchdown passes in the first half of a 42-7 win over Taunton, breaking two school records in the process -- passing touchdowns in a game and one half (himself, two weeks ago against Barnstable), and career touchdown passes (now at 34, breaking Matt Nuzzo's mark of 31 set earlier this millennium).
Chris Coady, Jr. RB/LB, BB&N
- Coady was omnipresent in the Knights' 33-28 win over Governor's Academy. He carried the ball 18 times for 86 yards and a score; caught three passes for 63 yards and a second score; made seven tackles on defense; and returned an interception to the house for a third and final score.
Dylan Colarusso, Sr. RB, Weymouth
- The hard-nosed Colarusso bulldozed his way to 220 rushing yards and two touchdowns as the Wildcats rolled to a 43-0 shutout of Dedham.
Alex Furtado, Sr. RB, Archbishop Williams
- Furtado led the Bishops with 236 yards and three touchdowns on 27 carries in a 32-22 win over Whittier Tech.
Matt O'Keefe, Jr. QB, Duxbury
- With injured quarterback Kane Haffey on the mend, O'Keefe stepped up and threw for 237 yards and five scores (four passing, one rushing) in the Green Dragons' 35-7 win over Quincy.
Trevon Offley, Sr. RB, Brockton
- The hard-running Offley ran for 217 yards and two scores in the Boxers' 27-20 win over regional rival Fitchburg.
Nate Robitaille, Sr. QB, Attleboro
- Another week, more heroics. This time, he carried the ball seven times for 132 yards and a score; and completed 10 of 26 passes for 178 yards and two scores, including the game-winner with time expired, as the Blue Bombardiers downed Foxborough, 26-24.
Ryan Savastano, Jr. RB, Methuen
- The diminutive Savastano carried the ball 32 times for 223 yards and two touchdowns in the Rangers' 31-21 win over Chelmsford.
Matt Silva, Sr. QB, Dracut
- In yet another shootout, this time a 45-35 win over Lowell and old coach Jeff Moore, Silva threw for 171 yards and two scores, and ran for 213 more and a third score.
Kenny Woods and Troy Salvatore, Sr. RB's, Walpole
- The two combined for 325 yards rushing and five touchdowns in the Rebels' 34-21 win over Braintree.
September, 27, 2010
9/27/10
12:06
PM ET
Now that the dust has settled on Week 3 of the Massachusetts football schedule, here's what we learned from this weekend's action:
OK, so we were slightly wrong about Xaverian...
Turns out our friends at the Boston newspapers had it right and we had this No. 1-2 thing
in the wrong order
. Xaverian, on the heels of a 23-20 double overtime
instant classic
over Brockton, is our new No. 1.
But differences aside, we've all agreed that, man oh man, last Saturday's showdown at the Hawk Bowl was one of the best in the history of the series. And these two teams almost always seem to fight to a seven-point win or four-point defensive stalemate.
The Boxers have plenty of hype this season, and rightly so with the likes of Miami-bound Albert Louis-Jean joined by fellow seniors Ralph Cherry, Paul Mroz, William Carruthers, Trevon Offley and Jacques Janvier. But the Hawks showed plenty of toughness in the win. Junior quarterback Chris Calvanese fought through cramps to orchestrate the comeback win, delivering the game-tying pass to Mike Muir -- who, a few plays prior, separated his shoulder and popped it back in.
Hey, who said Xaverian kids aren't tough?
...But when healthy, Brockton's Trevon Offley is a bull to take down
Mahar's Isaiah Jones put it ever so simply last week in our
Q&A
: "My coach always says squatting is going to do everything for you."
It's clear after last weekend that the 5-foot-6 Offley abides by a similar mantra. And, as All-Pro running back Maurice Jones-Drew demonstrates every Sunday, leg power with a low center of gravity is a vicious combination.
From the second quarter on, Offley was just a chore to take down. Just when the Hawks had him for a 5-yard loss, he'd rip through an arm tackle, sidestep and shimmy his way back out to the line of scrimmage and then some. Other times, he'd keep his legs churning and drag the pile for an extra two or three yards. Offley, who carried the rock 19 times for 117 yards and all three of Brockton's scores in the loss, had been out with a shoulder injury since the first half of the Boxers' 16-6 season-opening win over Boston College High. But when he's healthy, he's as reliable as they come.
Methuen's offensive line kicks out and kicks off?
Methuen quarterback Cal Carroll emerged as one of the region's toughest playmakers with the Rangers'
36-26 stunner of No. 9 Billerica
, but just as impressive was his offensive line. Since losing to Plymouth North, 13-7, in Week One, the guys in the trenches have been blowing teams off the ball. A week and a half ago, they took it to Malden's massive defensive line in the second half en route to a 42-12 win. Last Friday, the guys paved the way to over 200 yards on the ground against the Indians.
Led by seniors Steve DiZazzo and Dan Cormier on the left side, the Rangers' line might not always be the biggest, but they proved that when on the same page, they can bang heads with anybody on a given night.
"Our o-line, they're tough, man," senior wide receiver Raudy Minaya said. "They hit hard, they hit every single play, and we get extra yards. That last (Carroll carry), we got the first down with ease and Cal got the touchdown, that's because of our o-line. We never give up. Up seven, doesn't matter, we need to get up the field and get the first down, and we ended up getting a touchdown with it."
Said head coach Pat Graham, "Offensive line-wise, it was essential to control the clock and to be able to run the ball, and I think our kids did a good job with that."
The 6-foot-4, 300-pound Cormier, by the way, has an impressive right leg. After Eric LaCroix kicks the extra point, the Rangers line up in a standard five-and-five kickoff formation, and some may be surprised to see Cormier raising his hand to the officials. But Cormier's got quite the boot, as he routinely blasted it to around the Billerica 5-yard line Friday night, with plenty of hang time.
Gloucester is really that good...so far, at least
Andover, coming off a 38-13 drubbing by the Fishermen, hung 39 points on MVC Small dark horse Tewksbury last Friday, which makes one wonder: just how good is Gloucester?
The Fish's defense, led by linebacker Chris Unis, was touted as a wagon before the team even started up their famous annual summer beach training regimen. The first unit hasn't allowed more than a score from opponents. Meanwhile, the Gilbert Brown-led offense has been explosive, averaging 38.3 points per game.
The rest of the Northeastern Conference, however, hasn't been sitting idly. Revere, led by bulldozing tailback
Trae Weathers
, is 3-0 for the first time in a while. Cross-town rivals Lynn Classical and Lynn English have also proven adequate to start the season, too.
We'll find out next month how capable the rest of the NEC Large contenders are of unseating the defending Division 1A Super Bowl champs, but for now we'll enjoy the ride.
Key EAC matchups could have bearing on December
Yeah, it's a little premature, but we can't help but wonder how a couple of this weekend's Eastern Athletic Conference games might impact the long-term playoff picture in Division III.
There was a battle of unbeatens on Slocum Road in Dartmouth with Somerset traveling to meet Bishop Stang. The Blue Raiders rolled to
a convincing 43-13 win over Stang
, riding running backs Jaron Spear and Seth DeMello, who combined for five rushing touchdowns.
Meanwhile, heading north along Rte. 140, Martha's Vineyard took care of business against Coyle-Cassidy. The Vineyarders escaped with a 41-32 win over the Warriors thanks to quarterback Randall Jette's 192 yards and five touchdowns on the ground.
While it appears that Somerset and the Vineyard control their own destinies in the EAC, we'll see if Bishop Feehan has anything to say in the situation. It's hard to figure what the Shamrocks have after losses to Attleboro, No. 18 North Attleborough and Abington — three quality teams. Feehan has two more games out conference, including next week's out-of-state matchup with Barrington (R.I.), before hosting C-C.
"This is a tough division," Somerset head coach Nick Freitas said Saturday after his team's win.
He continued, "Hopefully, we just remain healthy. I think that will be the key."
Blue Raiders quarterback Alex Ledoux left the game to an injury during the second quarter of Saturday's game. At the time, Freitas didn't have information on the severity of Ledoux's injury.
What was clear was the Blue Raiders' statement made on the field.
Playing with heavy hearts
Friday night's Hockomock game between Attleboro and Franklin almost was for not.
Attleboro's school community woke Friday morning to the news that senior Myles Brastow had died in a motorcycle accident. Hours before the game administrators and coached from the representative schools huddled to discuss whether it was appropriate to hold the game in light of Brastow's death.
"We talked to the administrators and the coaches to see what they wanted to do with the game," Franklin athletic director and head football coach Brad Sidwell said in a telephone interview on Sunday. "We certainly understood if they wanted to reschedule the game. But they felt that they wanted to try have a sense of normalcy and have the game like any other Friday night."
The Blue Bombardiers paid homage to their fallen classmate with a dramatic 20-13 win over the Panthers. Attleboro was led by quarterback Nate Robitaille, who was cleared for the game after suffering a concussion during the previous game against King Philip, and running back J.J. Jolaoso. Robitaille march the Blue Bombardiers down the field on the game-winning drive inside the two-minute warning and Jolaoso punched in the winning score on a 7-yard touchdown run.
"It's a tribute to the kids," Attleboro head coach Kevin Deschenes told Mark Farinella of The Sun Chronicle after the game. "They had a rough day today, and for these young adults to bounce back after a very traumatic day, losing a friend, I thought they responded very well."
The Franklin football community was also dealing with the loss of one of its own. Longtime Panthers head coach Gerry Leone Sr. passed away last week
"He was a legendary part of Franklin football," Sidwell said. "I know there are even some parents of current players who played for him and I know the lessons taught to them by coach Leone in high school are things that have stayed with them throughout their lives. That's the kind of man he was."
HEAD OF THE CLASS
VALVOLINE PEAK PERFORMER OF THE WEEK: ANTHONY KNIGHT, SR. RB, LAWRENCE ACADEMY
The North Carolina State-bound Knight kicked off the much-hyped Spartans' ISL title defense in grand fashion, carrying the ball 14 times for 308 yards and two scores in a 36-14 defeat of Milton Academy. We've seen 300-yard games before from schoolboy athletes, but on just 14 carries? That averages out to 22 yards a carry, or essentially a first down every time he touched the ball, so in that regard we've got to add a shout-out to his offensive line.
THE CLASSMATES
Blaise Branch, Sr. RB, Cardinal Spellman
– The 6-foot, 200-pound Branch had three scores on the ground and totaled 201 rushing yards on the day, ironically to give his head coach Ron St. George his 201st win, as the Cardinals rolled to a 35-8 win over Carver.
Andrew Coke, Jr. RB, Andover
– Coke accounted for all six of the Warriors' touchdowns in a 39-32 win over Tewksbury to open MVC play. He rushed 30 times for 214 yards and a school record five touchdowns; was 2 of 2 passing for 28 yards, including a 12-yard scoring strike to Brian Miller; and added 65 return yards for 311 all-purpose yards.
Dylan Colarusso, Sr. RB, Weymouth
– He carved quite a name for himself following his performance in Friday's 41-14 win over Milton, carrying 25 times for 262 yards and three scores.
Dave Dubin, Jr. DE, Holliston
– For all of the talk of the Panthers' offensive weapons, it was Dubin's work on defense that stood out in the 48-24 win over Millis/Hopedale. He had 11 tackles, including five sacks, and contributed to holding the Mohawks to minus-27 yards of offense in the first half.
Randall Jette, Sr. QB, Martha's Vineyard
- Jette captained the Vineyarders' Navy-style option offense with 17 carries for 192 yards and five touchdowns in their 41-32 win over Coyle-Cassidy.
Ben Patrick, Sr. RB, Rivers
– The Roxbury resident, who ran for over 900 yards in six games last season, continued his good ways with an impressive ISL debut. He carried 20 times for 269 yards and two scores, and also came up with two interceptions, as the Red Wings downed St. Paul's, 40-18.
Ben Shelton, Sr. QB, Wayland
– The Warriors turned a lot of heads with its stunning 36-7 win over highly-ranked Westford, and Shelton was the catalyst. He was 12 of 17 passing for 209 yards and two touchdowns, and carried the ball 11 times for 97 yards.
Jaron Spear, Sr. RB, Somerset
- The Blue Raiders asserted their will on the ground in a 43-13 victory over Bishop Stang and Spear headed the charge with 21 carries for 215 yards and four touchdowns.
September, 18, 2010
9/18/10
2:42
AM ET


ATTLEBOROUGH, Mass. – So much for the welcoming party.

Attleborough High made its initial foray into Hockomock League play on Friday night, hosting No. 19 King Philip. As a rude party guest, the Warriors' intent was to indoctrinate Attleborough to "The Hock" way.

"In the pregame, we talked about showing them what The Hock is all about," Warriors running back Jim Johnston said.

True to form, King Philip head coach Brian Lee emptied out his cache of weapons at running back, divvying up carries between his acclaimed duo of Chris Cacciola and Charles Ruffin. But it was the less-heralded Jim Johnston who left his mark — or perhaps a bruise as it were — on the Warriors' 14-0 win over the Bombardiers.

"In most normal circumstances, Jimmy [Johnston] is a tailback," Lee said. "It's just one of those things that we have a lot of backs this year."

Johnston, a 5-11 senior, totaled 11 carries for 82 yards and a touchdown. But it was the manner in which Johnston ran in the second half, keeping the ball out of Attleborough's hands in a tight game, which was more impressive.

After breaking off a 16-yard touchdown run in the second quarter, Johnston helped King Philip (2-0, 1-0) play keep-away from the Bombardier offense. He delivered the final blow to Attleboro's hopes for a comeback with a key 25-yard run on the Warriors' final drive that bled the clock dry in the fourth.

"I thought we played better defensively in the second half," Attleboro head coach Kevin Deschenes said, "but they just held onto the ball for long stretches of time and we couldn't get it back. When we did get it back, we went three-and-out."

In the second half, Attleborough (1-1, 0-1) was forced to go without the services of quarterback Nate Robitaille, who was shaken up on a play just before halftime. Robitaille left the game after the big collision, which occurred while scrambling out of the pocket, but he returned to start the second half on defense. After a couple of plays, the Bombardiers training staff ruled Robitaille out for the remainder of the game.

"We erred on the side of caution, especially with concussions, you can't mess around with that," Deschenes said.

Junior Chris Walsh called the signals for Attleborough in the second half and didn't fare much better than his predecessor in solving the Warriors defense. The Bombardiers managed only two yards of offense in the third quarter.

Meanwhile, King Philip kept hammering away on the ground.

Cacciola, who took in the Warriors' first touchdown on a 13-yard run to start the second quarter, finished with 19 carries for 83 yards. Ruffin also got in the fray with 10 rushes for 71 yards.

"Cass [Cacciola] is our leader, no doubt about it," Johnston said. "He's played for three years now. We all listen to him when it comes down to it. And Charles [Ruffin] has the breakaway speed."

With all the pomp and circumstance behind, Lee was focused simply on the fact that his team had secured an ever-important win on the road in the ever-competitive Hockomock.

"It's a huge win," Lee said. "Looking at their team on film and seeing all the team speed from the quarterback to the running back; they have a lot of playmakers. We knew it was going to be tough.

"We had a game plan. But did we expect to shut them out? Not exactly."
September, 13, 2010
9/13/10
9:40
PM ET
Welcome to the first installment of "Top of the Class," our weekly wrap-up appearing each Monday and highlighting the top performers from the previous weekend. There were several monster season debuts for some of the area's premier talent. Below is this week's "Head of the Class," our version of the overall player of the week, followed by the runners-up, or his "classmates."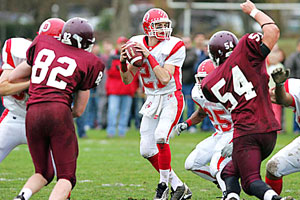 Courtesy of D.J. Crook Barnstable quarterback D.J. Crook completed 80 percent of his passes for 422 yards a whopping six touchdowns.
HEAD OF THE CLASS: D.J. CROOK, BARNSTABLE
After a sluggish start against an upstart Durfee squad, the junior quarterback teed off on the Hilltoppers' secondary for a record-setting night. Crook completed 80 percent of his passes (25-of-31) for 422 yards in the 38-15 win, breaking his own school record, set in the Red Raiders' Thanksgiving win over Falmouth last November. His six touchdown passes also tied the school record he set in that Thanksgiving win.
The best part? After sitting down with two ESPNBoston reporters at practice this afternoon for an interview, he politely asked if they could mention his offensive line (Durfee did not register a sack all night).
THE CLASSMATES
Manny Asprilla, Sr., Everett
The Boston College-bound Asprilla opened the 2010 season with a clinic in the yards-after-catch department, helping the Crimson Tide cruise to a 42-23 win over Leominster at Doyle Field. The 5-foot-10, 165-pound wideout hauled in four passes for 145 yards and two touchdowns, including a 72-yard scamper off an underneath route in the first quarter; he also had a pick and carried the ball six times for 50 yards.
Shamir Guillaume, Sr., Saugus
Last Friday was the Sachems' first night game in 70 years, and the 6-foot-1, 205-pound senior kicked things off in startling fashion. He ran for 225 yards and four scores on just eight carries -- yes,
eight
-- in a convincing 41-20 win over Bishop Fenwick.
Nate Michael, Jr., Apponequet
The Lakers have a ton of faith putting the ball in the hands of the 5-foot-10 Michael, and in their season opener at Middleborough he rewarded them. Michael went for 224 yards on 41 carries and two touchdowns to give Apponequet enough cushion to hold off a late Middleborough rally, holding on for a 40-32 win.
Sean Amaru, Sr., Westwood
The 5-foot-10, 200-pound Amaru was another player from the lower divisions to bulldoze his way to a career night. He carried 21 times for 221 yards and two scores as the Wolverines toppled Medfield 26-19. With all the talk of Holliston, Medway and Norton as the contenders this year in the Tri-Valley League, the Wolverines should firmly etch themselves in that conversation if Amaru keeps this up.
Nate Robitaille, Sr., Attleborough
We figured the Bombardiers would be just as competitive after graduating all-state linebacker Matt Campbell. But how's this for a season opener? In the program's 48th meeting with intracity rival Bishop Feehan, the Bombardiers were firing on all cylinders, with the 6-foot-2, 165-pound Robitaille leading the charges. He scored five times in their 49-14 win, in three different ways -- passing (218 yards, three TD), rushing (TD) and returning (80-yard kickoff return).
Matt Walsh, Sr., Plymouth North
The running back, and nephew of first-year head coach Dwayne Follette, made a resounding statement for the Eagles' program with some late heroics over highly-touted Methuen. His 77-yard touchdown scamper with less than four minutes to go gave North a 13-7 lead over the preseason No. 11 Rangers that would hold up after a rally fell short. The Atlantic Coast League title race might be more interesting than we thought.
Nick LaSpada, Jr., Billerica
The highly-touted quarterback picked up right where he left off before a devastating knee injury in the playoffs derailed the end of his 2009 season. LaSpada was 14-of-24 for 280 yards and three touchdowns through the air and added another 85 yards and two scores on the ground on 13 carries.
Chris Calvanese, Jr., Xaverian
Not a bad debut for a quarterback. Calvanese was perfect through the air (9-for-9, TD) and carried the ball six times for 127 yards and two scores to lead the Hawks in a 28-0 win over Catholic Conference foe Malden Catholic. As correspondent Adam Kurkjian noted
last weekend
, "When he turns the corner, forget about it. Xaverian coach Charlie Stevenson loves to run the option, and teams will be forced to respect Calvanese on it just as much as they will have to respect the pitch to Colton. At this early stage, it looks like Calvanese has picked up right where last year's starter, Alex Phelan, left off."