Boston High School:

Ndeiiva Mason
August, 29, 2013
8/29/13
6:09
PM ET
LOWELL, Mass. – It's in Jack Galvin's blood, but he doesn't let on.
When asked about his family's athletic exploits, he shyly mentions that his dad once played in the NFL. The Lowell senior wide receiver and outside linebacker, like his father, Blake, before him, has already carved out a niche in Red Raiders' history. It's difficult to live in the shadow of a program great, who went on to star at Boston College and, later, was drafted.
[+] Enlarge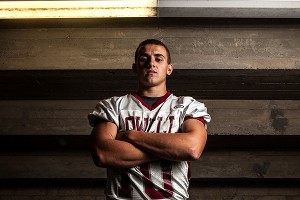 Michael Thorpe for ESPNBostonLowell wide receiver Jack Galvin has 1,862 receiving yards and 20 touchdown catches since the start of his sophomore season.
But the Galvin clan seems to have it all in perspective.
"My dad has always wanted me to do my own thing, whatever that is," Jack said before a recent practice at Cawley Stadium. "There's no pressure. If I want help, I can ask him, but otherwise, he just wants me to do what makes me happy."
With that guidance, the younger Galvin is well on his way to cementing his own legacy at Lowell. Having tallied at least 60 receptions and 800 receiving yards in the last two seasons, including a career high 72 catches for 916 yards in 2012. He also caught 10 touchdown passes in both his sophomore and junior years.
That production has garnered Galvin interest from Division 1 FBS and FCS schools. Galvin's keen to watch his college options play out, but says the Ivy League would be an ideal destination.
Yet, for a third straight season, Galvin and the Red Raiders' receivers will have a new quarterback distributing the ball: enter Lawrence Academy senior transfer Brian Dolan.
Whether it was R.J. Noel (now starting at Sacred Heart) or Cam Latta in the previous years, Galvin and the Red Raiders offense has operated at a prodigious clip, averaging more than 30 points per game for the greater part of the last two seasons.
To ensure the trend continues, Galvin has spent just about every day of the summer months huddled up with his fellow receivers running the spread on Cawley's turf.
"I think every time I passed by here, they were out on the field," Red Raiders head coach John Florence said.
Whether it was 7-on-7 passing leagues or work on their own, Galvin says football is the currency to a tight senior group's friendship.
"Yeah, that's pretty much what we do," Galvin chuckled. "We really love football, and we like hanging out together, so that's what we do."
LOWELL AT A GLANCE
Coach:
John Florence (Third season, 15-7 overall)
Last Season:
9-2
Key Returnees:
Jack Galvin, Sr. WR/LB; Alex Quintero, Sr. OL/DE; Ndeiiva Mason, Sr. RB; Keagan Latta, Sr. WR/DB; Shyheim Cullen, Jr. LB; Nicolau Coury, Jr. LB; Tom Smith, Sr. WR; Michael Holder, Sr. WR/DB; Musa Mansaray, Sr. LB; Angel Brito, Jr. OL/DL.
Strengths:
Skill positions, athleticism.
Weaknesses:
Lack of experience at quarterback.
Outlook:
While the Red Raiders' high-flying aerial attack gets its fair shake of attention, let's not overlook half back Ndeiiva Mason. Operating in an offense that is inclined to the passing game, Mason still rushed for more than 800 yards. Florence feels the stat doesn't tell the whole truth. "He's a pretty good back, and if he worked in some other offenses, I think he'd put up some really big numbers," Florence said.
On defense, the Red Raiders are big, physical and fast. With Alex Quintero rushing off the edge and juniors Shyheim Cullen and Nicolau Coury filling the holes at linebacker, Lowell might finally have the defensive corps it needs to make a postseason run in a loaded Division 1 North.
August, 8, 2013
8/08/13
1:35
PM ET
By
Brendan Hall
| ESPNBoston.com
This is the third installment in our "Summer Snapshot" series, checking in with some of Massachusetts' top teams leading into the MIAA football preseason. To see all of our Summer Snapshots, CLICK HERE.
One could argue Lowell was one of the better teams sitting at home after Thanksgiving with no playoff berth last fall, winning six of its final seven games with a potent offense that really hit its groove from October on. This fall, the Red Raiders should be one of the more fascinating, high-powered offenses to watch -- up there with Natick, St. John's (Shrewsbury) and the like -- returning a deep receiving corps led by All-State candidate Jack Galvin.
In the newly-aligned MIAA State Championship format, some are projecting Lowell as a dark horse in the elite Division 1. Can they continue last season's momentum for an historic 2013? We checked in with the Raiders yesterday afternoon at Cawley Stadium, as part of a photo shoot for our annual preseason gallery, which will be available later this month on ESPNBoston.com.
LOWELL AT A GLANCE
Coach:
John Florence (Third season, 15-7 overall)
Last Season:
9-2
Final ESPN Boston Rank:
NR ("Last 10 out")
Returning Starters:
12 (five offense, seven defense)
Key Losses:
QB Cam Latta, WR/DB Alex Kasirye, WR Anthony Consolo, OL Callen Vail, OL Andres Bolivar, DB Ricky Rosado
Key Returnees:
Sr. WR/LB Jack Galvin, Sr. OL/DE Alex Quintero, Sr. RB Ndeiiva Mason, Sr. WR/DB Keagan Latta, Jr. LB Shyheim Cullen, Jr. LB Nicolau Coury, Sr. WR Tom Smith, Sr. WR/DB Michael Holder, Sr. LB Musa Mansaray, Jr. OL/DL Angel Brito
Overview:
Behind a high-powered offense returning some of the state's finest skill players, many are pegging the Red Raiders as a favorite in the Merrimack Valley Conference, and potentially a dark horse in the newly-aligned Division 1 North. After a 21-0 shutout loss to Tewksbury in Week 4 last season, Lowell won six of its final seven games -- including an upset of MVC champ Andover -- and lit up the scoreboard along the way, averaging 387 yards of offense and nearly 39 points per game. The biggest hole to fill will be at quarterback, but Lawrence Academy transfer Brian Dolan appears capable of taking the reigns. The Raiders ran one of the more unique offenses in 2012, utilizing pistol sets with layered routes and packaging screens on the backside of zone read plays. That gave way to a breakout season for Galvin (72 catches, 916 yards, 10 TD), who should lead one of the region's deepest receiving corps along with Latta, Bryant, Smith, Cullen, and scatback Mason. Defensively, there is athleticism abound. The 5-foot-11, 205-pound Quintero (15 sacks) is a difficult matchup with his speed rush moves and low center of gravity, while Coury and Cullen are bound for breakout campaigns at linebacker after combining for 122 tackles (16 for loss) and 8.5 sacks in 2012. Overall, this is a team that can score points in a hurry, and could play spoiler in a D1 North where St. John's Prep and Everett are the presumed favorites.
Here @ Cawley Stadium with @Thorpe_Says for photo shoot w/ Lowell Red Raiders. Full gallery later this month pic.twitter.com/umUqo6bVys

— Brendan Hall (@BHallESPN) August 7, 2013
August 7, 2013
Lowell QB @Brian_Dolan12 shows us his "Uncle Rico" pose pic.twitter.com/rW4BIT29iq

— Brendan Hall (@BHallESPN) August 7, 2013