Boston High School:

Nelson Baptiste
July, 17, 2011
7/17/11
10:26
PM ET
Courtesy of Bay State Games media relations director Peter Cohenno:

BASKETBALL
Emmanuel College – Boston, MA
Boys Scholastic 11/12 Grade
Gold Medal Game
Coastal 106, West 104
Coastal came back from a double-digit deficit in the fourth quarter led by Nelson Baptiste (Falmouth, Falmouth HS) who had 42 points on the way to the gold medal with a 106-104 win over West. Coastal also got 20 and 19 points from Tyler DeMelo (East Freetown, Apponequet) and Chris Green (Taunton, Taunton HS), respectively. West had three players with 20 points or more including Jose Allen (Amherst, Amherst HS) with 23, Phil DePhilips (Orange, Mahar HS) with 22, and Jesse LeCroix (Orange, Mahar HS) with 20.

Boys Scholastic 9/10 Grade
Gold Medal Game
Coastal 58, Southeast 52
Coastal hung on to edge Southeast 58-52 and capture the gold medal. Tony Pires (Carver, Carver HS) led the winners with 17 points and Tucker Bouchard (Kingston, Silver Lake) chipped in with 11. Southeast's Rory Donovan (Canton, Cardinal Spellman HS) netted 14.

Girls Scholastic
Gold Medal Game
West 60, Northeast 50
Alexis Chappell (Springfield, Sabis HS) and Jill Ritrosky (Pittsfield, Pittsfield HS) both scored 19 points to help West capture the gold medal with a 60-50 victory over Northeast. Carlene Kluge (Reading, Reading HS) 20 points was not enough to lift Northeast.

FIELD HOCKEY
Waltham High School – Waltham, MA
Southeast 3, Central 0
Southeast's Maggie Travers (Scituate, Scituate HS) had a goal and assist to lead her squad over Central, 3-0. Emily McColgan (Walpole, Southfield HS) and Mackenzie Hudson (Stoughton, Stoughton HS) collected the other markers. In net, Carolyn Cook (Medfield, Medfield HS) and Katie Kelley (Walpole, Walpole HS) combined for their third shutout of the tournament.

Coastal 1, West 1
West claimed the bronze medal with a 1-1 tie against Coastal. Emily Medeiros (Wilbraham, Minnechaug Reg. HS) netted the score for West, while Katherine Sypek (Hingham, Notre Dame) tallied the equalizer for Coastal.

Gold Medal Game
Metro 2, Southeast/Coastal 1
Metro took home the gold medal with a hard-fought 2-1 victory against Southeast/Coastal. Alexa Baumgartner (Newton, BB&N) and Nicole Woods (Beverly, Beverly HS) netted the scores for the winners. Caroline Feeley (Walpole, Walpole HS) scored Southeast/Coastal's lone goal.

LACROSSE
Boys Scholastic
Wentworth Institute of Technology – Boston, MA
Bronze Medal Game
Coastal 5, Metro/Southeast 0
The Coastal defense and goalie Ryan King (Lakeville, Apponequet Reg. HS) posted a rare shutout to help their squad to the bronze medal with a 5-0 win over Metro/Southeast. Coastal's offense was led Brett McAvay, who netted a pair of goals.

Gold Medal Game
Northeast 9, West 4
The Northeast squad took home the gold medal with decisive 9-4 win over West. Brian Walsh (Lowell, Lowell HS) continued his hot streak, by leading Northeast with four goals. In addition, Brendan Gilgun (Woburn, Woburn Memorial HS) scored two goals and had an assist to help lift Northeast over West.

Girls Scholastic
Waltham High School – Waltham, MA
Bronze Medal Game
West 15, Northeast/Central 8
West's Nicole Beliveau (Westfield, Westfield HS), Alexa Allen (East Longmeadow, East Longmeadow HS) and Alicia Busco (Agawam, Agawam HS) had three goals apiece to pace their squad to the bronze medal with a 15-8 win over Northeast/Central. Isabella Gitto (Leominster, Leominster HS) and Micaela Sanborn (Chelmsford, Chelmsford HS) each had two goals in the losing effort.

Gold Medal Game
Southeast/Coastal 15, Metro 9
Southeast/Coastal captured the gold medal with a 15-9 victory over Metro. Kristen Hickey (Dedham, Ursuline Academy) and Madison Hughes (Oak Bluffs, Martha's Vineyard Reg. HS) had three goals each for the champions. Metro freshman Shannon Fitzgerald (Newton, Newton North) completed a strong debut in Bay State Games with four tallies, and teammate Michelle Kudlate (Waltham, Waltham HS) added a pair.

Final Standings
1. Southeast/Coastal
2. Metro
3. West
4. Northeast/Central
July, 17, 2011
7/17/11
1:02
PM ET
Courtesy of Bay State Games media relations director Peter Cohenno:

BASKETBALL

Boys Scholastic 11/12 Grade
Emmanuel College – Boston, MA

Southeast 103, Metro 77
Sayvonn Houston (Brockton, Brockton HS) poured in 37 points to propel Southeast to a 103-77 win over Metro. Jaleel Moise (Brockton, Brockton HS) and Jon Perez (Weymouth, Weymouth HS) added 20 and 19 points respectively for the winners. Metro had three players in double figures led by Kenny Ramos's (Mattapan, East Boston HS) 14 points. Adam Zakaria (Arlington, Arlington HS) and Paul Brooles (Arlington, Arlington HS) chipped in with 12 apiece.

Coastal vs Northeast
Coastal declared winner due to a Northeast forfeit.

West 78, Central 54
West ran away with a 78-54 victory over Central. For the winners, Jesse LeCroix (Orange, Mahar HS) led all scorers with 26. Casy White (Easthampton, Easthampton HS) and Jose Allen (Amherst, Amherst HS) netted 14 apiece. Central's Matt Kneece (Shrewsbury, Shrewsbury HS) paced his squad with 16 points.

Coastal 104, Southeast 97
Chris Green (Taunton, Taunton HS) tallied 30 points to help Coastal edge Southeast, 104-97, in a fast-paced, offensive battle. Nelson Baptiste (Falmouth, Falmouth HS) contributed to the assault with 22, and Andrew Kenyon (Swansea, Case HS) put up 20. Southeast big man Sayvonn Houston (Brockton, Brockton HS) led all scorers with 33. His teammates, Damien Lugay (Weymouth, Weymouth HS) and Jon Perez (Weymouth, Weymouth HS), added 18 and 14 points, respectively.

Northeast vs Central
Central declared winner due to a Northeast forfeit.

West 109, Metro 63
West had two players score more than 20 points as they destroyed Metro 109-63. Metro kept the game tied at 18 through the first quarter. However, West came alive in the second, scoring 36 points, and went into halftime leading 54-33. In the second half, West forward Jose Allen (Amherst, Amherst HS) netted 21 of his 23 points and was the game's leading scorer. West guard Jesse LeCroix (Orange, Mahar HS) added 22 points of his own. Metro's Mo Magras (Medford, Medford HS) tallied 12 points and led the team in scoring.

Boys Scholastic 9/10 Grade
Wentworth Institute of Technology – Boston, MA

Metro 65, Southeast 62
Metro defeated Southeast 65-62 in a close game that went down to the final minutes. Metro scored early and had an 18-12 lead at the end of the first quarter. However, Southeast pulled within two at the half. Going into the fourth quarter they were tied at 48. Southeast guards Jonathan Joseph (Brockton, Brockton HS) and Andrew Reardon (North Easton, Oliver Ames HS) combined for seven of the team's final 13 points. Guard Lutjy Mondesir (Brockton, Brockton HS) led the team with 10 points, while Metro's Tyler Sullivan (Arlington, Arlington HS) led all scorers with 16 points.

West 65, Northeast 40
West played a balanced game and limited its mistakes in a 65-40 win over Northeast. West forward Justin Crosby (Westfield, Westfield HS) scored a team-high 12 points while guard Kamil Stasiowski (Palmer, Palmer HS) added another nine points in the second half. Northeast shooting guard Jordan Mendez (Salem, North Shore Tech) led all scorers with 18 points, 15 of which he scored in the second half.

Coastal 67, Central 46
Coastal's defense limited Central to five first quarter points on their way to a 67-46 win. Coastal's defense, anchored by center Owen Murphy (Plymouth, Plymouth North), played strong the entire game and only allowed 12 first half points. Coastal' offense was led by guard Andrew McGill (West Falmouth, Falmouth), Murphy and forward Tucker Bouchard (Kingston, Silver Lake) each scored 12 points. In the second half, Central finally started to find the net, scoring 17 points in each of the final two quarters.

Southeast 76, West 74
Southeast is going for the gold after defeating West, 76-74. Southeast was up 12-7 at the end of the first quarter, though West pulled within three, 27-24, at the half. The game remained tight into the fourth quarter when things really got interesting. With West down and seconds remaining on the clock, forward Justin Crosby (Westfield, Westfield HS) drilled a three to send the game into overtime. Despite allowing the game to be tied, Southeast played aggressively in overtime and West found themselves down again with just five seconds remaining. However, there wouldn't be any miracles this time. West bobbled a pass and the ball went out of bounds. Southeast guard David Harrison (Weymouth, Weymouth HS) led all scorers with 28 points, while Crosby scored a team-high 22 points for West.

Central 75, Northeast 26
Guard Isaiah Tatum (Worcester, Holy Name) led all scorers with 16 points as Central beat Northeast, 75-26. Central was ahead 37-17 at the half and never looked back. Central guard Jesse Meresca (Sterling, Wachusett) added another 12 points, while Northeast point guard John King (Swampscott, Swampscott HS) led the team in scoring with 10 points.

Coastal 76, Metro 72
Coastal held off a late charge by Metro to secure a 76-72 win. Coastal's Tucker Bouchard (Kingston, Silver Lake) and Metro's Matt Woods shared the honor of game's high scorer with 22 points apiece. Jesse Bunting (Plymouth, Plymouth North) chipped in with 15 for the winners, while Kevin Foley netted 16 in the losing effort.

Girls Scholastic
Reggie Lewis Center – Boston, MA

Northeast 66, Metro 41
Northeast opened up a huge halftime lead and never looked back on the way to a 66-41 decision. Northeast got scoring from its entire roster with Carlene Kluge (Reading, Reading HS) tallying the most points with 13. Metro's Gena Restiano (Revere, Revere HS) notched a game-high 15 points.

West 55, Southeast 42
Forward Alexis Chappell (Springfield, Sabis HS) was the only West player in double figures, netting 14, but her team was still able to come out on top, 55-42. Kayla Corshia (Medway, Medway HS) and Ashley Snyder (Foxboro, Foxboro HS) each scored 12 for Southeast.

Central 81, Coastal 70
In a high-scoring affair, Central hung on for an 81-70 victory over Coastal. The bulk of the winner's points came from Sammie Battaini (Leominster, St. Bernard's Central Catholic) and Raegan Muhlerin (Baldwinville, Narragansett Reg HS), who dropped 25 and 23, respectively. Coastal's Jen Rock (Byfield, Triton) nailed five 3-pointers to finish with 21 points, and Angelique Martinez (Taunton, Taunton HS) was in double digits with 13.


FIELD HOCKEY
Waltham High School – Waltham, MA

Metro/Northeast 2, Central 1
Metro/Northeast defeated Central, 2-1, on Saturday morning. Junior Erika Kelly (Watertown, Watertown HS) scored both of Metro/Northeast's goals to propel her squad to victory. The lone goal for Central was scored by freshman Justine Sheehan (Shrewsbury, Shrewsbury HS) with an assist from junior Haylie Dolan (West Brookfield, Quaboag Reg. HS).

Southeast 2, West 0
Southeast earned a 2-0, shutout victory against West on Saturday morning. Junior Katy Cronin (Franklin, Franklin HS) broke the game open for Southeast with an unassisted goal. Southeast extended its lead, when sophomore Brenna Spolidoro (Franklin, Franklin HS) scored with an assist from junior Mackenzie Hudson (Stoughton, Stoughton HS). Sophomore Carolyn Cook (Medfield, Medfield HS) and junior Katie Kelley (Walpole, Walpole HS) combined for the shutout in goal for Southeast.

Metro/Northeast 5, Coastal 2
After falling behind by a pair of goals, Metro/Northeast scored five unanswered including two from Erika Kelly (Watertown, Watertown HS) to upend Coastal, 5-2. Brittany Oliver (Chelmsford, Chelmsford HS), Nicole Woods (Beverly, Beverly HS) and Alexa Baumgartner (Newton, BB&N) each potted a goal. Maggie Johnson (Tisbury, Martha's Vineyard Reg HS) netted both scores for Coastal.

West 2, Central 0
Emiko Barker (Hatfield, Smith Academy) and Emily Medeiros (Wilbraham, Minnechaug Reg. HS) each scored a goal to pace West in its 2-0 win over Central. In net, Sarah Cote (Athol, Athol HS) and Jill Newton (Feeding Hills, Agawam HS) combined for the shutout.


LACROSSE

Boys Scholastic
Wentworth Institute of Technology – Boston, MA

Northeast 10, West 7
Northeast survived a barrage from West to take a 10-7 victory. The undefeated Northeast squad took an early 4-0 lead before West came storming back in the second and third quarters with seven goals to take a 7-5 advantage. Northeast, unaccustomed to trailing, awoke from its slump and scored five unanswered in the fourth quarter to salvage the win and remain undefeated. Brian Walsh (Lowell, Lowell HS) was the top scorer for the winners with three, and Brendan Gilgun (Woburn, Woburn Memorial HS) and Cole Connolly (Woburn, Woburn Memorial HS) added two goals apiece. Brady Aitken (Pittsfield, Pittsfield HS) potted three for West in the losing effort.

Coastal 16, Central 6
Coastal dominated the entire contest on the way to a 16-6 win. James McCleod paced the offense with five goals and Ethan McCullough (Brewster, Nauset Reg. HS) contributed four markers for Coastal.

Coastal 14, Metro/Southeast 7
Coastal took a 10-2 advantage into halftime and never looked back on the way to a 14-7 win. Brett McAvay had an outstanding game for Coastal with seven goals scored. James McCleod added four tallies. Metro/Southeast got four goals and an assist from Ryan McCarthy (Medford, Medford HS). The two teams will play again on Sunday in the bronze medal game.

West 16, Central 2
West earned a berth in the gold medal game Sunday against Northeast with an impressive display against Central that resulted in a 16-2 victory. Junior goalie Tyler Walsh (Northampton, Northampton HS) was the cornerstone in the strong defensive showing. Brady Aitken (Pittsfield, Pittsfield HS) led the offensive charge with five goals.

Girls Scholastic
Waltham High School – Waltham, MA

Metro 18, Northeast/Central 11
Metro routed Northeast/Central, 18-11, in a high-scoring, offensive showcase on Saturday morning. Junior Michelle Kudlate (Waltham, Waltham HS) and freshman Shannon Fitzgerald (Newton, Newton North) led the Metro squad to victory with seven and six goals, respectively. Junior Katie McKenna (Danvers, Danvers HS) was the top scorer for Northeast/Central with four goals.

Southeast/Coastal 11, West 6
Southeast/Coastal played tight defense and got balanced scoring to defeat West, 11-6. The winners had four players with two goals including Hope Kelley (E. Walpole, Walpole HS), Natalie Devine (East Walpole, Fontbonne Academy), Madison Hughes (Oak Bluffs, Martha's Vineyard Reg. HS) and Alexandrea Bergamo (Plymouth, Plymouth North HS). Alexa Allen (East Longmeadow, East Longmeadow HS) had a pair of tallies for West.

Southeast/Coastal 17, Northeast/Central 4
Southeast/Coastal outgunned a gutty Northeast/Central squad, 17-4. Natalie Devine (East Walpole, Fontbonne Academy) was the game's high scorer with five goals. Jackie Connors (Ashland, Ashland HS) added three scores, while Megan Kiley (Braintree, Archbishop Williams HS) and Kristen Hickey (Dedham, Ursuline Academy) each chipped in with a pair of tallies. Northeast/Central's Isabella Gitto (Leominster, Leominster HS) netted three of her teams goals.

Metro 11, West 10
Metro edged out West, 11-10, in a tightly contested match-up in the final game of the day. Shannon Fitzgerald (Newton, Newton North) continued her stellar performance in the tournament with three goals for Metro, and Bridget Wack (Waltham, Waltham HS) and Jordan Sullivan (Malden, Mystic Valley) had a pair of tallies each. West's Ashley Owen (Westfield, Westfield HS) netted two goals in the losing effort.
October, 25, 2010
10/25/10
1:41
PM ET
It was a weekend of wild finishes and even wilder individual performances, and now we're trying to make sense of it all. Here's to the week that was...
TROJANS SHOW GRIT
Dan Buron's Bridgewater-Raynham team might have been the only concerned parties who truly believed they had a chance to knock off Xaverian on Friday.
It had been a mixed bag so far for the Trojans (5-2) who prior to their 21-19 overtime win over the Hawks had yet to win a game over an opponent that had a winning record. B-R had also incurred losses to D-IIA powers Duxbury and Plymouth North.
But let Friday's performance be a warning to all as to how dangerous the Trojans can be.
"I told them all week long, only the guys in this room, on this football field, think we have a shot and I said if you don't think we have a shot don't come out with me," Buron told
The Enterprise
of Brockton. "I go out to win every game.
"I told them when we came out, if you play as a team, we've got a shot tonight. If you play as individuals, and run around, we won't have a shot against this team.
However, like any good football coach, Buron also warded off any question as to what the win over Xaverian meant; it was just that, a win.
"It was just a great victory for the program, but it doesn't mean anything because we start league play next week and win or lose it doesn't mean a thing," Buron went on to say in
The Enterprise
recap. "All it does is give us confidence. Hopefully, we can use this as a catalyst to get ready for the regular season (league play)."
The Trojans host Dartmouth on Friday in their first Old Colony League contest. B-R then welcomes Barnstable — which has already pocketed two league wins after slipping by Taunton over the weekend — in what should be a make-or-break game for the OCL's playoff berth.
PANTHERS HAVE BITE
It's not as though Holliston isn't accustomed to putting large results on the board, but the Panthers simply looked a little more focused entering Friday night's game at Norton.
"We had really good week of practice and it showed," Holliston head coach Todd Kiley said after Friday's 42-0 win.
That sentiment has particularly rung true with the Panthers since their Week 4 loss to Medway. Since then, Holliston has picked itself up by the boot straps. Following the 28-16 loss to the Mustangs, the Panther's attack, which has averaged 42 points per game, has put results of 42, 50 and 42 points, respectively, on the board in the last three weeks.
So it's clear the upset at the hands of Medway has been a motivating factor.
"If anything, it made us hungrier to want to get back to the top," Panthers quarterback Sean Mayo told ESPN Boston's Scott Barboza. "After being the TVL champs last year, we wanted to act like that tonight. We wanted to play well and we did.
"We just want to keep getting better, get back to the playoffs and go for another TVL championship."
And with their win over the Lancers, Holliston has put itself back in position to do so as the top four Tri-Valley League teams now stand at 6-1 with the league playoffs set to kick off in two weeks.
Certainly, Norton would like another chance to prove they're the TVL's top team when it really counts.
A FEW GOOD BREAKS
The animosity between bordering rivals Abington and Rockland goes deep -- decades deep -- and so Rockland running back and captain Mike Driscoll recalled the back and forth with a half-dozen friends from a town over with delight, all week.
"This rivalry is unbelievable," Driscoll said. "We were all shooting texts back and forth all week, having fun with each other. To come out and see these guys, I feel...God goes out to them. They still have a shot, though."
The Bulldogs were more than happy to escape with a win, and take sole possession of first place in the South Shore League, with a 21-12 comeback win over their archrivals. Abington held the Bulldogs to minus-12 yards of offense on six plays in the first half, but could not solve them over the game's final 15 minutes, as Rockland exploded for 235 yards and 21 unanswered points.
With time winding down in the fourth quarter, Rockland's D.J. Austin threw a flare pass into the left flat that took a backwards skip, and Abington's Dylan Pietresak pounced on the loose ball and marched 50 yards to paydirt. However, the play had been
blown dead at the spot of the incompletion
. Local announcers Shawn Reilly and Kevin Whalen screamed in disagreeance with the call, and it didn't help that two plays later, backup quarterback Ricky Witt came in and promptly tossed the
52-yard game-winning bomb
, a wide-open strike to Tim Fitzgerald.
Asked about the call, Rockland head coach Ken Owen channeled his inner Gregg Popovich.
"The referee blew it dead, OK?" Owen deadpanned. "Next question."
But let's not totally put this on the officiating. Holding a lead late in the fourth quarter, the Green Wave had some breakdowns in the secondary. And with time winding down and half of the field to go, they should have done a better job anticipating a deep strike.
MIDDIES IN FIFTH GEAR
Any questions about Dracut's capability to put points on the board have to be shunned at this point. Last Friday, the Middies traveled to Chelmsford to take on one of the area's best defenses and promptly hung 42 on them in a dominating win. Since starting the season 0-2, they've won five straight and averaged 41.9 points per game, including 60 over Billerica. The triggerman? Who else but Matt Silva, a scrawny 170-pounder whose violent running style often leaves him limping and bracing after games. But he wouldn't have it any other way.
"I want the ball in my hands at all times," Silva told ESPNBoston's Neil Carroll. "I'm the quarterback. If I make a mistake it's my fault, if I throw an interception it's my fault, if I get sacked it's my fault."
The Middies' defense, which is allowing nearly 27 points, remains a quandary. Only Tewksbury failed to score at least three touchdowns, in a 35-14 loss two weeks ago. A trip to Andover this week before meetings with Lawrence and Haverhill should give us a better idea of Dracut's ability in that area, before they head into their Thanksgiving matchup with Methuen, a team that has eaten run defenses alive at several points this season.
EAGLES ON PERCH FOR NOW
After dealing Falmouth its first loss of the season, 28-7, Plymouth North seized the moment, climbing to the top of the Atlantic Coast League.
However, things are still wide open.
"We have three league games left and every week you play for controlling your own destiny," Eagles head coach Dwayne Follette told correspondent Brian Fabry on Friday. "We talked [last season's loss] up, but this was a big enough game that we didn't need the extra motivation.
While Plymouth North assumes the perch for now, the road to the ACL title will likely run through Dennis-Yarmouth, as both the Eagles and Clippers still have yet to play the Dolphins. Looking beyond the aforementioned, Marshfield (although they stand at 3-4 overall) also could still get in the fray, if they take care of business against Falmouth this weekend.
Additionally, Friday's loss could prove a bit more costly for Falmouth if the injury to Clippers running back Nelson Baptiste, sustained during the upset against Plymouth North, has any long-term implications. That is a situation that also bears watching.
HEAD OF THE CLASS
VALVOLINE PEAK PERFORMER OF THE WEEK: BEN PATRICK, SR. RB, RIVERS
The Roxbury resident torched Milton Academy for 325 yards on 26 carries and six touchdowns, both school records, in a 69-40 shootout win Saturday night at Milton High School. Through five games, the 5-foot-9 senior has rushed for at least 200 yards in every game, and piled up 1,162 yards on 112 carries for an average of 10.3 yards a carry. With the performance, Patrick has now clinched 5-0 Rivers its first winning season since 1982. But with these kinds of performances each week from Patrick and his cousin Taariq Allen (718 yards of offense), the Red Wings are thinking NEPSAC Bowls.
THE CLASSMATES
Chris Coady, Jr. RB/LB, BB&N
- The 6-foot-2, 220-pound junior carried 31 times for 284 yards in a 21-14 win over Groton School.
Brett Kidik, Sr. QB, Bishop Fenwick
- In a record-setting day, Kidik threw for 389 yards and six touchdowns in the Crusaders' 44-40 win over Archbishop Williams.
Connor Reardon, Jr. RB, Littleton
- Reardon carried the day for the Tigers, carrying the ball 23 times for 232 yards and four touchdowns in a 39-26 shootout win over Bay Path.
Oshane McCreath, Jr. RB, Malden
- McCreath ran for 260 yards and four touchdowns in a 36-7 win over Cambridge that improved the Golden Tornadoes to 3-4.
Kyle Murray, Jr. RB, Mashpee
- In a 41-12 win over Carver, Murray carved up the defense to the tune of 239 yards on 17 carries and two touchdowns.
Quinton Perkins, Jr. ATH, Fitchburg
- The speedy junior showed off his wheels in a variety of ways in the Red Raiders' 38-19 win over Shrewsbury. Perkins accumulated 239 all-purpose yards and scored in four different ways -- running, receiving, passing and a fumble recovery.
Melquan Pinkney, Sr. RB, Springfield Putnam
- Pinkney dominated Ludlow in a 46-6 win last Friday, totaling 270 yards and four touchdowns. Even more impressive, he racked up 192 yards on five carries in the first quarter.
Mike Ozella, Sr. RB, Medway
- Ozella turned in another strong performance for the Mustangs, rushing for 207 yards and four touchdowns in a 35-6 win over Hopkinton.
Matt Silva, Sr. QB, Dracut
- The tough-minded senior would not be stopped in Friday's 42-21 win over Chelmsford, completig 12 of 19 passes for 206 yards and three touchdowns, and carrying 13 times for 100 yards and two more scores.
Ben Ticknor, Sr. RB, Milton Academy
- Ticknor was strong in his own right in the Mustangs' 69-40 loss to Rivers, carrying 21 times for 341 yards and five touchdowns, including a run of 94 yards.
October, 4, 2010
10/04/10
3:15
PM ET
Better hold on to your hats.
That was the theme of Week 4 of the local high school football schedule from the perspective of weather and its results. Driving rains and howling winds across Southern New England had many of Friday's games washed out and moved to Saturday. For those who remained steadfast in their Friday schedules or kicked off on Saturday, there were plenty of upsets to be had and much on the line.
Here's what we learned from this weekend's action:
The good ship Falmouth
Down 15-0 at halftime? No problem. Thirty-six players on your sideline? That's enough. Falmouth has now made "upset" wins over BC High old hat.
It was the first time that a Catholic Conference team had traveled to the Cape in more than a decade. And coming off of last year's 22-20 loss to the Clippers, the Eagles had plenty of motivation to return the favor to what Falmouth had done on their turf last year.
Yet, somehow, the Clippers found a way to win. They weren't just playing for themselves and for their teammates, they were playing for the entirety of football on the Cape. That perceived no man's land of football has now definitively proven it is a force.
"Everybody thinks that because we're from Cape Cod that we don't know how to play football," senior Nelson Baptiste told ESPN Boston's Brendan Hall on Thursday.
Things didn't look good for Falmouth's chances early, as BC High running back Preston Cooper (two rushing touchdowns, 2-point conversion) accounted for all but one of the Eagles' 15 first-half points. BC High's front also bottled up the Clippers' option attack, holding Falmouth to just seven offensive plays in the half.
In the second half, Clippers head coach Steve Femino relied on a couple his less-heralded players to lead the charge in the second half.
Bobby Whelan led the rushing attack with 14 carries for 110 yards and touchdown — all coming in the second half. His 21-yard carry on his first touch of the game in the third quarter set the tone for what was to come.
After a Dillon Mansfield score made it 15-14, Falmouth looked for its defense to make a stand.
The Clippers forced the Eagles three-and-out with two plays for negative yardage, as Tyrone Reine and Jonah Olsen make tackles for a loss. Then, it was junior corner Devon Soares who left his imprint with two interceptions on successive BC High drives to close out the win.
"Devon Soares has been our biggest surprise of the year," Femino said. "He's not the biggest kid and some teams look to pick on him because [Nelson] Baptiste is on the other side. But he's done everything we've asked him to do and he's been a great surprise for us."
Though we shouldn't be surprised about anything the Clippers accomplish from here on out.
Armani Reeves is a big-time player with prime-time speed
Asked about the performance his star junior had just put on in a big win over New Hampshire power Bishop Guertin, Catholic Memorial head coach Alex Campea could only exhale deeply as he beamed, draping a hand on Armani Reeves' shoulder.
"This guy can make it happen, this guy can make it happen," he repeated to ESPNBoston's Brendan Hall. "Listen, we have some good players, and tonight in a big game they shone through -- making big catches, big plays, offensively and defensively. But I'm glad we have him. He competes every snap of every game."
We've previously held Reeves -- who lines up at both wide receiver and running back, and also returns kicks and punts -- in
high regard
. But last weekend's performance (193 all-purpose yards, three touchdowns) affirms everything.
Reeves currently holds scholarship offers from Penn State, UConn, Wake Forest and UMass, but we expect more to roll in as more and more coaches discover what a special athlete this kid is.
TVL up for grabs
Holliston entered Friday night's tilt with Tri-Valley League rival Medway looking as though they might run away and hide with the league title. The Panthers were averaging 48 points per game before they met the Mustangs' defense and met their first loss of the season in a 28-16 win over Holliston.
"I think it showed a lot of character that we were down 10 to nothing," Medway coach Dave McSweeney told ESPN Boston correspondent Neil Carroll on Friday. "We didn't panic and we made plays when we had to. Michael [Ozella] broke a nice run off that set up the last second pass so we kind of lucked out there, but I'll take it anyway we can get it."
With the win, Medway threw the TVL standings for a loop, drawing even with Holliston at 3-1 in league play. Both teams stand a game behind Westwood and Norton, who both improved to 4-0 on the weekend. Norton dispatched Medway in Week One, 23-14, but Westwood looms on the schedules of both the Panthers and Mustangs.
So things are about to get really interesting.
Is the Bay State Carey wrapped up?...
So we're not about to go Gore v. Bush in this space, but it's hard to not look at Weymouth's convincing 26-0 whitewashing of Needham as a huge leap forward to deciding the Bay State Carey.
Once again, the Super Colarusso Bros. (Can we get a video game in development for these guys yet?) led the way, combining for 225 yards and four touchdowns.
"This is not a league title tonight," Weymouth head coach Kevin Mackin told our Phil Perry on Friday, tempering the hype. "It certainly puts us in a good spot, but we've got to continue to work because there are other good teams here."

...One things's for certain: the Merrimack Valley Conference isn't
In Jason Houston's first year as an assistant at Dracut back in 2004, he watched as the Middies lost a 63-46 shootout to Division 1A Super Bowl runner-up Chelmsford. Now six years later, Houston won his second career game as head coach -- and his second in as many weeks over a previously-ranked opponent -- by flipping the switch, his team rolling to a 60-42 win over Billerica behind big nights from quarterback Matt Silva (8 of 12 passing, 262 yards, four touchdowns; 17 carries, 110 yards, touchdown), wide receiver Chris Malonis (seven catches, 252 yards, four touchdowns; 95-yard kickoff return touchdown) and running back Keith Hamel (20 carries, 121 yards, three touchdowns).
Dracut, by the way, wasn't even the favorite in the MVC Small headed into the season. Heck, they could very well end up 7-4 or 6-5 in this kind of daunting league schedule.
"In my opinion, top to bottom, this is the toughest league in the state," said Houston, who himself won an MVC title quarterbacking Lowell in the late 90s.
Central showdown
Looking ahead to next weekend, among the things we'll be watching is the matchup of Central unbeatens No. 17 Auburn and Northbridge. Both teams enter at 4-0 and hope to keep their marks unblemished. But the Rockets have an extra motivation in keeping their state-best 28-game win streak in tact.
However, Auburn's already had a couple of brushes this season. The Rockets slipped by Shrewsbury, 6-2, in Week One and escaped 19-15 this weekend's test against Hudson. No doubt Northbridge, which enters the game averaging nearly 29 points per game, will be looking to be the team to finish the deed.
HEAD OF THE CLASS

VALVOLINE CO-PEAK PERFORMERS OF THE WEEK: MATT SILVA, SR. QB, AND CHRIS MALONIS, SR. WR, DRACUT
Talk about an offensive explosion. Silva accounted for 372 yards of offense (262 passing, 110 rushing) and five total touchdowns, linking up with Malonis (seven catches, 252 yards) for all four of his touchdown passes, as the Middies survived a Wild West 60-42 shootout with Billerica. Since losing to Westford 27-13 in Week 2, the Middies have exploded, averaging 43.5 points per game and knocking off previously-ranked opponents in back-to-back weeks. Think things are clicking up on Route 38?
THE CLASSMATES
Sean Amaru, Sr. RB, Westwood
- The speedy Amaru led the Wolverines with 340 yards rushing on 18 carries and six touchdowns, in an easy 48-24 dispatching of Millis/Hopedale.
Andrew Coke, Jr. RB, Andover
- For the second straight week, Coke eclipsed the 200-yard mark on the ground, this time rushing for 214 yards and three touchdowns on 26 carries in the Warriors' 31-0 win over Haverhill -- in pouring rain, no less. The 6-foot-1, 195-pound Coke has accumulated 450 yards and nine touchdowns in the last two weeks.
Matt Costello, Sr. WR, Everett
- Costello had a dominant afternoon for the Crimson Tide in their 43-14 win over Barnstable, catching eight balls for 203 yards and four scores.
Nate Costello, Sr. RB, Assabet Valley Tech
- The senior ran for 232 yards and three scores for the Aztecs, who cruised to a 48-8 win over Nashoba Tech.
Tyllor MacDonald, Sr. QB, Lynn English
- The 6-foot-1 MacDonald threw for 263 yards and four scores, ran for 74 yards and three more scores, and added an interception on defense to lead the Bulldogs in a 47-16 win over Danvers.
John Page, Sr. RB, Bourne
- Page ran for 243 yards and four scores in the Canalmen's 42-14 win over Coyle-Cassidy.
Nick Schlatz, Jr. RB, Bridgewater-Raynham
- Schlatz carries 18 times for 211 yards and four scores as the Trojans rolled to a 42-14 win over New Bedford.

Mike Walsh, Jr. QB, Swampscott
- Down 34-14 at the half, Walsh rallied the Big Blue to a stunning comeback over Revere, tossing for three touchdowns and finishing the day 25 of 43 for 322 yards passing. He threw the game-winning score with 16 seconds left, and the Big Blue converted the two-point try for the 43-42 win.
October, 2, 2010
10/02/10
2:20
AM ET


FALMOUTH, Mass. – BC High's defense had done well to keep Falmouth running back Nelson Baptiste quiet for most of Friday night's game.

The Eagles held Baptiste to a pedestrian six carries for 26 yards. But it was Baptiste's 34-yard game-winning touchdown catch that did all the talking.

"That's fourth down. That's everything. That's our whole season," a loquacious and emotional Baptiste said after the Clippers' win. "That's my senior year. I know I have to make that catch, we have to win this game and bring it home."

When the 6-foot, 180-pounder fell backward into the end zone, after leaping over a team of Eagles defenders, bobbling the ball and then finally securing the touchdown pass from Dillon Mansfield, it wasn't the only amazing element to the play.

The play call came on fourth and seven. Falmouth had attempted just three passes up to that point, none were completed and two ended in interceptions. With field conditions resembling those of a Southeast Asian rice paddy because of torrential downpours throughout the day, Clippers head coach Steve Femino had the fortitude to make a tough decision.

It paid off to the tune of a 20-15 victory for No. 13 Falmouth, which for the second straight year took a surprising win over the fifth-ranked Eagles.

"We noticed earlier in the game they were real aggressive," said Femino, who has the Clippers off to a 4-0 start in his first season. "They were trying to jump him when he was shallow, but we wheeled him down the sideline and Dillon [Mansfield] put it in the one spot that he could come down with it."

BC High (2-2) carried play in the first half with junior running back Preston Cooper carrying the load.

Cooper racked up 18 carries for 101 yards with two touchdowns and a two-point conversion to his credit at the half. Coupled with runs from fullback Luke Catarius (12 carries, 71 yards), the Eagles possessed the ball for the majority of the first half. Falmouth ran just seven offensive plays before heading to the locker room down 15-0.

"Coming out in the second half, we really just needed to start completing our blocks," Clippers senior running back Bobby Whelan said. "Their linebackers were blowing up the plays. Coach went over the reads; nobody was making the right reads. We got our blocks down and everything worked out. The option was really working in the second half."

Whelan (14 carries, 110 yards, TD) kicked off the second half, marching Falmouth down the field on a 15-play, 70-yard drive which culminated in his 1-yard touchdown run to cut the deficit to nine points.

On the ensuing BC High drive, junior cornerback Devon Soares came up with his first of two game-changing interceptions.

"He looked off the other way and then came back my way, I knew the ball was coming," said Soares whose second pick came with a minute remaining in the game to stop a potential BC High comeback.

With the ball back in their hands, the Clippers struck again on Mansfield's 7-yard touchdown run.

It was time for one more defensive stand. The Eagles went three and out. Falmouth had the ball back with 4:54 remaining.

The Clippers embarked on their final drive with good field position, starting at their own 48-yard line. But the drive nearly stalled at the Eagles 34.

That's when the Femino went all-in.

"I loved it," Whelan said of Femino's play call to go for it on fourth down. "Dillon [Mansfield] threw two interceptions, so BC High was probably [thinking] like they're not going to pass it.

"So coming out, Coach showed his heart. He believed in Dillon and we all did."

While the Clippers didn't have an advantage in sheer numbers — Falmouth dressed only 36 players for the game — there was no question about heart.

"Everybody thought we were going to get blown out," Baptiste said. "We just wanted to show the whole state how we play."
September, 30, 2010
9/30/10
8:27
PM ET
ESPNBoston.com High Schools' Brendan Hall talked with Falmouth's Nelson Baptiste to dissect Friday's matchup with No. 5 BC High.



Neil Carroll caught up with Clippers QB Dillon Mansfield ...



... and head coach Steve Femino.


September, 18, 2010
9/18/10
7:53
PM ET
By
Brendan Hall
| ESPNBoston.com
SOMERVILLE, Mass. -- In his first year at the helm of Falmouth High, and his Clippers' first year of running his preferred 3-3 defensive stack, Steve Femino hasn't been afraid to go all-or-nothing inside the red zone. So on third and goal with 40 seconds left, and Somerville standing five feet from the end zone and threatening to send the game to overtime, Femino sent the house. Undersized nose guard Tyrone Reine -- all 5-foot-7 of him -- burst through the a-gap to stuff Josh Scarry for a two-yard loss.

"To be honest, it just all came into me at once and I got through him," Reine said. "I saw the ballcarrier, and I just took him."

The Highlanders found themselves a yard and a half away again on fourth down, thanks to an offside call, but the snap fumbled, A.J. Gonsalves landed on it, and the Clippers escaped Dilboy Stadium with a hard-fought 7-0 win.

"I believe it comes down to heart and desire -- that's really what it is," Reine said. "It's all about heart, it's about wanting to win. Doesn't matter how big you are. You could be 5-3 and go up against a 6-5 guy...doesn't matter. We've got all little guys here. We don't have any big guys, we're just a small team. But it's about heart and desire."

The muffed opportunities left Highlanders head coach Harry Marchetti disappointed.

"The opportunities were there, and we didn't capitalize," Marchetti said. "If we expect to play against this kind of caliber competition, we can't make those mistakes. But the defense played well, to hold that team to seven points, I'm pretty pleased with that. I think we're very confident on defense, and we have to get that confidence to progress through the season over to the offensive side of the ball."

The game's lone score came off another golden opportunity for Falmouth, when a Highlander player misplayed Dillon Mansfield's punt. The ball incidentally tipped off of his hands, and the Clippers came out of the ensuing scrum with the ball at the Somerville 35. Two plays later, Mansfield hit Nelson Baptiste perfectly in stride, in single coverage running a go route from the left slot, for a 35-yard touchdown strike.

"Triple left seam, that's my main play right there," said Baptiste, who totaled 60 yards of offense in this affirmatively defensive affair. "I did the same thing to them last (year) to score a touchdown, so we knew what we've got to do. We've got to score one touchdown, and it's in the books."

Said Somerville head coach Harry Marchetti of the special teams miscues, "They're usually flawless back there. They're sure-handed."

And aside from a few quick tosses to Baptiste on the outside; some bruising scampers from Somerville's 5-foot-11, 210-pound junior fullback Kris Taylor (nine carries, 57 yards); and a few keepers from Somerville's Bobby Pratt (seven carries, 56 yards) up the middle on the Highlanders' final drive; this was a physical battle kept mainly in the trenches. Led by sophomore Ryan Conte and 6-foot-4, 260-pound senior John Wallace (a Division 1 prospect) in the trenches, the Highlanders moved the chains with multiple lead blockers and a confusing single-wing approach that kept the Clippers' 5-3 scheme on its toes.

Losing its three defensive linemen to ankle and shoulder injuries on the game's first six plays, Falmouth was forced to grind it out with underclassmen. But with Baptiste taking tosses from the slot and isolation runs up the middle from Bobby Whelan and Joey Olsen, they kept the Highlanders' defense honest as well.

"That is a strong team," Baptiste said of Somerville, widening his eyes. "They hit really hard. But we get hit all the time, we work every day so hard, so we know what we got to do."

And in the end, the Highlanders nearly won it after nearly coughing up another six points. Mansfield coffin-cornered a rugby-style punt to the left pylon that was fielded at the one yard line, met immediately by Falmouth players, giving Somerville first and 10 with 5:32 and 99 yards to go. Between belly option keepers by Pratt and direct snaps to up-back Eduardo Dias, the Highlanders marched all the way down to the one-yard line before Reine came up with the big hit, and a play later they fumbled the ball away.

"We're a little more aggressive," Femino said of his red zone defense. "We get down there, and we loosen up, they're not as worried down there."

Said Reine, "Our defense, when we're in the red zone, at the goal line, everything changes. Everyone gets together, everyone's yelling at each other. It's all momentum. And obviously, that was a big momentum-changer right there, to win the game."

FALMOUTH 7, SOMERVILLE 0

Fal 0 0 7 0 --- 7
Som 0 0 0 0 --- 0

F - Nelson Baptiste 35 pass from Dillon Mansfield (Tyrone Reine kick)
September, 4, 2010
9/04/10
12:32
PM ET
FALMOUTH, Mass. – The last time Falmouth High won an Atlantic Coast League title was 1994, when Steve Femino was still a high school senior, playing as a lineman for the Clippers.
[+] Enlarge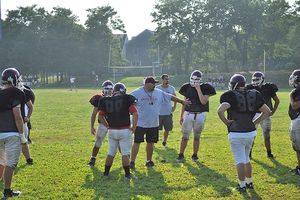 Scott Barboza/ESPNBoston.comNo. 16 Falmouth hasn't won an Atlantic Coast League title since 1994, when new head coach Steve Femino was playing for the Clippers. Could this be the season?
Much has changed in the last decade and a half, but not too much to notice, except for the fact that Femino is the Clippers' new head coach.
"It's been too long since we've won the league title," he said. "I'd like to change that."
When Falmouth tabbed Femino for the position, after former head coach Dana Almeida retired, the Clippers welcomed back a native son.
A decorated football player in his own right, the Falmouth native went on to play left tackle for Bridgewater State College where he was a New England Football Conference all-star. Last fall, he was inducted into BSC's Athletics Hall of Fame.
After graduating, Femino continued to pursue his passion for football, playing with the semipro Middleboro Cobras for eight seasons. While with the Cobras, he was a part of four Eastern Football League championship teams under the helm of Mark Hannon, who now is the sideline boss at Taunton High. Femino worked with his former coach last year as an assistant with the Tigers.
In fact, Femino's Clippers were supposed to tussle with Taunton on Saturday. But, with Hurricane Earl eying the Massachusetts coast, the scrimmage was postponed.
"You have to be prepared for everything," Femino said.
In addition to his 11 years of football coaching experience, which includes stops at Falmouth as an assistant, Mashpee, BSC and Taunton, Femino is familiar with many of the Clippers standouts. He's served an assistant to basketball head coach Paul Lundberg for the last couple of seasons.
Now, Femino's excited to get things going on the gridiron with the No. 16 Clippers.
"It's a great opportunity to come back to my hometown, give back to the community," he said. "Part of my plan is to move my family here and put my kids through the school system."
That plan also includes putting his stamp on team that went 9-2 in 2009.
"I wanted to entrench them in a philosophy that it's OK to work hard and have fun while they're doing it," Femino said. "They need to enjoy what they're doing. We want to connect with as many student athletes as we can. We want to make them want to go to school, make them feel like they're a part of something."
He paused for a moment and added, "Along with that, we'd like to win the league title."
FALMOUTH AT A GLANCE
2009:
9-2 (5-1 Atlantic Coast)
Coach:
Steve Femino (first year)
Players to watch:
Nelson Baptiste, Jr., HB/DB, 6-0, 170 lbs.; John Lavin, Sr., TE/DE, 6-5, 215 lbs.; Bob Whelan, Sr., FB, 5-10, 190 lbs.; Alex Sodekson, Sr., RT/LB, 6-3, 200 lbs.
Strengths:
Depth at running back, experience at skill positions.
Weaknesses:
Lack of experience on offensive line.
Outlook:
The Clippers will be carried by an explosive offensive backfield that is led by Nelson Baptiste (8 touchdowns in 2009), but will also feature halfback Jonah Olsen and fullback Bob Whelan. The struggle for Femino will plugging an offensive line where only one starter returns. "That's going to be our challenge, how those young kids come along on the line. How well they do that is going to dictate how well our skill players can do because we do have some very talented skill people." On defense, the Clippers will play a 3-3 stack to accentuate their athleticism at linebacker and in the secondary. Whelan, a linebacker, is the anchor of the defense and 6-foot-5 end John Lavin — who is also a main target of the passing game at tight end — can create disruption up front.