Boston High School:

New Hampton
January, 7, 2014
1/07/14
12:05
PM ET
McDonald's has announced the nominees for the 2014 McDonald's All American Games, and fifteen student athletes from New England are on the list, including nine from Massachusetts.

The regional nominees are:

MASSACHUSETTS
Patrick Benzan, Roxbury Latin
· Alec Brennan, Milton Academy
· Matt Cimino, Worcester Academy
· Malik James, Notre Dame Prep
· Kaleb Joseph, Cushing Academy
· Tyler Nelson, Central Catholic High School
· Jeff Spellman, Beaver Country Day
· Jacquil Taylor, Beaver Country Day

NEW HAMPSHIRE
· Abdul Malik-Abu , Kimball Union Academy
· Isaac Copeland, Brewster Academy
· Chris McCullough, Brewster Academy
· Jared Terrell, Brewster Academy
· Kevin Zabo, Brewster Academy
· Mike LeBlanc, New Hampton School

RHODE ISLAND
· Bonzie Colson, St. Andrew's School
· Kealen Ives, Classical High School
October, 12, 2013
10/12/13
11:04
PM ET
By
Paul Lazdowski
| ESPNBoston.com


BROOKLINE, Mass. -- Gridiron history is being made at Dexter School.

After defeating Evergreen-Bonnefond League foe Hyde School (Bath, ME), 38-28, at home on Saturday afternoon, Dexter is 4-0 for the first time and sitting atop the standings.

"Yeah, we're making history," said Dexter head coach Casey Day. "But, obviously, it wasn't easy."

Hyde proved Dexter's most challenging opponent this season. After collectively outscoring its first three adversaries 107-49, the hosts were repeatedly forced into situations versus Hyde which tested their mental and physical resilience.

Every time the home team responded.

Early on, however, it did not appear the contest would turn into such a battle.

A little over a minute into the first quarter Dexter struck for two quick scores, hinting that a blowout might follow.

First, Luke Cuneo, who completed 18-of-30 passes for 274 yards, three touchdowns, three two-point conversations and two interceptions, connected with Mark Webber (six catches, 83 yards, TD) down the right sideline for a 27-yard scoring strike. Opting to go for two-points, Cuneo then found Justin Smith for an 8-0 lead.

Dexter retained possession when it successfully recovered its onside kick off. On the next play, Cuneo again went deep this time finding Colin O'Brien (four catches, 115 yards, TD) down the right sideline for a 38-yard touchdown. Another two-point conversation – this one to Chris Kinney – extended Dexter's lead to 16-0 only 1:06 into the first quarter.

"More often than not we're an onside kicking team," Day explained. "Maybe in the past we didn't have the guys to cover the thing. We have the guys that can cover the thing now and a guy that can punch it down deep. We feel like if we can get one or two a game, and we've got a good shot at it, we'll take a crack."

As opposed to Dexter's ultra aggressive, spread, no-huddle, up-tempo and frenetically paced offense, Hyde instead opted for a more methodical, grind-it-out approach reliant on a ground attack and passes to its 6-foot-4 tight end, Chris Collins (eight catches, 156 yards, two TD, two-point conversion), across the middle which utilized both his height and athleticism.

"We've been working on that a lot during practices," said Collins of the numerous jump ball catches he made against opposing defensive backs. "I have a lot of height on kids and I used to play basketball. Like I said before, I can just go up and grab it. I love going to get the ball."

The philosophy worked as Hyde settled in before eventually scoring with 9:52 to play in the second quarter. Evander Lenardson hit Collins for a 35-yard touchdown. A fake point-after attempt resulted in Collins catching the two-point conversion from Deker Adelman.

Leading 16-8 at halftime, Hyde had opportunities to further close the deficit. However, the Dexter defense held.

It was a spark that also seemed to propel an offensive unit that had gone stagnant since the game's opening 76 seconds.

What followed was a seesaw scoring battle throughout the third quarter. Dexter scored first en route to 22 points over a 12 minute span, while Hyde added 14 points of its own.

Cuneo picked up his third touchdown on a 22-yard pass to C.J. Okafor with 8:43 to play in the frame. After Hyde responded with a Jared Jenson 9-yard touchdown run to cut the deficit to 22-14, Okafor returned the ensuing kickoff 85 yards for a touchdown. Matt Cuneo converted the 2-point attempt with a run up the middle.

Trailing 30-14, Collins snagged his second touchdown with 2:27 remaining in the quarter. Lenardson hit Jensen for the 2-point conversion to bring the score to 30-22.

Then, with three seconds remaining in the quarter, Matt Cuneo took the handoff from his brother Luke and ran it into the end zone from 15 yards out. Owen Martinson corralled Luke Cuneo's pass for the two-point conversion and a 38-22 advantage.

"We kind of let up a little bit, which disappointed me," said senior quarterback Luke Cuneo. "Myself, I made a couple bad decisions. But going into halftime leading 16-8, Coach kind of said, 'Boys, we have to pick it up or this team is going to creep back into the game.' We knew we had to come out in the second half and put one in right away, and we did. Nice touchdown pass to CJ and a good catch."

Hyde's Caleb Jones scored on a 16-yard run early in the fourth quarter, but it would be all the offense the visitors would muster.

As Hyde drove deep into Dexter's territory with less than two minutes remaining, junior linebacker Nick Strand dropped back into coverage and snared an interception to effectively seal the win.

Still, with four games remaining, including one against an undefeated New Hampton School squad, Dexter is focused on achieving bigger goals besides simply making school history through four games.

"We didn't have the best week of practice this week," Luke Cuneo said. "But, like I said, if we keep practicing 100 percent every week there's no team that we can't beat. If we keep working 100 percent and playing hard, there's a chance that we could go undefeated. We're looking forward to it."
June, 27, 2012
6/27/12
2:07
PM ET
By
Marc Thaler
| ESPNBoston.com
Fundraising totals between the teams competing in the inaugural New Hampshire East-West High School Football All-Star Game couldn't have been much closer.

The game itself? That's a different story.
West's all-stars – widely considered underdogs for the June 23 contest at the University of New Hampshire – proved too tough. The combination of overpowering offense and dominant defense led to a 33-point halftime lead and 44-12 final score.
Thaddeus "Junior" Brown was toughest to cover. Manchester Central High's 6-foot 3-inch, 180-pound receiver made all four of his catches for 87 yards in the first half. Three receptions went for touchdowns, including a 50-yard down-the-right-seam dagger that helped Team West build a 37-6 halftime lead.
"This means a lot. I worked hard for it," Brown, the game's first Bo Dickson MVP, said of the trophy he was handed for his efforts. "The coaches helped me out a lot. I just busted my butt for 10 days. The outcome was this MVP."
Off the field, the outcome of Brown's efforts, as well as the 73 other all-stars, was even more impressive.
Teams East and West combined to raise $51,301.21 for Children's Hospital at Dartmouth-Hitchcock (CHaD) in Lebanon.
Team East was designated the home team. It earned use of UNH football's locker room for winning the head-to-head fundraising contest. Coach Bill Raycraft's players raised $25,751.21 – a mere $201.21 more than West's standouts.
In total, $301,000 was raised for CHaD.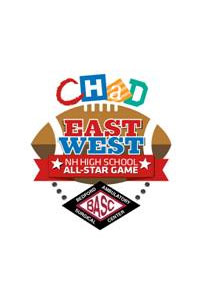 BASCTBD by editorial
"These kids came together and did a heck of a job for a great cause," said Team West coach Keith Jones, whose 6-year-old son, Harris, a CHaD patient, participated in the pre-game coin toss.
Harris was involved in a freak snowmobile accident three years ago. His father has said many times if not for CHaD, right-leg amputation would have been required.
On gameday, the soon-to-be first-grader made an appearance in Team West's locker room prior to warm-ups. It gave the players an additional boost, which carried over to kickoff.
Several playmakers fueled Team West's 37-point first half.
Brown caught a pair of 9-yard TD passes from Manchester West High's Aaron Martin, who also used his speed to sneak inside the left pylon for a 2-yard rushing score.
Merrimack High's Jackson King returned an interception 19-yards for a TD.
Nashua South's Johnny Bieren was crucial to posting a second-quarter safety. He also forced and recovered a fumble on one of his three quarterback sacks.
Central's Stephen Grzywacz – who raised a players-best $5,965 for CHaD – converted five extra points (6-for-6 overall).
East's all-stars committed five of the game's eight turnovers. The favored squad fell behind, 30-0, before Salem High's Jerickson Fedrick returned a kickoff 96 yards to paydirt.
Fedrick, and Pinkerton Academy of Derry stars Kevin Davies and Emmitt Smith, were all neutralized. Combining to rush for 4,649 yards and 57 TDs last fall, the trio managed 99 yards – 28 through two quarters.
Conor Donovan of Division VI cooperative team Inter-Lakes-Moultonborough scored East's second TD early in the third. Derek Paradis of Nashua South answered with an up-the-gut run.
"The first series, I thought we did pretty well. We stopped them (but) right away turned the ball over," Raycraft said. "That's not the way you want to start an all-star game. From there, we pressed a little bit more than we probably should have and, because of that, created more turnovers.
"But, like I told the kids, I had a blast these last (10) days," he added. "I couldn't have asked for a better group of kids. It's going to be fun watching where they go from here. The score will fade, but they set the tone for fundraising."
BASEBALL CHAMPS
Division I
: Dillon Emerson's extra-inning hit snapped two droughts, including a lengthy one for Concord High.
The senior's single down the right-field line scored Pat Cannon and gave the top-seeded Crimson Tide a 5-4 walk-off win over No. 3 seed Merrimack High in the state final June 16 at Northeast Delta Dental Stadium, home of Double-A baseball's New Hampshire Fisher Cats.
Emerson's hit snapped an 0-for-4 skid in the title game and earned Concord (18-4) its first crown since 1980. The Tide lost the state final in 2011.
"I was in the dugout upset over all the missed opportunities I had when coach [Scott Owen] came up to me and said, 'Stick with it. You'll get your at-bat and you'll come through.' He was right," Emerson told the
New Hampshire Sunday News
.
September, 1, 2011
9/01/11
11:54
AM ET
By
Roger Brown
| ESPNBoston.com
Malik Golden didn't know it at the time, but when his Cheshire Academy team defeated New Hampton (N.H.) Prep, 49-20, in the New England Prep School Athletic Council's Dan Rourke Bowl last fall, a friendship was born that would end up shaping Golden's future.

Golden crossed paths with New Hampton quarterback/defensive back Jake Kiley that day, and their friendship grew when each attended a football camp at Penn State last spring.
Kiley committed to Penn State earlier this summer, and then did his best to persuade Golden to do the same.
"We're going to be roommates – at least that's the plan," Golden said last Wednesday, shortly after he committed to Penn State. "We got the best of him that day, but Jake's a great player.
"It's one of the toughest decisions I've every made in my life. To be honest I went with my gut feeling. Every person I talked to had nothing but good things to say about Penn State. I just confirmed that during my visit there [earlier this month]."
Kiley is expected to play defensive back at Penn State. Although most schools recruited Golden to play wide receiver, he may join Kiley in Penn State's defensive backfield.
"That's something I wanted to talk about during my visit," Golden said. "Wherever the team needs me. We'll see when I get on campus."
Golden, who is entering his senior year, made 48 receptions for 680 yards and five touchdowns in nine games last season. His best performance came against New Hampton. He rushed for 197 yards and caught nine passes for 105 yards that day.
Golden said he was also considering Boston College, Connecticut and Iowa.
"It's all done," Golden said. "It feels good."
July, 18, 2011
7/18/11
1:08
PM ET
The National Football League has announced that 51 top high school football coaches, one from each state and Washington, D.C., have been selected to participate in the 11th annual NFL-USA Football Youth Football Summit during the lead up to the 2011 Hall of Fame Weekend on July 20-21 in Canton.

The Summit will be held at the Kent State Stark Professional Education & Conference Center and is funded by the NFL Youth Football Fund (YFF).

Here's a look at the New England coaches participating in the Summit this week:

Connecticut - Brian Crudden, Windham High School
Maine - Kevin Cooper, Bonny Eagle High School
Massachusetts - Roosevelt Robinson, Madison Park High School
New Hampshire - Ed Kiley, New Hampton School
Rhode Island - Generro Ferraro, Burrillville High School
Vermont- Tom Perry, Colchester High School
March, 6, 2011
3/06/11
11:16
PM ET
By
Lucas Shapiro
| ESPNBoston.com



BEVERLY, Mass. -- It is not often that Indiana State commit Khristian Smith gets to sign autographs. After Maine Central Institute's Cinderella-esque run in the NEPSAC Class AAA tournament, however, Smith was smothered by kids of all ages to get his signature after a near-perfect 28 point performance against New Hampton.

"It was a great day for me. It feels real good to win it all," said the overjoyed Smith. "Indiana State won their conference championship today, too, so we both had a great day."

Smith had every right to be glowing after only missing five shots in his team's 73-56 victory over New Hampton. MCI took over the game after the second half, when it went on a 14-4 run in first five minutes to seal the deal, extending a 35-30 halftime lead to 49-32. big man Raphael Maia nice and1 14:16, drop-step, miss drop step, got own rebound put back for and-one, 43-34

"I wanted them to get into the flow of the game and get their rhythm," MCI head coach Dave Campbell said. "We wanted to play our tempo and we missed some easy shots to start off with. Defensively, we knew we had to pick it up defensively and push them out offensively because they are a very good shooting team."

It looked as though it was New Hampton's game to win, after Nick Paulos hit three 3-pointers in the first half. After an early 11-4 run by New Hampton, coach Campbell pulled his players aside and reminded them about their plan.

"[I told them] to trail their screens better, play harder, and push them out of their comfort zone," Campbell said.

Said Smith, "We were looking to keep their big men off of the boards and really contest their three-point shooters. Basically the same thing we did against Brewster."

After Paulos got cold, and Jordan Laguerre (16 points) and Zach Auguste struggled to stay on the floor with foul trouble in the second half, Smith saw his opportunity to take over. He hit pull-up jumper after pull-up jumper, and could not be stopped.

"I visualize [shots] before the game happens," Smith said. "It is something that I've worked on since I was little. Now it is easier for me. I'm quicker off of my first step so hitting pull-up jump shots is easier for me. I just need to work on the rest of my game now."

But the win was not all about Smith. MCI also had nice contributions from sweet-shooting guards Daishon Knight (eight points) and Adrian Rodgers (15), while Campbell and Smith suggest that it was more than just individual performances that won them their championship.

"The one thing that this team had was very good chemistry," Smith said. "When you have good chemistry and you have three or four months to get that chemistry together that tells you something about that kind of kid we had. My assistant and I both live in the dorm with them. We are with them 24/7. The kids all get along. They do things together all the time. I think that lends to the fact on how good you are going to be."

"I'm proud of my team," Smith said. "We came together as a real team. This isn't just my MVP. I'm bringing it for everybody. I'm just happy to bring a championship back to MCI."

The 3-1/2 hour car ride from Pittsfield to Endicott College might just have been worth it for the Huskies.
March, 5, 2011
3/05/11
12:15
AM ET
By
Brendan Hall
| ESPNBoston.com



BEVERLY, Mass. -- Nick Paulos came off a back screen, dribbled once and let it fly from a few steps inside the three-point line, at the top of the key. Then he pumped his fist, and let out a shout.

And then a few seconds later, after St. Thomas More's Adam Jones missed a potential game-tying three at the buzzer, Paulos exhaled. Amidst all the hype behind Brewster Academy's loaded starting five, and STM's prized 2012 center Andre Drummond, it's Paulos and his hot-handed New Hampton teammates that are punching their tickets to the NEPSAC Class AAA finals against an unheralded Maine Central Institute squad. New Hampton downed STM, 59-56, in the nightcap of tonight's Class AAA finals at Endicott College's Post Center.

The Huskies (21-11) will face MCI for the championship Sunday at 5 p.m., at the Post Center. The two teams split their regular-season series.

"I'm glad I could make it, and help us go to the the championship, you know," smiled Paulos, a UNC Greensboro-bound post-graduate who finished with 16 points (including four 3-pointers) and seven rebounds. "I'm pretty excited."

Paulos' winning shot came off an inbounds pass with 22.5 ticks left in regulation, the his team holding a 57-56 lead over the Chancellors (27-7), and just seven seconds left on the shot clock. St. Thomas More had two more chances at the other end, the first one an errant Damion Lee three-point attempt out of a timeout called with 13.9 seconds to go. Fairfield-bound senior Adam Jones pounced on the loose board, calling another timeout with 4.3 seconds to set up another try.

Out of that, Jones got a great look at the top of the key, pumped once and fired up a flat shot that clanked off the rim as time expired.

In this uncharacteristically low-scoring affair, the Huskies didn't allow a field goal in the last 2:11 to seal this.

"We just talked about guarding their stuff, which we've seen," head coach Peter Hutchins said of those final minutes. "We've played them twice now, [STM head coach] Jere [Quinn] does a great job...the last couple possessions, we were switching alot. When you have the lead like that, you're just trying not to give it away."

Meanwhile, the Huskies had to account for STM's 6-foot-10, 275-pound, Amare-like figure in the middle, No. 1 Class of 2012 recruit Drummond. The junior dominated the glass in the first half, with 12 of his game-high 15 rebounds, but struggled from the field by going 3 for 12. In the second half, he didn't register a point.

Credit Hutchins' game plan, which called for double-teams, sometimes triple-teams, in the post; and for the Huskies to deny a second touch for Drummond in a possession, forcing the hand of shooters like Lee, Jones, Roy Mabrey and Indiana Faithfull. Suffice it to say the Chancellors struggled from the perimeter, negating a relatively mistake-free evening.

"When you look at us statistically, we have two turnovers the first 30 minutes of the game," Quinn said. "And our third came within the last two minutes. Our team has always played everyone difficult and tough. Of our seven losses, five have been by three points or less. So on a day like today when we're not making shots, the kids competed. And that's all you can ask for."

Jordan Laguerre led the way with 19 points and seven rebounds for New Hampton, while Lee (16 points) and Jones (11) reached double-figures for the Chancellors.
November, 22, 2010
11/22/10
10:31
AM ET
The ninth annual National Prep Showcase took place this weekend in New Haven, Connecticut. The event featured 23 of the top prep school teams in the country and well over 100 division I prospects, including some of the nation's highest-ranked players. By the time the weekend had come to an end, close to 200 college coaches had come through the doors to evaluate talent along with 30-plus members of the national and local media.

The three full days and 21 games of action provided insight on what to expect from the upcoming season as well as some intel on the world of college basketball recruiting.

Here are five lessons we came away having learned:

1. Khem Birch is a Panther…in 2011
The gym was abuzz on Saturday with news that Khem Birch had signed a National Letter of Intent with Pittsburgh, meaning that he was forgoing his intended post-graduate year at Notre Dame Prep and reclassifying from 2012 to 2011. The implications of the decision were widespread as Birch went from the second ranked player in 2012 to the ninth overall prospect in ESPNU's Super 60, Pittsburgh's recruiting class went from unranked to the 12th best in the country, and Panthers head coach Jamie Dixon solidified the highest ranked recruit he has ever landed. Birch was dominant with his performance on Friday and there is little doubt that he will be an instant impact type freshman next season in the Big East.

2. Brewster Academy has a chance to repeat
Brewster Academy was the consensus top prep school team in the country last year after scoring both the NEPSAC Class A title, as well as the National Prep Championship. And based on what we saw this weekend they have a very good chance of repeating. Head coach Jason Smith's squad is loaded at every position and returns Naadir Tharpe, the Kansas-bound floor general who was at the helm of last year's squad. That is really only the beginning as Brewster has two legitimate high-major big men inside with Markus Kennedy and Mitch McGeary, a pair of high athletic swingmen in Jakarr Sampson and Durand Johnson -- who are pledged to St. John's and Pittsburgh, respectively -- a knockdown shooter in Max Hooper, and a scoring combo-guard in Elijah Carter. The squad was dominant both times they took the court this weekend, scoring blowout wins over Fishburne Military Academy as well as Princeton Day Academy.

3. New England is loaded in 2012
The local boys defended their home turf this weekend as all of the top players in New England's class of 2012 played to rave reviews. St. Thomas More's Andre Drummond, the top-ranked player in the country, was dominant on Saturday turning in a 22-point, 16-rebound, and six-block performance with his incredible physical talents inside. The St. Mark's duo of Alex Murphy and Kaleb Tarczewski was no less impressive as Tarczewski established position inside and finished with power for 26 points and 12 rebounds. But it was Murphy who owned the glass as he pulled down a career high 17 boards while also handling most of the ball-handling responsibilities, creating for his teammates, and scoring 18 points of his own. Rhode Island native Ricardo Ledo was no less impressive on Friday night going for 30 points by showing his ability to create his own shot at virtually anytime. With all four players proving themselves against the highest levels of competition, it only reinforces that this junior class is among the best ever in New England.

4. High-Majors are desperate for big men and point guards
All six of the BCS conferences were represented by various coaches this week and almost all of them were looking for the same things -- big men and point guards. With 96 of the top 100 prospects in the ESPNU 100 having signed during the early signing period, high-major programs all around the country are starting to look for Plan B. The simple matter of fact is that there are more spots than there are suitable high-major prospects at those two crucial positions. The consequence will undoubtedly be a trickle down effect as high-major schools will settle for mid-major prospects, mid-majors will be forced to settle for low-major types, and so on.

5. Every game will be a battle in NEPSAC AAA
All eight members of the newly formed class AAA of the NEPSAC were in action this weekend. While Brewster was dominant, it was hard to establish much of a hierarchy after that. St. Thomas More, Northfield Mount Hermon, Bridgton Academy, Maine Central Institute, and South Kent all went 1-1 while New Hampton and Winchendon both suffered hard-fought losses to go 0-2. But even Winchendon and New Hampton proved plenty as the Green were arguably the grittiest team in the field and New Hampton will undoubtedly be dangerous once they get more experience with the team's offensive strategies. Outside of Brewster's supremacy, the only thing we can come away from this weekend having learned about the new league is that it will be as competitive as ever with virtually any team capable of knocking off anyone else on any night.