Boston High School:

Nick Bates
March, 17, 2013
3/17/13
1:19
AM ET
By
Terrence Payne
| ESPNBoston.com


WORCESTER, Mass. -– For the second times in as many years the Danvers boys' basketball team captured the Division 3 state title. After defeated St. Joseph Central of Pittsfield in 2012, the defending champs took another team's best shot for the last time, defeating Smith Academy 66-50 at the DCU Center in Worcester to finish the repeat.

Danvers (24-2) had to fight through until late in the game against Smith (22-4), the Western Mass. champion, before finally pulling away in the early minutes of the fourth.

Smith Academy kept the lead from getting to double digits, always on the verge of threating. With 38-32, the Danvers Falcons began to create separation when Vinny Clifford starting to knock down shots.

After not scoring in the first half, Clifford hit his last four shots, en route to 11 second half points.

"We were always that one or two shots away from extending that lead," Danvers head coach John Walsh said. "I mean it's credit to them. We just couldn't extend it."

Clifford rattled home a pair of threes in the opening minutes of the fourth and Danvers held a double-digit lead for the rest of the game.

Danvers started the game behind strong shooting, with Nick McKenna and Nick Bates knocking down 4-of-5 from three in the first quarter. Over the next eight minutes, Danvers missed seven 3-pointers as Smith cut into a 12-point deficit, closing the first half on an 9-2 run and trailed 34-29.

In the second half, Danvers relied on getting the ball to Dan Connors inside while shying away from the three ball.

"We knew we had to get it inside to Dan Connors," McKenna said. "If we get it into him, he's either going to score the ball or have a really high percentage shot (or) a kick out for three."

McKenna ended with a game-high 20 points with a pair of rebounds and assists. Connors and Bates added 12 while Clifford and point guard Eric Martin added 11 as all Danvers starters scored in double figures. Smith was led by Seaver Rickert with a team-high 14 points with Mat Sulda added 11.

Danvers repeats: Danvers continued its title reign on Saturday with another double-digit win in the state final at the DCU Center. For a core of senior starters –- Eric Martin, Nick McKenna, Dan Connors and Nick Bates -– there is no better way to go out.

"It's unbelievable," McKenna said. "I mean we worked so hard to get here; back-to-back years is not something a lot of teams get to do. To win...[I] can't even explain it."

The final act for the Danvers repeat was the easiest. Smith Academy hung around for all of three quarters, before the opening minutes of the fourth saw Danvers finally break open a double-digit lead.

All four seniors were instrumental in Saturday's title win. All four scored in double figures while McKenna was the only player to go for 20 points and Bates finished with a double-double of 12 points and 14 rebounds. Martin and Connors may not have filled the stat sheet, but were solid all-around, especially Connors, who was the focal point of the offense in the second half.

"He (Connors) didn't have the greatest offensive game up to his standards, but he was tremendous defensively and rebounding," Walsh said.

In the final minutes, the four seniors exited the floor after Martin connected on a free throw and Danvers was able to bask in the second straight title as the clock hit triple zeros.

"It's such a special moment sharing this with my team," Bates said. "We knew it was going to be hard, but we knew we had it in us."

Clifford continued to shoot: Danvers sophomore Vinny Clifford could not find his shooting stroke. Through one half the sophomore was 0-for-6 from the field. The Falcons' 3-point shooting was on display earlier as Nick McKenna and Nick Bates connected on 4-of-5 to start the game. However, Danvers went onto to miss seven consecutive, as Smith climbed into the game.

When the second half started, Danvers focused on getting the ball inside to Dan Connors. Yet, when the Falcons did go outside, Clifford was the one to make the big shots.

"We're very demanding of certain things," said Walsh. "When you're a shooter, we want you to shoot the basketball. We don't care if you miss; just keep shooting. You have to be a threat for the defense to at least want to cover you."

In the second half, Clifford got into a groove and finishing the game connecting on his last four shots.

"He (coach) just told me to keep shooting," Clifford said. "It was good because I had been shooting bad all game, it just felt good to finally find my shot."

Danvers held a six-edge with when Clifford hit his first shot, a 3-pointer to up the lead to nine. Clifford hit a long two to keep the lead at nine and then buried to more threes to push the lead to double digits. With six minutes to go and Smith Academy still hanging around down 10, Clifford drilled a 3-pointer to put Danvers up 50-37.

"He doesn't miss once he gets going," McKenna said. "It's amazing to see a sophomore; a kid who still barely talks to us, hit huge threes in the state championship. It's pretty cool to see."

With Danvers core of two-time champions set to graduate, Clifford showed the promise of the Falcons future.


March, 14, 2013
3/14/13
11:52
PM ET
By
Brendan Hall
| ESPNBoston.com
MassLive.com online sports producer Jay King and I break down each of the three MIAA boys basketball State Championships taking place Saturday at the DCU Center in Worcester. I'll be providing Eastern Mass. perspective, while Jay handles Western Mass.

***

DIVISION 3: DANVERS VS. SMITH ACADEMY

School: Danvers
Record: 23-2
Region: North

The Falcons were our preseason pick to repeat as Division 3 state champs, and outside of a forgettable showing at the Comcast Tournament in late February (against Division 1 competition, mind you), they have done nothing to dissuade from that. Danvers head coach John Walsh is a cousin of Watertown coach Steve Harrington, winner of D3 state titles in 2007 and 2009, and has brought elements of Harrington's four-out motion offense to Danvers for dramatic results.

Overall, Danvers is one of the most well-conditioned squads in Eastern Mass., able to win track meets when the game calls for it. Part of that is due to several players' success on the soccer pitch during the fall season. The bench is considered deep for the long haul, but in the short term the Falcons typically keep it to a seven-man rotation. And those seven can all shoot from deep.

-- Brendan Hall

Key Players:
Eric Martin, 6-0 Sr. G – One of several soccer standouts on the squad, the Northeastern Conference MVP is one of the region's better distributors.
Nick Bates, 6-4 Sr. G – Another soccer star, and another terrific shooter from long range.
Nick McKenna, 6-0 Sr. G - Missed a month of action during the regular season with mononucleosis, but has come on strong in the playoffs, including Tuesday night's win over Martha's Vineyard.
Dan Connors, 6-3 Sr. F – The weak-side pivot in Walsh's four-out offense, he's not as big as 2012 All-State center George Merry, but has certainly held his own with the best of them.
Vinny Clifford, 6-2 Soph. F – Sharpshooter is the younger brother of current Merrimack College forward Mike Clifford.

Road through the playoffs
North First Round: beat Greater Lawrence, 78-41
North Quarterfinal: beat Minuteman, 81-42
North Semifinal: beat Whittier, 69-51
North Final: beat Wayland, 57-52
Eastern Mass. Final: beat Martha's Vineyard, 50-47

***

School: Smith Academy
Record: 22-3
Region: West

At halftime of the Western Mass. final against St. Joe's, I joked with a Smith Academy assistant coach that I could use one of the team's patented scoring runs to liven my day. He looked at me and said, "And it might come from anywhere."

Anywhere? Well, it'll probably come from one of the top five scorers. Smith Academy's top five scorers account for 86.5 percent of the team's points, with 64.4 percent of that coming from the top three scorers. Smith Academy's sixth-best scorer averaged just four points per game.

But that's okay, because the Falcons' heart of the order can hit for both power and average, and the supporting cast features role players willing to get their hands dirty. The mixture forms a potent offensive team that can score in a hurry. During the first half of an opening-round playoff game against Ware, Smith Academy drilled an obscene 12 three-pointers.

After surviving a St. Joe's attempt at the buzzer of the Western Mass. final and rolling Littleton by 16 points in the state semifinals, Smith Academy has reached the school's first state championship game in 21 years. The Falcons are now 22-3, with those losses coming by a combined five points.

-- Jay King

Key players
Mat Sulda, Sr. G (19.3 points per game) – Sulda doesn't have much of a conscience, and there isn't really any reason for him to have one. The lefty, who has 76 made 3-pointers this season, can hit tough shots from almost anywhere on the court.
Keith Natale, Jr. F (14.3 points) – Natale's a smooth wing who can hurt opponents in a lot of ways. His off-the-dribble, spinning jump shot from just inside the free throw line provided the final margin in Smith's 3-point Western Mass. championship game win.
Derek McMahon, Jr. G (10.4 points) – A couple of his teammates score better, but McMahon's court presence and cerebral play are quite important ingredients.

Road through the playoffs
West Round 1: beat Ware, 85-39
West Round 2: beat New Leadership, 67-46
West Semifinals: beat Renaissance, 57-45
West Final: beat St. Joe's, 66-63
State Semifinals: beat Littleton, 72-56
March, 13, 2013
3/13/13
1:44
AM ET
By
Ryan Hannable
| ESPNBoston.com
BOSTON -- Experience is everything in big games, especially when one team is the defending state champions starting four seniors, and their opponent is returning just three total varsity players.
Danvers, the defending state champions, took advantage of their experience and defeated Martha's Vineyard 50-47 in the MIAA Division 3 Eastern Mass. Championship Tuesday afternoon at TD Garden.
"It helps a lot," Danvers head coach John Walsh said of his teams' experience. "We start four seniors and they are very tough kids. It has nothing to do with our coaches -- we just have really tough kids."
[+] Enlarge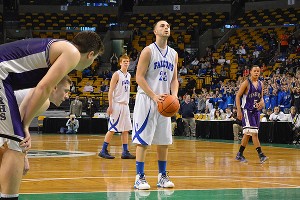 Brendan Hall/ESPN BostonNick McKenna's late free throws sealed Danvers' close call over Martha's Vineyard, and advanced the Falcons to the D3 state title game for the second straight year.
The Falcons trailed 43-41 with 2:09 left, but went on a 7-0 over the next 1:57 to take a 48-45 lead over the Vineyard's. A lot had to do with the inexperience of the Vineyarders, who turned the ball over a number of times on possessions down the stretch.
"Those last two, two and a half minutes, we got up two and had the ball, but then they felt the pressure a little bit," said Vineyard coach Michael Joyce. "It was more going too fast than not making the play. They saw it there -- they just went too fast. That comes with experience, playing here and being at this kind of venue."
With Danvers leading 48-45, Vineyard had the ball with 12.7 seconds left. Jack Roberts went the length of the court for an uncontested layup cutting the deficit to one, 48-47.
Vineyard then immediately fouled the Falcons' Nick McKenna with 4.7 seconds left. The senior sprinted to the line and calmly sank both free throws, giving his team a 50-47 lead with 4.7 seconds to go. Vineyard's Izak Browne had a deep look at three at the buzzer, but it missed giving Danvers its second EMass title in as many years.
"It was a crazy last minute, it felt like an hour," McKenna said. "The last couple of free throws you just try and go through your routine and block out their seven bus loads of people. You just go through your routine and make shots like you always do."
Of Danvers' 12 points in the fourth quarter, eight of them came from the foul line. For the game the Falcons went 12-for-23, something Walsh was very disappointed in.
"Our free throw shooting was atrocious, I don't even want to know what the numbers were," he said.
Danvers struggled on the offensive boards in the first half as Vineyard's size and skill got them plenty of second chance points. This was a point of emphasis at halftime.
"I told our kids from the beginning you have to box out, you can't just turn and jump," Walsh said. "We have athletes, but their front line is big. Holy cow."
The Falcons turned things around in the second half, limiting Vineyard to just two offensive rebounds.
"We haven't seen a team all year long with that size and athleticism," McKenna said. "Coach's halftime speech was 'you got to rebound, you got to rebound.'
"He lit a fire under us and in the second half we really tightened it up defensively, especially on the rebounding end. We boxed out as much as we could because we knew we couldn't out jump them like many other teams."
Danvers jumped out to a 17-10 lead after one quarter, but Vineyard tied the game, 24-all at the half, led by Browne's 12 second-quarter points.
For the game Browne led Vineyard with a game-high 17 points, while fellow senior Jack Roberts added 12 in the loss.
Danvers had very balanced scoring as usual, led by their seniors. Nick Bates led the way with 12, followed by McKenna who had 11 and Dan Connors added 10.
With the win Danvers moves on to defend their state championship Saturday afternoon at the DCU Center against Smith Academy.
It was something their team might not thought possible with some injuries the team has had to deal with over the course of the year.
"It's amazing with all the injuries we've had," McKenna said. "Eric (Martin) was out for awhile, I was sick early in the year. To fight through all that and get to this point, it's an amazing thing to do."
END OF A GREAT RIDE
All is not lost for Martha's Vineyard who finished the year 18-6 and was the No.7 seed in the Division 2 South bracket. Returning only three varsity players, and making it to the EMass final is something Joyce is very proud of, especially seeing his team grow throughout the season.
"We only had three returning players from last year's varsity team on the team this year," said Joyce. "There were nine new faces and we started off playing like that this year. The first five or six games we were definitely shaky and no one knew how to play with each other. As the season went on they grew how to play with each other and became unselfish and then in the tournament we started to play really well obviously."
Vineyard got tremendous fan support with seven fan busses making the trip to TD Garden, not including the parents and other adults who made the trip.
"It was a great showing by the Island community," Joyce said. "They really got behind the kids and supported them. It's been great and each game we got more and more people. It's been a blast. I think that is something the kids will keep with them after...They will start to realize it was a pretty neat year."
For Vineyard, getting to the Garden is something to build on as they accomplished something they hadn't done in over 30 years.
"This run was certainly something special," said Joyce. "We hadn't been to the Garden in 33 or 34 years. Certainly it would have been nice to win one more and get a chance to play for the state title, but that is part of getting the kids used to this type of situation. Danvers played like they had been here before – their calmness and patience in the fourth quarter."
February, 17, 2013
2/17/13
11:13
PM ET
By
Josh Perry
| ESPNBoston.com
WELLESLEY, Mass. -– It happened in a flash. One minute all the discussion was about the efficient execution of the Danvers half-court offense; the next minute all anyone could talk about was the explosiveness of Brighton in the full-court.

The Bengals (14-5) scored 30 points in the third quarter against Danvers (18-1) in the first round of the IAABO Comcast Board 27 Comcast tournament at Babson College. Brighton turned a halftime deficit into a 74-66 win over the previously unbeaten Falcons.

Malik James was the catalyst for the Brighton turnaround. The junior point guard scored 16 points and dished out seven assists in the second half (he finished with 22 and eight for the game), while shooting 8-10 from the floor. Junior Nick Simpson chipped in as well with 14 of his game-high 23 points after halftime.

The offensive explosion by the stars was impressive, but Brighton head coach Hugh Coleman pointed to the full-court defense of a reserve guard for giving his team a third quarter spark.

"This was a good step up for Malik tonight, but Nate Hogan, our senior guard off the bench, just played phenomenal D on their point guard and I think that really set the tone for us," said Coleman. "That was a real key for us tonight."

The second half started with an 18-4 for the Bengals, which turned it from a seven-point deficit into a 46-39 lead. Hogan hounded Danvers point guard Eric Martin up and down the court and the Falcons had no answer for James' penetration. In addition to his defense, Hogan also knocked down two big three-pointers to extend the Brighton lead in the third quarter.

Danvers continued to hang around thanks to top scorers Nick Bates (21 points, nine rebounds) and Dan Connors (23 points, five rebounds). Connors had a three-point play that pulled Danvers back within five at 60-55, but Brighton answered.

Junior guard Mark Mojica dove to secure an offensive rebound right under the basket. He scrambled to his feet and James found him open in the corner. Mojica buried a dagger three that put Danvers away for good.

Falcons head coach John Walsh gave Brighton credit for the result, but also noted that his point guard was limited in the second half.

He remarked, "Our point guard is everything for us and when he got hurt it made him a lot slower and it really, really hurt us. We don't have anyone to step in his place. I don't know that it was a disruption...They hit shots and Malik James is a Division 1 player. It's more of a credit to them."

The first half was a much different game.

The Falcons demonstrated a prolific half-court attack that led to easy shots at the rim for both Connors and Bates. Constant movement, multiple screens, and the ability of guards Martin and Nick McKenna to get into the lane opened up the Bengals defense almost every trip down floor. Bates had the highlight of the first half with a two-hand slam over a Brighton defender.

On the other end, Brighton struggled from the floor. In stark contrast to how the game developed after halftime, the Bengals were only 12-32 in the opening half. Brighton stayed in the game by dominating the offensive glass. Sophomore center Jason Jones scored eight points and pulled down nine rebounds (seven offensive) in the first half alone and Simpson added five boards.

"They killed us. All the second chance points seemed to lead to kick outs for three's," said Walsh.

Coleman noted that rebounding has been a point of emphasis for the team all season.

"We've really been on our big guys all year about being active down there and not getting boxed out, and not just sitting behind somebody, and it worked for us today'" he said. "I know they've got a big team so I was really worried about the boards, but I think our weakside guards rebounding helped out as well."

It was only the first loss of the season for the defending Division 3 state champions and Walsh believes that having a tough test like Brighton on the schedule will help the Falcons prepare for the tournament.

"It can't hurt," he mused. "They're so good that it's going to prepare you. When that kid [Malik James] is in the lineup, they are as good as any team in the state."

Brighton will play in the finals of the tournament on Monday night against B.C. High, which beat Newton North comfortably in the opener. Danvers will face the Tigers on Monday afternoon.
January, 10, 2013
1/10/13
1:40
AM ET
By
Brendan Hall
| ESPNBoston.com
DANVERS, Mass. -- Devoid of real depth in the size department, Lynn English looked to push tempo and run at all times Tuesday night. And stocked with multi-sport athletes accustomed to continuous sprints, No. 4 Danvers was more than up for the track meet.
The Falcons took a slim four-point lead into the break, but exploded for 30 points in the third quarter, and outscored the Bulldogs 48-32 in the second half overall to pull away with a nice 90-70 victory in its own field house.
"We went into this game thinking, if it's in the 60's or 70's, we lose," head coach John Walsh said. "Obviously it wasn't our goal to play at that level with that many points scored, but they make you do that. They make you run. For a minute there, I thought they had us."
With that in mind, perhaps just as impressive is the fact that the Falcons (6-0) used just six players on the night. Five of them scored in double-figures, led by seniors Nick McKenna (23 points) and Dan Connors (20 points, eight rebounds). Senior Eric Martin also notched a solid night distributing, finishing with 13 points and eight assists.
[+] Enlarge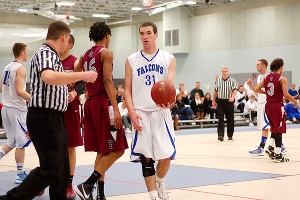 Brendan Hall/ESPNSenior forward Dan Connors exploded for 14 of his 20 points in the third quarter for Danvers, en route to a 90-70 win over Lynn English.
Walsh admitted he thought Martin looked tired by the end of the game, even calling a timeout with a minute left worried that his senior point guard "was going to pass out". But in the same thread, Martin's star career on Danvers High's soccer pitch has him conditioned for this type of action.
"I was definitely tired at the end there, but for most of the game I can keep going more than other kids because of soccer," Martin said.
Holding on to a 42-38 halftime lead, the Falcons took command of the game in the third quarter with a 30-point outburst. English forward Ben Bowden picked up his fourth foul early in the quarter, leaving the Bulldogs (4-4) shorthanded underneath the basket. The Falcons took advantage, running a slew of sets through Connors as he repeatedly either found space around the rim for easy bunnies, or simply stretched behind the blocks to either clear the runway for Martin or set up an open three with a screen.
Connors was a perfect 7-for-7 from the field in that quarter, while Danvers was 4-for-5 on three-pointers overall, getting two each from McKenna and Vinny Clifford (16 points).
Danvers led comfortably 72-52 headed into the final frame.
Postal Service:
With Bowden on the bench with four fouls, the Falcons exploited the ensuing mismatch down low with Connors in a multitude of ways.
"We just started doing everything right, just flashing the ball like we were supposed to," Martin said. "I think Danny was open five times under the hoop, just getting it down to him, he started finishing his layups. So once we took care of all the little plays that we didn't [do] in the first half, things just opened up for us."
He added later, "We knew if we got him the ball, at least if he didn't score they were going to foul. So we started getting him the ball, and everything else just opened up. We started moving it from inside-out, and everything else started opening up."
One particularly successful method involved cross screens, or screens set with lateral movement to create an opening in the post area. As a cross screen was set underneath the basket for Connors, Martin was usually coming off of a flare screen, or a screen set near the three-point line aimed at releasing the shooter fading to the wing for an isolation play.
"AFter Vinny Clifford sets the initial screen, when he gets to the corner, it's almost like...if you don't switch it, he's going to get an open look in the corner," Walsh said. "Which he did, so he hit a couple of three's. And that makes it so that you have to know where he is at all times. And if not, Danny Connors is coming to the back, almost like a flex cut, but it's set by the point guard and then they have to decide whether to go after Vinny or Danny. It worked out well."
Run, and run some more:
To establish their affinity for the uptempo, the Bulldogs came out pressing from the get-go, switching off between man-to-man and 1-2-2 looks -- and still, later some 2-1-2 sprinkled in, which Danvers solved with some movemenet up the sidelines.
To keep pace with it, that requires a certain level of conditioning. Most of the Falcons are multi-sport athletes. Some, such as Martin, are accustomed all of this run-and-gun style from his standout career as a soccer player, having scored more than 100 career goals for the varsity.
"We're blessed with Eric, because he's a soccer player that can legitimately run forever -- I mean, forever," Walsh said. "And our other kids are just used to it. It's a philosophy I've had."
Young, but promising:
With just two seniors on the roster, the Bulldogs are a bit green this year. But that isn't to say there isn't talent abound in the program, with players like junior Freddy Hogan (23 points) and sophomore Erick Rosario (10) leading the backcourt.
One in particular to keep track of the next few years might be Johnny Hilaire, a 6-foot-6 sophomore slasher with an above-the-rim style brought on by a fairly impressive vertical leap. Hilaire exploded for eight points in the fourth quarter on a perfect 4-for-4 clip from the field, highlighted by a tomahawk dunk in transition. He finished the night with 12 points overall.
Both Walsh and English coach Mike Carr made a comparison to former ESPN Boston All-Stater Keandre Stanton, who had some low Division 1 interest before settling at Frank Philips Junior College, in Borger, Texas, where he is a freshman.
Said Carr: "He's an athlete, he does a lot of nice things. He's only a sophomore, he just has trouble picking some things up, that's why he's not playing as much. But he will, he's a good kid. It's a great group, they work hard."
Said Walsh: "He's going to be him [Stanton]. It's freaky how quickly he gets off the floor. I don't know he jumps as high as Keandre -- I don't know if I've ever seen anyone in my life jump as high as Keandre ever -- but he's pretty close. And he's only a sophomore, so that team is loaded -- loaded -- for the next couple of years."
March, 28, 2012
3/28/12
6:49
PM ET
By
Brendan Hall
| ESPNBoston.com
With the unveiling of our MIAA All-State Teams for Boys and Girls late last week, the 2011-12 basketball season has come to close. But before we officially slam the book on another exciting season of hoop, and move on to spring sports, I wanted to get out a few thoughts on the landscape for next season.

To whet your appetite for the 2012-13 season, here are my early projections on the state's must-see teams to watch:

BOYS

Central Catholic - Plenty of talent returning with this squad, which captured the No. 1 overall spot in Division 1 North despite missing Luis Puello (ankle) for most of the season. ESPN Boston All-State guard Tyler Nelson returns as one of the state's top shooters, but the Raiders also return all three of their regular bigs in Joel Berroa, Doug Gemmell and Nick Cambio.

New Mission – Apparently it's never too early for bulletin board fodder, because head coach Cory McCarthy is already making some barnstorming rounds, telling ESPNBoston.com this afternoon that if the Titans don't win the Division 2 state title next year, "I should be fired." Bold, yes, but it's hard not to like a lineup of Isshiah Coleman, Nate Anderson, Greg Bridges, Damion Smith and Shaquan Murray. There is some promising talent in those ranks.

Mansfield – Folks are talking about the Hornets being one of the South region's top teams in two years' time, between promising freshman Brendan Hill and sophomore Michael Hershman. I'm of the camp that believes with those two versatile parts, paired with a terrific coach in Mike Vaughan, the future is now.

Taunton – Shaquille O'Neal Davis. That's legitimately his full name, and one you certainly will not forget by this time next year, for reasons that have nothing to do with The Big Aristotle.

West Springfield – Terriers return virtually everyone, including Chris Lipscomb, Paul Bessette, Andy McNulty, Dewey King, and leading scorer Riyadh Asad. West Side is the early favorite next year in Division 1 West.

St. John's (Shrewsbury) – Junior transfer Tarik Octave was one of the nice surprises of the playoffs, and freshman Davon Jones has shades of former Pioneers great David White all over him (Doesn't hurt that Jones was also the Pioneers' starter at safety last fall, too). A boat load of underclassmen return, including Ken Harrington and T.J. Kelley, which should more than make up for the graduation of Matt Palecki.

Danvers – Falcons graduate 6-foot-7 center George Merry, an ESPN Boston All-State selection, but return some terrific guards. Nick McKenna, Nick Bates, Eric Martin and Dan Connors can all shoot the ball, and are perfectly-suited for John Walsh's four-out offensive system. My early pick to repeat at D3 champs.

BC High – Eagles return what ought to be one of the state's best backcourts in point guard Charles Collins and ESPN Boston All-State swingman Jameilen Jones. Throw into the mix one of the region's best basketball minds in Bill Loughnane (he of four state titles) and it's hard to think of the Eagles as anything but a favorite in the South.

Springfield Central – A plethora of talent graduates, including Chris Prophet, Lee Turner, Jevaughn McMilian, and ESPN Boston Super Teamer Tyrell Springer. But All-State forward Kamari Robinson should have another terrific season, and the way Cornelius Tyson exploded onto the scene in the Division 1 state final makes us all wonder if he's about to realize the potential that many in the Springfield area have been talking about for so long.

Stoughton – Super Teamer Aaron Calixte and Defensive Player of the Year Marcus Middleton formed the state's best backcourt in 2011-12. If all goes as planned, they'll be well-equipped to defend that notion next season.

Wareham – Vikings might not endure an unbeaten regular season again next year. But another year of All-State point guard Darien Fernandez means they're not going anywhere.

GIRLS

Braintree – Wamps started three freshmen this year: Ashley Russell, Bridget Herlihy, and 6-foot-1 center Molly Reagan. Expect them in conversation for state title contention from now until their time runs out in 2015.

Archbishop Williams – Ditto the Bishops, who have two 6-foot freshmen to look forward to the next three seasons. Add in sophomores Olivia Conrad and Leah Spencer, and their fiery mouthpiece Sara Ryan, and this could be another top-five team come December 2012.

Reading – The Rockets made a flawless run through the Division 2 gauntlet, winning their first Division 2 state title in school history as one of two final unbeaten squads in Massachusetts. Two-time Middlesex MVP and ESPN Boston All-State Olivia Healy returns, as does guard Morgan O'Brien.

Andover – Golden Warriors are expected to come down to Earth with the graduation of two-time ESPN Boston Miss Basketball, Nicole Boudreau, and UConn lacrosse commit Ally Fazio. What might be overlooked amidst Andover's unprecedented run to a third straight state title is that there were plenty of terrific complimentary backcourt pieces in the underclass.

Central Catholic – Raiders treaded water after some injuries early on. But once junior forward Casey McLaughlin was back to full strength, they made a run all the way to the Division 1 North semifinals. Have to imagine they'll be in conversation again next year.
March, 16, 2012
3/16/12
8:24
AM ET
By
Brendan Hall
| ESPNBoston.com
The MIAA will crown six state champions in boys and girls basketball on Saturday at Worcester's DCU Center. Here are my thoughts on how those six games will play out:
DIVISION 3 GIRLS: PENTUCKET (22-4) VS. SABIS (21-5)
Pentucket Players to Watch:
Tess Nogueira, Jr. C; Leigh McNamara, Sr. F; Sarah Higgins, Sr. F; Nicole Viselli, Jr. G; Alex Moore, Jr. G; Kelsie McNamara, Fr. G
Sabis Players to Watch:
Jazmine Collins, Jr. G; Janaiya Sanchez, Fr. G; Shyanne Washington, Jr. F; Madison Sinkfield, Fr. F; Casie Thurber, Soph. C.
Analysis:
After coming close the last couple of years, Sabis finally got over the hump in their competitive Western Mass. bracket, to land here at the DCU Center. Plain and simple, these Lady Bulldogs are on a mission; and led by a core that includes the dynamic Collins, this is a well-oiled machine. Unfortunately (and this will be the operative word for many of my picks), they run into a Pentucket team that is quite simply swarming on defense. The Sachems' lineup =is among the best in Division 3, and they're on a roll. Pentucket is also motivated -- the last time they were here, in 2010, the Sachems were penned as a favorite, only to run into a gritty Lee team that, quite frankly, pressed like kamikazes.
Hall's Pick: Pentucket over Sabis
DIVISION 3 BOYS: DANVERS (20-4) VS. ST. JOSEPH CENTRAL (20-5)
Danvers Players to Watch:
George Merry, Sr. C; Nick McKenna, Jr. G; Nick Bates, Jr. G; Eric Martin, Jr. G; Jon Amico, Sr. G.
St. Joe's Players to Watch:
Taverick "Tank" Roberson, Jr. G; Mike McMahon, Sr. F; Joe Wiggins, Sr. F; Lavante Wiggins, Jr. G; Jon Bianchi, Jr. G
Analysis:
Credit to St. Joe's for playing an ambitious non-league schedule, which included a rockfight of a bout with Holy Name back in December, and get ready to be introduced to the spunky power that is Roberson -- in my opinion, he's every bit of a tank as his nickname suggests. But after putting in arguably its best performance of the year Monday night in the Eastern Mass. Finals against Wareham, I'm convinced Danvers will come out on top in this one. the 6-foot-7 Merry can step out on the perimeter and facilitate offense for shooters like McKenna and Bates, as much as he can take it inside. Danvers coach John Walsh goes with some of the same offensive principles as his cousin Watertown head coach and two-time D3 state champ Steve Harrington. And if you thought Harrington's four-out, drive-and-kick, dribble drive-oriented motion offensive was frustrating enough, imagine what it's like with size.
Hall's Pick: Danvers over St. Joseph Central
DIVISION 2 GIRLS: READING (24-0) VS. TYNGSBOROUGH (23-1)
Reading Players to Watch:
Olivia Healy, Jr. G; Morgan O'Brien, Jr. G; Melissa DalPozzo, Sr. F; Katie Clements, Sr. G; Katherine Callahan, Sr. G.
Tyngsborough Players to Watch:
Lauren Iadarola, Jr. F; Amanda Hogan, Jr. G; Helena Hamilton, Sr. F; Morgan Mitchell, Jr. C.
Analysis:
The Mid-Wach C champion Tigers avoided a clean sweep of Central Mass. on Wednesday with a dominant 50-35 win over Palmer out in Springfield, getting quality production out of Iadarola, Hogan and Hamilton along the way. But Reading has had the tougher route here, putting away stalwarts Wachusett, Bishop Feehan, Arlington Catholic (twice) and Scituate to get to DCU Center floor. Look for Healy to get hers, but most crucial in the Rockets' overtime defeat of Scituate on Tuesday night was the play of O'Brien, who scored 33 points. Look for her to be the X-factor in this one.
Hall's Pick: Reading over Tyngsborough
DIVISION 2 BOYS: BRIGHTON (21-4) VS. MAHAR (21-3)
Brighton Players to Watch:
Malik James, Soph. G; Theo Oribhabor, Jr. G; Daivon Edwards, Jr. G; Prince Unaegbu, Jr. F; Jerard Mayes, Sr. F; Tre Dowman, Sr. C
Mahar Players to Watch:
Travon Godette, Sr. F; Jesse LaCroix, Sr. G; Phil DiPhillipo, Sr. G; Josef Whitman, Jr. F; Nate Martin, Sr. C; Darwin Duncan, Sr. F.
Analysis:
The relationship between Brighton coach Hugh Coleman and his mentor, legendary Charlestown coach Jack O'Brien, is well-documented. There are ripples of O'Brien's system and tactics sprinkled throughout the Bengals; and we can assure you, there are tons of coaches in Eastern Mass. rooting for Coleman, as good a guy as they come, on Saturday. That aside, the Bengals figure to be favorites in this one. Godette, DiPhillipo and LaCroix combined for impressive whipping of St. Bernard's on Tuesday, but they haven't seen anything like Brighton. Hardened by a brutal schedule, the Bengals lost their best player, sophomore Nick Simpson, before the playoffs, yet somehow haven't dropped off. There's plenty to like -- a frustrating extended 2-3 zone, a swarming press, and a gifted shooter in Edwards -- and I think this will be another big one for promising sophomore point guard Malik James.
Hall's Pick: Brighton over Mahar
DIVISION 1 GIRLS: ANDOVER (26-0) VS. HOLYOKE (22-2)
Andover Players to Watch:
Nicole Boudreau, Sr. G; Ally Fazio, Sr. G; Devon Caveney, Sr. G; Angelice Gonzalez, Jr. G; Jackie Alois, Jr. F; Rebecca Alois, Soph. F.
Holyoke Players to Watch:
Monique Heard, Sr. G; Alison Littles, Sr. C; Kirsy Segarra, Jr. G; Nyomi Walker, Jr. F; Selena Yates, Sr. G.
Analysis:
Our friend and Pioneer Valley legend Adam Harrington is getting giddy over this "dream matchup", Western Mass.'s premier point guard versus, quite frankly, the best female guard to come through Massachusetts in over a decade. We think the crowd on hand will be impressed with Heard, but the Golden Warriors -- despite usually being undersized -- have proven again and again to be unstoppable. It just seems whatever the score is going into the fourth quarter, the Warriors simply turn around and take ownership of it. When you have a team of athletes that get up and down as quickly as these girls, plus a superstar with NBA range, that's a vicious combination.
Hall's Pick: Andover over Holyoke
DIVISION 1 BOYS: BROCKTON (23-2) VS. SPRINGFIELD CENTRAL (23-1)
Brockton Players to Watch:
Jaylen Blakely, Jr. G; Drew Fiske, Sr. F; Jahleel Moise, Sr. F; Jean Thomas, Sr. F; Will Baker, Sr. G; Sayvonn Houston, Sr. C; Jamal Reuben, Sr. F; Jarrod "Bubba" Shelby.
Springfield Central Players to Watch:
Tyrell Springer, Sr. G; Lee Turner, Sr. G; Chris Prophet, Sr. G; Kamari Robinson, Jr. F; Jevaughn McMillian, Sr. C; Trevor Bacon, Sr. F; Cornelius Tyson, Sr. G.
Analysis:
This might be the best matchup of the day. I picked Springfield Central
to win it all before the tournament started
; and since the Eagles are still in it, I'm sticking with the pick. The X-factor here might be the health of McMillian, a game-changing 6-foot-7 shot-swatter who injured his ankle in Tuesday night's thrilling semifinal win over St. John's (Shrewsbury). If he can't go or is less than 100 percent, that could make the matchup down low with Brockton's 6-foot-6 Sayvonn Houston -- by many accounts, one of the state's most efficient true five -- very interesting. Yet it seems the Golden Eagles thrive on adversity -- in the Western Mass. Final, with Springer and Prophet fouled out -- Robinson held his own to stave off a furious Commerce comeback bid. On the flip side, the Boxers have been on a mission since getting trounced by nearly 20 by Charlestown right before the start of tournament play. Blakely has been one of the best point guards of the tournament, and the Boxers have gotten crucial shooting out of Baker, Fiske and Reuben. Look out for Moise, an athletic shot swatter with quality defensive skills.
Hall's Pick: Springfield Central over Brockton
March, 13, 2012
3/13/12
12:26
AM ET
By
Tom Layman
| ESPNBoston.com
BOSTON — Danvers head coach John Walsh knew it wasn't a time to panic.

Even after Wareham scored the first 10 points of the second half and grabbed its first lead since the first bucket of the game, Walsh stood firm and let his players decide to figure it out for themselves.

Boy did they ever. Danvers went on a 24-4 run after losing the lead to hand the Vikings (24-1) their first loss of the season in the Div. 3 state semifinals in a 68-45 win, on Monday at the TD Garden.

"We only had three (timeouts) left," said Walsh. "With five minutes left I was going to call the timeout, but we had used two earlier in the backcourt. I said screw it. If it becomes a nip-and-tuck game then we are going to need that other timeout.

"If they had scored one more hoop I would have called the timeout. We came down and hit a big shot, and then another shot."

Stefan Montiero and Aaron Baptiste took dishes from Darien Fernandez and deposited them for 3-pointers to begin the 10-0 run, and Fernandez capped it off with a hoop for a 32-30 lead.

Nick McKenna finally got Danvers on the board in the half with a 3-pointer and then the points started to come in a flurry. Nick Bates hit back-to-back 3s to stretch the lead back to seven points. After Fernandez got to the dish again, the Falcons scored 15 of the next 17 points to take full command of the game.

"They went into a zone so the shooters on the team knew that we had to open it up from the outside and hit a couple of shots," said Bates, who finished the game with 17 points. "That opened it up on the inside and that's how we get back into games."

McKenna scored four straight buckets in the run and finished with 12 points for the game, while George Merry led the team with 22 points.

Guarding Fernandez: It's one thing when you see a talented point guard play and get used to his tendencies, but the Falcons only heard of the talents that Fernandez brings to the table.

The Falcons' defenders had to just adjust to what they were seeing on the Garden floor instead of what game tapes or X's and O's could be drawn up in preparation leading up game time.

"He's a great player," said Bates. "We just had to go out there and do it on our own this time. The coaching staff usually has all the plays drawn up for us when we go against the teams from the NEC, but today we didn't know much about (Wareham), so we kind of had to go out there and just learn it on the fly and play basketball."

Fernandez finished with 19 points and nine rebounds, but the Falcons kept his assist numbers low (four) and forced the talented Vikings guard into committing turnovers.

"It's tough. I like to go the lane and they were 6-8, 6-6, so I had to alter my shot more," said Fernandez. "I was trying to drive and kick, but their guards did a good job of hitting the ball from behind. I had a lot of turnovers too."

Strong Start, No Nerves: Nobody would begrudge either team for being nervous on probably one of the biggest stages in high school basketball, but the Falcons came out strong as if it was just another game.

As a team the Falcons shot 9-of-14 from the floor and built a 21-9 lead after one.

"I think it was more that we were just ready," said Merry. "We were excited and ready to play. I think in warm-ups we were nervous because it was a huge gym and big atmosphere. … You are playing on the parquet and some of the greatest players in the game played on that floor. We thought we could do the same, got in the zone and did our thing."
March, 10, 2012
3/10/12
3:11
PM ET
By
Andy Smith
| ESPNBoston.com
LOWELL, Mass. -- Danvers is headed to the TD Garden Monday night to face Wareham in the Division 3 semi-finals after it knocked off league foe Saugus 53-40 Saturday in the Division 3 North final at Tsongas Center.

After losing by at least 30 points twice this season, it was different Saturday for Saugus. It had a plan right from the start on how to deal with Danvers' 6-foot-7 center George Merry.

Unfortunately, it was not always successful, as the senior went off for 21 points and 12 rebounds.

"Right from the start, when we walked in before the game, coach said, 'I want you to play like an animal,' and that's what I tried to do," he said. "I tried to be as good as I can, tried to get every rebound. I tried to get the ball and go up. I tried to change shots, without fouling of course, and just play my butt off trying to get every rebound I could, get every point I could.

"I was trying to help out the team as much as I could on defense. On offense, I just wanted to try and create shots for guys, help secure the ball and just get it to the guards."

It played some form of a zone for a majority of the game, while mixing in the occasional man-to-man defense. He had seen most defenses before, and adjusted accordingly.

"They went man a couple times, and that just didn't work," he said. "The other times they played a 2-3, and whatever side I was on, the middle guy and the guy on that side collapsed on me down low and tried to prevent me from getting the ball."

Saugus led 15-14 after the first quarter, due largely to its guards getting in the lane and hitting short-range jump shots and floaters over the long arms of Merry.

Curtis Casella (19 points, four rebounds) proved to be a difficult matchup for Danvers, who always seemed to find his way into the paint and score, even when spacing seemed limited.

"We had an entire gameplan to try and stop Curtis," said Danvers coach John Walsh. "He's one of the best players in our league, and he is still going to get his points. He'll drive and dish, the kid is just a phenomenal player. We spent the last few days trying to devote all our defensive time to a kid like him, and he still gets his points. That's the frustrating part, but it's more just hats-off to him because he's just so good. There's really not much you can do about him."

With the lead never getting above four points, Danvers' Nick McKenna (10 points) hit a three-pointer in the second quarter to give his team the lead at 23-21. From there, Danvers never looked back.

Its lead only grew from there and by mid-afternoon, Danvers had punched its ticket to the TD Garden.

Defense Delivers: Danvers is moving one step closer to the TD Garden thanks in large part to its team defense. It held Saugus to only three points in the final quarter and scoreless over the final six minutes.

"Our team is all about defense," said Danvers' Nick Bates (nine points, 12 rebounds, two steals). "We knew we had to go out there and defense hard, and that's what we did in the second half."

It will have to continue that trend if it hopes to come out on top against a high-scoring team like Wareham on Monday.

"We tried to defend that well from the beginning," said Walsh with a laugh. "Kids like Curtis (Casella) don't make it easy. We just tried to defend and keep the ball away from some of their top scoring options. We did a better job on that in the fourth quarter to let them put only three points up."

Merry Shines: Nine of Merry's 21 points came from the free throw line. The big man showed a deft touch from the line after getting mauled underneath by the Saugas defense. It seemed like every time Merry got the ball in the low block, the defenders made it a point to hit his arms, whether it was to try and dislodge the ball or to intentionally send him to the line.

He made them pay by adding to his team's point total and ultimately, allowing them to get one step closer to a state championship.

"Free throws are one of my strengths," he said. "In the Wayland game (the tournament semifinals), I hit two big free throws at the end of the game to ice it. I just do free throws all day before practice, after practice, when we come out of the locker room at halftime. Before we go into the game, I'm always shooting free throws and always making sure I'm on point."