Boston High School:

Nick Brozowski
July, 1, 2013
7/01/13
5:53
PM ET
FIRST TEAM
G – Nick Marrocco, Jr., Duxbury
In his first season starting between the pipes for the Dragons, Marrocco was named an Eastern Mass. All-American while averaging 13 saves per game. Also a standout hockey player during the winter season, Marrocco is committed to Georgetown and was named Most Valuable Player of the bostonlax.net All-American game.

D – Rob Breed, Sr., Xaverian
One of the galvanizing forces behind the Hawks' run to the program's first state lacrosse title, the Eastern Mass. All-American was tasked with shutting down the opponent's top attacks.

D – Ben Cox, Sr., Medfield
Named the Tri-Valley League's Defensive Most Valuable player, Cox was a four-year member of the lacrosse team and part of back-to-back MIAA Division 2 state championship lacrosse teams. During the winter, Cox finished second on the Warriors hockey team in scoring, posting 12 goals for 38 points in 21 games. He will continue his lacrosse career at the University of Vermont.

D – John Sexton, Jr., Lincoln-Sudbury
The Notre Dame commit was a jack of all trades for the Warriors this season, taking faceoffs, playing on man-up situations and providing lockdown defense. Sexton was named an Eastern Mass. All-American and is a three-time Dual County League All-Star.

LSM – Nick Brozowski, Soph., Concord-Carlisle
A ground ball machine, the Maryland commit was named an Eastern Mass. All-American in addition to Dual County League All-Star honors.

M – Dan Delaney, Sr., Lincoln-Sudbury
The Eastern Mass. All-American tallied 38 goals and 20 assists while leading the Warriors to a Division 1 final appearance. Delaney will continue his lacrosse career at Fairfield University next year.

M – Keegan Dudeck, Sr., Longmeadow
The Lancers captain closed out his career on a high with a five-goal outburst in their Division 2 state championship win over Medfield. Dudeck tallied 38 goals and 17 assists for his senior season.

M – Jack Wheeler, Jr., Xaverian
Turning in a dazzling offensive display at Harvard Stadium, Wheeler was a key component to the Hawks' first-ever lacrosse championship. The Boston University commit and Eastern Mass. All-American tallied 42 goals with 15 assists this year.

A – Jay Drapeau, Jr., Westford Academy
Among the state scoring leaders in each of the last two seasons, Drapeau ripped off 71 goals in 2013. The Loyola commit was an ESPN Boston MIAA Lacrosse All-State second-teamer last year and also was a Hockey All-State Honorable Mention during the winter season.

A – Andrew Melvin, Sr., Medfield
The Eastern Mass. All-American helped lead the Warriors back to the Division 2 state championship game. Melvin will continue his lacrosse career at Bates College.

A – Nico Panepinto, Sr., Needham
Named ESPN Boston's third annual "Mr. Lacrosse" winner last week, the Fairfield University signee finished his high school career with 179 goals and 159 assists. Panepinto, also a standout on the football field for the Rockets, was a two-time Eastern Mass. All-American and ESPN Boston All-State selection.

Specialist – Derek Osbahr, Sr., St. John's Prep
Osbahr was an offensive weapon for the Eagles at the faceoff X as the best draw-winner in Eastern Mass. Also a member of Prep's Super 8 hockey squad, the Eastern Mass. All-American will continue his lacrosse career at Bentley University.

SECOND TEAM
G – Ryan Goodall, Sr., Dover-Sherborn
D – Jack Ullrich, Jr., Hingham
D – Jay Walsh, Sr., Duxbury
D – Ian Yanulis, Sr, BC High
M – Caleb Brodie, Jr., Hingham
M – Brendan Flaherty, Sr., Beverly
M – Mike Panepinto, Jr., Needham
M – Roby Williams, Jr., Wayland
A – Hunter Burdick, Sr., St. John's (Shrewsbury)
A – Nick Pino, Sr., North Andover
A – Tyler Reilly, Sr., Grafton
Specialist – Drew Kelleher, Jr., Longmeadow

Honorable Mention
Dom Abate, Sr. M, Beverly
Tommy Bannan, Sr. G, Hingham
Kevin Bletzer, Jr. M, Catholic Memorial
Rogers Boylan, Sr. D, Dover-Sherborn
Evan Boynton, Sr. D, Concord-Carlisle
Mike Carbone, Sr. A, Marshfield
Tucker Ciessau, Sr. A, Scituate
Matt Comerford, Sr. G, Reading
Pat Cronin, Jr. A, BC High
Matt Crowell, Jr. M, Medfield
Mark Dente, Sr. A, Reading
Kevin Farrell, Sr. FOGO, Billerica
Chris Frye, Sr. A, Walpole
Andrew Gallahue, Jr. A, St. John's Prep
Henry Guild, Sr. M, Lincoln-Sudbury
Carson Hart, Sr. M, Wayland
Keifer Heckman, Sr. A, Peabody
Eamon Hunter, Soph. LSM, Lincoln-Sudbury
Joe Igoe, Sr. M, Framingham
Reid Leveillee, Jr. D, Longmeadow
Giles Ober, Sr. G, Algonquin
Kieran Presley, Sr. M, Amherst
Brian Rotatori, Sr. M, Grafton
Drew Smiley, Jr. A, St. John's (Shrewsbury)
D.J. Smith, Sr. G, Billerica
Robert Treiber, Jr. G, Medfield
Luc Valenza, Sr. D, Foxborough
Tyler Weeks, Sr. D, Andover
Sam Wheaton, Sr. G, Minnechaug

Coach of the Year -- Ryan Liebel, Longmeadow
June, 14, 2013
6/14/13
2:49
PM ET
The Eastern Mass Lacrosse Coaches Association announced its boys' lacrosse 2013 All-Americans.

Here is the list:

FIRST TEAM
ATTACK
Jay Drapeau, Jr., Westford Academy
Nico Panepinto, Sr., Needham
Andrew Melvin, Sr., Medfield
Nick Pino, Sr., North Andover

MIDFIELD
Mike Panepinto, Jr., Needham
Dan Delaney, Sr., Lincoln-Sudbury
Jack Wheeler, Jr., Xaverian
Caleb Brodie, Jr., Hingham
Brendan Flaherty, Sr., Beverly

DEFENSE
John Sexton, Jr., Lincoln-Sudbury
Ben Cox, Sr., Medfield
Rob Breed, Sr., Xaverian
Jack Ullrich, Jr., Hingham
Jay Walsh, Sr., Duxbury

SPECIALIST
Nick Brozowski, Jr., Concord-Carlisle

GOALIE
Nick Marrocco, Jr., Duxbury
D.J. Smith, Sr., Billerica

SECOND TEAM
ATTACK
Tucker Ciessau, Sr., Scituate
Andrew Gallahue, Jr., St. John's Prep
Mark Dente, Sr., Reading
Henry Guild, Sr., Lincoln-Sudbury

MIDFIELD
Dom Abate, Sr., Beverly
Roby Williams, Jr., Wayland
Matt Crowell, Jr., Medfield
Eric O'Brien, Sr., Reading
Joe Igoe, Sr., Framingham

DEFENSE
Luc Valenza, Jr., Foxborough
Tyler Weeks, Sr., Andover
Rogers Boylan, Sr., Dover-Sherborn
Evan Boynton, Sr., Concord-Carlisle

SPECIALIST
Kevin Farrell, Sr., Billerica
Derek Osbahr, Sr., St. John's Prep

GOALIE
Ryan Goodall, Sr., Dover-Sherborn
Tommy Bannan, Sr., Hingham
May, 27, 2013
5/27/13
6:45
PM ET
With the state lacrosse tournaments underway, we're taking a moment to preview the field for our third annual Mr. Lacrosse Award, to be announced at the completion of the season.
Without further ado, the five candidates are, in alphabetical order:
Nick Brozowski, Jr. LSM, Concord-Carlisle
- The Maryland commit has been an absolute ground-ball machine for the Patriots. He's helped a C-C defensive unit that has allowed less than six goals per game during the regular season.
[+] Enlarge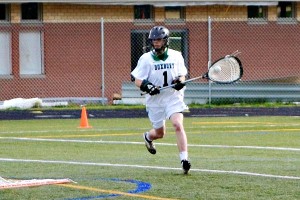 Scott Barboza/ESPNBoston.comIn his first season as Duxbury's starting goaltender, junior Nick Marrocco is a candidate for our third annual Mr. Lacrosse award.
Jay Drapeau, Jr. A, Westford Academy
- Drapeau has been one of the most feared scorers in the state during the last several seasons and is again among the state leaders in scoring with 95 points during the regular season, including 65 goals.
Nick Marrocco, Jr. G, Duxbury
- In his first season as the Dragons' starting netminder, the Georgetown commit has been downright stringy. Among the state leaders with Marrocco in net, Duxbury has surrendered just 84 goals on the season.
Nico Panepinto, Sr. A, Needham
- The Fairfield signee is a huge reason behind the Rockets' No. 1 ranking in our Top 25 poll, closing out the regular season. Looking for a validating performance as to why Panepinto should be included? Look no further than his four-goal performance against Duxbury, ending the Dragons' 48-game winning streak against MIAA competition.
John Sexton, Jr. LSM/D, Lincoln-Sudbury
- The Notre Dame commit has done a little bit of everything (and well) for the Warriors this year -- from taking faceoffs to stepping up to play on the man-up unit. One of the most versatile players in the state, Sexton is also among its most revered defenders.
May, 23, 2013
5/23/13
12:52
AM ET
By
Ryan Kilian
| ESPNBoston.com
READING, Mass. – No. 8 Concord-Carlisle lacrosse stormed out to a 5-0 lead after one quarter and never looked back as they defeated No. 16 Reading, 9-7, behind an intelligent and disciplined defensive effort.
Despite a furious second-half comeback, Reading (16-2) cou;d not overcome a six-goal second half deficit on Wednesday in both team's final tune-up before post-season play begins next week.
[+] Enlarge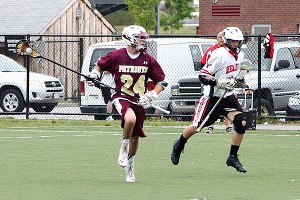 Ryan Kilian for ESPNConcord-Carlisle long-stick midfielder Nick Brozowski collected eight ground balls in the Patriots' 9-7 win over Reading.
The Patriots would maintain their 5-0 lead through the second quarter and in to the half as their senior defensive unit of Evan Boynton, Sam Barrett and Javier Flores did an excellent job of containing the explosive Reading attack unit.
"This is the best we have played defensively," Concord-Carlisle head coach Tom Dalicandro said after the game. "I was really worried about the match-up because the have three really good attackmen. Sam Barrett had his best game of the year for us today and Evan [Boynton] and Javy [Flores] also played well. They are three all-league kids on defense and I think they rose to the occasion today."
Don't look now but the defending Division 2 state champion Patriots (12-5) have won four games in a row and seven of their last eight, including wins over Lincoln-Sudbury and now Reading, as they head into tournament play with plenty of momentum.
"We feel really good about ourselves," Dalicandro said. "I think we can compete with anyone but we need to do the three key things we talk about. We need to value and share the ball, play great team defense and get saves from our goalie."
Concord-Carlisle completely dominated the start of the game and led 6-0 until 2:58 on the clock in the third quarter when Greg Connery would score the Rockets' first goal of the game.
Reading goalie Matt Comerford (10 saves) would then come up with a big save as the clock ticked down in the third quarter and Conor Frazier would take a deep outlet and find Charlie Colvin (2 Goals) for a goal with point-one seconds remaining on the clock.
Trailing 6-2 heading into the final quarter of play, Reading would come to life and begin to get out in the open field as they would cut the Concord-Carlisle lead to 8-4 with 6:36 to play.
"We want to play our style of lacrosse," Reading head coach Charlie Hardy said. "We are a little more run and gun and we want to get out in transition."
After Reading (16-2) started to seize momentum, Concord-Carlisle attack Tim Badgley (2G, 1A) would score and important ninth goal with 5:40 on the clock to give Concord-Carlisle a 9-4 lead.
Reading would not let down, however, as Charlie Colvin, Mark Dente and Eric O'Brien all netted goals to cut the C-C lead to 9-7 with one minute remaining in the game.
"I think the kids put a lot of spirit into the comeback," Hardy said. "The team you saw at the end is the team that we have."
C-C middie Will Blumenberg would help the Patriots secure a key late possession in the final minute of play to seal the win.
Blumenberg led C-C with three goals on the day while middie Peter Anastos (1G, 1A) also played well offensively for C-C.
"You can't spot a team like that goals," Hardy said. "They are too sophisticated and they are too well coached."
Concord-Carlisle and Reading will now both await the seeding selection for Division 2 on Friday to see whom they will face next week.
"We love playing them as it is a character game," Hardy said of the annual end-of-year game with C-C. "We want to play them at the end of the regular season so now we get to see what we need to work on."
Concord-Carlisle also received a strong game from long stick middie Nick Brozowski, who had his usual strong game on groundballs, scooping up eight, and using his quick stick to force multiple turnovers.
Andrew Kielar also played well in net for C-C as the sophomore came up with five of his nine saves in the first half.
April, 25, 2013
4/25/13
8:23
PM ET
CONCORD, Mass. -- Acton-Boxborough lacrosse trailed by four goals with less than six minutes to play in Thursday's Dual County League rivalry game against Concord-Carlisle.

The Colonials attack was snuffed out for the great parts of three quarters before breaking off a string of three goals within a minute and nine second to get themselves within a goal. A-B parlayed the momentum into the game-tying goal, scored by T.J. Kelly with 2:34 remaining in regulation. After playing through one overtime period, Scott Rogers (2G, 1 A) made it a happy bus ride home, scoring the game-winner at the 3:14 mark of overtime No. 2.

As for the sudden change in the Colonials' attack? A-B head coach Pat Ammendolia swears he had nothing to do with it.

"This is word for word," Ammendolia said, emphatically gesturing with his hands. "I told them that I'm not good enough a coach to get them out of it [the deficit]. Fact, that's verbatim."

There was no magic wand that cured all of the Colonials' ill from the first half. Instead, A-B (9-1) began doing the little things. The decided ground ball advantage the Patriots (5-5) enjoyed in the first half diminished in the fourth. Colonials face-off extraordinaire Joe Cormier won draws – directly or indirectly – setting up their string of three-straight goals from 5:16 to 4:07.

And then, there was the matter of patience on the attack.

"All season, we've been averaging pretty high in terms of scoring," Rogers said. "We were shut down pretty much the whole game and we kept forcing plays, trying to do everything ourselves. We just needed to play as a team and move the ball around, dodge, throw it back, re-dodge."

MASTER OF THE X
Cormier had as big a hand as any in the Colonials' comeback with a key stretch of five straight face-off wins in the fourth quarter. It's a performance that Ammendolia has come to expect.

"He's excellent," he said of Cormier. "He was great for us again today. He's guy that we can count on and usually that's at 75-, 80-percent [won faceoffs] each game. He's meticulous and he's really technical.

"But he's a hell of a complete player, not just a face-off guy."

PLAYING TO PACE
C-C did its best to control the pace of the game throughout the first half. Although the Colonials attack didn't do themselves any favors at times, the Patriots pressed the issue and won nearly every ground ball that was to be had behind long-stick midfielder Nick Brozowski, who scooped up five ground balls in the first half alone.

Cognizant of C-C's willingness to grind down a high-flying A-B attack, which had scored 102 goals in nine games entering Thursday's action, the Colonials sought to respond with a bit of the same.

"They like to hold the ball on offense," Rogers said of C-C. "So we wanted to counter and get it the offensive zone and hold it. Again, we really weren't doing that. We were forcing plays, taking shots that weren't there."
April, 8, 2013
4/08/13
2:24
AM ET
Attackmen:
Tyler Bogart, Soph., Catholic Memorial
Jordan Dow, Sr., Lincoln-Sudbury
Jay Drapeau, Jr., Westford Academy
Brandon Jaeger, Sr., Dover-Sherborn
C.J. LoConte, Sr., Duxbury
Andrew Melvin, Sr., Medfield
Nick Menzel, Jr., Archbishop Williams
Nico Panepinto, Sr., Needham
Robbie Pisano, Sr., Needham
Tyler Reilly, Sr., Grafton
Andrew Smiley, Jr., St. John's (Shrewsbury)
[+] Enlarge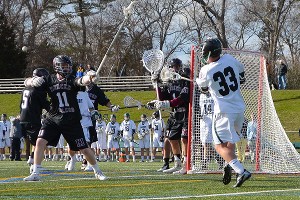 Scott Barboza/ESPN Army commit C.J. LoConte will look to shoulder a bigger part of the offense for defending Division 1 state champion Duxbury.
Midfielders:
Kevin Bletzer, Jr., Catholic Memorial
Will Blumenberg, Soph., Concord-Carlisle
Caleb Brodie, Jr., Hingham
Alec Brown, Sr., Wakefield
Tucker Ciessau, Sr., Scituate
Dan Delaney, Sr., Lincoln-Sudbury
Henry Guild, Sr., Lincoln-Sudbury
Carson Hart, Sr., Wayland
Davis Kraft, Sr., Algonquin
Matt LaCroix, Sr., Westfield
Drew O'Connell, Jr., St. John's Prep
Mikey Panepinto, Jr., Needham
Kieran Presley, Sr., Amherst
Bryan Rotartori, Sr., Grafton
Jack Wheeler, Jr., Xaverian
Long-stick Midfielders:
Nick Brozowski, Jr., Concord-Carlisle
Mike Elcock, Jr., Needham
D.J. George, Sr., Arlington Catholic
John Sexton, Jr., Lincoln-Sudbury
Defensemen:
Evan Boynton, Sr., Concord-Carlisle
Tim Gillis, Soph., Cohasset
Brian Uva, Sr., St. John's Prep
Luc Valenza, Sr., Foxborough
Jay Walsh, Sr., Duxbury
Tyler Weeks, Sr., Andover
Ian Yanulis, Sr., BC High
Goaltender:
Andrew Blood, Jr., Walpole
Matt Comerford, Sr., Reading
Ryan Goodall, Sr., Dover-Sherborn
Nick Marrocco, Jr., Duxbury
Giles Ober, Sr., Algonquin
Jake Reynolds, Jr., Scituate
D.J. Smith, Sr., Billerica
Robert Treiber, Jr., Medfield
Tighe Van Lenten, Sr., Masconomet
August, 3, 2012
8/03/12
3:55
PM ET
Concord-Carlisle lacrosse long-stick midfielder Nick Brozowski has committed to Maryland.

A three-sport athlete with the Patriots, Brozowski was a member of two MIAA championship squads last year playing with both C-C's Eastern Mass. Division 3 Super Bowl-winning football squad and Division 2 state title-winning lacrosse program.

The 5-foot-10, 160-pounder also plays with the Laxachusetts lacrosse club and is a member of C-C's hockey team.