Boston High School:

Nick Colantuoni
November, 16, 2013
11/16/13
10:39
PM ET
By
Ryan Lanigan
| ESPNBoston.com
WESTWOOD, Mass. -- Xaverian senior Shayne Kaminski had 151 yards on 21 carries and two touchdowns in the second half alone as the top-seeded Hawks beat Attleboro, 35-28, in Saturday afternoon's Division 1 South final.
Attleboro took a 14-7 lead into halftime and extended it to 21-7 on the opening drive of the second half, but Xaverian responded quickly and continued to gain momentum, scoring 28 straight points.
"We came out in the second half and we needed to run the football because obviously we didn't want to give them more opportunities offensively because they're very explosive," Xaverian head coach Charlie Stevenson said. "We really took control of the line of scrimmage in the second half and Shayne was just a monster."
[+] Enlarge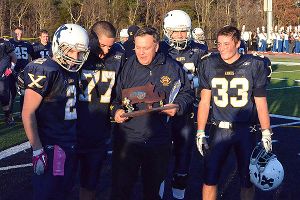 Scott Barboza for ESPNBoston.com Xaverian claimed the Division 1 South title and will face North champion Central Catholic at Gillette Stadium.
The Hawks opened scoring in the second quarter when quarterback Jake Farrell was able to escape Attleboro defenders in the backfield before firing a pass down field to a wide open Coby Tippett for a 48-yard touchdown. Attleboro responded on its next drive, taking it to the Xaverian 32 before Attleboro quarterback Tim Walsh found Brenden Massey in one-on-one coverage for a touchdown, making it 7-7.
Patrick Dunn then intercepted Farrell on the next drive and Attleboro marched 63 yards before Walsh hit a wide open Luke Morrison, who had just made a spectacular one-handed, 35-yard catch on the previous play, for a 6-yard touchdown with 36 seconds remaining in the half.
But the second half belonged to Kaminski, who finished with 30 carries for 200 yards.
After Attleboro made it 21-7, Xaverian drove 70 yards on eight plays — five of them runs by Kaminski — before the senior went through a big hole towards the right side for an 18-yard touchdown. On the next series, Xaverian junior defensive back Ernest Simon picked off Walsh. Though the offense was forced to punt, the kick pinned Attleboro inside their own 30 and after a hold, Attleboro's offense was forced to punt. However Walsh, who also handles punting duties, decided to run with the ball and was taken down short of the first down, giving Xaverian the ball at the Attleboro 31.
The Bombardier defense held its own, stopping the Hawks on fourth and goal from the 2-yard line, but the Hawks defense again stepped up, forcing a punt and Xaverian took over at the Attleboro 37-yard line. Two plays later, Kaminski went to the right, losing his shoe before scampering all the way for a touchdown to tie the game 21-21.
"That was a credit to the offensive line, that was probably the biggest hole I've seen all season," Kaminski said. "Shoe or no shoe, it's expected for me to take that to the house."
It was the Hawk's defense stepping up big again as Walsh had three straight incompletions on the ensuing drive and was forced to punt again. On Xaverian's first play, Farrell was able to hit Nick Colantuoni for a 53-yard touchdown and Xaverian had their first lead since the second quarter at 28-21, with just 5:47 to play.
"Jake [Farrell] is a competitor and things might not have gone his early but he stayed after it and they were tough defensively," said Stevenson. "I'm sure their quarterback had some frustration too with our defense. I think [Farrell] made some big plays for us when he had to and he completed that big pass to Nick [Colantuoni], great fake on his part."
As Attleboro tried to respond on their next drive, defensive back Damion Wood put the final touches on a superb Xaverian defensive effort in the second half. As Walsh looked for an open receiver, he floated one across the field but Wood came away with the interception, taking it 24-yards for the pick-six and giving the Hawks a 35-21 lead with 5:14 left.
"They're a very good football team and very well coached and have good skill players," Stevenson said. "They gave us everything we could handle all over the field on both sides of the ball. I really have to congratulate Coach [Mike] Stratchan for the job he's done there, he's really done a fantastic job there. Those kids really played their hearts out. I really give all the credit to him and all of his players and his staff."
Attleboro took their next drive 68 yards in less than two minutes, capped off with a Damon Belin 16 yard touchdown catch from Walsh, but Xaverian recovered the onside kick attempt and used seven straight Kaminski runs that resulted in three first downs, allowing the Hawks to take a couple of kneel downs to run the clock out.
"They did a great job, they had seven in the box all day and they played pressed coverage on us and their athletes matched up very well with us and then they got momentum," Stratchan said. "That was the end of it for us.
"I gotta' give a lot credit to them. They're physical and they're well coached and they have good match ups."
Xaverian will now play for the Division 1 Super Bowl at Gillette Stadium on Dec. 7. They will face off against Central Catholic, which defeated Everett, 20-14, in Saturday's Division 1 North final.
August, 27, 2013
8/27/13
8:27
PM ET
Forgive the Xaverian Hawks if they have a chip on their shoulders this season.

They're (how do you say in a politically correct manner?) a little ticked off about the way last season went. It was a losing season (4-7), and, as a result, the Hawks again fell short of a Catholic Conference championship, having last won it in the magical 2009 undefeated season.

Expectations never waver at the Hawk Bowl, and there's no exception for 2013. But with returning Conference champion and statewide preseason No. 1 St. John's Prep holding the gate and a stacked gauntlet of opponents in the newly formed Division 1 South sectional, Xaverian's path to postseason glory is wrought with peril.

"I think every year we have high expectations for ourselves," junior defensive end and tight end Joe Gaziano said. "And, obviously, last year was a disappointment. But I feel this year we're really motivated to work hard and we expect even more of ourselves this year, knowing what it takes to win and how hard it is to win."

While the wins may have come up short in the fall, for Gaziano and several of his teammates who were members of the Hawks lacrosse team's Division 1 state championship in June -- the program's first -- they might have found a springboard into football season. It's certainly not unprecedented in recent MIAA history that a program wins championships in both lacrosse and football in a calendar year, with Massachusetts lacrosse scions Duxbury pulling the feat most recently in both 2011 and 2012. On both those Dragons squads, a number of players shared responsibilities in both the spring and fall.

Xaverian fits a similar mold this year, with seniors Shayne Kaminski and D.J. Sperzel (Providence College lacrosse recruit) and Gaziano starring in both seasons.

Yet, Kaminski wasn't about to buy into the idea that one success necessarily begets another.

"It's a different game. But we're really trying to push the defense this year and I think we can be good."

He continued, "Our goal for right now is just to beat Everett [in Week 1]. That's as far as we're looking right now."

XAVERIAN AT A GLANCE
Coach: Charlie Stevenson (20th season, 162-59-1)
Last year: 4-7
Key returnees: Shayne Kaminski, Sr. RB/LB, 5-11, 198 lbs.; Joe Gaziano, Jr. DE/TE, 6-3, 230 lbs.; D.J. Sperzel, Sr. WR/S, 6-2, 190 lbs.; A.J. King, Sr. WR/S, 5-10, 180 lbs.; Nick Colantuoni, Sr. TE/DE, 6-3, 215 lbs.; Noah Sorrento, Jr. RB/LB, 5-9, 180 lbs.
Strengths: Depth at wide receiver, experienced pass rush.
Weaknesses: Depth at offensive line, experience on interior defensive line.

Outlook: The word around Clapboardtree Street is that defense has been the imperative this preseason. And it's not a stretch to hint that the Hawks might have one of the best units in the state this season. Gaziano and Nick Colantuoni present a serious pass rush threat from the ends, while Kaminski, Noah Sorrento and Kenny Kerns will feature at the linebacker spots. Of course, the Hawks have to find a replacement for the departed Mo Hurst, now a freshman at Michigan. Well, you can't really replace a player like that can you? "We'll have a cast of hundreds," head coach Charlie Stevenson said, alluding to the pool of players his staff is considering to fill the defensive tackle positions. On offense, there's a quarterback battle that continues with senior Peter White and junior Jake Farrell vying for the job. Xaverian has depth at running back with Kaminski and Sorrento providing able options. But the Hawks are auditioning a several new starters along the offensive line. The early returns have been positive. "Our offensive line has been great so far," Gaziano said. "We have a lot of new guys stepping up on the line with Joe Parsons, Ryan Mellen and Jeff Perez. I expect them to do a great job up front and help the run game and be a big, physical presence."
August, 24, 2013
8/24/13
3:43
PM ET
BRIDGWATER, Mass. – For nearly two hours Saturday morning, Bridgewater-Raynham and Xaverian renewed a rivalry that has become among the state's best non-league annual tilts.
Again, both the Trojans (No. 10) and the Hawks (No. 15) make strong showings in our statewide preseason MIAA football Top 25 poll. Not to mention, it won't be long before the teams go at it for real, when Xaverian welcomes B-R to the new-look Hawk Bowl for a regular-season game on Saturday, Sept. 21.
[+] Enlarge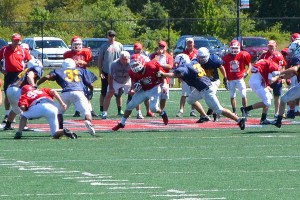 Scott Barboza/ESPNBridgewater-Raynham and Xaverian kicked off their first of - at least - two meetings this season to start their preseason.
But before we reach the regular season, here's a look at today's passing scrimmage and some takeaways:
Sorting through the QB battles:
Both squads enter 2013 looking for a new signal caller and both teams rolled through their crop of contending quarterbacks.
Xaverian senior Peter White, juniors Jake Farrell and Tom Fitzgibbons, along with sophomore Mike Pina all had reps under center, with White and Farrell seeing the majority of the snaps. Meanwhile, the Trojans cycled through junior Matt Clement and sophomore candidates Steve D'Emila and Cade McNaughten.
When asked to evaluate Saturday's performances, both Hawks head coach Charlie Stevenson and B-R's Dan Buron found positives, along with some improvements to be made.
"I thought our first two quarterbacks [White and Farrell] did some nice things," Stevenson said. "They made good plays. But a couple of plays that they were impatient on and if they would've been able to make plays if they'd scanned the field, we might have had some more scoring plays. But that's inexperience. That'll come."
At times, both offenses were slightly out of sync, with timing passes arriving a moment late and an overthrow here and there.
But for a scrimmage primarily concerned with the passing game, and with both defenses perhaps playing a little ahead of the opposing offenses, both teams were able to move the ball – although scoring was hard to come by.
"I think that right now, Matt [Clement] just because of his age is a little bit of those other two," Buron said of his quarterbacks, who saw a nearly equal number of snaps. "But I think I've got three good ones. I think it's just a lack of game experience and that's why I've added more scrimmages than normal to try to get them acclimated to the game situations."
Speaking volumes:
As far as Xaverian's passing game is concerned, while quarterback battle continues, there will be no doubt to the pass catchers working on the field. The struggle that Stevenson feels is how to get all of them on the field at once.
While the Hawks' return a couple of last year's top targets, including D.J. Sperzel and A.J. King, Stevenson believes he has depth at receiver. During Saturday's scrimmage, the Hawks worked in eight different receivers with its first-unit offense.
"I think we're about as deep at receiver as we have been in recent years," Stevenson added.
Layin' the lumber:
For a preseason scrimmage, Saturday's tone was about as spirited as you'll find. And, for the most part, it was carried by the respective defenses.
Working against the Hawks' offense presented a high quality challenge to B-R's new linebacking corps. The Trojans worked primarily with a group including seniors Kevin Newton and Arcel Armstead as outside linebackers and Devin Morris in the middle.
Buron is looking for big things from Newton, a starting-caliber player last year who was set back by injuries in 2012. Pat Whooley and Cam Goodrich also saw significant time with the Trojans' top unit.
However, the biggest play of the day came from junior linebacker Justin Finlayson. The 5-foot-10 outside linebacker popped a Xaverian player making a reception in the flat, drawing the raucous approval of his teammates on the sideline.
It might have been the most thunderous exchange of the day, but it also underscored the Trojans' ability to maintain positioning on Xaverian's swing and screen passes.
"I was pleased with that because honestly we haven't worked on anything that they typically do," Buron said. "We just wanted to stay in our base defense and run to the ball. Sometimes we didn't make the tackle, but I thought we were usually in good position. A lot of those things, this early in the year, they're correctable."
The Hawks also brought their defensive game with starting junior defensive ends Joe Gaziano and Nick Colantuoni establishing a strong pass rush off the edges.
Shaken, but OK:
There was tense moment or two about midway through the scrimmage when B-R's ESPN Boston preseason All-State offensive tackle Shawn Whitaker tumbled to the ground following a Hawks interception.
While backtracking and following the return up-field, Whitaker received a serious blow on a crack-back block. The 6-foot-5, 260-pounder didn't return.
Buron, adding that Whitaker has also been troubled by a back ailment in practice, said he was removed as a precaution.