Boston High School:

Nick Cross
February, 27, 2013
2/27/13
12:52
AM ET
By
Chris Bradley
| ESPNBoston.com


BEVERLY, Mass. –- If the game had gone five minutes longer, there may have been a different result, but Lynn Classical was able to pull out a 66-60 road win over Beverly on Tuesday night -— a matchup that truly was a game of runs.

After Beverly took a 25-22 lead with 4:30 to go in the second quarter, Lynn Classical went on a 10-2 run to finish the second half. They were able to maintain the lead until late in the second half.

"We really know how to make it interesting huh? Every time we had a little bit of breathing room, they came right back. We have turnovers in clusters, one point we were up 11 and then had four consecutive turnovers and Beverly converted each time," Classical coach Tom Grassa said. "They're a good team and I give them a lot of credit, we just beat them three weeks ago by 22."

The Rams used a balanced attack both on the glass and in the scoring column, and because of that were able to pull out a close victory. Jorge Perez (10 points), Phillip Rogers (16), Eraldo Custodio (14), and Jalen Brown (14) were all in double figures for Classical -— which really only managed to let one Beverly player hurt them in the scoring column all night.

Totaling 23 points on 4-6 from behind the three point line, Nick Cross led the way for Beverly. Classical was able to hold John Berchoff to 12 points on 14 shots from the field, while Jonangel Franco managed just five points on eleven shots. Even despite having some offensive woes at times, Beverly was able to march all the way back to tie the game up with under four minutes to go -—thanks to a steal and lay-up by Chris Sinclair. On the next possession, Cross hit a turn-around jumper a la Kevin McHale to put Beverly up 55-53 with three minutes to go.

Grassa said Classical had a hard time, at some points, with choosing who to key on defensively.

"Oh take your pick," Grassa said. "Cross we know, has been very effective, Berchoff and [Cam] Rogers too. We tried to focus our attention on those three, and I think [Beverly coach] Scott [Lewis] was telling his guards to take my guys to the hole. Because as soon as you go to help, they kick it, and Cross...he had a big game [because of that]. He's a terrific player."

Rogers, Custodio continue strong play: When senior Jalen Brown went down with an injury seven games ago, it was on the sophomore forward Phillip Rogers to step up for Lynn Classical and continue the production that the Rams were used to getting from Brown. So far, Grassa says, the 6-foot-3 Rogers hasn't disappointed.

"He's been terrific for us all year, a lot of times he takes a back seat to Eraldo [Custodio] and Jalen," Grassa said. "What happened was: seven games ago, Jalen got a real bad high ankle sprain, and during his seven game absence I think we went 6-1.

"But with Phillip we asked him to really step up his game and be more assertive on offense. A lot of times he's so unselfish that he won't become assertive."

Grassa wanted to make so much of an impression on Rogers, that he refused to take the sophomore out of the starting lineup even after Brown was back from injury. In fairness to how Rogers stepped up in Brown's absence, the coach didn't want to attempt to fix something that wasn't broken. It's a plan that Brown backed up, Classical's size and presence on the glass was, at many points in the game, too much for Beverly thanks to the contributions from Rogers and Custodio.

"It was real important because we knew [Beverly] can jump just as high as we can, so we figured that if we dominate the boards and keep them shooting from the three-point line, that we can easily beat them from the inside," Brown said. "They're some of our better players, bigger players, they really help us out on the boards. Whenever we need it they can go down low, they can get that easy two points pick up a foul and get a nice free throw—all that."

Custodio came out on an absolute roll in the first quarter, scoring ten points in the period—mostly on mid-range jumpers, and setting an aggressive tone early for Classical. Also finishing with seven rebounds for the Rams, who won the rebounding battle 32-26, he still kept his motor up after getting a scolding from his coach in the second half.

"He did get it going, but then I managed to ice him after an ill-advised shot," Grassa said with a laugh, enforcing the Rams' gameplan to shoot as few jumpers as possible. "It was a shot he made the previous six [times], in the third quarter he was wide open from 14 feet, and he front-rimmed it. I screamed at him 'That's it with the outside shots'. So blame me for icing him.

"We emphasized all week that this is one of the most difficult places to shoot because of the backdrop. We weren't going to take any threes. I think we only took three, made two. The last time we played here, we took three threes, everything was in the paint."
January, 29, 2013
1/29/13
11:27
PM ET
By
Ryan Hannable
| ESPNBoston.com
BEVERLY, Mass. -– Over the course of a season, a team very rarely goes out and dominates teams on a night in and night out basis like Danvers has this season. Eventually there comes a night where maybe they don't play their best, ending up in a dog fight with a tough opponent.
That is what took place Tuesday night as Beverly (10-4) gave No. 3 Danvers (13-0) everything they had, but eventually fell 49-47 before a packed house at the Henry Cabot Lodge Field House.
"It was a crazy ending to really a great high school basketball game," Beverly coach Scott Lewis summed up perfectly following the game.
With Beverly trailing 48-47 with just under 40 seconds to go, and with possession, the ball was knocked loose towards the Beverly bench with players diving after it. One of the referees blew the whistle awarding a timeout to Danvers, but after a few minutes of discussion it was ruled to be an inadvertent whistle, thus turning to the possession arrow and giving it back to Beverly with 30.8 seconds left.
[+] Enlarge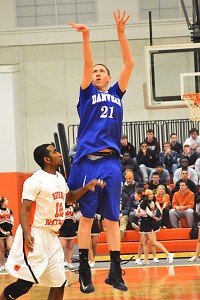 Brendan Hall/ESPNBoston.comSophomore Vinny Clifford (14 points) fueled Danvers' fourth-quarter rally with two big shots in the final two minutes.
After a runner in the lane by junior Nick Cross rolled off the rim, and Danvers sophomore Vinny Clifford scooped up the rebound, Beverly was forced to foul. Clifford made one of two free throws to give the Falcons a two-point lead and one last chance for Beverly with 10.8 seconds left.
Senior captain Cam Rogers got a good look at a runner in the lane, but it too rolled off the rim and Danvers escaped with the win.
"I was proud we overcame some adversity," said Danvers coach John Walsh. "You get late in the game and certain things can rattle a team, like when a call doesn't go your way or something like that. We fought through and I'm ecstatic."
Beverly led virtually the entire way until a Clifford three-pointer with 5:10 to play gave the Falcons a 42-40 lead. The Panthers threw different zone defenses at Danvers, which seemed to work forcing them off their game.
"They came out like we thought they would and played some sort of zone and it worked to their advantage," Walsh said. "Like I said they are very well coached. There was nothing that we were surprised about. We knew they would do everything well and right."
The Panthers led 15-10 after one, 29-24 at the half and 36-33 after three. Lewis also agreed defense was the key.
"We defended," he said. "We threw some different looks at them and tried to take away their options. That was the key, our defense. Offensively, we were OK. I think in the second half we got a little tight and missed a couple of bunnies. If we made a couple of shots it would probably be a different outcome, but the reason it was close was because we defended."
Beverly's offense struggled in the second half -- finishing with just five field goals -- and missing some key shots, which could have put the Panthers over the top.
"I thought we got good looks," Lewis said. "Cam (Rogers) got a few good looks, and I think Nick Cross had a few good open looks, but they just didn't drop. Maybe we were tired and didn't have the legs in the second half. One thing I would have liked to have seen was us go to the rim a little bit more and not settling for the jump shot, but hose are shots that we normally make."
After struggling in the first half, going 0-for-4 from three-point range, and finishing with just two points, Clifford picked his game up in the second half recording 12 points for a game-high of 14 including three 3-pointers.
"He hit some big shots," Walsh said. "He is a sophomore and he is coming up big. He's stepping into that void where (Nick) McKenna would get those shots. I was very proud of him."
McKenna is arguably Danvers' best player, but has only played in seven games this year due to mononucleosis. He averaged 19 points in those games and is expected back Feb. 8 against Saugus.
Seniors Dan Connors and Eric Martin each had solid games for Danvers finishing with ten points apiece.
Beverly was led by junior guard Jonangel Franco, who led the team with 11 points. Junior Jonathan Berchoff also played well finishing with 10 points in the loss. Cross, the Panthers leading scorer, was limited to only seven points and none in the second half.
Danvers was able to overcome poor free throw shooting as they finished just 6-for-13 from the charity stripe, while Beverly was an impressive 11-for-12.
The undefeated Falcons, and defending Division 3 state champions, have five Northeastern Conference games remaining before their next big test comes in the Comcast Tournament late in February.
Beverly, who qualified for the Division 2 state tournament in Sunday's win over Bridgewater-Raynham, has five Northeastern Conference games remaining before a non-conference tilt with Dracut to close out the year.
LOOKING FOR POSITIVES
Coming into the game Danvers' closest margin of victory in a game this season was 19 points over Revere last Friday. Although Walsh wasn't particularly happy with the way his team played, the game will certainly help the team down the stretch and in tournament games.
He also was quick to point out the outcome had a lot to do with how Beverly played.
"I'm not happy with the way we played, but getting a win like that can't hurt us," he said. "I think it is more of a credit to them. I think they are that good, they are really good. I think they play hard, they are tough and they are well coached. You're not going to get anything free against them."
For Lewis, some positives can be taken from taking one of the top teams in the state down to the wire, but ultimately the upset was what the Panthers were after.
"I guess maybe in a couple of days when it settles in we can say 'we played with Danvers, one of the best teams in the state, beating everyone by 20 points. We can play with them,'" Lewis said. "On the other hand we lost the game. That would have been a huge win for us so we're a little upset we lost the game because quite frankly we played really well, well enough to win."