Boston High School:

Nick Freitas
November, 9, 2012
11/09/12
1:42
AM ET
NO. 5 WALPOLE (9-0) AT NO. 21 NATICK (8-1)
The Skinny: The most anticipated regular-season matchup is finally upon us. A swelling crowd is expected to turn out for this one, as the Bay State Conference's Herget division title is on the line. Natick is looking to bounce back after coming up on the wrong side of one of the year's biggest upsets (a 40-34 loss to Wellesley), but Troy Flutie, Brian Dunlap and co. will have to do it against one of the state's stingiest defenses. Walpole hasn't allowed a point since Sept. 28, and hasn't allowed a touchdown since Week 3.

Scott Barboza: I'm shudder to think that we might not have any questions to answer during our Sunday night chat this week now that we're finally about to give our picks on this game. Walpole, 27-21.

Brendan Hall: I'm sure the primary topic of discussion in this Sunday night's Top 25 chat will be "What's your prediction for Natick-Walpole in 2013?" Walpole, 20-17.

NO. 17 NAUSET (9-0) AT PLYMOUTH SOUTH (6-3)
The Skinny: Raise your hand if you thought this would be the de facto Atlantic Coast League championship back in August. South's Dylan Oxsen leads the state in rushing touchdowns (28), doing so behind a uniquely modified pistol attack that gets the hard-charging junior downhill in a hurry. Written off a month ago, the Panthers are suddenly in prime position for their first postseason berth here, but they'll have to find a way to neutralize all the chicanery that comes with Nauset's single wing attack, led by running back Jimmy Sullivan.

Barboza: It's time we start considering Oxsen as a serious candidate for our Offensive Player of the Year Award. Plymouth South, 13-7.

Hall: If you know me, you know I'm a fiend for the ground-and-pound. For that reason, can't go wrong with either team, but I'm sticking with my preseason pick. Nauset, 28-21.

NO. 23 ABINGTON (9-0) AT EAST BRIDGEWATER (6-3)
The Skinny: Abington can clinch the South Shore League title with a win over the Vikings, and are the favorites here behind a dynamic offense led by Babila Fonkem, Pat Dwyer and Brandon Cawley. Defensively, the Green Wave are allowing just under seven points a game the last three weeks, but they figure to have their hands full trying to slow down quarterback Andrew Benson in the option game.

Barboza: I'm going to mention Brandon Cawley's name again just because the other night on Twitter he's said I only mention the running backs. JK guys, JK. Abington, 32-24.

Hall: If this is truly Abington coach Jim Kelliher's last season, then you can't find a more fitting farewell. Abington, 31-20.

SHARON (7-2) AT FOXBOROUGH (7-2)
The Skinny: Is the clock about to strike midnight on Sharon? The Eagles remain unbeaten in the Hockomock's Davenport division, but still have two big league games on the slate. The first one is Friday night, where they will attempt to contain tailback Kiivone Howard, who leads the Hockomock in rushing yardage (1,405).

Barboza: Foxborough quarterback Mike Slaby could be the difference-maker. Foxborough, 23-17.

Hall: What would a Hockomock League berth be without a little bit of mathematics? Foxborough, 21-7.

MARBLEHEAD (8-1) AT BEVERLY (9-0)
The Skinny: The Magicians claimed the CAL/NEC Tier 2 title last season with a senior-laden team. However, Marblehead's in the mix again, even after a surprise loss to Salem a few weeks back. Meanwhile, the Panthers can clinch the league crown with a win on Saturday. The vaunted Panthers offense (averaging 38 points per game) and its rushing attack is closing in on 3,000 combined rushing yards on the season, led by a backfield of Brendan Flaherty and Kenny Pierce. The Magicians have relied on 1,000-yard passer Ian Maag (13 touchdowns) for a bulk of their offense.

Barboza: It's been a nice bounce back run for Marblehead in an attempt at a repeat title, but, after all, this is the #yearofthepanther. Beverly, 28-14.

Hall: We love Jim Rudloff's mind games as much as the next guy, but the Magicians are simply overmatched here against one of the state's best rushing attacks. Beverly, 35-21.

BISHOP FEEHAN (6-2) AT SOMERSET-BERKLEY (9-0)
The Skinny: As in each of the last three seasons, the Eastern Athletic Conference title will be determined in a matchup between the Shamrocks and Blue Raiders. Feehan came away with a decisive victory last year, but Somerset-Berkley is looking to lay claim to its second crown in the last three years. The Blue Raiders are led by a dynamic back field of Garrett Carlos and Mike Garrant, but they'll encounter a physical Feehan front seven anchored by linemen Chris Barthe, Seamus Cuddy and Mitch Matrin.

Barboza: Nick Freitas escapes with EAC title No. 2. Somerset-Berkley, 27-20.

Hall: In terms of EAC supremacy, Feehan had the 2000's. And now, Somerset has the 2010's. Somerset-Berkley, 24-17.

FRANKLIN (7-2) AT MANSFIELD (6-3)
The Skinny: The Panthers get back into Hockomock Kelley-Rex play after a startling loss to Taunton two weeks ago. If Franklin is to hold out hope of hanging around in the division race, they'll need a win at Mansfield on Saturday. The Hornets are in a similar situation having dropped a close decision to North Attleborough two weeks ago. Look for the Hornets, led by Robbie Rapoza, to pound the ball on the ground and play some ball control in trying to keep the Panthers' spread attack on the sideline. Franklin junior quarterback Nick Zucco has been a revelation this year, but the Panthers can also run the ball behind Kyle Finamore. The Mansfield defense has been bolstered by junior linebacker Alex Ruddy, who currently leads the team in tackles.

Barboza: As predicted a couple weeks back, the Kelley-Rex picture is only obfuscated more. Expect another wild finish. And, of course, another prediction my friends in Mansfield will relish. Franklin, 38-36.

Hall: If the Hornets can establish the run game early, they can do just enough to hold off a furious Franklin rally. Mansfield, 27-24.

KING PHILIP (8-1) AT NORTH ATTLEBOROUGH (6-3)
The Skinny: Another pair of Kelley-Rex teams with one division loss meet in this rivalry game. The Red Rocketeers have cobbled together a three-game winning streak, following a three-game losing streak in the middle of the season. The better news yet for North in recent weeks its improving health, seeing several key contributors return to the field in recent weeks. Meanwhile, King Philip has rolled through Attleboro and Oliver Ames by a combined 75-21 margin since its loss to Mansfield.

Barboza: I find myself simply rooting for another chaotic finish to the Kelley-Rex division race, but I'm sticking with my preseason pick. KP, 24-21.

Hall: This is a new team with Sean Peters and Alex Jette both healthy. I'm looking at a return to early September form down the stretch for the Big Red. North, 30-23.
September, 29, 2012
9/29/12
7:58
PM ET
SOMERSET, Mass. – With two run-oriented attacks in Somerset-Berkley and Wareham squaring off on Saturday, you would've thought going in you count the number of combined passing attempts easily on one hand.

Neither the Blue Raiders nor the Vikings deviated from their game plans, but after being mired in a close game, it was in fact a passing play that helped S-B along to a 35-14 win over Wareham.

On the final scrimmage play of the first half, Raiders quarterback Jack Amarantes hit running back Mike Garrant on a wheel route out of the backfield for a 35-yard touchdown play.

"I don't know what the pass play was itself, but I knew they were playing with just the one high safety so we tried to take advantage of that," S-B head coach Nick Freitas said.

Even though S-B (4-0) went to the locker room down 7-6, the tone carried over into the second half.

The Raiders started the third with the ball and promptly dialed up another big scoring play with Garrett Carlos running 63 yards to paydirt. On the ensuing Wareham (3-1) possession, Garrant grabbed a fumble recovery -- his second takeaway of the game after a first-quarter interception – and had the Raiders rolling again. Six plays later, Amarantes plunged into the end zone over right guard for an instant two-score lead.

S-B didn't relent. It's a tone that Freitas hoped to establish during practice last week leading up to the date with the explosive Vikings and Darien Fernandez (16 carries, 91 yards) calling.

"We probably had our best Thursday practice that we've had all season," Freitas said. "The kids were flying around and having fun."

DYNAMIC DUO
In the early going, the Raiders have gone where their backfield tandem of Carlos and Garrant led them.

Carlos, who entered the game averaging over 10 yards per carry, kept up his torrid pace with 15 carries for 180 yards and two touchdowns. In addition to his momentum-shifting touchdown reception, Garrant also added 91 rushing yards on 12 carries.

Carlos and Garrant seem to pick up where the other leaves off in all ways, even during their postgame interviews. They alternated finishing each other's thoughts, adding in a plug for the offensive line here and a shoutout to the coach staff there.



There are parallels to 2010, when S-B last claimed the Eastern Athletic Conference crown. That year, the Raiders ran behind Seth Demello and Jaron Spear to a Super Bowl appearance at Gillette Stadium.

While Carlos and Garrant both bring different elements to the Raiders offense than did their predecessors, the result might just be the same this year.

"I'm just worried about Dartmouth next week," Freitas said, dousing any hype between another potential meeting between his team and Wareham at a later date.

He paused and then added, "They're good. I think they're a contender for the SCC."

His players were aware of the circumstances, however.

"This is a team [Wareham] that a lot of people are saying is going to come out of the [South Coast Conference] as a winner, we're trying to get out of the EAC, and that's who we could possibly face," Carlos said. "This game is huge and hopefully we'll get to see them again this year."
September, 26, 2012
9/26/12
4:31
PM ET
1. THROUGH THREE WEEKS, WHICH TEAM HAS BEEN THE BIGGEST SURPRISE?
Scott Barboza, ESPN Boston High Schools Editor:
I don't know if it's so much of a surprise, but I think we can say that Nauset football is for real and might be the front-runner for the Atlantic Coast League crown this season. While Mashpee has fallen below some preseason expectations, the Warriors 20-point win over the defending Division 4 Super Bowl champions last week was impressive. I'd absolutely put head coach Keith Kenyon on my shortlist for Coach of the Year in the early season, having completely turned that program around in his third year on the job. They'll have another challenge this week with a trip to Cardinal Spellman, but I wouldn't be surprised to see the Warriors undefeated after Week 4.
Brendan Hall, ESPN Boston High Schools Editor:
I know in the preseason I predicted Nauset would win out in an Atlantic Coast League that was expected to be a toss-up this year, and through the first three weeks of the season the Warriors have looked strongest. But if you told me in the preseason the Warriors would not only break through a stout veteran Wayland defense, but also roll over Mashpee with ease, I'd have chuckled.
But that's exactly what we've got here. The Warriors have been off to a dominant start to the 2012 season, outscoring the opposition 95-32, including a 34-15 thump of Mashpee last weekend. But more than the impressive statistics on defense, and more than the shroud of scouting mystery provided by its remote location (ever been to Eastham after Labor Day?), it's the offensive gameplan that makes the Warriors such a tough –- and unpredictable –- squad.
Keith Kenyon has turned around a once-dormant program (4-46 from 2005-09) into a formidable foe, in part due to the fact Nauset is one of the few teams in New England running exclusively out of a true Single-Wing offense. We're talking one-inch splits, unbalanced formations and even fullbacks calling the cadence.
Last year, captain and fullback Brendan Battles-Santos (also an ESPN Boston All-Stater and UConn freshman)
said of Kenyon's offense
, "when he brought in the Single Wing, I thought it was the best thing in high school football. I was like, 'This is sick', I'm not even getting the ball and this is fun, you know?"
Heck, even Wikipedia
applauds Kenyon's application of the Single Wing at Nauset
.
Last year, you had to pick your poison between the aforementioned blocking back Battles-Santos and brothers Nathan and Dylan Holmes, who shared quarterback duties. This season, Jimmy Sullivan has taken the reigns at QB, and he had his breakout last weekend against Mashpee, carrying 22 times for 205 yards. Look for him to be a continued threat as the Warriors look for their first playoff berth ever in school history.
Adam Kurkjian, ESPN Boston correspondent:
Have to go with Chelmsford. It speaks to the depth of the Lions' program that they can lose as much talent and experience from a year ago and beat teams like Westford Academy and Acton-Boxboro that decisively. It remains to be seen whether or not Chelmsford will keep up this pace with the iron of the Merrimack Valley Conference Large Division, but it's a good start.
Bruce Lerch, ESPN Boston correspondent:
How about Bishop Fenwick? The program hasn't had a winning season since 2007 and is off to a 3-0 start with three different types of wins. First came a solid 22-14 victory over an always tough Northeast team, then the Crusaders showed they could do the shootout thing by putting up 39 points against Pope John, and last week they showed they can do it with defense in a 14-7 triumph of Lynnfield. Rufus Rushins is finding the end zone on the ground while quarterback Nick Bona and wideout Charlie Maistrellis have a strong connection through the air. The Catholic Central Large has been the domain of Cardinal Spellman, St. Mary's and Austin Prep over the years but Fenwick looks like it may be ready to get back to challenging those teams this season.
John Botelho, Editor-in-Chief, South Shore Sports Journal:
Whitman-Hanson is off to a 3-0 start with wins over Plymouth North, Marshfield and should keep getting better. The Patriot League Keenan Division is still a race for who finishes second to Duxbury until someone knocks them off. Still though, the Panthers have closed the gap, at least a little bit, and this league has to be among the best on the South Shore now with undefeated Hingham in it as well. Tom Sapienza has transitioned seamlessly from wide out to quarterback this year, and has already found a top target in Dondre James, who has caught four of his eight TD passes.
Noth Attleborough has also been a pleasant surprise so far this year. Yes, they were a team many people thought could win the Hockomock Kelley-Rex crown, but they already hold wins over Rhode Island's top team in LaSalle and they beat the defending EMass. Div. 1 Super Bowl champ in BC High. If you had North at 2-0 after those two games before the season started, you were in the minority. And they didn't just squeak by, they beat both teams by at least 20 points. Sure, they won a close call against Bishop Feehan, but that was a trap game for them coming off those two huge wins. This team has already raised the ceiling for the expectations significantly in 2012.
Talking surprises, we might as well bring up both Middleboro and Norwell here too. Both programs have struggled to be competitive in recent years, but both are currently 2-1 this year (and both are following 2-9 campaigns in 2011). Neither team has gotten to the meat of their schedule yet, but it's always nice to see teams trending upward.
The Sachems have cruised past Coyle & Cassidy and Falmouth the last two weeks. Unfortunately for them, Duxbury comes to town this Friday. Still though, a clear message would be sent if they can put on a competitive show. As of right now, they'd probably be the favorites against Silver Lake, North Quincy and Carver, and winning those three would mean finishing at at least .500 for the season.
Norwell beat Randolph and South Shore Vo-Tech the last two weeks, surrendering 12 total points along the way. They host winless Rockland on Saturday, and the Bulldogs are having trouble finding the end zone. The Clippers could find themselves 3-1 before they run into Abington and Mashpee in the next few weeks.
2. WHICH PLAYERS HAVE SEPARATED THEMSELVES SO FAR FOR ESPNBOSTON.COM'S "MR. FOOTBALL" AWARD?
Barboza:
Averaging nearly 17-yards-per-carry heading into Week 4 action, it's hard to argue that any other single player in the state has contributed more to his team than Holy Name senior running back Quron Wright.
Beyond Wright, I don't know if there's another singular talent that has entirely joined that conversation, but there's a couple others worth watching. Darien Fernandez is tearing up the record books for the Vikings, setting a school-record with six touchdowns in a 51-14 win over Falmouth and leading Wareham to a 3-0 record. This might be a little more outside of the box, but I defy you to find a lineman who's been more valuable to his team in the early going than Reading tackle Matt Comerford, who's absolutely eaten up all comers in the early season, including Brockton's defensive line, which is no slouch in its own right. If you want to look at the defensive side of the ball, linebacker Zach Hume is poised to lead Nashoba to great heights.
Hall:
At running back, Burlington's Marcus Odiah and Quron Wright have separated themselves for contention with some impressive yardage in the early-going. Wright has amassed over 650 yards rushing on just 39 carries, while Odiah is averaging over 230 yards rushing per game. Both demonstrate exceptional top-end speed, albeit in different manners –- Odiah the long and slender build at 6-foot-1, Wright the short and compact frame that makes him difficult to spot behind the huge Holy Name linemen in the double wing.
And I mean, honestly, how can you not dig #QuronMania?
At quarterback, the competition is furious right now, with a number of players putting up impressive stats so far. St. John's of Shrewsbury's Andrew Smiley, Natick's Troy Flutie, Reading's Drew Belcher and Springfield Central's Cody Williams, all juniors, have put up good numbers and showed resilient poise in the crunch. However, Barnstable's Nick Peabody seems to be a cut above the quarterbacking competition right now. In just three games, he has already racked up 13 touchdown passes and over 1,000 yards of offense.
Defensively, it's hard to ignore the impact Jon Baker has had in the middle of the field for Millis/Hopedale, and while Xaverian has struggled to a 1-2 record Maurice Hurst Jr. has had a big impact on the interior as a defensive tackle. Also look out for Nashoba linebacker Zach Hume and Reading lineman Matt Comerford, two leaders on two of the state's stingiest defenses.
Kurkjian:
It's still very early, but it's hard to go against Holy Name's Quron Wright. Through three games, according to the Worcester Telegram & Gazette, he is averaging almost 17 yards per carry and has scored 10 touchdowns. Those are incredible numbers, regardless of the opponent, and expect them to continue.
Bruce Lerch:
Burlington's Marcus Odiah has a staggering 705 rushing yards and 10 touchdowns in just three games for an average of 235 per. Already the program's career rushing leader with 3,551 yards, Odiah could surpass the 4,000-yard milestone within the next couple of games.
Josh Perry, ESPN Boston correspondent:
There are a host of quarterbacks that are putting up incredible numbers early in the season, including Troy Flutie of Natick, Drew Belcher of Reading, and my favorite -- Nick Peabody of Barnstable. Peabody fits in perfectly with the Red Raiders attack and has that offense rolling. He leads the state with 13 touchdown passes and has been incredibly accurate, while throwing more than just about anyone else in Massachusetts. Of course, I always have a special place in my heart for teams that love to throw and score points so Barnstable is intriguing.
Alex Jette of North Attleboro is another player that I think could get more attention at a state level, if he can stay on the field for four quarters. He has all the skills - breakaway speed, quick cuts, and great hands in the passing game, but a combination of cramping and some cheap shots at the bottom of piles has taken him out of games in the second half. A good example was Week 1 against LaSalle (R.I.) where he put on a show in the first half with nearly 300 yards of offense, but then was on the field for only a couple of snaps in the second half. Hockomock League play tends to slow down offensive attacks anyway so Jette is missing chances to rack up statistics before having to face Mansfield and KP's defenses.
Botelho:
Quron Wright has put up some ridiculous stats the first three, rushing for over 600 yards already. But don't sleep on Duxbury's Jon Hurvitz either. The Dragons have pushed their state-best win streak to 29 games despite running a changed offense. With Matt O'Keefe under center and a seemingly endless repertoire of weapons at his disposal, Duxbury blew past teams with a pass-happy offense. O'Keefe is gone, but the high scoring offense remains because of what Hurvitz has done out of the backfield. The senior tailback has already rushed for 10 touchdowns and shows no signs of slowing down.
Barnstable's Nick Peabody has torched opposing defenses, leading the Red Raiders to just north of 40 points per game, and his 13 touchdown passes lead the state. We find out just how good Barnstable is this weekend when they play No. 1 Everett. If Peabody can deliver there like he has the first few weeks, Mr. Football is probably his award to lose.
3. WHICH BROCKTON TEAM ARE WE LIKELY TO SEE THE REST OF THE WAY -- THE ONE THAT STRUGGLED AGAINST READING, OR THE ONE WITH TWO WINS OVER TOP-5 CATHOLIC CONFERENCE POWERS?
Barboza:
Once again, I'll happily eat my slice of humble pie for picking the Boxers to open up the season 1-3. They've certainly acquitted themselves as a better team than that in their two early wins. Whether Brockton can run their Catholic Conference win streak to three games against the Prep on Friday is another question. I'm sticking by my preseason pick that the Eagles will escape Marciano with a victory in tow. However, I think the destiny of this Boxers team is more in line with the pluses than the minuses, provided they can move the ball. The Rockets utterly shut down the triple option in Week 2, creating concern of Brockton's ability to consistently move the ball. As long as there's no repeat performance, and Prep's stout defense provides an ample challenge this week, Brockton will be just fine in the long run.
Hall:
Either there is just something about Catholic Conference schools that bring out the best in Brockton, or the Boxers are just better than any of us have given them credit for. Based on the early returns, my inclination is the latter, and you have to like the Boxers' chances going forward. This St. John's Prep squad is good, but not invincible, and even perhaps a little too conservative at times if the Everett loss is any indicator.
If the Boxers win out here, their next three opponents are Fitchburg, Pinkerton (N.H.) and Durfee. Of those three, I only expect the Pinkerton game to be a toss-up -– but then again, a year ago supposedly the worst Brockton team in a decade knocked off the unstoppable juggernaut that was supposed to be the 2011 Astros.
It's very possible we could see Brockton at 6-1 headed into Week 8's showdown with Leominster, and let the record show I predicted a 1-3 record for the Boxers coming into September.
Kurkjian:
Your guess is as good as mine. There is one thing that is for sure, however. This Brockton team is light years better than last year's version. Maybe that's not saying much because last year's team struggled so mightily, but this team is just so much better up front and there's an overall uptick in focus and leadership that recent Brockton teams have lacked.
Lerch:
You have to like the strength the Boxers have shown against the Catholic Conference with both of its wins coming against BC High and Xaverian. I think this is the week where we'll be able to better answer this question, as they'll take on a St. John's Prep squad that battled Everett tooth and nail. If Brockton can continue the momentum they picked up last week, I like their chances for a strong finish.
Botelho:
Well, the one thing we know about the Boxers for sure is their defense is premier. They shut out BC High, then held Reading's powerhouse offense to just 12 points before allowing 14 in the win against Xaverian last week. The bad news for Brockton is that if they can't get their offense rolling early, they have a hard time finding the end zone at all. Since the beginning of the 2011 season, Brockton has been shutout in five of their seven losses. The only time they've reached double digits and lost since last year was their game 22-15 defeat against St. John's Prep last season.
That said, even with the shutout against Reading already on their tab this season, this year's version of the offense looks more complete than last season's. I'd be shocked if this team is shutout again this year, and wouldn't be at all surprised if they don't lose another game, because they don't need many points to with the defense they've got. My guess is as the season continues to carry on, and they hammer down their Georgia Tech-style offense more, they'll become a tough team to slow down.
4. WHICH RUNNING BACK HAS BEEN THE BIGGEST SURPRISE THUS FAR?
Barboza:
This name might not be among the better known in the state in year in which, for all intents and purposes, is fairly deep at running back, but Somerset-Berkley's Garrett Carlos has been a revelation. The senior is averaging a shade over 10 yards per carry while running for 411 yards and eight touchdowns in three weeks. After a bit of a rebuilding year last year, the Blue Raiders' cupboard is full this year with 20 returning seniors, meaning that Nick Freitas' team should again be in the poll position for an Eastern Athletic Conference title. And Carlos is no small part of that.
Hall:
The one that sticks out in my mind is Wareham's Darien Fernandez running roughshod over Falmouth in Week 1, running for 246 yards and six touchdowns (five in the first half). He has cooled down since then, but the kid is flat out an athlete. At 5-foot-6 and blessed with great leg strength, he is as durable as he is tough to get a good angle on. He's already well-known on the basketball court, making our All-State Team last winter in leading the Vikings to the Division 3 Eastern Mass Final at TD Garden. But some have mused he may be a better football player, with some feelers from a few Division 1 FCS programs.
Kurkjian:
Going to go with Needham's Mike Panepinto here. So far, he's been outstanding for an undefeated Needham team already owns a win over Mansfield. A tough runner, he simply doesn't go down on first contact and he's a perfect complement to a passing game that continues to get better with junior quarterback Ryan Charter.
Lerch:
Needham's Mikey Panepinto is a heck of an athlete who is putting up tremendous numbers in what his probably his second-best sport, given that he's already committed to platy lacrosse at UMass. It's not so much the numbers that have surprised me with Panepinto though as much as it is the manner in which he's gotten them. He was able to get off for some big gains in two of the Rockets games but against Mansfield, he really impressed me by proving that he could also grind out the tough yardage and punch in a series of short TD runs.
Perry:
Attleboro running back Malique Clark is not an unknown quantity after several explosive cameo appearances last season. He has breakout speed and the strength to carry the ball 20 times per game. The surprise is that the Attleboro offensive line has been able to create openings for him against tough defenses like Bishop Feehan and Dartmouth. Teams will be packing the box and daring junior QB Tim Walsh to beat them with his arm, but to this point it hasn't slowed Clark down at all. The Hockomock is loaded with running backs this season, but Clark's ability to turn a nothing play into a big gain has kept the Attleboro offense rolling and has the Bombardiers at a surprising 3-0. Hopefully, Clark's rib injury that made him miss this weekend's game won't be a long-term problem.
Botelho:
Darien Fernandez at Wareham, Kiivone Howard at Foxboro and Hurvitz have all exceeded expectations, but Jalen Felix has kept Everett rolling. He did it again last week against St. John's Prep, scoring a TD and rushing for 96 yards on 12 carries.
5. WHICH LINEMAN IS MAKING THE BIGGEST PUSH FOR ALL-STATE INCLUSION CURRENTLY?
Barboza:
Aside from a lot of the familiar names you've seen in our preseason lists, here's a couple who have stood out to me in the first quarter season. Both Brendan and I were taken back by the performance of Barnstable center Tom Grimmer during the Red Raiders' man-handling of Dennis-Yarmouth. He spent most of that evening riding the Dolphins' nose guard five yards back. I'm also looking at North Attleborough's big bookend tackles –- Sean Peters and Eric Beckwith. We talked a little bit earlier in the season about how the Red Rocketeers have historically had good speed/zone blockers, but have often lacked size. Both Peters (6-4, 240) and Beckwith (6-2, 270) bring exactly that. Although North sees plenty of pressure from the outside against traditionally strong defensive sides in King Philip and Mansfield in its Hockomock League schedule, they might be better prepared this year to deal with the outside rush than at any time in recent memory behind their pillars on the end.
Hall:
I'm making a case for Holy Name's Basit Dennis to be included in this discussion. Off the field he's a great story, with his Liberian roots, and a great kid. On the field, at 6-foot-1 and 290 pounds, the senior has been a dominant two-way force in the interior. As talented as Quron Wright is on his own merit, a big reason for his ridiculous rushing average is the Naps' punishing offensive line, led by Dennis at right tackle.
Brockton's Joe Previte has been a leader at center for a revitalized Boxer offense. And don't forget about Everett's bookend defensive ends, Jeff Soulouque and Omar Graciano, who have taken turns applying pressure on quarterbacks and causing confusion.
Kurkjian:
Reading's Matt Comerford was pretty impressive in the game against Brockton Week 2. He's strong, mobile, tough and plays with good technique. And it doesn't hurt that he's about 6-4 or 6-5 and 285 pounds.
Lerch:
Regardless of who is taking the snaps in Everett or what trickery John DiBiaso uses to get the ball into the hands of those tremendous athletes, the one constant is John Montelus. The Michigan-bound senior has really solidified his standing as the state's top prospect, regardless of position, and has done it againts one of the state's toughest, early-season schedules.
Two guys to keep an eye on are Millis/Hopedale's Jon Baker and Burlington's Mike Woods. Baker is a 290-pound beast who dominated both sides of the line of scrimmage in the Mohawks rout of Norton last week and has drawn plenty of notice from big-time college programs. Woods is the left tackle and leader of the Red Devils line that has paved the way for Marcus Odiah to run for 705 yards and 10 scores and is another player catching looks from several Division 1 FBS and FCS level schools in the Northeast.
6. IT'S A MEGA-WEEKEND OF MUST-SEE FOOTBALL ACTION. WHICH GAME ARE YOU MOST LOOKING FORWARD TO?
Barboza:
Well, since it's part of our Massachusetts Army National Guard Game of the Week program, I'm going to go with St. John's Prep at Brockton. As we went over in Question 3, the onus is on Brockton to show that they are in fact the team that's notched two, tough Catholic Conference wins in the early going. But this one will also be a litmus test for the Eagles, who played a very competitive game against No. 1 Everett. It'll be interesting to see how Prep responds – whether they use last week as a rallying point into their later schedule or if this one presents a letdown after taking on No. 1. This certainly isn't a game to be taken lightly and I'd expect neither team will. This will be an ole fashioned slobber-knocker on the ground.
Hall:
You ask anyone in Everett, and they'll tell you Barnstable was the hardest-hitting team they faced all season. The Red Raiders come at you with a certain level of abandon replicated by few programs, and nobody embodies this more than middle linebacker Andrew Ellis. But it's a much different level of football in Everett than the Raiders have seen so far (Durfee, Dennis-Yarmouth, Sandwich), so this should be a great litmus test under the lights at Everett Memorial Stadium.
Kurkjian:
Barnstable at Everett. Any time you have the clear-cut No. 1 team in the state going up against a quality opponent it's pretty compelling. You have to wonder just how healthy the Crimson Tide are coming off such a physical battle with St. John's Prep last week. Barnstable has been throwing the ball all over teams so far but they haven't faced a defense anywhere near the level of Everett's. Everett definitely comes in more battle-tested. Not sure how much Durfee, a rebuilding Dennis-Yarmouth and Sandwich prepare you for the best team in the state, but we will find out Friday night.
Lerch:
You really can't go wrong with a loaded schedule this weekend, particularly on Friday, but it's hard to look past another Game of the Week taking place in Everett. Last week the Crimson Tide hosted No. 2 St. John's Prep, and this week, it's No. 3 Barnstable coming to town. Everett hasn't yet seen an offense capable of putting up the kind of numbers that the Raiders have been achieving (145 points through three games) but the reverse of that is true as well in that Barnstable has yet to match up against a team that has as much athleticism as the Tide.
Perry:
The easy choice would be Everett versus Barnstable, but I am a sucker for history.
In Hockomock country, old rivals North Attleborough and Foxborough will meet at Ahern Middle School. For decades, the Hockomock League title came down to North, Foxboro, and Mansfield, but recently the Warriors have been hit by changing demographics within the town. Each year the Foxboro program has shrunk a little bit and now KP has replaced it at the top of the league while Oliver Ames, Stoughton, and Canton have threatened to pass them by in the small school division.
This is a Warriors team that has promise and a desire to put North in its place (this is a trend among most teams in the Hockomock). Running back Kiivone Howard has been a star with 9 touchdowns in the opening three weeks and Foxboro wants nothing more than to reestablish itself in the Hockomock pecking order. Although the game lacks playoff implications, the rivalry between the teams makes this a must win for both.
The Rocketeers certainly saw last week what an angry rival is capable of, when they struggled to put away Feehan, and I expect a reaction from them, but still can't count out Foxboro.
Botelho:
This is the easily the most exciting weekend of the season so far, and you can look all over the state and find exciting games. Out west you've Minnechaug-Longmeadow, which is always one of the game's of the year. In the central region, Holy Name and Nashboa are colliding in a Super Bowl rematch. And in Eastern Mass, it's nearly impossible to pick just one. No. 1 Everett vs No. 3 Barnstable should be a blast. No. 18 Needham plays at No. 20 Weymouth in what is essentially a league title game in September. Brockton hosts St. John's. Bob Bancroft's Pembroke team host Whitman-Hanson, the team he became a legend with (and Panthers coach Mike Driscoll captained one of Bancroft's unbeaten Super Bowl champions). East Bridgewater and Mashpee has evolved into a huge tilt in the SSL the last couple years, and the Falcons have ended the Vikings' postseason chances each of the last two years. Mansfield might have the best passing attack in either Hockomock League, and Stoughton seems to have the best pass defense, and this week we'll find out which strength is greater.
A great weekend indeed if you're a high school football fan.
December, 4, 2010
12/04/10
2:43
PM ET
By
Neil Carroll
| ESPNBoston.com
FOXBOROUGH, Mass. -- The Beverly Panthers used a 63-yard drive before halftime to swing the momentum in their favor, and came back to defeat the Somerset Blue Raiders 28-20 in the Division 3 Super Bowl at Gillette Stadium.
"For us to come back in the way that we did, it say something very special for our kids and their character," Beverly coach Dan Bauer said.
"Starting off 0-5, you know how to face adversity," Beverly quarterback Joe Wioncek said about the comeback. "When we went down we just stayed together like we have been all year."
Beverly, which lost the first five games of the season, showed its resiliency after trailing Somerset 20-7 late in the second quarter. With 3 minutes, 1 second left in the half, Beverly used seven plays to drive 63 yards for its second score of the game.
Although the Panthers still were down 20-14 after the extra point, Beverly rallied at halftime after the scoring drive.
"That, in itself, allowed us to be in position to win this game..." Bauer said about the drive. "That gave us the support we needed to pull the win out."
"That's the story of our season, we've been doing it all year," Beverly's Mark Giles said after the game. "No one believed in us after we were 0-5, people were probably down on us when we were down in the first quarter, but we don't give up. This team doesn't give up."
[+] Enlarge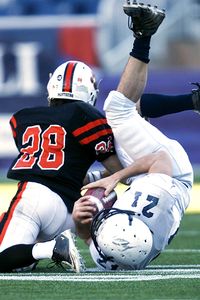 John Mahoney Beverly and Kenny Pierce (No. 28 in black) upended previously undefeated Somerset 28-20 to claim the Division 3 EMass Super Bowl at Gillette Stadium.
Somerset's offense confused the Beverly team early on, and the Blue Raiders were able to score on their first three drives of the game. Jaron Spear led Somerset in the first half with nine carries for 148 yards and two touchdowns -- including a 59-yard run, on which he broke two tackles on the score.
But Spears went down with a hip injury in the second quarter, according to Somerset coach Nick Freitas, and the offense struggled to move the ball in his stead.
The comeback was also keyed by a defensive revival for the Panthers. Beverly's defense stepped up in the second half with an invigorated defensive line, and some minor strategic adjustments.
Coach Bauer said that to counter some of the pulling guards and misdirection that Somerset used throughout the first half, the team subbed in a linebacker for a defensive linemen. That speed allowed the Panthers' defense to keep up with the Somerset running backs on the sweeps, and neutralize the pulling linemen.
"We were a little soft in the beginning and we woke up a little bit on the line," Giles said. "But once we started resetting the line of scrimmage we were making the plays we needed to make."
Beverly's offense was led by Nick Theriault -- who had 12 carries for 139 yards and one touchdown -- and Wioncek. Wioncek finished the game 6 of 11 for 77 yards with two touchdown-passes to sophomore Brendan Flaherty.
"It feels amazing. Words can't describe it," Wioncek said about winning the Division 3 Super Bowl. "You grow up watching TV, and watching this field, to be able to play on it and not only win -- but win a super bowl -- for your school and community -- it's amazing."
BEVERLY 28, SOMERSET 20

SOM 14 6 0 0 --- 20
BEV 0 14 7 7 --- 28

First Quarter
S - Jaron Spear 59 run (T.J. Eisle kick)
S - Seth DeMello 1 run (Eisle kick)

Second Quarter
B - Brendan Flaherty 13 pass from Joe Wioncek (Wioncek kick)
S - Spear 26 run (Eisle kick)
B - Flaherty 15 pass from Wioncek (Wioncek kick)

Third Quarter
B - Nick Theriault 26 run (Wioncek kick)

Fourth Quarter
B - Wioncek 1 run (Wioncek kick)
December, 1, 2010
12/01/10
3:39
AM ET


TAUNTON, Mass. – Alex Estrella views his job as a punt returner to be simple.

It only involves darting behind the wedge set in front of him, gaining the outside edge and then running as fast as he can to the end zone.

"It's that easy," the Somerset senior said.

In premise, it is easy, but not always so easily accomplished.

However, Estrella made it look natural as the Blue Raiders rode the momentum created by his 56-yard punt return for a touchdown early in the first quarter to cruise past boarder rival Dighton-Rehoboth, 28-0, in the Division 3 Eastern Mass semifinal on Tuesday.

"It was a good thing," Blue Raiders head coach Nick Freitas said plainly. "It always helps when you can win the battle on special teams. It definitely helped to set the tone."

Somerset (12-0) would strike again one minute after Estrella's score. A Falcons fumble recovered by Edward Matanes set up shop for the Blue Raiders at the D-R 30-yard line. It took just one play for Jaron Spear to find the end zone on a 30-yard carry.

"We couldn't have started off any worse, with them running that [punt] back and us fumbling," Falcons head coach Dave Driscoll said. "Right away, we're down 14-0 to a team that's undefeated."

D-R's unenviable position became direr when Adam Ledoux took in the quarterback sneak from a yard out for a 21-0 Somerset lead with 1:13 remaining in the first half.

The Falcons (10-2) showed some resistance, however, and threatened to score before the half was out. A 47-yard kickoff return by Bryan Rocha had D-R starting at the Blue Raiders' 35. The Falcons weren't able to crack the end zone though as John Kyle Silva's pass went incomplete on a third and goal from the 7-yard line to end the half.

D-R managed only 51 yards of offense in the first half.

Somerset added some insurance on a 41-yard screen pass from Ledoux to Spear in the third quarter.

From then on, the Blue Raiders continued to bleed the clock and chew up yards on the ground. Running out of the double wing Spear (14 carries, 102 yards) and Seth DeMello (19 carries, 121 yards) were too much to contain.

"It's going to have to be a real good team to beat them," Driscoll said of Somerset, his alma mater.

The team that will be posed that task Saturday is Beverly, which at 6-6 qualified to play at Gillette Stadium for the Division 3 Super Bowl with a 41-14 win over Scituate on Tuesday.

"We have the school behind us," Estrella said. "It's been a rallying point and it's a goal that we set for ourselves back in January, when we were lifting, running. This is what it's all about."

Somerset 14 7 7 0 -- 28
D-R 0 0 0 0 -- 0

First quarter
S Alex Estrella 56-yard punt return (T.J. Eisle kick)
S Jaron Spear 30-yard run (Eisle kick)

Second quarter
S Adam Ledoux 1-yard run (Eisle kick)

Third quarter
S Jaron Spear 41-yard pass from Ledoux (Eisle kick)
November, 15, 2010
11/15/10
6:35
PM ET
ANDOVER 88, LOWELL 82...NATIONAL RECORD?
This past October 30, two Texas high school football teams combined for 165 points in a battle for playoff position, with Jacksonville High defeating Nacogdoches High, 84-81, in the 12th overtime. According to KLTV, the Tyler, Texas-based ABC affiliate covering the game, that set a national record.
If all that's true, then what went down last Friday night at Cawley Stadium is a national record. Andrew Coke ran for eight touchdowns for Andover to lead the Golden Warriors to an 88-82 victory over Lowell in the eighth overtime. Meanwhile, Raiders quarterback Kyle Edwards threw for eight touchdown passes in the loss, four of them to Josh McGlauflin.
The Red Raiders had an opportunity in the eighth overtime to score, but were stopped inches short of the goal line on a fourth-and-three play. The game was tied at 28 after regulation, and the teams traded touchdowns in seven straight overtime periods -- including six straight successful two-point tries by either side -- before Coke marched in from 10 yards out on the Golden Warriors' first play of their eighth-overtime possession.
"I've never seen anything like that," Andover head coach E.J. Perry told ESPNBoston's Scott Barboza. "It was a tremendous accomplishment by this team to put it all on the line. Now we'll have the chance to play with all the marbles on the line against Central Catholic on Thanksgiving Day. It's been a great honor to coach kids like this that are so resilient.
"But I give a lot of credit to those Lowell kids as well. I went over to talk to them after the game and I told them that they had nothing to be ashamed of."
With that win, the Warriors have set up a winner-take-all battle with Central Catholic on Thanksgiving for the Merrimack Valley Large's playoff berth. But it's a pyrrhic victory, as Boston College-bound tight end Brian Miller went down with a knee injury in the first half; his status for Thanksgiving is unknown right now.
"No real update right now," Perry told correspondent Roger Brown in his recruiting blog
today
. "Brian was not able to get an MRI over the weekend. The orthopedist who was on hand was somewhat optimistic it wasn't an ACL, but without an MRI there now way to know for sure. He's getting that [Monday]."
D-WHAT? D-Y!
Paul Funk arrived at Dennis-Yarmouth in 2001, fresh off a successful stint as an assistant at storied Everett, to find a Dolphins program so barren that it had relegated itself to junior varsity status. D-Y faced problems not only with numbers, but with plain old futility -- the Dolphins had won just six games in the 1990's.
Fast forward to Friday night, and the Dolphins are staring at their second Atlantic Coast League title in four years, thanks to a gritty 14-7 win over Plymouth North.
"In nine years, this is what we've got, and I'm pretty proud of that," Funk told ESPNBoston's Brendan Hall. "It's alot of hard work from alot of people."
It was the usual recipe to success for the Dolphins, with linebackers Tommy Kennedy and Victor Andrade leading a swarming defense that marked hard-nosed fullback Matt Walsh all night and kept the Eagles' vaunted running game stalled in first gear. Meanwhile, Matt Montalto wasn't putting up video-game numbers as usual, directing Funk's high-octane spread attack, but he was good enough in the second half, running and throwing for a touchdown each.
Montalto now joins his brother, Nick, as quarterbacks to lead the Dolphins to a share of the ACL.
"He is as good a competitor, as a winner, as you'll ever find," Funk said. "He's been a winner since he was seven. You always have a chance with him at the helm. His older brother was the same way, (Matt's) just an unbelievable person."
As for that elusive playoff berth...
With the league slates of both D-Y (9-1, 4-1) and Marshfield (5-4, 4-1) wrapped up, fate lies in the hands of North (7-3, 3-1), which has one ACL game left -- Thanksgiving archrival Plymouth South (4-6, 2-2). A North win on Thanksgiving creates a three-way tie for the ACL, and would give the playoff berth to the team that has gone longest without making the playoffs -- in this case D-Y, which has never played past the holiday in the Super Bowl era.
You can be rest assured the Dolphins will be scoreboard-watching on this one. This same scenario played out in 2007, when they went 10-1 but with a loss to Marshfield needed a North win on Thanksgiving to create a three-way tie. South took down North in what was considered a big upset, and the Rams went on to the Division 1A Super Bowl before bowing to Chelmsford on a late field goal.
WHALERS ROCK BIG 3 BOAT
New Bedford could've let its boat sink after suffering four straight losses to start the season, however Dennis Golden's squad righted ship with four wins entering Saturday's matchup against Brockton. Then, the Whalers did the unthinkable, upsetting the Boxers, 23-21.
"Well, we've been much better in the last month than we were in the first month," Golden told Scott Barboza on Sunday. "I'm really proud of the way that our kids have battled back when they very easily could have let things slide."
Now, New Bedford can clinch a Division I playoff berth with a win over Durfee on Thanksgiving Day.
The Whalers jumped ahead of the Boxers, 14-0, at halftime and never trailed in the contest. To close out the win, New Bedford embarked on a 20-play drive, spanning eight minutes and forty seconds of the fourth quarter. Although the Whalers didn't score, Brockton got the ball back with only five seconds remaining, scant time for the Boxers to get a game-winning score.
"Our offensive line was amazing on that final drive," Golden said. "They were just amazing and that was huge for us, keeping the ball out of the hands of their offense at the end of the game."
BLUE RAIDERS PILLAGE EAC CROWN
The Somerset sideline dumped the water bucket over head coach Nick Freitas' with around 30 seconds remaining.
Still, Freitas wasn't about to go Gore v. Bush on calling his team's number in the Eastern Athletic Conference race.
"I didn't feel safe until it was down to point-six second left on the clock there," Freitas said after the Blue Raiders' 49-28 win over Bishop Feehan on Friday.
The Shamrocks once again proved that the EAC runs through them, despite losing their first five games of the season. Feehan won when it counted, taking their first three EAC contests before falling to Somerset.
And the Blue Raiders weren't about to look past their opponent.
"That's all we could think about this year," lineman Ian Levesque said Friday about their matchup with Feehan. "We knew it was going to come down them in our last [conference] game. We knew we had to be ready for them. We had a hard week of practice. We watched extra film. We knew it was going be that tough."
HEAD OF THE CLASS
VALVOLINE PEAK PERFORMERS OF THE WEEK: NEW BEDFORD'S OFFENSIVE LINE
The Whalers line of Jason Brierly, Lance Burlingame, Janny Dosreis, Jacob Medeiros, Oliver Pires and Darian Sousa-Bizarro carried New Bedford in its upset over Big Three rival Brockton.
THE CLASSMATES
Andrew Coke, Jr. QB/RB, Andover
- The leading scorer in Division 1 added immensely to his already-impressive totals by scoring eight touchdowns in the Golden Warriors' 88-82, eight-overtime win over Lowell.
Matt Costello, Sr. WR, Everett
- The senior had another tremendous day receiving in the Crimson Tide's 45-0 win over rival Malden, making eight catches for 195 yards and three scores.
Seth DeMello, Sr. RB, Somerset
- He provided the biggest spark in the Blue Raiders' 49-28 win over Bishop Feehan to clinch their first postseason berth of the Super Bowl era, carrying 20 times for 245 yards and scoring six touchdowns (four rushing, two passing).
Ryan Lipka, Sr. WR, Bishop Fenwick
- With six catches in the first half of a 36-0 loss to St. Mary's last Friday, Lipka became the first player in the state of Massachusetts to catch more than 100 balls in a season.
Quinton Perkins, Jr. ATH, Fitchburg
- The versatile speedster was vicious on the ground for the Red Raiders, carrying the ball 17 times for 278 yards and six touchdowns in a 56-33 shootout win over Gardner.
Andreas Robinson, Soph. QB, Phillips Exeter
- In a 56-33 win over archrival Phillips Andover, Robinson ruled the day with 297 yards and four touchdowns on 31 carries.
November, 13, 2010
11/13/10
4:42
AM ET


SOMERSET, Mass. – Somerset's run to the 2010 Eastern Athletic Conference championship began last December.

"We were in there lifting from about two weeks after the end of last season," Blue Raiders offensive and defensive tackle Ian Levesque said. "We were so close to winning the EAC last year that it was all we could think about."

There were days when Levesque said his legs were so tired he could barely get up the steps to his front door. Yet, after enduing a fast-paced 49-28 shootout with defending EAC champion Bishop Feehan and running the gauntlet to a 10-0 record, the 6-foot-4, 315-pound lineman seemed happy enough he could have levitated off the field having seen his hard work pay off.

"There was definitely an air of something different this week," said head coach Nick Freitas, who led the No. 20 Blue Raiders to their first football league title in nearly three decades.

Freitas wasn't about to let his team look past Feehan, which trudged an unlikely road to set up Friday's winner-take-all matchup on County Street.

The Shamrocks lost their first five games out of the chute, but redeemed themselves with a four-game winning streak, including three conference games.

Freitas installed a sign reading "What did you do to beat Feehan today?" In the spirit of the Golden Domers, their opponents, it was a reminder not only to play like a champion, but practice like one.

"Their record doesn't show how good of a team they are," Levesque said. "They played a bunch of good teams early in the year. We knew we had to come to this game really focused, really prepared. [This week,] practices went a little bit longer, film sessions went a little bit longer. Everybody had to be on the ball and have that mentality to not give up at any point in the game."

The Blue Raiders showed their resolve, embarking on a 14-play touchdown drive on their first possession with Seth DeMello punching in the first of his six touchdowns. The 17-yard score from Adam LeDoux saw the Somerset offense in a bit of a different light. Running back Jaron Spear also connected with DeMello on a passing play for a 42-yard score in the second quarter.

DeMello, who ran for 245 on 20 carries, added rushing touchdowns of 3, 39, 88 and 13 yards, respectively.

Alex Estrella also had a touchdown run of 11 yards in the second quarter.

The Shamrocks received stellar quarterback play from junior Andrew Murphy, who completed 13 of 21 pass attempts for 312 yards and three touchdowns.

"I didn't feel safe until it was down to point-six second left on the clock there," Freitas said.

By that time, Freitas had already been doused in a congratulatory water bath by his team. Nick Almeida finished the game with emphasis with the fifth Somerset sack of Murphy.

Then, and only then, could the celebration truly begin.

Bishop Feehan 0 14 7 7 -- 28
Somerset 7 21 7 14 -- 49

First quarter
Somerset Seth DeMello 17-yard pass from Adam LeDoux (T.J. Eisle kick)

Second quarter
Somerset DeMello 3-yard run (Eisle kick)
Bishop Feehan O'Brian McHayle 57-yard run (Matt Allen kick)
Somerset DeMello 42-yard pass from Jaron Spear (Eisle kick)
Somerset Alex Estrella 11-yard run (Eisle kick)
Bishop Feehan Brandon Cole 13-yard pass from Andrew Murphy (Allen kick)

Third quarter
Somerset DeMello 39-yard run (Eisle kick)
Bishop Feehan William Firth 24-yard pass from Murphy (Allen kick)

Fourth quarter
Somerset DeMello 88-yard run (Eisle kick)
Bishop Feehan O'Brian McHayle 56-yard pass from Murphy (Allen kick)
Somerset DeMello 13-yard run (Eisle kick)
October, 18, 2010
10/18/10
3:06
PM ET
So another new No. 1? Yep, we think so.
Here's What We Learned this weekend:
THE BEST DEFENSE AGAINST EVERETT? SAY "NITE NITE"
Everett running back/linebacker Vondell Langston, like the rest of his charismatic teammates, couldn't help but get a little giddy after the Tide's jaw-dropping fourth-quarter shutdown of the state's No. 1 team, Xaverian. So when asked about the message written across each strip of eye-blackener on his cheeks -- "NITE" was written across each one, so that it read "NITE NITE" going across -- the 6-foot, 200-pound junior was happy to explain.
"This was to put all the hype away, that we ain't even listening to it," he said.
But after a drubbing as impressive as this one -- the Tide held the Hawks' vaunted rushing attack to just 83 yards total -- Everett is undoubtedly the hype. And they'll get their first big test as No. 1 this Friday night when they travel to Viola Stadium to take on the Eagles of Boston College High, themselves coming off a 49-0 smattering of New Jersey power Hudson Catholic.
Not only did the Tide show deceivingly consistent balance between the run and pass, with Langston and quarterback Jonathan DiBiaso showing poise at both aspects of the game, but they're continuing to prove over and over just how tough it is to slow them through the air. Bottle up the lightning-quick, Boston College-bound Manny Asprilla, and deep ball threat Matt Costello will go off for career numbers, carving precise sideline routes. Bottle up Costello, as Joe Colton did exceptionally in Saturday's contest, and Asprilla will torch you.
Asprilla had a hand in all of the 22 fourth-quarter points by the Tide, first making a leaping catch over the middle to set up Langston's go-ahead plunge; then hauling in a 22-yard touchdown slant on fourth and 10; and finally returning an interception Ed Reed-style, 48 yards to paydirt with a bevy of shimmy and shake.
"It seems like, from week to week, teams have been following whoever had the big week last week," Costello said. "If Manny [Asprilla] has a big game, they're spotting him, or whoever it is. And we have so many players who can catch the ball and make plays that somebody's going to get open."
Added head coach John DiBiaso on having so many targets, including Kenny Kalaj and Jakarrie Washington, "It makes a big difference. I have a lot of confidence to throw to Manny, Matt, any of our receivers. You look at the defense, see what they're giving you and then you try to take what they're giving you."
DiBiaso later joked to the group of reporters that he can't wait for the new rankings to come out Monday morning and find somebody else at No. 1.
"I like us better when we have a chip on our shoulder," DiBiaso laughed.
And just for kicks...ESPNBoston.com high school editor Brendan Hall was the only Boston writer to pick Everett to win the game. According to highschoolsportspage.com, which tracks all of the Boston writers' weekly picks, Hall was
27 for 28 on week six picks
, good enough to blow away the rest of the field with a 96 percent clip.
And while we're at it, Scott Barboza also picked the field with a solid B-plus [89 percent, but didn't pick Everett (Wah, wah, wah)] while picking 28 contests, which again begs the question: When is everybody else going to step up their game?
ISL ISN'T QUITE SO TOP-HEAVY -- LEAST, NOT YET
"There's two ways to play our team," Lawrence Academy head coach Mike Taylor told ESPNBoston correspondent Corey Allen following the Spartans' 20-7 win over Governor's Academy. "Either you lay down and die, or fight. These guys did a heck of a job fighting."
Right now, several schools are willing to tango with the four-headed monster from Groton. Had Dan Giovacchini not stopped Elijah Morrissey on fourth down late in the game, we might be talking a whole other story. The Mark Gerry-coached Governors dressed just 27 players against the 4-0 Spartans, who have four players committed to BCS schools and a line that averages nearly 300 pounds across, and came away with a moral victory that should give them momentum the rest of the way.
Meanwhile, BB&N showed no glaring signs of weakness in its 40-20 win over Milton Academy. With elite quarterback Charlie Story out for the Mustangs, BB&N found itself defending some trickeration (see: Wildcat) to start the game. But once things settled down, junior running back/linebacker Chris Coady (23 carries, 241 yards, three touchdowns) showed why he is quickly becoming one of the state's most sought-after 2012 recruits.
Coady, a re-classified junior who visited Duke this past weekend, currently holds lacrosse scholarships from Syracuse, Brown and Harvard (he was a defenseman on St. John's Prep's Division 1 state champion squad last spring). And that lacrosse agility has translated well on the gridiron for the 6-foot-3, 220-pounder.
"He's unbelievable. The kid's a tremendous football player," head coach John Papas told ESPNBoston's Brendan Hall. "To make this transition on both sides of the ball, from quarterback and free safety to running back and linebacker, he's truly been amazing. You saw him, I mean he's strong as a horse, and he's getting better every week. That's the scary part about it."
Meanwhile, Rivers is off to one of the best starts in school history thanks to its tandem of Roxbury cousins and Division 1 prospects Ben Patrick and Taariq Allen. Patrick, who has interest from a number of FCS schools, has nine touchdowns and 837 rushing yards on 86 carries through the first four games. Meanwhile his cousin -- who de-committed from UConn last month and still holds offers from Wisconsin and Nebraska -- has been a threat through the air (23 catches, 332 yards) and ground (24 carries, 233 yards). A win this Saturday against Milton Academy would clinch the first winning football season since 1982.
It should also be noted that St. George's -- the team which caused quite a stir two weeks ago when it decided to forfeit rather than play Lawrence -- notched its first win of the season last Saturday, a 20-8 decision over reportedly-smaller St. Mark's.
THIRTY AND COUNTING FOR AUBURN
The last time the two-time defending Division 2 Super Bowl champs lost to an opponent, period, was Sept. 19, 2008, to Winthrop. The last time they lost within the Central Mass region? You have to go back to November of 2007, when the Rockets dropped a close one to David Prouty, 14-7, a week after getting smoked 42-7 by rival Northbridge.
Jeremy Lavallee (513 rushing yards) has been the stalwart of the Rockets' offense, while Worcester South transfer Atta Oweso carried last weekend's 26-0 shutout of Quabbin with two scores himself. Meanwhile, the defense is allowing just 6.3 points per game, including impressive decisions over Shrewsbury (6-2) and Northbridge (21-7).
Any talk about the Rockets on track to matching Acton-Boxborough's state record of 52 games has to be silly at this point -- it would still take a full two seasons to get within distance. But with just one team with a winning record left on its regular season slate (Thanksgiving, versus Oxford), an undefeated three-peat certainly isn't out of the question.
ROCK 'EM, SOCK 'EM SOUTH SHORE
What a buzzsaw the top of the South Shore League has turned out to be.
None who were in attendance will soon forget Rockland's hard-fought 9-8 win over Cohasset on Friday. But what is the Bulldogs' reward for knocking off the reigning co-league champions? A matchup with another of the South Shore's unbeatens, Abington.
"We feel good about this one, we can celebrate a little," Bulldogs fullback Mike Driscoll told Scott Barboza Friday night. "But we're going to put this one behind us pretty quick and it's all about Abington on Monday."
The Green Wave is also 6-0 overall with a 3-0 South Shore record and is coming off an impressive 22-6 win over another quality league foe, Mashpee.
"We're just going one week at a time," Driscoll added. "We can't look past anybody."
RAIDERS STORM THE VINEYARD
Somerset head coach Nick Freitas let out a sigh and said, "It always feels good after a win."
Talking via telephone Monday morning, there was a feeling Freitas might have had his feet up on the desk while saying so.
That's because his Raiders have made it look easy at 6-0. Their average margin of victory has been about 22 points per game, led by the dynamic running duo of Seth DeMello and Jaron Spear.
On Friday night, the midpoint Eastern Athletic Conference championship game took place on Martha's Vineyard with a battle of unbeatens. Somerset left the island leaving no question who is the best team in EAC, after a 40-0 blanking of the Vineyarders. Quarterback Adam Ledoux and DeMello each registered three rushing touchdowns. DeMello, the bruising running back, finished with 24 carries for 228 yards in addition to 42 receiving yards.
Barring any hiccups in their remaining league games at Coyle-Cassidy (Nov. 5) and versus Bishop Feehan (Nov. 12), the Raiders should be playing beyond Thanksgiving.
HEAD OF THE CLASS
VALVOLINE PEAK PERFORMER OF THE WEEK: SETH DeMELLO, SR. RB, SOMERSET
It's easy to overhype Somerset's win 40-0 win over Martha's Vineyard as the be-all, end-all in the Eastern Athletic Conference this season. However, you cannot undersell DeMello's performance against the Vineyarders. The hard-nosed runner registered 24 carries for 228 yards and three touchdowns. DeMello also created balance in the Raiders' attack with 42 receiving yards.
THE CLASSMATES
Manny Asprilla, Sr. WR/CB, Everett
– What didn't the BC-bound speedster do? Asprilla's five catches for 80 yards and one touchdown don't tell the true story of what he contributed to Everett's win over Xaverian. His 47-yard interception return for a touchdown was an athletic display.
Chris Coady, Jr. RB/LB , BB&N
– Coady put in another impressive performance with 241 rushing yards on 23 carries with three touchdowns in a 40-20 win over Milton Academy. He also registered seven tackles on defense.
Mike Driscoll, Sr. FB, Rockland
– Driscoll's touchdown and 117 tough-gained yards were the driving force behind the Bulldogs' win over Cohasset.
Kemani Jones, Sr. RB, Milton
— Jones ran roughshod over Dedham, led by his 325 yards on 16 carries with touchdown runs of 24, 17 and 82 yards, respectively.
Mike Mercadante, Sr. RB, Minnechaug
-- The 5-foot-11, 220-pound senior had a career night for the Falcons last Friday's 50-38 shootout win over Holyoke. He carried the ball 26 times for 256 yards and six touchdowns, and caught three passes for 32 yards and a seventh touchdown.
Paul McCarthy, Sr. QB, North Attleborough
- It was a highly efficient performance for Big Red's signal-caller, going 7 of 8 for 173 passing yards and four touchdowns in a win over Canton. McCarthy also had a rushing touchdown of 55 yards.
Trae Musumarra, Sr. RB/LB, Central Catholic
– Musumarra took over in a 40-32 win over Lowell, running for 162 yards and six touchdowns, three of which came in the first quarter.
Ben Patrick, Sr. RB, Rivers
- Patrick continued to tear things up with 25 carries for 227 yards and three touchdowns in a win over Brooks. Through four games, Patrick has 837 rushing yards and is averaging 9.7 yards a carry, while Allen has accumulated 565 yards of offense through the ground and air.
Richard Rodgers, Sr. WR/DE, St. John's (Shrewsbury)
– Maybe someday we'll them the "Richard Rodgers Player of the Week Awards". Sound good? Thought so. Another 7-catch, 92-yard performance and chipped in two sacks against St. John's Prep.
Zach Zaniboni, Jr. RB, Plymouth North
– Eighty one rushing yards don't exactly jump off the page, but consider that Zaniboni did so on just six carries while breaking off a 50-yard touchdown that was all the Eagles would need in a 15-0 league win over Marshfield. That should pretty much do it.
October, 15, 2010
10/15/10
2:31
PM ET
By
Brendan Hall
| ESPNBoston.com
SOMERSET, Mass. -- Nick Freitas recalls the final preseason scrimmage of the 2006 preseason, a tussle with Wareham when he was Somerset High's defensive coordinator. He watched as the Vikings plowed away time and again with a daunting double-wing offensive scheme that pulverized opponents that season behind two future Division 1 players, offensive tackle Shea Allard (Delaware) and quarterback/defensive end Mike Laperriere (Northeastern).

And from then on, Freitas was instantly hooked, spending countless hours digging up whatever he could find on the throwback offense, a two tight end set with one-inch line splits, two wing backs and a fullback two yards behind the quarterback.

Others' playbooks might be thick. But the premise with this scheme is decidedly more straightforward and simplex, requiring good trap blocking, misdirection handoffs and a tough-minded quarterback who isn't afraid to throw his elbows around. When the quarterback rolls out for a pass, his tight ends and receivers aren't demonstrating the entire tree. Yet at the same time, the tight splits and backfield alignments give way to convoys of blockers at the point of attack, and takes away teams' blitz packages.

"The great thing about this offense is it's easy to learn," senior running back Alex Estrella said. "You can put someone in a position and they get the basics in two hours, whereas in a spread it might take weeks."

Since the system was installed at Somerset in the summer of 2009, the Blue Raiders are 13-3, including a 5-0 mark headed into tonight's matchup at 4-0 Martha's Vineyard. So far this season, the Raiders are averaging nearly 330 yards a game on the ground, and 31.8 points per game (second-best in Division 3), thanks to a slew of running backs led by LeDoux, Estrella, Jaron Spear, Seth DeMello and Josh Zadjel; in the trenches, the Raiders move the chains as 6-foot-4, 280-pound Division 1 prospect Ian Levescque does.

"It's very tough to stop. I think it's an equalizer, in regards to less talented teams," Freitas said. "I looked at it from a defensive coordinator, and liked the fact that it controls the clock. When you don't have numbers like I wish we had (the Raiders dress just over 30 on their varsity), where we can't give kids blows and stuff, the philosophy we teach is that it's better to give than receive -- it's like Christmas -- so we like being on offense and controlling the clock."

Said senior quarterback Adam Ledoux, "You always have two-on-ones. You've got two smaller kids who are fast, going up against a big kid who might not be used to double-teams and getting blown off the ball."

"Plus," Levesque added. "It's an offense that wears defenses down. Defenses are gassed by the end of the game."

So if it's that easy, why don't more teams run it? As Estrella notes, it's not for everyone. But this system seems to blend in fittingly to the grind-it-out identity of this blue-collar town nestled just across the Taunton River from Fall River.

"We're hard-nosed football players, always ready to go out there and make plays, do their jobs," Ledoux said. "Offseason, we're lifting every day year-round. We're just going to work harder than you are."

A typical defensive gameplan against an offense like Somerset's calls for two things:

1. Watch the quarterback -- Ninety to ninety-five percent of the time, coordinators will tell you, the play is going to the opposite side of the direction the quarterback opens his hips after the snap.

2. Follow the guards -- Many times, double-wing offenses will outweigh teams at the point of attack by pulling a backside guard.

Freitas acknowledged these axioms, but pointed back to the principle of misdirection -- just when you've figured it out, he feels, they come back with a new ripple.

"Alot of teams, if you run motion, they'll anticipate going to that side," Freitas said. "But for every instance of what a team could take away, there's something there to exploit it."
September, 27, 2010
9/27/10
12:06
PM ET
Now that the dust has settled on Week 3 of the Massachusetts football schedule, here's what we learned from this weekend's action:
OK, so we were slightly wrong about Xaverian...
Turns out our friends at the Boston newspapers had it right and we had this No. 1-2 thing
in the wrong order
. Xaverian, on the heels of a 23-20 double overtime
instant classic
over Brockton, is our new No. 1.
But differences aside, we've all agreed that, man oh man, last Saturday's showdown at the Hawk Bowl was one of the best in the history of the series. And these two teams almost always seem to fight to a seven-point win or four-point defensive stalemate.
The Boxers have plenty of hype this season, and rightly so with the likes of Miami-bound Albert Louis-Jean joined by fellow seniors Ralph Cherry, Paul Mroz, William Carruthers, Trevon Offley and Jacques Janvier. But the Hawks showed plenty of toughness in the win. Junior quarterback Chris Calvanese fought through cramps to orchestrate the comeback win, delivering the game-tying pass to Mike Muir -- who, a few plays prior, separated his shoulder and popped it back in.
Hey, who said Xaverian kids aren't tough?
...But when healthy, Brockton's Trevon Offley is a bull to take down
Mahar's Isaiah Jones put it ever so simply last week in our
Q&A
: "My coach always says squatting is going to do everything for you."
It's clear after last weekend that the 5-foot-6 Offley abides by a similar mantra. And, as All-Pro running back Maurice Jones-Drew demonstrates every Sunday, leg power with a low center of gravity is a vicious combination.
From the second quarter on, Offley was just a chore to take down. Just when the Hawks had him for a 5-yard loss, he'd rip through an arm tackle, sidestep and shimmy his way back out to the line of scrimmage and then some. Other times, he'd keep his legs churning and drag the pile for an extra two or three yards. Offley, who carried the rock 19 times for 117 yards and all three of Brockton's scores in the loss, had been out with a shoulder injury since the first half of the Boxers' 16-6 season-opening win over Boston College High. But when he's healthy, he's as reliable as they come.
Methuen's offensive line kicks out and kicks off?
Methuen quarterback Cal Carroll emerged as one of the region's toughest playmakers with the Rangers'
36-26 stunner of No. 9 Billerica
, but just as impressive was his offensive line. Since losing to Plymouth North, 13-7, in Week One, the guys in the trenches have been blowing teams off the ball. A week and a half ago, they took it to Malden's massive defensive line in the second half en route to a 42-12 win. Last Friday, the guys paved the way to over 200 yards on the ground against the Indians.
Led by seniors Steve DiZazzo and Dan Cormier on the left side, the Rangers' line might not always be the biggest, but they proved that when on the same page, they can bang heads with anybody on a given night.
"Our o-line, they're tough, man," senior wide receiver Raudy Minaya said. "They hit hard, they hit every single play, and we get extra yards. That last (Carroll carry), we got the first down with ease and Cal got the touchdown, that's because of our o-line. We never give up. Up seven, doesn't matter, we need to get up the field and get the first down, and we ended up getting a touchdown with it."
Said head coach Pat Graham, "Offensive line-wise, it was essential to control the clock and to be able to run the ball, and I think our kids did a good job with that."
The 6-foot-4, 300-pound Cormier, by the way, has an impressive right leg. After Eric LaCroix kicks the extra point, the Rangers line up in a standard five-and-five kickoff formation, and some may be surprised to see Cormier raising his hand to the officials. But Cormier's got quite the boot, as he routinely blasted it to around the Billerica 5-yard line Friday night, with plenty of hang time.
Gloucester is really that good...so far, at least
Andover, coming off a 38-13 drubbing by the Fishermen, hung 39 points on MVC Small dark horse Tewksbury last Friday, which makes one wonder: just how good is Gloucester?
The Fish's defense, led by linebacker Chris Unis, was touted as a wagon before the team even started up their famous annual summer beach training regimen. The first unit hasn't allowed more than a score from opponents. Meanwhile, the Gilbert Brown-led offense has been explosive, averaging 38.3 points per game.
The rest of the Northeastern Conference, however, hasn't been sitting idly. Revere, led by bulldozing tailback
Trae Weathers
, is 3-0 for the first time in a while. Cross-town rivals Lynn Classical and Lynn English have also proven adequate to start the season, too.
We'll find out next month how capable the rest of the NEC Large contenders are of unseating the defending Division 1A Super Bowl champs, but for now we'll enjoy the ride.
Key EAC matchups could have bearing on December
Yeah, it's a little premature, but we can't help but wonder how a couple of this weekend's Eastern Athletic Conference games might impact the long-term playoff picture in Division III.
There was a battle of unbeatens on Slocum Road in Dartmouth with Somerset traveling to meet Bishop Stang. The Blue Raiders rolled to
a convincing 43-13 win over Stang
, riding running backs Jaron Spear and Seth DeMello, who combined for five rushing touchdowns.
Meanwhile, heading north along Rte. 140, Martha's Vineyard took care of business against Coyle-Cassidy. The Vineyarders escaped with a 41-32 win over the Warriors thanks to quarterback Randall Jette's 192 yards and five touchdowns on the ground.
While it appears that Somerset and the Vineyard control their own destinies in the EAC, we'll see if Bishop Feehan has anything to say in the situation. It's hard to figure what the Shamrocks have after losses to Attleboro, No. 18 North Attleborough and Abington — three quality teams. Feehan has two more games out conference, including next week's out-of-state matchup with Barrington (R.I.), before hosting C-C.
"This is a tough division," Somerset head coach Nick Freitas said Saturday after his team's win.
He continued, "Hopefully, we just remain healthy. I think that will be the key."
Blue Raiders quarterback Alex Ledoux left the game to an injury during the second quarter of Saturday's game. At the time, Freitas didn't have information on the severity of Ledoux's injury.
What was clear was the Blue Raiders' statement made on the field.
Playing with heavy hearts
Friday night's Hockomock game between Attleboro and Franklin almost was for not.
Attleboro's school community woke Friday morning to the news that senior Myles Brastow had died in a motorcycle accident. Hours before the game administrators and coached from the representative schools huddled to discuss whether it was appropriate to hold the game in light of Brastow's death.
"We talked to the administrators and the coaches to see what they wanted to do with the game," Franklin athletic director and head football coach Brad Sidwell said in a telephone interview on Sunday. "We certainly understood if they wanted to reschedule the game. But they felt that they wanted to try have a sense of normalcy and have the game like any other Friday night."
The Blue Bombardiers paid homage to their fallen classmate with a dramatic 20-13 win over the Panthers. Attleboro was led by quarterback Nate Robitaille, who was cleared for the game after suffering a concussion during the previous game against King Philip, and running back J.J. Jolaoso. Robitaille march the Blue Bombardiers down the field on the game-winning drive inside the two-minute warning and Jolaoso punched in the winning score on a 7-yard touchdown run.
"It's a tribute to the kids," Attleboro head coach Kevin Deschenes told Mark Farinella of The Sun Chronicle after the game. "They had a rough day today, and for these young adults to bounce back after a very traumatic day, losing a friend, I thought they responded very well."
The Franklin football community was also dealing with the loss of one of its own. Longtime Panthers head coach Gerry Leone Sr. passed away last week
"He was a legendary part of Franklin football," Sidwell said. "I know there are even some parents of current players who played for him and I know the lessons taught to them by coach Leone in high school are things that have stayed with them throughout their lives. That's the kind of man he was."
HEAD OF THE CLASS
VALVOLINE PEAK PERFORMER OF THE WEEK: ANTHONY KNIGHT, SR. RB, LAWRENCE ACADEMY
The North Carolina State-bound Knight kicked off the much-hyped Spartans' ISL title defense in grand fashion, carrying the ball 14 times for 308 yards and two scores in a 36-14 defeat of Milton Academy. We've seen 300-yard games before from schoolboy athletes, but on just 14 carries? That averages out to 22 yards a carry, or essentially a first down every time he touched the ball, so in that regard we've got to add a shout-out to his offensive line.
THE CLASSMATES
Blaise Branch, Sr. RB, Cardinal Spellman
– The 6-foot, 200-pound Branch had three scores on the ground and totaled 201 rushing yards on the day, ironically to give his head coach Ron St. George his 201st win, as the Cardinals rolled to a 35-8 win over Carver.
Andrew Coke, Jr. RB, Andover
– Coke accounted for all six of the Warriors' touchdowns in a 39-32 win over Tewksbury to open MVC play. He rushed 30 times for 214 yards and a school record five touchdowns; was 2 of 2 passing for 28 yards, including a 12-yard scoring strike to Brian Miller; and added 65 return yards for 311 all-purpose yards.
Dylan Colarusso, Sr. RB, Weymouth
– He carved quite a name for himself following his performance in Friday's 41-14 win over Milton, carrying 25 times for 262 yards and three scores.
Dave Dubin, Jr. DE, Holliston
– For all of the talk of the Panthers' offensive weapons, it was Dubin's work on defense that stood out in the 48-24 win over Millis/Hopedale. He had 11 tackles, including five sacks, and contributed to holding the Mohawks to minus-27 yards of offense in the first half.
Randall Jette, Sr. QB, Martha's Vineyard
- Jette captained the Vineyarders' Navy-style option offense with 17 carries for 192 yards and five touchdowns in their 41-32 win over Coyle-Cassidy.
Ben Patrick, Sr. RB, Rivers
– The Roxbury resident, who ran for over 900 yards in six games last season, continued his good ways with an impressive ISL debut. He carried 20 times for 269 yards and two scores, and also came up with two interceptions, as the Red Wings downed St. Paul's, 40-18.
Ben Shelton, Sr. QB, Wayland
– The Warriors turned a lot of heads with its stunning 36-7 win over highly-ranked Westford, and Shelton was the catalyst. He was 12 of 17 passing for 209 yards and two touchdowns, and carried the ball 11 times for 97 yards.
Jaron Spear, Sr. RB, Somerset
- The Blue Raiders asserted their will on the ground in a 43-13 victory over Bishop Stang and Spear headed the charge with 21 carries for 215 yards and four touchdowns.
September, 25, 2010
9/25/10
6:58
PM ET
DARTMOUTH, Mass. – Hard to believe Somerset ever trailed Bishop Stang during the Blue Raiders' 43-13 victory over the Spartans on Slocum Road.
After assembling a methodical six-play, 66-yard touchdown drive to open the game, Somerset was knocked on their heels by Tyler Dedrick's 71-yard touchdown strike to Devan Clements. The successful extra-point kick had the Spartans up, 7-6.
It didn't last long as Somerset (3-0, 1-0) ran behind their horses, running backs Seth DeMello and Jaron Spear, to an important Eastern Athletic Conference win over Stang (2-1, 0-1).
[+] Enlarge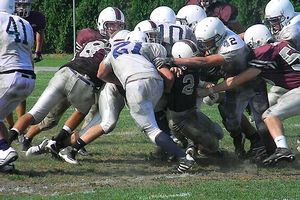 Scott Barboza/ESPNBoston.comFive yards and a cloud of Spartans: Somerset's Seth DeMello (No. 42 white) fights through the pile for extra yardage in the Blue Raiders' 43-13 win at Bishop Stang. DeMello finished with 19 carries for 160 yards and one touchdown.
"[Coming into the game], we wanted to stop the big play," Blue Raiders head coach Nick Freitas said. "We just had a defensive lapse. Luckily, we recovered from that."
Somerset asserted its will on the ground, turning up the turf behind the offensive line led by tackle Ian Levesque.
"He's a big, aggressive kid," Freitas said of Levesque. "I like that."
Spear led the charge with 21 carries for 215 yards and four touchdowns. And DeMello provided the thump to Spear's flash; the bruising back churned out 160 yards on 19 rushes and one touchdown.
Somerset's offensive display of power didn't slow after it lost starting quarterback Adam Ledoux to an injury in the second quarter. Senior Alex Estrella finished out the game under center after he put up the first Blue Raiders' touchdown on a 3-yard touchdown run from the halfback position.
"We got away from some of the things we usually do because our quarterback [Ledoux] got a little dinged," Freitas said. "I thought Estrella did a nice job though considering he only took three snaps at quarterback this week. He did a nice job of running the offense."
The play-calling was made easy for Estrella, who often called DeMello and Spear's number.
DeMello made a living running in between the tackles of Somerset's Wishbone and Wing-T sets, oftentimes carrying several Spartan defenders on his back en route to first downs. DeMello's longest run came on a 46-yard carry in the second quarter, which kick started a drive which culminated in his 13-yard touchdown run to give Somerset a 22-7 halftime lead.
Spear became the Blue Raiders' weapon of choice in the second half, as the halfback tore off touchdown runs of 15, four and 49 yards in the second half to put the game out of reach.
Spear's first touchdown run of six yards in the second quarter reclaimed the lead for Somerset, 14-7.
"What can you say?" Freitas asked rhetorically about the collective performances of DeMello and Spear.
"It all starts up front though. Our offensive line did a terrific job moving the pile all day."