Boston High School:

Nick Pandalena
March, 23, 2012
3/23/12
4:01
PM ET
First Team:
F – Brendan Collier, Sr., Malden Catholic
The two-time ESPN Boston All-Stater closed out his senior season with a second straight Super 8 title and claimed our Mr. Hockey Award. The Charlestown native and Boston University commit scored 26 goals with assists for 65 points, a figure which led all Division 1 scorers. Collier, who also plays golf and lacrosse at MC, plans on playing a year of juniors next year before joining the Terriers.
F – Ryan Fitzgerald, Jr., Malden Catholic
The Lancers' top-line pivot makes his second All-State team appearance, his first on the First Team. The North Reading native and Boston College commit again eclipsed the 50-point plateau (31-21-52), despite missing the first couple weeks of the season with a shoulder injury, and helped the Lancers to their second straight Super 8 title.
F – Sam Kurker, Sr., St. John's Prep
When looking up the term power forward, the Eagles senior winger and captain fit the mold. The 6-foot-2, 210-pound forward finished with 32 goals and 28 assists for 60 points. The Boston University commit has also seen time with U.S. National Team Development Program and skated with the U-18 select team at the Ivan Hlinka Tournament during the summer.
D – Colin MacGillivray, Jr., Malden Catholic
The Lancers blue-liner is made in the mold of an old school rugged defenseman. The 6-foot-1, 185-pound Peabody native played on MC's top pairing through the season while posting three goals and 10 assists for 10 points for the repeat Super 8 champions.
D – Nikko Markham, Sr., St. Mary's (Lynn)
The Catholic Central Conference Most Valuable Player and Spartans captain finished a sound career by leading St. Mary's to a No. 2 seed in the Super 8. The Salem native was among the top point-scoring blue-liners in the state with six goals and 12 assists for 18 points.
G – Peter Cronin, Jr., BC High
For the second straight season, the Eagles went as their netminder went, and Cronin led BC High to its first Super 8 finals appearance since 2007. Playing in each of the Eagles' 25 games, the Norwell resident posted a 2.00 goals against average and a 91.7 save percentage.
2nd Team:
F – Kevin Emmerling, Sr., St. John's (Shrewsbury)
Perhaps the most skilled skater in the state, the Pioneers' center provided a dynamic offensive punch to their Super 8 run. The Whitinsville native finished third in Division 1 scoring with 26 goals and 30 assists for 56 points. Emmerling is exploring his options for next year and hopes to play college hockey.
F – Conal Lynch, Sr., Boston Latin
Lynch also showed that Charlestown is again a hotbed of hockey, carrying the Wolfpack to a DCL/MVC Div. 2 championship. Lynch finished second in Division 2 in scoring with 35 goals and 18 assists for 53 points. The Wolfpack captain is weighing his options in pursuing prep or junior hockey next year.
F – Matt Sullivan, Sr., BC High
The senior captain was a true two-way center with a high hockey IQ. The Duxbury resident anchored the Eagles' top line, scoring 12 goals and 16 assists for 28 points and lifting BC High to its first Super 8 final appearance since 2007. He is pursuing prep and junior hockey opportunities for next season.
D – Casey Fitzgerald, Fr., Malden Catholic
The younger brother of Ryan, Casey catapulted himself onto the scene in his first year, filling the role of a puck-moving defenseman previously held by former All-Stater Conor Evangelista. The North Reading resident and Boston College commit tallied two goals and 15 assists for 17 points in his first year.
D – Peter Sikalis, Sr., Acton-Boxborough
The Colonials' captain was the impetus behind their run to the D1 North semifinals. Sikalis had eight goals and 11 assists for 19 points while eating up boatloads of ice time for head coach Bob Lavin. The imposing 6-foot-3 defenseman is exploring his hockey options for next year.
G – David Letarte, Sr., St. John's Prep
The captain has been the Eagles' backbone during the last three seasons, leading Prep back to the Super 8 once again. Letarte had a 2.08 goals against average and a 91.3 save percentage in 18 games played. He is currently mulling over college and junior hockey offers for next year.
"Best of the Rest"
Nick Bertoni, F, Franklin
Tom Besinger, F, BC High
Tommy Bishop, F, Chelmsford
Matt Brazel, F, Hingham
Trevor Cimino, F, Burlington
Frank Crinella, F, Springfield Cathedral
Paul Curran, F, Milton
Vin D'Amato, F, St. John's (Shrewsbury)
Jarrod Fitzpatrick, F, St. Mary's (Lynn)
James Gordon, F, Hingham
Danny Holland, F, Woburn
Mike Iovanna, F, Malden Catholic
Connor Irving, F, Beverly
Mike Kelleher, F, Central Catholic
Chris Leblanc, F, Winthrop
Bobby Mullins, St. Mary's (Lynn)
Ara Nazarian, F, Malden Catholic
Andrew Newis, F, Natick
Jack O'Hear, F, Catholic Memorial
Cam O'Neill, F, St. Mary's (Lynn)
Jake O'Rourke, F, Medway
Cam Owens, F, Wilmington
Brian Pinho, F, St. John's Prep
Dalton Rolli, F, Wilmington
Joe Strangie, F, Danvers
D.J. Walsh, F, Needham
Bryan Carter, D, Hudson
Connor Fenton, D, Braintree
Brian Furey, D, BC High
Pat Houghton, D, Westford Academy
Steve Mattos, D, Burlington
Nick Pandalena, D, St. John's Prep
Jake Secatore, D, Woburn
Brendan White, D, Malden Catholic
Joe Cerulo, G, Wakefield
Jordan Davis, G, Norwood
Mike Donadio, G, Franklin
Bailey MacBurnie, G, St. Mary's (Lynn)
Connor Murray, G, Needham
Connor Roddy, G, Medfield
Shane Starrett, G, Catholic Memorial
Steven Waites, G, Winthrop
Kyle Williams, G, Central Catholic
Coach of the Year
Chris Spillane, Franklin
Losing 15 seniors off of 2011's Division 2 state finalist team posed no problem to Spillane in guiding his team back to the Garden again. The 13-year Panthers bench boss is regarded as one of the finest in the state, but no season might have been more impressive for Spillane than getting this team back to the finals.
Finalists:
Karl Infanger, Natick
Mark Lee, St. Mary's (Lynn)
John McLean, Malden Catholic
March, 2, 2012
3/02/12
6:25
PM ET
There are less than 48 hours remaining before the puck drops on the real Super 8 on Sunday at Merrimack College.

So we're taking this opportunity to break down the final eight:

1. Malden Catholic (15-1-4)
Marquee wins: Pretty much all of them, minus the Lancers' one loss to New Jersey powerhouse Delbarton.

Players to watch: F Brendan Collier (22-34-56); F Ryan Fitzgerald (26-14-40); F Mike Iovanna (14-23-37); F Tyler Sifferlen (9-14-23); F Ara Nazarian (10-16-26); D Casey Fitzgerald (1-15-16); D Colin MacGillivray (2-8-10); Brendan White (2-16-18).

The skinny: As in the last couple of years, this year's Super 8 is viewed as the Lancers' tournament to lose. Again, they have the best line in the state with Collier, Ryan Fitzgerald and Iovanna saddling into Mike Vecchione's former spot. But MC's true strength is depth. Sifferlen and Nazarian would occupy a spot on mostly any team's top line. Super frosh and BC commit Casey Fitzgerald has filled Conor Evangelista's role dutifully as a puck-moving defenseman.

X-factor: Goaltending. Connor Maloney watched last year's Super 8 from the BC High bench behind Peter Cronin. Now, it's his time to shine.

2. St. Mary's of Lynn (18-1-3)
Marquee wins: Malden Catholic (Kasabuski Tournament tie); Hingham (5-1); Cathedral (3-2).

Players to watch: F Bobby Mullins (9-20-29); F Jarrod Fitzpatrick (14-7-21); F Cam O'Neill (14-15-29); F Brendan Mageary (13-11-24); F Tim Aylward (10-10-20); D Nikko Markham (6-12-18); D Bryan Wilkins (1-7-8); G Bailey MacBurnie (1.30 GAA, 94.1 save %).

The skinny: So what were the Spartans to do without perennial league all-star Donald Hesse as their backbone? Well, Mark Lee found a more-than-legitimate starter in MacBurnie, a sophomore, who's played well along with a defensive corps led by Markham. Fitzpatrick has been another revelation in his first season with the Spartans. St. Mary's has greater scoring depth than in year's past. And they're young, as freshman Eric MacAdams (4-14-18) has impressed seeing top-line action.

X-factor: How do the Spartans react in a tight game. In last year's Super 8 play-in stab, and the Div. 1 tournaments of year's past, one-goal games have come back to haunt them. If they can sweat out a couple of close decisions in this tournament, they might find themselves at the Garden.

3. St. John's Prep (13-5-2)
Marquee wins: BC High (3-1); Hingham (2-1); Central Catholic (4-0).

Players to watch: F Sam Kurker (26-26-52); F Brian Pinho (14-20-34); F Tyler Bird (9-5-14), F Andrew Brandano (8-6-14); D Nick Pandalena (6-10-16); D Brent Murray (0-4-4); G David Letarte (2.02 GAA, 91.5 save %).

The skinny: We still haven't gotten over last year's championship game; it was simply amazing hockey. There's no Colin Blackwell, but Kurker (BU commit) has really blossomed this season and has taken this team on his back the way his former linemate did last year. Pinho and Bird, along with Kurker, are a formidable first line to skate against, and are strong in all three zones. Pandalena is a mountain of a defenseman, but beyond him, the Eagles blue line was green entering the season. Murray has elevated his play to comprise a formidable top pairing.

X-factor: Letarte. I believe we said this last year as well. When the senior is on his game, he can be airtight.

4. Hingham (16-4-2)
Marquee wins: Marshfield (6-2); Catholic Memorial (3-2); St. John's of Shrewsbury (4-0).

Players to watch: F James Gordon (21-17-38); F Matt Brazel (11-20-31); F Matt Hughes (13-11-24); F Ryan Linehan (8-12-20); F Patrick Mannion (6-12-18); F Sam D'Antuono (6-19-25); D Nolan Driscoll (2-7-9); G John Grenier (1.88 GAA, 90.1 save %).

The skinny: If this team had a motto, it would be "lacking experience, but not young." During the Harbormen's most recent Super 8 runs, a good portion of this year's roster watched from way down the bench, or up in the gallery. But this team has collectively raised its game and is benefitted by great coaching. Gordon's 20-goal season has been a pleasant surprise and Brazel is one worth watching for the next two years. The real revelation has been Grenier between the pipes. The Xaverian transfer is among the statewide leaders in goals against average.

X-factor: Grenier. He doesn't fit the current mold of a big, butterfly goaltender. Instead, he relies on aggressively challenging the shooter and cutting down angles. We'll see how it matches up with the precision passing games of MC and St. John's (S) in pool play games.

5. BC High (10-5-5)
Marquee wins: St. John's (twice); Prep (5-3); Cathedral (3-0).

Players to watch: F Matt Sullivan (9-15-24); F Tom Besinger (10-15-25); F Bartley Regan (7-6-13); F Steve DeForge (6-13-19); D Brian Furey (3-6-9); D Sam Topham (1-9-10); G Peter Cronin (2.00 GAA; 91.5 save %).

The skinny: Cronin lead this team to the crossover round last year, falling just short of an upset of MC. He was the revelation of last year's tournament and, as usual, the Eagles will look to their goaltender to continue his strong play. Besinger might be the shiftiest forward in the tournament not named Kevin Emmerling. He's not big, but he sure can skate. Furey has done a nice job leading a young Eagles blue-line corps this season. 'Moe' Regan has produced some dirty goals and has thrived in his role as a power forward, coming off his EMass D1 Super Bowl win.

X-factor: Sullivan. The Eagles' soft-spoken leader is a lead-by-example type, but thrives in big-game atmospheres. Wouldn't be surprised at all if he's a player we're talking about months after the tournament.

6. Springfield Cathedral (10-6-6)
Marquee wins: BC High (4-3); Needham (1-0); CM (3-1).

Players to watch: F Frank Crinella (13-15-28); F Thomas Quinlan (11-5-16); F Peter Crinella (5-8-13); F Brendan Ashe (7-7-14); D Matt Foley (0-12-12); G John Liquori (2.40 GAA, 88.9 save %).

The skinny: The Panthers cracked the top six this year after getting bounced in a play-in game last year. This is a team that isn't very flashy, but is consistently tough to play against, playing a brand of hockey that can be frustrating to opponents. Sophomore John Liquori has been steady, taking over for old stalwart Zac Rondeau. Liquori is the benefactor of a sound defensive squad that likes to play the body and takes care of its defensive assignments with diligence.

X-factor: Frank Crinella is perhaps the most talented player in the state who receives the least amount of deserved credit. This tournament could be a statement for him.

7. Central Catholic (13-3-5)
Marquee wins: Burlington (6-4, play-in game).

Players to watch: F Ryan Daigle (8-15-23); F Mike Kelleher (10-7-17); F Lloyd Hayes (15-8-23); F Alex Lester (7-9-16); F Zack Cote (10-4-14); D Jake Donahue (3-4-7); G Kyle Williams (2.13 GAA, 91.1 save %).

The skinny: Stop me if you're heard this one before, but the Raiders again used a spirited second-half push after a slow start to get back into the top tournament. If they continue the fast and physical brand of hockey they played against Burlington, the Raiders will provide a tough test. Kelleher's natural hat trick is a big boost to Central's chances going forward; if he gets going, he's one of the most potent pure scorers in the state.

X-factor: Williams. Shocking, right? As the goaltender goes, so goes the Raiders. And it's no coincidence that Central played its best while last year's ESPN Boston All-State netminder was at his finest.

8. St. John's of Shrewsbury (15-4-3)
Marquee wins: Needham (5-4, play-in game).

Players to watch: F Kevin Emmerling (25-28-53); F Vin D'Amato (23-14-37); F Jay Duquette (11-22-33); F Hunter Burdick (6-9-15); D Nick Rutigliano (1-10-11).

The skinny: Akin to Central Catholic, the Pioneers took perhaps their biggest win of the season on Monday. In that shootout with Needham, they showed why they can go toe-to-toe with any team across the state with the top line of Emmerling, D'Amato and Duquette running and gunning …

X-factor: … but then there's the defense. The Pioneers are going to need to tighten up in their own end. If they allow their three future opponents to enter the zone as they allowed the Rockets to run in the third period, there could be some lop-sided scores.
February, 18, 2012
2/18/12
8:56
PM ET
By
Shawn Myrick
| ESPNBoston.com


WILMINGTON, Mass. -- Late game heroics led to a thrilling comeback for St. John's Prep in a midday battle of Super 8 contenders Saturday.

After dropping a four-goal deficit to Springfield Cathedral early in the final period, the No. 3 Eagles battled back in their last six minutes at the Ristuccia Center to force a 5-5 tie with 17 seconds remaining.

With both teams likely qualifying for the Super 8 tournament, the tie may prove an important step for the No. 6 Panthers (9-6-5) in entering the top six seeds and avoiding a postseason play-in game.

"I told these guys that I think that [was] a great lesson for us because no lead is safe," Prep head coach Kristian Hanson said. "Hockey is a game of bounces. Once we got one or two, I think we started to believe a bit."

The Eagles' final goal came off an open net tip-in by leading scorer senior Sam Kurker in the finals seconds. Catching a shot off the back of junior Andrew Brandano five yards out from the net, sophomore Tyler Bird slid a pass through a pile to opposite post for Kurker to finish the rally.

The Boston University commit finished the game with two goals and two assist.

"I was thinking 'Is this going to pop out to me right now?' and it actually did," Kurker said. "I just tried to bury the shot and got lucky there. I crash the net and what happens happens."

Prep (12-6-1) was nearly finished fourteen minutes early after dropping a blue-line rip by Cathedral senior captain Frank Crinella in the first minute of the final period to go down 5-1. However a deep-planted wrist shot by senior Nick Pandelena with 5:19 remaining helped breathe life back into the Eagles.

A breakaway score by Brandano minutes later led the way for Pandelena to knuckle a bouncing puck off two players and into the top corner for a 5-4 score at 1:23. A ricochet off Kurker during the score credited him with the goal.

"It is [about] chipping away one at a time and getting the next one," Hanson said. "The last thing you want to do is let them clear the puck easily and run some time off. Just get dirty and get puck to the net."

Prep looked to be in control early after out shooting Cathedral 8-3 in the first period, but entered the break tied 1-1. Despite intense pressure from the Eagles early in the second, Cathedral capitalized on the Eagles' mistakes to score the next four goals and grab a commanding lead by the first minute of the final period.

Drifting into the Eagles zone, sophomore Brendan Ashe bodied his defender, stunted his shot, and caught the keeper off guard to hit net in the first minute of the second period. Ten minutes later a two man advantage opened a gap for freshman Peter Crinella to slip a low pass in front of the netminder to open Ashe up on the post for his second score at 4:07.

"You just want to get pucks on net in a game against a good team like St. John's," Cathedral head coach Brian Foley.

Within one minute of Ashe's goal, a near score on a one timer by Prep left Peter Crinella wide open behind a celebrating defense for a one-on-one with the goal keeper to slide the Panthers ahead 4-1. Peter Crinella finished with one goal and three assist, while teammate junior Matt Foley also had three assist for the Panthers.

"One play to me kind of defines that second period," said Hanson of the Panthers' fourth score.

Sophomore keeper John Liquori made 29 saves for Cathedral, while David Letarte, who played the first two periods for Prep, combined with fellow senior Jared Hynes to make 10 saves. Junior Brian Pinho scored the first goal of the game off an assist from Kurker, while junior Artie Potter evened the game for Cathedral with a deep snipe.

"I think both teams were looking at this game as a chance to be a top six ([eed]," Brian Foley said. "I think we got a little complacent (in the third period) and to their credit they worked hard, but I believe a tie is a good finish for both teams as far as points go."
February, 1, 2012
2/01/12
12:26
AM ET
By
David Pollard
| ESPNBoston.com
MALDEN, Mass. -- Malden Catholic's explosive offense was at work again Tuesday night against a red-hot St. John's Prep team that had won their last five games.

During the win streak, No. 2 Prep had scored 27 goals against their opponents and had only allowed two goals in that span. The Eagles carried the play for most of the first period, and jumped out to a 1-0 lead after captain Sam Kurker fed the puck across the slot to forward Brian Pinho, who buried the puck into an open net.

However, four goals in the second period propelled No. 1 Malden Catholic to a 4-2 lead heading into the final frame. The Lancers played a strong third period and were able to protect their two-goal lead before potting an empty-netter, polishing off a 5-2 victory.

"When you're playing [Malden Catholic], no lead is safe." Eagles head coach Kristian Hanson said. "They score in bunches, they're a really talented offensive team. You know, they're difficult to keep off the scoreboard."

The opening frame was indicative of how St. John's Prep had played during their five-game winning streak. They incessantly closed gaps on the speedy Lancer forwards, forcing the league's best offense to shoot from sharp angles outside of the high slot.

For the Eagles (8-5-0, 2-4-0) though, it was a game of missed opportunities. The offense was able to generate turnovers in the neutral zone, allowing themselves two early 2-on-1 opportunities where they failed to get the puck to the net and produce a shot on goal.

Malden Catholic (9-1-2, 6-0-1) head coach John McLean felt his team did a good job of taking advantage of Prep's failure to score goals.

"Because they score the first goal, it doesn't affect us," McLean said. "We just play our game one shift at a time, we know we're gonna score goals, you just can't get nervous. You gotta just keep playing your game and the goals will come."

The goals came quickly for the Lancers in the second period. On the power play, sophomore Patrick Wrenn put a rolling puck in the crease behind the outstretched glove of goalie David Letarte, tying the game, 1-1.

The offense erupted from there for Malden Catholic as captain Brendan Collier netted two goals in under three minutes to put the Lancers ahead 3-1.

"On both goals, I just tried to get to the front of the net." Collier said. "That first one, you know, we forced them to turn the puck over, Fitzy found me in front and I was able to put it past Letarte."

The second of Collier's two goals came off a slap shot from the point off the stick of Brendan White before being deflected past Letarte (31 saves).

"That was a great shot [White] took from the point, again I just wanted to get to the front of the net." Collier said of his second goal. "I just tried to get a piece of it, I did, and it went in."

The Lancers then found themselves in some penalty trouble. While on the power play, the Eagles began to shift momentum back in their direction. A cannon from blue-liner Nick Pandelena was deflected off the post, and the rebound was blasted home by Pinho for his second goal of the night.

The Lancers found themselves shorthanded shortly after Pinho made it a one-goal game. With a chance for the Eagles to tie it up, freshman Ara Nazarian created a turnover at his own blue line and cleared the puck up the boards. Nazarian won a race for the puck and spun to his backhand delivering a tape-to-tape cross ice pass to line mate Tyler Sifferlen, who made no mistake, ripping a wrist shot past the left pad of Letarte.

It was a tough blow.

"They get that goal to make it 4-2, you know, obviously we could have tied it at three potentially on the power play," Hanson said. "I thought we had a number of chances that we just didn't finish on. We could have made it a 4-3 game and anything could happen down the wire. Bottom line is we didn't finish, we didn't execute like they did. And we had a very poor second period."

McLean felt the shorthanded goal was a turning point.

"I think it hurt them… they had a little momentum on the power play." McLean said. "Shorthanded goals are tough to give up. But we have guys that can score shorthanded, and that's a bonus for us."

The third period saw both teams exchange chances up and down the ice, but neither team would budge. The score remained the same until the Lancer's iced the game with an empty-net goal.

For the Eagles, one bad period and an inability to finish allowed MC to skate off the ice, victorious.

"It's tough to keep them off the board for too long," Hanson said of the Lancers' offense. "But you know we did have some breakdowns defensively. I thought we played a pretty solid system the first and third period but, for whatever reason in the second we kind of got away from that and they capitalized on it."

The loss was Prep's first since Jan. 13, when MC defeated the Eagles, 5-3.
January, 23, 2012
1/23/12
2:34
PM ET
Last season, St. John's Prep winger Sam Kurker provided grit and a scoring touch to the Eagles' Super 8 run with 15 goals for 25 points.

This season, the Reading resident and Boston University commit has exploded, nearly matching last year's output by midseason with 12 goals in 11 games. While shouldering a greater load offensively, the Eagles' co-captain has also stepped up to lead a young returning squad in search of a repeat appearance at the TD Garden.

Kurker has also garnered attention on the national level. The 6-foot-2, 200-pounder played with the Team U.S.A. U-18 Select team at the Ivan Hlinka Memorial Tournament in August, traveling to play in the Czech Republic and Slovakia.

Earlier this month, Kurker was ranked 41st among North American skaters on the NHL Central Scouting's Midterm rankings and was the second highest ranked high school-level player on the list.

We recently caught up with Kurker for a Q & A:

Q: How are things going along with your linemates Tyler Bird and Brian Pinho?

A: "I clearly have two great teammates. We've been working well together. Those guys are working hard, and that's only benefited me. They've been a huge part of my success."

Q: What is your earliest hockey memory?

A: "I think it's my Reading Mites games and getting up early for the rink with my father. After Mites, I played with the Valley Junior Warriors. But I've still have a couple friends I've kept in touch with from those days, we still keep up with how each other is doing, a couple of my teammates on the Warriors, too."

Q: What were you able to glean from Colin Blackwell in terms of leadership on and off the ice?

A: "It was the work ethic he had on and off the ice. We'd always go against each other in battle drills, and he was one of the toughest kids I've ever played with. He always got us going."

Q: How have players like yourself, or seniors like David Letarte and Nick Pandalena, taken on the role of leading the team this year?

A: "From freshman year, we've seen how other groups have done it. We now what works and what doesn't work. We talked it over in the offseason a lot. We just want to have the best atmostphere in the locker room. Guys are really working hard, and it's impressed us so far. We just want to be positive. Last year, we had great team chemistry and want to have that again this year. We've done off-the-ice stuff, too. We did some community service projects at the Salem Boys & Girls Club for their Christmas party and serving food."

Q: What were your expectations for this team, coming in with such a young group?

A: "We have 13, 14 new faces, so there was a lot of chance. So were really just getting used to each other, playing with each other. After the CM game, we've been playing very strong. We're just trying to make sure there's no let downs. I think we're just starting to hit our stride as a team now."

Q: What led you to your commitment for Boston University?

A: "I love the coaches, love the campus. I've been a BU fan since I was 5 years old and gone to Beanpot games, watching those BU-BC rivalry games. I looked at Northeastern and Providence College, too, but then once BU come on board, it was a clear choice to me."

Q: What were some of the things you worked on during the offseason?

A: "I'd work our four days a week at [new hired Red Sox strength and conditioning coach] Mike Boyle's place. There's shooting place next door, too, so I'd go back and forth. I've been focusing on finishing and that's helped me a lot."

Q: You bring a big frame to the ice and play a physical game. Do you enjoy the physical aspect of the game?

A: "Absolutely, that's part of my game. At the next level, that's going to be something I'll have to, so it's something that I enjoy. I really pride myself in trying to win every battle on the half wall. That's important to me and it's a part of the game that I need to focus on."

Q: On being ranked as high as you did on the Midterm Rankings, do you feel any pressure to live up to the billing?

A: "Honestly, it's so far away [the NHL Draft], that I'm just focusing on the next thing. The priority right now is getting back to the Super 8 and winning the Catholic Conference. It's an honor to be considered with all those great players, but it's so far off, that you just can't think about that."
January, 21, 2012
1/21/12
9:53
PM ET
By
Tom Layman
| ESPNBoston.com


WILMINGTON, Mass. -- Kristian Hanson wasn't ready to commit or even hint that his team could be on the beginnings of a run similar to the streak St. John's Prep made all the way to the Super Eight final last season.

But it's been a good week for the Prep.

Hanson's club got a little bit of payback against No. 3 BC High with a 3-1 victory Saturday at Ristuccia Arena in a battle of Catholic Conference heavyweights. Tyler Bird at two goals and Sam Kurker added a goal and two assists, as the Prep has now won three in a row and have outscored their opponents, 17-2.

"I don't want to predict any runs," said a humble Hanson, whose team is now 7-4-0 this year. "I think sometimes that we may appear to be a second half of the season type team. We get so many new faces in each year and it takes time for them to build team chemistry and gel and understand their role. That's why we may perform stronger in the second half than the first half."

Obviously, Colin Blackwell (Harvard) carried the offensive load last season — and his output is sorely misses on this team — but it starts with the stalwart defense that has and will carry this team for the remainder of the season.

Nick Pandalena anchors the unit with his size at defense, while David Letarte (24 saves) has been stellar in net in his senior season. The defensive unit played some of their better hockey of the season in the first two periods as they routinely made their way into the passing lane, blocked numerous shots and forced the Eagles to take shots from less than ideal spots in the zone.

"I thought we did a wonderful job with defensive coverage today," said Hanson. "System-wise we blocked 10 shots today. … The guys just stuck with the system all day and it worked."

GETTING A LITTLE PAYBACK
The last time these two hooked up in the Catholic Conference opener there were plenty of good vibes to be felt by both teams. Bartley Regan's goal in the waning moments of the game gave the Eagles a stunning 4-3 win and Hanson really wanted his guys to use that heartbreak as motivation on their home ice.

"I thought we played a really complete game and thought we deserved a better fate or at least a point out of that game," he said. "We kind of stressed that before this game. We really wanted to try and go out there and get a point or two."

NEW LINE, GOOD RESULTS
Hanson threw together Bird, Kurker and Brian Pinho a few weeks ago and the trio made dividends in this one. Each player recorded at least two points and the Eagles really didn't have a match anytime the potent line was on the ice.

Bird cleaned up a wide shot by Pinho in the first period. He did a little more tidying up in the second period when he gloved down a shot from Kurker on the break rang off the crossbar and deposited it past Peter Cronin (15 saves).

"We were having trouble finding chemistry between the lines lately," Bird said. "A couple of weeks ago (Hanson) put us together. At first it was kind of different. It was difficult working together. But we've been clicking and we've been playing really well together."

The Prep have started a tradition of handing around an old school St. John's Prep jacket — it looks like one from the 1980s with gold lettering and trim instead of the white and blue sported now. If the line keeps performing like it did yesterday, then the jacket might not be leaving the shoulders of that trio for some time.

EAGLES CAN'T SHAKE SLOW START
A sluggish first period has been a bit of an issue for BC High this season. It happened at Fenway Park against Catholic Memorial and happened in the early moments against Winchester. But usually that slow start is followed by a flurry of goals and odd-man rushes by the team wearing maroon and gold.

Those opportunities didn't arise until it may have been a bit too late.

Michael Brooks potted a goal with a little more than a minute left in the third period and Kurker killed the rally with Cronin pulled for an empty-net goal.

"We came out a little bit slower than what I wanted to," BC High head coach John Flaherty said. "I think the third period was more indicative of how we need to play. … You can't give them chances and we did."

The Eagles had a couple of opportunities to post a couple of goals in the third period as they put 12 shots on net in the final 15 minutes.

"We finally started playing desperate," Flaherty said. "We finally started playing the way we are supposed to play. It just wasn't enough. We gave ourselves a chance to get a point and it just didn't happen."


January, 5, 2012
1/05/12
12:37
AM ET
By
Tom Layman
| ESPNBoston.com
BOSTON -- If the Catholic Conference opener between St. John's Prep and BC High is any indication of how the rest of the season is going to be between some of the upper class hockey teams in the state, then everyone interested is in for a treat.

Bartley Regan swatted a puck out of the air and into the net in the final two minutes of regulation to give the Eagles (5-0) a 5-3 victory over the Prep (3-2) on Wednesday night at the Clark Athletic Center on the campus of UMass-Boston.

The night had a little bit of everything. It featured physical play, great goaltending, and, yes, even a little bit of controversy.

"It was definitely an emotional game," BC High head coach John Flaherty said. "It was a hard fought game. I think the momentum swings were back-and-forth, and they are a very good team. … This is the competition in the league. You've got to battle every game, you got to come ready to play every game."

REGAN'S WINNER
It's no surprise what Flaherty wants out of Regan when the big forward enters the game.

Regan, who just happens to moonlight as the Eagles' Super Bowl winning quarterback, used his big frame to get in front of the net on two occasions and that's where Flaherty wants him to live — case in point when a puck careened off his leg and into the net to tie things up 3-3 in the second period.

Regan also flashed a nice set of hands to go with this apparent legwork.

With 1:50 left on the clock, and right after the Eagles killed off a late Prep penalty, Regan moved toward the right post and batted a Brian Furey shot out of the air to notch the game-winning goal.

Regan played the puck with a high stick for most players, but according to the referees his goal was legal and it stood for the eventual winner.

"I just went right to the net," Regan said. "[Furey] took it high and I was like 'Oh, what do I do.' I thought it was a little high, but I thought it was a good goal."

The Prep (3-2-0, 1-0-0) played well enough to get at least a point out of the night, but Kristian Hanson knows that the puck bounces in mysterious ways for both sides.

"It's difficult to make that call in a split-second call like that," said Hanson. "But good play by [Regan]. Good hand-eye to coordination to bat that out of the air and credit him for being able to do it."

Regan has morphed from a role player on the Eagles last season to a player that Flaherty has counted on in the crunch.

"He has to use his God-given size and strength, and he has to get to the net," said Flaherty. "He is effective when he does. … He's a go-to guy and he's filling a role. He's a leader, a natural born leader, and you saw it on the field as a quarterback. He takes control of the locker room and kids look to him to step up and deliver."

CRONIN DELIVERS EARLY
The Eagles (5-0-0, 1-0-0) have sometimes relied on Peter Cronin a little too much at times, according to the head coach, and the first period was an indication of that.

The Prep came out and peppered Cronin, who made 25 stops on the night, with 13 shots in the first period alone. Cronin was stout almost all the way through the period, but Nick Pandelena potted a wrist shot from the right circle with 50.8 seconds remaining in the period to answer Tim Larocque's score earlier.

"That's what we've come to expect from [Cronin], but we can't rely on Peter all the time," said Flaherty. "We have to play in front of him, we have to play for him. He's an excellent goalie and he gives us a chance to win every night."

KURKER IS FLASHY
The Prep saw plenty of highlight reel goals from Colin Blackwell in the past and they have another solid forward playing on the top line this season in Sam Kurker.

Kurker finished with two goals and an assist and almost put in at least one or two more if it weren't for the efforts of Cronin.

"[Kurker] played a North-South power forward style game tonight," Hanson said. "That's when he is at his best. I thought he was physically strong, but overall he can be a pretty dominant offensive force."
December, 29, 2011
12/29/11
2:26
AM ET


WOBURN, Mass. -- St. John's Prep and Woburn provided one of the many highlights to last year's Super 8 tournament with a riveting overtime battle.

The Eagles got the better of that one, edging the Tanners 4-3, en route to their Super 8 final appearance.

Wednesday night's matchup between the two squads didn't disappoint either, but the No. 5 Tanners emerged with a more favorable result this time around, sweating out a 3-2 win over No. 2 Prep at O'Brien Rink.

Senior winger Danny Holland collected the game-winning goal midway through the third period, breaking a 2-2 deadlock.

"My wingman Johnny Dirienzo, he made a great pass coming across," Holland said the goal. "I made a tip around one of the defensemen, I beat him to the corner, came out and just took a shot on net."

Down the stretch, the Tanners defense held with senior captain Jake Secatore logging Chara-like minutes and sophomore goaltender Jeremy Flibotte making the saves.

Otherwise, the matchup was about as even as can be with the teams hitting the dressing room tied 1-1 at the first intermission and 2-2 after two.

Prep (3-1-0) claimed an early advantage with sophomore center Tyler Bird collecting his third goal on the young season. Woburn (2-1-1) tied the game just a minute later with John Concannon burying a wrister set up by talented freshmen siblings Nicholas and Christian Baldino.

The teams' stars took over the action in the second, with two Hockey East commits trading goals.

UMass-Lowell commit Casey Shea broke his goalless skid with his first tally of the season. The Tanners senior captain skated circles around two Prep defensemen before beating goaltender David Letarte five-hole with a backhander.

With 12:31 remaining in the second, Prep star Sam Kurker left his imprint on the game. The rugged forward and BU-commit broke off the left wing boards, muscling off a Woburn defenseman before cutting to the slot and letting of a wicked wrister, beating Flibotte stick-side.

"We told ours wings to watch him coming off the wall in the second period," Tanner head coach Jim Duran said of defending Kurker, who tallied his eighth goal of the season. "He was just too strong sometimes when he was coming off the half wall. He just fought through our checks."

Woburn's adjustments were evident in the game's final minutes. The Tanners did good work to keep the Eagles to the outside and keeping sightlines clear for Flibotte.

"I don't think we generated enough quality scoring chances," Prep head coach Kristian Hanson said. "We had some shots from the perimeter, but we weren't able to get to the net, try to get a rebound goal. I didn't see that and I would've liked to."

SEE YA LATER?
It's not a stretch to say that the Super 8 squads from last season could find themselves in the same situation come the end of the season. But plenty has changed for Prep, which lost two-thirds of its top line from a year ago.

"It's such a new group that, right now, it's game by game," Hanson said. "We have a lot players stepping into new roles."

The constants for Prep are Kurker, Letarte and fellow senior captain and defenseman Nick Pandalena. Pandalena, who is committed to playing for BC's golf team next season, is a big, physical blue-liner who's not afraid of contact. With an improved skating game, Pandalena will be the crucial cog to an otherwise green blue line.

However, he wasn't the only ESPN Boston preseason All-State defenseman on the ice. That honor also goes to Secatore, who proved his value in the third period. After a slow start to the game, the Tanner captain hardly left the ice during the final seven minutes of the contest, as Prep set up shop in the offensive zone and increased the forecheck.

Secatore's effort is old hat to his teammates though.

"Jake Secatore, he's just unbelievable," Holland summed it up.

"He's a great leader," Duran added about Secatore, who played strong as a pairing with senior Adam Tanner. "He doesn't say much, but he just works so hard in practice … He's so strong, he skates so well. I just don't think he realizes how good he can be."


December, 14, 2011
12/14/11
6:06
PM ET
With a good number of team's kicking off their hockey schedules on Wednesday night, we thought we'd take a closer look at our
Top 5 preseason teams
, handicapping the field of could-be Super 8 contenders this season:
(All records and stats from 2010-11)
1. Malden Catholic (21-1-2)
Players to watch:
Brendan Collier, Sr. F, 24-39--63; Ryan Fitzgerald, Jr. F, 24-42-66; Mike Iovanna, Jr. F, 10-18--28; Tyler Sifferlen, So. F, 4-7--11; Brendan White, Jr. D, 2-7--9; Colin MacGillivray, Jr. D, 1-7--8.
Key losses:
F Mike Vecchione, D Connor Evangelista, F Nick Roberto, G Pat Young.
The skinny:
The returning Super 8 champions now have the bull's-eye on their backs, and they're OK with that. The Lancers finally finished the season on top, in no small part thanks to the leadership of Vecchione. Now the torch has been passed to Collier, who inherits the "C' this season. The Charlestown native and BU commit leads a re-tooled lineup. However, MC isn't without its questions. Top-line center Ryan Fitzgerald is on the shelf until around New Year's with a seperated shoulder. Catholic Conference All-Star Connor Evangelista is among the offseason defections and leaves a hole at the top of the Lancers' blue line corps. MC will also breaking in junior goaltender Connor Maloney after the graduation of Pat Young (1.33 GAA). On top of that, the Lancers have a new head coach in John McLean, who's filling in for Chris Serino, who's taken a medical leave. Still, for all those questions, there's still an awful lot of talent around with Iovanna figuring to make a big leap, playing the wing spot vacated by Vecchione. Freshman Ara Nazarian is a name that will be mentioned around the state for quite some time.
X-factor:
White and MacGillivray. For all the attention paid to MC's front-line offensive talent, when you get down to the nitty-gritty of playoff time, teams need the horses on the blue line to take control of games. Both are more-than-capable defenders. Fitzgerald's younger sib, Casey, a freshman blue-liner is also a name to watch in the coming seasons.
2. St. John's Prep (18-6-1)
Players to watch:
Sam Kurker, Sr. F, 15-10--25; David Letarte, Sr. G, 2.52 GAA; Nick Pandalena, Sr. D, 2-10--12; Dillon Gargano, Jr. D, 1-1--2; Tyler Bird, So. F, 3-3--6.
Key losses:
F Colin Blackwell, F Shane Eiserman, F John Farrow, D Joe Currie.
The skinny:
Perhaps none of last year's Super 8 field lost more front-line talent than the Eagles. ESPN Boston Mr. Hockey Colin Blackwell matriculated to Harvard and is now tearing up the ECAC. Also, talented freshman Shane Eiserman left for the prep schools. What the Prep returns, however, could also be envy of most teams. It all starts up front with BU-commit Kurker, who's a true power forward in the old sense of the word; the Eagles will lean on Kurker to improve upon his 15-goal campaign last season. The Eagles also lost most of the blue line, with Nick Pandalena the only returner from their top 5. But the Prep is still built from the net out with Letarte returning between the pipes.
X-factor:
Letarte. With a young defense in front of him and possible dip in scoring, it will take an even larger effort from the senior netminder to return Prep to a Super 8 title game.
3. BC High (15-6-3)
Players to watch:
Matt Sullivan, Sr. F; Tom Besinger, So. F; Brian Furey, Sr. D; Peter Cronin, Jr. G.
Key losses:
F Mike Cashman, F Terence Durkin, F Andrew White,
The skinny:
Last year was about the Eagles' return to prominence. Now, this year is all about taking that next step. Still, the roster is young, but they're also battle-tested. "The guys we had last year were excellent leaders," BC High head coach John Flaherty said," now we're asking this group to build upon that moving forward, being leaders on and off the ice." That leadership now falls to Sullivan and Furey. Still, for a unit that's relatively young, there's some talent to be had, including Besinger who was among our Top 5 rookies to watch from last season.
X-factor:
Cronin. The then-sophomore netminder turned some heads during the Super 8 tournament last season, as the Eagles went toe-to-toe with MC in the crossover round. If he can repeat that kind of performance, the Eagles are in good hands.
4. Catholic Memorial (8-10-2)
Players to watch:
Liam Coughlin, Jr. F, 10-11--21; Jared Beckwith, Sr. D, 4-10--14; Shane Starrett, Jr. G, 1.77 GAA; Jack O'Hear, Jr. F.
Key losses:
D Marc Hetnick, F Dan O'Hear, F Chris Stathopoulos, G Tommy Knox.
The skinny:
By far the best team in the state not involved in the playoffs last season. With that said, the Knights were fairly green on the blue line last year and took their lumps. The hope is that they'll learn from those experiences. carrying into this season. CM figures to turn a weakness into a strength this year with a deep D corps led by Beckwith, in addition to returners Kevin Bletzer, Dennis Medeiros, Justin Ryder, Ryan Sullivan and John Allaire. The Knights also figure to be strong in net with Starrett after posting a .968 save percentage last year in nine games.
X-factor:
Coughlin. An ESPN Boston All-Stater, bears watching in his second year with the Knights and could be the breakout performer of the year. He has the talent and size to change the complexion of game. If he applies himself physically, there's no defense in the state who can match him.
5. Woburn (18-5-2)
Players to watch:
Casey Shea, Sr. F, 21-28--49; Danny Holland, Sr. F, 10-14--24; Jake Secatore, Sr. D, 1-12--13.
Key losses:
F Alex Holland, D Brian Dulong, G Cam McGlashing, D Brian Smith.
The skinny:
A year later, we still find ourselves wondering what could've been in the Super 8 tournament -- had the Tanners gotten a couple of bounces here and there. But, as Woburn head coach Jim Duran told us at the time, "Teams make their own luck in hockey." This year, the Tanners hope the luck breaks their way because they don't lack on talent. UMass-Lowell commit Casey Shea will be perhaps the most dynamic offensive threat in the state (save for the top-liners at MC), and Holland isn't far behind. This group can skate and make plays in tight spaces. In a word, they're fun to watch. The Tanners also return one of the steadiest D-men in the state in Secatore.
X-factor:
Sophomore goaltender Jeremy Flibotte. He's tabbed to be McGlashing's replacement in net and saw time sparingly during last season. Can the netminder hold up to the rigors of postseason play? We'll find out.
December, 9, 2011
12/09/11
6:04
PM ET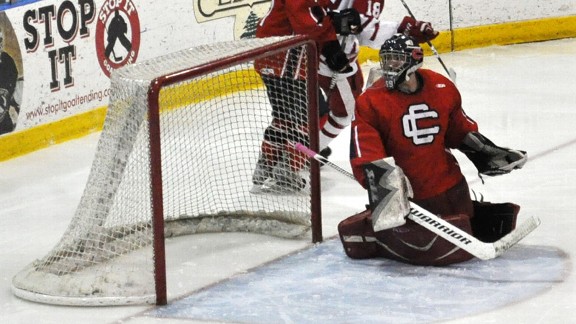 ESPNBoston.comCentral Catholic goaltender Kyle Williams surrendered just 43 goals last season while being named to ESPN Boston's All-State team. This year, the senior netminder kicks off the season in the same place on our First Team preseason All-State team.
Here is ESPN Boston's preseason MIAA All-State boys' ice hockey teams:
FIRST TEAM
F - Brendan Collier, Sr., Malden Catholic
F - Ryan Fitzgerald, Jr., Malden Catholic
F - Sam Kurker, Sr., St. John's Prep
D - Jared Beckwith, Sr., Catholic Memorial
D - Peter Sikalis, Sr., Acton-Boxborough
G - Kyle Williams, Sr., Central Catholic
SECOND TEAM
F - Liam Coughlin, Jr., Catholic Memorial
F - Casey Shea, Sr., Woburn
F - Matt Sullivan, Sr., BC High
D - Brendan White, Jr., Malden Catholic
D - Jake Secatore, Sr., Woburn
G - Peter Cronin, Jr., BC High
THIRD TEAM
F - Kevin Emmerling, Sr., St. John's (Shrewsbury)
F - Mike Kelleher, Jr., Central Catholic
F - Conal Lynch, Sr., Boston Latin
D - Connor Fenton, Sr., Braintree
D - Nick Pandalena, Sr., St. John's Prep
G - David Letarte, Sr., St. John's Prep
March, 9, 2011
3/09/11
8:56
PM ET


NORTH ANDOVER, Mass. –- Entering their second Super Eight playoff game, St. John's Prep captain Colin Blackwell and his teammates knew they hadn't yet played their best hockey.

"That first game is always the biggest, but there are no excuses after that," the Harvard commit said.

The Eagles' second effort was bit more convincing than their first, taking a 5-1 win over sixth-seeded Needham Tuesday night at Merrimack College's Lawler Arena.

Still, Prep head coach Kristian Hanson wasn't leading on that his team had just won a crucial tournament test and improved to 2-0 in Super Eight play while sending the Rockets to their second tournament defeat.

"I don't know how to say it, but I don't think we played especially well," Hanson said.

Regardless of the Eagles' level of play, what was without question was the offensive output of Prep's first line. Freshman Shane Eiserman (2G, 1A) and Blackwell (1G, 2A) each had three-point games. Winger John Farrow also continued his strong Super Eight play with a pair of assists.

Prep carried play almost exclusively throughout the first period, outshooting Needham, 10-4. Yet, the Eagles could only sneak one past Rockets goaltender Connor Murray (19 saves).

It looked as though that's the way it would stand when the teams took to the dressing rooms, however, Eagles defenseman put a cannon shot on goal with next to no time remaining on the clock. The puck blazed past Murray and shot back out of the net as time expired, leaving the Rockets and most in attendance dumb-founded. The official pointed to center ice and Prep skated away with a 2-0 lead.

Earlier in the period, Eiserman collected the Eagles' first goal, tapping in a feed from Blackwell, who snaked his way through the Needham defense to set up the goal. Farrow also added a helper on the play.

Later in the period, Blackwell and Farrow each added their second assists of the game on Pandalena's goal.

"We knew they were going to try to throw everything at us because they'd lost their first game," Blackwell said. "So for the first period, we knew we had to get off to a good start."

Blackwell continued weaving circles around Needham defenders in the second, putting Prep out to a 3-0 lead with his goal 57 seconds into the period. He broke through the neutral zone with speed, crisscrossing his way past two Rocket defenders before finishing on the backhand.

Needham cracked the scoreboard with 2:08 remaining in the second with D.J. Walsh batting in a one-timer off of Jamie Arnao's centering pass from the corner after shedding the check of a Prep defenseman.

"When we got that goal, I thought we might come out with a little jump in the third period and try to get back in it," Needham head coach Bill Guisti said.

The Rockets were provided two golden opportunities to chip away at the two-goal deficit with a pair of power plays sandwiched together midway through the third. However, Needham was held without a shot.

"Our penalty kill's been very effective all year long," Hanson said. "We've been right around 90 percent all year long and we haven't given up a goal on the power play in the Super Eight.

"We work a lot on the PK and we watched a lot of film on Needham, trying to know what they were going to try to do and defend it."

Devin Murray provided the Eagles with a three-goal lead with 4:04 remaining in the game, putting back a rebound of a Sam Kurker shot. Matt MacDonald also picked up an assist on the play after providing a pretty outlet pass, setting up a 3-on-2 rush that led to the goal.

Eiserman capped off scoring, collecting another tape-to-tape crossing pass from Blackwell at the top of the crease and putting it into the back of the net for a 5-1 final.
March, 5, 2011
3/05/11
8:55
PM ET
By
Roger Brown
| ESPNBoston.com


NORTH ANDOVER, Mass. -- St. John's Prep's 4-3 triumph over Woburn in Saturday night's Super 8 tournament game required some extra effort.

There was no celebration at the end of regulation. The game didn't end until senior forward John Farrow scored his second goal of the game 6:13 into overtime.

After Woburn goaltender Cam McGlashing stopped Colin Blackwell's initial shot, Farrow swept in the rebound during a scramble in front of the Woburn goal.

"A fortunate bounce went pretty much right to my stick," Farrow said. "I just swung at it and my teammates jumped on me, so I knew it went it. I just tried to swing at the rebound after Colin took it hard to the net and luckily it went in for us."

Farrow scored nine goals in St. John's Prep's previous 20 games.

"Either team could have won it," St John's Prep coach Kristian Hanson said. "I thought David [goaltender David Letarte] played great in the overtime and we were fortunate to get the goal."

Blackwell, a senior forward, and junior forward Sam Kurker also scored for second-seeded St. John's Prep, which improved its record to 15-5-1. Blackwell, who will play at Harvard, leads the team in goals (25), assists (22) and points (47).

Freshman forward Shane Eiserman assisted on two of his team's four goals.

The Eagles, who beat Woburn 6-0 during the regular season, are 10-1-0 in their last 11 games.

The loss dropped seventh-seeded Woburn's record to 18-4-1. The Tanners, who played their way into the field by beating Springfield Cathedral 5-2 in a play-in game, received goals from Dan Holland, his brother Alex Holland and Casey Shea.

"We had a lot of chances in overtime, we just couldn't finish," Woburn coach Jim Duran said. "We thought we could hang in there and maybe steal one. It's only one game and we're in a three-game tournament here."

Shea's goal, a backhanded shot while he was cutting through the slot, came with 6:41 remaining in the third period. Shea scored all five goals in the victory over Springfield Cathedral. He has a team-high 22 goals this season.

"That kid Shea is a heckuva player," Hanson said. "He was dangerous the whole game."

St. John's Prep led 2-1 after one period.

Woburn opened the scoring at 5:32, when Dan Holland circled the net and beat Letarte from a tough angle in the right faceoff circle. The goal, which was unassisted, was Holland's 11th of the season.

The Eagles responded by scoring twice in 93 seconds. First Blackwell tied the game when he received a centering pass from Eiserman and tipped the puck past McGlashing at 9:00.

St. John's Prep took a 2-1 lead at 10:33, when Kurker's soft shot from the right circle found room between McGlashing and the left post. It was Kurker's 16th goal of the season. Defenseman Nick Pandelena collected the only assist.

The Eagles extended their lead to 3-1 44 seconds into the second period. Farrow beat McGlashing with a shot between his pads.

Woburn's Alex Holland made it a one-goal game when he scored from a tough angle to Letarte's left. The goal, Holland's 18th of the season, came at 2:59 of the second.

"After we made it 3-1 they got a goal pretty quick," Hanson said. "I really felt [the third goal] was going to be kind of a momentum swing for us. Then when they made it 3-2 I think it let the wind out of our sails a bit."

Woburn failed to score on two power-play opportunities in the second.

Each team will be back in action Wednesday. St. John's Prep will face Needham, and Woburn will meet BC High. Both games will be played at Merrimack College.

"The first game is always huge" Farrow said. "We knew it was going to be a different game than when we played them the first time. That was real important for us to come out with a win going forward."