Boston High School:

Nick Romero
November, 28, 2012
11/28/12
1:39
AM ET
By
Mike Abelson
| ESPNBoston.com
TAUNTON, Mass. -- In last night's Division 3A semifinal Dighton-Rehoboth senior Michael Mello electrified the Falcons' faithful with a 70-yard gallop through the snow to jump up early over Bishop Feehan.

Then the Shamrocks shut off the Falcons' power and destroyed the transformer.

The Feehan rushing attack, led by junior Matth Allen, piled 341 yards in the first half en route to a 49-7 thrashing at Taunton High to advance to Saturday's title game against Lynnfield.

"They've been waiting for this and they let it rip," Bishop Feehan coach Curt Smith said. "The ironic thing is that we talked about that very play [the big early run] with that very player yesterday in practice. The little guy, behind that heap of humanity, if you go nowhere he's going to wiggle out. We talked about squeezing those piles in and staying square. I told the kids don't worry about it, it's early in the football game, there's a lot of time; we'll get the ball back."

Once the Shamrocks got the rock, it was all over. On their second snap Allen scampered for 41 of his 194 yards (189 in the first half) down the D-R sideline to set up a red zone situation which senior quarterback Nick Romero would finish five plays later with a one-yard touchdown plunge. Romero finished the game with 32 yards rushing.

Sophomore Matt Glebus rushed for 46 yards, and senior co-captain Matthew Pisano rushed for 28 yards and a pair for touchdowns.

The next Feehan drive Allen scored from eight yards out to give the Shamrocks the lead.

"It was awesome," Allen said. "My line was awesome today; the holes I ran through were huge. They were massive. You never expect a blowout in the playoffs and I did not expect this at all."

Allen turned on the spectacular midway through the second quarter with touchdown runs of 39 and 53 yards on consecutive touches to balloon the lead to 28-7. Allen also converted all seven extra points for the Shamrocks to make his total points haul 25.

"We had way too many missed tackles," Dighton-Rehoboth coach Dave Driscoll said. "Football is a game of blocking and tackling and they blocked better than we did and they tackled better than we did."

Defensively the Shamrocks made life a nightmare for Falcons sophomore quarterback Nathan Kowalski. Kowalski, who threw for over 1,300 yards during the regular season, was held to a paltry eight yards on 1-15 passing and took numerous hits.

Driscoll credited Feehan's speed and athleticism for causing headaches for his offense.

"Our O-line had a hard time creating holes, and they're so athletic at the linebacker position and the secondary position that even when guys were open they had the closing speed to deflect passes," Driscoll said. "The secondary made nice plays. We tried everything; they had their way. I congratulate them and wish them luck in the next round."

DOMINANCE IN THE TRENCHES
There are no exceptionally large players on Bishop Feehan's lines. No one is over 6-foot-1 and there are no 300-pounders, but it is an exceptionally intelligent and physical bunch that asserted its dominance over the Falcons' line, including 6-foot-7, 315-pound Chuddy Nwachukwu, early.

"You've got to stay strong and drive them off the ball," sophomore Chris Barthe said. "There's nothing else to it. You've got to stay physical and more tough, mentally and physically."

Defensively the Shamrocks were able to beat D-R to the point of attack, get into the backfield, and cause chaos. Smith credits that to simple, yet effective coaching and execution.

"We keep it very, very simple; we find we can be much more successful in a one-gap technique," Smith said. "We play one gap, you hold gap, and everyone fits together in our scheme. Everyone has a responsibility and they take that very seriously and buy in. You'd be surprised how easy that is."

For Barthe, the payoff is seeing his teammates in the backfield hit the holes he, and the line, create and get to the end zone.

"It's an amazing feeling," Barthe said. "I got to give all the respect to the running backs holding onto the ball in this weather. We've been doing this all year."

FEEHAN'S JACK OF ALL TRADES
Isaiah Douglas is a football player. The Feehan junior isn't classified by one position and he played like it last night.

Douglas ran for 97 yards, including a smooth 50-yard touchdown run, and locked down Dighton-Rehoboth's top receiver, Paul Costa.

"It feels good," Douglas said. ". I've been trying every day and working hard. All week we've been preparing for D-R and coach had me lock out [Costa]; focus on him, lockout on him, study his moves and everything."

Kowalski's 1-15 passing line was due in large part to Douglas who was able to close quickly on Costa and bat a handful of balls away at the last minute.

Offensively, Douglas benefited from being part of the tailback committee that the Shamrocks were able to rotate in throughout the game and stay fresh.

"Just ran hard," Douglas said. "Coach told me to run hard and lower my shoulder and it'll come."

Smith was quick to praise Douglas for his skill, leadership, and love of the game.

"He's an extraordinary player," Smith said. "He's our only junior on defense. He loves football; he eat, sleeps, and drinks football. We challenged him. We said it was going to be quite a challenge; we told him how they liked to throw the ball and if they had a big play you'd have to have a short memory and you've got to get over it. He rose to the occasion."
November, 11, 2012
11/11/12
12:49
AM ET
By
Brendan Hall
| ESPNBoston.com
[+] Enlarge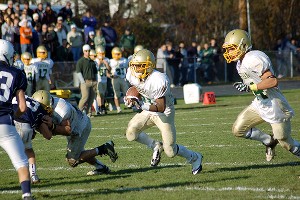 Brendan Hall/ESPNBoston.comIsaiah Douglas' goal line interception early in the fourth quarter helped cement Bishop Feehan's second straight EAC crown.
SOMERSET, Mass. -- For as long as we can remember, the Eastern Athletic Conference title always runs through Bishop Feehan. And for the third straight year, the crown fell into the hands of today's matchup between those Shamrocks and the Blue Raiders of Somerset-Berkley.
And for the second straight year, the Shamrocks emerged victorious, though it wasn't nearly the 41-7 blowout they delivered a year ago. In this one, the Shamrocks rattled off 24 unanswered points, en route to a 24-7 victory on a sunny Saturday afternoon in Somerset.
With the win, Feehan clinches at least a share of the EAC crown. But even if they were to lose to Bishop Stang on Thanksgiving, the Shamrocks would still be the conference's Div. 3A playoff representative based on head-to-head with S-B.
The Shamrocks will face South Coast Conference champ Dighton-Rehoboth on Nov. 27 in a Divison 3A playoff.
"I watched my brother win a Super Bowl," said quarterback Nick Romero. "I watched Nick Schwieger, all the greats play and win Super Bowls. That's what we've been working all season for. We've got one more, then we've got D-R, just like in 2009."
Somerset got on board first, an eight-yard toss sweep from Mikey Garrant, to go up 7-0, and the Blue Raiders took a 7-6 lead into the half. But momentum swung to the Shamrocks' favor with two key sequences of events.
First, Feehan opened up its first series of the second half running midline option out of its tried and true Wing-T scheme, with two big gains out of up-back Matt Glebus (15 carries, 123 yards). He took his first carry of the drive 53 yards, bursting up the middle then cutting to his left twice, pushed out of bounds some 53 yards later. The gain was negated 20 yards thanks to a downfield block in the back, but one play later Glebus was at it again, this time just bulling straight up the middle for a 39-yard gain that put the ball at the S-B 1 yard line.
Two plays later, Romero followed his left guard over the goal line to punched it in from a yard out and give the Shamrocks their first lead of the game, 12-7 advantage.
[+] Enlarge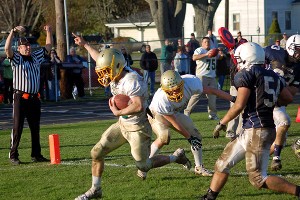 Brendan Hall/ESPNBoston.comMatt Allen's two fourth-quarter touchdowns put the finishing touches on Feehan's comeback victory.
"Nicky stepped up today," said running back Matt Allen (11 carries, 76 yards, two total TD). "He really read it nice. All season, that's what we do, we practice the option. We knew it was there, their linebackers kind filled slow, so he took it. Glebus, by the way, he stepped up. He went off today."
S-B's ensuing drive moved deep into Feehan territory, aided by a 41-yard pass completion from Jack Aramantes to Garrant,but after two failed dives found itself facing fourth and goal from the Shamrocks' five. Out of a timeout, Aramantes took a few steps to his right, threw across his body to the near pylon, and watched as safety Isaiah Douglas crashed from over the top and took the pass 60 yards the other way.
"I just knew it was coming," Douglas said. "I could tell that he was coming to the back corner."
That led to a five-play 40-yard scoring drive capped with a 14-yard screen pass from Romero to Allen, for an 18-7 lead with 6:07 to go. Allen added another score late for good measure.
Setting the edge:
The Shamrocks are no stranger to S-B's vaunted double wing attack by now, and head coach Curt Smith stressed the outside gaps in practice this week. With Chris Barthe, Mitch Martin and Zach Forget
"Win the C and D gap battle," Smith said. "If we can control the off-tackle and outside, when you take that away it's all play action passes. That's it. You can't sit back and read it and hope for it. You've got to smack them in the mouth in the C and D gap, and play the play action passes. That formula so far has worked for us. It's the only way I know, and it's worked so far."
Plenty to boot:
In the box score, Allen will go down as 0-for-2 on point after kicks. But as is the case every now and then, stats can be misleading.
One of the most underrated angles in the Shamrocks' surge over the final three quarters was Allen's booming blasts on kickoffs. Allen recorded three touchbacks on the day, including two in the fourth quarter. The Raiders' offense isn't always built to score quick when playing from behind, so with 80 yards to go o their final two drives of the game, it was an added layer to what was an uphill battle.
BISHOP FEEHAN 24, SOMERSET-BERKLEY 7

BF (7-2, 3-0) 0 6 6 12 --- 24
SB (9-1, 3-1) 0 7 0 0 --- 7
Second Quarter
S - Mikey Garrant 8 run (T.J. Eisele kick) 5:42
B - Isaiah Douglas 17 run (kick failed) 3:03
Third Quarter
B - Nick Romero 1 run (rush failed) 3:51
Fourth Quarter
B - Matt Allen 14 pass from Romero (pass failed) 6:07
B - Allen 4 run (kick failed) 3:23
November, 8, 2012
11/08/12
12:33
AM ET
A number of league championships will be decided this weekend, and with that, we're discussing "X-factors" for each of the most crucial matchups.

NO. 5 WALPOLE (9-0) AT NO. 21 NATICK (8-1)

Scott Barboza, ESPN Boston High Schools editor: You can pick just about anyone off this elite Rebels' defense, but let's go with senior captain and inside linebacker Cam Hanley. He's been the quarterback to this Walpole defense for a few years now and will be a vital cog plugging the running lanes when Natick quarterback Troy Flutie takes off on the run.

Brendan Hall, ESPN Boston High Schools editor: When these two teams squared off last season, Walpole went almost exclusively with a three-man front and five in the box. They did just fine, holding the Red Hawks to just 17 yards of offense in the first half, and eked out a 16-13 win on a last-second field goal. I don't expect much to change this year. Walpole has one of the state's most aggressive pass rushes, with 6-foot-4, 270-pound defensive end Chris Collins leading the way, and is a big reason why the Rebels haven't allowed a point since Sept. 28.

This Natick line has improved since the beginning of the season, but expect their hands to be full. Natick plays an uptempo, hurry-up style aimed at making the defense think fast, but quarterback Troy Flutie is going to have to make quick decisions –- chuck it or tuck it. And with receiver Brian Dunlap expected to draw extra attention, supporting receivers Justin Robinson and Andrew Boynton are going to be crucial.

Adam Kurkjian, ESPN Boston correspondent: This game will come down to whether or not Natick can make enough stops to give its explosive offense a chance in the end. Both of these teams can put up big numbers on the scoreboard, but while Walpole's defense has been equally effective, Natick's was lit up last week against Wellesley and lacks the same amount of playmakers the Rebels have on that side of the ball. The Red Hawks need to make stops early and often or else they can kiss their hopes of a Bay State Herget Division title goodbye.

***

BISHOP FEEHAN (6-2) AT NO. 16 SOMERSET-BERKLEY (9-0)

Barboza: Sometimes the simplest answer is the best answer. I might be going super-safe here, but Garrett Carlos and Mike Garrant have been the key to Somerset-Berkley's success all season long. If the two-headed backfield is on point on Saturday, the Blue Raiders will be tough to beat.

Hall: There's nothing fancy about Somerset's offense -– Garrett Carlos left, Mike Garrant right, vice-versa, fullback dive –- and there are no tricks. With its one-inch splits, the double wing eliminates blitz packages. Stopping the attack requires discipline not to over-pursue, and generally the play is read by following the pulling guards or watching where the quarterback opens his hips, then crashing the other way.

Of course, Feehan knows all this. This is nothing new to the Shamrocks, who sees this attack year in year out, and solved it last season for a 41-7 romp of the Blue Raiders. Somerset is looking like its 2010 dominance, but it is a smaller yet faster unit than that Super Bowl finalist squad which ran behind 320-pound road grader Ian Levesque. Plain and simple, the Feehan defensive line is going to have to get off its blocks -– and do it quickly.

Kurkjian: Bishop Feehan has to force negative plays on early downs and get Somerset's offense off the field. The way Somerset pounds teams on the ground, your defense can be worn out by the time the fourth quarter comes around. The Shamrocks would love to take an early lead and force Somerset out of its comfort zone by going to the air, although it's unlikely to happen unless Somerset is behind my multiple scores in the latter stages of the game.

Josh Perry, Managing Editor, HockomockSports.com: The X-factor between the top two teams in the EAC will be Shamrocks senior quarterback Nick Romero. Both teams are heavily focused on the ground game, but if Feehan can get something going in the passing attack and balance its offense it should provide the edge. Both teams will be crowding the line of scrimmage and bringing numbers up into the box. If Romero can connect with his receivers, even simple screens to Matt Allen and Isiah Douglas, it will give Feehan an edge.

***

NO. 18 KING PHILIP (8-1) AT NO. 24 NORTH ATTLEBOROUGH (6-3)

Barboza: I'm going with go with Sam McDonald, who's made King Philip's offense more dynamic in recent weeks. McDonald's had two-touchdown games in two of the last three weeks, including last week's win over Oliver Ames, when he hauled in a 22-yard touchdown pass from John Dillon and added a spark to the Warriors' special teams with a 66-yard punt return for a touchdown.

Hall: Joe Johnston gives this King Philip rushing attack its spunk, but it's going to be his play on defense that is the difference in this one. The Warriors are noted for devising great defensive gameplans, but that was delivered a swift wakeup call in the 46-33 loss to Mansfield. North has some big-play threats, and if KP wants to keep them in check they will have to dictate the pace of this game early.

Kurkjian: A year ago, King Philip held North Attleborough to just seven points. This year, it's the North defense that will need to be up to the task if it wants to take this showdown in the Hock. North can't count on its offense to just outscore King Philip because outside of an uncharacteristic breakdown against Mansfield, the Warriors have been strong on that side of the ball. Lately, North's defense has shown some weakness and it cannot allow more of that because KP is not the type of team that is going to allow the type of Arena League scores that the Red Rocketeers have hund up on teams this year.

Perry: The biggest X-factor in this game will be health. Sean Peters and Alex Jette are back for the Rocketeers, but neither is 100 percent. Jette's hair-line fracture is not fully healed yet and Peters will probably need surgery on his shoulder after the season. Even at only 75 percent, both players have made a significant contribution to the team on the field as well as positively impacting the team's attitude and confidence. Meanwhile, KP are a little banged up after fullback/linebacker Ryan Dunn went down with an arm injury in last week's rout of Oliver Ames. Dunn left the field with his arm in a sling and he would be a huge loss for the Warriors if he can't play. He is the lead blocker for Joe Johnston, a good inside option in the power running game, and is one of KP's best defensive players against the run.

***

NO. 17 NAUSET (9-0) AT PLYMOUTH SOUTH (6-3)

Barboza: Dylan Oxsen obviously is having a historic season for the Panthers with 28 touchdowns to date, but Harrison Holbrook and Devin Guadagno have also been intergral to Plymouth South's success. Now, we'll see if they can run together to a Atlantic Coast League title.

Hall: South's Dylan Oxsen is as hard-charging as they come -– you don't tip-toe your way to 28 touchdowns -– running behind some quick pulling linemen. For that, I think the key to this game will if Nauset's two-way lineman Dakota Girard can get off his blocks and create some havoc at the point of attack. The Brown University-bound senior is one of the biggest reasons the Warriors are having their best season in school history.

Kurkjian: Nauset needs to be able to slow down Dylan Oxsen enough to force Plymouth South to beat it in other ways. Oxsen has put up monster numbers this season and his team is on a major roll right now. If Nauset is somehow able to limit his yards and force the Plymouth South offense to go elsewhere, it could be the key in this pivotal Atlantic Coast League game.

***

NO. 11 BEVERLY (9-0) AT MARBLEHEAD (8-1)

Barboza: Pick your poison with the Panthers' backfield, right? So I'm going to go with the Magicians' defense, in particular their defensive line of Rajive Alcindor, Trever Gelineau and Kyle McCormack. They'll have their hands full with the Panthers' athletic offensive line and will have to play their responsibilities if Marblehead is to have any hope of slowing Beverly's stable of backs and a chance at victory.

Hall: Fitting that Marblehead goes by the Magicians, because their front seven is going to have to turn in some majestic play to keep this one close. The evolution of the spread has yielded video game-like stats for high school teams across Massachusetts, but what should scare you about the Panthers' average of 38 points per game is that they're doing it heavy on the run with a Wing-T offense. My advice: shoot the guards up the A-gaps, get upfield and hope for the best.

Kurkjian: The Magicians will be heavy underdogs in this game and the key for them to pull the upset is to make Beverly play a four-quarter game. Most of the opponents on the Panthers' schedule have fallen behind by so much that the fourth quarter is usually a JV contest. The Panthers have not trailed much at all this season and a second-half lead or a one-score game in the fourth quarter would give Marblehead a major advantage because they've been in more close games this season.

***

NO. 23 ABINGTON (9-0) AT EAST BRIDGEWATER (6-3)

Barboza: We all know the big-play ability Babila Fonkem brings for Abington, but the Green Wave is very much a three-headed monster. And the straws that stir the Green Wave's drink are a dangerous duo in Brian Kilmain and Jack Malafronte.

Hall: Abington goes in as the favorites, but they're going to have to stop East Bridgewater's option game. Andrew Benson is a run-first quarterback who can keep the sticks moving if you give him the edge. The Green Wave are going to have to contain the outside gaps and funnel things through the middle of the field.

Kurkjian: The Vikings will come into this one as underdogs and deservedly so because Abington has been so solid all season. However, an upset is not out of the question and the way that East Bridgewater can do it is by jumping out to an early lead and keeping the game close heading into the fourth quarter. Abington has not played a close game since September and since so much is expected of this team, all the pressure will be on the Green Wave in a hostile environment. The Vikings need to maintain that pressure and see if it can have a negative impact on the visitors.

***

FRANKLIN (7-2) AT MANSFIELD (6-3)

Barboza: Junior linebacker Alex Ruddy has taken a big step forward for the Hornets this season and leads the team in tackles with 62 (35 solo) through nine weeks. He'll be key to slowing the Panthers' potent offense.

Hall: We've mentioned before about this Mansfield offense's ability to reel off scores in bunches, and we saw that a few weeks ago in the Hornets' 46-33 win over King Philip. It was vintage Mansfield, rushing for over 360 yards as a team. For all the talk we've made of the Hornets opening up the passing playbook the last few years, they can still run the ball downhill efficiently. We know Franklin can hang with them in the air, but can they stop the run?

Kurkjian: Both of these teams have proven to be solid when they choose to go to the air. The winner of this game will likely be the one who can also get its ground game going to complement that aerial attack. A lot of these Hockomock battles lately have been very high scoring and this one could be as well, but if someone can find a rhythm running the ball it could be the difference.

Perry: Mike Carden could be the deciding factor in a game that will be Franklin's first of two straight title deciding games (they play King Philip on Thanksgiving). The Panthers' kicker is considered a D1-caliber talent by head coach Brad Sidwell and won the game against Attleboro a couple of weeks ago with a 41-yard kick. In fact, he had a 48-yard attempt against Taunton that would have kept the Panthers perfect but it fell inches short. A solid kicking game is a rare luxury at this level and it could provide the edge in a tight game.

***

BOSTON CATHEDRAL (7-2) AT POPE JOHN XXIII (5-4)

Barboza: Mike Sullivan's done a fine job all season taking over for Robert McMaster at quarterback for Pope John all season. For Pope John to knock off Cathedral, he'll need to be at his best again.

Hall: Pope John is going to need to find a way to neutralize Kadeem Edge. The 6-foot-4 Cathedral receiver is a matchup problem for most small-school squads, able to win jump-balls as well as accelerate quickly in space. Also look for several Cathedral defenders to have big roles in this one, namely Cameron Seemore, Derek Welcome and Mohammed Braimah.

Kurkjian: Cathedral quarterback Kejonte Hickman has not played like a sophomore in guiding this team to where it wants to be heading into the end of the season. For Pope John to win this game, it has to force him into the types of mistakes and bad decisions that sophomores tend to make. Cathedral's offense can be brutal to defend with the number of speedy athletes it gets into space, but a disruptive defense that hassles the quarterback into bad decisions is a nice way of messing up its timing.