Boston High School:

Nikko Markham
March, 23, 2012
3/23/12
4:01
PM ET
First Team:
F – Brendan Collier, Sr., Malden Catholic
The two-time ESPN Boston All-Stater closed out his senior season with a second straight Super 8 title and claimed our Mr. Hockey Award. The Charlestown native and Boston University commit scored 26 goals with assists for 65 points, a figure which led all Division 1 scorers. Collier, who also plays golf and lacrosse at MC, plans on playing a year of juniors next year before joining the Terriers.
F – Ryan Fitzgerald, Jr., Malden Catholic
The Lancers' top-line pivot makes his second All-State team appearance, his first on the First Team. The North Reading native and Boston College commit again eclipsed the 50-point plateau (31-21-52), despite missing the first couple weeks of the season with a shoulder injury, and helped the Lancers to their second straight Super 8 title.
F – Sam Kurker, Sr., St. John's Prep
When looking up the term power forward, the Eagles senior winger and captain fit the mold. The 6-foot-2, 210-pound forward finished with 32 goals and 28 assists for 60 points. The Boston University commit has also seen time with U.S. National Team Development Program and skated with the U-18 select team at the Ivan Hlinka Tournament during the summer.
D – Colin MacGillivray, Jr., Malden Catholic
The Lancers blue-liner is made in the mold of an old school rugged defenseman. The 6-foot-1, 185-pound Peabody native played on MC's top pairing through the season while posting three goals and 10 assists for 10 points for the repeat Super 8 champions.
D – Nikko Markham, Sr., St. Mary's (Lynn)
The Catholic Central Conference Most Valuable Player and Spartans captain finished a sound career by leading St. Mary's to a No. 2 seed in the Super 8. The Salem native was among the top point-scoring blue-liners in the state with six goals and 12 assists for 18 points.
G – Peter Cronin, Jr., BC High
For the second straight season, the Eagles went as their netminder went, and Cronin led BC High to its first Super 8 finals appearance since 2007. Playing in each of the Eagles' 25 games, the Norwell resident posted a 2.00 goals against average and a 91.7 save percentage.
2nd Team:
F – Kevin Emmerling, Sr., St. John's (Shrewsbury)
Perhaps the most skilled skater in the state, the Pioneers' center provided a dynamic offensive punch to their Super 8 run. The Whitinsville native finished third in Division 1 scoring with 26 goals and 30 assists for 56 points. Emmerling is exploring his options for next year and hopes to play college hockey.
F – Conal Lynch, Sr., Boston Latin
Lynch also showed that Charlestown is again a hotbed of hockey, carrying the Wolfpack to a DCL/MVC Div. 2 championship. Lynch finished second in Division 2 in scoring with 35 goals and 18 assists for 53 points. The Wolfpack captain is weighing his options in pursuing prep or junior hockey next year.
F – Matt Sullivan, Sr., BC High
The senior captain was a true two-way center with a high hockey IQ. The Duxbury resident anchored the Eagles' top line, scoring 12 goals and 16 assists for 28 points and lifting BC High to its first Super 8 final appearance since 2007. He is pursuing prep and junior hockey opportunities for next season.
D – Casey Fitzgerald, Fr., Malden Catholic
The younger brother of Ryan, Casey catapulted himself onto the scene in his first year, filling the role of a puck-moving defenseman previously held by former All-Stater Conor Evangelista. The North Reading resident and Boston College commit tallied two goals and 15 assists for 17 points in his first year.
D – Peter Sikalis, Sr., Acton-Boxborough
The Colonials' captain was the impetus behind their run to the D1 North semifinals. Sikalis had eight goals and 11 assists for 19 points while eating up boatloads of ice time for head coach Bob Lavin. The imposing 6-foot-3 defenseman is exploring his hockey options for next year.
G – David Letarte, Sr., St. John's Prep
The captain has been the Eagles' backbone during the last three seasons, leading Prep back to the Super 8 once again. Letarte had a 2.08 goals against average and a 91.3 save percentage in 18 games played. He is currently mulling over college and junior hockey offers for next year.
"Best of the Rest"
Nick Bertoni, F, Franklin
Tom Besinger, F, BC High
Tommy Bishop, F, Chelmsford
Matt Brazel, F, Hingham
Trevor Cimino, F, Burlington
Frank Crinella, F, Springfield Cathedral
Paul Curran, F, Milton
Vin D'Amato, F, St. John's (Shrewsbury)
Jarrod Fitzpatrick, F, St. Mary's (Lynn)
James Gordon, F, Hingham
Danny Holland, F, Woburn
Mike Iovanna, F, Malden Catholic
Connor Irving, F, Beverly
Mike Kelleher, F, Central Catholic
Chris Leblanc, F, Winthrop
Bobby Mullins, St. Mary's (Lynn)
Ara Nazarian, F, Malden Catholic
Andrew Newis, F, Natick
Jack O'Hear, F, Catholic Memorial
Cam O'Neill, F, St. Mary's (Lynn)
Jake O'Rourke, F, Medway
Cam Owens, F, Wilmington
Brian Pinho, F, St. John's Prep
Dalton Rolli, F, Wilmington
Joe Strangie, F, Danvers
D.J. Walsh, F, Needham
Bryan Carter, D, Hudson
Connor Fenton, D, Braintree
Brian Furey, D, BC High
Pat Houghton, D, Westford Academy
Steve Mattos, D, Burlington
Nick Pandalena, D, St. John's Prep
Jake Secatore, D, Woburn
Brendan White, D, Malden Catholic
Joe Cerulo, G, Wakefield
Jordan Davis, G, Norwood
Mike Donadio, G, Franklin
Bailey MacBurnie, G, St. Mary's (Lynn)
Connor Murray, G, Needham
Connor Roddy, G, Medfield
Shane Starrett, G, Catholic Memorial
Steven Waites, G, Winthrop
Kyle Williams, G, Central Catholic
Coach of the Year
Chris Spillane, Franklin
Losing 15 seniors off of 2011's Division 2 state finalist team posed no problem to Spillane in guiding his team back to the Garden again. The 13-year Panthers bench boss is regarded as one of the finest in the state, but no season might have been more impressive for Spillane than getting this team back to the finals.
Finalists:
Karl Infanger, Natick
Mark Lee, St. Mary's (Lynn)
John McLean, Malden Catholic
March, 2, 2012
3/02/12
6:25
PM ET
There are less than 48 hours remaining before the puck drops on the real Super 8 on Sunday at Merrimack College.

So we're taking this opportunity to break down the final eight:

1. Malden Catholic (15-1-4)
Marquee wins: Pretty much all of them, minus the Lancers' one loss to New Jersey powerhouse Delbarton.

Players to watch: F Brendan Collier (22-34-56); F Ryan Fitzgerald (26-14-40); F Mike Iovanna (14-23-37); F Tyler Sifferlen (9-14-23); F Ara Nazarian (10-16-26); D Casey Fitzgerald (1-15-16); D Colin MacGillivray (2-8-10); Brendan White (2-16-18).

The skinny: As in the last couple of years, this year's Super 8 is viewed as the Lancers' tournament to lose. Again, they have the best line in the state with Collier, Ryan Fitzgerald and Iovanna saddling into Mike Vecchione's former spot. But MC's true strength is depth. Sifferlen and Nazarian would occupy a spot on mostly any team's top line. Super frosh and BC commit Casey Fitzgerald has filled Conor Evangelista's role dutifully as a puck-moving defenseman.

X-factor: Goaltending. Connor Maloney watched last year's Super 8 from the BC High bench behind Peter Cronin. Now, it's his time to shine.

2. St. Mary's of Lynn (18-1-3)
Marquee wins: Malden Catholic (Kasabuski Tournament tie); Hingham (5-1); Cathedral (3-2).

Players to watch: F Bobby Mullins (9-20-29); F Jarrod Fitzpatrick (14-7-21); F Cam O'Neill (14-15-29); F Brendan Mageary (13-11-24); F Tim Aylward (10-10-20); D Nikko Markham (6-12-18); D Bryan Wilkins (1-7-8); G Bailey MacBurnie (1.30 GAA, 94.1 save %).

The skinny: So what were the Spartans to do without perennial league all-star Donald Hesse as their backbone? Well, Mark Lee found a more-than-legitimate starter in MacBurnie, a sophomore, who's played well along with a defensive corps led by Markham. Fitzpatrick has been another revelation in his first season with the Spartans. St. Mary's has greater scoring depth than in year's past. And they're young, as freshman Eric MacAdams (4-14-18) has impressed seeing top-line action.

X-factor: How do the Spartans react in a tight game. In last year's Super 8 play-in stab, and the Div. 1 tournaments of year's past, one-goal games have come back to haunt them. If they can sweat out a couple of close decisions in this tournament, they might find themselves at the Garden.

3. St. John's Prep (13-5-2)
Marquee wins: BC High (3-1); Hingham (2-1); Central Catholic (4-0).

Players to watch: F Sam Kurker (26-26-52); F Brian Pinho (14-20-34); F Tyler Bird (9-5-14), F Andrew Brandano (8-6-14); D Nick Pandalena (6-10-16); D Brent Murray (0-4-4); G David Letarte (2.02 GAA, 91.5 save %).

The skinny: We still haven't gotten over last year's championship game; it was simply amazing hockey. There's no Colin Blackwell, but Kurker (BU commit) has really blossomed this season and has taken this team on his back the way his former linemate did last year. Pinho and Bird, along with Kurker, are a formidable first line to skate against, and are strong in all three zones. Pandalena is a mountain of a defenseman, but beyond him, the Eagles blue line was green entering the season. Murray has elevated his play to comprise a formidable top pairing.

X-factor: Letarte. I believe we said this last year as well. When the senior is on his game, he can be airtight.

4. Hingham (16-4-2)
Marquee wins: Marshfield (6-2); Catholic Memorial (3-2); St. John's of Shrewsbury (4-0).

Players to watch: F James Gordon (21-17-38); F Matt Brazel (11-20-31); F Matt Hughes (13-11-24); F Ryan Linehan (8-12-20); F Patrick Mannion (6-12-18); F Sam D'Antuono (6-19-25); D Nolan Driscoll (2-7-9); G John Grenier (1.88 GAA, 90.1 save %).

The skinny: If this team had a motto, it would be "lacking experience, but not young." During the Harbormen's most recent Super 8 runs, a good portion of this year's roster watched from way down the bench, or up in the gallery. But this team has collectively raised its game and is benefitted by great coaching. Gordon's 20-goal season has been a pleasant surprise and Brazel is one worth watching for the next two years. The real revelation has been Grenier between the pipes. The Xaverian transfer is among the statewide leaders in goals against average.

X-factor: Grenier. He doesn't fit the current mold of a big, butterfly goaltender. Instead, he relies on aggressively challenging the shooter and cutting down angles. We'll see how it matches up with the precision passing games of MC and St. John's (S) in pool play games.

5. BC High (10-5-5)
Marquee wins: St. John's (twice); Prep (5-3); Cathedral (3-0).

Players to watch: F Matt Sullivan (9-15-24); F Tom Besinger (10-15-25); F Bartley Regan (7-6-13); F Steve DeForge (6-13-19); D Brian Furey (3-6-9); D Sam Topham (1-9-10); G Peter Cronin (2.00 GAA; 91.5 save %).

The skinny: Cronin lead this team to the crossover round last year, falling just short of an upset of MC. He was the revelation of last year's tournament and, as usual, the Eagles will look to their goaltender to continue his strong play. Besinger might be the shiftiest forward in the tournament not named Kevin Emmerling. He's not big, but he sure can skate. Furey has done a nice job leading a young Eagles blue-line corps this season. 'Moe' Regan has produced some dirty goals and has thrived in his role as a power forward, coming off his EMass D1 Super Bowl win.

X-factor: Sullivan. The Eagles' soft-spoken leader is a lead-by-example type, but thrives in big-game atmospheres. Wouldn't be surprised at all if he's a player we're talking about months after the tournament.

6. Springfield Cathedral (10-6-6)
Marquee wins: BC High (4-3); Needham (1-0); CM (3-1).

Players to watch: F Frank Crinella (13-15-28); F Thomas Quinlan (11-5-16); F Peter Crinella (5-8-13); F Brendan Ashe (7-7-14); D Matt Foley (0-12-12); G John Liquori (2.40 GAA, 88.9 save %).

The skinny: The Panthers cracked the top six this year after getting bounced in a play-in game last year. This is a team that isn't very flashy, but is consistently tough to play against, playing a brand of hockey that can be frustrating to opponents. Sophomore John Liquori has been steady, taking over for old stalwart Zac Rondeau. Liquori is the benefactor of a sound defensive squad that likes to play the body and takes care of its defensive assignments with diligence.

X-factor: Frank Crinella is perhaps the most talented player in the state who receives the least amount of deserved credit. This tournament could be a statement for him.

7. Central Catholic (13-3-5)
Marquee wins: Burlington (6-4, play-in game).

Players to watch: F Ryan Daigle (8-15-23); F Mike Kelleher (10-7-17); F Lloyd Hayes (15-8-23); F Alex Lester (7-9-16); F Zack Cote (10-4-14); D Jake Donahue (3-4-7); G Kyle Williams (2.13 GAA, 91.1 save %).

The skinny: Stop me if you're heard this one before, but the Raiders again used a spirited second-half push after a slow start to get back into the top tournament. If they continue the fast and physical brand of hockey they played against Burlington, the Raiders will provide a tough test. Kelleher's natural hat trick is a big boost to Central's chances going forward; if he gets going, he's one of the most potent pure scorers in the state.

X-factor: Williams. Shocking, right? As the goaltender goes, so goes the Raiders. And it's no coincidence that Central played its best while last year's ESPN Boston All-State netminder was at his finest.

8. St. John's of Shrewsbury (15-4-3)
Marquee wins: Needham (5-4, play-in game).

Players to watch: F Kevin Emmerling (25-28-53); F Vin D'Amato (23-14-37); F Jay Duquette (11-22-33); F Hunter Burdick (6-9-15); D Nick Rutigliano (1-10-11).

The skinny: Akin to Central Catholic, the Pioneers took perhaps their biggest win of the season on Monday. In that shootout with Needham, they showed why they can go toe-to-toe with any team across the state with the top line of Emmerling, D'Amato and Duquette running and gunning …

X-factor: … but then there's the defense. The Pioneers are going to need to tighten up in their own end. If they allow their three future opponents to enter the zone as they allowed the Rockets to run in the third period, there could be some lop-sided scores.
January, 24, 2012
1/24/12
12:30
PM ET
BOYS MIDSEASON ALL-STATE
F - Brendan Collier, Malden Catholic
F - Ryan Fitzgerald, Malden Catholic
F - Sam Kurker, St. John's Prep
D - Jared Beckwith, Catholic Memorial
D - Jake Secatore, Woburn
G - David Letarte, St. John's Prep

Others garnering consideration:
Tom Besinger, Soph. F, BC High
Tom Cahill, Sr. F, Pembroke
Liam Centrella, Sr. F, Andover
Frank Crinella, Sr. F, Springfield Cathedral
Peter Cronin, Jr. G, BC High
Kevin Emmerling, Sr. F, St. John's (Shrewsbury)
Connor Fenton, Sr. D, Braintree
Jarrod Fitzpatrick, Soph. F, St. Mary's of Lynn
Brian Furey, Sr. D, BC High
Danny Holland, Sr. F, Woburn
Pat Houghton, Sr. D, Westford Academy
Mike Iovanna, Jr. F, Malden Catholic
Mike Kelleher, Jr. F, Central Catholic
Chris LeBlanc, Sr. F, Winthrop
Conal Lynch, Sr. F, Boston Latin
Colin MacGillivray, Jr. D, Malden Catholic
Nikko Markham, Sr. D, St. Mary's of Lynn
Bobby Mullins, Sr. F, St. Mary's of Lynn
Brian Pinho, Jr. F, St. John's Prep
Casey Shea, Sr. F, Woburn
Shane Starrett, Jr. G, Catholic Memorial
Joe Strangie, Jr. F, Danvers
Kyle Williams, Sr. G, Central Catholic

GIRLS' MIDSEASON ALL-STATE
F - Natalie Flynn, Arlington Catholic
F - Kayla Smith, Woburn
F - Kati Goguen, Acton-Boxborough
D - Martha Findley, Duxbury
D - Emily Loebs, Acton-Boxborough
G - Courtney Davis, Woburn

Others garnering consideration:
Cassandra Connolly, Jr. D, Woburn
Lily Connolly, Jr. F, Duxbury
Jackie Denning, Jr. F/D, Lexington
Rachel Donahoe, Sr. D, St. Mary's of Lynn
Jane Freda, Jr. F/D, Hingham
Haley Gaughan, Sr. F, Canton
Samantha Girard, Fr. F, Dedham
Erika Kelly, Sr. F, Watertown/Melrose
Cali Loblundo, 8th G, Acton-Boxborough
Brooke Matherson, D, Walpole
Caroline McCarthy, Sr. F, Belmont
Tori Messina, So. D, Hingham
Annie Messuri, D, Acton-Boxborough
Megan Messuri, Soph. G, Arlington Catholic
Hannah Murphy, Jr. F, Duxbury
Rachel Myette, So. G, Duxbury
Shannon O'Neil, G, Austin Prep
Danielle Phalon, Sr. F, Stoneham
Casey Schaejbe, Sr. G, Arlington
Sarah Schwenzfeier, Jr. F, Hingham
Caroline Shaughnessy, So. D, Duxbury
Kaitlyn Spillane, Jr. F/D, Franklin
Bethany Welch, Jr. G, Walpole
Rebecca Zappalla, Sr. D, Arlington Catholic
December, 22, 2011
12/22/11
1:31
AM ET
By
Bruce Lerch
| ESPNBoston.com
LYNN, Mass. -- St. Mary's put together about as complete an effort as a hockey team can expect in its fourth game of the season. In the process, they also made a rather loud statement that they are ready, willing and able to lock horns with the upper echelon programs around the state.

Junior defenseman Andrew Markham scored twice, the first two goals of his career, and the 13th-ranked Spartans hit on three of seven power play chances to take a 5-1 decision over No. 9 Hingham Wednesday night at Connery Rink.

"What this game did for us as a team is it gave us a lot of confidence and proved that we can play with the best teams," Spartans head coach Mark Lee said. "Three complete periods of hockey. We did a great job on special teams, killing penalties, and our power play was pretty nice too. It really feels good to see the team progressing the way they're progressing."

Penalties doomed the Harbormen (1-2) all night and St. Mary's (3-1) showed right off the bat that were ready to pounce. Markham got things going during a first period, extra man situation, blasting a slap shot from the point that was initially stopped but trickled through the pads of Hingham goalie John Grenier.

Patrick Mannion got it back just 1:11 into the second, taking a feed from John Carlson on the goal line and scoring from a tough angle on a shot that tucked in front of the far post.

A 5-on-3 situation, one of two in the second, led to St. Mary's retaining the lead just over two minuets later. Hingham got it back to just a man down, but Markham was able to score on another shot from the blue line, with assists from Cam O'Neill and Jarrod Fitzpatrick.

The floodgates opened from there, as the Spartans got goals from Frank Moreschi, Nikko Markham and Eric MacAdams (first career score for the eight-grade forward) over the final five minutes of the period.

Cam O'Neill finished with three assists for St. Mary's, while Bobby Mullins added two. Sophomore goalie Bailey MacBurnie turned in a solid effort with 14 saves.

"Beating a team like this is going speak volumes for our confidence," Lee said. "Make no mistake about it, this was a total team effort. I thought our goaltender played a great game. he made big stops when we needed them. Our defensive corps and offensive lines...it was just a complete team effort. That's the only way you're going to beat a team like that."
January, 14, 2011
1/14/11
1:16
AM ET
By
Brian Fabry
| ESPNBoston.com
TEWKSBURY, Mass. -- St. Mary's head coach Mark Lee has been around his fair share of goaltenders in his 24 years at the helm. So Lee knows full well when he has a star between the pipes.
No. 8 St. Mary's blanked No. 9 Austin Prep, 3-0, in a pivotal Division 1 Catholic Central League tilt as CC League All-Star goalie, Don Hesse, picked up his second shutout of the season with 14 saves for the Spartans.
While Hesse was rarely challenged in this one, the senior netminder is in his third year as the starting goalie for St. Mary's and was two wins away from his first state title last season. Seems like the Salem, Massachusetts native is just starting to warm up at the right time midway through the season again for Lee's Spartans.
[+] Enlarge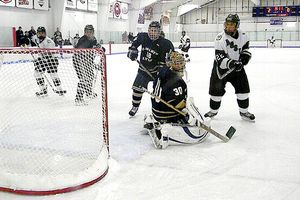 Brian Fabry for ESPNBoston.comSenior goaltender Donald Hesse led No. 8 St. Mary's to a Catholic Central Conference win over No. 9 Austin Prep by notching his second shutout of the season.
"The defense played excellent today, they stepped it up for us," said Hesse. "Keep the momentum going to the next game and so we can actually capitalize because we were a little slow off the start this year."
Other then two wins over St. Bernard's (0-6 overall), St. Mary's was struggling offensively and had settled for three ties within the league against Arlington Catholic, Archbishop Williams and a previous 1-1 tie against the Cougars.
"We've played most of our games starting from behind a goal or two and we have three ties to show for it," said Lee. "But we didn't want to make that same mistake, and we came out strong."
Despite the in-league ties, the Spartans (4-1-3; 3-0-3) remained unbeaten in league play as three different goal scorers helped St. Mary's erase the previously unblemished league record of the Cougars (4-2-1; 3-1-1). Derek Stella and Bobby Mullens potted goals in the first period and freshman Jordan Manthorne put the game out of reach with 1:55 remaining in the second.
"For the first time this year, we played three complete periods of hockey, we worked very hard, and I'm just proud of the guys in this locker room - they deserved that win," said Lee. "We try to keep it simple in all aspects especially in the defensive part of it. The defensive core did a great job with coverage in front of the net and owning the defensive boards limiting their opportunities down low."
Austin Prep got bad news from the get-go as junior forward Ryan Quinn left the game early in the first period with a possible concussion and did not return. Adding insult to injury was Stella, a senior from Revere, and Mullins, a sophomore from Saugus, who scored 32 seconds apart midway through the first period right after Quinn left the ice to shock the Cougars, who held a slim 9-6 shot advantage in the period.
Senior captain Cam O'Neill (two assists) fed a perfect pass to center ice after catching Stella streaking towards the net. Stella came down inside the left slot and once the senior forward got Cougars' junior goalie Nick Luise to commit, the back of the net was easy pickings across the crease with a backhanded score to give Hesse all he needed on the other end at 6:44 of the first period.
Before Austin Prep could even regroup, Mullins potted a wrister sitting pretty outside the right post off the stick of Julian Yourawski. Yourawski slid the puck right behind the Cougars' defense, who were on their heels all night long, right after the ensuing face-off.
"We knew it wasn't going to be over in a period or two and it was going to take a three-period effort. We've been struggling most of the season with putting pucks in the net so it was really good to get up a goal or two early and kind of gave us a little breathing room".
Manthorne's goal came with some extra hard work as Tim Alyward fired a shot from along the boards just outside the face-off circle in the Spartans end. The freshman forward set a perfect screen out in front for Alyward and deflected the shot with his skate only to have Luise (18 saves) stop the redirect initially.
Manthorne spun around and tried to punch in the rebound but settled for the easy backhand on his third try at the net with Luise down on the ice to give St. Mary's a comfortable 3-0 lead in a game the Cougars never seemed plugged into from the start.
Austin Prep had their chances with four power play opportunities but only mustered five shots in total on net during the man advantage. In fact, head coach Louis Finocchiaro pointed out the Cougars had only one shot on net for the entire second period until Nikko Markham picked up a St. Mary's penalty with less than a minute left in the in the seconds stanza.
"I recall one game we've had that the effort has been like that in probably five or six years," said Finocchiaro. "Not to take anything from St, Mary's either as I thought they were disciplined, thought they played a solid game, and I thought they were tenacious on back pressure".
With the win, Lee knows each league win is a step towards the ultimate goal and the goaltending is where the wins start piling up.
"This time of the season – that's the biggest game of the year for us league-wise to stay on pace," said Lee. "I feel like (Hesse) is one of the best goaltenders in the state and he took us to the Division 1 (North) finals last year and we expect big things from him, he's a senior, he didn't disappoint and he really played well and it's like having an extra defenseman out there."
ST. MARY'S (4-1-3; 3-0-3) – 2 – 1 – 0 - - 3
AUSTIN PREP (4-2-1; 3-1-1) – 0 – 0 – 0 - - 0
FIRST – SM, Derek Stella (Cam O'Neill, Cam Kennedy), 6:44; SM, Bobby Mullins (Julian Yourawski, Nikko Markham), 7:16
SECOND – SM, Jordan Manthorne (Tim Alyward, Cam O'Neill), 13:05.
THIRD – NONE
SAVES – SM, Don Hesse (14 saves); AP, Nick Luise (18)