Boston High School:

Noah Ellis
April, 19, 2012
4/19/12
10:19
PM ET
By
Bruce Lerch
| ESPNBoston.com
DOVER, Mass. -- A pair of teams led by stout defenses and outstanding goalies set the stage for what should be nailbiter of a final as Wellesley and Concord-Carlisle each made their way through the stacked field of the Coaches Challenge Cup.

WELLESLEY 8, WINCHESTER 1: The sixth-ranked Raiders got a tremendous game out of defender Ryan Cassidy, who totaled eight ground balls and played lock-down defense to help slow down the No. 11 Sachems in the first of two semifinals at Dover-Sherborn's Frothingham Field.

Wellesley (5-1) assured itself of a title defense by keeping Winchester's (7-1) dangerous group of shooters far away from Penn State-bound goalie Connor Darcey (11 saves).

At one point in the fourth quarter with the Raider D forcing Winchester to keep passing the ball around the box in hopes of finding any hole to shoot through, Darcey could be heard yelling to his teammates, "You're playing perfect Wellesley! Keep it up!"

"Winchester has shooters and we knew that going in," said Raiders head coach Rocky Batty, whose team took a 7-0 lead into the fourth quarter. "Ryan Cassidy controlled things with Darcey and understood that shooters are shooters, and if they got hot, we would be in trouble. They kept it at 16-18 yards. They drew a line and said 'That's it, this is where you guys will play from.'"

The defensive effort allowed Wellesley to push the transition, and while that didn't always lead to goals, it allowed the Raiders to get settled and at least work long possessions to make the Sachems defense work.

Offensively, Brian Pedersen had a hat trick and Peter Crane notched three assists as Wellesley built a 7-0 lead before Winchester got on the board early in the fourth quarter.

"It was a great team effort overall," Cassidy said. "Our team defense is something we take pride in. We don't have any real stars, we just try to play the fundamentals and work as a unit. This year we have a no-name defense. We try and keep each other as one unit and we do that and stay with the fundamentals, that's when we're most successful."

Despite suffering defeat for the first time this season, Winchester coach John Pirani recalled a similar situation last year where his charges suffered a big loss to Hingham but bounced back to push the Harbormen to a one goal game in the playoffs.

"The reason for the tournament is that we wanted great competition in the middle of the year," Pirani explained. "It's a response to the growth of the game and the risk/reward when you engage in that kind of endeavor is that you might get your head handed to you, 8-1. The reward is that you get the experience of playing a really rigorous opponent who prepares you for tournament play later on."

"We lost to Hingham last year, 16-5, and then came within an eyelash of beating them in the postseason," he continued. "I told the kids, 'I don't know how its going to turn out but I do know that we will be better prepared because we had this experience.'"

CONCORD-CARLISLE 9, HINGHAM 4: The eighth-ranked Patriots will face Wellesley in the title game for a second straight year, getting two goals apiece from Jackson Finigan, Tim Badgley and Kevin Delehey and producing a similarly efficient defensive effort to stifle the No. 3 Harbormen in the day's final contest.

Doug Gouchoe stopped ten shots in the cage while Henry Bumpus and Evan Boynton anchored the defense and didn't allow Hingham's (6-1) talented attack group to get anything going.

The Patriots (5-0) kept Hingham off the scoreboard until the third while sniping five of their own. Dave Freitas and Noah Ellis tried to jumpstart the Harbormen, notching back-to-back goals, but C-C quickly put down any hopes of a comeback by reeling off the next three scores.

"I thought it was a great team win," Gouchoe said. "We were firing on all cylinders and playing together on defense. Our energy feeds off our defense. If our defense plays well, our offense is going to have that confidence to go to the net and score."

Also standing out the crowd for C-C was two-way midfielder Mike O'Brien, who scored the first goal after Hingham's two and basically never left the field as he continually hustled back and forth between both ends.

"Our defense has been phenomenal all year," O'Brien said. "We have four solid defenseman we can rotate, our defensive middies, even our offensive middies that go back and play defense. It's really a six-man effort back there. Doug's at the heart of it making big saves but we also try to limit teams from getting good shots on him."

Added C-C coach Tom Dalicandro, "Mikey's the heart and soul of the team. He's a three-sport star and was a two-way star for us today. We told him after the first game he has to stay on the field as long as he can and not come off until he's dead."

With a big smile, Dalicandro added, "And then he's still going to stay on."
April, 7, 2012
4/07/12
8:00
PM ET
By
Bruce Lerch
| ESPNBoston.com
HINGHAM, Mass. -- It has become something of a tradition over the years that when Needham and Hingham match up in an early season lacrosse game, it ends up becoming an instant classic.
[+] Enlarge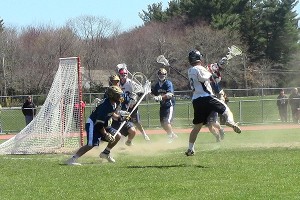 Bruce Lerch for ESPNBoston.comNo. 5 Hingham endured No. 4 Needham's late charge to come away with a 12-11 overtime win Saturday morning.
Since 2005, the Rockets and the Harbormen have met once a year with all but one of those contests was decided by three goals or less. Four of them were one-goal thrillers.
History repeated itself Saturday morning at Hingham High School, as Noah Ellis fired home the game-winner at 2:35 of overtime to lift the Harbormen to a 12-11 victory over Needham.
"I think it was a battle all the way," admitted a somewhat relieved Hingham coach John Todd afterward. "I think it was a one or two goal game, back and forth, both teams holding leads and we were just lucky enough to get a look at the cage in overtime. Good early season lacrosse."
Ellis finished with three goals and an assist for the Harbormen (3-0), David Freitas had five goals and a helper, and Kevin Blair had a game high seven points on four goals and three assists.
Mark Riley paced the Rockets (0-1) with four goals and two assists, Nico Panepinto added two goals with four assists and Robbie Pisano collected a hat trick.
The Rockets (0-1) tied the game when Panepinto set up Riley for a laser to the far post with just 23 seconds remaining in regulation. The Rockets then won the faceoff for overtime, but the Hingham (3-0) defense bottled up Riley as he tried to dodge through the lane.
With possession in hand following a timeout and another stoppage, Ellis worked himself into great position and let loose with what ended up as the game-winner.
"Kevin Morris set a good pick for me on the corner and my guy was kind of sagging in a little bit so I just split him to the middle," Ellis described. "Everyone was clearing out so I had a lane right to the net."
After a penalty-filled third quarter in which 10 flags were thrown (seven against the Harbormen), Freitas scored back to back goals, the second on a diving shot while getting hacked, to give Hingham an 11-10 lead with 3:09 to play. Panepinto rung one off the crossbar in a man-up a minute later, then Riley finally forced the extra frame with his tying goal.
"Our team has a lot of poise," Blair said. "It was pretty crazy and there was a lot of confusion with the referees and all the flags and stuff but we had a run, we kept it together."
In a year where expectations are high for both squads, the importance of the triumph was not minimized at all for the Harbormen.
"Its definitely big," Todd admitted. "We always battle these guys, every year it's a one or two goal game. That's why we play each other. We've got very high expectations for our kids and great respect for Needham. Having this game early in the season gives us a good benchmark of where we want to be and where we are."
January, 19, 2012
1/19/12
11:06
AM ET
By
Bruce Lerch
| ESPNBoston.com


HINGHAM, Mass. - It's a bit stunning to note that a team firmly entrenched in the mix for a Super 8 bid is making it happen with a defense and goaltender that are seeing the ice for the first time this season.

That has been the case with No. 4 Hingham, who rode that defense and the stellar play of netminder John Grenier to a 4-0 shutout of No. 19 St. John's (Shrewsbury) last night at Pilgrim Arena.

Grenier, a junior, only had to make 13 saves, thanks in great part to the work of his unheralded defense. Led by Nolan Driscoll, Pat Cahill, Andrew Flynn, Noah Ellis and Corbin Robichaud, the Harbormen (10-2-0) put on a shot-blocking clinic, as the stat sheet showed a total of 42 shot attempts by the Pioneers (8-4-1).

"Its not unexpected because although they didn't play in the games with us last year, they practiced with us every day most of those guys," Hingham coach Tony Messina said. "We know what they can do, they've been in the system for a couple years so we were hoping they could acclimate pretty quickly and they have."

"With the goalie, we didn't know how good John was or what he was capable of but he's been more than we expected, more than we could ask for," Messina continued. "Together, they've been pretty good. Its really been team defense too. We try to make sure the forwards are coming back to help and that's obviously a big thing. A lot of blocked shots, a lot of long sticks trying to get sticks on pucks. You have to against the best teams. Otherwise they'll eat you alive."

For his part, Grenier is also very appreciative of being able to man the cage behind such a hard-working blue line corps.

"It was huge," the junior netminder said of his defense's ability to block shot. "The shots they don't block, they could come in, come to me, and you don't know what happens when they get to the net. It either bounces out for a rebound or can get to the net. It's just not a good situation if it comes to the net. If they dont stop it its not any good."

SECOND LINE STEPPING TO THE FRONT
The bulk of Hingham's offense against the Pioneers came courtesy of its second unit. James Gordon had two goals and an assist, Matt Brazel had a goal and two helpers, and Sam D'Antuono dished out three assists.

The tenacity of the second line bore though particularly on rebounds, as Brazel and Gordon notched Hingham's first two tally's by being aware of where the puck was after shots.

Matt Hughes scored the third goal on a one-timer courtesy of a beautiful, cross-crease pass from Brazel, and Brazel and D'Antuono helped spring Gordon for his second, and the game's last, score with 1:03 left to play.

"They've been good for us all year," said Messina in praise of his second line. "They play hard in the offensive zone. the thing we to watch with them is coming back in the defensive zone, but they can put the puck in the net which is great. The first line was a little off tonight but the second line was great."

A PLAYER TO WATCH IN SHREWSBURY
One player from St. John's that immediately jumped off the page was senior forward Kevin Emmerling. The Whitinsville native is listed at a mere 5-10, 170 pounds, but skates with a flash and a flair that leaves no recourse but to generate offensive opportunities.

Emmerling is already drawing looks from Hockey East schools such as UMass-Lowell and Merrimack, a list that will undoubtedly grow as the season wears on.

"He's a very offensively skilled player, said Pioneers coach Brian Murphy of Emmerling. "He's got good speed and great hands. We're pushing him, trying to get him into college and get him ready. I think he can play at a high level, he just needs an opportunity.

PLAYING THE IRON
St. john's has designs on making a run at a Division 1 state championship, or even better, a cherished bid to the Super 8. A year ago, the the Pioneers were oysted by Winchester in the Div. 1 North quarterfinals, 2-1. In an effort to prepare themselves better, Coach Murphy has set up his schedule for his team to face no less than 11 teams from Eastern Mass., including stalwarts such as Hingham and BC High.

While the result haven't been what Murphny had hoped for (the Pioneers are 1-5 thus far against EMass. competition), the goal to is to improve and try and reach the same level of some of these opponents.

"The big thing is the pace, the quickness, the speed of the game. These guys are good players and they play hard and they play quick and so you're going to have to adjust to that pace if you're going to play at a high level," Murphy said. "Thats why we do it, thats why we play all these teams. We want to pick up that pace, we want to challenge ourselves and see if we can get up tthat level."

"Sometimes its frustrating, sometimes its difficult, sometimes you take your lumps but like we said to them in the locker room, we'll be in the tournament, which one who knows, and we just need to keep working, take one game at a time and see if we can get some good things out of this. We can't change it, we just try to see if we can build on it."
May, 11, 2011
5/11/11
12:00
AM ET
COHASSET, Mass. -- When Thomas Flibotte gets going, he's nearly unstoppable.

The Cohasset boys' lacrosse All-American had another one of those nights, striking for five goals against No. 7 Hingham on Tuesday. And, after watching Flibotte notch a hat trick in the second quarter while falling behind the 12th-ranked Skippers by four goals, the Harbormen could have packed it in.

"But we didn't buckle," Hingham head coach John Todd said.

The Harbormen scored four straight goals to open the second half and slowed Flibotte down just enough to give themselves a chance.

Hingham held an 11-10 lead with less than a minute to play when Flibotte held the game on his stick. The Bucknell commit streaked in on the wing and let off a shot from 15 yards out, but Harbormen goaltender Derek McInnis made the save, preserving the victory.

"You couldn't ask for anything more," Todd said. "Maybe it's that we matched up well against them. But Thomas Flibotte is amazing. I think we had all we could handle in just trying to be with him, never mind controlling him."

Hingham (11-2) had its own offensive stars with junior captain Kevin Blair collecting a six-point game (3 goals, 3 assists). Karl Weller chipped in a three-point game with two goals while Noah Ellis also netted two goals, including the game-winner.

Kyle Livingstone, who missed significant time with an injury, marked his return to the Cohasset lineup with a two-goal game.

The Harbormen emerged from a two-goal halftime deficit to score the first four goals of the second half.

Blair figured prominently in the comeback. He set up David Freitas' goal to start the third quarter before tying the game with 37 seconds remaining in the period.

Blair netted his hat trick one minute into the fourth, providing Hingham with a 9-7 lead. John McGoldrick and Flibotte countered to tie the game 9-9, but Hingham captain Tim Driscoll broke the deadlock with 5:30 to play.

Ellis netted the game-winner with 2:47 remaining with an assist by Blair. Undaunted, Flibotte responded to draw the Skippers (10-4) with a goal with 1:32 to play.

However, Cohasset wasn't able to find the net again despite having three offensive possessions within the final minute. The best chance came on Flibotte's break with 25 seconds remaining with McInnis making a sensational save.

"That was a huge save," Todd said. "But then we were able to clear the ball. We made some stupid mistakes within a minute there. We stepped out of the box when we could've gotten a little more time off the clock.

"But, hey, it all worked out."