Boston High School:

Noah Sorrento
October, 12, 2013
Oct 12
6:34
PM ET
WESTWOOD, Mass. -– Just when you think you've seen the best out of Xaverian's defense, the Hawks just keep dialing it up another notch.
[+] Enlarge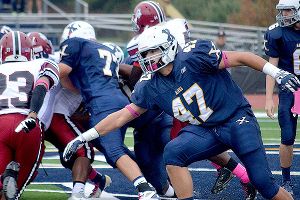 Brendan Hall,/ESPNBoston.comJoe Gaziano (4 sacks, 2 TFL, 1 INT) led the way for Xaverian as the No. 5 Hawks held Brockton to just 70 yards of offense.
Three weeks ago, three blocked punts led the Hawks to a 49-13 rout of then-No. 1 Bridgewater-Raynham. Last week, the Hawks' defense put down the clamps in the second half as they blew out Catholic Memorial, 43-7.
Under gray, drizzly skies this afternoon at the Hawk Bowl, Xaverian held Brockton's vaunted triple-option attack to just 70 yards of total offense, sealing the game late with a 57-yard interception return to come away with a hard-earned 14-0 shutout victory.
"I thought our defense played really outstanding, they really bailed us out today," Xaverian head coach Charlie Stevenson said. "We had trouble getting our offense in gear, we'd make a play and then we wouldn't make a play."
The Hawks (4-1) took their initial lead late in the first quarter, starting at their own 45 and stringing together a nine-play, five minute drive that was punctuated by a 21-yard touchdown scamper by quarterback Jake Farrell. The right-handed junior saw pressure coming from his front side, rolled to his left and found a running lane open up, sprinting up field for the scoring scramble.
After that, the Hawks played it conservatively –- mostly feeding the ball to running backs Shayne Kaminski (17 carries, 64 yards), Kenny Kern and Noah Sorrento –- and let the defense take over.
And boy, did they take over. Led by junior defensive end Joe Gaziano (four sacks, two tackles for loss, interception) and Dan Benvie (sack), the Hawks dropped Boxers (2-3) quarterback Pat Burke for six sacks on the afternoon. The Boxers have been known to create confusion at the point of attack with its "Flex Bone" option scheme, but there were no such tricks today, as the Hawks routinely filled the interior gaps and muddied what has been at times a pretty crisp three-headed backfield.
Perhaps most impressive was the Hawk defense's ability to get off the field quickly. Brockton had just two first downs on the afternoon and crossed the 50-yard line into Hawk territory just twice, both times coming in the fourth quarter.
The Hawks sealed it late in the fourth quarter when Burke's screen pass attempt was broken up, then returned 57 yards to the house on a tip-drill pick-six. Sorrento was there to greet the Brockton running back in the right flat, squaring up his shoulders as the back attempted to haul in the pass and slamming into his midsection. The ball took a high bounce off of the player's shoulder pads, and Kerns was there to pluck the ball out of the air and take it down the left sideline to paydirt.
"I'm really happy with the way our guys hung in there," Stevenson said. "They [Brockton] are a really physical team. They're getting much better from week to week. When I see the way they played early on to now, they're playing very very well defensively."
Brockton has allowed just 20 points in its last two games, but its offense has some kinks to work out following a second straight shutout loss. The Boxers have not scored a point in the last eight quarters, and have produced just 182 yards of offense over that same timespan.
Joe of all trades:
Of all the Swiss Army knives in Stevenson's drawer this fall, Gaziano might be the sharpest. Few athletes in the Catholic Conference have demonstrated as much versatility as the 6-foot-3, 230-pound five-technique end.
Offensively, he had one of the most impressive plays of the game at tight end, hauling in a 21-yard pass from Farrell in which he used his long outstretched arms to wrestle the ball away from two Brockton defenders dogging him all over. He also factored into the running game, setting the edge for the Hawks' stable of backs.
In special teams, Gaziano is everywhere. His punts at times can pin the opposition deep, and he registered a touchback today kicking the ball off. In the return game, he is a constant threat to block a punt (the Hawks registered another one today), and also excels at blocking for returners.
Defensively, his prowess is already well-known. He is a rangy player with a long, athletic frame, that they take full advantage of. In one second-half play, Gaziano got hang time as he leaped high to pick off a middle screen from Burke. Gaziano is also called on occasionally to drop back into pass coverage from the defensive end spot.
"Gaziano is a beast," Stevenson said. "Gaziano had a great game today, he picked off the screen pass they tried and sacked the quarterback at huge times –- it's not just that he had a sack, [he had them] at huge times in the game. He's a good player for us, and I'm glad he's going to Xaverian High School again next year. He's just getting better week to week.
"We certainly were concerned about their perimeter game, we didn't want to let their speed guys outside, so he was coming up field a little more than we normally do. He's such a good athlete that he can do that kind of stuff and come back down inside if we need him to. As you guys know, he's a jack of all trades."
XAVERIAN 14, BROCKTON 0

BR 0 0 0 0 --- 0
XB 7 0 0 7 --- 14
First Quarter
Jake Farrell 21 run (Matt Rogers kick) :06
Fourth Quarter
Kenny Kern 57 interception return (Rogers kick) :47
October, 5, 2013
Oct 5
11:31
PM ET


WESTWOOD, Mass. – It's not how you start; it's how you finish.

And one week after a rough finish in a loss at Barnstable, No. 5 Xaverian learned its lesson heading into Saturday's Catholic Conference matchup with Catholic Memorial.

The Hawks hadn't played their finest half against the Knights and held just a slim three-point lead (10-7) at the intermission. But Xaverian showed up for the second half, outscoring the Knights 33-0 en route to a 43-7 win.

Xaverian (3-1, 1-0) pounded the ball in the second half behind a trio of running backs in Shayne Kaminski, Kenny Kern and Noah Sorrento. Meanwhile, the Hawks defense produced points as well, as junior defensive back Damion Wood returned two interceptions for touchdowns, turning a once competitive struggle into a manhandling.

"We weren't really making the plays we needed to, we hurt ourselves a little bit there," Xaverian head coach Charlie Stevenson said of his team in the first half. "We took some bad penalties."

In fact, the Hawks were so generous they accounted for three of CM's five first downs in the first half, with one leading up to the Knights' lone touchdown of the day – a 15-yard touchdown pass from Kevin Claflin to Kevin Bletzer roughly a minute before the break.

Xaverian's defense would be much more stingy in the second half.

After the Hawks extended their lead to 23-7 following a 1-yard touchdown run by Kaminski (11 carries, 79 yards), Wood collected his first pick-six with a 90-yard return with 22 seconds remaining the third quarter.

On the ensuing Knights possession, Ernest Simon collected the second of three Hawks interceptions during the half. That set up a six-play touchdown drive, culminating in a 4-yard touchdown by Sorrento (15 carries, 66 yards).

CM (1-3, 0-1) then committed its third straight turnover with Wood taking a 67-yard interception to the house, providing Xaverian with its final margin of victory.

"I just saw an opportunity and I took it," Wood said of his pair of scores.

Meanwhile, the Knights were left asking, what went so very wrong?

"Xaverian's a good football team, they can score without us helping them," CM head coach Alex Campea said. "I think they just decided that they were going to wear us down and were kind of pounding us [in the second half]."

Next man up: Xaverian's ball-hawking secondary was a major factor Saturday, forcing three turnovers. But what's most surprising is how the group came together so quickly, especially considering the loss of senior captain D.J. Sperzel for the foreseeable future.

" D.J. being out, that's a big loss for us," Wood said postgame. "But we practiced well, got all aspects together … everything's fine with our defense even though we're missing [Sperzel]."

Sperzel, who was lost to injury during the Hawks' loss to Barnstable last week, had quarterbacked the secondary along with fellow captain and corner A.J. King (36-yard TD reception in the third quarter). But the group can still be a strength for the Hawks, with Wood making such a bold statement. Along with sophomore Peter Thorbahn, who slotted into Sperzel's spot for most of Saturday's contest, and freshman standout Mekhi Henderson, the newly formulated group has come together quickly.

"I think they're good young players, but they're young," Stevenson said. "So you never know what you're going to get."

Give it up for the Big Man: The Hawks held their first-half lead thanks to senior offensive lineman Jeff Perez.

Xaverian opened scoring at 3:42 of the first quarter, when the 6-foot-1, 220-pound guard fell on a fumble in the end zone for a touchdown, pulling his best impression of Logan Mankins in the 2006 AFC Championship Game. After Kern ran up the middle for 24 yards on a fullback draw, he was stripped from behind. The loose ball bounded into the end zone, and Perez, who was trailing the play, alertly fell on the ball for the score.
September, 26, 2013
Sep 26
1:59
PM ET
1. SPECIAL TEAMS PLAYED A MAJOR FACTOR IN XAVERIAN'S 49-13 DRUBBING OF BRIDGEWATER-RAYNHAM, RETURNING TWO BLOCKED PUNTS FOR TOUCHDOWNSW, BUT A.J. KING (2 TDs) DIDN'T HAVE A BAD DAY EITHER. IS THIS XAVERIAN SQUAD CAPABLE OF ROUTINELY PUTTING UP BIG NUMBERS?

Brendan Hall, ESPN Boston High Schools Editor: If this were 2012, or any other recent year for that matter, I would lean towards labeling that game an anomaly. Xaverian squads typically aren't known for blowing up the scoreboard, instead moving the chains rather steadily behind a conservative multiple offense and relying on change-of-pace backs to grind out the tough yardage. I've been in this for 10 years, and this year's Xaverian team feels like one of the more unpredictable squads that I can recall. And when I say that, I mean you just don't know that they're going to throw at you. Certainly, Jake Farrell brings about an escapeability intangible they typically haven't had with quarterbacks, and there is some promising sophomore talent.

By the way, whoever the special teams coach is at Xaverian, give that man a raise. If you think the B-R game was an aberration, ask the BB&N coaches how their scrimmage with the Hawks went.

Scott Barboza, ESPN Boston High Schools editor: I know we all thought the Hawks' defense would be ahead of the offense entering the season, but this looks like a much-improved group thus far. I like the one-two punch Shayne Kaminski and Noah Sorrento provide in the backfield. They have some legit targets in the passing game with King and D.J. Sperzel and Jake Farrell has looked great at quarterback. If the offensive line keeps creating holes and pass protecting the way they have in the first two weeks, I don't foresee a slowdown.

John McGuirk, ESPN Boston correspondent: With the talent Xaverian has they should continue to put up decent numbers. They have four 'big' games left on the schedule in Barnstable, Brockton, BC High and St. John's Prep. All four of those programs are outstanding but all have issues on defense as well which should work in the Hawks' favor.

2. NASHOBA OWNS THE STATE'S LONGEST ACTIVE WIN STREAK (28 GAMES), BUT TWO TOUGH OPPONENTS LAY AHEAD IN WACHUSETT AND ST. JOHN'S OF SHREWSBURY. DO YOU SEE THE CHIEFTAINS MAKING IT TO 30 STRAIGHT?

Hall: Wachusett matches up evenly on paper with Nashoba, but watch out for St. John's. Andrew Smiley is heating up (380 passing yards the last six quarters), and the running game seems to be hitting a groove with St. Louis transplant Shane Combs taking over the feature role. The "blur" offense is a whirlwind to handle when all is going right, and you always have to watch where Davon Jones lines up. I see the Pioneers stopping Nashoba's streak at 29.

Barboza: I think it'll end at No. 29. The Chieftains will get by Wachusett, but I think the Pioneers' athletes, particularly on the perimeter, will prove too much to handle.

McGuirk: I see Nashoba reaching 30 straight wins. Wachusett is going through a down year, having already lost to St. Peter-Marian and Fitchburg. And what has been noted many times, St. John's biggest weakness the last couple of seasons has been its porous defense and inability to make tackles consistently. If you look past those next two games, the Chieftains will face a pair of unbeatens (Marlborough and Leominster). That is where the streak could possibly come to a close.

3. BETWEEN THE SUPERB STARTS FROM BROCKTON, TAUNTON, TEWKSBURY AND WESTFIELD, THE TRIPLE OPTION IS MAKING A COMEBACK. WHICH TEAM RUNS IT BEST?

Hall: It's tough to argue against Westfield's ridiculous numbers -- there are running backs that will go a whole season not putting up as many rushing yards as the Bombers have their first two games of the season. But it's hard to argue against Brockton's talent. Aaron LeClair and Jamal Williams get to the perimeter quick, and the Boxers can steamroll you inside with counters and dives. All four of these teams have a dynamic playmaker in the backfield -- LeClair, Tewksbury's Eddie Matovu, Westfield's Ben Geschwind and Taunton's Domingo Jenkins -- but I will give Brockton the edge here because of what they have in the trenches. Aaron Monteiro, the Boxers' prized prospect at 6-foot-5 and 290 pounds, is a road grader at left guard with a pretty high ceiling.

Barboza: As of right now, I don't see how you can argue with Westfield. The Bombers are running roughshod over opponents behind senior fullback Ben Geschwind. After running for 348 yards and six touchdowns as a team during last week's 49-20 win over West Springfield, Westfield has scored 109 points in two games, with Geschwind averaging more than 150 yards per game.

Josh Perry, HockomockSports.com: I can't say whether or not Taunton runs it better than other teams in the state, but I can say that the Tigers do make it look fun. With Gerald Cortijo and Steven Harrison giving star back Domingo Jenkins some help in the backfield, the Tigers have speedy and shifty runners. It's almost enough to make you forget just how good the ground game would have been without Jamal Williams' move to Brockton. Taunton's ability to run the triple option will of course get a much tougher test this week against King Philip and its strong defense, but the Tigers are unique among the other Hockomock teams and it can be fun to watch.

McGuirk: The way Westfield is dominating the competition (109 points in two games), I would say the the triple option is working best for them. They have the right personnel to execute it and coach Bill Moore is very good at putting the right players in place to keep it rolling effectively, especially his tandem of Ben Geschwind and Jake Toomey, who are both averaging over 10 yards-per-carry.

4. TWO OF THE MERRIMACK VALLEY CONFERENCE'S BEST SQUADS, CENTRAL CATHOLIC AND LOWELL, SURRENDERED A COMBINED 73 POINTS AGAINST NON-LEAGUE TOP 10 OPPONENTS LAST WEEKEND. ARE WE HEADED FOR ANOTHER SEASON OF HIGH SCORES IN THE MVC?

Hall: Tough to tell, because Tewksbury has more than pulled its weight in the defensive end so far. If there's one team that can avoid track meets, it's the Redmen. Everyone else, good luck. We anointed the MVC "Death By 1,000 Shallow Crosses" a year ago, and with the amount of spread offense and no-huddle tempo deployed in this league, we could very well be in for another season of Wild West scores.

Barboza: I'd take my chances with the defensive units of Andover, Central Catholic, Lowell and Tewksbury against just about any offense in the state, but what comes into play in the MVC is the teams' offensive style of play. With so many teams in its ranks adopting the spread offense, the big numbers put up seemingly on a weekly basis are more a function of the pace of the game, with shortened drives as opposed to rushing-oriented, ball-control styles of play. But as long as MVC teams continue to live and die by the sword (or the spread), I think we'll continue to see some lopsided numbers.

Mike Abelson, ESPN Boston correspondent: Yes and no. Central and Lowell, when the blur is working as advertised, can drop basketball scores on lesser teams because of the athletic talent. That being said, through three weeks there are only two MVC teams averaging 30 or more points. Central is one, and the other, North Andover, hasn't won a game. The only two remaining undefeated teams, Tewksbury and Methuen, are averaging 27 and 18 points a game, respectively, and winning games without all the flash and dash of putting up buckets of points. Yes, the MVC will have it's share of high-scoring contests (I'll put the over/under for Central-Chelmsford at 90.5), but it won't consistently translate to W's.

5. AFTER A ROUGH FIRST WEEK, HAS BARNSTABLE FIGURED IT OUT? CAN THEY KNOCK OFF NO. 1 XAVERIAN?

Hall: I feel like this is a sneaky good matchup. Let's not forget Barnstable was our preseason No. 12 before getting shell-shocked by Dennis-Yarmouth in the opening weekend. There is talent, between versatile athlete Hayden Murphy, shutdown corner Derek Estes and elusive scatback Justus Chafee.

Defensively, Barnstable typically likes to stretch vertically and keep everything in front of them, which can be a bad matchup against spread teams like Dennis-Yarmouth. Last week against BC High, they looked like they cleaned up a lot of their mistakes. Xaverian's offense, while a bit more creative, has some similarities to BC High's. Going the other way, the Red Raiders use some funky misdirection in the run game to prevent linebackers from filling gaps. On their first touchdown against BC, for instance, a receiver backpedaled off the line of scrimmage, feigning a bubble screen, putting several defenders on their heels as Chafee came up the gut on a zone read.

That kind of stuff can keep even the best defenses on their toes. Expect some fireworks, and some dynamic playcalling, in this one.

Barboza: This is a yes-and-no proposition to me. I think the Raiders righted ship after an embarrassing loss to Cape rival Dennis-Yarmouth in Week 1, going on the road to beat another Catholic Conference foe in BC High. But I think Barnstable would need to play a near perfect game, while forcing the Hawks into some turnovers in order to make it four straight defeats of an ESPN Boston No. 1 squad. I'm not saying it will not be a close game, I just like Xaverian a little bit more.

Perry: In a preseason roundtable, I said that Barnstable was a team that was getting overlooked because of the players that it lost from last year. I'll stick by that and say that the Raiders give Xaverian a run for their money. The No. 1 ranking has been more of an albatross than an honor this year, so I'll say that Barnstable has a good chance of causing the Hawks problems.

McGuirk: Barnstable is good but Xaverian is playing with a lot of confidence, especially following the huge win over B-R last week. The Hawks should take care of the Red Raiders who gave up 37 points to D-Y in Week One but did bounce back nicely last week against BC High.

Abelson: In Hayden Murphy I trust. In the ESPN Boston poll curse I believe. Barnstable, 27-21.

6. THE HOCKOMOCK LEAGUE'S KELLY-REX DIVISION MIGHT BE THE STATE'S MOST UNPREDICTABLE RACE THIS FALL. AS LEAGUE PLAY OPENS UP THIS WEEK, PROJECT YOUR CHAMPION AND DARK HORSE.

Hall: Mansfield was the prohibitive favorite in most minds heading into the season, and so far they've done little to suggest otherwise. Consider that nearly three weeks out from their shocking upset of Dunbar (Md.), the Hornets are still without five starters. They're already a dynamic offense, between quarterback Kyle Wisnieski, 6-foot-5 flex tight end Brendan Hill, and space-carving tailback Miguel Villar-Perez. Hard to go against that.

For dark horses, I like Attleboro. I think it's understated how big their line is, particularly at defensive tackle, and there are plenty of weapons on offense between quarterback Tim Walsh, tight end Luke Morrison and receiver Brendan Massey. This program has long been a sleeping giant, and new coach Mike Strachan has re-awakened those sentiments.

Barboza: All along, I've penciled in Mansfield as the team to beat in the Kelley-Rex. I believe they had the most complete group of talent on either side of the ball, and also had the most upside. The scary part is that, due to injury, the Hornets might not have yet hit their apogee and will continue to strengthen as the season progresses.

Now, for the sleeper, I know we've talked up Attleboro up a lot in the early going -- to the point that I really think they're a threat in Division 1 South. Seeing that the Blue Bombardiers are for real in the first two weeks of the season, I'm going to go with Taunton. I don't think Chris Greding has gotten enough credit for the job he's done turning around the Tigers program in short order. Of course, an infusion of talent led by Domingo Jenkins helps, but I wouldn't be at all surprised if Taunton knocks off one of the Hock's "Big Three" -- King Philip, Mansfield, North Attleborough -- at some point this season.

Perry: The favorite heading into the Hockomock League season is defending champions Mansfield and its new spread attack that takes advantage of its great weapons like senior quarterback Kyle Wisnieski and junior tight end Brendan Hill. Attleboro has gotten a lot of hype from media, me included, in the preseason as a sleeper in the Hock. A new coaching staff, a new field, and new schemes on both sides of the ball have made the Bombardiers a much more confident crew and better utilize the weapons that it has. The Bombardiers were only a few mental mistakes from beating Mansfield last season and Tim Walsh is on fire running the spread formation – watch out for Attleboro. Of course, watch out for KP, Franklin, and North Attleborough, too. It really is up for grabs

McGuirk: The Kelly-Rex Division is solid with four teams still unbeaten (Mansfield, Attleboro, North Attleboro and Taunton). When it is all said and done. I believe it will come down to Mansfield and North Attleborough for the title because of their high-octane offenses. Attleboro has to be considered the darkhorse here because of its stingy defense which could carry them through. It will be interesting to watch all four of these team beat up one another during the season and see who survives.
September, 21, 2013
Sep 21
8:20
PM ET


WESTWOOD, Mass. – Let there be no doubt who's No. 1.

At least for another week, that is.

For the third straight week to begin the MIAA football season, the No. 1 team in ESPN Boston's Top 25 poll suffered a sound defeat. This time, on Saturday in the grand unveiling of the extensive renovations to Xaverian's Hawk Bowl, Bridgewater-Raynham became the most recent squad to be dethroned.

No. 10 Xaverian systematically beat the Trojans in each and every facet of the game, administering a 49-13 beat-down of yet another No. 1.

It also marked the second straight week in which the Hawks (2-0) beat the poll No. 1 after a road victory at Everett last week.

"Playing two No. 1 teams, that's what we aim to do here," Hawks senior running back/ linebacker Shayne Kaminski said. "There are high expectations at this school. Playing a No. 1, it's just a whole different situation – that just gets you pumped up for the game."

Kaminski, who missed Xaverian's opener due to injury, celebrated his return to game action with a 31-yard touchdown run at 5:02 of the first quarter, providing the Hawks with an early 7-0 lead.

On B-R's ensuing possession, Kaminski also announced his return, defensively, falling on a fumble created on a strip-sack from defensive end Joe Gaziano. Two plays later, fellow running back Noah Sorrento rumbled in from 13 yards out for a quick two-score lead.

However, the Trojans (2-1) would respond on their next possession with Matt Clement hitting Ryan Martin in tight coverage for a 29-yard touchdown pass.

After the teams exchanged a couple of fruitless drives, the Hawks began pulling away just before the half – thanks to quarterback Jake Farrell and senior wideout A.J. King.

Inside the final two minutes of the first half, Farrell and King linked up for two quick-strike passing plays. First, King came down with a ball, despite bracketed coverage, and raced 62 yards for a score. Then, with two seconds remaining, Hawks head coach Charlie Stevenson eschewed taking the knee and, instead, dialed up a dazzling 47-yard connection with Farrell hitting King in stride along the left-hand sideline on a fly route.

And the Hawks took a 28-6 lead to the locker room.

Xaverian's special teams had their chance to shine in the third quarter, when the Hawks blocked two punt attempts with one turned for a touchdown and another setting up a first-and-goal situation.

After B-R's opening drive of the second half sputtered out, Gaziano got his mitts on a punt, allowing freshman Mekhi Henderson to pick up an easy scoop and score from 30 yards out.

Then, following a Trojans' three-and-out, Xaverian sophomore lineman Elijah Pierre registered a second block. B-R's recovery set up the Hawks at the Trojans' 2, setting up Kaminski (10 carries, 138 yards) for his second of three rushing scores.

Kaminski later added a 54-yard run, providing the Hawks with a 49-6 lead.

"I felt like every guy today wanted to get in there and make a contribution," Kaminski said, "And we did that."

Run differential: Aside from some padded stats B-R tacked on once the game was out of reach, Xaverian lopsidedly won the battle of the rushing attacks.

While holding Trojans preseason All-State running back Brandon Gallagher under 40 yards rushing for the game, the Hawks consistently dominated the point of attack against a depleted B-R offensive line.

"We really did a good job of stopping their run, I thought," Stevenson said. "[Gallagher] is tough and I was really worried about us being able to match up with him and stop him."

Meanwhile, the Hawks' offensive line continued to create holes. And, with the additional shot in the arm Kaminski injected along with Sorrento, Xaverian's off and running.

Star in the making: During the preseason, Stevenson highlighted freshman cornerback Mehki Henderson as a player to watch as the year progressed.

But, through two weeks, it appears as though Henderson is coming along just fine.

The 5-foot-9, 170-pounder showed good instincts undercutting a route to the end zone pylon and snatched his first interception at the end of the second quarter. The pick helped set up the Hawks' last-minute drive at the half.

That was before Henderson also snatched up six points with his second-half punt block return for touchdown.

"He's a really good athlete," Stevenson said of Henderson. "He's young and a little inexperienced, but I think he's going to be a good player."


September, 19, 2013
Sep 19
10:19
AM ET
WESTWOOD, Mass. -- ESPN Boston High Schools editors Scott Barboza and Brendan Hall check in from Xaverian Brothers High School, host site of this week's ESPN Boston "Game of the Week", presented by Sports Authority and the Bay State Games.

No. 10 Xaverian, fresh off an upset of Everett, hosts newly-anointed No. 1 Bridgewater-Raynham this Saturday, at 1 p.m.


September, 14, 2013
Sep 14
1:16
AM ET
EVERETT, Mass. – One would have thought Xaverian's offense would be behind the 8-ball entering Friday night's showdown with No. 1 Everett. Without starting running back (and linebacker) Shayne Kaminski in the lineup, lost to a leg injury suffered during a scrimmage last week, the Hawks were playing without perhaps their best athlete.

No sweat.

Junior quarterback Jake Farrell was nearly perfect in the passing game, while junior Noah Sorrento (15 carries, 98 yards) picked up the slack in the backfield as the No. 14 Hawks surged past the top-ranked Crimson Tide during the second half in a 20-8 win.

With the victory, Xaverian (1-0) ended Everett's 10-game winning streak against Catholic Conference foes and, in the process, started 2013with bang for a squad coming of a sub-.500 2012 campaign.

"It's a huge statement for everybody on our team," said Farrell, who started the game going 9-for-9 in completions, a streak extending into the third quarter. "We showed we can beat one of the elite teams in Massachusetts, and people are going to know about this."

Sorrento, who worked in two-back sets with Kaminski throughout the preseason, set the Hawks off in the right direction with a 12-yard touchdown in the first quarter.

Xaverian would maintain the 7-0 lead until 4:13 remaining in the half, when Everett quarterback Raheem Wingard (149 rushing yards) broke off a 29-yard touchdown on an option keeper. Although the point-after try was blocked, an offsides penalty against Xaverian gave the Crimson Tide (1-1) another crack. Another yard closer, Marquis Holman ran in the 2-point conversion over left guard.

The scoring drive was enabled by a fourth-down stand by Everett's defense at their 40-yard line.

The Crimson Tide's one-point lead stood until the fourth quarter, when another crucial fourth-down decision from the Xaverian sideline would come into play.

Facing a fourth-and-11 at the Everett 25, and with a little more than eight minutes remaining, the Hawks broke huddle looking for something special. When the play broke down around Farrell, he improvised and took off toward the end zone. Twenty-five yards later, the first-year starter scored what would prove to be the game-winning touchdown.

After the Hawks defense came away with another key fourth-down stop on the ensuing Everett possession, Farrell capped his evening with a perfectly thrown 23-yard fade to D.J. Sperzel for an insurance strike.

"It was just reading the quarterback," Sperzel said. "I knew I had the receiver in front of me and broke on the ball."

"We felt like that was the time to take a shot," Hawks head coach Charlie Stevenson said. "He went up and got it, and Jake put it right where he needed to."

For added measure, Sperzel closed out the special evening with an interception of Wingard on the following drive.

Shuffling the deck: While Kaminski's absence forced Stevenson to alter his offensive game plan, the Hawks still played to their strengths.

"We lose a lot of firepower without Kaminski in the backfield," Steveson added. "But I thought Noah Sorrento did an unbelievable job."

Also key to the victory was the play of Xaverian's offensive line. Anchored by senior captain Jeff Perez, the line created holes ample for any running back to walk through.

"If we block like that and Shayne's with us, I think we'll be OK as we go forward," Stevenson said.

They also drew rave reviews from their quarterback.

"The O-line was excellent," Farrell said. "I had a ton of time to throw and the receivers just ran good routes. They made it easy for me."

Work in progress: Meanwhile, after a sloppy Week 1 win over another Top 10 foe in Springfield Central and Friday night's loss, Crimson Tide head coach John DiBiaso was less than enthused with his team's work thus far.

"There were no positives," DiBiaso said of Friday's loss. "They kicked our butts up and down the field, in every aspect of the game – special teams, offense, defense.

"We didn't play well, we didn't execute."
August, 27, 2013
Aug 27
8:27
PM ET
Forgive the Xaverian Hawks if they have a chip on their shoulders this season.

They're (how do you say in a politically correct manner?) a little ticked off about the way last season went. It was a losing season (4-7), and, as a result, the Hawks again fell short of a Catholic Conference championship, having last won it in the magical 2009 undefeated season.

Expectations never waver at the Hawk Bowl, and there's no exception for 2013. But with returning Conference champion and statewide preseason No. 1 St. John's Prep holding the gate and a stacked gauntlet of opponents in the newly formed Division 1 South sectional, Xaverian's path to postseason glory is wrought with peril.

"I think every year we have high expectations for ourselves," junior defensive end and tight end Joe Gaziano said. "And, obviously, last year was a disappointment. But I feel this year we're really motivated to work hard and we expect even more of ourselves this year, knowing what it takes to win and how hard it is to win."

While the wins may have come up short in the fall, for Gaziano and several of his teammates who were members of the Hawks lacrosse team's Division 1 state championship in June -- the program's first -- they might have found a springboard into football season. It's certainly not unprecedented in recent MIAA history that a program wins championships in both lacrosse and football in a calendar year, with Massachusetts lacrosse scions Duxbury pulling the feat most recently in both 2011 and 2012. On both those Dragons squads, a number of players shared responsibilities in both the spring and fall.

Xaverian fits a similar mold this year, with seniors Shayne Kaminski and D.J. Sperzel (Providence College lacrosse recruit) and Gaziano starring in both seasons.

Yet, Kaminski wasn't about to buy into the idea that one success necessarily begets another.

"It's a different game. But we're really trying to push the defense this year and I think we can be good."

He continued, "Our goal for right now is just to beat Everett [in Week 1]. That's as far as we're looking right now."

XAVERIAN AT A GLANCE
Coach: Charlie Stevenson (20th season, 162-59-1)
Last year: 4-7
Key returnees: Shayne Kaminski, Sr. RB/LB, 5-11, 198 lbs.; Joe Gaziano, Jr. DE/TE, 6-3, 230 lbs.; D.J. Sperzel, Sr. WR/S, 6-2, 190 lbs.; A.J. King, Sr. WR/S, 5-10, 180 lbs.; Nick Colantuoni, Sr. TE/DE, 6-3, 215 lbs.; Noah Sorrento, Jr. RB/LB, 5-9, 180 lbs.
Strengths: Depth at wide receiver, experienced pass rush.
Weaknesses: Depth at offensive line, experience on interior defensive line.

Outlook: The word around Clapboardtree Street is that defense has been the imperative this preseason. And it's not a stretch to hint that the Hawks might have one of the best units in the state this season. Gaziano and Nick Colantuoni present a serious pass rush threat from the ends, while Kaminski, Noah Sorrento and Kenny Kerns will feature at the linebacker spots. Of course, the Hawks have to find a replacement for the departed Mo Hurst, now a freshman at Michigan. Well, you can't really replace a player like that can you? "We'll have a cast of hundreds," head coach Charlie Stevenson said, alluding to the pool of players his staff is considering to fill the defensive tackle positions. On offense, there's a quarterback battle that continues with senior Peter White and junior Jake Farrell vying for the job. Xaverian has depth at running back with Kaminski and Sorrento providing able options. But the Hawks are auditioning a several new starters along the offensive line. The early returns have been positive. "Our offensive line has been great so far," Gaziano said. "We have a lot of new guys stepping up on the line with Joe Parsons, Ryan Mellen and Jeff Perez. I expect them to do a great job up front and help the run game and be a big, physical presence."