Boston High School:

Nolan Rogers
September, 13, 2014
Sep 13
2:39
AM ET


WALPOLE, Mass. – When Walpole football head coach Barry Greener talks about senior captain Jack Lavanchy, he uses the word special. It's not about just what the two-way starter at wide receiver and defensive back brings in athleticism; it's also the intangibles.

"He's tough and when the going gets tough he's there," Greener said. "He scraps on every single play. He's not only skilled, but he's very competitive."

Lavanchy – who also handles place kicking duties for the Rebels – did just about everything except turn out the lights at Turco Memorial Field as the No. 13 Rebels rolled over Foxborough, 31-8, Friday night. While hauling in three touchdown passes, Lavanchy accounted for 25 of the Rebels' points (three scores, three point-after tries and a field goal). Aside from his scoring line, he also pocketed an interception on defense in the second half.

"He's something else," Greener said of Lavanchy. "What did he have, twenty-five or twenty-six of our points? But he's a great captain – as all of my senior captains are – but Lavanchy's a special player.

Lavanchy got the Rebels (1-0) started early, hauling in the first of two touchdown passes from junior first-time starting quarterback Tyler Berkland with a 37-yard connection at 7:44 of the first quarter. The pair were in sync once again to start the second quarter, giving Walpole a 14-0 lead with a 23-yard score on a perfectly executed fade to the near left-hand pylon.

The Rebels picked up the pace on the ground in the second half, taking the opening possession of the half 10 plays and 63 yards downfield for a score on a 2-yard run by Steve Cuqua.

After an interception by junior corner Amire Loftis, Lavanchy tacked on a 24-yard field goal for a 24-0 lead with 1:55 to play in the third. His third touchdown reception of the game came on the first throw from junior Noah Miree, who replaced Berkland at quarterback, on a 27-yard play.

The Warriors (1-1) added their lone score with about a minute remaining in the game as backup quarterback Mark Clagg hit Darren Kelly on a 23-yard touchdown.

Game face: Even in the bask of a career night, Lavanchy deflected praise at every turn.

"Tyler came to play, the offensive line played very well," Lavanchy said. "Everyone tried their best and gave it their all."

He continued, "We're expecting a big season, but we're just taking it game by game. We got Needham next and we're going to focus on them."

Improvements on D: Greener was satisfied by the efforts of his defense after what he termed to be a "down year" for the group last season. The Rebels were opportunistic, coming away with three interceptions from Andrew Papirio, Lavanchy and Loftis.

Walpole's defense was also there to pick up the offense after it's lone miscue of the night, when Warriors safety Jake Pond undercut a route for a pick at the end of the first quarter. The Rebels responded, hemming Foxborough in its own end. Walpole's defensive line asserted its will, working to force the Warriors to back-to-back negative yard plays. Defensive end Nate Porack disrupted a screen pass for a loss of one before Xavier Andujar broke through the line to drop Warriors running back Keeyon Neal for a loss of four.

After a punt, the Rebels took advantage of the plus-50 field position with Lavanchy's second touchdown catch.

"We played well against a team that can really run the ball," Greener said. "Their offensive line is good, they have two running backs [Ronnie Marin] and [Neal], who are terrific and [quarterback Nolan Rogers] could throw the ball and run, too. So we knew we were going up against a strong offense."

"I'm pleasantly surprised that we did as well as we did on defense. But we were prepared and my coaches do a great job."

On the other hand, Foxborough was never able to recover.

"We didn't show up and Walpole's good football team, obviously," Warriors head coach Jack Martinelli said. "If you don't show up from the get-go, it ends up like it did."
September, 7, 2013
9/07/13
4:18
AM ET


FOXBOROUGH, Mass. – It was an unfortunate set of circumstances for Foxborough on opening night. Practically from the get-go, it just didn't seem like the Warriors' night.

And, of course, with No. 14 Walpole visiting, the margin for error was thin. The Warriors first play from scrimmage was a botched snap that quarterback Nolan Rogers was forced to boot through the back of the end zone for a safety. On the Rebels first touch of the game, senior running back Conor Moriarty broke off a 49-yard touchdown run – his first of four.

It didn't get much easier from there for Foxborough as the Rebels run away with a 37-15 win.

"I thought it would be a barn-burner, right down to the last minute of the game," said a surprised Walpole head coach Barry Greener.

Moriarty paced the Rebels (1-0) with four rushing touchdowns, while running for 72 yards on 10 carries, coming primarily in the first half. Walpole built a 30-8 lead by the half.

While Moriarty was tough to stop in the red zone, Walpole senior quarterback Will Bolster was responsible for setting up several first-half scores. Bolster completed 9 of 15 pass attempts for 147 yards.

He showed a good rapport with rangy sophomore wide receiver Amire Loftis, who hauled in receptions of 21 and 49 yards – both of which directly preceded Moriarty touchdown runs.

Difference-makers: Greener gushed throughout the preseason about the deep and talented group of sophomores he has. They were on display during the season opener.

In addition to Loftis, running back Steve Cuqua showed great speed to the outside on jet sweeps and counters, running for a team-high 97 yards and a touchdown. Greener also praised the efforts of tight end/ linebacker Nate Porack, who was making his first career start.

The youngsters, along with some of the Rebels' other first-year starters, such as 7-technique defensive end Munachiso Egbuchulam (1 sack), it was evident Walpole makes up for talent in what it might have lacked in game experience.

An evolution: Bolster reflected on the changes the Rebels offense has undergone during his high school career. It's been a steady progression for the third-year starter under coordinator Bill O'Connell and new offensive assistant Todd Collins.

"When I was a sophomore, I did a lot of pro-style, under-the-center stuff," Bolster said. "It was a lot of simple two-receiver, tight end and two running backs. Then, we've moved to more a spread style."

With Collins – in his day, a Super Bowl winning quarterback at Walpole and veteran of 16 NFL season – assuming a role on Greener's coaching staff, Bolster hinted at greater variations to come.

Even still, the Rebels attacked Foxborough with a wide variation of formations, which at times included bunch trips looks.

"When they're playing Cover 1, Cover 3 like that, we can run all day against that," Bolster said.

Next up: The main question surrounding Foxborough entering this season is how the Warriors could replace graduated running back Kiivone Howard.

Enter junior Keeyon Neal. The 6-foot, 175-pound back led all rushers with 121 yards on 16 carries.

And, while Neal's performance was a bright spot on an otherwise tough evening for the Foxborough faithful, there's other reason for optimism with the Warriors as they look ahead to Davenport division play. Rogers, a junior and first-time starter, completed 13 of 25 pass attempts for 106 yards and touchdown.

A new beginning: Greener remarked to the bus driver on the way to the Ahern Middle School that it would be his team's shortest trip of the season – save that to archrival Norwood. But it's surprising that the Rebels and Warriors had never met till Friday night – mostly due to the fact that Walpole, only under the provisions of the MIAA's new playoff scheduling plan, is able to schedule outside of the Bay State League.
October, 5, 2012
10/05/12
10:59
PM ET
By
Ryan Lanigan
| ESPNBoston.com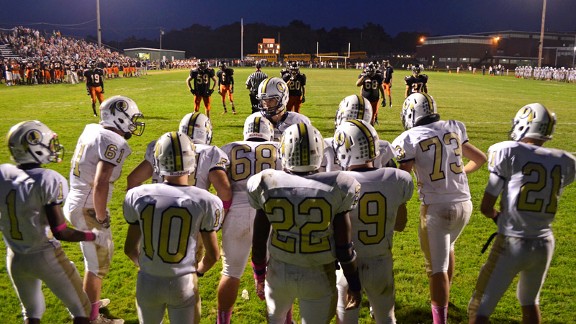 Scott Barboza/ESPNBoston.comStoughton endured a trying week and the death of teammate David Wade to earn a critical 20-0 victory over Foxborough Friday night at Anthony L. Sarno field.
STOUGHTON, Mass. -– Stoughton head coach Greg Burke has been saying it for a long time, and this year, his team is following through.
Play better than last week.
The Black Knights (5-0) remained unbeaten and again dominated on defense to knock down Foxborough, 20-0, in their first game since losing teammate David Wade less than a week ago.
Only one of the two teams on Anthony L. Sarno Field had a repeat performance from last week. Stoughton, who beat up on Mansfield in the rain last Friday 25-6, put on an encore performance with a relentless running attack and a bend-but-don't-break defense.
Fresh off a shocking 21-0 upset of North Attleborough, Foxborough (3-2) failed to put any points on the board, despite the majority of its drives entering Stoughton territory.
[+] Enlarge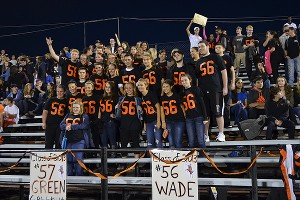 Scott Barboza/ESPNBoston.comBlack-and-orange T-shirts with Wade's No. 56 were made up for Friday night's game.
Minutes after a moment of silence to honor Wade, who wore No. 56, the Black Knights took their opening drive 53 yards on just four plays, as senior Marcus Middleton took a sweep to the left for a 40-yard score.
"We don't look like much," Burke said. "We don't have a lot of size, but we have some tough kids. They're unbelievable."
The Black Knight defense, which now only averages 5.2 points against a game with two shutouts, set the tone early with a big third down stop on Foxborough star running back Kiivone Howard.
As both teams traded possessions through the first half, it looked as though the Warriors caught a big break with less than two minutes to go.
On a first and goal from seven yards out, Stoughton's Aaron Mack carried to the right before being hit hard, forcing a fumble at the one-yard line, which Foxborough recovered.
As the Warriors tried to run the ball out of the end zone, they kept hitting a wall and were faced with 3rd down from their own 1. As quarterback Mike Slaby rolled out to the left, Stoughton senior Imani Pina punched the ball out. The ball fumbled around the goal line and then finally someone came jumping out of the pile with possession.
Pina, touchdown.
The senior scored with just 13 ticks left in the first half and gave Stoughton another boost before halftime.
"Pretty much all week we worked on [that play]," Pina said. "I saw the [quarterback] pull the ball so I stepped out of the box and just made a play. I tried to punch it out and it came out. I saw it on the ground and I picked it up."
In the second half, the Warriors were able to reach the Stoughton 10-yard line on two occasions, only for their offense to be thwarted on both occasions.
On their first try, a trick play gone wrong cost them 15 yards and their fourth down play went incomplete.
Two Stoughton drives and one play later, Stoughton quarterback Dan Eckler caught the Foxboro defense napping and found a wide open Middleton for a 67-yard touchdown pass. The extra point was no-good, but Stoughton went up 20-0 in the final frame.
On Foxborough's second attempt from Stoughton's 10, a drive that had gone 52 yards on eight plays, back up quarterback Nolan Rogers' (in for the injured Slaby) pass was picked off by Pina and Stoughton sealed the game.
STOPPING HOWARD
Foxborough's running back came into the game with a league-leading 12 rushing touchdowns, having scored 3 in each game thus far.
Stoughton consistently loaded the box with 8 or 9 guys and dared Foxborough to throw. Howard still found success, carrying the ball 24 times for 109 yards. He had could have had more, but the tough Stoughton defense was able to exploit some plays for big losses.
"It's [frustrating]," Foxborough head coach Jack Martinelli said. "We were on the field defensively too long. You have to answer, and we didn't. Simple as that."