Boston High School:

North Carolina Tar Heels
February, 15, 2014
Feb 15
1:11
AM ET
One of Catholic Memorial's all-time greats, current Houston Texans offensive tackle Brennan Williams, was honored at halftime of tonight's basketball contest with Brockton, having his jersey No. 73 officially retired by the school.
Williams, a 2009 graduate who played in the prestigious U.S. Army All-American Bowl, is just the third CM athlete to have his number retired in any sport, joining Ron Perry (basketball) and Ted Donato (hockey). Following his star-studded career at CM, Williams went on to play at the University of North Carolina, where he was an Honorable Mention All-ACC in 2012. Williams was selected in the third round (89th overall) by the Texans last April, but missed all of his rookie season with a microfracture in his knee.
[+] Enlarge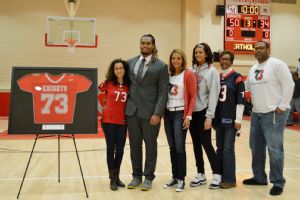 Brendan Hall/ESPNBoston.comTexans offensive tackle Brennan Williams was joined by his fiancee and family as his alma mater Catholic Memorial retired his jersey number Friday night.
Standing in the doorway of CM's hallowed Ron Perry Gymnasium, where the Knights easily blasted Brockton 95-64, Brennan discussed a number of topics with ESPNBoston.com:
Memories that come to mind upon returning to the building:
"Especially the basketball games, being in the fan section, doing all our chants and being the rowdiest crowd in the Catholic Conference. Being back in the building, not a lot has really changed much, and that's pretty cool."
Reaction upon finding out he'd had his number retired:
"I found out a couple of weeks ago. I guess the banner's been up for a couple of weeks, and I saw a picture of the banner. Coach [Alex Campea] called me up and said whenever I can get back for a game, they'd like to actually do it officially. It's awesome. I'm the first football player to do it ever, so it's really a great honor and a big blessing."
Life lessons learned at CM that he still applies today:
"All kinds of stuff, and I was ready if I had to give a speech (laughs). Just the whole poise in class, maintaining yourself, being well-spoken, not limiting yourself in any way, representing where you're from to the fullest wherever you go."
What he would have said to the crowd tonight:
"If I had to say something to the kids, I would have said this is the greatest place in the world to go to high school. We make incredible people, whether you are a professional athlete or artist or anything. Just find what you want to do, and stick with it."
Biggest learning curve in the NFL so far:
"Just all the technique stuff. Unfortunately I wasn't able to play in any games this year due to injury, but just in practice and going against guys like J.J. Watt...All-Pro talent like that, you know, everything you've got to do it right."
What it's like facing J.J. Watt in practice:
"It's a different experience (laughs). He's that good for a reason, because he practices that good. It was a good test to see where I was at, and I'm excited to get it going again this year."
How his recovery is going:
"It's a slow process, the procedure that I had. We're getting to the point where it's about almost a year out now, so slowly but surely we're getting there."
Timeframe on his return?
"I'll be back on the field for spring. I'm really looking forward to it because I haven't been healthy in, I dunno, two years now. So just to be able to be at my full capacity, be able to go out there and be myself is really exciting."
On where his interests in Japanese anime and pro wrestling sprouted from:
"I was way into pro wrestling before I got here [to CM]. Same thing with anime. I've told this story before, my dad always tried to bring back stuff from where he played, and I think those are how those things get pictured, when he tried to bring back things he thought I might like. I don't usually let go of things too easily (laughs). My favorite wrestler growing up was probably The Rock.
"Going back, I've always been appreciative of Japanese culture and stuff like that. I was always interested in that kind of thing [anime], and I kind of stuck with it as I got older. You run out of stuff, and you've got to go to the source eventually, that's kind what ended up happening."
On his individuality and self-expression:
"Never be afraid to do you. Don't even limit yourself to what somebody expects you to be. If you think something's cool, go for it. And even if it's not in the dress code, wait until you get out of school and go crazy."
October, 18, 2012
10/18/12
1:25
PM ET
By
Brendan Hall
| ESPNBoston.com
ESPN's Dave Telep is reporting this morning that New Hampton (N.H.) senior forward Noah Vonleh has cut his list of schools down to six. Indiana, Ohio State, Georgetown, Syracuse, UConn and North Carolina have made the cut for the 6-foot-8 Haverhill native's services.
The decision comes some three weeks after Vonleh declared his intentions to move back into his original Class of 2013. Vonleh played his first two years of high school basketball at Haverhill High, where in 2010-11 he was named to ESPN Boston's inaugural MIAA All-State Team, before transferring to the New Hampton, N.H. campus and repeating his sophomore year.k
As things currently stand, Vonleh will take a visit to Syracuse the weekend of No. 3, then Indiana the following weekend. New Hampton coach Peter Hutchins told Telep it's possible Vonleh visits Georgetown or Ohio State the weekend of Nov. 24.
Telep makes note of some interesting ties between New Hampton and the six finalists, which you can find by clicking
HERE (Insider only).
Below is an excerpt:
There are ties all around Vonleh between some of the schools and his prep school. Whether they have any bearing on his final decision is still to be determined, but nonetheless, they are ties.

-- Former Syracuse star Lawrence Moten is a graduate of New Hampton and the Big East's all-time leading scorer.
-- Former Indiana Hoosiers Pat Knight, Tom Coverdale and Mike Roberts attended New Hampton. At one point a decade ago, Indiana was routinely recruiting from New Hampton under then head coach Jamie Arsenault. Current head coach Pete Hutchins was on those squads.
-- Georgetown assistant coach Kenya Hunter graduated from New Hampton.
-- Syracuse standout Todd Burgan was a New Hampton graduate.
October, 2, 2012
10/02/12
11:26
PM ET
By
Roger Brown
| ESPNBoston.com
St. Sebastian's Connor Strachan has a message for those eager to learn where he will be playing college football: Be prepared to wait.
"Yeah, right now recruiting isn't really the focus," Strachan said. "We have a chance for an undefeated season, so I think it's best to play the season out and then narrow it down."
Strachan, a 6-foot-1, 230-pound junior, has scholarship offers from four schools: Boston College, Connecticut, Virginia and Wake Forest. He received his offers after attending each school's camp last summer. Although he's being recruited primarily as an inside linebacker, he said Connecticut and Virginia have shown interest in his skills as a running back as well.
[+] Enlarge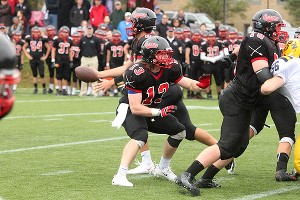 Ryan Kilian for ESPNBoston.com St. Sebastian's junior linebacker/running back Connor Strachan already claims offers from Boston College, Virginia, UConn and Wake Forest.
"I've been playing linebacker longer," Strachan said. "I feel I'm geared more toward defense."
Strachan, who lives in Wellesley, is the only New England player from the Class of 2014 in the ESPN 300 Watch List, which was released last week.
"Strachan may play at a small school, but he's a big-time talent on a national level," ESPN recruiting coordinator Billy Tucker said. "He was recently named to the 2014 ESPN 300 Watch List as we saw prototypical size and speed measurables for the inside linebacker position, as well as deceptive athleticism and run-stopping instincts to be very productive at the BCS level."
Strachan's uncle Steve played at Boston College and in the NFL for the Los Angeles Raiders, and his brother Brian is a sophomore wide receiver at Brown.
Maryland, North Carolina, Notre Dame and Penn State are among the other schools showing significant interest in Strachan.
"I really want to play at the highest level possible, but I'm definitely looking for a place with good academics," Strachan said. "After the season I'll try to do some visits and narrow it down to two or three schools. I'd like to have it done before next summer."
Back in action:
Former Everett High School quarterback Jonathan DiBiaso isn't the only Division I recruit in the Phillips Exeter Academy backfield this season.
Running backs Andreas Robinson (Dartmouth, Nova Scotia) and Devon Carrillo (Middletown, Conn.) will both have plenty of Division I options to choose from.
"They're like clones of each other," Phillips Exeter coach Bill Glennon said. "Carillo is a free safety, but we're real tough when he's in the [offensive backfield]. Carillo is tougher inside, Andreas is a kid who can get to the outside."
Robinson was the NEPSAC's leading rusher in 2010, but missed most of last season with an injury. He has taken visits to N.C. State, North Carolina and Stanford. Glennon said both Robinson and Carrillo are drawing heavy interest from FCS schools as well.
"Maine has already offered both, and UNH is gonna offer," Glennon said. "I think the [FBS] schools are more interested in Andreas as a defensive back, and then everyone else on the I-AA level is interested in him as a running back."
Conn. man
: Boston College landed one of the top athletes in Connecticut when Manchester High School quarterback/linebacker Marquis Little committed to the Eagles late last month. Little is expected to play outside linebacker in college.
Andrew Isaacs, Little's high school teammate, decommitted from BC to accept a scholarship offer from Maryland earlier this year.
Footnotes
: Brookfield (Conn.) High School's Boeing Brown, the No. 11 recruit from Connecticut in the Class of 2013, has been moved from quarterback to wide receiver this season. ESPN has Brown rated s two-star quarterback...Roxbury Latin quarterback Mackay Lowery completed 24 of 37 passes for 291 yards and five touchdowns in last weekend's 34-33 victory over Thayer Academy. Lowery has committed to Boston College.
Recruiting information regarding high school or prep school players in New England can be sent to Roger Brown at
rbrown@nhfootballreport.com
.
September, 24, 2012
9/24/12
6:32
PM ET
By
Brendan Hall
| ESPNBoston.com
New Hampton (N.H.) forward Noah Vonleh told ESPN Senior Basketball Recruiting Analyst Dave Telep earlier today that he will be reclassifying back to the Class of 2013 from his current class of 2014, to be ready to play college basketball for the 2013-14 season.
"I'm ready academically to go back up to 2013," Vonleh told Telep. "I just have to change an English class and I'll be ready to graduate. I'm more mature as a basketball player and as a person.
"From a basketball standpoint, I'm working even harder and I'm ready to go to college. I have a better understanding of what it takes to be good and be a student of the game."
Vonleh, a 6-foot-8 Haverhill resident, was named to ESPN Boston's inaugural MIAA All-State Team in 2011 after averaging 18.4 points, 17 rebounds, seven assists and five blocks for his sophomore season at Haverhill High. He transferred to the New Hampton, N.H. campus over the summer of 2011, and re-classified to the 2014 class.
Ranked as the No. 4 overall prospect nationally in ESPN's "Super 60" 2014 rankings, Vonleh will move to No. 7 in the ESPN 100, which ranks the top high school seniors.
The move also makes him eligible for the prestigious McDonald's All-American Game, which maintains a policy of only qualifying seniors in their fourth year of high school. Tilton (N.H.) swingman Wayne Selden made a similar move this summer, switching back to the 2013 class, and along with Vonleh is considered a favorite to be named to the game.
Vonleh also told Telep that Indiana, North Carolina and Ohio State are currently working the hardest in their recruitment of him.
For Telep's full report on Vonleh's decision today,
CLICK HERE
.
New Hampton also released its own statement on Vonleh's decision today, which you can find by clicking
HERE
. Below is an excerpt:
Regarded as one of the top basketball high school basketball prospects in the nation, Vonleh enjoyed a solid first year of play in the highly competitive NEPSAC Class AAA League and followed up with a stellar summer playing for the Mass Rivals AAU program. He also competed in various camps and invitationals, including the Adidas Nations where he earned MVP honors. Vonleh, who originally reclassified to 2014 to gain another year of physical, emotional, and athletic maturity, believes he is ready to make the jump to college.

"When I left Haverhill High after my sophomore year, I wasn't sure how my game would develop and how much I would mature physically and emotionally," Vonleh said. "I thought going to 2014 would be the best thing for me as I went off to boarding school and enrolled at New Hampton. My mom and I have continually tracked my progress. This summer we looked at things from an NCAA eligibility status, and it was easy. With one change to my schedule, an English class, I am able to graduate with the class of 2013."
October, 4, 2011
10/04/11
4:22
PM ET
In his popular "Shooting Threes" column today on ESPN's college basketball recruiting section, senior analyst Dave Telep reports that Brewster Academy (N.H.) post-graduate forward
T.J. Warren
is down to four schools -- North Carolina, NC State, Florida and Georgetown.
You can read the entire column
here (Insider only)
.
The surprise cut for Warren -- a Durham, N.C. native who is the No. 23 overall player in the Class of 2012 -- had to have been Kentucky, which is in the running for several other top uncommitted prospects as well. Telep explains:
T.J. Warren (Durham, N.C./Brewster Academy) is down to four schools: NC State, North Carolina, Florida and Georgetown. On Monday, Warren texted me and said he's no longer considering Kentucky. Exactly what does that mean? Did UK chop him from their list or did he slice the Wildcats? The answer lies somewhere in between.

What happened to Warren -- or what happened with Kentucky depending on your point of view -- can be seen two ways. The gist of what happened is likely that Kentucky didn't view Warren as a top tier small forward target. They are actively, heavily and with great zeal pursuing Shabazz Muhammad (Las Vegas/Bishop Gorman), Alex Poythress (Clarksville, Tenn./Northeast) and Devonta Pollard (DeKalb, Miss./Kemper County).

"I just didn't feel like I was their main guy," Warren said. "And the communication wasn't there." Translation: the Wildcats either liked their other targets better (plausible given the headliners) or didn't feel great about landing Warren or they didn't put the same time and communication resources into T.J. for all of the above reasons.

I tweeted on Monday night that "Kentucky no longer on the list." I picked my words carefully. At the time, I didn't know if UK had dropped T.J. or he'd dropped them. It's this gray area that is often times difficult to discern. You try and do your best to report what happened but the reality is, the devil is in the details and the details can be tough to determine.
August, 19, 2011
8/19/11
11:19
AM ET
ESPNHS lacrosse editor Mike Loveday is reporting that Groton School midfielder Adam Hardej has verbally committed to Princeton University for the 2013-14 school year.

The 6-foot-6, 215-pound midfielder also had offers from Air Force, Harvard, Maryland and North Carolina.

Hardej also plays club lacrosse for Laxachusetts.
July, 12, 2011
7/12/11
2:41
PM ET
Is Everett native and Tilton (N.H.) incoming junior center Nerlens Noel the nation's best shot-blocker?
In his
"Shooting Three's" column today
, ESPN senior basketball recruiting analyst Dave Telep makes the bold declaration. And while he won't go as far as a Bill Russell comparison, as Boston Amateur Basketball Club director Leo Papile did with Boston reporters last fall, Telep does mark some similarities between Noel and a certain former No. 1 overall draft pick.
Telep writes:
The best defensive player in the country isn't a senior. It is junior Nerlens Noel (Everett, Mass./ Tilton).

"He makes everything easy all the time because you know you have a dominant shot-blocker back there," BABC junior point guard Jaylen Brantley (Springfield, Mass./Wilbraham & Monson) said.

The stat sheet said Noel had 12 points and eight boards versus All-Iowa but only three blocks. The fact of the matter is Noel dominated play in the first half where Iowa scored just 12 points. All-Iowa Attacks big three of Marcus Paige, Mike Gesell and Adam Woodbury shot 8-27 from the field. Nerlens was in the neighborhood.

I've heard a lot of people criticize his offense and that's true, he has work to do but he's not a bad offensive player, he's just a superstar on defense. He has the work ethic and the offense will come. Pre-summer, Noel listed UConn, Kansas, Georgetown, Kentucky and Florida. Florida coach Billy Donovan was at his first game and Kentucky coach John Calipari and Kansas coach Bill Self popped in during the contest. You can bet North Carolina coach Roy Williams, who also caught his opener, is interested.

Noel isn't the prospect Greg Oden was at the same age, but it's been that long since high school basketball has seen a natural shot-blocker of that caliber. Anthony Davis was excellent last year but Noel is threatening to join an elite club of rejectors.
July, 6, 2011
7/06/11
2:59
PM ET
In his popular
"Shooting 3's" column today
, ESPN senior basketball recruiting analyst Dave Telep checks in with incoming Brewster Academy senior
T.J. Warren
, who is starting to narrow his list of schools.
Warren is a Durham, N.C. native who left Word of God in Raleigh to join the Wolfeboro, N.H. program. But he could end up coming back home for college, as Telep writes:
T.J. Warren (Durham, N.C./Brewster Academy) recently made a significant decision. He's heading off to Brewster Academy for his senior year where he'll star alongside Mitch McGary (Chesterton, Ind./Brewster). Warren began his high school career at Durham Riverside then switched after two years to Word of God in Raleigh, N.C. Now at Brewster, he'll face a tough northern prep schedule.

His collegiate recruitment could have him returning home in the fall of 2011. Warren recently trimmed his college list to seven programs: Georgetown, Florida, NC State, Louisville, Kansas, Texas and North Carolina. Each program, except the Tar Heels offered him a scholarship. The 6-foot-6 small forward with exceptional shooting touch and deep range is the son of a former NC State player.
June, 13, 2011
6/13/11
8:52
AM ET
St. Mark's center Kaleb Tarczewski spoke with ESPN's Adam Finkelstein on Friday about his unofficial visit to the University of Kansas.

"It was really good, I really like it there," Tarczewski told Finkelstein. "This trip was really for my mom, she hadn't been there yet and I wanted her to see it."

The 7-foot Claremont, N.H., native was making his third such visit to the Lawrence, Kan. campus, and also has upcoming visits scheduled to North Carolina (June 13-14) and Arizona (June 20-21) but stopped short of saying those were his top three schools.

"Right now those three are the ones that embody what I'm looking for," he said. "It's not necessarily closed to other schools but those are the three that I'm looking at right now."

UConn, Kentucky, Duke, West Virginia and Indiana are among the other schools recruiting Tarczewski, who will head to Houston for the Adidas Nations training camp this weekend before he arrives in Chapel Hill on Sunday night.
June, 8, 2011
6/08/11
5:08
PM ET
ESPN's Adam Finkelstein is reporting that St. Mark's center
Kaleb Tarczewski
has three unofficial visits set up for the month of June.
The 7-foot Claremont, N.H. resident will take in Kansas on Friday, North Carolina on June 13-14 and Arizona on June 20-21.
Other schools in the mix for Tarczewski include UConn, Duke, Florida, Indiana, West Virginia, Georgia Tech, Wake Forest, Boston College and USC.