Boston High School:

North Quincy
October, 9, 2014
10/09/14
9:23
PM ET
Former North Quincy High star Anthony Green announced last night on his Twitter account that he has committed to Northeastern University for the 2015-16 season.
I'm proud to say that I have verbally committed to play basketball at Northeastern University #GO Huskies!!!!!! pic.twitter.com/Gu5neDFzmg

— Anthony Green (@AGreen57) October 7, 2014
The 6-foot-9 Green, who is currently doing a post-graduate season at Tilton (N.H.), has been one of New England's quickest-rising prospects over the last 12 months since bursting on the scene at North Quincy High. Last winter, Green was named to the First Team of ESPN Boston's annual MIAA All-State Team after leading the North Quincy Red Raiders to a second straight appearance in the Division 1 South Final. On the season he averaged 12 points, nine rebounds and five blocks this season -- including a triple-double in his final high school game, the D1 South Final loss to Catholic Memorial. He set North Quincy's career blocks record (177).
Over the last two seasons, with Green starting at center, the Red Raiders went 41-8, including a 23-2 mark and outright Patriot League title in 2013-14. He also enjoyed success this summer with the Boston Amateur Basketball Club (BABC), which is run by North Quincy alum Leo Papile.
New Hampshire and Bryant were the other Division 1 schools that had reportedly offered Green.
March, 1, 2014
3/01/14
2:36
AM ET
Each and every night throughout the MIAA basketball playoff season, we will highlight the state's top performances. Here are my top performances from Friday night's slate of MIAA basketball state tournament play.
As a reminder, readers are encouraged to submit their top performances via email (bhall@espnboston.com) or tweeting at ESPN Boston High Schools editor Brendan Hall (
@BHallESPN
). Deadline for all submissions each night is midnight.
1. Kellan Grady, Soph. G, Catholic Memorial
Before an overflowing crowd at hallowed Ron Perry Gymnasium, connected for 32 points -- including eight 3-pointers -- as the Knights downed archrival BC High for the third time this season in a D1 South quarterfinal.
2. Nelson Zayas, Sr. G, Sabis
Hit eight 3-pointers as part of a 33-point night, shooting 11 of 15 from the field total, in a 90-51 rout of Easthampton in D3 West.
3. Tyler Nelson, Sr. G, Central Catholic
Had 27 points in the Raiders' 53-50 win over Cambridge. Fourteen of those came in the fourth quarter, including the game-winning three-pointer with 38 seconds left.
4. Frank Oftring, Sr. F, Bishop Feehan
Scored 32 points and 10 rebounds in the
Shamrocks' win over Canton.
5. Eamonn Joyce, Jr. C, St. Clement
Shored up the Anchormen with 30 points and 12 rebounds in the 71-54 win over Lowell Catholic in D4 North.
6. Jake Wisniewski, Jr. C, Quaboag
Recorded 26 points and 14 rebounds in the Cougars' 81-37 rout of Lee.
7. Anthony Green, Sr. C, North Quincy
Capped with several highlight-reel dunks, 6-foot-9 post totaled 19 points, 12 rebounds and four blocks in the Red Raiders' 64-56 defeat of cross-town rival Quincy in D1 South quarterfinals.
8. Jazz Laracuente, Sr. G, New Mission
Totaled 26 points and nine assists in the Titans' 69-61 defeat of Whittier in D4 North.
9. Efthim Butka, Sr. G/F, North Quincy
Totaled 25 pts, including five 3-pointers, in the Red Raiders' win over Quincy.
10. Deandra Humphries, Sr. F, New Mission
Achieved a double-double with 23 points and 14 rebounds in the Titans' win over Whitter.
February, 28, 2014
2/28/14
11:35
PM ET
By
John Botelho
| ESPNBoston.com
QUINCY, Mass. -– All season long, Solomon Umoren has been a defensive stalwart for the North Quincy stalwart. So naturally, he turned in perhaps the biggest offensive play of the season as the top-seeded Red Raiders downed crosstown rival Quincy, 65-54, in a Division 1 South Sectional quarterfinal match-up.

As the clock fell under three minutes to play, Quincy was surging and had cut North's lead to just five points. The Presidents were on the verge of forcing a turnover as the shot clock neared zero. Point guard Kyle Richardson hit Umoren with a pass on the wing. The junior forward caught the pass and sent the pass toward the hoop as he was falling out of bounds.

"I just threw it up. It's been a while since I hit a 3, I usually just attack," said Umoren. "I didn't know it was going in."

The shot couldn't have been more true, and it snapped through the twine to push North Quincy's lead up to eight. From there, the Red Raiders just needed to hit free throws down the stretch to advance to a semifinal rematch with Newton North.

"We've got a hand in his face, the shot clock was on one, that was just a heck of a shot," said Quincy coach Dave Parry. "From that time on, we really had a hard time. To me, that was the play of the game."

Added NQ senior Efthim Butka: "That shot was incredible. It was better than any shot I've hit in my life. He was fading away, shot clock winding down, falling into coach's arms, and then, nothing but net. It's like there was a boulder on our back and Solo was just like 'I'm Superman' and took it away."

Super sidekicks: Umoren, who scored all seven of his points in the fourth, might have hit the biggest shot on the night, but throughout the contest Butka and Anthony Green shouldered much of the offensive load for the Red Raiders.

Butka was held scoreless in the first quarter but heated up in the second, notching seven points. He caught fire in the third, pouring in another 11 on his way to a game-high 23, including five 3-pointers, in the win.

"He's tough to keep down," said Barrett. "You can contain him for a little while but he's an inside-out guy so he's going to find ways to score. He's going to manufacture points. The ones he missed early on, he didn't miss by much. I told him to keep shooting the basketball and they started dropping."

Butka was especially happy with both the win and his performance after Quincy handed North it's first and only loss of the season just a couple weeks ago.

"We were just unbelievably motivated. They took the undefeated season away from us," said Butka. "That was stuck in my head. I played really bad in that game, and it wasn't just shooting, it was all aspects of the game. I made it my mission to come out defensively and play as hard as I could. The offense just came as the game went on."

Green was impressive on both ends of the floor for NQ, finishing with 19 points and 10 rebounds. He flashed solid athleticism throughout the contest, best showcased in the waning seconds of the first quarter. He caught a pass beyond the free throw line, used a couple dribbles and a spin move and exploded by his defender, finishing with a thunderous two-handed slam that ignited the already boisterous NQ crowd.

"It happened a couple of times tonight, where he alleviated some pressure by putting the ball on the deck two, three, four times," said Barrett. "He's capable of doing that. He didn't shoot the ball particularly well from the perimeter tonight, but he's been a consistent elbow jump shooter for us all year.

"He's a skilled kid. People are fooling themselves if they think he's just a back to the basket player. He can pass the ball, he reads the double team really well, he throws out of it really well. He's the full package."

Both players benefitted from the sound play of Richardson throughout the game. He finished with nine points, six assists, five rebounds and three steals in the win.

Callahan for President: On the other side, Quincy was led by Christian Callahan, a Swiss Army Knife kind of player with an impressive approval rating. He came off the bench to give the Presidents a 20 point, 12 rebound, maximum-effort kind of performance.

"Just an incredible, incredible athletic specimen," said Parry. "He does thing a lot of guys don't. I like the energy coming off the bench, and he can play all five positions. Whether it's the point, forward, the off guard position, he can come in for anybody and play anywhere."

Bouncing all over the floor, he certainly caused fits for North Quincy's defense. His ability to get to the hoop and finish, coupled with his ability to generate second chances (he had nine offensive rebounds) allowed Quincy to keep pace all night.

"We talked about it during several timeouts and certainly at halftime," Barrett said. "He's just an aggressive, tenacious kid when the ball goes up. We weren't doing a great job of locating him and boxing him out, but he makes it hard."
January, 25, 2014
1/25/14
1:01
AM ET
Brendan C. Hall
ESPN Boston High Schools Editor

FIRST TEAM

G – Tyler Nelson, Sr., Central Catholic
He's always been one of the state's premier shooters, but his game has evolved this season as he continues to fight through box-and-one's. He has grown up quite a bit in terms of toughness.

G – Dizel Wright, Sr., Putnam
One of the state's best on-ball defenders and the humble kid on an otherwise very vocal team, he sets the tone at both ends of the floor for the state's undisputed No. 1 team.

F – Tyonne Malone, Soph., Putnam
One of several prep school transfers that arrived with plenty of hype, the 6-foot-3 slasher has been an integral force on the wing for the Beavers. Long with plenty of athleticism to get to the rim at will, there's a lot of upside to be excited about.

F – David Murrell, Sr., Putnam
It's an MMA fight at times trying to battle on the boards with the Beavers, and the returning All-State forward sets the tone for one of the state's best rebounding teams.

C – Anthony Green, Sr., North Quincy
One of the best revelations of the 2013-14 season, the late-blooming 6-foot-9 center has showed marked improvement from where he was at this time a year ago. And the Red Raiders have been a large benefactor.

SECOND TEAM

G – Tommy Mobley, Jr., Newton North
Some folks would like to see him become more assertive on the glass, but there is no denying Mobley's shooting ability. He might be the most automatic three-point marksman in Massachusetts.

G – Makai Ashton-Langford, Soph., St. Peter-Marian
If you haven't seen him yet, you are missing out. He is the Guardians' most talented lead guard since Naadir Tharpe, and has backed up the mound of hype behind his high-major potential in this first half of the season.

G – Aahmane Santos, Jr., Catholic Memorial
Santos returned from prep school a much more aggressive –- and visibly faster –- player. At times it seems like he is operating at a different speed than the other nine players on the floor, and that's one of the bigger reasons why the Knights are averaging upwards of 86 points per game so far.

F – Asante Sandiford, Sr., New Mission
Franklin Pierce commit proved a lot to me with the way he battled one of the nation's top big men, Karl Towns Jr., at the Shooting Touch Shootout. The Titans have been absolute piranhas on defense this season, with Sandiford at the forefront.

F – Tyree Robinson, Jr., Durfee
It's been a few years since the Hilltoppers were this good, and I'm not sure how competitive they'd even be without landing this Notre Dame Prep transfer.

THIRD TEAM

G – Giulien Smith, Jr., Catholic Memorial
Like seemingly a half-dozen other Knights, Smith can shoot it. But it's his ability to create his own shot that makes him and Aahmane Santos one of the most dangerous backcourts.

G – Rocky DeAndrade, Sr., Mansfield
The Hornets started the season down three starters to injury, yet they haven't skipped a beat. Credit that to DeAndrade, who has become faster after a diligent offseason.

G – Elijah Rogers, Sr., Brookline
You can make the case for Rogers to be a lot higher on this list. The Warriors had a tough start to the season, but they may have hit their stride. When Rogers is on, it is a spectacle.

F – Gary Clark, Jr., Everett
Arguably the best two-way player on one of the state's most tenacious defenses.

F – Fred "Bam" Rivers, Sr., New Mission
This might be the Titans' best squad since 2010-11, and as the nickname implies, this fearless, wide-bodied 6-foot-4 post is one of the primary reasons. There isn't a player in Massachusetts he's afraid to make uncomfortable. Oh, and he can step out and shoot it, too.

Coach of the Year: Kevin Barrett, North Quincy
A few other names here could fit the bill, such as Mansfield's Mike Vaughan, Fitchburg's Jack Scott or North Andover's Paul Tanglis. But a year ago at this time, Anthony Green was a timid kid who moved gingerly and couldn't stay on the court without getting fatigued or racking up fouls. Now, he's become the Raiders' own "Nerlens Lite", and the biggest reason for their 11-0 start. And while we're at it, raise your hand if you'd heard of Eftham Butka at this time last year (Don't lie). Now, he's the Raiders' most dangerous scorer. All of this speaks to Barrett's commitment to player development, a trait that sometimes feels like a lost art in today's AAU-ficated grassroots culture. That shouldn't be overlooked.

***

Chris Bradley
ESPN Boston correspondent

FIRST TEAM

G - Dizel Wright, Sr., Putnam
The most complete player on the state's most complete team. A built, athletic point guard who can guard a variety of positions and put up double-figure rebounding totals, Wright should be considered a serious contender for Mr. Basketball, as should these next four candidates.

G - Tommy Mobley, Jr., Newton North
The state's most lethal shooter has turned into one of it's best overall scorers. Mobley has lit some of the state's best teams up this year, averaging 20 points per game as Newton North has emerged as one of the best teams in Division 1.

G - Guilien Smith, Jr., Catholic Memorial
In terms of pure scoring ability, there may be no better player in the state than Smith. Smith has deep range on his three-point shot, the quickness to get to the hoop off the dribble, and now the upper body strength to finish. He's a big reason why CM is 12-1.

F - David Murrell, Sr., Putnam
Wright may be Putnam's best player, but Murrell is the glue guy for the state's number-one ranked team. Averaging double-figure points and rebounds, he makes for a superior duo with sophomore Tyonne Malone.

F - Anthony Green, Sr., North Quincy
North Quincy has been one of the state's most pleasant surprises this year, and their do-it-all 6-foot-9 center hes led them every step of the way. Several scholarship-level college programs and prep schools have shown interest in Green in recent weeks.

SECOND TEAM

G - Makai Ashton-Langford, Soph., St. Peter-Marian
His 26 point outbreak against St. John's on Friday night is just another reminder why the 6-foot sophomore is considered to be one of New England's best talents. Ashton-Langford has been the guy who makes the Guardians go this year, averaging 17 points a game.

G - Aamahne Santos, Jr., Catholic Memorial
Santos has had several games where he he never reached double-figure scoring totals, yet he seems to have as much of an impact on a game as any point guard in the state. A super athlete who is also lightning-quick with the ball in his hands, Santos is the key behind Catholic Memorial's high-powered offense.

G - Tyler Nelson, Sr. Central Catholic
Much was expected out of Nelson this year, and for the most part, he has delivered for 11th-ranked Central Catholic. The Fairfield University commit has been the main focus of opposing defenses all year long, yet still manages to hit shots at a high clip.

F - Tyonne Malone, Soph., Putnam
Malone struggled at first to find his fit in an extremely talented Putnam rotation, but he has emerged as one of their best reliable players the past few weeks in wins over Woodstock Academy (Conn.), Springfield Cathedral, Springfield Central, and Northampton. A gifted athlete at 6-foot-3, Malone is already on the radar of several mid-major and high-major Division 1 programs.

F - Tyree Robinson, Jr., Durfee
The transfer from Notre Dame Prep has immediately helped turn things around at Durfee -- a team starving for a playoff appearance after several years of relative anonymity. A standout 6-foot-4 athlete who plays AAU for the Boston Amateur Basketball Club (BABC), Robinson's rebounding motor and elite athleticism have made him well worth the price of admission.

THIRD TEAM

G - Elijah Rogers, Sr., Brookline
Rogers has been the catalyst all year long for Brookline, a team who is 7-3 and looking to build off of last year's playoff run. An athletic point who can also make plays for others, he has proven to be one of the top pure point guards in the state.

G - Erick Rosario, Jr., Lynn English
It has been on Rosario to do a lot of the heavy lifting offensively with counterpart Stevie Collins out injured. A quick, clever combo guard, Rosario has proven to be one of the state's best pure offensive threats--whether it's knocking down outside jumpers or finishing acrobatic lay-ups around the rim.

G - Ryan Boulter, Jr., Mansfield
The lone blemish on the Hornets' 12-1 record is Thursday's three-point loss to Hockomock foe Attleboro, and Boulter has been a big reason why. With star forward Brendan Hill out for the year, Boulter has manged to pick up a lot of the slack offensively for Mike Vaughan's Hornets.

F - Gary Clark, Jr., Everett
Everett has been one of the state's best teams, now at 10-0, and Clark's inside-out offensive attack has helped bring some balance to a high-scoring offense. Playing alongside a loaded Everett backcourt, Clark has excelled playing down low: rebounding at a high-rate and finishing shots in the paint.

F - Fred "Bam" Rivers, Sr., New Mission
Rivers may not look the part of a gifted athlete, but to his credit, he has proven just the opposite so far for Cory McCarthy's Titans. At 6-foot-4, Rivers has the foot speed to guard multiple positions, he has shown that he is one of the best rebounders in the state, and he can even stretch the defense with his feathery three-point touch.

Coach of the Year: Cory McCarthy, New Mission
With a few star players in Franklin Pierce-bound forward Asante Sandiford, sharpshooter Shaquan Murray, and do-it-all forward Fred "Bam" Rivers, McCarthy has been able to build around that trio with one of the state's deepest rotations and stingiest defenses -- giving up just 47 points a game. The 11-1 Titans are as tough an out as any team in the state and they appear to be the favorite statewide in Division 2 midway through the season. Catholic Memorial's Denis Tobin, St. John's Prep's John Dullea, and Mansfield's Mike Vaughan should all be in the conversation for this one, but at this point in the year nobody has gotten more out of their team than McCarthy.

***

John Botelho
ESPN Boston correspondent

FIRST TEAM

G - Dizel Wright, Sr., Springfield Putnam
He's been the best player on the best team in the state all year, and only seems to be getting better.

G - Tommy Mobley, Jr., Newton North
The junior is the best shooter I've seen this year, or in recent memory for that matter. Everyone know the ball is going to end up in his hands and still no one seems to be able to stop him. Has a shot to reach 1,000 points this year with another deep tourney run for the Tigers.

G - Aamahne Santos, Jr., Catholic Memorial
The leader of an explosive CM offense that leads the state in points, Sanots has done a little bit of everything for the Knights. Known for his premier offense, his defense might be even better as he's caused fits for Catholic Conference point guards all year.

F - Fred "Bam" Rivers, Sr., New Mission
He's capable of scoring, rebounding, or playing solid defense on other bigs down low for No. 3 New Mission. Combining with Shaquan Murray and Asante Saniford, Rivers has helped make Mission the team to beat statewide in division two.

F - Ryan Boulter, Jr., Mansfield
Unbeaten Mansfield has looked unstoppable early on despite losing returning All-Stater Brendan Hill for the year to a knee injury, and Boulter might be the biggest reason why. The junior has led an explosive offense -- averaging more than 17.6 per game on a team with four guys in double figures

SECOND TEAM

G - Tyler Nelson, Sr., Central Catholic
Pushing him to the second team was one of the hardest calls to make, but I think it speaks more to the impressive guard play statewide this season than anything else. Nelson is one of the most dynamic players in the state, and a second half surge could push him onto the first team.

G - Rocky DeAndrade, Sr., Mansfield
Second for the No. 2 Hornets in scoring behind Boulter, DeAndrade is capable of taking over games and can score from anywhere. He's poured in over 16 per game so far as the Hornets have cruised to an 11-0 mark.

G - Elijah Rogers, Sr., Brookline
The returning All-Stater has taken his game to another level this year, guiding an offense that can run with anyone. He went off for 28 points to hand Bay State rival Newton North it's only loss, and finding a player in the state who elevates his game for big opponents would be a tough challenge.

F - David Murrell, Sr., Putnam
Returning All-Stater gives Putnam arguably the best 1-2 punch in the state with Wright, and is a major reason they've been atop the rankings all season. He was tremendous at the Hoop Hall Classic last week, netting 27 and grabbing 12 rebounds against rival Springfield Central before going off for 15 points and 15 rebounds against defending Connecticut Class L champ Woodstock.

C - Obi Obiora, Sr., Brookline
The big man averaged nearly a double-double a year ago, and looks like he's headed for one this season. A total game changer on the defensive end, he's also capable of taking some focus off of Rogers on offense.

THIRD TEAM

G - Jack Loughnane, Soph., BC High
His offensive game is an impressive one, and he's among the best 3-point shooters in Eastern Mas. He's the catalyst for the Eagles' offense, and is a major reason they're ranked No. 10 in the state.

G - Markus Neale, Sr., Dorchester
The Bears don't have much in the way of height, but Neale plays taller than his 6-foot-2 frame would suggest. He's a playmaker on both ends of the floor, can score from beyond the arc or by going to the hoop, fights for rebounds and bolsters an athletic Dorchester defense.

G - Ryan Roach, Sr., Cardinal Spellman
A Stonehill commit, Roache has been tasked with running a Cardinals offense that features several players who would be the "go-to" guy on a lot of teams. None of the Cardinals are averaging crazy point totals, but the team is unbeaten in league play. Their only losses have come against Mansfield, Franklin and No. 24 St. Bernard's.

F - Matt Nicholson, Sr., Rockland
Tyler Gibson swallowed up a ton of the publicity for Rockland a year ago, but Nicholson gave the Bulldogs a second very good scoring option. This year, with Gibson and Bryan Tavares graduated, Nicholson has been tasked with being the guy for Rockland, and he's delivered to the tune of 22 points and eight rebounds per game for the 7-3 Bulldogs.

C - Anthony Green, Sr., North Quincy
The 6-foot-9 big man for the unbeaten Red Raiders makes his biggest impact in something that isn't quantifiable through statistics, as the number of possessions he changes on the defensive end is staggering. Coach Kevin Barrett said earlier this year that he was blocking seven shots per game during the tourney last year, and altering at least as many. That means he's single-handedly effecting the outcome of more than 10 possessions per contest, and that doesn't include the way the rest of the Red Raiders defense can play in the faces of their opponents, knowing he's back there as a last line of defense.

Coach of the Year: Bo Ruggiero, Cohasset
An argument could be made for plenty of guys this year, and people like Cory McCarthy at New Mission and Mike Vaughn at Mansfield (being unbeaten despite losing Hill is pretty impressive) certainly deserve some consideration. That said, Ruggiero has put together one of his finest coaching performances, which is saying a lot when you consider he's got more than 500 career wins on the sidelines. The Skippers graduated a 1,000 point scorer a year ago in Shane Haggerty, and lack a star to lean on this season. Guys like Chris Haggerty, Rocco Laugelle, Henry Brown and Joe Buckley have just come together to play good fundamental hoops. They've gone all in on defense, and are allowing a South Shore League best 39 points per game this year. At 10-0, they have to be considered among the favorites, if not the favorite, to capture the MIAA Div. 4 crown this year.
December, 24, 2013
12/24/13
12:13
AM ET
By
John Botelho
| ESPNBoston.com
QUINCY, Mass. -- Every day over this past summer, North Quincy forward Efthim Butka rose early from his bed with this basketball season on his mind. Originally, the plan was to put on some size and some strength to benefit his low-post game.

As the summer wore on, the plan evolved into something more -- and his offseason workouts resulted in his game not being played just inside the paint anymore, but out well beyond the 3-point line.

"It's very new," Butka said. "I've been working on it all off-season. I saw how effective it was with Dan (Gould) last year.It really showed me that if you have an overall game you can be a bigger threat and that's what I wanted to be."

On Friday night, as the No. 22 Red Raiders downed cross-town rival Quincy, 72-64, Butka showed the Presidents what his overall game was capable of as he poured in a game-high 27 points to go with 10 rebounds, seven assists, two steals and two blocks.

Butka's 3-point shooting -- he hit six times from behind the arc -- ensured the Presidents (2-1) wouldn't complete an impressive second half comeback.

"A lot of people didn't expect to see this, but he worked so hard in the offseason to extend his range and develop his game," said North Quincy coach Kevin Barrett. "That's a new piece now that he has as a weapon. It's going to be pretty hard to defend going forward, I would say."

"None of our scouting reports had Butka throwing up three," said Quincy coach Dave Parry. "We concentrated on his down low stuff, because he's very good down low. When he pops up and he's got James (Lam) in his face, I can't ask for any more than that."

Friday may have served as a coming out party for Butka's newly minted skill set, but it's one that didn't happen by chance, and it certainly didn't happen overnight.

"Every day, I was shooting for about three hours straight -- threes, twos, just everything," said Butka. "I really worked on my shot off the dribble because I can't just be a catch and shoot shooter, people would just lock me down. The three came along with, I don't know, maybe a 1,000 shots a day."

For North Quincy, that improved range meant stymying an improbable comeback attempt. Just before halftime, the Red Raiders opened up what appeared to be an insurmountable 16-point lead.

After the Presidents outscored them, 22-7, in the third quarter, NQ headed for the fourth clinging to a one-point lead.

On the opening possession, Butka took a pass about five behind the arc, straight on, and let loose another arcing shot toward the hoop. His fourth 3-point of the contest snapped through the twine.

"At a certain point, it just feels like you're throwing the ball into an ocean," Butka said. "It just felt automatic, I didn't hesitate for a second."

That was just as true two other times in the fourth when Quincy slipped into the lead, briefly. His final two 3's of the game both erased deficits for North Quincy, ensuring they'd remain unbeaten.

Teammate Matt Gerakis, who added 15 points, also connected on a lead-changing fourth quarter 3-pointer.

North Quincy also got 13 points and eight rebounds from 6-foot-9 center Anthony Green, as well as 11 points and seven assists from speedy point guard Kyle Richardson.


PRESIDENTS' RACE FOR VICTORY FOILED

The Presidents knew they'd dug themselves quite a hole headed into halftime, and set to use the third quarter to work back into contention.

"I'm proud of the way the kids came back," said Parry. "I asked them to cut the lead to eight. I just thought if we went into the fourth down only eight, we'd have a chance to win. They did better and got it down to one."

Shifting out of a trap-based zone full court press into a man-to-man coverage one wreaked havoc on the Red Raiders offense in the third, forcing a bevy of turnovers and less than desirable shots.

"We tried to contain Kyle a little bit, we switched up our press a little bit and tried to take the ball away from and make somebody else make some plays," said Parry. "For the most part, it worked. The man to man gave them less open looks. They worked harder for everything they got in the second half."

Lam was perhaps the biggest key to the second half surge, acting as the President's do everything Swiss Army knife. He poured in 13 points to go with eight rebounds, seven assists, three steals and two blocks.

"James was the quarterback of our football team, and he sees everything out there," said Parry. "He sees the whole court and just always knows where to be."

J.T. Bain notched a team-high 18 points and Brendan Cunningham chipped in with 10 in the loss.
December, 2, 2013
12/02/13
3:41
PM ET
By
Chris Bradley
and
Ryan Lanigan
| ESPNBoston.com
To kick off the start of the MIAA basketball season, ESPNBoston.com will spend the next five days counting down the teams in our Preseason MIAA Top 25 Poll, starting with Nos. 25 through 21 today and concluding with the state's top five teams on Friday.
Today's previews include Hockomock members Taunton and Sharon, a Bishop Feehan squad who is moving up to Division 2 with a solid core coming back, and Central Mass. foes South and Wachusett, along with our "Last 10 out".
For a refresher on how the final 2012-13 poll ended up,
CLICK HERE
.
Be sure to check back each day this week for the latest in the boys basketball top 25 countdown.
Last 10 out:
Braintree (13-10), Doherty (14-7), East Boston (11-7), Fitchburg (13-9), Franklin (16-8), Lynn Classical (15-9), Milton (15-9), North Quincy (18-6), Quincy (14-7), Watertown (13-8)
25. WACHUSETT
Coach:
Tom Gibbons
2012-13 results:
19-5, reached Division 1 Central Semifinals
Key players:
Tyler Dion, Justin Bowker, Kevin Durkin, Brian Quinn
Analysis:
The Mountaineers lost a lot of leadership off of last year's team, including graduated seniors Zack Berman, Jesse Maresca, Trevor MacNeil, Zach Knapp, and Alex Cooper, but Coach Tom Gibbons returns what may be the biggest frontcourt in Central Mass. in juniors Kevin Durkin and Justin Bowker. At 6-foot-7 and 6-foot-5, respectively, the Mountaineers' twin towers will man the post, while sophomore point guard Tyler Dion, who picked up plenty of big-game experience last year, will be expected to fill Berman's shoes at point guard.
24. BISHOP FEEHAN
Coach:
Matt Freeman
2012-13 results:
18-4, Division 3 South quarterfinals
Key players:
Mike Nelson, Frank Oftring, Austin Burlone
Analysis:
Feehan has to be one of the favorites in Division 2 following their run in last year's playoffs. The Shamrocks return senior Austin Burlone, junior Frank Oftring, and sophomore star Mike Nelson in hopes of building off an 18-win season last year. With games in the opening few weeks against Archbishop Williams, Westford Academy, and Martha's Vineyard, we'll find out soon enough just how far this Feehan squad can be expected to go this year.
23. WORCESTER SOUTH
Coach:
Pat Williams
2012-13 results:
14-7, lost in Division 1 Central First Round
Key players:
Kasheen Cunningham, Nate Mensah, Khalil Bryan-Robinson, Aaron Maday
Analysis:
The Colonels will be living life without last year's star Rod Milton, but the cupboard is far from bare for South coach Pat Williams. South returns three of their top four scorers from last year, including point guard Kasheen Cunningham, combo guard Nate Mensah, and forwards Khalil Bryan-Robinson and Aaron Maday. As has been the case for the last three years, the top dog in the Inter-High will likely come down to South or Doherty, a fierce rivalry that has been a must-see matchup every time the two meet.
22. SHARON
Coach:
Bruce Jackman
2012-13 results:
15-8, Division 2 South semifinals
Key players:
Brian Mukasa, Jimmy Firtzson, Erik Kushner, Ade Bright
Analysis:
There aren't many backcourts in the area that are going to be stronger than the pair of seniors Brian Mukasa and Jimmy Fritzson. Both finished in the top 10 in scoring in the Hockomock last year and both have the chance to eclipse the 1,000-point mark this season. The biggest question will be down low, were the Eagles graduated Kevin Bartas and Ian Beach, but they will rely heavily on Erik Kushner and players from last year's JV squad, who only had one loss last season.
21. TAUNTON
Coach:
Charlie Dacey
2012-13 results:
16-7, reached Division 1 South semifinals
Key players:
Gerald Cortijo, Shaq Davis, Corey Green.
Analysis:
Taunton had a strong first campaign in the Hockomock League last season, and will look to try and upset Mansfield as the top team in the Kelley-Rex this year. Shaq Davis, who has been making plays for Taunton for some time now, will be back with another year of experience under his belt as. Sharpshooter Gerald Cortijo and Corey Green, who is just a junior, will also be big playmakers for the Tigers.
June, 1, 2013
6/01/13
1:22
PM ET
The Patriot League recently announced its softball All-Star teams.

Here's a look at the list, as provided by Silver Lake athletic director Martha Jamieson:

Editor's note: League all-star lists may be sent to editors Scott Barboza (sbarboza@espnboston.com) or Brendan Hall (bhall@espnboston.com).

Keenan Division:
Abby Alexiades, Jr. 3B, Silver Lake
Angelina Avitabile, Soph. C, Quincy
Alex Barone, Sr. C, Silver Lake
Maddie Barone, Frosh. P, Silver Lake
Saxon Bresnahan, Soph. P, Quincy
Emily Colton, Jr. SS, Silver Lake
Brianna Connolly, Sr. OF, Duxbury
Christina Curley, Sr. SS, Duxbury
Caitlin Hughes, Soph. C, Whitman-Hanson
Alyssa Kates, Sr. 3B, Duxbury
Micaela Lannon, Jr. P, Duxbury
Heather McIntosh, Frosh., Hingham
Caroline McSherry, Sr. C, Duxbury
Jess Smith, Jr. 3B, Silver Lake
Devon Varmahmoodi, Sr. CF, Quincy
Maxine Vincent, Frosh. 3B, Whitman-Hanson

Fisher Division:

Katie Albanese, Jr. LF, Scituate
Sophia Czarowicz, Sr. P/OF/Inf., Hanover
Kelsey Hardiman, Sr. LF, Middleborough
Hannah Johnson, Soph. 2B, Middleborough
Liz Kelly, Sr. SS, North Quincy
Jackie Kielty, Sr. P, Middleborough
Callie MacDonald, Frosh., Hanover
Molly MacNeill, Sr. SS, Hanover
Malinda McCartney, Frosh. 3B, Pembroke
Michelle Muriph, Sr. SS, Pembroke
Traci Perry, Sr. CF, Middleborough
Natasha Saulter, Jr. P, North Quincy
Katherine Skordinski, Sr. 3B, Hanover
Sydney Stoddart, Jr. C, Pembroke
Janet Taylor, Sr. C, Hanover
March, 5, 2013
3/05/13
11:19
PM ET
By
John Botelho
| ESPNBoston.com
BOSTON -– In the final 30 seconds of No. 5 North Quincy's win over No. 2 Newton North, 51-47, at UMass-Boston's Clark Athletic Center in the Div. 1 South Sectional Semifinals on Tuesday night, Red Raiders' senior guard Dan Gould stepped to the free throw line four times.
All four times, he knocked down his foul shots, sealing a win for North Quincy in a game they never trailed in.
"I shoot free throws all the time –- it was pretty much just like shooting free throws in the driveway, or at practice, or wherever," said Gould. "I just felt 'I gotta hit those free throws. Those are big time. I'm a senior and it's my time to shine right now."
Gould was 5-for-6 from the stripe on the day, and was arguably the biggest reason the Red Raiders (20-5) slipped past Newton North.
[+] Enlarge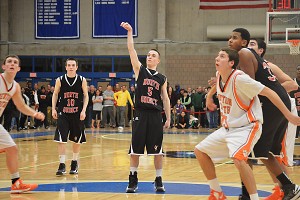 Brendan Hall/ESPNSenior Dan Gould (20 points) sank four free throws in the final minute to seal North Quincy's upset of Newton North.
He recorded seven points during the opening minutes as North Quincy raced out to an 11-0 lead before Newton North got on the board.
The 5-foot-9 guard knocked down four threes and finished with a game-high 23 points in the win.
Even with his offensive showing, it was his defense that put North Quincy in position to advance to the title game on Saturday against Mansfield at this very same venue.
After Newton North (20-3) forced a backcourt violation with 34 seconds to go and NQ up, 47-45, a timeout was called to allowed them to set up their final play.
They never got a chance to run the play, though, as Gould stepped in front of the Newton North target on the inbounds pass and picked it off near midcourt, setting up his late game free throws.
"That was huge," said Red Raiders coach Kevin Barrett. "He's been doing that for three years now, making big plays. It's usually when people are counting us out, he steps up and makes big plays. Over the course of the three years, he's just taken to a different level every time we've needed him."
The play ensured that Newton North –- which has appeared in the South semifinals eight years straight, and advanced to the sectional finals four times in nine years -– would never lead in this contest.
"That was just miscommunication," said Newton North coach Paul Connolly. "Just some miscommunication, that happens. Gould was just there to make a play. What can you do?"
It might have been the nail in the coffin for the Tigers, but they dealt with a strong defensive presence all night.
The Red Raiders held stand-out guard Korey Mui to just eight points –- and one field goal.
"That's Marquis McClendon," said Bennett. "You look over the course of his career, and not just tonight, and his M.O. with us has been to lock down their leading scorer. He tries to make everything difficult for them and that's why he's so valuable to us. He did that tonight when we needed it most. Equally as impressive was Pat's (Gould) job on Mobley."
Sophomore Tom Mobley finished with 21 points but had to hit three 3's to do so, and none of his points came uncontested last night.
Pat Gould chipped in six points and five rebounds in the win, McClendon added six points and three rebounds, Efthin Butka had eight points and eight rebounds and Anthony Green scored five points to go with eight rebounds and eight blocks for North Quincy.
On the other side, Jack Boucher added 12 points while Liam Bruno chipped in with 10 points for the Tigers.
December, 17, 2012
12/17/12
4:21
PM ET
By
Brendan Hall
| ESPNBoston.com
We updated our statewide MIAA Top 25 boys basketball poll this afternoon, to reflect the first week of the 2012-13. To see the complete poll,
CLICK HERE.
A few notes and observations about this week's poll:
Debuts for Malden, North Quincy, Wachusett:
With preseason selections Franklin (19), Doherty (21) and Charlestown (23) all dropping out after 0-2 starts, a trio of newcomers are making their debuts this week for the first time in the three-year history of ESPNBoston.com's statewide poll.
Malden comes in at No. 21 after a thunderous start to the season, beating Winthrop 98-58 behind 44 points from sophomore Anthony Gilardi. The Golden Tornadoes' top three scoring options -- Rodney Morton, Terrence Maisonneuve and the aforementioned Gilardi -- are a quality trio that could challenge Cambridge for Greater Boston League supremacy. North Quincy comes in at No. 23 after nearly upsetting No. 18 Brockton, then knocking off Wareham to send them stumbling nine spots to No. 25.
Also of note is Wachusett, which had an impressive opening week on the defensive end. They beat Worcester North 63-12, then followed up with a stifling of Doherty, 52-49. The Mountaineers are another potential challenger to St. John's of Shrewsbury's stranglehold on Division 1 Central.
Making splashes:
The biggest movers this week were Cambridge (eight spots up to No. 15), Lowell (five spots up to No. 8) and Taunton (five spots up to No. 20), following impressive double-digit victories. In the first week, the three teams combined to go 5-0 with an average margin of victory of 28 points, highlighted Taunton's 85-41 drubbing of Canton, and Lowell's back-to-back blowouts over Haverhill (72-39) and Dracut (82-34). Cambridge also held both of its opponents to 43 points, meaning the teams allowed an average of 40 points per game or less in the opening week.
Top seven remains unchanged:
There were no changes to the top seven spots from their preseason designation. Defending Division 1 state champ Springfield Central retains its No. 1 positioning, though they went through some rough patches in wins over Agawam and Sci-Tech. Rounding out the top five are Central Catholic (2), BC High (3), New Mission (4) and St. John's of Shrewsbury (5). Mansfield (6) and Danvers (7) also retained their spots.
Here's how the poll breaks down this week by league affiliation:
Boston City League - 4
Merrimack Valley - 4
Big Three - 2
Catholic Conference - 2
Greater Boston - 2
Hockomock - 2
Bay State - 1
Central Mass. Conference - 1
Middlesex - 1
Mid-Wach A - 1
Northeastern - 1
Patriot - 1
South Coast - 1
South Shore - 1
Valley League - 1
October, 17, 2012
10/17/12
10:37
PM ET
Peabody remains No. 1 both nationally and in our latest
MIAA girls' soccer Top 20 poll
. The Franklin Panthers perfect season continue and has moved them up two spots to No. 3.
Medfield and Whitman-Hanson have done little wrong, but the dominant play of the Panthers means that draws are enough to drop a spot. Back-to-back draws dropped Duxbury a few spots behind still perfect Cardinal Spellman and Lincoln-Sudbury and unbeaten Dedham.
Oliver Ames and Concord-Carlisle remain in the top 20 despite losses. OA fell 1-0 to No. 6 Canton and all three of its defeats are to teams in the top 6. The Patriots lost 2-0 to Peabody and pushed the Tanners as much as anyone this season.
Bishop Feehan continue to be in and out of the rankings. The Shamrocks are replaced this week by Scituate, which beat North Quincy to take control of the Patriot League's Fisher Division.
There are several key match-ups this week to watch, led by No. 8 Nashoba facing No. 15 Algonquin in a central showdown on Thursday, No. 3 Franklin facing a streaking North Attleborough team on Friday, No. 7 Needham playing Winchester on Saturday, and No. 5 Whitman-Hanson traveling to No. 12 Duxbury on Monday.
May, 22, 2012
5/22/12
5:55
PM ET
The MIAA released its pairings for the boys' volleyball state tournament this afternoon. Haverhill (18-0) grabbed the top overall seed in the North, while North Quincy (14-0) took the South, Milford (18-0) in Central, and Chicopee Comp (17-1) in West.
To view the complete brackets,
CLICK HERE
.
Below are the seedings for each district:
NORTH
1. Haverhill (18-0); 2. Lawrence (17-3); 3. St. John's Prep (17-3); 4. Cambridge (16-3); 5. Latin Academy (15-4); 6. Lowell (11-6); 7. Westford (11-7); 8. Chelmsford (12-8); 9. Lexington (9-7); 10. Methuen (11-9); 11. Andover (12-10); 12. Gr. Lowell Tech. (10-10); 13. Lowell Catholic (10-10)
SOUTH
1. North Quincy (14-0); 2. Newton North (16-1); 3. Needham (16-4); 4. Barnstable (13-5); 5. Newton South (14-6); 6. Norwood (12-6); 7. Brockton (13-7); 8. Greater New Bedford (10-6); 9. BC High (10-6)
CENTRAL
1. Milford (18-0); 2. Lincoln-Sudbury (17-1); 3. Wachusett (15-3); 4. Valley Tech (13-3); 5. Xaverian (14-4); 6. Natick (12-4); 7. Worcester Tech (14-5); 8. Algonquin Reg. (14-6); 9. Marlborough (12-6); 10. Worcester North (12-6); 11. Keefe Tech (10-6); 12. Medfield (9-8); 13. Worcester South (9-8); 14. Burncoat (9-9)
WEST
1. Chicopee Comp (17-1); 2. Agawam (18-1); 3. Ludlow (13-5); 4. Westfield (12-6); 5. Putnam (15-4); 6. Athol (14-5); 7. Holyoke (12-5); 8. Sabis (11-6)
March, 12, 2012
3/12/12
4:19
AM ET
BOURNE, Mass. -- There aren't a lot of second chances in life, but the Franklin boys' ice hockey team assured themselves of a big one.

After losing in the Division 2 state championship game a year ago at the TD Garden, the Panthers assured themselves of another shot at the title with a 5-2 win over Mansfield Sunday at Gallo Ice Arena.

The top-seeded Panthers jumped out to a 3-0 lead and then held back a late Hornets charge, popping a pair of empty netters in the final seconds. Franklin is now 19-2-3 for the season and can't wait to try to secure their 20th victory next Sunday.

"I think that the kids that were there last year understood what it took to get here, and hopefully they now they understand what it takes to win that hockey game," said a pleased Franklin head coach Chris Spillane following his team's second straight Division 2 south title. "You don't want to end your season on a losing note. You want to be the team that wins the last hockey game."

A big reason that the Panthers were the last winning team in the south was that they were able to catch lightning in a bottle right out of the gate. Franklin scored twice in the first 5:53 of the game as they assaulted the Mansfield net with vigor.

Nick Bertoni opened the scoring with a pretty individual effort, wrapping one around from behind the goal and beating Rich Shipman to the far side post just 2:44 into the game. Three minutes later Franklin struck again. Ryan Garland used the defense as a screen and whistled an arrow past the keeper's right ear to give the Panthers a 2-0 advantage at 5:53.

"We got the first two goals and set the tone right there," Spillane said. "If we didn't get those first two goals I don't know where this game would have went because we were tired at the end."

Mansfield head coach Rick Anastos, whose team rallied back from a 3-1 deficit in the third period in the semifinals to beat North Quincy, said that the first period has been a bugaboo for the Hornets all season.

"You can't make mistakes. We turned the puck over, they scored. You just can't make mistakes against a good team like Franklin."

Each team popped one in the second period to keep it a 2-goal game going to the third. Franklin opened up a 3-0 lead at 5:44 on a pretty play by Adam Hall, who got a pass up the left wing from Nick Bertoni and put on burst of speed. He lifted a wrister from 8-feet out to the upper far corner.

Things were unraveling for the Hornets, but a good job of selling a penalty by Erik Foley led to a power play for Mansfield at 6:53. Four seconds later the Hornets were finally on the scoreboard as Brendan Murphy got the puck off the draw, slid from the left hashes to the slot and sneaked a wrister behind Mike Danadio.

Mansfield made it really interesting in the third, pulling to within one just 58 seconds into the third period. Foley, a very talented freshman, scored a goal-scorer's goal to cut the deficit to one as he flew up the right wing and sniped one inside the nearside corner on the top shelf.

The Hornets continued to get after for the rest of the period, but Franklin goalie Mike Donadio was up to the task. The sophomore made a number of big saves in the third. With 8 minutes remaining he got piece of a chip by Steve Folan from the doorstep. With just under three minutes to go Donadio gobbled up a backdoor tip by Cam Neary, who was set up brilliantly by Kevin Flynn from the left wing wall, to preserve the lead.

"I thought we might have a little magic left, it was close," Anastos said.

Mansfield pulled Shipman for the extra attacker with 80 seconds remaining. Franklin cleared the zone and could finally breathe a sigh of relief when Hall chipped one from the red line into the vacant goal to make it 4-2. With seven seconds left, Farnklin got another empty-net goal from Aidan Isberg, who hit the post and then buried his own rebound to make it 5-2.

Despite his team ending the night on the wrong end of the scoreboard, Anastos was quite upbeat about his club, one that featured 7 freshman playing roles on it. "I couldn't be any prouder of the way these kids played and battled," he said. "They did a great job. I mean, they're playing Franklin and Franklin is such a great team."
March, 10, 2012
3/10/12
12:39
AM ET
BOURNE, Mass. -- Freshman Erik Foley scored the three biggest goals of his young high school career to help lead his Mansfield Hornets to a thrilling 5-3 come-from-behind win over North Quincy (13-6-4) Friday night in the MIAA Division II south semifinals at Gallo Ice Arena in Bourne.

Mansfield (15-4-3), which scored three times over the final 3:26 of the game to erase a 3-2 deficit, stunned the Raiders to move on to the sectional championship game where they will get one last shot to defeat Hockomock League rival Franklin, a team that they have a loss and a tie against so far this year.

The deck seemed stacked against Mansfield in the third period, but the Hornets found a way to turn a losing hand into a winning one with some unorthodox happenings late. After killing off a pair of mid-period penalties, the Hornets netted the tying goal on a crazy play from behind the North Quincy net as Foley – who was set up behind the cage – threw one at the cage that hit off of James Dunn's pads and ricocheted over the goal line to knot things up. The goal came just seconds after the North Quincy goalie had robbed Bryan Hurley with a superb lunging glove snare to keep his team ahead by one.

Foley's fluky go-ahead goal led to the Raiders' unraveling.

"When we tied the game up, [Dunn] was really dejected. You could see it. I felt bad for him," Mansfield head coach Rick Anastos said. "After that they called a timeout and we told our kids to just throw it at the net."

North Quincy head coach Matt Gibbons said that the momentum certainly had turned against his team when the Hornets knotted things up. "Once you see that go in, the way that they can score goals, when they score that one it's a back-breaker."

The true back-breaker was yet to come, though, and it was one that drew some controversy. With just 82 seconds to go in regulation senior co-captain Steve Folan set up shop south of the hash marks and redirected a shot by Jason Collins, who flung it towards the net from the left wing wall. Folan's stick seemed to be a bit high, but the referees conferred and allowed the goal, putting Mansfield up 4-3.

While the referees' talked things over the Red Raiders' faithful that packed the stands prayed that the call would be reversed and jeered the decision vehemently.

Gibbons said that he deferred to the referees' decision, noting that they had a better view of the play than he did. "I thought it [was a high stick], but there's no point [arguing]. It was a goal," he said.

North pulled Dunn for an extra attacker with about 50 seconds left and was able to get the puck down low, but Rich Shipman held the fort. With 25 seconds to go the Raiders tried to work the blue line but Foley read a pass perfectly that was intended for the high slot, skated onto it and deposited it into the empty goal from just inside the red line to put an exclamation mark on his team's riotous reversal of fortune.

"I felt like they were back on their heels (in the third period) and it was our goal to take it to them," Anastos said.

North Quincy was the team taking it to Mansfield early in the game. North Quincy scored the game's first two goals over a span of 15 seconds late in the first to seemingly take control. Nick McGaughey opened the scoring at 13:36 when he walked off the left wing wall and beat Shipman to the near side. NQ won the ensuing draw, took it down and got a shot off that Shipman deflected, but the keeper was unable to stop the follow-up by Andrew Currie.

Mansfield trimmed the lead to 2-1 early in the second when Kevin Flynn flew down the middle of the ice, but lost the handle as he was about to snap a shot off. Rather than panic, he collected the puck and fed trailer Brendan Murphy, who snapped one off to get his team on the board just 72 seconds into the middle frame.

North Quincy got that one right back on a shot from between the hash marks by Pat Verhault. With chaos all around him, Shipman went down early and Verhault waited an extra heartbeat before sniping one stick side.

Foley rallied his team to within one with 1:02 to go in the third. With the Hornets on a power play, Collins made a brilliant diagonal pass from the top of the right wing circle to a wide-open Foley on the bottom of the left wing circle. Foley quickly let one rip to the wide-open near side to make it a one-goal game heading to the third.

That set up the crazy comeback in the third by the Hornets, who will now point their stingers in the direction of the Franklin, Saturday at 5:45 p.m. back at Gallo.

Franklin advanced in the early game with a 4-1 win over another Hockomock rival, Oliver Ames.

Anastos said that he could not have asked for a better foe for his team to face as the hive feels like it has unfinished business.

"We owe them one big time," the coach said. "I'm so glad that we get a chance to get them. They're a great team, it's going to be tough, but I'm so happy we have that opportunity."