Boston High School:

North Yarmouth
June, 25, 2012
6/25/12
3:17
PM ET
By
Gary Hawkins
| ESPNBoston.com
Longtime Bangor High School boys' basketball coach Roger Reed reluctantly resigned recently after being informed by the administration to make a choice between coaching and serving in the legislature.

Leonardi Reed, 73, submitted his resignation a day before winning the Republican primary to represent House District 23 in the Maine Legislature. Reed will face Democrat Richard Thomas in the Nov. 6 general election for the right to fill the seat formerly held by Rep. David E. Richardson, who is also a Republican.
Reed, who retired this spring after a 47-year career as a teacher, hoped to continue coaching the Rams. In 27 seasons he led them to eight Class A state championships. In a career than began at Bangor Christian Academy, Reed has a career record of 571-201, a .740 winning percentage. After going 7-11 in his first year at Bangor, Reed's teams posted 26 straight winning season including a 14-6 mark last winter. The Rams won their eighth state title under Reed in 2011.
Reed wanted to continue coaching next season but was told Bangor principal Paul Butler that demands of time and travel to Augusta would be too great to do both jobs. The Legislature is in regular session during the winter months.
"Somewhere and sometime ago, it was decided that I wouldn't be allowed to do both," Red told the
Bangor Daily News
. "I really don't think that it has anything to do with logistics. I was assured by all who encouraged me to run that I would have no reason to give up coaching."
Butler, who played for Reed in the late 1980s, said he asked several people if someone could serve in both capacities and do justice to both jobs. He determined than it wasn't "It was an honest, good-faith decision. I think Bangor High School athletes and our program deserve 100 percent of a person's attention, and I just felt that it was untenable for somebody to do both," he told the BDN.
"Once I made the decision, I waited until after the season and asked Roger to choose us," Butler said. "I wanted, and offered, to have Roger back as coach and gave him until June to make that decision. I told him the only time I ever rooted against him was going into the primary."
WESSEL WINS JOHN WILKIN AWARD
Scarborough High School senior Ben Wessel won the Dr. John Winkin Award, presented annually to the state's top baseball player at the senior all-star game. Wessel sustained a torn ulnar collateral ligament which prevented him from pitching the Red Storm in the second half of the season but he returned to the lineup as a designated hitter and helped the team to the Western Maine Class A title.
Wessel led the Southern Maine Activities Association in batting average (.486), slugging (.943), on-base percentage (.600), RBI (21), triples (4) and home runs (2). As a pitcher the right-hander went 6-0 with a 0.62 earned run average and struck out 45 batters in 34 innings.
He expects to undergo Tommy John surgery in July and will attend the University of Rhode Island this fall.
GEAUMONT NAMES MISS MAINE SOFTBALL
Thornton Academy senior Julia Geaumont could have won the Miss Maine Softball Award as a pitcher or a hitter. She excelled at both. Geaumont got the good news at last week's senior all-star games. The award is presented annually by the Maine High School Softball Coaches Association.
This season Geaumont went 14-2 on the mound with an 0.84 earned run average and 136 strikeouts. At the plate, she batted .679 with 10 home runs and 38 RBI. Geaumont, who will attend Bowdoin College next fall, was also named Gatorade and Southern Maine Activities Association player of the year.
SANFORD NAMES NEW MASCOT
Soon after its boys track and field team won the Class A state championship, Sanford High School announced its new mascot.
Superintendent David Theoharides reported the new mascot will be the Spartans. Students in grades seven through 12 voted on four new nicknames — Spartans, Pride, Stampede and Cardinals. The Spartans claimed 587 votes to 423 for Pride, 202 for Stampede and 113 for Cardinals. The new mascot will go into effect starting with the 2012-2013 school year.
Sanford's school committee voted 4-1 last month to retire the Redskins mascot, the last high school in the state with such a nickname.
STATE CHAMPIONSHIPS
Baseball and softball championships in four classes were decided on June 16 at venues in Bangor and Windham. Eastern Maine teams swept the softball championships while East and West split for the baseball titles.
Class A Baseball
Messalonskee 6, Scarborough 3: The Eagles took advantage of seven errors by the Red Storm to win their first Class A title. All six of Messalonskee's runs were unearned. The Eagles turned two double plays including a memorable one in the bottom of the fifth when shortstop Sam Dexter dove for a ball in the hole, relayed it to second to younger brother Jake who threw to first. Messalonskee finished at 15-5, winning its last 10 games.
Class B Baseball
Falmouth 2, Foxcroft 0: Ninth-place hitter Ryan Conley ripped a two-run double in the second inning to lead the Yachtsmen to their first state title since 1998 and their first in Class B. Starter Thomas Fortier pitched a complete game, holding the Ponies to two hits while striking out six. Falmouth finished at 17-3.
Class C Baseball
Dirigo 6, Calais 1: The Cougars took an early lead and senior Ben Holmes preserved it to give the Cougars their second title in three years. Dirigo took a 4-0 lead in the bottom of the second, the big hit a two-run double from Caleb Turner. Holmes finished with eight strikeouts in running his season record to 12-1. Dirigo finished at 19-1 overall while three-time reigning Eastern champion Calais closed at 18-2.
Class D Baseball
Bangor Christian 7, Buckfield 3: Sophomore Cody Collins drove in four runs on a pair of singles and a double to lead the Patriots to their first baseball title. The Eastern Maine champs scored five runs in the first inning en route to the win. They finished at 19-2 while Buckfield closed at 17-2.
Class A Softball
Cony 2, South Portland 0: Junior Sonja Morse pitched a one hitter and struck out 10 to lead the Rams to their first state title since 1983. Morse lost her no-hitter with two outs in the bottom of the seventh inning. She also issued a walk but both runners were picked off as she faced the minimum number of batters. Cecelia Fuller singled home both Cony runs in the fifth inning.
Erin Bogdanovich allowed three hits and struck out 13 for South Portland (17-3). Cony finished at 20-0.
Class B Softball
Old Town 4, Fryeburg 1: Junior Kendra Hayward struck out 15 and contributed a two-run double to lead the Coyotes to their first state championship. Hayward allowed three runs in four Eastern Maine games while striking out 38 batters in 28 innings for fifth-seeded Old Town. The Coyotes finished at 17-4 while defending Class B champion Fryeburg closed at 18-2.
Class C Softball
Bucksport 2, Dirigo 0: Cassidy Adams pitched a two-hitter to lead the Golden Bucks to their first Class C title. The Bucks, who dropped down a class this season, reached the Class B title game last year before losing to Fryeburg. They last won a Class B title in 2006 and have gone five for eight in championship games. The win completed a perfect season at 20-0.
Class D Softball
Penobscot Valley 4, Richmond 2: Jenna Hope's two-run single in the third inning capped a three-run rally to lead the Howlers to their first state championship. Winning pitcher Kayla Dube allowed four hits, including three bunt singles, while striking out 14. Penobscot Valley finished at 19-1, while Richmond, playing in its third straight state title game, finished at 16-2.
LACROSSE
Class A Boys
Scarborough 9, Cheverus 4: Ryan Pallotta scored five goals as the Red Storm rolled to its third straight state championship. Scarborough finished at 14-1.
Class B Boys
Falmouth 7, North Yarmouth 4: Charlie Fay scored three goals to lead the yachtsmen to their second straight state championship. It was Falmouth's third win this season against North Yarmouth and also the second straight time the Yachtsmen have beaten the Panthers in the state final.
Class A Girls
Scarborough 11, Brunswick 9: Mary Scott scored four goals to lead the Red Storm to their third consecutive state championship. Scarborough (15-1) also defeated Brunswick (14-2) in last year's state final by a score of 13-11.
Waynflete 16, Freeport 5: Martha Veroneau had four goals and five assists to lead the Flyers, who were playing in their fourth straight championship game. Sadie Cole added five goals and Walker Foehl scored four for Waynflete (14-1) which rallied for wins against Falmouth and Cape Elizabeth in the regional tournament.
November, 10, 2011
11/10/11
5:40
PM ET
By
Gary Hawkins
| ESPNBoston.com
Madison Memorial High School senior Matt McClintock recently won his third Class C cross country title while posting the fastest time in the state in any class. McClintock also won the mid-season Festival of Champions which featured over 600 runners from 60 schools in and out of state. Last spring, he won the 1,600 and 3,200 meter runs at the state track and field meet. He's competing this weekend in the New England meet in North Scituate, R.I. He recently answered questions about his season and running career.
Q: How did you get started running?

A: "I started running in 5th grade on the Madison Junior High XC team. I went to Athens Elementary so what would happen is Athens would practice on it's own and then we would just join the Madison team at meets. Fifth grade was the first year that I could compete in any "real" school sports, and I don't really know what drew me to it, but I decided to try it, and I guess my first race went well. I finished 13th. All my coaches were really happy with it and I guess I've been running ever since."
Q: Who have been your greatest influences?
A: "First and foremost would definitely be my coaches. Mrs. Moulton and Mr. Harper in junior high and Bob and Brandon Hagopian in high school. The person that really inspired me and drove me to get better was definitely coach Bob Hagopian. He's been with me since freshman year, through my wins and losses, and has always found a way to make me better."
Q: At what point did you feel you made a breakthrough in your high school career?
[+] Enlarge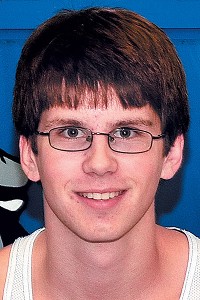 Gary Matt McClintock
A: "Without a doubt it was after I lost the conference championship last year. I got to cocky and that race showed me that I wasn't invincible, that I wasn't going to win just because my name was Matt McClintock, but because I wanted it more than the guy in front, beside, or behind me. That race made me
love
running, because I then had something to prove and something to work for. It re-instilled that love for competition in me. I will remember that race for the rest of my life, and I'm definitely a better runner because of it."
Q: What do you consider your greatest achievements in track and cross country?
A: "Wow, I guess in cross country it would be my three state championships. Since fifth grade my dream was to win a state championship in high school. To have three cross country titles and two titles on the track is just unbelievable to me. In track, my greatest achievement was definitely breaking the Madison High School records for 1,600 and 3,200 meters, probably more so the 3,200 because I was the first Madison kid in history to go under 10 minutes in that event."
Q: Which sport do you prefer?
A: "It really depends on the season. During cross country my favorite sport is cross country. During track it's track. I just love to run and race whether it's on the road, a track, or a trail."
Q: What goals did you set this season and did you reach them?
A: "My first goal for the season was to go undefeated in Maine and three-peat the Class C State Championship. I'm proud to say I met this goal. My next goal was to go under 15 minutes for the 5k I haven't met this goal yet as we've never really had a good day for a championship race, but Saturday at the New England Championships looks to be a good day, and it's a very fast course so we'll see what I can do there.
Q: What is your goal for this week's New England meet?
A: "My goal here is to win the title, and to go under 15 minutes for the 5K. As I said, before, it's a fast course, and there will be some incredibly strong competition to push me there."
Q: You won several races handily this season. Is it tough competing when you're not pushed?
A: "I guess that would depend on your definition of competing. A lot of people look at competing as winning. I prefer to look at it in the manner of Steve Prefontaine. If I'm going to win, I want to know that I've done my best. So yes, it's difficult to push myself to fast times, but I always just try to stay focused and not worry about the pain or where my competition is and just get to the finish line as fast as possible."
Q: What do you enjoy most about running?
A: "I love the people that we meet. The type of people you meet at cross country or track events is totally different then you will see in any other sport. At the state meet, I was getting encouraged to reach my sub 16 goal by the coaches and family and teammates of people that I was directly competing against. I'm confident to say that you will not find nicer and more supportive fans at any other high school sports competition."
Q: Do you have any running role models?
A: "I have several running idols, the most prominent would be Steve Prefontaine. I try to live up to the guts and determination that he always showed as a runner. His quote "To give anything less than your best is to sacrifice the gift" are the words I live by. Another two are Haile Gebrselassie, and Kenenisa Bekele. Both are Ethiopian runners. Gebrselassie is a two-time gold medalist and world record holder. Bekele is the two-time defending Olympic 10,000 meter champion and holds World Records now."
Q: Where will you attend college and why did you choose that particular school?
A: "I will be running for Lock Haven University of Pennsylvania next year. I felt very comfortable around the campus and really connected well with Coach Aaron Russell and the entire team at Lock Haven."
Q: What other sports or activities do you enjoy
?
A: "I enjoy all sports, but running is my one and only true passion."
Q: What is your training regimen in and out of the season?
A: "Sorry, but I don't like to discuss what my training is, at least not until after the outdoor track season."
Q: Where do you need to improve?
A: "I definitely need to improve on my kicking speed. In order to really be competitive in college I need to be able to win a race in the last 200 Meters if necessary. I feel that as my speed continues to develop in conjunction with my continued endurance training all of my events will improve drastically."
October, 26, 2011
10/26/11
4:04
PM ET
By
Gary Hawkins
| ESPNBoston.com
Madison Memorial High School senior Seth Sweet has established himself as the top high school golfer in the state.

Sweet recently won his second straight Class C state individudal title, shooting a 2-under par 70, the lowest in any class. Last summer he was one of two Maine golfers to qualify for the U.S. Junior Amateur. He also finished fourth in the Maine Amateur last year and, when he was 12, he was the youngest qualifier ever for that tournament. He recently answered questions about himself and the game he loves.
Q: How did you get started in golf?
A: "My dad introduced me into the game when I was 2 years old. He brought me out to a little par three course with a plastic set of Little Tikes golf clubs. I didn't play that often but he brought me to the golf course just enough so I could really get a liking for this game. After a while I knew there was something about this game that was special and I knew it would be able to take me places."
Q: When did you first get hooked on the game?

SWEET
A: "I first became serious around the age of 10. I played my first tournament when I was 7 but did not realize what it took to really become an elite golfer. I started playing several tournaments when I turned 10, and began to practice a lot harder. I tried to take my game to the next level and set different levels of goals that I needed to achieve."
Q: Who have been your greatest influences in the game?
A: "My dad has definitely been the biggest influence in my game. He taught me everything I needed to know to become who I am today. He made it so I could play in every tournament I wanted to play in, and would do everything for me. My mother has also been there supporting me and always telling me that if I want it I can get it. She is always there to watch me play tournaments, and I couldn't do it without them. My brother Zack also has been there to push me as he is a good golfer and always taught me how to act, as well as made me the best I could ever be. My swing coach has also been able to bring me to the tip top in my game and has taught me how to play this game like the pros.
Q: What do you consider your greatest accomplishment to date?
A: "I believe my greatest accomplishment has been making the U.S. Junior Amateur in Bremerton, Washington where I played two great days to make a playoff to make the cut for match play. Unfortunately, I missed the playoff, but was the proudest to place 55th best junior in the nation. I may not have met my goal, but was very pleased with how I played."
Q: How often do you play and practice?
A: "I play every day and practice every day. In order to be the best you have to have the club in your hand acting like it is your lifeline."
Q: What do you work on?
A: "Lately I work on the short game because I am able to hit the ball on the green, but where I am going to save strokes is making the putts for birdies. I will also work on hitting the ball in different shapes, I usually hit a draw but I understand that I need to be able to hit the cut to be one of the best as well. I believe that short game is where the pros make it look easy and win the tournaments."
Q: Where will you attend school next year?
A: "I have recently just verbally committed to Old Dominion University in Norfolk, Virginia."
Q: How did this come about?
A: "I had a friend from Rhode Island who is a freshman there and had told the coach about me. He must have put in a good word for me because the next week I got a call from the coach and it eventually led to an official visit offer. I visited the campus and fell in love with it and
fell in love with the golf facilities this school has to offer."
Q: What are your short and long-term goals in the game?
A: "My short term goal for golf is to really become a better player and win my state amateur, and qualify for the U.S. Junior Amateur again. My long term goals are to become a golf professional and play on the PGA tour, I do realize this will be a tough task but I am ready to make a run for it. I also want to be in a scoring spot all four years in college and be a key asset in our successful team.
Q: What are your strengths and weaknesses?
A: "My strengths are definitely being able to drive the ball, chip the ball and putt the ball. I hit the ball about 290 yards down the middle and my short game has grown incredibly and improved greatly. I also am able to keep a great state of mind while playing golf which is to my advantage. I believe my weakness is paying too much attention to other people, I shouldn't watch my competitors, but I do and get caught up in their game a little too much."
Q: Who is your favorite pro golfer and why?
A: "My favorite player used to be Tiger Woods because I idolized his work ethic, he won his tournaments by out-working his competitors and there was no question that he did every week. I also loved watching how he worked on the golf course he made himself expect the best of the competitors so he would not be surprised when they hit a good shot. My new favorite player is Bubba Watson, I enjoy how he hits the ball so long and is changing the game with his stride in great length. I also like how he has fun while he is playing and is very personable while he is playing. It is truly an awesome thing for him to be able to enjoy the game the way he does."
Q: What other activities or sports do you enjoy?

A: "I enjoy playing basketball with a passion; it is a very fun game for me and keeps me in shape during my long winter up in Maine. I enjoy running, and weight lifting as it keeps me in shape and I enjoy doing that every day."
Q: What are your plans for the summer before college?
A: "I plan on playing in 5-10 golf tournaments and practice my short game and the little details golf demands you to do. I am going to play in the big tournaments in the state and going to qualify for some USGA events. I just want to keep my competitive edge and make my game in fine tune for the fall college season."
September, 14, 2011
9/14/11
2:55
PM ET
By
Gary Hawkins
| ESPNBoston.com
The first two weeks of the Maine high school football season produced a number of surprises.

Here's a rundown of some of the highlights in each of the three classes:
Class A
Cheverus keeps rolling along despite the loss of several players from last year's state championship team. Senior Cam Olson stepped in at quarterback after playing behind Fitzpatrick Trophy winner Peter Gwilym for two years and last week threw three touchdown passes. Spencer Cooke, who scored four TDs in the state game last fall, has emerged as one of the state's top running backs. The Stags are 2-0 and have outscored opponents 94-21.
Lawrence keeps rolling along in Class A's Pine Tree Conference. The Bulldogs traveled to Bangor and knocked off the Rams 32-25 last Saturday night to go to 2-0. Shaun Carroll led the way with 224 rushing yards and four touchdowns, Lawrence has won its last 11 regular season games, dating back to a 2009 loss to Bangor. Prior to that, the Bulldogs had won 36 regular season games in a row. They are 8-1 against Bangor since 2005.
Many high school handicappers picked Bonny Eagle and Windham among the teams to beat in North Division of the Southern Maine Activities Association (SMAA), but both teams are winless after two weeks. Windham fell 28-20 to a strong Deering team last week while Bonny Eagle fell, 31-28, to upstart Massabesic. Lewiston, one of the PTC favorites, dropped to 1-1, losing 48-27 to Messalonskee, another team that has emerged as a contender. Along with Massabesic, Sanford is the surprise of the SMAA South. Last week, the Redskins knocked off a good Scarborough team 23-12 for one of its biggest wins in years.
Class B
This class is the most competitive in the state at least at the top where four teams in each of the two divisions are unbeaten. Included in those ranks are the two teams who met in the state final last fall, Mountain Valley and Leavitt. Mountain Valley has outscored opponents 81-23 so far while Leavitt, led by quarterback and linebacker Jordan Hersom, holds an 83-12 advantage over opponents.
Mt. Blue may be the most dangerous contender in the class. The Cougars dropped down from several years in Class A this season and in two games have outscored the opposition 87-6. Falmouth, Wells and Fryeburg are also 2-0 as are Waterville and Gardiner. The latter two teams meet Friday night in Gardiner. Waterville must find a way to stop running back Alonzo Connor who is looking to eclipse his total of 31 touchdowns form last year. In two games so far, Connor has scored 10 touchdowns.
Falmouth, which has outscored opponents 98-7 plays this week against Marshwood.
Class C
Foxcroft Academy and Yarmouth are the talk of Class C so far. They play in different divisions and don't meet in the regular season, but could well square off for a state championship in November. Yarmouth is the defending state champ and so far the Clippers have scored 92 points and allowed seven. Foxcroft has been equally impressive outscoring opponents 108-8. There are contenders in each division. Bucksport, Orono and John Bapst are all 2-0 in the Little Ten Conference headed by Foxcroft while Freeport and Lisbon are unbeaten the Campbell Conference South along with Yarmouth.
Maranacook and Winslow are 2-0 in the Campbell's North division and play this week in Winslow. The Black Raiders dropped down to Class C this season and are cruising so far, but they'll face a big test in Maranacook and 6-foot-4, 210-pound running back Luke Emery.
April, 6, 2011
4/06/11
10:17
PM ET
By
Gary Hawkins
| ESPNBoston.com
A snowstorm that dumped up to 12 inches of snow on many areas of the state last Friday set baseball teams back a week or 10 days, but indoor practices continue and many teams in southern Maine should be outside this weekend.

The season gets under way at the end of next week.
Here's a look at some of the top teams in all four classes:
CLASS A
Westbrook: The Blue Blazes return several players from the team that was upset by Biddeford in the Western Maine final last season. Many of the players on this year's team also played on a Little league World Series team five years ago. Among them is left-handed pitcher Scott Heath who will play at the University of Maine next season.
Sean Murphy, a 6-foot-5 right-hander, is also back and apparently over shoulder problems that limited his innings last season. He has verbally committed to play at St. John's next season.
Deering: The Rams return seven seniors from last year's playoff team, including center fielder Sam Balzano and pitcher Jamie Ross who was also the school's quarterback. The Rams, who last won a title in 2009, have won eight out of the last 12 state championships. Former University of Maine standout and minor leaguer Mark Sutton takes over as coach.
Bangor: The Rams went undefeated during the regular season last spring before being upset by Brewer in the East A semifinals. Despite key graduation losses they return a lot of pitching, led by lefties Joe Stanevicz (8-0, 2.21 ERA) and Curtis Worcester. Catcher Dylan Morris, who hit .475 last season, also returns. Bangor also features a number of players who played for the team that reached the Senior League World Series championship game last summer.