Boston High School:

Northeastern Huskies
May, 27, 2014
May 27
12:35
PM ET
St. John's Prep senior shortstop Max Burt has verbally committed to Northeastern University for next season,
he announced this morning on his Twitter account
.
Burt, who hits out of the No. 2 spot in the Eagles' lineup, was named a Catholic Conference All-Star after hitting .323 and stealing 11 bases, to go along with seven RBI. According to Eagles head coach Dan Letarte, Burt has committed one error all spring. Burt was also named to ESPN Boston's All-State Team for basketball this past winter.
Villanova, William & Mary and St. Anselm also expressed varying degrees of interest in Burt. Initially, Burt planned on doing a post-graduate season at a prep school, but he will now enroll at NU for the fall.
Burt is the second Eagle in the 2014 class to commit to Northeastern for baseball, joining catcher Mike Geaslen. When he arrives at NU in the fall, he will be reunited with former Prep teammates Mike Driscoll and Dustin Hunt. He is also the fifth Eagle over the last calendar year to commit to a Division 1 program, joining Geaslen, senior lefthander Evan Roberts (Davidson), junior outfielder Keith Leavitt (Penn State) and junior infielder Jacob Yish (Boston College).
January, 16, 2014
Jan 16
1:31
PM ET
Algonquin High junior third baseman Ryan Solomon verbally committed to Northeastern University last night, Tomahawks head coach Mike Mocerino confirmed to ESPNBoston.com this morning.
The news was first reported by Chris Cotillo of SB Nation.
Sources: Jr. Ryan Solomon (Algonquin Regional HS, Northboro MA) verbally commits to Northeastern U for baseball. #THawkNation

— Chris Cotillo (@ChrisCotillo) January 16, 2014
The 6-foot-1, 190-pound Solomon, a Southborough resident, batted .391 with 19 RBI for the Tomahawks, who reached the MIAA Division 1 Central Quarterfinals in legendary head coach Neil Burke's final season.
August, 20, 2013
8/20/13
10:39
PM ET
By
Brendan Hall
| ESPNBoston.com
St. John's Prep senior catcher Mike Geaslen has verbally committed to Northeastern University for the 2014-15 school year, he announced today on his Twitter account.
I have now verbally committed to play baseball at Northeastern University

— /\/\ 1 k ¬ (@Darealbeave) August 20, 2013
The 6-foot-3 Geaslen, an Andover resident, was an integral part of an Eagles squad that captured the Catholic Conference title outright, earned the top overall seed in Division 1 North of the MIAA Tournament, and reached the sectional finals, where they lost to underdog Billerica in a surprise upset. This summer, Geaslen has recorded a pop time as fast at 1.9 seconds.
"I got a very good opportunity and I took it," Geaslen said. "Northeastern has great athletics and academics. I loved everything about it."
Geaslen's commitment to the Huskies has some familial feel to it, too. His sister, Tameka, is currently a redshirt-sophomore goalkeeper on Northeastern's field hockey squad.
February, 1, 2012
2/01/12
1:08
PM ET
By
Brendan Hall
| ESPNBoston.com
WEST ROXBURY, Mass. -- Catholic Memorial running back/defensive back Donovan Henry signed a National Letter of Intent this morning to Northeastern University, for track and field, less than a week after decommitting from Boston College's football program. Henry spoke to ESPNBoston.com following his signing, to discuss the switch.

Deciding factors in his switch: "BC was a great opportunity, great school. But Northeastern I thought was a great fit for me, running track, which I've been doing really well in lately. So, it was basically the school academically and the high level of Division 1 track that interested me."

Was it tough making the switch? "Yes, definitely tough. It would be tough either way, dropping football or track, but I just wanted to do one, and I decided to do track...I didn't want to compromise my time, I just wanted to focus on one."

On the role BC envisioned for him: "They envisioned me as a boundary corner. They really liked my footwork in camp, so they wanted to bring me in and see how I did in camp, and how I could help them out."

Other track programs he considered: "No, Northeastern was the main one I was considering. They're one of the top track programs in the Northeast, where a lot of track athletes around the area go."

Which events he will run: "I'll be running pretty much everything from 400 (meters) down, so 400, 200 and on...I really look forward to it."

Oh his potential of redshirting at BC: "They told me they'd see how I do in camp, and they'd make the decision based on that."
September, 8, 2011
9/08/11
7:21
PM ET
Ross Olsson, who played his junior season at Billerica Memorial last year, has committed to playing college hockey at Northeastern, joining the Huskies' class of 2013, his father told ESPN Boston on Thursday.

The 6-foot-4, 195-pound power forward will join Williston-Northampton's squad this upcoming season. Olsson totaled 18 goals and 25 assists for 43 points for Mike Mastullo's Indians last season.
August, 28, 2011
8/28/11
10:27
AM ET
By
Brendan Hall
| ESPNBoston.com
Newton South senior infielder John Jennings has verbally committed to UMass for the 2012-13 school year, head coach Ron Jordan said this morning in an email to ESPNBoston.com.

A handful of Division 1 schools inquired for Jennings' services, but according to Jordan it came down to the Minutemen or Northeastern University. Ultimately, UMass was the better fit as Jennings -- also a highly-rated placekicker -- will additionally attempt to walk-on to the football team.

"Coach [Mike] Stone likes the way John swings the bat and also his versatility to play multiple positions in the field, which will give him a chance to play right away if he can produce offensively." Jordan wrote in the email. "He is a class act from a class family who deserves the opportunity to play division one baseball. Nobody works harder, and the hard work has paid off."

Jennings has been a Dual County League all-star the past two seasons, and hit a mammoth home run in last years DCL-MVC All-Star Game. He will be a three-year starter when the Lions open their season next spring, and is a career .385 hitter who hasn't committed an error in two seasons (out of 215 chances). Earlier this summer, Jennings went down to Stetson University for a National Kicking Service camp, and was projected as a Division 1 FBS or FCS kicking prospect.
July, 27, 2011
7/27/11
6:08
PM ET
By
Brendan Hall
| ESPNBoston.com
Former Oakmont Regional and UMass running back John Griffin has signed with the Cincinnati Bengals, and will compete for a roster spot when the team opens training camp in Georgetown, Ky. on Saturday.

Griffin was an All-CAA first team selection at Northeastern University back in 2009, before the school dropped the program. He transferred to UMass with one year of eligibility and ranked second on the team in rushing (168 carries, 843 yards, 5 TD) to Leominster's own Jonathan Hernandez.

"I felt good," Griffin told the Worcester Telegram & Gazette. "I'm just excited to have another place to go and try to keep playing."

His career at Oakmont is a unique story. Originally from Texas, where his father played for the Longhorns, Griffin moved to Westminster prior to his freshman year and made a name for himself in track and field, setting the school record in the 100-meter dash and also winning a state championship in the event. Griffin came out for the football team as a senior in 2006, after dabbling in the junior varsity as a freshman, and promptly shattered the Spartans' single-season records in total points scored and touchdowns (25). The Spartans went on to beat Frontier Regional in the Division 3 Super Bowl for their first Super Bowl title since 1984.

Griffin is the first Oakmont grad in three decades to be invited to an NFL training camp. Shawn Halloran, who backed up Doug Flutie before quarterbacking Boston College to victory in the 1985 Hall of Fame Bowl, made three appearances for the St. Louis Cardinals in the strike-shortened 1987 season.
July, 20, 2011
7/20/11
3:46
PM ET
On his recruiting blog today, ESPN's Adam Finkelstein has updates on the recruitment of some of the northeast's top prospects,
including several New Englanders
:
Ethan O'Day, PF (Mansfield, Conn./Northfield Mount Hermon)
He has had to battle a sprained ankle but still holds offers from St. Joseph's, Vermont, Boston University, Holy Cross, Hofstra, American and Lafayette according to NMH coach John Carroll. Davidson is expected to follow him early in the second half of the month as well.

Jake Layman, SF (Wrentham, Mass./King Phillip)
He has been somewhat of a hidden gem but that's not going to hold true for much longer. Layman now claims offers from Maryland, Notre Dame and Providence with a variety of other schools apparently ready to follow suit.

Jaylen Brantley, PG (Springfield, Mass./Wilbraham & Monson)
Layman's BABC teammate is one of the Northeast's hardest players to evaluate. In one sense, his lack of size is bound to catch up with him before too long, but you simply can't ignore his production against the highest levels of competition. Brantley has reportedly heard from Boston College, Virginia, Louisville, Florida, DePaul and Northeastern.

Jarred Reuter, PF (Rochester, Mass./St. Mark's)
The 2014 big man has been a poor man's Tyler Hansbrough for the New England Playaz this summer. He claimed his first high-major offer from Indiana at the Hoosiers Elite Camp in June and has added invitations from St. John's and Rutgers so far this month.
For more recruiting updates on New England's top high school basketball talent, be sure to check out
Finkelstein's ESPN blog
as well as his
New England Recruiting Report
.
July, 19, 2011
7/19/11
6:45
PM ET
By
Brendan Hall
| ESPNBoston.com
Who says you can't do big things from a small school?
Even at the height of the Greater Boston League's football dominance across the state in the 90's and early 2000's, you'd never put Arlington High and the term "powerhouse" in the same sentence. Yet Liam Ezekiel not only carved out a legacy to match two generations before him, but earned a scholarship to the University of West Virginia as a fullback. He quickly transferred back home to the now-defunct Northeastern University program, where he started nearly every game at middle linebacker and was a three-time All-American.
After going uncalled in the 2005 NFL Draft, he managed to fight his way onto the Buffalo Bills roster, making the final cut and staying there for two seasons before embarking on a career in the Arena Football League and United Football League. He most recently played with the Sacramento Mountain Lions of the UFL last fall.
Ezekiel is unsure about plans for this upcoming season, but has kept doors open. In the meantime, he's helping out this summer with Football University, instructing linebackers at camps around the Northeast. He caught up with ESPNBoston.com after one of these camps to discuss his playing days.
[+] Enlarge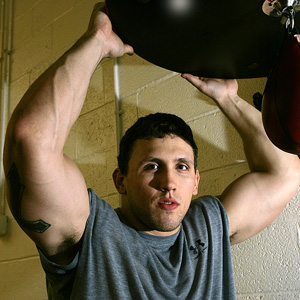 AP Photo/Elise AmendolaLiam Ezekiel's football journey has taken him from Arlington High to the Buffalo Bills to the Sacramento Mountain Lions of the UFL.
Q: When did you first start playing football?
A:
"When I was 10. I played Pop Warner, and then I was too big. I was always playing with kids two or three years older than I was, and then I exceeded the weight limit, and I played a lot of hockey too, so for a couple of years all I did was play hockey, no football. I wanna say when I was prob 12-13 no play football at all. I went to CM [Catholic Memorial] in seventh and eighth grade, eighth grade I was on the freshman team, then at Arlington High I started all four years of varsity at Arlington kinda. As a freshman play against 18-year-olds on the varsity, it helped that I was used to playing older competition."
Q: You hear sometimes in other sports about how skating helps a player's running stride. Did that help you at all in football?
A:
"I don't know, skating is all about being able to move your legs laterally to create forward motion, and I've always had great lateral movement. At the [NFL] combine I ran a 4.3 shuttle, which is as fast as most NFL corners run. It helps have to have a low center of gravity when you skate, and you have to have a lot of power to move laterally on the ice, so could it help me at linebacker? Yeah, probably."
Q: Who were the players you followed growing up?
A:
"My favorite player was Dick Butkus. I was always an old school type of player. I loved the Giants, I loved watching Lawrence Taylor play. I loved the Lions for some reason too, watching Stephen Boyd and Chris Spielman at linebacker. Don Blackmon played for the Patriots, and then I played for him in Buffalo, so that was kinda cool."
Q: Looking back at it, what was that like the first time you saw Don Blackmon as a coach?
A:
"I didn't recognize him at first (laughs). When I was a kid, he was in pads, and then he's my coach yelling at me all the time. He's just my coach, so it wasn't a big deal. I'll tell you my favorite experience looking back…leaving [the University of] West Virginia for a small school like Northeastern, where the most you'll ever play in front of is 7-8,000; we played at Navy, which I think was 40,000…but that first experience in the NFL, as a rookie, before preseason even started, we go to Green Bay to practice for two days then a night scrimmage at Lambeau Field. The two days of practice were awesome, riding the bikes with the kids, people see you on TV. I intercepted Brett Favre, Aaron Rodgers twice – and he just won a Super Bowl, so that's pretty cool. We're scrimmaging at Lambeau and it's sold out, 90,000 people. I'm going from Northeastern to playing against Brett Favre in front of 90,000 people."
Q: The Greater Boston League's tradition was pretty thick during your high school days. How was the tradition at Arlington High at the time?
A:
"There wasn't really any when I was there, to be honest with you. Nobody really cared about football. My grandfather and stepfather played for Arlington, on some great teams. My stepfather was on the Super Bowl team in [1977], my grandfather's teams were always one of the best, too. I almost went to Xaverian, because I wanted to go to a good football school. But after going to CM in seventh and eighth grade, I was sick of the hour drive to school every morning. That's kinda the reason I ended up there. My freshman year we weren't very good, sophomore year didn't do well, but my junior year was a good year.
"We ended up playing Everett that season and if we won, we won the GBL. We ended up losing, 7-3 or something like that. It was a good season, but we were never anything like Everett. Peabody, Waltham, they were always good, we just didn't have the kids. In Arlington, kids don't play football, they grow up wanting to play hockey, baseball, soccer, it's tough because kids are raised in other sports. Myself and four or five other kids took it seriously and were good. It's difficult because myself and other kids worked hard, but that's how it is with Mass kids. Kids that want to play football but they're not at a good school, they have a tough time because they're not surrounded by kids that want the same thing. It's always easy when a big group of guys want the same goal, instead of just yourself and two or three guys wanting it. You find kids out of Massachusetts high schools do very well in college and the pros, because they're so used to doing it by themselves. They get to a place where everyone wants to do it, it's that much easier."
Q: What were the games like playing Everett High?
A:
"I played against Diamond Ferri [former Syracuse and Arizona Cardinals running back]. I always liked it because it was the atmosphere that I wanted to play in. I wanted to play in Everett Memorial Stadium, because the fans are crazy. My junior year, they had a doll with my number on it hanging [from a noose] when I got out of the locker room. I actually like it, it makes me play better, like 'OK, this is the kind of place I wanna play at'. I'd rather play away games than home games at Arlington."
Q: Best high school game?
A:
"That Everett game I had 22 tackles, that was my junior year in '99. Then my senior year, Thanksgiving we had to be playing Somerville back in they day, now I think they play Arlington Catholic. But it was my last high school game ever, I think I had two sacks, 20 tackles, and 230 yards rushing. It was my last game ever, I wanted to play well before I went off to college. We won. I'm a middle linebacker, so I get my head busted in all the time, and then I'm out there on the wedge on kickoff return, so I have a tough time remembering scores (laughs)."
Q: You played for coach Joe Hanley. What life lessons did you learn from your coach that you still hold with you?
A:
"He was just a good guy, a family man. I'd say the stuff I learned from him was more off the field than on the field. He always took care of his family, kept them close. That's something I always try to do in life. I learned more from him with off the field stuff than on-field. He was just a good person."
Q: Coming out of a non-traditional power in the Northeast, how'd you get exposed to a school like West Virginia?
A:
"I went to camps when I was in high school. I camped out at Wyoming, because my grandfather played at Wyoming. I went out there two years in a row, and I camped at Purdue and went to BC camp. I would also send out highlight tapes, game tapes, to all the schools in the Big East. And then there's word of mouth, then scouts would come out to my football games, then my basketball games…I think mainly they'd watch a kid play basketball to see if he's got good feet, athleticism, agility, jumping ability, how he stays in front of the ballhandler – especially for a linebacker – and lateral movement."
Q: You were originally set on playing at West Virginia. How did you end up at Northeastern?
A:
"I wasn't sure. I took official visits, went to Wyoming where my grandfather played, and they wanted me to go start at linebacker. West Virginia, it was Rich Rodriguez's first year, he wanted me to play H-back, do some blocking, a lot of catching out of the backfield. I love blocking, catching the ball and scoring. I went to UConn and went to Purdue, those four were the only visits I took. In the end I signed with West Virginia – mainly, I wanted to play BC, I was pissed they didn't offer me. I went down for camp my freshman year, I was there for day and said, 'Man, I don't know if I can do this for four years. Morgantown's a great college town, party town, but it's in the middle of nowhere. I grew up in the city, I went to Arlington High School. I love Boston, and I wanted to be around Boston, you know so I don't know if I want to be here for four years, and I had second thoughts about playing offense. I talked to coach Rodriguez and said, 'I gotta get outta here'. He said, 'I understand, why don't you take some time to think about it. A week later, I said hey coach, I don't know.
"He was pissed off. He wouldn't sign my release form. Even though when you transfer down to level 1-AA you usually don't sit out at all, if coach doesn't sign your release you have to sit out for the entire year. I had family members calling, he wouldn't do it. Finally after the first two games of the season, he signed the release form, we play Delaware the third game and we wo – we'd never beat them.
"I remember the game well. First play of the game, the starting middle linebacker pulls his hamstring, Joe Gazzola from Bishop Feehan – he ended up dying tragically in college, he was one of my best friends, and my roommate in training camp. He got hurt, I step in, and we beat Delaware for the first time in school history. I had 18 tackles, two sacks, four tackles for loss, shoulda had a pick for a touchdown but I dropped it. I ran out to the flat, the quarterback didn't even see me. It was one of those catches you coulda walked into the end zone with. It hit every one of my fingers and I just dropped it."
Q: You mention about being close with Joe Gazzola. How often do you think about him?
A:
"He died on Valentine's Day. He was my friend. I think about him every day still. He was the funniest guy. He got me through a lot of tough practices. At Northeastern, we don't have an indoor facility, so a lot of times we'd be out there in snow and ice, and he'd be telling jokes or singing Elton John songs. A lot of times when stuff gets overwhelming and I stop taking stuff seriously, I remember he'd find light in everything, telling jokes, lightening the mood up."
Q: What was the biggest adjustment you had to make from high school to college?
A:
"It was just learning. I didn't feel like, when adjusting they talk about the speed differential, I adapted well to the speed. I was the strongest player on the team in college, I benched 515 pounds, so that was never an issue. At the [NFL] combine I did 225 pounds [on the bench] 36 times, I tied Vince Wilfork, so strength and speed weren't an issue. It was just getting used to the mental aspect. In high school we'd run three coverages on defense, and a couple blitzes. College, we had 15 coverages, each with five or six checks off of that coverage, motions, shifts, depending on the down and distance, I'd take care of audibles. We ran a 3-4, and then you'd have nickel packages, dime packages. We had 25 man blitzes, 30 zone blitzes. So, the body of plays just really was the major adjustment."
Q: You went undrafted, but can you recall when you first got the call to join a roster?
A:
"It was odd. I was projected to go in the third to fifth rounds, so watching the draft was terrible (laughs). I was at my mom's house, I remember no one calling me. It was discouraging, I was a little upset, but I just figured I'd get the opportunity in camp to make a team. My agent called and said 'How do you feel about Buffalo. My girlfriend, who I'm going to be marrying, is from Orchard Park, five minutes from the stadium. So when I went up for OTA's, minicamp, I'd stay at her parents' house. I didn't have to stay in a hotel, I could use a car and not have a van or hotel shuttle like other rookies."
Q: What's it like in the show?
A:
"It was a lot of pressure. Guys are always looking over your shoulder, making sure you're doing your studying, making sure you get your rest – you can't be out partying – always working out hard and always studying. Rookies get in trouble when they get there and say 'I made it'. That's not making it. You've got to put the work in, and it's 10 times that in the NFL. It's all mental. If you're fast enough, big enough, that's why you're there – everybody's fast, big and strong at that level. It's about being able to slow the game down, study the conditions and study the playbook.
"It was great, man. I'm the type of guy that gets real amped up for games. I have no problem getting amped up for those games, let me tell you that. Some places are so loud, if you were standing a foot from me I couldn't hear that. Your whole body shakes. It's exhilarating."
Q: What do you miss the most?
A:
"The locker room. Really any team I've play for, college, NFL, Arena, UFL, just to be around the guys. You don't really grow up paying attention to it, but the practical jokes, people getting on you, busting balls, that's the stuff you miss the most. All the personalities, the guys, you got 50 brothers…the NFL's a little different, because the guys make money, but they're still themselves. For the most part everyone hangs out together. I just miss most of the other guys hanging out, off the field, that stuff I miss the most."
Q: What will you be doing in fall?
A:
"I have no idea what I'll be doing in the fall. I've been interviewing for sales jobs, medical device equipment, that's interesting to me. We had a great team doctor in college, I got to sit in on some surgery. And I also love coaching, that's what I love bout FBU, helping kids become better players. If something came up as far as coaching, I'd definitely consider doing it. It's something I love to do, really whatever comes up, I'll see where it falls. It's not an easy transition, going from the game you love to now having to get a real job in the real world. It's not like most guys, you may be in the service industry then the mortgage industry. I'm not just changing jobs, I'm changing a whole life. All I did since I was 12 was play football, so it's not just a job change. It's a whole life change. It's something that takes time. It's not easy."
Q: What kind of advice do you have for kids coming up looking to do what you've done?
A:
"It's, whatever you're willing to put in, that's what you get out of it. The harder you work, the luckier you get. That's what I learned from all those papers, all those taking notes – the harder you work, the luckier you get. It's, while everyone else is at the movies or the beach, sometimes I gotta go running. You really have to put the effort in, not be distracted and not get caught up in something you shouldn't get caught up in. A lot of times, mistakes can really hurt you."
July, 12, 2011
7/12/11
8:45
PM ET
By
Brendan Hall
| ESPNBoston.com
Catholic Memorial head coach Alex Campea has confirmed that incoming senior defensive back Donovan Henry verbally committed to Boston College last night, for the fall of 2012.

That makes three Division 1 commits in the last three months for the Knights, joining linebacker Camren Williams (Penn State) and quarterback A.J. Doyle (NC State). A fourth, slotback/defensive back Armani Reeves, is expected to choose from a dozen Division 1 FBS scholarship offers before the start of the season.

The 5-foot-11, 185-pound Henry most recently made a one-day visit to Chestnut Hill last week. He was also considering a scholarship offer from UMass as well as a track scholarship from Northeastern. Henry went undefeated in the 200-meter dash in the outdoor track season this spring, before pulling a hamstring prior to the New England championships.

Henry is the Knights' starting running back, built with quality lower-body strength, but was recruited to play in the secondary, and is considered to have above-average footwork to complement his speed.

"He's a terrific tackler," Campea said. "I play him at safety because of the fact that he's a sure tackler. He's not one of those guys looking to make a highlight film, he makes sure he gets you on the ground. The good part, and I say this about all my guys, is that I got him for one more year."

Campea was pleased with the decision by Henry, who will be a captain for this year's Knights.

"The fact of the matter is Boston College is a terrific institution," Campea said. "Obviously he's looking for the opportunity to play football at a high level and get a great education, and certainly Boston College fits both criteria. I'm pleased for him. He's a terrific player, terrific person and hey, I'm excited for him."
June, 7, 2011
6/07/11
3:30
PM ET
The third and final day of the Major League Baseball Draft has concluded. Here's a rundown of which locals went where:
First Round (Monday)
11. Houston Astros, George Springer, OF, Connecticut (Avon Old Farms), New Britain, Conn.
19. Boston Red Sox,
Matt Barnes
, RHP, Connecticut (Bethel H.S.), Bethel, Conn.
21. Toronto Blue Jays,
Tyler Beede
, RHP, Lawrence Academy, Auburn, Mass.
Second Round (Tuesday)
63. Arizona Diamondbacks, Anthony Meo, RHP, Coastal Carolina (Cranston West H.S.), Cranston, R.I.
64. Baltimore Orioles,
Jason Esposito
, 3B, Vanderbilt (Amity H.S.), Bethany, Conn.
85. Atlanta Braves,
Nick Ahmed
, SS, Connecticut (East Longmeadow H.S.), East Longmeadow, Mass.
Third Round (Tuesday)
118. New York Yankees,
Jordan Cote
, RHP, Winnisquam Regional, Sanbornton, N.H.
Fifth Round (Tuesday)
162. New York Mets,
Jack Leathersich
, LHP, UMass-Lowell (Beverly H.S.), Beverly, Mass.
169. Toronto Blue Jays,
Andrew Chin
, LHP, BB&N, Newton, Mass.
Sixth Round (Tuesday)
182. Pittsburgh Pirates,
Dan Gamache
, 3B, Auburn (Bishop Hendricken H.S.), Exeter, R.I.
Tenth Round (Tuesday)
302. Pittsburgh Pirates, Taylor Lewis, CF, Maine (Montville H.S.), Montville, Conn.
303. Seattle Mariners, Dan Paolini, 2B, Siena (Bunnell H.S.) Stratford, Conn.
317. Detroit Tigers, Curt Casali, C, Vanderbilt (New Canaan H.S.) New Canaan, Conn.
Twelfth Round (Tuesday)
363. Seattle Mariners, Mike Dowd, C, Franklin Pierce (Cardinal Spellman H.S.), East Bridgewater, Mass.
Thirteenth Round (Tuesday)
394. Arizona Diamondbacks, John Pedrotty, LHP, Holy Cross (Portsmouth H.S.), Portsmouth, R.I.
Fifteenth Round (Tuesday)
463. Florida Marlins, Jhimoar Veras, RF, Western Oklahoma State Coll. (Methuen H.S.), Methuen, Mass.
Seventeenth Round (Tuesday)
519. Chicago Cubs, John Andreoli Jr., RF, Connecticut (St. John's of Shrewsbury), Shrewsbury, Mass.
Eighteenth Round (Tuesday)
553. Florida Marlins, Greg Nappo, LHP, Connecticut (Daniel Hand H.S.), Madison, Conn.
563. San Diego Padres, Mike Gallic, LF, Marist (Tolland H.S.), Tolland, Conn.
Twentieth Round (Tuesday)
610. Houston Astros, Matt Duffy, 3B, Tennessee (St. Sebastian's), Milton, Mass.
630. Tampa Bay Rays, Garrett Smith, SS, Boston College (St. John's of Shrewsbury), Sterling, Mass.
23rd Round (Tuesday)
700. Houston Astros, Ruben Sosa, 2B, Oklahoma City University (Lawrence H.S.), Lawrence, Mass.
702. New York Mets, Jeff Diehl, C, Cranston West H.S., Cranston, R.I.
715. Cincinnati Reds,
Sal Romano
, RHP, Southington H.S., Southington, Conn.
24th Round (Tuesday)
747. San Francisco Giants, Keith Bilodeau, RHP, Maine (Bourne H.S.), Bourne, Mass.
25th Round (Tuesday)
763. Florida Marlins, Sean Donatello, RHP, UConn-Avery Point (East Lyme H.S.), Salem, Conn.
780. Tampa Bay Rays, Brooks Belter, RHP, Occidental (The Gunnery Prep), Lakeville, Conn.
28th Round (Tuesday)
862. Boston Red Sox, Brenden Shepherd, RHP, Stonehill (Masconomet Regional) Boxford, Mass.
867. San Francisco Giants, Tyler Mizenko, RHP, Winthrop (Hamden Hall H.S.), Wallingford, Conn.
31st Round (Wednesday)
958. Minnesota Twins, Garrett Jewell, RHP, Southern New Hampshire (Newfound Regional), Alexandria, N.H.
32nd Round (Wednesday)
975. Los Angeles Angels, John Leonard, RHP, Boston College (Hanover H.S.), Hanover, Mass.
35th Round (Wednesday)
1076. Atlanta Braves, Mike Hashem, LHP, Fisher College (North Andover H.S.), North Andover, Mass.
1080. Tampa Bay Rays,
John Magliozzi
, RHP, Dexter School, Milton, Mass.
38th Round (Wednesday)
1163. San Diego Padres,
Pat Connaughton
, RHP, St. John's Prep, Arlington, Mass.
1169. New York Yankees, Joe Maher, RHP, Bedford H.S., Bedford, N.H.
39th Round (Wednesday)
1192. Boston Red Sox, Corey Vogt, RHP, Keene State (Suffield H.S.), Suffield, Conn.
40th Round (Wednesday)
1206. Kansas City Royals, Ben Waldrip, 1B, Jacksonville State (Medford H.S.), Medford, Mass.
42nd Round (Wednesday)
1269. Chicago Cubs, Brad Zapenas, SS, Boston College (Nashua North H.S.), Nashua, N.H.
1290. Tampa Bay Rays, Mike Bourdon, C, U. Tampa (Northwest Catholic H.S.), Simsbury, Conn.
43rd Round (Wednesday)
1303. Florida Marlins, Drew Leenhouts, LHP, Northeastern (Franklin H.S.), Franklin, Mass.
1310. St. Louis Cardinals, Chris Costantino, RHP, Walters State CC (Bishop Hendricken H.S.), Lincoln, R.I.
44th Round (Wednesday)
1349. New York Yankees,
Adam Ravenelle
, RHP, Lincoln-Sudbury H.S., Sudbury, Mass.
45th Round (Wednesday)
1372. Boston Red Sox, Matt Gedman, 2B, UMass (Belmont Hill), Framingham, Mass.
1377. San Francisco Giants, Brian Maloney, LHP, Franklin Pierce (Brockton H.S.), Brockton, Mass.
46th Round (Wednesday)
1389. Chicago Cubs, Scott Weismann, RHP, Clemson (Acton-Boxborough H.S.), Boxborough, Mass.
48th Round (Wednesday)
1443. Seattle Mariners, Max Krakowiak, RHP, Fordham (Staples H.S.), Westport, Conn.
1448. Cleveland Indians, Blaine O'Brien, RHP, Keystone College (Scituate H.S.), Scituate, Mass.
50th Round (Wednesday)
1522. Boston Red Sox,
John Gorman
, RHP, Catholic Memorial, Norwood, Mass.