Boston High School:

Northwest Catholic (Conn.)
September, 25, 2012
9/25/12
10:00
AM ET
By
Brendan Hall
| ESPNBoston.com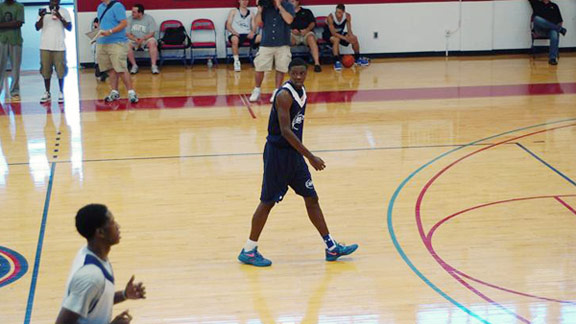 Brendan Hall/ESPNBoston.comWindsor, Conn., native Kuran Iverson, the nation's No. 27 overall senior, committed to Memphis on Tuesday morning.
Windsor, Conn. native
Kuran Iverson
gave a verbal commitment to the University of Memphis this morning for the 2013-14 season, his high school coach Ed Huckaby confirmed with ESPN.com this morning.
The 6-foot-8 Iverson is the No. 27 overall player, and No. 6 overall small forward, in the ESPNU 100 for the Class of 2013. Two summers ago, he was ranked as high as No. 3 overall in the class nationally.
Iverson starred the last three seasons at West Hartford, Conn. powerhouse Northwest Catholic. Last season, the lineup featured Iverson and point guard Zack Lewis, who committed to Hofstra in April. Iverson transferred to Fishburne (Va.) Military School over the summer, and is expected to finish his high school career on the Waynesboro, Va., campus.
July, 9, 2012
7/09/12
11:23
AM ET
By
Brendan Hall
| ESPNBoston.com
ESPN's team of basketball recruiting analysts have been checking in this week at the LeBron Skills Academy in Akron, Ohio, where several locals have stood out.
To read the complete recaps,
CLICK HERE (Insider only)
and
HERE (Insider)
.
On day one, Salisbury (Conn.) forward Chris McCullough and Hotchkiss (Conn.) forward Austin Colbert made a favorable impression on Paul Biancardi, Joel Francisco and John Stovall:
Austin Colbert (Lakeview, Conn./Hotchkiss)
2013, PF, 6-foot-9, 200 pounds
He is an athletic, skilled forward who always stands out during drills. He showed he could make 17-foot jumpers and finish above the rim.

Chris McCullough (New York/Salisbury School)
2014, PF, 6-9, 200 pounds
Chris has great skills and moves well for someone who is 6-9. He even worked out with the wings and fit right in.
On Day 2, Northwest Catholic (Conn.) wing Kuran Iverson made a splash:
Kuran Iverson (Windsor, Conn./Northwest Catholic)
2013, WF, 6-8, 200 pounds
Iverson is a long and lean wing forward prospect with excellent ball skills and a smooth shooting stroke. During the many shooting drills, Iverson exhibited an effortless shooting touch out to 22 feet.
July, 2, 2012
7/02/12
11:08
AM ET
By
Brendan Hall
| ESPNBoston.com
The July evaluation period is amongst the most feverish times of the year for high school basketball, and Northwest Catholic (Conn.) senior
Kuran Iverson
will have at least a few eyes following his path over the next 30 or so days.
Two summers ago the 6-foot-8 Windsor, Conn. resident was ranked as the No. 3 overall player in the Class of 2013 by ESPN. In the first ESPN 100 rankings for the Class of 2013, he comes in at No. 81. But if his strong spring season is to be taken into account, he could soon be making a jump back towards the top.
[+] Enlarge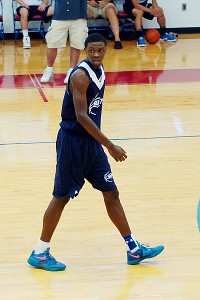 Brendan Hall/ESPNBoston.comMany eyes will be watching Northwest Catholic (Conn.) forward Kuran Iverson to see if he can return to his promising form from two summers ago.
In a roundtable on RecruitingNation about players analysts are most excited to see, which you can find
HERE (Insider only)
, ESPN's Adam Finkelstein goes with Iverson:
Adam Finkelstein: Kuran Iverson, SF (Windsor, Conn./Northwest Catholic)
His stock was revitalized this spring with steady performances on the AAU circuit and a big showing at the NBPA Top 100 Camp, but now the question remains whether or not he can sustain that high level of play with all eyes on him this summer. For Iverson, it's always been about effort and efficiency.
In another roundtable piece on RecruitingNation, ESPN's analysts discuss players who could most see their stock improve. You can find the piece
HERE (Insider only)
. Both Joel Francisco and John Stovall make note of Iverson:
Joel Francisco: Kuran Iverson, SF (Windsor, CT/Northwest Catholic)
Iverson was a well-known commodity among national scouts early on in his high school career. However, his overall game and approach didn't evolve during the next couple of seasons and as a result, many of his peers surpassed him. But after a scintillating performance at the NBPA Top 100 Camp, he showed that his lethal combination of skill, length and athleticism makes him one of elite talents in his class.

John Stovall: Kuran Iverson
He is a player who was highly ranked as a freshman but has slipped since then. There are many rumors as to why, but he now has a chance to gain it all back if he can stay focused during the month of July. There are not five players in the 2013 class with more talent. He is a legitimate 6-8 wing and is definitely one of the top five NBA prospects in the class.
May, 24, 2012
5/24/12
1:33
PM ET
By
Brendan Hall
| ESPNBoston.com
ESPNU's basketball recruiting section updated its national rankings for the 2013, 2014 and 2015 classes this afternoon. For the respective classes, this is the first ESPNU 100 for 2013, Super 60 for 2014 and Terrific 25 for 2015.
Northwest Catholic (Conn.) forward Kuran Iverson is the lone New Englander represented in the Class of 2013, coming in at No. 80, but there is plenty of local flavor in the underclass rankings. Haverhill native Noah Vonleh comes in at No. 4 overall in the 2014 class; the power forward was named to ESPN Boston's inaugural MIAA All-State Team in 2011 as a sophomore at Haverhill High, before transferring to New Hampton (N.H.) and reclassifying.
Below are the locals represented on the new rankings:
ESPNU 100 (Class of 2013)
80.
Kuran Iverson
, 6-8 SF, Windsor, Conn./Northwest Catholic
Super 60 (Class of 2014)
4.
Noah Vonleh
, 6-8 PF, Haverhill, Mass./New Hampton (N.H.)
12.
Wayne Selden
, 6-5 SG, Boston/Tilton (N.H.)
18.
Chris McCullough
, 6-9 PF, Bronx, N.Y./Salisbury (Conn.)
53.
Kaleb Joseph
, 6-3 PG, Nashua, N.H./Cushing Academy
56.
Jared Terrell
, 6-4 SG, Weymouth, Mass./New Hampton (N.H.)
Terrific 25 (Class of 2015)
18.
Jarred Reuter
, 6-8 PF, Rochester, Mass./Tabor Academy
For the complete rankings, follow the links here:
2013
,
2014
,
2015
.
ESPN's Paul Biancardi breaks down the new rankings over on
Recruiting Nation Basketball
, and highlights several of the aforementioned locals, excerpted belo:
SG Wayne Selden (Boston/The Tilton School)
When it comes to power and strength Selden is at the top of the class. His ability to overpower defenders, even ones bigger than him, with his college-ready body is what separates him from the pack. He is physically dominant on the fast break, finishing through contact.

PF Noah Vonleh (Haverhill, Mass./New Hampton)
He has a strong frame and his physical tools are becoming elite as he grows into his body. Vonleh's versatility and ability to create his own shot off the dribble make him unique. His handle is a weapon that we just don't see that often at this stage for players with his frame.
For Biancardi's full breakdown,
CLICK HERE (Insider only)
January, 25, 2012
1/25/12
2:39
PM ET
This morning, ESPN's Basketball Recruiting section updated its Super 60 and Terrific 25 lists for the Class of 2013 and 2014, respectively, and several familiar locals populate the list.
Simeon (Ill.) swingman Jabari Parker retains the No. 1 overall spot in the Class of 2013, but the gap is closing between him and Everett's own Nerlens Noel. ESPN's Dave Telep
explains in his column today
:
Following last summer, we targeted two players for our top spot -- small forward Jabari Parker (Chicago/Simeon) and center Nerlens Noel (Everett, Mass./Tilton). Fast-forward six months and our opinion is that they remain the lone candidates for the No. 1 spot, however, the gap between the two is more negligible than ever.

Parker is viewed by many as the top prospect in high school basketball, regardless of class, and for good reason. He embodies physical and mental traits needed in a player to perform, succeed and win at the highest levels. He has competitive greatness and a balanced floor game. Noel, his competition for the top spot, is the Anthony Davis of high school basketball. No one player in high school affects the game as much as Noel does on the defensive end.

As Noel's offensive repertoire expands, so does the discussion regarding the top spot. Ultimately we decided to stick with Parker, a player everyone on our staff feels worthy of the honor. However, our straw poll of staffers as to who gets the nod for No. 1 was closer than ever.
Meanwhile, Northwest Catholic (Conn.) forward Kuran Iverson continues his descent down the list. Nearly two years ago, the Hartford native was ranked in the Top 5 for the Class of 2013. After falling from No. 3 to No. 30 in the last update, the 6-foot-10 wing player has dropped out of the Super 60 altogether.
You can view the entire lists
here (2013)
and
here (2014)
. Below are the locals making the Super 60 and Terrific 25:
SUPER 60 (Class of 2013)
2. Nerlens Noel, 6-10 C, Everett, Mass./Tilton (N.H.)
38. Dominic Woodson, 6-9 C, Round Rock, Texas/Vermont Academy (Vt.)

TERRIFIC 25 (Class of 2014)
4. Noah Vonleh, 6-7 PF, Haverhill, Mass./New Hampton (N.H.)
6. Wayne Selden, 6-5 SG, Boston/Tilton (N.H.)
12. Chris McCullough, 6-8 PF, Bronx, N.Y./Salisbury (Conn.)
January, 14, 2012
1/14/12
11:16
PM ET
By
Brendan Hall
| ESPNBoston.com



SPRINGFIELD, Mass. -- A year ago at this time, in this tournament, on this floor, DeMatha Catholic was getting embarrassed by St. Anthony's on national television, a 50-point loss to New Jersey powerhouse St. Anthony in the Hoophall Classic. Burly big man BeeJay Anye struggled with his weight, and in turn struggled to stay on the floor with his low stamina.

Fast forward 12 months, and the Stags were getting a little bit of retribution tonight, easily downing Northwest Catholic (Conn.), 78-57, behind 24 points, nine rebounds and three steals from the 6-foot-8 junior big man.

"It feels a lot different," said Anye. "We haven't won up here the last two times we've been up here, so getting that monkey off our back feels good. But it's time to move on to Monday [against Bishop Gorman, at Hoophall]."

Anye scored six of the game's first eight baskets to spot the Stags a quick 8-0 lead less than two minutes into the contest. The Stags led 26-9 after one quarter, and 41-21 at the break, largely thanks to his work both underneath and around the perimeter. He had 13 points at the break, and his movement helped them have a 20-12 advantage on the boards (and 39-23 for the game).

Pitt signee Jerami Grant added 14 points, while Marcellous Bell was a perfect 4 of 4 from three-point range to aid the Stags in the win.

"We usually try to get him the ball early to get him going and keep him involved," DeMatha head coach Mike Jones said of Anye. "He's a monster on the defensive end -- he always will be, no matter what -- but when he's able to score for us, it opens up a lot of other things for us."

Meanwhile, Northwest's star junior Kuran Iverson ended up watching most of this blowout on the bench, picking up two fouls in the first quarter and his fourth midway through the third. The 6-foot-10 wing -- who counts offers from Syracuse, UConn, Pitt, North Carolina, St. John's, Oklahoma and Florida, among others -- did minimal damage in this one, with just three rebounds and four points on 2-of-7 from the field in 18 minutes.

"We could have competed, but we didn't," Iverson said. "The foul trouble came, and I was just out of my game from there."

If there was a silver lining for Northwest, it was the emergence of senior guard Zach Lewis, who scored 15 points in the second half to total 23 on the night. Head coach John Mirabello acknowledged that the late-blooming shooting guard's performance tonight could do measures in justifying his affirmation that he's a scholarship player.

"I'm working like crazy, to be honest with you," Mirabello smiled. "I can't speak for a college coach, I know I'm biased, but I think...more people will be coming around now for him. Not that they shouldn't have before -- I don't think he needed this game to prove that -- and he wasn't at his best tonight."



January, 11, 2012
1/11/12
1:22
PM ET
Each week, ESPN's college basketball recruiting section spotlights top performances from players listed on the ESPNU 100 (Class of 2012), Super 60 (Class of 2013) and Terrific 25 (Class of 2014).
This week, that includes St. Mark's center Kaleb Tarczewski, New London (Conn.) point guard Kris Dunn, King Philip forward Jake Layman, and Northwest Catholic (Conn.) forward Kuran Iverson.
The complete list
can be found here
. Below are the locals' accomplishments:
CLASS OF 2012

No. 6 Kaleb Tarczewski, C
The Arizona-bound center scored 17 points as St. Mark knocked off St. Andrew's 61-47 on Friday.

No. 29 Kris Dunn, PG
Dunn continued his torrid senior season with 29 points and seven rebounds as New London rolled by East Lyme, 74-44, on Friday. He didn't slow down on Saturday, going for 32 points and 26 rebounds in a win over Saint Raphael Academy.

No. 53 Jake Layman, SF
Layman had 12 of his 18 points in the second half and added 13 rebounds and three blocks in a 55-37 win over North Attleboro on Friday. He exploded for a career-best 40 points in a 74-52 rout of Sharon on Tuesday.

CLASS OF 2013

No. 30 Kuran Iverson, SF
The junior had 16 points in a win over Southington on Thursday night. He went for 15 points in an 83-39 rout of Conard on Monday.
December, 12, 2011
12/12/11
7:44
PM ET
By
Brendan Hall
| ESPNBoston.com
Many boys basketball teams across New England begin their regular season this week, while others are already underway. Here are 10 matchups across New England I'll be looking most forward to this winter (and you should too).
Charlestown at BC High, Saturday
One of the best matchups of the early season just got a whole lot more interesting, with BC High center Dan Curtis out until at least late January due to injury. The Townies excel on the fast break behind Rony Fernandes and Tyrese Hoxter, while Omar Orriols and Tyrik Jackson can stretch the defense down low. We know about BC High's Jameilen Jones, but the Eagles have some promising underclassmen coming up.
Charlestown at East Boston, Dec. 20
Hands down the best basketball rivalry in Boston, these two Division 1 teams combined for nine D2 state titles from 1985 to 2005 (C'Town 5, Eastie 4). We know about the Townies' athletic prowess, but the Jets play some of the city's toughest man-to-man defense, led by junior forward Kenny Ramos. The two teams split the regular-season series last year, with the Jets delivering the Townies a 65-61 defeat on Feb. 16; nine days later, the Townies got their revenge by beating the Jets in the Boston City Championship game.
New Mission vs. St. Anthony (N.J.), Dec. 28, Kroc Center, Dorchester
Part of the first day of festivities of the two-day "Shooting Touch Shootout", the Jersey City, N.J. national powerhouse had its way with Newton North and Catholic Memorial over the last Christmas break, and followed up by spanking D.C. area power DeMatha Catholic (Md.) in Springfield on national television a month later. But some have mused that Mission could be the strongest MIAA team the Friars have faced since New Bedford in the early 90's.
New London (Conn.) at St. Raphael (R.I.), Jan. 7
This one pits two defending state champions in one of the most highly-anticipated public school matchups of the winter for New England. New London is the defending CIAC Class L champion, and features the No. 29 overall Class of 2012 player in Providence-bound point guard
Kris Dunn
. St. Ray's ended Bishop Hendricken's streak of seven straight RIIL state titles last year, led by championship MVP Charles Correa. The junior point guard is one of the Ocean State's elite prospects, and has a terrific running mate in senior Cesar Mejia.
Northwest Catholic (Conn.) vs. DeMatha Catholic (Md.), Jan. 14, Springfield College (Hoophall Classic)
6-foot-8
Kuran Iverson
, cousin of Allen Iverson and the nation's No. 30 overall junior, leads the Hartford power in what could be one of the strongest matchups of the five-day Hoophall slate. The last time DeMatha was up in Springfield, at last year's Hoophall, they lost 75-25 to St. Anthony on national television. Have to believe ESPNU 100 stars Jerami Grant and James Robinson won't let that happen again.
Tilton (N.H.) vs. Brewster Academy (N.H.), Jan. 15, Springfield College (Hoophall Classic)
No less than 10 Division 1 prospects will be on the floor at all times in this matchup between two of the nation's premier prep school powers. Lots of household names and ESPNU 100 talent in this one, between Tilton's Nerlens Noel, Georges Niang, Goodluck Okonoboh, Dominique Bull and Wayne Selden; and Brewster's Mitch McGary, JaKarr Sampson, T.J. Warren, Jalen Reynolds, Semaj Christon, Aaron Thomas and Joe Bramanti. Brewster won the first game in this series earlier this month, 84-78, to win its own Brewster Invitational.
Worcester Academy at St. Mark's, Jan. 20
After serving under Ed Reilly for more than a decade, Jamie Sullivan slides over to the head coach's chair as he looks to bring NEPSAC hardware back to Union Hill. He'll have plenty of speed at his disposal between Rene Castro and Olivier Paul Betu. St. Mark's boasts three Division 1 commits this year, including ESPNU 100 players Kaleb Tarczewski (Arizona) and Nik Stauskas (Michigan). How the Hilltoppers deal with the size advantage in the 7-foot Tarczewski will be intriguing.
St. John's Prep at Central Catholic, Jan. 22
Prep swept both games last season, both times in nail-biting fashion. In the first game, the regular-season finale, Pat Connaughton hit the go-ahead basket with 20 seconds left
and sealed it at the other end with a block
. Then in the D1 North semifinals, Freddy Shove
asserted the Eagles to victory
with two big offensive rebounds in the final two minutes. Both teams come into the season ranked in the top five of ESPN Boston's preseason poll (Central No. 1, Prep No. 4).
King Philip at Stoughton, Jan. 24
A matchup between the state's top overall senior prospect, 6-foot-8 Maryland commit Jake Layman; and one of the state's fastest-rising stars, junior point guard Aaron Calixte. When these two teams met last season, Layman nearly went off for a quadruple-double for the Warriors in a 65-52 win.
Whitinsville Christian at Charlestown, Feb. 11
When these two teams met last February in rural Whitinsville,
the Townies nearly ran WC off the floor
before staving off a second-half comeback. That proved to be all the fuel the Crusaders needed; they didn't lose again as they captured their second Division 3 state title in seven seasons. The Crusaders graduated a ton of size, but have looked sharp in the preseason. Can they turn the tables this year in Bunker Hill?
August, 11, 2011
8/11/11
12:48
PM ET
ESPN's basketball recruiting section has updated the Super 60 rankings for the Class of 2013 today, and it should come to little surprise where Tilton (N.H.) big man
Nerlens Noel
comes in.
After an explosive summer on the AAU circuit with the Boston Amateur Basketball Club, the 6-foot-11 Everett native comes in at No. 2, ahead of Prestonwood Christian (Texas)'s
Julius Randle
but behind Simeon (Ill.)'s
Jabari Parker
.
South Kent (Conn.) shooting guard and Denver native
Chris Thomas
comes in at No. 13, while Northwest Catholic (Conn.)'s
Kuran Iverson
continues his slide down the list. Once a top five prospect on ESPN's list, the Windsor, Conn. native fell to No. 30 on the list.
Brewster Academy (N.H.) small forward and Milwaukee native
Deonte Burton
also comes in at No. 36. ESPN's Dave Telep also lists Tilton (N.H.) forward
Goodluck Okonoboh
as one of the players "knocking on the door" of the Super 60.
The full Super 60
can be found here
.
Telep goes on to
explain his placement of Parker, Noel and Randle
:
After the summer, if you polled recruiting analysts and college coaches, there's a good chance SF Jabari Parker (Chicago/Simeon) would prevail as the top overall prospect in high school basketball, regardless of class. When an underclassman draws reviews like that, it's a big deal. Parker is a smooth operator with NBA bloodlines, poise and an overall package that features a competitive game with grace and skill. The fact that he's in the conversation about the best prospect in high school basketball is an achievement. The fact that he's ranked ahead of C Nerlens Noel (Everett, Mass./Tilton School) and PF Julius Randle (Dallas/Prestonwood) is almost as big of a statement. The three have separated themselves from the pack as high school players, similar to what O.J. Mayo, Derrick Rose, Michael Beasley, Kevin Love and Eric Gordon did in the 2007 class.

Entering the summer, our rankings read Randle, Parker and Noel, in that order. After Parker continuously set the standard, the question became: Who's No. 2? Enter Noel. Not since Greg Oden has high school basketball had as dominant a shot-blocker in its ranks. He's an elite rim-protector and his summer team's accomplishments were aided by this enormous presence at the rim. You couldn't have asked for a more successful summer run.

Randle, our former No. 1, also had a tremendous summer. From his work at the Nike Skills Academy right on through July, his game was in bloom. A powerful 4-man with a perimeter skills package, he's a matchup problem in different areas of the court. These guys -- and the order may one day change -- could easily go 1-2-3 in a future NBA Draft.
June, 7, 2011
6/07/11
3:30
PM ET
The third and final day of the Major League Baseball Draft has concluded. Here's a rundown of which locals went where:
First Round (Monday)
11. Houston Astros, George Springer, OF, Connecticut (Avon Old Farms), New Britain, Conn.
19. Boston Red Sox,
Matt Barnes
, RHP, Connecticut (Bethel H.S.), Bethel, Conn.
21. Toronto Blue Jays,
Tyler Beede
, RHP, Lawrence Academy, Auburn, Mass.
Second Round (Tuesday)
63. Arizona Diamondbacks, Anthony Meo, RHP, Coastal Carolina (Cranston West H.S.), Cranston, R.I.
64. Baltimore Orioles,
Jason Esposito
, 3B, Vanderbilt (Amity H.S.), Bethany, Conn.
85. Atlanta Braves,
Nick Ahmed
, SS, Connecticut (East Longmeadow H.S.), East Longmeadow, Mass.
Third Round (Tuesday)
118. New York Yankees,
Jordan Cote
, RHP, Winnisquam Regional, Sanbornton, N.H.
Fifth Round (Tuesday)
162. New York Mets,
Jack Leathersich
, LHP, UMass-Lowell (Beverly H.S.), Beverly, Mass.
169. Toronto Blue Jays,
Andrew Chin
, LHP, BB&N, Newton, Mass.
Sixth Round (Tuesday)
182. Pittsburgh Pirates,
Dan Gamache
, 3B, Auburn (Bishop Hendricken H.S.), Exeter, R.I.
Tenth Round (Tuesday)
302. Pittsburgh Pirates, Taylor Lewis, CF, Maine (Montville H.S.), Montville, Conn.
303. Seattle Mariners, Dan Paolini, 2B, Siena (Bunnell H.S.) Stratford, Conn.
317. Detroit Tigers, Curt Casali, C, Vanderbilt (New Canaan H.S.) New Canaan, Conn.
Twelfth Round (Tuesday)
363. Seattle Mariners, Mike Dowd, C, Franklin Pierce (Cardinal Spellman H.S.), East Bridgewater, Mass.
Thirteenth Round (Tuesday)
394. Arizona Diamondbacks, John Pedrotty, LHP, Holy Cross (Portsmouth H.S.), Portsmouth, R.I.
Fifteenth Round (Tuesday)
463. Florida Marlins, Jhimoar Veras, RF, Western Oklahoma State Coll. (Methuen H.S.), Methuen, Mass.
Seventeenth Round (Tuesday)
519. Chicago Cubs, John Andreoli Jr., RF, Connecticut (St. John's of Shrewsbury), Shrewsbury, Mass.
Eighteenth Round (Tuesday)
553. Florida Marlins, Greg Nappo, LHP, Connecticut (Daniel Hand H.S.), Madison, Conn.
563. San Diego Padres, Mike Gallic, LF, Marist (Tolland H.S.), Tolland, Conn.
Twentieth Round (Tuesday)
610. Houston Astros, Matt Duffy, 3B, Tennessee (St. Sebastian's), Milton, Mass.
630. Tampa Bay Rays, Garrett Smith, SS, Boston College (St. John's of Shrewsbury), Sterling, Mass.
23rd Round (Tuesday)
700. Houston Astros, Ruben Sosa, 2B, Oklahoma City University (Lawrence H.S.), Lawrence, Mass.
702. New York Mets, Jeff Diehl, C, Cranston West H.S., Cranston, R.I.
715. Cincinnati Reds,
Sal Romano
, RHP, Southington H.S., Southington, Conn.
24th Round (Tuesday)
747. San Francisco Giants, Keith Bilodeau, RHP, Maine (Bourne H.S.), Bourne, Mass.
25th Round (Tuesday)
763. Florida Marlins, Sean Donatello, RHP, UConn-Avery Point (East Lyme H.S.), Salem, Conn.
780. Tampa Bay Rays, Brooks Belter, RHP, Occidental (The Gunnery Prep), Lakeville, Conn.
28th Round (Tuesday)
862. Boston Red Sox, Brenden Shepherd, RHP, Stonehill (Masconomet Regional) Boxford, Mass.
867. San Francisco Giants, Tyler Mizenko, RHP, Winthrop (Hamden Hall H.S.), Wallingford, Conn.
31st Round (Wednesday)
958. Minnesota Twins, Garrett Jewell, RHP, Southern New Hampshire (Newfound Regional), Alexandria, N.H.
32nd Round (Wednesday)
975. Los Angeles Angels, John Leonard, RHP, Boston College (Hanover H.S.), Hanover, Mass.
35th Round (Wednesday)
1076. Atlanta Braves, Mike Hashem, LHP, Fisher College (North Andover H.S.), North Andover, Mass.
1080. Tampa Bay Rays,
John Magliozzi
, RHP, Dexter School, Milton, Mass.
38th Round (Wednesday)
1163. San Diego Padres,
Pat Connaughton
, RHP, St. John's Prep, Arlington, Mass.
1169. New York Yankees, Joe Maher, RHP, Bedford H.S., Bedford, N.H.
39th Round (Wednesday)
1192. Boston Red Sox, Corey Vogt, RHP, Keene State (Suffield H.S.), Suffield, Conn.
40th Round (Wednesday)
1206. Kansas City Royals, Ben Waldrip, 1B, Jacksonville State (Medford H.S.), Medford, Mass.
42nd Round (Wednesday)
1269. Chicago Cubs, Brad Zapenas, SS, Boston College (Nashua North H.S.), Nashua, N.H.
1290. Tampa Bay Rays, Mike Bourdon, C, U. Tampa (Northwest Catholic H.S.), Simsbury, Conn.
43rd Round (Wednesday)
1303. Florida Marlins, Drew Leenhouts, LHP, Northeastern (Franklin H.S.), Franklin, Mass.
1310. St. Louis Cardinals, Chris Costantino, RHP, Walters State CC (Bishop Hendricken H.S.), Lincoln, R.I.
44th Round (Wednesday)
1349. New York Yankees,
Adam Ravenelle
, RHP, Lincoln-Sudbury H.S., Sudbury, Mass.
45th Round (Wednesday)
1372. Boston Red Sox, Matt Gedman, 2B, UMass (Belmont Hill), Framingham, Mass.
1377. San Francisco Giants, Brian Maloney, LHP, Franklin Pierce (Brockton H.S.), Brockton, Mass.
46th Round (Wednesday)
1389. Chicago Cubs, Scott Weismann, RHP, Clemson (Acton-Boxborough H.S.), Boxborough, Mass.
48th Round (Wednesday)
1443. Seattle Mariners, Max Krakowiak, RHP, Fordham (Staples H.S.), Westport, Conn.
1448. Cleveland Indians, Blaine O'Brien, RHP, Keystone College (Scituate H.S.), Scituate, Mass.
50th Round (Wednesday)
1522. Boston Red Sox,
John Gorman
, RHP, Catholic Memorial, Norwood, Mass.
September, 29, 2010
9/29/10
12:04
AM ET
The third annual "New England Elite 75 Showcase -- Frosh/Soph Edition" took place on Saturday at Boston University's Case Gymnasium and included many of the top underclassman prospects the New England region has to offer. The event featured two sessions, with the freshmen taking the court in the morning and the sophomores in the afternoon.

Here is a look at five lessons we learned after taking in the day's action:

1. Noah Vonleh is a Potential Star in the Making

Haverhill High School sophomore Noah Vonleh stood out as the most impressive prospect at the event. What sets him apart is a combination of three factors. First, he has the talent to dominant his peers right now. Second, he has demonstrated the work ethic to consistently improve his game. Third, his physical upside is tremendous. Vonleh only recently celebrated his 15th birthday and already stands 6-foot-7 with a strong body. He could still be growing and is certainly still growing into his body and consequently hasn't nearly peaked athletically. He has terrific economy of motion, taking the ball off the defensive glass and going coast to coast in three or four dribbles and only requiring a single bounce to get to the rim in a half-court set, to go along with a rapidly developing skill set. If this young man continues to work hard and make good decisions, the sky could be the limit.

2. The Class of 2013 has Tremendous Depth

New England has some very well known talent in the class of 2013. Connecticut native Kuran Iverson is the second ranked player in the country and Everett native Nerlens Noel is third, according to ESPNU's most recent Terrific 25 list. But beyond the obvious star power of Iverson, Noel, and Vonleh the region, and the state of Massachusetts specifically, has great depth in the class. Beaver Country Day guard Rene Castro already owns a scholarship offer from Boston College, Brimmer & May's Jake Fay has one from UMass, and a variety of others in action on Friday had the potential to earn similar opportunities including Milton Academy's Ikemefuna Ngwudo, Cushing Academy's Andrew Chrabascz, Springfield Central's Cornelius Tyson, and Weymouth's Jared Terrell.

3. Getting to Know the Class of 2014

This was our first major opportunity to check out the incoming freshmen and there was plenty to like. Milton's Jeremy Miller has the size and raw talent to potentially be a high level prospect down the road. Fellow big men Aaron Falzon (Newton North) and Bonzie Colson Jr. (St. Andrew's) have similar upside. There are plenty of talented local guards including Lawrence Academy's Johnnie Vassar, Cushing Academy's Idris Taqqee and Stoughton's Jonathan Joseph. The state of Connecticut also offers a particularly talented group with the likes of Jared Wilson-Frame, Levy Gillespie Jr., Winston Morgan and Kahari Beaufort.

4. Prep Talent Arriving Earlier than Ever

New England has always been the hub of prep school talent in the country, but it used to be that talented players only arrived for their post-graduate, or sometimes senior, seasons. Saturday's event showed they are now coming much earlier and opting to play in the NEPSAC for multiple seasons. Some of the event's top prospects, like Northfield Mount Hermon's Dekeeba Battee, Worcester Academy's Asur Madison, Winchendon's Dennis Green and the Kent School's Travis Berry are all from outside of the region but are boarding students at local prep schools.

5. One Year Can Make a Big Difference

There was a notable difference between the morning and the afternoon session as the sophomores delivered a significantly higher quality of play. The biggest difference was obviously physical as players were bigger, stronger, faster and more athletic given the extra year of physical maturity. But the other interesting trend was the higher caliber of basketball acumen. Some examples were more obvious as the sophomores tended to both share the ball more as well as play without it, but others were more subtle like looking into the post, using jab fakes or understanding how to defend from the weak side of the floor.

September, 3, 2010
9/03/10
7:18
PM ET
Could New England be turning into a high school basketball hotbed?
ESPN released its new basketball rankings today, and some of the region's premier talent ranks highly on the list.
In the Class of 2011's
ESPNU100
, St. Andrew's (R.I.) shooting guard
Michael Carter-Williams
is ranked 18th overall. The Hamilton, Mass. native is committed to Syracuse. Meanwhile, Brewster Academy point guard and Worcester native
Naadir Tharpe
comes in at 66th; St. John's Prep two-sport star
Pat Connaughton
was one of the players who
just missed the cut
.
Four New Englanders are in the top 25 of the Class of 2012's ESPNU Super 60, including St. Thomas More's
Andre Drummond
at the top overall spot and Notre Dame Prep's
Khem Birch
at No. 2. St. Mark's stars
Alex Murphy
and
Kaleb Tarzcewski
are ranked seventh and 24th, respectively.
Kuran Iverson
of Northwest Catholic (Conn.) ranks No. 2 in the Class of 2013's ESPNU Terrific 25, with Tilton (N.H.)'s
Nerlens Noel
right behind him at No. 3. Brewster's
Deonte Burton
, a Milwaukee native, is also ranked No. 14 on the list.