Boston High School:

Notre Dame (Conn.)
January, 11, 2013
1/11/13
5:44
PM ET
By
Roger Brown
| ESPNBoston.com
When the game was over, Notre Dame High School boys' basketball coach Gary Palladino had earned another victory – and it was a memorable one.

Last Friday's 66-60 triumph over Berlin was Palladino's 400th win as Notre Dame's head coach.
Berlin erased a 16-point halftime deficit and tied the game midway through the fourth quarter, but Notre Dame made 12 of its 14 free throw attempts in the fourth quarter. The victory improved Palladino's record at Notre Dame to 400-294.
"This isn't really about me," Palladino said. "You don't get to 400 wins at one school without great support from our administration, tremendous assistant coaches, and talented players who work hard and sacrifice for the betterment of our team and program. I have been blessed here at Notre Dame and share this honor with all those that came through the program."
Earlier this year Palladino announced that this would be his final season as the Green Knights head coach.
Palladino began his career at Notre Dame in 1982. He has guided the Green Knights to 21 winning seasons, and 24 of his teams have qualified for the CIAC state tournament
Palladino has 524 career wins during his high school coaching career, which includes stops at East Hartford High School (7-13) and St. Paul's High School (55-18). He was also 62-69 at the head coach at the University of Hartford.
STAR GAZING
The inaugural Hall of Fame Classic, a high school football all-star game featuring players from Connecticut, will be played June 29, at Rentschler Field (4:30 p.m.).
The game replaces the Governor's Cup – an all-star game between Connecticut and Rhode Island – and the all-star game between Fairfield and New Haven counties. Connecticut won 11 of the 14 meetings with Rhode Island in the Governor's Cup.
The coaches and players for each team will be announced Saturday at the Walter Camp Breakfast of Champions in East Haven.
ONE-TWO PUNCH
An unbeaten record entering Saturday's contest against Fairfield Prep masked the fact that the Notre Dame boys' hockey team hadn't played well in the first period this season, and it was a slow start that cost the Green Knights in a 3-1 loss to the Jesuits.
Fairfield Prep scored three first-period goals and received 33 saves from Mike Beck in a matchup that featured the top two teams in the
Hartford Courant
's state rankings.
Matt Wikman, Connor Henry and Dean Lockery scored for Fairfield Prep. Darren Capobianco scored Notre Dame's goal at 12:38 of the second period.
"Today we didn't get off the bus," Notre Dame coach Bill Gerosa told the
New Haven Register
. "Actually, it was the eighth game this season we didn't get off the bus in the first period. We've played well in our second and third periods, but we keep struggling in the first."
Fairfield Prep improved its record to 7-0 and was elevated to No. 1 following the victory. Notre Dame, last year's Division I champion, fell to 7-1 and slipped to No. 2.
The teams will meet again on Feb. 16.
HOOP NOTES
Highlighting some top recent performances in boys and girls basketball:
" Weaver's Alyssa Stewart scored 24 points and grabbed 18 rebounds in a 53-31 victory over Wethersfield.
" Simsbury's E.J. Crawford scored 18 points in a 60-51 victory over Newington, and then poured in 20 – including the game-winning shot with six seconds to play – in a 70-69 triumph over Hall.
" Cromwell's Alexa Riley tossed in a game-high 15 points in a 53-50 triumph over Bacon Academy that ended Bacon Academy's 43-game home winning streak.
"Southington's Stephanie O'Keefe scored all of her 15 points on 3-pointers during a 48-41 victory overtime victory against Northwest Catholic.
"Tolland's Taylor Fortin averaged 37.5 points in victories over RHAM and Rockville.
GIRL POWER
Norwich Free Academy's Elisa Formiglio became the first female to play in a Connecticut football state championship game when Xavier defeated NFA 48-14 to win the Class LL championship last month.
Formiglio, a senior who didn't play football until last season, made both of her point-after kicks in the loss. She made 61 of 71 PAT attempts during the season. She also made one of her three field goal attempts – a 24-yard kick – and completed the season as her team's No. 3 scorer.
CONNECTICUT'S FROZEN FOUR
The inaugural Pioneer Valley Girls Winter Classic – the state's first outdoor girls hockey tournament -- was held Jan. 1 at the Simsbury Farms open-air rink.
The event featured four teams: Simsbury, Hall-Conard, Springfield (Mass.) Cathedral and East Catholic-Glastonbury-South Windsor. Simsbury defeated Hall-Conard 3-2 in the title game, and Springfield Cathedral won the consolation game.
Roger Brown is a staff writer for the New Hampshire Union Leader, and has been covering high school sports throughout New England since 1992.
September, 26, 2010
9/26/10
6:44
PM ET
By
Matt Stout
| ESPNBoston.com
Don't feel bad for Notre Dame-West Haven. Branford certainly doesn't.

Notre Dame bounced back in a big way following last week's loss to Xavier-Middletown, slamming the Hornets, 52-20, Friday. The Green Knights led, 52-7, in the fourth quarter thanks to touchdowns by Tirell Young-Williams, one through the air and another on a punt return.

Notre Dame -- the No. 3 team in the ESPNBoston.com New England top 10 poll and preseason No. 1 team in the New Haven Register's state top 10 poll -- plummeted to No. 7 in both rankings following its 22-15, season-opening loss to Xavier. It responded against Branford, which is now 0-2 after having hopes of being one of the SCC's top teams this season.

In other games:

-- Max Slade threw for a touchdown, rushed for a touchdown and returned a punt for a score to lead Cheshire past Hillhouse, 29-6, on Friday. The Rams will be part of the game to watch Friday when they host Xavier (No. 3 in the ESPNBoston.com New England poll), which scored all its points in the first half in cruising by Foran, 37-0, Friday.

-- No. 6 Masuk-Monroe avenged its loss to Pomperaug in last year's SWC championship game by thumping the Panthers, 42-0. Junior quarterback Casey Cochran, who has a scholarship offer from Boston College, threw for 292 yards and five touchdowns, and connected with seven different receivers.

-- Quarterback Alton Smith and receiver Aaron Berardino hooked up for three touchdowns in Windsor's 33-0 rout of New Britain, continuing the Warriors' emergence as one of the state's top teams. Windsor largely flew under the radar entering this year despite sneaking into the last spot of The (New London) Day's first state coaches' poll. Smith and Berardino, both juniors, are gaining their share of attention now.

-- Southington made former UConn star D.J. Hernandez 2-0 as a high school football coach after rallying past CCC power Glastonbury, 33-14, on Friday. Joe Pesce had three rushing touchdowns.

-- A week after completing just one pass, Norwich Free Academy quarterback Erik Washburn threw for two touchdowns and 205 yards on all of five completions in the Wildcats' 34-20 victory over Ledyard, easily the upset of the week in Eastern Connecticut. Washburn also rushed for two scores for NFA, one of the state's largest schools but also one that hasn't been to the state playoffs since 2002.

-- As for the biggest upset around the state, Wilton surprised defending Class SS champ St. Joseph, 27-14. St. Joseph again played without running back Tyler Matakevich (out indefinitely, foot), but was done in mostly by an array of mistakes and turnovers, two of which led directly to Wilton scores.

-- Jonathan Esposito became Conard High's all-time leading rusher with 133 yards in a 36-0 victory over Farmington on Saturday. The senior now has 3,024 yards, according to the Hartford Courant.
August, 18, 2010
8/18/10
6:14
AM ET
By
Matthew Stout
| ESPNBoston.com
Kevin Callahan is entering his 11th year as head football coach at Ridgefield High School this fall. Since 2001, his Tigers have never endured a losing season. They've won nine games four times, and six or more every year but one.

And yet, they've been to the CIAC playoffs twice, playing for -- and winning -- their only state championship in 2002.
Callahan thought something was wrong with that.
"It's nice when kids understand how to win," he said, "but you have to reward winning."
Others thought so, too.
In a change met with sweeping applause from the Connecticut high school football community, the CIAC is implementing a new playoff system this fall that features fewer divisions, more teams and a venue that many feel finally fits the bill.
In recent years, the football playoffs featured four teams earning postseason berths in six divisions. This season, there are only four divisions (LL, L, M, S) but with eight teams qualifying in each, the number of playoff competitors jumps from 24 to 32. The hope is to reward the larger schools who play in more difficult divisions. Last season, three 9-1 teams (two in Class LL, one in L) didn't make the playoffs, and the seasons of four 8-2 teams ended on or around Thanksgiving. In 2008, 14 teams with eight or more wins didn't qualify.
"All other CIAC sports, you win 40 percent of your games, you're in the playoffs," said Berlin coach John Capodice, a member of the CIAC football committee. "I felt the football kids were shortchanged."
[+] Enlarge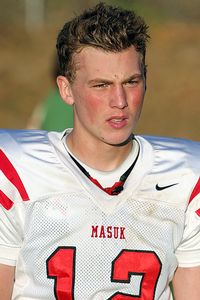 Courtesy of Dave ChoateMasuk-Monroe (Conn.) quarterback Casey Cochran is looking for a repeat performance of last year's state-best 2,968 passing yards in 2010.
It's difficult to find any detractors of the decision, aside from those who would have welcomed further expansion to include as many as 48 teams. Some, such as St. Joseph coach Joe Della Vecchia, believe the system will still keep some deserving schools out only because they're playing tougher schedules.
August, 4, 2010
8/04/10
3:48
PM ET
By
Brendan Hall
| ESPNBoston.com
Yesterday, our friends at ESPN Rise released its
No. 1 teams
for 49 of the states plus District of Columbia. Today, ESPN Rise released its preseason regional rankings
today
, and three New England schools made the Top 20 in the East Regional.
Brockton is tops amongst the New England teams, coming in at No. 11. Xaverian is No. 15 on the list, while Notre Dame of West Haven, Conn. rounds out the list at No. 20.
August, 3, 2010
8/03/10
12:47
PM ET
By
Brendan Hall
| ESPNBoston.com
ESPN Rise released its Powerade Fab 50 yesterday and will unveil its regional rankings tomorrow. But today, Rise is releasing its pick for No. 1 in 49 of the 50 states plus District of Columbia, with the perennial power Brockton Boxers
taking the top honors in Massachusetts
.
The Boxers, who finished 9-2 last season, are a favorite to capture their first Division 1 Super Bowl title since going back-to-back in 2004-05. As usual, they return talent in the secondary, led by the University of Miami-bound Albert Louis-Jean.
Plymouth Regional, currently on a 56-game winning streak, is ranked No. 1 for the state of New Hampshire, while Notre Dame of West Haven, Portsmouth and Windham were the top picks in Connecticut, Rhode Island and Maine, respectively. There was no pick for the state of Vermont.