Boston High School:

Oakmont
November, 17, 2012
11/17/12
1:20
PM ET
By
Brendan Hall
| ESPNBoston.com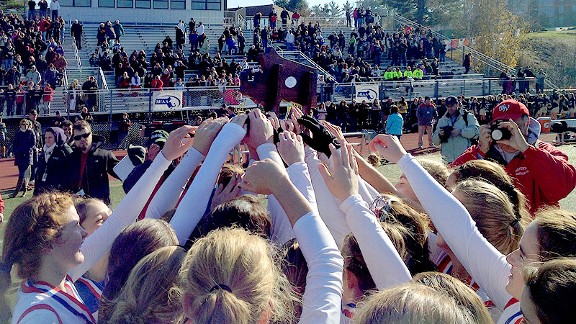 Brendan Hall/ESPNBoston.com Watertown captured its fourth straight Division 2 field hockey state championship, and 13th overall since 1986, with a 1-0 win over Oakmont.
WORCESTER, Mass. -– Lauren Sutherland leaves Watertown High having never lost a game in her storied four-year field hockey career.
What's it like to lose? She couldn't tell you from first-hand experience.
A tie?
"It sucks, it really sucks," the Holy Cross-bound senior forward laughed.
This year has been a perfect slate, however. Sutherland assisted on a goal 10 minutes into the Raiders' contest with Oakmont, then held off a series of rallies late in each half as they held off the Spartans, 1-0, at Worcester State University's Coughlin Field, to capture the program's fourth straight MIAA Division 2 field hockey state championship, and 13th overall dating back to 1986.
Watertown ended its season a perfect 23-0-0, and have gone 93-0-2 since the beginning of the 2009 season. Oakmont, its foil in three of these last four state championship games, ended the season 18-1-3. The Spartans have lost just two games the last two years, both to the Raiders in the state final.
"It's crazy, I feel like I'm on cloud nine, I couldn't believe it," Sutherland says of her four-year run with the Raiders. "At the beginning of the season, we used one word, and that was overwhelm, because we didn't know what we were getting into with so many missing players from last year.
"But we pulled through and exploited all our strengths. To get all the way here is unreal."
Overwhelm is the operative word here, because Sutherland inundated the Spartan defense over the first 15 minutes, outmaneuvering multiple players at a time with some backhand-to-forehand surgery and creating penalty corner opportunities.
The Raiders took the 1-0 lead just 11 minutes into the contest off a penalty corner, set up by Sutherland. Northeastern commit Alyssa Carlson pushed the ball to the top of the circle from the left of the cage, where Sutherland wound up and fired away. The shot was off, pulling to the right, but sophomore Emily Loprete was there at the near post for the redirect.
"She got a smash in," said Eileen Donahue, head coach for all 13 of Watertown's state championship teams. "And Emily is so good around that net. It was nice that we were able to hold that off."
Oakmont tightened up defensively, and swung momentum late in the second half as they began to build plays from the back. Rachel Testa had the Spartans' best chance of the day stopped at the doorstep by goalie Maddie Rocklin; the junior crashed to the weakside post on a free position shot, as the one-timer pass came across the circle, but Rocklin was able to recover and lay out in time with a dive.
The first half ended with two Oakmont penalty corners, but shots by Morgan Caisse, then Kristin Aveni, were turned away.
Watertown dodged a bullet with 10 minutes to go in the game, with Rocklin trying to fall back and recover after coming off her line, but the shot rolled wide right through a scrum. The Spartans then picked up two yellow cards less than a minute apart, playing most of the last 10 minutes down two players.
"This team held their own, and we played field hockey out there," Donahue said. "We played with speed, we played with intensity out there. I was very proud of the way we held our own against a very aggressive type of team."
Bottled up:
The Spartans adjusted to Sutherland's aggression as the first half wore on, not only marking her, but sending an extra defender to trap on the outside and cut off passing lanes. Sutherland typically excels at gravitating to space, but this is a new position for her, having played midfield last year. That, in turn, forced a counter from the star forward.
"We knew that a lot of times they were pressuring us on the outside," Sutherland said. "So I was cutting middle a lot, and trying to get away from my girl. It was happening a lot, where we could trap them to the outside, and then slip it middle really quickly."
And after getting contained for the last chunk of the first half, Sutherland found some rhythm again in the opening minutes of the second half. In one sequence, she played a through pass long in transition, and sprinted for about 30 yards with just a single defender trailing, pulled the ball around a stopper, but was unable to corral it in sharply in front of net.
A few moments later, at the 20-minute mark, Sutherland again fired away from dead center on a penalty corner, only to be turned away by a kick save from Kayla Costa.
With a young and constantly-fluctuating lineup this year, Donahue was glad the Raiders were able to make the necessary in-game adjustments today.
"We were practicing until 7:30 last night," she said. "And that's pretty tough, because we had to leave [Watertown] at 7:30 this morning. So, it just shows you what they're willing to do to do whatever it takes here."
Reeling it in:
Speaking about Sutherland's assist in the first half, Donahue mentioned about the senior getting "too excited" with her first few attempted shots of the last several games, in turn popping it up or misfiring. Donahue has been working with Sutherland the last few weeks on dialing things back a little bit for a more even keel, and the results were evident this morning.
"A lot of times, when I get excited I pick my head up and my shots kid of pop up," Sutherland said. "We've done a lot of practicing on corners, just shooting into the circle where I have to keep my head down and shoulder down. I've worked a lot on it, so it worked today."
Was it a matter of grip on the stick, too?
"Yeah, it's a bunch of different things," she said. "I kind of freak out before I get the ball, and that's a huge reason why."
May, 7, 2012
5/07/12
12:02
AM ET
By
Brendan Hall
| ESPNBoston.com
FOXBOROUGH, Mass. -– The Massachusetts High School Football Coaches Association put on their annual scouting combine for rising seniors this afternoon at Gillette Stadium.

Some notes and observations on the happenings abound:

Baker on the Rise: Millis/Hopedale sophomore lineman Jon Baker is quickly rising on the recruiting radar both locally and nationally, not just for his imposing physicality in the trenches, but for his demeanor off the field as well. Coaches rave about his maturity; with the media, he is typically cordial and pointed in his answers.

But this question has him pausing for a moment, weighing over the right words to say: How would you describe yourself as a player?

"He's thinking, so that's a good thing," chuckles his head coach, Dale Olmstead, just a few feet behind him. "Listen, I love seeing him sweat, because he does so many things so well. Now to see him squirm like this, I'm enjoying that."

Finally, Baker begins, "I guess I'm physical…I like to hit. I like to pull. Move, block, you know, linemen stuff."

These days, it's hard to tell what's the more impressive story coming out of Millis' program these days: the Mohawks' turnaround under Olmstead, capped with an appearance in the Division 4 playoffs last fall; or that out of such a small school with roughly 150 boys to pick from, this 6-foot-4, 305-pounder already holds a scholarship offer from one Division 1 school (UMass) and building varying degrees of interest from a score of others (Michigan, Viriginia, Boston College, Maryland, UConn, Stanford).

Wearing his frame well and with plenty of upside, Baker was named a Tri-Valley League All-Star in 2011, and will figure to rack up plenty more hardware over the next two seasons.

Athletically, he is quite impressive. He runs close to a 5.1-second 40-yard dash, benches over 400 and squats over 500. At the combine, he did 32 reps of 185 pounds on the bench press, the most out of any of the 300-plus participants.

As it currently stands, Baker said he will visit camps this summer at Virginia, BC and Wake Forest, with Michigan a possibility as well.

"It's exciting definitely, just to know schools like that are interested in me," Baker says quietly. "It's a good feeling."

Mo Carries, Mo Passes? Xaverian's Maurice Hurst Jr., an ESPN Boston All-State selection last fall, was on site to support his teammates, but did not participate in drills. That didn't stop the 6-foot-2, 290-pounder from stretching out with others during warm-ups and doing a few handstands.

You can place the big guy in the category of locals that have seen their stock take a meteoric rise, at least by Massachusetts standards. Like Catholic Memorial stars Armani Reeves and Cam Williams last year, and like Everett offensive tackle John Montelus this spring, Hurst has at least a dozen offers from Division 1 schools, including Ohio State, Michigan State, Penn State, UConn, Maryland, Nebraska, Missouri, North Carolina, BC and UMass.

"It's been pretty hectic," Hurst said of the last few months. "A lot of schools have contacted me, and then all the fans, everyone just trying to make me make a decision as soon as possible."

Hurst attended Ohio State's spring game last month, and has also taken unofficial visits to Virginia, North Carolina, Duke and NC State. He says he won't be making any decision until after he has visited Michigan and Michigan State, dates for which haven't been planned yet.

You can attribute part of the sudden rise in Hurst's stock in one impressive touchdown run against St. John's of Shrewsbury last fall. Xaverian coach Charlie Stevenson typically pairs Hurst with tailback Hunter Taute in the backfield when in goal line and short-yardage situations. In this particular run, Hurst lined up at tailback, trucked a Pioneers defensive back and reeled off a 75-yard touchdown run in Vince Wilfork-like fashion.

Hurst made our All-State Team last season as a defensive tackle, and that will be his assignment at the next level. But six months after that posterizing run, Hurst is getting giddy talking about learning the passing tree.

That's right, the big guy will be in 7-on-7's this summer. Better yet, there's a chance we could see him catching passes out of the backfield come the fall.

For now, though, Hurst will focus on improving his speed and conditioning – "A LOT of conditioning," he adds.

Eyes on Chuddy: Out of all the line prospects in this Class of 2013, Dighton-Rehoboth's Chuddy Nwachukwu might be the one with the most untapped potential.

For one, he is a legit 6-foot-7, and the younger brother of Mary Nwachukwu, currently a 6-foot-2 basketball center at St. John's University. Chuddy went through some dominant stretches during the season for the Falcons, but also played at as much as 345 pounds.

Head coach Dave Driscoll says Chuddy, who was not present at the combine, has slimmed down to about 310 pounds. Chuddy has been working out five days a week with Greg Homel, a trainer at UMass-Dartmouth who has also helped develop former Dartmouth High standout and Minnesota Vikings running back Jordan Todman. All of Chuddy's times, Driscoll says, have gone down, while "his agility has gone up."

"He's going in the right direction," Driscoll said. "He is going to have to show D1 coaches that he is someone who is going in the right direction, and someone they can mold into what they want."

In the meantime, as Driscoll alluded to, the Division 1 suitors are keeping tabs. NC State told Driscoll they are looking for three tackles for the 2013 recruiting class, while UConn told Driscoll they are in need for "quite a few" offensive linemen. Penn State, Iowa, Boston College and UMass are also showing varied degrees of interest.

Garcia A Sleeper? Legendary former Leominster coach John Dubzinski was seen walking around the Gillette turf this afternoon, but he wasn't there to just catch up on old times. The names John, Walt and Mike Dubzinski are all household names in Central Mass., and now that coaching tree has extended into the Boston area.

John Dubzinski is now an assistant coach for his son, John, who is going into his second season as the head man for Arlington High. The Spy Ponders went 3-8 last season, and have struggled for most of the last two decades, but are on the up and up under this new regime.

And better yet, they might have one of the more underrated talents around.

Matt Garcia stars at both running back and linebacker for the Spy Ponders, and has been picking up interest from UMass and New Hampshire as of late. You have to think back to Liam Ezekiel, a former Buffalo Bill and all-time great at Northeastern, for the last time Arlington sent a linebacker to the Division 1 ranks. But Garcia certainly passes the eye test right now.

Wildcat Pride: Several players from the Gardner High squad were donning t-shirts with the score of their 2011 Thanksgiving game with archrival Oakmont Regional across the front – for the unfamiliar, that reads "Gardner 21, Oakmont 0".

Full disclosure time. I'm an Oakmont alum, and in my three years on the Spartans' varsity sideline we never lost to the Wildcats – including twice on their turf, Watkins Field. And if I'm not mistaken, we still hold a 2-to-1 advantage in overall wins in this series, arguably one of the most heated rivalries in Central Mass.

Still, not cool fellas...

November, 19, 2011
11/19/11
3:43
PM ET
By
Matt Noonan
| ESPNBoston.com



WORCESTER, Mass. -- In a rematch of the 2009 Division II state finals, Watertown once again ended Oakmont's season on a down note, as the Raiders beat the Spartans, 3-1, and earned their third straight championship, and fifth in 10 seasons.

"[It feels] awesome. I don't even have words right now," said Watertown senior forward Erika Kelly.

"I'm very proud of all the girls in the whole entire program. They worked really hard, and it's been a long journey for us this year," said Watertown head coach Eileen Donahue. "We replaced a lot of people and they fought for it all year, and I'm very proud of them."

The Raiders controlled the momentum from the opening whistle, as freshman Allie Dogget directed a shot toward Oakmont's cage, which was redirected by senior Lauren Giordano for the score.

Watertown's offense then tallied numerous offensive shots, but couldn't muster their second goal until Erika Kelly dribbled through Oakmont's defense and flicked the ball past Spartans junior goaltender Kalya Costa, with three minutes remaining in the opening half.

"The forward lineup has [a] really good flow. We're all really close and we just know where each other is all the time, and it really helped us on [our second] goal," said Kelly.

In the second half, Kelly recorded her second goal of the contest when senior Meaghan Kelly connected with her in the box to push Watertown's lead to three goals.

"Just scoring two goals on my last game was just really the best feeling you can ask for [and] just knowing you're leaving with a good name," said Erika.

Coach Donahue commended Kelly's goals, as well as her team mentality too, which was exhibited throughout the entire season.

"She's more concerned about the team results and it was evident by the third goal, how that ball went from one to another and clearly all three of them could have scored, but they were more about where the better opportunity and that's what our program is all about," said Donahue.

Oakmont eventually managed to record a goal during the closing minutes, as junior Kathryn Nutting connected with Devan Wirtanen for the Spartans only point of the match.

"This team didn't give up, my team today, they never gave up," said Oakmont head coach Leanne Roy. "They didn't hang their heads, and kept on pushing and driving forward."

The Raiders regrouped following the Spartans only strike, as well as dashed any hopes of a comeback for Oakmont, as the defense kept the ball out of their box

"Our team defense and our team defense with our forwards helping us as well pressuring," Donahue said. "I think our pressure on the play helped us tremendously, so that Oakmont couldn't get off all [their] shots."

With the win, the Raiders have now won 69 games since losing their last match against Hopkinton in the 2008 state semi-finals.

"It feels pretty good right now [to have won three years in a row]," Donahue said. "It's very, very nice, and it's not easy and playing all these teams throughout the season, regular season prepared us for this moment. I'm glad they got this great moment."



November, 16, 2011
11/16/11
12:25
AM ET
By
Matt Noonan
| ESPNBoston.com


WESTWOOD, Mass. -- As the helm of 11 state championship teams with Watertown field hockey, Eileen Donahue has seen her fair share of talented players. While she couldn't pick one of the others, senior forward Erika Kelly is among the very best.

Kelly again proved why, setting the tone early as she registered three first half goals, which helped the Red Raiders beat Canton, 3-2, in the Division 2 state semifinals.

"We all had great communication, and we just came ready to play, and I think that's what really helped us," Kelly said.

"Erika has had a wonderful career at Watertown High [School]. The girls fed her that ball beautifully too," Watertown head coach Eileen Donahue said.

Kelly posted her first goal literally two minutes after the opening face-off, and completed her hat trick during the final five minutes, as she scored on a breakaway and penalty shot, which gave the Red Raiders (21-0-1) a commanding lead prior to Canton's first strike, which came off the stick of junior Meaghan McKenna before halftime.



The Bulldogs (20-1-1) then added one more goal in the second half when senior Haley Gaughan scored the team's final goal with roughly six minutes remaining.

"In the halftime, we talked about that we had gone away from our game, we were sitting back and letting them beat us to [the] ball, we weren't going to receive some of the nice passes we had, so we really just talked about getting back into our game, and settling things down," said Canton head coach Fior Griggin, whose team was ousted by Watertown for the third straight season. "In the second half, we did that. We had more passing, we challenged them more, we didn't allow them to receive without any pressure, and I think that made the difference, but we just ran out of time."

"When they scored that second goal, the group actually was almost speechless there," Donahue said. "They were actually angry, and then they composed themselves to we've got to play our game, and we can't give up because Canton clearly had the momentum."

Watertown's defense fended off Canton's remaining scoring chances, earning them a spot in Saturday's state title match against Oakmont and a chance to earn a third-straight state title.


July, 27, 2011
7/27/11
6:08
PM ET
By
Brendan Hall
| ESPNBoston.com
Former Oakmont Regional and UMass running back John Griffin has signed with the Cincinnati Bengals, and will compete for a roster spot when the team opens training camp in Georgetown, Ky. on Saturday.

Griffin was an All-CAA first team selection at Northeastern University back in 2009, before the school dropped the program. He transferred to UMass with one year of eligibility and ranked second on the team in rushing (168 carries, 843 yards, 5 TD) to Leominster's own Jonathan Hernandez.

"I felt good," Griffin told the Worcester Telegram & Gazette. "I'm just excited to have another place to go and try to keep playing."

His career at Oakmont is a unique story. Originally from Texas, where his father played for the Longhorns, Griffin moved to Westminster prior to his freshman year and made a name for himself in track and field, setting the school record in the 100-meter dash and also winning a state championship in the event. Griffin came out for the football team as a senior in 2006, after dabbling in the junior varsity as a freshman, and promptly shattered the Spartans' single-season records in total points scored and touchdowns (25). The Spartans went on to beat Frontier Regional in the Division 3 Super Bowl for their first Super Bowl title since 1984.

Griffin is the first Oakmont grad in three decades to be invited to an NFL training camp. Shawn Halloran, who backed up Doug Flutie before quarterbacking Boston College to victory in the 1985 Hall of Fame Bowl, made three appearances for the St. Louis Cardinals in the strike-shortened 1987 season.