Boston High School:

Oliver Saffery
June, 14, 2012
6/14/12
12:38
PM ET
By
Ryan Kilian
| ESPNBoston.com


ALLSTON, Mass. -- Concord-Carlisle took one step closer to their dream perfect season on Wednesday night as they defeated Wellesley 5-4 in the Eastern Massachusetts Division 2 championship.

No. 2 seed C-C (21-0) used their typical blend of strong defense, timely offense and elite goaltending throughout the game and held off a spirited fourth quarter comeback by the Raiders.

"We just made one more play than them," Concord-Carlisle head coach Tom Dalicandro said. "It could have gone either way. It was a one goal game and they really pressed us at the end."

Wellesley (19-4) jumped out to an early one goal lead at the 7:46 mark in the first quarter as senior midfielder Oliver Saffery (2 Goals) took a pass from behind the cage and flipped it behind his back to beat Concord-Carlisle All-American goalie Doug Gouchoe.

Wellesley dominated the early possessions in the opening quarter but Gouchoe turned away five big shots in the opening frame that could have extended the lead even further for the Raiders.

Concord-Carlisle took momentum right back from Wellesley at the start of the second quarter as freshman Will Blumenberg (1G, 1 A) won the opening face-off and found defensive midfielder Tyler Koning for the game-tying goal at the 11:49 mark in the second quarter..

Junior attack Charlie Painter would give Concord-Carlisle their first lead of the game with just under a minute remaining in the first half. Painter took a feed from classmate and fellow attack Tim Badgley (1G, 1A) and beat Wellesley goalie Connor Darcey low to give C-C a 2-1 lead at the half.

Darcey also kept the Concord-Carlisle lead from getting away from the Raiders as the senior came up with several key saves in the second quarter including two at the end of the half.

"We hit a couple of pipes and Darcey robbed us a couple of times as well," Dalicandro said. "Both goalies were unbelievable today. They are the two best goalies in the state."

C-C exploded out of the halftime intermission and scored two quick goals with less than a minute gone off the clock. Blumenberg and senior midfielder Jackson Finigan both added unassisted tallies to give C-C a 4-1 lead. Badgley would fire home another goal in transition on a feed from senior midfielder Mike O'Brien at the 7:06 mark in the third to give C-C a 5-1 lead after three quarters.

After exchanging possessions for much of the fourth quarter Wellesley attack John Caraviello cut the C-C lead to 5-2 as the sophomore's goal sparked the fourth quarter Wellesley comeback.

Senior attack Peter Crane followed suit with another score to bring Wellesley to within two goals at 5-3 with 3:30 remaining in the game.

When the game appeared to be all but over Saffery would score again with 31 seconds remaining to cut the C-C lead to one goal at 5-4.

C-C would get possession off a Blumenberg face-off win and run the clock out to take the victory and advance to Friday night's D2 state championship game at Foley Stadium in Worcester.

Elite keepers: Both Gouchoe (Air Force) and Darcey (Penn State) had fantastic games for their respective teams as they drew the praise from fans, coaches, teammates and opponents alike.

"He played great today," Gouchoe said of Darcey. "He pretty much kept his team in the game the entire time. He had some unbelievable saves against Will Blumenberg, Jackson and kids like that. It sort of makes it hard to play against when he is such a great goalie. You do not want to mess up and make yourself look like a sieve in front of him."

Next Up: Concord-Carlisle will face Central/ Western Mass. champion Algonquin on Friday night at Foley Stadium in Worcester. The D2 state championship face-off is scheduled for 7:30 p.m.

Central Mass. champion Algonquin defeated Western Mass. champion Minnechaug, 11-6, Tuesday evening to set up the state championship match up.

In last year's D2 state final Medfield defeated Algonquin 13-9. Medfield also defeated Concord-Carlisle at Harvard Stadium last year by a score of 11-5 in the 2011 Eastern Mass. D2 final.


May, 4, 2012
5/04/12
2:28
AM ET
By
Matt Noonan
| ESPNBoston.com
MEDFIELD, Mass. -- No. 4 Wellesley lacrosse relied on its second-half transition, producing eight goals after the half en route to a 13-5 win over Division 2 rival Medfield.

While securing their 10th win of the season on Thursday, the Raiders defeated the Warriors for the second consecutive year in the regular season.

Senior Peter Crane, who paced the Raiders with four tallies, jump started Wellesley's third-quarter attack with a strike at 9:11, which was followed up by an additional tally from senior netminder Connor Darcey.

"I think it was pretty much a team effort," Crane said. "Connor makes a lot of saves, and right away he picks his head up, and we get a lot of guys to break open, even poles, and so they'll break off to the midline and the other team usually won't be ready for that, so they'll get the ball. On a good fastbreak, we usually get a lot of fast breaks a game, and we were just executing them today and finishing."

"[The transitions] were very key," added Darcey. "In practice, all we work on is shot, save or loose ball, we get it out right away, so it's just off a ground ball you move it and that's basically what our team [exhibits]."

The Warriors earned their only lead of the contest at 8:43 in the first frame when senior David Parsons collected a pass from junior Matt Ruzzo before he whipped the ball past Darcey for the score.

The Raiders evened the score a minute later when senior Adam Horelick (2G) rifled a shot past senior goaltender Dougie Nelson on the man-up, which provided Wellesley with all the momentum for the remainder of the contest.

Senior Oliver Saffery (3G) sophomore John Caraviello and Crane each tallied one goal in the second quarter, which gave Wellesley a 5-3 lead at the break, which eventually blossomed into an eight-goal victory.

"Obviously, we didn't play well," Medfield coach Mike Douglas said. "A lot of unforced turnovers, [and] all the little things hurt us, [such as] ground balls, extra possessions, which led to extra goals, and didn't execute on 'man up,' didn't do a lot of things well."

A TRUE RIVALRY GAME
The teams combined for 13 penalties, which resulted in four man-up goals, and was indicative of the teams' recent history.

"They probably had more penalties than we did," Douglas said. "It's a rivalry game. They beat us during the regular season, we beat them in the tournament, I mean it's a rivalry game, [and] it's game that both teams get up for and that's going to happen."

Medfield and Wellesley tangled twice last season, once during the regular season and once in the tournament. The Warriors defeated the Raiders, 7-5 in the D2 Eastern Mass. quarterfinals, so this particular match had a certain meaning to Crane and Saffery.

"We all know that what counts is the playoffs, but it was nice to definitely get one under our belt against Medfield," Crane said.

"This is always a big game for us, it's always a benchmark game of the season," Saffery added. "[Our senior class] hasn't wont on this field in the four years since we've been on the team, so we really wanted to come out tonight, send a message. We worked hard, everyone felt like we played a big game, and [we were] emotionally up, and got the job done."

PHYSICAL PLAY HAS TOLL
Aside from penalties, both teams sustained key injuries in the physical bout.

Medfield's Dougie Nelson endured a thumb injury late in the fourth quarter, and was replaced during the final minutes by sophomore Robert Treiber.

Meanwhile, Horelick sustained a concussion late in the second quarter after he notched his second strike of the contest.

"I'm very disappointed Adam Horelick took a shot to the head after he scores a goal," Wellesley head coach Rocky Batty said. "That's got to be taken out of the game. The referees need to take control, coaches need to make sure they don't do that [going forward]."

DARCEY LIGHTS IT UP
It's not too often that fans witness a team's goaltender scoring a goal. Although, against Medfield's midfield and defense, Darcey collected a pass following a dead ball at the midfield and then dodged his way through the Warriors' zone to net a goal at 7:13 in the third quarter.

"It was basically just off a dead ball, and I saw the attack crowd [around] the midfield line, so I just went up to midfield, caught it, other [defensemen] pushed out, basically the same thing like last year, they all pushed out during slide and I just let it go," he said. "I've been shooting a lot in practice, so I was ready for it."

Darcey, who has now recorded two goals against Medfield, explained that this particular strike wasn't has exciting as the one he scored against the Warriors in Wellesley last season.

"[My last goal] was at home, so that was pretty exciting, and that was definitely a closer game. That was definitely more exciting, but when I score, I find it pretty exciting, it's nice."
April, 22, 2012
4/22/12
12:04
PM ET
By
Ryan Kilian
| ESPNBoston.com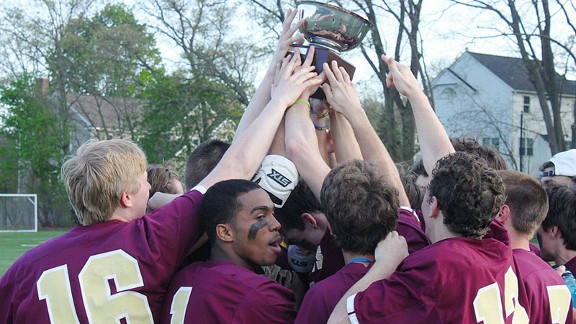 Ryan Kilian for ESPN.com
WELLESLEY, Mass. -- Concord-Carlisle got a spectacular defensive effort and timely and effective offensive possessions to defeat fellow Division 2 power Wellesley 8-4 on Saturday in the finals of the 2012 Coaches Challenge Cup.
Concord-Carlisle (6-0) got out to a 6-1 halftime lead and never looked back as they moved the ball efficiently on offense, received strong net play from senior goalie Doug Gouchoe and added great rotational team defense in the second half to seal the victory.
"It has been a great week," Concord-Carlisle head coach Tom Dalicandro said." The defense was awesome. "I knew Doug [Gouchoe] would be Doug but I am very impressed with the defense led by Henry [Bumpus]. Henry is the only one back and the other guys played JV last year. Evan Boynton was a short stick d-middie and Sam Barrett transferred back in."
Wellesley (5-2) got on the board first to open the game as senior midfielder Oliver Saffery scored the first of his two goals on the day to give Wellesley a 1-0 lead. Concord-Carlisle would answer back with six unanswered tallies, including two man-up goals in the second quarter, to take a five goal lead into the half.
"This week we have come out so strong in the first two quarters," Gouchoe said. "It is up to the defense to preserve that lead. Our offense has proved they can come out and score 8-9 goals now and that is big for our defense."
Saffery would strike again out of the break for the Red Raiders on a man-up rip to cut the C-C lead to 6-2. Wellesley senior goalie Connor Darcey made 12 saves on the day with four coming in Wellesley's third quarter shutout.
Trailing 6-2 heading into the fourth quarter Wellesley buckled down on defense and cut the lead to 6-3 as they held C-C scoreless for a 20-minute period before C-C senior attack Mike O'Brien beat the Wellesley defense on a great individual effort to ensure the win for the Patriots.
"We have to play smart," said O'Brien. "We are not the flashiest players but we have a lot of kids who work hard and are smart with the ball. When we play well we are a really hard team beat."
Wellesley also received strong play from senior long stick midfielder Ryan Cassidy, who excelled all tournament long for the Red Raiders. The senior followed up a huge semi-final effort in a win over Winchester with another strong performance on Saturday.
"It was great team win," said C-C's Bumpus. "We are playing smart and that has been what is getting us ahead in these teams. We do not make mistakes and that is what led to the Coaches Cup win."
C-C freshman attack Will Blumenberg and junior attack Tim Badgley each scored twice for Concord-Carlisle in the win.
"Our offense starts with our defense," senior attack Jackson Finigan said. "Without our defense we would not get as many opportunities for our offense. Our defense transitions the ball so well and gives us so many chances. We know that even if we do not get it the first time we are going to get the ball back."
D-MIDDIES IN FOCUS
As good as Gouchoe and C-C's close defense was on the day the most unheralded work was done by the d-midfield unit of seniors Tyler Koning (1 G), Anthony West, junior Brendan Finigan and sophomore Nick McCormack.
"Those guys played JV last year," Dalicandro said. "Brendan, Tyler, Westy, and Nick was even on the freshman team. They all did a great job today."
CUP REMATCH
The 2012 finals was a rematch of the 2011 Coaches Challenge Cup finals that was held in Winchester. Wellesley defeated C-C 5-2 on a rain soaked Saturday afternoon to win the Cup for Wellesley.
Darcey was the star of last year's game as the Penn-State bound net minder had 15 saves in the win.
After Saturday's game Wellesley head coach Rocky Batty graciously handed the trophy over to Concord-Carlisle.
"Concord-Carlisle deserves this trophy," said Batty after the game as he presented the Cup to C-C. "You won with class and if we are lucky we will get to play you again in June."
HINGHAM TAKES CONSOLATION
In the third place game Hingham defeated Winchester 9-5 behind four goals from senior attack Noah Ellis and two goals from senior attack Kevin Blair.
Hingham led 7-2 at the half but Winchester stormed back in the third quarter to cut the deficit to 8-5. Hingham midfielder Caleb Brodie would score the lone fourth quarter goal as the Harbormen take home third place in the Coaches Cup.
Lincoln-Sudbury defeated Andover 9-6 and Dover-Sherborn defeated North Andover 6-4 in the first two Coaches Cup consolation games of the day.
April, 18, 2012
4/18/12
12:34
AM ET
By
Shawn Myrick
| ESPNBoston.com


NORTH ANDOVER, Mass. -- In one of this year's top boys' lacrosse leagues, Concord-Carlisle and Lincoln-Sudbury are once more playing the role of the Dual County Leagues' perennial powerhouses.

An early season matchup between the defending conference champs may have started a potential let down, but a late push from the No. 2 Warriors in the Coaches Challenge Cup quarterfinals yesterday afternoon showed why both squads remain top in the state.

With C-C jumping ahead by five goals early, L-S (4-2) battled back but never led as they fell by a slim 8-7 margin at Joe Walsh Stadium in North Andover.

"They are the class of the league and we measure ourselves against them," C-C head coach Tom Dalicandro said. "We said 'value the ball, posses the ball, and take good shots'. I think we did a much better job today than we have done this year of valuing possession."



The No. 8 Patriots (4-0) burst out of the gate with the first three goals and a 6-1 lead to open.

Ducking defenders from the top corners of their offense, leading scorer Kevin Delehey netted all three of his goals off isolation plays in the first quarter. Slipping under a pair of Warriors, the C-C senior found himself five-yard in front of the netminder in the final seconds of the initial quarter to send the Patriots into the break up 5-1 with his final tally.

A wide-open open breakaway by long-pole Henry Bumpus left the senior walking into one-on-one with the keeper as he put the DCL (Small) defending champs up 6-1 at 11:04 in the second.

"We were able to generate some good offense out of our dodges," Delehey said. "I run through those dodges hundreds if not thousands of times. At this point so it is really just reaction."

After two turnaround tallies put the Warriors down 6-3 at half, L-S junior Jordan Dow nailed a pair of open-net man-up opportunities to help cut the deficit early in the third. L-S junior Dan Delaney rolled around his defender and hit a rip ten yards out to bring the score to 7-6 with 4:42 left in the quarter.

Delaney and Dow led the Warriors with two goals, while C-C senior Mike O'Brien also netted a pair.

"We called an invert and saw some matchups we really liked," L-S head coach Brian Vona said. "We eventually just tightened up defensively. They just out everything'd us."

Trading goals between the final quarters, L-S entered the last ten minutes down 8-7, but was unable to finish a pair of man-up chances along the post. A steal by C-C senior keeper Doug Gouchoe from behind the net sealed the victory in the final seconds.

HINGHAM ROLLS AGAIN


In other Coaches Cup quarterfinals action, No. 3 Hingham (5-0) never trailed as it was lead to a 9-5 victory over No. 14 Dover-Sherborn (7-1) with six goals from senior Kevin Blair.

"I was really finding the seams on offense," Blair said. "We are doing a lot of switches off ball, we are picking for each other and it really opens up the middle. We like to isolate and draw the men (out)."

The Raiders evened two score margin in the first, but gradually faded away as the Harbormen found open shots around the crease.

Three straight scores from Blair in the second helped Hingham run away with a 6-3 lead at 3:11. Scoring all three off motion aside the net, the senior caught a lob pass from fellow upperclassmen Reed McLeod (two goals) late in the quarter and side stepped around both the post and the goalie for his fourth tally on the afternoon.

"We have six guys on the field who are able to play well together," Hingham head coach John Todd said. "We made them practice at a high tempo. [Blair] sees the field very well and is very fast."

The Raiders managed to work the ball up top for a score from junior Matt Huemme to grab a 6-4 deficit in the final seconds of the half, but were out shot three goals to one in the final two quarters.

Hingham found Blair behind D-S's defense on a counter late in the third then buried a deep rip from senior Kevin Morris to put D-S away with a 8-4 lead at 7:24 in the fourth quarter.

"They pressured the ball real well and we did not have the ball a lot in the second half," D-S head coach Brian McLaughlin said. "It is hard to score when you can not get the ball back."

Originally trailing 3-1 in the first, senior Ben Newbert evened the score for the final time on the afternoon by finishing a ground-ball pickup next to the crease then side-arming a 10-yarder to put the score at 3-3 to end the first. Newbert lead the Raiders with two tallies.

RAIDERS PLUNDER
In the first game of the day, No. 6 Wellesley rolled past North Andover, 14-1.

Midfielder Oliver Saffery led the Raiders with four goals, in addition to a team-high seven ground balls. Ryan Cassidy collected two goals to go along with five ground balls.

Connor Darcey made eight saves in the cage to make it stand up.

"North Andover's a good team, and I'm just glad we came ready to play," Raiders head coach Rocky Batty said. "It's always nice to get a win in the Coaches' Challenge Cup, and we're already excited to play again at 2 p.m. on Thursday at Dover-Sherborn."

GOLDEN WARRIORS GIVE SACHEMS A RUN
In perhaps the day's most riveting game, No. 11 Winchester held off No. 20 Andover in a 10-9 decision.
April, 2, 2012
4/02/12
10:17
PM ET
The high school lacrosse season kicks off this week for many top teams across the state.

Here is our preseason MIAA boys' lacrosse All-State team, as compiled by ESPNBoston.com staff and correspondents.

Attackmen:
Kevin Blair, Sr., Hingham
Peter Crane, Sr., Wellesley
Seamus Connelly, Sr., Duxbury
Jeff Desko, Sr., St. John's (Shrewsbury)
Jackson Finigan, Sr., Concord-Carlisle
Paul Hellar, Sr., Duxbury
Matt McIver, Sr., Andover
Cabot Noyce, Sr. , Norwell
Nico Panepinto, Jr., Needham
Joey Pasquale, Sr., Weston
Connor Roddy, Sr., Medfield
Cam Slatton, Sr., Billerica

Midfielders:
Dan Delaney, Jr., Lincoln-Sudbury
Alex Eaton, Sr., Westford Academy
Kurt Hunziker, Sr., Masconomet
Jonathan Lee, Sr., Hopkinton
Kyle Livingstone, Sr., Cohasset
Drew O'Connell, Soph., St. John's Prep
Billy Polk, Sr., Dover-Sherborn
Mark Riley, Sr., Needham
Oliver Saffery, Sr., Wellesley
Kyle Soroka, Sr., Acton-Boxborough
Tim Towler, Sr., Masconomet

FOGO:
Clay Richard, Sr., Medfield

Long Stick Middies:
James Burke, Sr., Duxbury
Reilly Naton, Sr., Duxbury

Defensemen:
Henry Bumpus, Sr., Concord-Carlisle
Ryan Cassidy, Sr., Wellesley
Pat Hannigan, Sr., Hanover
Jay McDermott, Sr., Duxbury
Nate Menninger, Sr., Newton North
Matt O'Keefe, Sr., Duxbury
Max Randall, Sr., Duxbury
Paul Tocci, Sr., Lincoln-Sudbury
Brian Uva, Jr., St. John's Prep
Ian Yanulis, Jr., BC High

Goaltenders:
Jonathan Barton, Sr., BC High
Henry Buonagurio, Sr., Duxbury
Connor Darcey, Sr., Wellesley
Jared Fong, Sr., Weston
Doug Gouchoe, Sr., Concord-Carlisle
Miles McCarthy, Sr., Catholic Memorial
D.J. Smith, Jr., Billerica
Greg Stamatov, Sr., Foxborough
October, 5, 2011
10/05/11
11:19
AM ET
ESPNHS unveils its first Top 100 rankings for the Class of 2012, and the list is littered with local flavor.
One week after being named the nation's top attack by ESPNHS, Darien (Conn.) High's Case Matheis is ranked as the nation's top overall player; Salisbury (Conn.) attack Mikey Morris comes in at No. 7, while Deerfield Academy goalie Luke Aaron rounds out the top 10 at No. 10.
Three members of Duxbury's MIAA Division 1 state championship squad last spring are ranked in the top 60 -- Matt O'Keefe (32), Seamus Connelly (36) and Reilly Naton (51).
The full list
can be found here
. The locals populating the ESPNHS 100 are listed below:
1. Case Matheis, Attack, Darien (Darien, Conn.) - Duke
7. Mikey Morris, Attack, Salisbury School (Salisbury, Conn.) - Johns Hopkins
10. Luke Aaron, Goalie, Deerfield Academy (Deerfield, Mass.) - Duke
26. Tanner Scales, Defender, Salisbury School (Salisbury, Conn.) - Virginia
32. Matt O'Keefe, Defender, Duxbury (Duxbury, Mass.) - Johns Hopkins
36. Seamus Connelly, Attack, Duxbury (Duxbury, Mass.) - Duke
39. Dickson Smith, LSM, Holdnerness School (Holderness, N.H.) - Virginia
44. Joe Kruy, Midfielder, Philips Andover (Andover, Mass.) - Duke
51. Reilly Naton, LSM, Duxbury (Duxbury, Mass.) - Yale
61. Oliver Saffery, Midfielder, Wellesley (Wellesley, Mass.) - Gettysburg
64. Will Ryan, Goalie, Avon Old Farms (Avon, Conn.) - Johns Hopkins
65. Connor Darcey, Goalie, Wellesley (Wellesley, Mass.) - Penn State
71. Sean Conners, Attack, Deerfield Academy (Deerfield, Mass.) - Princeton
83. Bob Fahey, Defender, Bishop Guertin (Nashua, N.H.) - Undecided
93. Corey Wisnowski, LSM, Berkshire School (Sheffield, Mass.) - Undecided
96. Billy Heidt, Midfielder, Brunswick School (Greenwich, Conn.) - Dartmouth
100. Greg Stamatov, Goalie, Foxborough (Foxborough, Mass.) - Villanova
September, 14, 2011
9/14/11
11:52
AM ET
ESPN High Schools continued its countdown of the Top 25 rising lacrosse seniors at each position today with a look at the
midfielders
.
Phillips Andover's Joe Kruy was first among the New Englanders represented on the list at No. 12.
In addition, the long stick middies were in focus last week, with Dover-Sherborn product Dickson Smith leading the list of locals at No. 5. The complete LSM list can be found
here
.
Midfielders:

12. Joe Kruy, Phillips Andover (Andover, Mass.), Duke
18. Oliver Saffery, Wellesley (Wellesley, Mass.), Gettysburg
25. Billy Heidt, Brunswick School (Greenwich, Conn.), Dartmouth
Longstick midfielders:
5. Dickson Smith, Holderness School (Holderness, N.H.), Virginia
Smith is a 6-foot-4 long stick midfielder who is versatile and can play close defense as well. The rising senior has a smooth style and uses his large frame and long arms to make good checks. Smith was named to the New England Underclass team at the Under Armour games, which won the event title.
7. Reilly Naton, Duxbury (Duxbury, Mass.), Yale
Naton does a great job bringing the ball up field and then looking to dump the ball off to one of his more skilled shooters and collects the easy assist. The Duxbury rising senior plays the wing on face offs and is always there to get the ground ball off the face. Naton will be a special player at the next level.
11. Corey Wisnowski, Berkshire (Sheffield, Mass.), undecided
17. James Burke, Duxbury (Duxbury, Mass.), Penn State
23. Steve Brown, St. Sebastian's (Quincy, Mass.), Middlebury
July, 1, 2011
7/01/11
3:48
PM ET
ESPN RISE today announced the second annual Warrior 40 Final Competition. The culmination of a four-region search across the United States to find the best lacrosse athletes nationwide, the Warrior 40 Final Competition will be held at Harvard University in Cambridge, Mass., Friday, July 8, and Saturday, July 9, 2011.
Focused on elevating lacrosse players' knowledge on and off the field, the athletes will be coached by top MLL players throughout the two days of competition. Friday will feature a skills competition with the final taking place at Harvard Stadium on Saturday before the MLL All-Star Game.
The skills competition and final will air on ESPNU Sunday, July 10, from 9-11 p.m. ET.
Locally, the Warrior 40 roster is set to include the following players:
Connor Darcey, Goalie, 2012, Wellesley, Mass. (Wellesley HS), Penn State
Niall Devaney, Attack, 2012, North Falmouth, Mass. (Canterbury School), Uncommitted
Joe Kruy, Midfielder, 2012, Sudbury, Mass. (Philips Andover), Duke
Matt O'Keefe, Defense, 2012, Duxbury, Mass. (Duxbury HS), Johns Hopkins
Oliver Saffery, Midfielder, 2012, Wellesley Hills, Mass. (Wellesley HS), Uncommitted
Greg Stamatov, Goalie, 2012, Foxborough, Mass. (Foxborough HS), Villanova
Curtis Townshend, Defense/LSM, 2012, New Canaan, Conn. (Brunswick School), Uncommitted
J.C. Vivian, Midfielder, 2012, South Hamilton, Mass. (Governor's Academy), Georgetown
The complete roster
can be found here
.
May, 26, 2011
5/26/11
11:27
PM ET
The Bay State Conference announced its boys' lacrosse all-stars today, in addition to naming Wellesley goaltender and Penn State commit Conor Darcey as the league's MVP.

Here's the complete list:

First team:
Goaltender - Conor Darcey, Wellesley*
LSM Specialist - Ryan Cassidy, Wellesley*
LSM - Justin Lanzafane, Framingham
Defense - Nate Menninger, Newton North*
Defense - Jake Shearman, Newton North
Defense - Joe Manganaro, Natick
Defense - Jimmy Hughto, Wellesley*
Defense -Matt Ndden, Walpole*
Mid - Mike Stearns, Framingham*
Mid - Cam Brown, Natick*
Mid - Sam Lawrence, Wellesley*
Mid - Charlie Jennings, Wellesley*
Mid - Oliver Saffery, Wellesley
Mid - Mark Riley, Needham*
Mid - Davis Cutter, Needham
Mid - Eli Yannekis, Brookline*
Attack - Peter Crane, Wellesley
Attack - Kyle Guilbert, Walpole*
Attack - Brian Rossman, Norwood
Attack - Matt Hillman, Brookline*
Attack - Will Stenberg, Needham*
Attack - Nico Panepinto, Needham
*Denotes Eastern Mass All-Star

Second team:
Attack - Brendan Kelley, Milton
Attack - Conor Nugent, Framingham
Attack - Nick Foley, Walpole
Attack - Jason Lee, Brookline
Mid - Zack LaFavre, Weymouth
Mid - Ryan Quinn, Newton North
Defense - Matt Kustra, Natick
Defense - Kyle Skinner, Norwood
Defense - Mike Vespa, Needham
Defense - Josh Miller, Braintree
D Mid - Adam Horelick, Wellesley