Boston High School:

Owen Marchetti
February, 28, 2012
2/28/12
11:47
PM ET
By
Brendan Hall
| ESPNBoston.com



LAWRENCE, Mass. -- Paul Neal slouched on a bench outside the Lawrence High gymnasium, the Lancers head coach exhaling deeply after a hard-fought Division 1 North First Round battle with St. John's Prep that took on a frenetic pace. Then his wide-eyed, unsung sophomore walked by, and Neal extended his left hand for a low-five.

"Great charge, brother," Neal said softly, but with authority. "That sealed the game."

Anyone who's watched Lawrence this year is familiar with the Lancers' affinity for the run-and-gun, and against set plays. So it shouldn't come as a whole heck of a surprise that the kid driving the stake into this 80-69 win over Prep was 6-foot-4 sophomore forward Roberto Speing's crunch-time work on the glass.

Speing had four defensive boards in the fourth quarter, all of them coming in the final two minutes as the Eagles (13-8) tried to rally with a number of attempts from deep. The icing on the cake, though, was taking his third charge of the game with 1:01 left and the Lancers (15-5) leading 75-65, sliding in front of Prep's Tyler Dooley as he crashed into the lane from his right.

"I had to take it," Speing laughed. "Coach Raymond [assistant Raymond Nunez] told me I had to take three charges today, and that's what I did. That was my third one."

Neal recalled a late-night conversation with Speing earlier this season, urging him to continue working hard on the glass -- continue to "dominate the last four or five minutes with rebounding," as he put it -- in spite of the lack of attention from the public. Eventually, Neal told him, people will take notice.

Tonight might have been an eye-opener for some. On the big stage, in front of an enthusiastic capacity home crowd, Speing finished with 10 rebounds -- six in the final frame.

"I think he's finally starting to understand that," Neal said. "He's starting to get recognized. I said, 'Listen, you're the Dennis Rodman of this team. You're the guy that can put a stop on people, and seal the defense'. Tonight, I think he was the man. He rebounded when we needed rebounds."

On the offensive end, meanwhile, it was senior guard Yadoris Arias (31 points, seven rebounds) leading the way with an explosive outburst, which included a 4-of-7 effort from three-point range.

But his most crucial possession was a heady one late in the game. Charging upcourt on a fast break off a long rebound, Arias drifted to the left corner, took a kick-out pass, hesitated for a moment and then pump-faked his defender. Arias drove baseline, took a foul on his way up to a reverse layup, and hit the free throw to complete a three-point play and go up 75-65 with 1:25 left.

"It gave us a lot of momentum, it felt great," Arias said. "Bunch of young guys on the court, they're hyped, they're bringing me up. So it's just a good play."

Stumbling, he continued, "I dunno, it just feels good right now, man. I'm speechless right now. It feels good."

Seniors Franklin Martinez (nine rebounds) and Leonny Burgos both added 14 points, and senior Tre'Von Farley 11, in the winning effort for Lawrence. Prep senior Steve Haladyna finished his stellar career on a good note, finishing with 21 points and 12 rebounds.

Need for Speed: Lawrence pushed up the tempo significantly in the second quarter, leading to an 11-2 run to open, and overall it yielded some pretty favorable results. Defenders up top began strafing upcourt as soon as Prep shot went up, leading to long outlet passes. After baskets, the ballcarrier either took a long outlet on the run or brought the ball over halfcourt quickly.

That led to a number of good looks from the perimeter. Lawrence was 5-for-5 from three-point range for the quarter, three of them coming from Arias. But when Neal motioned for the troops to slow it down a bit with under three to go in the first half, the Eagles quickly mounted themselves right back into the game. Haladyna took an entry pass from freshman Marcos Echevarria and kissed a hook shot off the glass; that was followed by a tip-in and backdoor layup from Owen Marchetti.

Prep cut the lead to 41-37 at the half, but Lawrence turned up the speed again in the second half, leading 61-54 after three and never relinquishing control.

"We're not an offensive set team," Neal said. "We've got athletes, and we want to make guys keep up with us. I think execution-wise, [in the] halfcourt St. John's Prep is a much better team -- and most teams we're going to play, you know what I mean? But if we can get guys that we know can run and jump and get the game up and down, I think it favors us."

Playin' Like Jaylen: Folks around Lawrence are still talking about the Lancers' run to last year's Division 1 North final at TD Garden, after entering the tournament a No. 15 seed. Fueling that run was Jaylen Alicea, who played his way into an ESPN Boston All-State nod after averaging 30 points in five tournament games.

Arias considers Alicea a close friend, and displays many of the same characteristics -- same haircut, same chin-strap beard that's long in the chin area, similar-looking tattoos. Arias wore No. 12 last season, but has switched to Alicea's number.

"He was like a brother to me," Arias said. "When we were younger, he always had 12 and I always had 15. He left last year...so I just wanted to keep the number going and represent it well."

With 31 points tonight, Arias is off to a good start in following the momentum Alicea built in last year's tournament.

"He's playing on a mission, because I think he was in the shadows of Jaylen for years," Neal said. "They're different kinds of players, but some things are similar and they're good buddies. So I think it's his time to show he can play without those guys and still accomplish stuff as a team. There's some drive in him from that era, too."

Up Next: The No. 7 seed Lancers await the winner of Thursday night's contest between No. 2 Acton-Boxborough and No. 15 Methuen, with the game likely to be played over the weekend. A-B is the heavy favorite, but Neal said for preparation purposes "I spend a lot of time focusing on us, and then do a few simple changes."

"We want to run, and everybody knows that," Neal said. "And if you can stop that, well, good luck. We're going to try to come at you, no matter who we're playing."
December, 28, 2011
12/28/11
12:12
AM ET
By
Brendan Hall
| ESPNBoston.com



CHELSEA, Mass. -- St. John's Prep head coach Sean Connolly was reminded of his team's 18-2 run to start the nightcap of Tuesday's slate of games at the BABC Holiday Classic, and offered some pointed praise.

"We've been disappointed with our defense early on in the season, and we came out and played a lot better defense today," he said following his Eagles' 69-60 win over the Titans, which puts them in Thursday's finals. The Eagles also beat New Mission in the opening round of the "Class A" division last year's BABC tournament.

Down the other end, New Mission head coach Cory McCarthy was reminded of the start, and offered one of his trademark long, exaggerated groans.

"They kept five guys in the paint, and they dared us to shoot the ball," he said. "And the problem was, we couldn't stretch the floor."

Losing one of their leading scorers Percio Gomez (18 points per game) for disciplinary reasons, and playing star forward Isshiah Coleman for less than 20 minutes due to foul trouble, didn't help matters. But it was domination on both ends of the floor to start the game for Prep (4-0), which opened the game in a sagging man-to-man defense aimed at filling the lanes to force perimeter shots from the Titans (3-1) and taking away dribble-drive penetration.

When the Titans did try to go inside, the Eagles were usually in proper position for drawing contact and using aggression against them; three charges were called on Mission in the opening stanza.

"We were scared of them penetrating, so we really wanted to get the help defense in, and make them have to beat us from the outside," Connolly said. "We did a good of helping up, and stepping in and taking charges."

It was very efficient to start, as the Eagles led 18-2 after one quarter and 37-22 at the break. Mission stormed back in the fourth quarter with a 15-5 run, cutting the Eagles' lead to 56-53 on a Leroy Hamilton (16 points) layup from the baseline with 3:51 to go. But the Prep was particularly efficient in free throws in the fourth quarter to ice it, with the Eagles hitting 15 of 16 from the line -- including a perfect 8 of 8 by Owen Marchetti (12 points).

For the game, the Prep was a very respectable 35 of 38 from the free throw line.

"Our team shot pretty good from the line," said senior guard Mike Carbone, who led all scorers with 18 points. "I don't know how many we missed, but that was definitely our best game from the line."

Senior Steve Haladyna had yet another double-double with 14 points and 10 rebounds, while Freddy Shove also had 11 points and six boards.

Rinse and repeat: As impressive as the Eagles' game-opening defensive stand was, they were also just as efficient in breaking the Titans' 2-2-1 full court press. Over and over again, the Prep ballhandler would push the ball up one sideline to halfcourt and heave it down court towards the opposite sideline as a second trapping defender approached.

"We wanted to throw it over the top," Connolly said. "We'd seen them before, and thought they really overextended those two back guys, so we wanted to try to beat it over the top. We felt dribbling through it wasn't a good option for us, we wanted to pass over it."

McCarthy admitted his players were "a little undisciplined" in their press, "because we were too anxious."

"Usually, our idea of our pressure is to challenge the ballhandler," he said. "We backed up. We were just so inexperienced, that we'd be looking at the score as we were running back on defense. The score concerned us so much today. But you know, it happens. We're talented, but we can't be on a pedestal because we have a lot of growing pains to do."

Carbone steps it up: Connolly praised Carbone's effort the last few games, after getting off on a shoddy start to the season.

While not incredible, consider tonight a spin in the positive direction. The spunky 5-foot-8 senior came out firing, with a little bit of his customary swagger, and was 3-of-5 from three-point range, his only field goals of the night (he was 3 of 9 from the field overall). From the free throw line, he was a perfect 9 for 9.

"I haven't been shooting the ball that well lately, and it's gotten to my head," Carbone said. "In practice, I've been focusing on my shot more than anything else I've done. I don't know, it's just the adrenaline, you know? I got into it."

Fab Froshies: One of the most intriguing subplots of this game was the matchup between two freshman point guards, Prep's Marcos Echevarria and Mission's Greg Bridges. Both are undersized for their position, but are quick off the dribble and demonstrate maturity and an overall even keel when it comes to shot selection and distribution.

When the Titans mounted their comeback in the second half, it was Bridges that kick-started it. The 5-foot-5 waterbug notched six assists in the third quarter alone, and eight overall for the game. Echevarria won't be lighting up the score sheet on many nights, what with the Eagles' four seniors' abilities, but he showed a good understanding of Connolly's motion offense, and initiated ball movement.

"I thought their kid played well, he didn't turn the ball over," McCarthy said of Echevarria.

As for Bridges, McCarthy continued, "He has to learn to force the action a little bit, because even as a freshman he makes good decisions. He could do that [six assists in third quarter] all the time. He's still a freshman, still a young boy, so I think what ended up happening is he didn't try to do too much when I wanted him to do more.

"It's scary to say that of a freshman, but he's so talented that he should do a lot more. He should look for his shot, look for the action, and I know that's crazy to say about a freshman but he should force the action. He has to be involved, and he wasn't involved the way he should have."
December, 24, 2011
12/24/11
12:32
AM ET
By
Tom Layman
| ESPNBoston.com
EVERETT, Mass. — Steve Haladyna knew that the scoring pressures would fall on him this season, and so far the senior forward hasn't disappointed.
Haladyna scored a game-high 27 points on 12-of-14 shooting, and in the process recorded a milestone with the 1,000th point of his career as St. John's Prep (3-0) stormed into Everett (0-2) and took home a 66-53 victory on Friday night.
"It's good to get it over with and we can just focus on the season and focus on the team," said a humble Haladyna, who also grabbed nine rebounds and recorded four steals. "We've got a lot of work to do, but it's been a good career and I'm really happy."
[+] Enlarge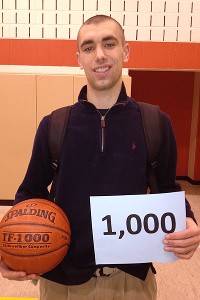 Tom Layman for ESPNBoston.comSt. John's Prep senior Steve Haladyna scored his 1,000th point in a 66-53 victory over Everett.
The only thing stopping Haladyna in the first half was foul trouble as he had to take a seat with two quick ones in the first quarter after posting the first 9 points of the game for the Prep.
His best work, and record-breaking bucket, came in the third quarter.
Haladyna was as relentless at the hoop as he was at the top of a pressure defense that forced turnover after turnover by the Crimson Tide. In the third, Haladyna scored 13 of his 27 points and got the 1,000th and 1,001st points of his career when Tyler Dooley forced a turnover and got it right to Haladyna for the lay-in and a 52-37 lead.
Time was called in the game, and Haladyna was given the game ball by the referee. He was showered with a round of applause by the Prep's visiting fans, and the Everett hosts.
Haladyna is kind of a throw-back scorer and in this game he showed off more of his inside game instead of showing off the range from deep that he clearly posses. Most of his buckets came on lay-ins and moves in the posts, as he flashed several jump hooks and pivot moves in the post to connect on 85 percent of his shots.
"He's a very good scorer," said Prep head coach Sean Connolly. "He just comes up big every time. He's very good from 10 to 15 feet in. He's got the floaters and the jump hooks and he's long and athletic. He's got very good touch around the hoop."
Prep runs away with it:
For two quarters, Everett did everything it could to disrupt any kind of flow from every other Prep player minus Haladyna. The Crimson Tide held a 29-23 lead at the half, but the Eagles came out with a different defense that completely baffled the home team.
Connolly put Haladyna's length at the top of a pressure defense and quick-handed freshman point guard Marcos Echevarria was there to lend a hand to force turnovers and turn them into quick buckets on the other end.
The Crimston Tide held a 37-36 lead after a bucket from Tyree Gregory (12 points), but that defensive pressure by the Prep turned a one-point deficit into a 22-1 run in the final four-plus minutes of the half.
Prep forced 13 turnovers in the period and as a team they shot 15-of-18 from the floor after faltering with a 25 percent clip in the first half.
"We couldn't keep those guys out of the lane, so we wanted to change up the tempo a little bit," said Connolly. "We got a little pressure in, got some deflections, got some steals and got things going a little bit."
Everett coach John DiBiaso saw glimpses of that change in philosophy by Connolly before the end of the half, but his team still couldn't manage to get the ball over half at a consistent rate. Haladyna and Owen Marchetti (12 points) did most of the work at the hoop during the lopsided run.
"We are just inexperienced in the backcourt," said DiBiaso. "We had trouble with it. When they put (Haladyna) at the top it was tough to throw over it."
August, 14, 2011
8/14/11
9:28
PM ET
Here are the final pool play results and playoffs scores from the second and final day of the RBC High School Summer Challenge, at Coolidge Middle School in Reading.
[+] Enlarge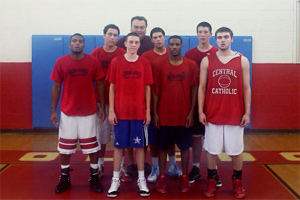 Brendan Hall/ESPNBoston.comCentral Catholic took home the RBC High School Summer Challenge championship.
Pool Play
Ashland 59, Austin Prep 42
Central Catholic 58, Acton-Boxborough 36
Quarterfinals
Byes: Central Catholic, North Andover
Manchester-Essex 73, Acton-Boxborough 70
St. John's Prep 60, Belmont 55
Semifinals
Central Catholic 100, Manchester-Essex 77
North Andover 70, St. John's Prep 63
Championship
Central Catholic 72, North Andover 49
TOURNAMENT MVP - LUIS PUELLO, CENTRAL CATHOLIC
ALL-TOURNAMENT TEAM
Doug Gemmell, Central Catholic
Tyler Nelson, Central Catholic
Nick Cambio, Central Catholic
Zack Karalis, North Andover
Isaiah Nelson, North Andover
Colby Smith, North Andover
Steve Haladyna, St. John's Prep
Freddy Shove, St. John's Prep
Owen Marchetti, St. John's Prep
Joe Flannery, Acton-Boxborough
Kevin LaFrancis, Acton-Boxborough
Taylor Ketchum, Manchester-Essex
Sean Nally, Manchester-Essex
Chris Bishop, Manchester-Essex
John Dillon, Belmont
Sam Musler, Belmont
Tim Juih, Ashland
Rodney Morton, Malden
March, 20, 2011
3/20/11
12:31
AM ET
By
Corey J. Allen
| ESPNBoston.com


WORCESTER, Mass. -- St. John's Prep opened up the second half with a 7-0 run, doubling its lead to 35-21 with 1:07 gone off the clock and soared with a double-digit lead for the remainder of the match, defeating the Pioneers from St. John's of Shrewsbury, 72-57, to capture its first Division 1 Championship title in school history and cap off its first appearance at the State final since 1974.

"We knew we kind of let them in it, we were only up by seven," said junior guard Owen Marchetti. "We really stressed at the half to step on their throat and give it to them. [Defense] was the key, and also to attack the basket, Steve [Haladyna], Pat [Connaughton] and me, get to the hole and not just settle for jumpshots."

Prep coach Sean Connolly turned up the pressure early in the third because he felt that his team was playing the game of the Pioneers (22-3) game, not of his own Eagles (24-1).

"We wanted to speed the game up," said Connolly. "We want to get the game up in the 60's and 70's; it's their advantage at that pace (28-21 at half)...I feel we have a deep team, we can go 8-9 deep, all guys who can contribute. I've watched them and they'd only gone six or seven deep, so we wanted to get the game going up tempo."

"We just didn't handle the press well," said Pioneers head coach Bob Foley. "Didn't get to the right spots, then all of a sudden it was, 'Bang, bang bang' and you're down 14 points."

Marchetti (8 points, six assists) started of the third quarter with a steal and an assist to Steve Haladyna (29 points, two steals) who finished with a lay up to make the game 30-21. Haldayna jacked a three the next time down court to open up a double digit lead, and then Marchetti drove for a layup with 6:53 for a 14-point Prep advantage, their largest lead to that point in the game. Marchetti would end the game with four steals, but his first in the third quarter to extend the Eagles' lead nine and the second which Connaughton took down the lane for a layup to put them up 15 were his most crucial plays of the game.

"We turned the ball over on the first possessions, they got a couple of layups," said St., John's School senior Richard Rodgers. "And we missed ours' and that's when we got into a hole. When you get into a hole against that good of a team it's hard to come out of."

At the end of the first quarter, Prep was only up by two. Connaughton (25 points, 12 rebounds, six assists, three steals) tried to send the ball to Haladyna for the opening tip, but the ball rolled out of bounds. On Prep's first possession though, Rodgers punched a Connaughton shot attempt, with the Crusader's fans feeling the block and filling the DCU Center with their enthusiasm. When the Pioneers took the lead at 17-16 early in the second quarter, Prep quickly regained the lead at 18-17, with Connaughton returning the favor, sending a Rodgers shot flying before the Eagles went on a 10-4 run for the rest of the quarter.

With the score 22-17, Rodgers (26 points, 10 rebounds) pulled the Pioneers within one on a four-point play, grabbing the offensive rebound, backing up behind the arc, hitting the three-pointer, taking the contact from Isiah Robinson and hitting the free throw to make the score 22-21. A lot of work for one player, but on the back end, Connaughton flushed a trey, Haladayna stole the ball and made a layup and Freddie Shove hit a free throw. Rodgers had backed down Connaughton and may have had a chance to hit a shot under a minute left, but Connor Macomber slid over to help Connaughton, forcing Rodgers deep into the corner, shooting from behind the basket and missing the shot.

"Coming off the bench, I don't care if I'm a starter," said Macomber. "I'll do whatever my team needs me to do. If it's D-ing somebody up, I'll do it."

The Prep finished the third quarter up by 19 and cruised to a 15-point win. While Connaughton and Haladyna combined for 56 points, one less than St. John's School total score, they had five other guys account for 16 points, making the difference, as the Crusaders only had four players light up the scoreboard.

"They've got so many offensive weapons," added Foley, "that we didn't have enough defensive weapons to stop them."


March, 18, 2011
3/18/11
3:53
PM ET
By
Brendan Hall
| ESPNBoston.com
We've got you covered from the first tip-off to the final buzzer tomorrow at Worcester's DCU Center, home of six MIAA basketball state championships. But for now, to whet your appetite, here's high school editor Brendan Hall's picks for each of the six games.
DIVISION 3 GIRLS: LEE (24-1) VS. ST. MARY'S OF LYNN (23-4)
The Lowdown:
In a season of relative unknowns in Division 3, the Wildcats of Lee dominated Western Mass again, albeit to nobody's surprise. Puncutated by wins over Division 1 finalist Amherst and Division 3 juggernaut Sabis (which was averaging nearly 70 points per game before falling in the D3 West final to Lee), the Wildcats are at it again with that famously dogged press of theirs. Always undersized yet always relentless, they blitzed Pentucket a year ago on the DCU floor en route to their sixth state title in 20 years, and could be up to their same old tricks tomorrow morning. St. Mary's, meanwhile, has size all over the place, led by the senior "Twin Towers" of 6-foot-2 center Tori Faieta and 5-foot-11 forward Cassi Amenta. The Spartans beat Lee a month ago, 71-60, in a tournament just before the start of the MIAA playoffs.
Hall's Pick:
History says to never take Lee lightly -- no matter what shape or size it comes in. But unfortunately, there is just too much size to be accounted for on St. Mary's side of things. Not that they're unbeatable, but I just think the Spartans will control the glass.
St. Mary's, 50-45.
DIVISION 3 BOYS: WHITINSVILLE CHRISTIAN (22-2) VS. WATERTOWN (19-5)
The Lowdown:
Another matchup that on paper looks uneven, the Whitinsville Christian Crusaders boast plenty of size behind 6-foot-9 Hans Miersma, who dominated Lenox in Wednesday night's Central/West semifinal. Meanwhile, Watertown's tallest player is 6-foot-3 senior forward Connor Stockdale -- whom head coach Steve Harrington likens to another point guard on the floor -- and Marco Coppola, one of the state's leading scorers with 25 points per game. Whitinsville excels in the 2-3 zone but isn't afraid to quickly drop it and play straight man should they get into early trouble. But this is Harrington's Raiders, which means you're likely to see four things: weakside post, four out, pick and roll, perimeter shots. In other words, don't take the Raiders lightly, especially if they don't try to challenge Miersma immediately at the rim.
Hall's Pick:
The tale of the tape favors Whitinsville, just based on the size it wields in the frontcourt. But Steve Harrington is one of the best coaches in New England, and you can guarantee he's going to draw up a hell of a game plan to try and neutralize the size advantage.
Whitinsville Christian, 65-64.
DIVISION 2 GIRLS: ARLINGTON CATHOLIC (20-6) VS. MILLBURY (23-1)
The Lowdown:
The Arlington Catholic Cougars -- led by Emma Roberson, Nicole Catizone, and sisters Rachel and Maura Buckley -- can be viewed as a green bunch with all of their youth abound. But on Monday night at TD Garden, they pulled off one of the more impressive feats in recent EMass Finals history, clawing back from 18 down with six minutes left in the first half to take a halftime lead over Hopkinton and hold it up. Meanwhile, Millbury has burned opponents in the transition game all season long, beating opponents in the playoffs so far by an average of 16.5 points per game. Out on the break, seniors Julie Frankian (19.1 points, 8.3 rebounds) and Sydney Bloomstein (9.5, 6.1) have been as formidable duo as we've seen in Division 2.
Hall's Pick:
Sorry, AC. That was an amazing comeback you pulled over Hopkinton over the Garden. But this is Julie Frankian's moment in the sun.
Millbury, 60-48.
DIVISION 2 BOYS: NORTHBRIDGE (20-5) VS. NEW MISSION (21-4)
The Lowdown:
Mission was the odds-on favorite in Division 2 headed into the season, and hasn't done a whole lot to convince otherwise. Led by three Northeast-10 ready senior guards in Samir McDaniels, Kachi Nzerem and Darius Davis; as well as Charles Gunter, Leroy Hamilton, and Isshiah Coleman on the blocks; the Titans have begun to find that scoring touch around the rim that was missing for stretches this season. They also like to wear opponents out with a smothering, physical man-to-man defense -- as head coach Cory McCarthy often tells reporters, "The uglier, the better." Good news for the Titans: Northbridge relishes in that style, too. Eight of its players were on the Rams squad that won a Division 2 football Central Mass Super Bowl this past fall, and have brought that aggressive mentality to the floor with forwards (and brothers) Thomas and Harrison Murphy. Also watch out for Corey Pryor, who burned Sabis on Wednesday night with a series of uncontest layups en route to 24 points.
Hall's Pick:
Cory McCarthy is known to fill up a reporter's notebook fairly quickly with his endless arsenal of money quotes. But the one that still resonates above the rest is the one he gave our correspondent Adam Kurkjian back in
December
: "I love these kids. I would do anything for these kids. And I feel like they will eat glass for me." Remember that one if this is close in the waning minutes.
Mission, 58-47.
DIVISION 1 GIRLS: ANDOVER (26-1) VS. AMHERST (22-2)
The Lowdown:
Amherst, written off the in preseason after the transfer of Mariah Lesure to Tabor Academy, has rolled through Western Mass, and arrives in Worcester after a thrilling overtime defeat of Algonquin in Tuesday's Central/West state semifinal. Much of the Hurricanes' emergence has to do with the maturation of their junior class led by Brianna Leonard (11.1 points), Morbasaw Nkambeo (10.0) and Kristen Ferrola (9.3). The Golden Warriors, meanwhile, were one of several heavy favorites in Division 1 headed into the season, and save a lone regular-season blip to Central Catholic have done nothing to deter that thinking. Much has been made of Andover's Division 1-ready backcourt led by Marist-bound senior Natalie Gomez-Martinez and BC-bound junior Nicole Boudreau, the state's newly-anointed Gatorade Player of the Year. But the Warriors excel on the boards, too, behind junior Ally Fazio and sophomore Devon Caveney.
Hall's Pick:
At the risk of jinxing this...should Andover win, I don't think it's out of the realm to think the Warriors have a shot next season at making it the first Division 1 girls three-peat since Haverhill in the mid-90's. Long Live The MVC.
Andover, 70-60.
DIVISION 1 BOYS: ST. JOHN'S PREP (24-1) VS. ST. JOHN'S OF SHREWSBURY (21-5)
The Lowdown:
After the loss of Ryan Kelley (ACL tear) and stalemate of a Central Final defeat of Fitchburg (40-38), some questioned whether Shrewsbury was ripe for the picking. The Pioneers put an end to that doubt on Wednesday night, handling a talented Northampton squad with physical defense and clutch shooting from Matt Harrington. Head coach Bob Foley is known for his Princeton-ish offense, this year led by forward pivots Matt Palecki and Richard Rodgers, but we've seen the Pioneers transition teams to death in state championships past (Lynn English, 2009, anyone?). This marks the fourth straight D1 final appearance for SJS, while Prep is making its first appearance since 1974. The matchup of the day might be Pat Connaughton versus Rodgers (we'll just assume that's what Prep head coach Sean Connolly will do for now), but the Eagles have prided themselves all year long on the work of their role players. Every game, it's a different kid stepping up, between Steve Haladyna, Freddy Shove, Mike Carbone, Owen Marchetti and Isaiah Robinson.
Hall's Pick:
It's going to be a rockfight on the court, and both student sections are going to be rocking out. And I do mean rocking. I literally can't wait. By the way, every high school fan ever, you've got your work cut out for you after Northampton's "Full Metal Jacket" routine the other night at DCU.
Prep, 45-41.
January, 5, 2011
1/05/11
1:41
AM ET
By
Brendan Hall
| ESPNBoston.com



DANVERS, Mass. -- Can't all be pretty wins now, can they?

The No. 1 St. John's Prep Eagles won in a variety of ways in 2010 -- big, small, running, pressing -- but to kick off the 2011 portion of the season they had to dig their shoulders to the wheel. Pat Connaughton (22 points, 12 rebounds) gave Prep some breathing room with three 3-pointers in the third quarter, and his teammates eventually shut the door in the fourth en route to a 63-45 win over No. 18 Boston College High, winning the Catholic Conference opener for both teams, but this was far from a finesse game.

No, with all of the physical play under the rim, perpetuated by BC's frontcourt of Justin Roberts and Dan Curtis, this was a physical battle where both teams struggled early on from the perimeter and slugged it out for rebounds underneath the backboard.

"It was a good win for us," Prep head coach Sean Connolly said. "We grinded it out defensively. Offensively, we weren't very good, but you know you've got to credit BC High for that. I'm proud of the way we defended."

BC High (4-3) trapped well on the sidelines, confused Prep with a variety of three-quarter presses, and did an admirable job disguising and stacking their zone looks in the half-court. Prep players were pondering just how to classify it, even after all was said and done.

"It was weird, they kept switching it up," said senior point guard Connor Macomber, playing in his first action since tearing his right MCL on the third day of practice late last November. "They did a good job trapping in the corners. It was a weird defense."

Connaughton thought it was "kind of an awkward 2-3 zone, but I don't know if you even call it 2-3 zone, 1-3-1."

"I don't what it is, some type of weird defense that we tried to simulate in practice," he continued. "But it was kinda tough because they do it, and we don't, so we don't know exactly how to play it. So when they were playing it, we got through it the first half, and then in the second half, we settled down, and concentrated on getting the zone to move more."

Prep began to show success with that strategy midway through the second quarter, when Connaughton took the ball along the right wing, drawing a help defender over, and Steve Haladyna slid into the weakside post. The junior forward took a perfectly-placed pass from Connaughton, drew contact, and converted the ensuing three-point play to make it 18-13 with 5:40 left in the first half.

From there, the Prep crept to a 27-18 halftime lead before Connaughton took over in the third with some well-executed catch-and-shoot plays. His final three of the quarter, from the left wing courtesy a backdoor cut and dish from Owen Marchetti, made it 44-29. But even when he missed, his teammates bailed him out; junior Michael Carbone tipped back Connaughton's errant three at the buzzer to take a 17-point lead into the fourth quarter.

And while BC couldn't make a game of it again -- out of a Connolly timeout at the six-minute mark of the fourth, Prep responded with a 14-2 run -- a message clearly has been sent that this will not be a one-horse Catholic Conference race.

"They got us at their pace, slowing it down, running their sets, being physical," Connolly said. "They did a good job at that."

Bowdoin-bound Bryan Hurley led BC High with 15 points, while Roberts led on the glass with nine boards.

"Bryan plays a good game for us, he tries to get everybody involved," BC High head coach Bill Loughnane said of Hurley. "He probably wishes he made a couple of those shots, but you know, that happens in the game of basketball."

EASING BACK INTO IT

With a big black brace over his right knee, Macomber wasted no time making his impact felt in his first game action of the 2010-11 season, crashing to the floor but nailing an off-balance three-pointer to tie it up at 4-4 in the first minutes of the defensive slugfest.

Macomber has made a quick recovery from the MCL injury he suffered in the preseason, thanks to an intense twice-a-day rehabilitation program -- "I was doing alot of stuff," he laughed. Three first-half fouls kept him on the bench, but he admitted that getting up to speed on conditioning, and getting back on the same page with Connaughton -- with whom he shared a great chemistry in their surprise run to the Division 1 North finals last year -- may take a hot minute.

"I felt good," Macomber said. "I'm just trying to get back into the flow of things, this is obviously different from practice. But this felt good, playing in front of big crowds, we always get nice crowds. It's alot of fun."

Struggling to find the next words, he finally sighed with a big smile and a chuckle, "I'm just pumped to be back."