Boston High School:

Owen Murray
September, 6, 2014
9/06/14
2:07
AM ET
HYANNIS, Mass. -- It wasn't always the prettiest, but it was effective as Dennis-Yarmouth outlasted Cape rival Barnstable, 36-21, in our Game of the Week in a preseason Top 25 matchup.

Editors Scott Barboza and Brendan C. Hall take one last look back at the action between the No. 12 Dolphins and No. 23 Red Raiders:


August, 19, 2014
8/19/14
12:21
PM ET
On Monday,
we unveiled our statewide MIAA Top 25 preseason football poll
. Today, we begin our annual countdown of the poll with Nos. 25 through 21.
NO. 25 NATICK
Head Coach
: Mark Mortarelli (5th season, 35-11)
2013
: 10-1, lost to Barnstable in D2 South semifinal
Returning Starters
: Five offensive; Six defensive.
Key Players
: Jared Abbruzzese, Jr. WR/LB/DB, 5-8, 160 lbs.; T.J. Collins, Sr. LB, 5-11, 185 lbs.; Brian Dunlap, Sr. WR/CB, 6-0, 175 lbs.; Chad Kidd, Jr. RB/LB, 5-6, 190; Trenton Wright, Sr. DE/TE, 6-2, 205 lbs.; Anthony Natarelli, Sr. OL/DL; Nick Olson, Sr. QB/FS; Tommy Ranucci, Sr. WR/DB.
Strengths
: Passing game; defensive secondary; linebackers.
Weaknesses
: Depth and experience on offensive line; size on defense.
Outlook:
Even without last year's Mr. Football winner, Troy Flutie, the Redhawks will still be able to air it out with the best of them, as senior Nick Olson gets his first crack at playing varsity quarterback. A returning starter at safety, Natick head coach Mark Mortarelli isn't concerned about how the first-year signal-caller will fit in. "He's used to the spotlight," Mortarelli said of Olson. "He started every game for us at safety. He was a tremendous safety for us, he was all-league. He's a varsity basketball player, too, so I think all of things in combination, this isn't the first time for him under the lights." Olson's transition will be advantage by the return of a healthy Brian Dunlap. The Harvard commit was forced to sit out his junior year with a Lisfranc injury, but Mortarelli is happy to report he's back at 100 percent. While defensive coverage schemes will naturally set around Dunlap, the Redhawks should be able to expose a soft underbelly as second-year starting running back Chad Kidd can provide tough yards in between the tackles. "I think we'll run the ball a little more [this year]," Mortarelli said. "Coach [Matt] Brenneman, our offensive coordinator, likes to the throw the ball around a little, but we have a great running back in Chad Kidd. He's a big, strong kid; he can handle the workload." Meanwhile, Mortarelli is counting on junior Jared Abbruzzese among others to create complementary options in the passing game. On defense, Natick's athleticism shines again. With a ball-hawking secondary last year, the Redhawks were routinely able to win the turnover battle. Natick graduated the leader of that group – Mike Abbruzzese -- but returns a few starters in Olson and Tommy Ranucci. The strength of Natick's defense runs up the middle, with returning all-league selection T.J. Collins quarterbacking the group. While the Redhawks will not be the biggest defense in the state, they should be able to gain consistent pressure off the edge with returning three-year starter Trenton Wright. "We're going to need to generate some pressure up front with a four-man rush," Mortarelli said. "We can't be blitzing all the time, so Trenton's going to be a big part of that. He can create some havoc; he's a rangy kid. We're going to rely on him a lot for that."
-SCOTT BARBOZA
NO. 24 MARSHFIELD
Coach:
Lou Silva (34th season, 205-139-7)
Last Season:
5-6 (4-2 ACL), lost in Div. 2 South Quarterfinals.
Returning starters:
16 (8 offense, 6 defense)
Key Returnees:
Jack Masterson, Jr. QB, 6-1, 190 lbs.; Dan Dalton, Jr. TE/LB, 6-5, 235 lbs.; Frank Catanoso, Sr. RB/DB, 5-8, 160 lbs.; Jason Darcy, Jr. WR/DB, 6-2, 185 lbs.; Matt Armstrong, Jr. TE/DE, 6-1, 180 lbs.; Shane Leonard, Jr. C, 6-2, 230 lbs.; Pat Kielty, Jr. OL, 5-11, 200 lbs.; Ian Duffy, Jr. LB, 5-8, 160 lbs.; Chris Lunn, Jr. RB/DE, 6-0, 185 lbs.; Fred Allen, Jr. MLB, 6-1, 210 lbs.; Josh Ramos, Jr. OL/DL, 6-3, 240 lbs.
Strengths:
Quarterback, tight ends, offensive line, linebackers.
Weaknesses:
Pass defense, experience at running back.
Outlook:
The Rams offense found their identity down the stretch of the 2013 campaign and that was largely based on the superb play of quarterback Jack Masterson. As a sophomore, Masterson broke three school passing records and has many more in his sights for his junior season. Masterson's favorite target, Dan Dalton also returns for his junior year and will present mismatches in the passing and running game. Dalton can lineup anywhere on the field and has all the tools for a monster season with his large frame (6-foot-5, 235 pounds), sure-hands and quick speed. Protecting the junior signal caller, center Shane Leonard anchors an experienced offensive line that also returns Pat Kielty and Josh Ramos. The Rams defense had difficulty taming high-powered offenses last season, allowing 40 or more points four times. Looking to this season, the Rams will have a talented front seven returning, led by MLB Fred Allen and Dalton at defensive end, but their defensive backfield remains a question mark with the loss of a handful of defensive backs. Offensively, the Rams running game took a big hit, losing their three top tailbacks to graduation in the offseason. Junior Chris Lunn is the favorite to take the brunt of the carries this season, while the search continues to another tailback to compliment him with. It has taken two years for the Rams to climb back to their perennial power status, but their talent-laden junior class will make Marshfield a team to watch out for this season. An experienced offensive line and the ability to stretch the field will give their young running game an added boost. With the Atlantic Coast League shrinking down to five teams this season, circle their September 26th matchup at No. 12 Dennis-Yarmouth to likely decide the ACL title.
-PHIL GARCEAU
No. 23 BARNSTABLE
Coach:
Chris Whidden (Fourth season, 28-8-0)
Last season:
9-2 (3-0 OCL), lost in Div. 2 South Finals.
Returning starters:
4 (2 offense, 2 defense)
Key Players:
Owen Murray, Sr. OL/DL, 6-4, 250 lbs; Clyde Perry, Sr. MLB, 5-11, 225 lbs; Colton Bergal, Sr. LB, 6-1, 225 lbs; Bo Delaney, Sr. WR, 5-11, 165 lbs.
Strengths:
Linebackers, offensive line, coaching staff.
Weaknesses:
Overall experience, defensive secondary, offensive backfield.
Overview:
The Red Raiders have many holes to fill at the skill positions on both sides of the ball after losing 30 players to graduation, but Barnstable has the tendency to reload rather than rebuild. Of the 307 points scored in Barnstable's 2013 campaign, only 16 points hit the scoreboard from non-seniors, meaning there will be plenty of position battles when the Red Raiders open camp. Head coach Chris Whidden praised his roster, citing their work ethic and coach-abillity as strengths for the team. Senior Owen Murray will bolster the offensive line from his position at right tackle, diverting the pressure from first-year starting quarterback Griffin Burke and carving holes for the running back-by-committee system in the backfield. MLB Clyde Perry is also one of the few returning starters on the Red Raiders defense and with Murray on the defensive line, Barnstable has a strong core up the middle to build around. It will be a trail by fire for this young Red Raiders team to begin the season. The first four weeks consist of No. 12 Dennis-Yarmouth, at No. 24 Marshfield, No. 15 BC High and at top-seeded Xaverian which will put Barnstable to the test early and often. Barnstable doesn't begin Old Colony League play until mid-October, which gives them plenty of time to get their game on-track to defend their three-consecutive OCL titles and perhaps more importantly, an automatic bid to the Div. 2 South playoffs. Entering his fourth year at the helm, Whidden has never had a losing season and has shown that he can lead his troops into battle while getting the most out of each player on the field.
-PHIL GARCEAU
NO. 22 AUBURN
Coach:
Jeff Cormier (16th season, 136-43 overall)
Last Season:
8-3, lost in Division 5 Central Quarterfinals
Returning Starters:
10 (5 offense, 5 defense)
Key Returnees:
Mark Wright, Sr. RB/DB, 5-8, 180 lbs.; Dillon Bruso, Sr. OL/DL, 6-2, 250 lbs.; Josh Furmanick, Sr. FB/DL, 5-8, 195 lbs.; Nick Thomas, Sr. LB, 5-6, 160 lbs.
Strengths:
Running game, receivers, competitiveness in camp.
Weaknesses:
Depth.
Outlook:
After going 63-2 with five Super Bowl titles from 2008-12, with a 41-game win streak sandwiched in between, the Rockets were as green as any point in Cormier's tenure last fall, returning just one starter on either side of the ball. It showed early, and again late when they were one of just four home seeds in Massachusetts to lose their first round playoff game, taking one on the chin to SWCL rival Bartlett in D5 Central. But it was quite the revelation for Wright, who led CMass in carries (258), rushing yards (2,111) and rushing TDs (25) in his first year starting with the varsity. "Once we get five yards, Mark will make his one cut and explode through the hole. As long as we get some decent blocking, he'll be able to make a play," said Bruso. Still, there's a bitter taste in the Rockets' mouths about the way things ended in 2013. "Everywhere we had to hear about it. Even kids from our own town were telling us we were done," Furmanick said. The Rockets are most known for their power running scheme, deploying two-back, double-tight personnel and seeking to outweigh their opponents at the point of attack. This year, with a giant target on Wright's back and a good grouping of perimeter skill players, the Rockets may throw more. Cormier is not ready to name a starting quarterback yet, with several players in the mix, but keep an eye on sophomore Steve Saucier. The undersized signal-caller puts good zip on the ball for a player of his frame, and showed some great flashes as a freshman last fall.
-BRENDAN C. HALL
NO. 21 TEWKSBURY
Coach:
Brian Alyward (17th year, 102-82-1)
2013:
13-0, Division 3 State Champions
Returning Starters:
Six (2 offense, 4 defense)
Key Returnees:
James Sullivan, Sr. RB/SS, 5-11' 215 lbs; Tom Casey, Sr. FB/MLB, 5-9 190 lbs; Ryan Bednarek, Sr. S, 5-9 160 lbs; Ethan Eloi Sr. DT/NG, 5-9 226 lbs.; Alex Schelfhaudt, Sr. T/DE, 6-0 195 lbs; Brendan O'Connor Sr. WR/CB 5-7 145 lbs; Mitchell Miskell, Sr. K, 5-10 160 lbs; Jimmy Hurtle, Sr. RB/CB 5-9 167 lbs; Jimmy Doran, Sr. OG/DT, 5-11, 215 lbs; Ryan Carey, Sr. RB/DB, 5-6 143 lbs.
Strengths:
Physicality, running game.
Weaknesses:
Inexperience at offensive line.
Outlook:
Tewksbury will never be confused for its Merrimack Valley Conference neighbors that run spread offenses and like to throw the ball all over the field. The hallmark of Tewksbury has been its continuous physicality. Its run to last year's Division 3 state championship was predicated on (no pun intended) its ability to run the ball and outmuscle teams on both sides of the ball. While it lost some linemen to graduation, impact players like Eloi and Casey return to anchor the middle of the defense. Sullivan will play behind them at strong safety, flanked by other skilled defenders. Offensively, the team will continue its multiple-running back approach that brought it so much success last season. "We feel pretty confident in all our backs," said Alyward. "We've got a lot of guys that can contribute. We're not going to have a need for a one-man show, nor do I think that would be effective. We're going to try to stay as multiple as we can and try to use the same format as we do every year." The starting offensive linemen on last year's Super Bowl-winning team were lost to graduation, leaving spots open for players to try and create running lanes for Sullivan and others. Last year's line continuity helped the team steamroll through D3 and allowed Sullivan to score over 20 touchdowns. "We have about 10 kids that are vying of those spots that have been good kids in our program," said Alyward. "We'll work with them and learn more about what we can do and what we can't with them." John Aylward, the quarterback of that undefeated team, also graduated, so the Redmen will have someone new under center to go along with that new offensive line. Juniors Brett Morris and Steve Hamel are in the running to take over for Aylward, with Morris the early odds-on favorite to win the job. On top of all that, as a defending state champion, the team now has a target on its back. It has not lost a game since November 2012, so it will get its opponent's best game every week as they try to dethrone the champion. How the team reacts and responds to that pressure will determine whether the Redmen can duplicate last year's success. "I told the kids at the start of our first practice, 'Hey guys, you had such a special experience last year and a state championship under your belt and that's money in the bank that no one can ever take away from you,'' said the coach. "But now you just have to put it aside and understand that doesn't buy us anything but a little more attention than in years before. So now we've gotta get ready to fight."
-ANDY SMITH
November, 27, 2012
11/27/12
11:22
PM ET
By
Mike Scandura
| ESPNBoston.com
(Video by Greg Story)
TAUNTON, Mass. -– So much for the suspense that might have existed in a rematch of one of the 2011 Division 1A playoff games.
A year ago, Barnstable built a 13-0 halftime lead only to implode in the second half as Lincoln-Sudbury rallied for a 14-13 victory.
Ironically, the Red Raiders led Tuesday night's semifinal game by an almost identical score at intermission -– 14-0 in this case. But instead of crumbling, Barnstable buried the Warriors, 28-7, and advanced to the 1A Super Bowl for the first time since 1995.
The Red Raiders (11-0) will tackle the winner of the other semifinal game between Masconomet and Everett at 1:30 p.m. Saturday at Gillette Stadium.
Barnstable stepped on the slick Taunton High turf averaging 37.6 points per game while the Warriors (10-2) came in allowing an average of only 8.1 points per game.
[+] Enlarge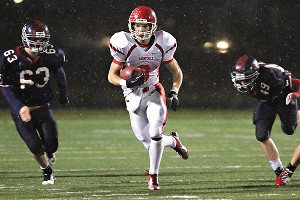 Eric Adler for espnboston.comHayden Murphy led the way with 153 yards rushing and three touchdowns in the Red Raiders' win, setting up a rematch Saturday with Everett.
While the Red Raiders didn't quite match their offensive average they did "out-defense" the Warriors.
In retrospect, the game was over by halftime when Barnstable led 14-0 after allowing a paltry 27 yards of total offense on only 17 plays.
"We have the ability on defense," Barnstable coach Chris Whidden said. "We know we can step up and play well in a big game. Unfortunately, there might have been some times during the course of the season when we played down a little bit to the level of our competition.
"We stepped up tonight) and played not as well as we can but as well as we have. But without question there's room for improvement. We'll nit-pick that for the next couple of days and hope we bring the best thing we have on Saturday afternoon."
Altogether, Barnstable's defense allowed only 102 yards of total offense and held Lincoln-Sudbury scoreless until exactly five minutes remained on the clock.
That's when Chris Giorgio scored on a 1-yard run –- a touchdown which didn't exactly faze Whidden.
"Although they scored at the end, it took them four minutes to get that touchdown," Whidden said. "Ultimately, it was a win for us even though it wasn't the shutout we were hoping for because it took that much time. Now, we could get one drive and end the game which is what we did."
Barnstable was "offensive":
What Barnstable also did was slice and dice Lincoln-Sudbury's once-impenetrable defense as it amassed 330 yards of total offense.
Leading the way in this department was junior running back Hayden Murphy, who accounted for 153 yards and three touchdowns on 27 carries.
"Anytime a running back has a game like that he's got to have somewhere to run," Whidden said. "Our front five of Owen Murray, Tom Harrington, Tom Grimmer, Chris Kennedy and Allen Buckley all played a great game up front to provide those seams for (Murphy).
"And (quarterback) Nick (Peabody) did a great job reading it. They were bringing some pressure up the middle but a lot of times they were showing it so we were able to see it. That's where having a kid who's as intelligent as Nick is in the game helps us because he would check us into that or check us out of that."
Peabody was quick to admit his passing didn't resemble the second coming of Tom Brady since completed only 7-of-23 passes for 98 yards. But he also was quick to admit that his teammates overcame his shortcomings in the passing department.
"I was terrible throwing the ball," Peabody said. "But Hayden really picked it up. That's what a team is all about. You're not going to play your best game every time. Hayden was amazing. Our offensive line was amazing. You can't say enough about our defense.
"We showed we're a complete team. We don't just throw the ball but we also can run it."
Catching a break:
Barnstable didn't have to run or throw to score its first two points.
Lincoln-Sudbury was punting from its 4 when Joe Kenney's snap sailed over the head of Chris Giorgio and out of the end zone for a safety.
Five plays after the ensuing free kick, Murphy capped a 48-yard drive by running it in from the 15 for an 8-0 lead.
Barnstable then took advantage of a short punt by Giorgio and regained possession on the Warriors' 41.
Seven plays later, Peabody bolted 13 yards up the middle for a score which produced a 14-0 halftime lead.
Not surprisingly, that conjured up memories of last year's semifinal game between these teams when Barnstable blew that 13-0 halftime lead.
"You don't forget things like last year," Peabody said. "We didn't forget that. It was almost the exact same score going into halftime. We went in there and knew we couldn't take the foot off the gas, and we didn't.
"Our defense got several big stops and we were able to punch it in a few times."
Barnstable "punched it in" a third time with 4:46 left in the third quarter when Peabody capped a 72-yard drive by wedging over from the 1.
Then, after Jon Eldredge intercepted a Henry Guild pass, Murphy scored from the 1 for a commanding 28-0 lead.
"There wasn't a letup even when we were up 28-0," Whidden said. "The kids really showed their pride by not letting up and bringing it on every snap."
BARNSTABLE 28, LINCOLN-SUDBURY 7
BA (11-0) 8-6-14-0 – 28
LS (10-2) 0-0-0-7 – 7
First quarter
B – Safety
Second quarter
B – Hayden Murphy 15 run (run failed)
B – Murphy 13 run (pass failed)
Third quarter
B – Nick Peabody 1 run (Dereck Pacheco kick)
B – Murphy 1 run (Pacheco kick)
Fourth quarter
LS – Chris Giorgio 1 run (Greg Boden kick)