Boston High School:

Pat Burchill
April, 13, 2013
4/13/13
7:25
PM ET
SCITUATE, Mass. – Marshfield's victory in Saturday's Chowda Cup Championship game bore multifold benefits.
First and foremost, of course, was the hardware. The Rams ran through Scituate before besting No. 7 Catholic Memorial, 11-10, in overtime to claim the Cup. Second, and perhaps more importantly, there was the matter of proof in the quality of Marshfield's opponent in the final. After an up-and-down 2012, the Rams are off to a 5-0 start and have now claimed a win against a Top 10 opponent.
[+] Enlarge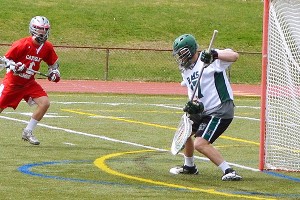 Scott Barboza/ESPNBoston.comMarshfield goaltender Pat Burchill made 12 saves, including seven in the second quarter, to help the Rams to an 11-10 victory over Catholic Memorial in the Chowda Cup championship.
Marshfield again found success on Saturday behind a patient, balanced possession game, bolstered by Mike Carbone's four-goal game. Carbone also tallied the overtime game-winner.
Robbie Keuther also added a four-point game (2 G, 2 A) while goaltender Pat Burchill collected 12 saves to keep the Knights (4-2) at bay. Meanwhile, tournament MVP Joe Parnell tallied two goals and was a demon on faceoffs, winning 17 of 26 draws.
The team battled to a 5-5 tie at the half, in large part due to Burchill's seven saves in the second quarter.
"If Pat [Burchill] wasn't such a strong goalie, that game would've been over fast," Carbone added.
After CM sophomore attack Tyler Bogart notched his third goal of the game for a 7-6 lead, Marshfield strung together three straight tallies to open the fourth quarter on goals by Jack Shaw, Parnell and Carbone.
CM rallied to score the next three to force overtime. The Knights did so with goals by Zach O'Brien (2 G, 1 A), Bogart (his fourth) and Kevin Bletzer (2 G, 2 A) in the final three minutes, eight seconds of regulation. Bletzer tied the game with just 36 seconds remaining.
Carbone tallied the game-winner after a controversial possession call, when referees awarded the ball to Marshfield on a footrace to the end line. Following the call, Tim Colleta strafed down the middle of the field and found a cutting Carbone for the dramatic win.
DOING THE DIRTY WORK
It's not often that face-off men get their due, but Parnell was handsomely rewarded for his efforts in the tournament, taking home the championship plaque.
After a dominating performance against Scituate, Parnell again owned the draws. He was at his best against CM in the fourth quarter, winning six of the seven faceoffs he took.
"The face-off X is an absolute battle," Rams head coach Jake Jones said. "I wouldn't have anybody but Joe [Parnell] in there, scrapping it up. He's doing a great job with the faceoffs and he's being extremely smart with the ball."
When describing his success this weekend, Parnell doffed his cap to his brother, Kenny Parnell, who was waiting at the wings.
"I started off with the clamp and he was wrist-breaking, so then I went with the jump and it ended up working," Parnell said of Saturday's matchup. "My little brother did a great job getting in on the wing, and he helped me win a lot of those."
ALL-TOURNAMENT TEAM
With Cohasset taking a convincing 14-3 win over host Scituate in the consolation game, another successful tournament wrapped up with the naming of the All-Tournament Team.
Here's a look at the list:
Catholic Memorial
– Kevin Bletzer, Tyler Bogart, Kameron Gingras, Scott Spangenberg.
Cohasset
– Jack Conte, John Mills, Tommy Ryan,
Marshfield
– Pat Burchill, Mike Carbone, Jimmy Connors, Joe Parnell, Jack Shaw.
Scituate
– Tucker Ciessau, Jake Reynolds.
March, 16, 2013
3/16/13
9:55
PM ET
GIRLS' DIVISION 2
No. 1 Duxbury (21-1-2) vs. No. 2 Falmouth (19-1-2), 11 a.m., TD Garden

Players to watch: Duxbury – F Hannah Murphy, F Marissa Fichter, F Jane Dudley, F Meredith Wright, F Julia Nolan, D Ally Hammel, D Payton Donato, G Rachel Myette; Falmouth – F Alexa Scribner, F Rachel Moore, F Madison Haberl, F Kelly Ferreira, D Hannah Ghelfi, D Alexx Good, G Madison Scavotto.

Breakdown: It is perhaps the most predictable of all of Sunday's matchups and the most anticipated. The Dragons and Clippers renew a burgeoning rivalry, intensified by last year's duel at the Garden and invigorated by the fact that either team's lone loss of the season was handed to them by the other. Duxbury has been playing lockdown defense throughout the playoffs and haven't allowed a goal in more than six games, including the regular season. The Clippers' young corps will look to get over the hump, building on a bittersweet experience on the Bruins' home ice sheet one year ago.

X-factor: Scavotto. As dominant as Duxbury's defense has been in front of and including Myette, the Clippers are capable of the same. And their sophomore netminder is a big reason why. She could steal one.

Pick: Duxbury, 1-0.

GIRLS' DIVISION 1
No. 4 St. Mary's of Lynn (18-3-4) vs. No. 7 Arlington Catholic (17-4-2), 9 a.m., TD Garden

Players to watch: St. Mary's – F Alison Butler, F Kaleigh Finigan, F Gabby Crugnale, F Madison Molea, D Tatiana Doucette, D Amanda Donahoe, G Lauren Skinnion; AC – F Adrieanna Rossini, F Jess Piracini, F Duggan Delano, F Hayle Rudin, D Melissa Richard, G Megan Messuri.

Breakdown: The Catholic Central rivals meet for the second straight year on championship Sunday and, like their Div. 2 counterparts, also split their season series at a game apiece. Behind the benches, both the Spatans' Frank Pagliuca and the Cougars' Maggie Taverna have done work worthy of Coach of the Year honors. St. Mary's has the feel of a team of destiny, neither a short bench nor nagging injuries all season long have kept the Spartans from returning to the biggest stage, all while dispatching No. 1 Woburn in the process.

X-factor: Rossini. You'd be hard pressed to find a young player in recent memory who has scored more clutch playoff goals than the AC sophomore.

Pick: St. Mary's, 3-2.

BOYS' DIVISION 3
Swampscott (19-5-0) vs. Westfield (18-3-2), 3:30 p.m., TD Garden

Players to watch: Swampscott – F Corey Carmody, F Noah Maercklein, F Nunzio Morretti, D Chris Carman, D Trevor Massey; Westfield – F Sean Spohr, F Mike Santinello, F Anthony Cagliostro, F Adam Collier, F Neil Parrow, D Nate Barnes.

Breakdown: The Big Blue took down defending D3 finalist and South sectional champion Medway (thanks to an OT goal from Maercklein) to advance to the program's first title game appearance. Westfield returns to the Garden ice after a one-year hiatus after taking a scorched-earth policy to Western Mass. competition, while averaging more than 5.5 goals per game.

X-factor: Swampscott freshman goaltender Tristan Bradley. The first-year backstop has been a key element to the Big Blue's success, maintaining a 91.5 save percentage through the season.

Pick: Swampscott, 5-4.

BOYS' DIVISION 2
Wilmington (20-3-2) vs. Franklin (17-7-2), 1:30 p.m., TD Garden

Players to watch: Wilmington – F Cam Owens, F Brendan McDonough, F Jake Rogers, F Dylan DiNatale, D Brian Pickett, D Cam Collins, G Drew Foley; Franklin – F Cam Curley, F Dennis Pisani, F Aidan Isberg, F Troy Donahue, D Kyle Powers, D Kyle Filbert, G Devon Maloof.

Breakdown: The third of six rematches on the day, after the Wildcats claimed a 3-2 victory over Franklin a year ago on championship Sunday, propelled by a hat trick from Owens. The Panthers will be looking to avoid their third straight fruitless trip to the Garden, having dropped title tilts with Wilmington and Tewksbury. The Wildcats, who had Super 8 aspirations until late in the season, are eying their second straight title.

X-factor: McDonough. He's been the break-out performer of the tournament and provides a great complement to Owens on Wilmington's top line.

Pick: Wilmington, 3-2.

BOYS' DIVISION 1
Burlington (13-6-5) vs. Marshfield (20-6-0), 8:15 p.m., TD Garden

Players to watch: Burlington – F C.J. Grinnell, F Joe Berardi, F Joey Scali, D Adam Crowley, D Sean Costa, G Derek DeCastro; Marshfield – F Mike Carbone, F Pat Burchill, F Joe Admirand, F Pat Shea, D Matt Burchill, D Trevor Salmon.

Breakdown: While this isn't another rematch, these teams are no strangers to this stage, with the Red Devils and Rams representing as the last two Div. 1 state champions. Both teams were near .500 squads through the first month of the season, and closed their regular-season slates with momentum they've carried over into the playoffs. Both these teams can skate with the best of them, but they also pay attention to the little things in the defensive zone as well.

X-factor: Crowley. I'd expect a defensive struggle in this one and so I'm going with the Red Devils' blue-liner who always makes his presence felt.

Pick: Burlington, 3-1.

BOYS' DIVISION 1A – SUPER 8
No. 4 Austin Prep (16-1-6) vs. No. 7 Malden Catholic (15-6-3), 6 p.m., TD Garden

Players to watch: AP – F Nolan Vesey, F Bobby Carpenter, F Frankie Candelino, F George Sennott, F Eric MacAdams, D Andrew Cross, D J.J. Layton, G Elijah Harris; MC – F Ara Nazarian, F Mike Iovanna, F Tyler Sifferlen, F Pat Wrenn, F Austin Goldstein, D Casey Fitzgerald, D Nick Rolli, G Connor Maloney.

Breakdown: AP, while short on years, is not short on talent. I think we all knew coming into this season that they were capable of reaching this stage, but it might have been a question of when. The Cougars earned their way to Sunday after dispatching town rival Reading and then No. 1 seed St. John's Prep in Wednesday's semifinal. It seems like years ago since there was a time when the Lancers were in jeopardy of missing the tournament all together, but they've played the best hockey in the state during the last month.

X-factor: Nazarian. It's his tournament, the rest of us are just living in it.

Pick: Malden Catholic, 4-2.
March, 11, 2013
3/11/13
1:14
AM ET
By
Brian Fabry
| ESPNBoston.com


BOURNE, Mass. - Marshfield head coach Dan Connolly has been seen around Gallo Ice Arena frequently of late, even when his Rams were not on the ice. Whatever Coach Connolly is doing - scouting, taking a break from his team, watching great state playoff hockey - it is working.

No.5 Marshfield came out of the gates with their pads on fire and posted three tallies on 17 shots on goal on their way to a 5-1 rout over top-seeded Archbishop Williams (13-6-4) in the Division 1 semifinals.

Mike Carbone and Matt Burchill each posted a goal and an assist to help the Rams (19-6) advance to the Division 1 finals on Tuesday against No.2 seeded Hingham, who were 8-1 winners over Barnstable on the other side of the bracket.

Jimmy Connors, Liam Manning, and Burchill were credited with the first period goals, with Connors and Manning scoring only 32 seconds apart within 7:19 of regulation.

"It was very unexpected to get up 3-0 that quick and I thought our kids played great. We were all over them with a lot of energy and out-beating them to pucks and played real well," said Connolly. "The key was keeping [Mike] Jessman and [Mike] Sorrenti outside, as they are two very, very talented players. Try to keep them to the perimeter as much as we could."

The Rams defense worked out Connolly's plans to perfection as the speed and depth of the offense outshot Archies, 17-4, in the first 15 minutes of play.

Connors sent the pro-Marshfield crowd into a frenzy at 6:47 of the first as he was fed out in front of a scrum from Pat Burchill with Will Decost also getting an assist on the first goal of the game. Manning decided to do things himself as he took the puck left-to-right across the crease for the unassisted tally only 32 seconds later on the next Marshfield shift down the ice for the 2-0 lead.

Burchill finished off the first period onslaught on the power-play one second before Kyle Leonard's boarding penalty expired off a 5-on-3 opportunity to give Marshfield plenty of room with a 3-0 lead at 12:08 of the first.

Marshfield came out sluggish in the second period but couldn't be blamed much with a 3-0 lead. The defense was on their heels with numerous turnovers in the neutral zone within the first five minutes of play and Jake Romano finally figured out Connor Lemieux at 4:03 of the second to cut the deficit to 3-1.

The Archies' goal, however, did not hand momentum back to the top-seeded Archies but only woke up the speed of the Marshfield skaters and showcased their depth. Third-liners Colin MacDonald and David Cataldo paired up on a goal to get back the three-goal cushion at 10:47 of the second stanza.

MacDonald worked the blue line to keep the puck in the Marshfield zone and was able to find Cataldo low in the right slot. Cataldo pulled the trigger and found daylight between the crossbar and pads of Joe Vinay in net on the near side top corner for a picturesque odd-angle goal and a 4-1 Marshfield lead.

"I thought they took it to us in the first five or six [minutes] of the second, but then we started settling back in and playing the way we wanted to play," said Connolly.

Not often you can talk about an assist being the play of the game, but Burchill pulled it off early in the third period. The junior defenseman dropped behind the right post with two defenders draped over him and flipped a backhand pass out in front of the crease between a defender's legs and Carbone sniped it for the 5-1 lead.

"That was a great goal as I was just playing in the slot waiting for it, I was hollering his name, and he picked his head up and hit me...it was perfect," said Carbone, a senior forward who is looking for his second trip to the TD Garden after the Rams won the Division 1 title in 2011 when he was a sophomore. "It's hard playing with the lead cause they are coming hard at us and to keep up the intensity - it is hard to do that and when you think the game is already over but its 45 minutes in every game."

While Archies featured a more aggressive style coming into the semifinals, the Rams now move on to face No. 2 Hingham, who features four strong lines, just as much speed as the Rams and obviously can match their depth. The two South Shore foes faced off in the final game of the regular season with the Harbormen hanging a 10-1 loss on the Rams. Connolly is obviously hoping for a better fate.

"We are obviously hoping for a different outcome, but as long as we stay playing like we have in the tournament I think it will be a great game," said Connolly.