Boston High School:

Pat Burke
October, 12, 2013
10/12/13
6:34
PM ET
By
Brendan Hall
| ESPNBoston.com
WESTWOOD, Mass. -– Just when you think you've seen the best out of Xaverian's defense, the Hawks just keep dialing it up another notch.
[+] Enlarge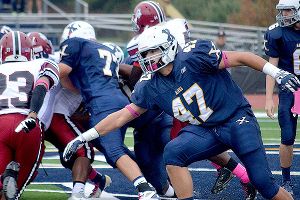 Brendan Hall,/ESPNBoston.comJoe Gaziano (4 sacks, 2 TFL, 1 INT) led the way for Xaverian as the No. 5 Hawks held Brockton to just 70 yards of offense.
Three weeks ago, three blocked punts led the Hawks to a 49-13 rout of then-No. 1 Bridgewater-Raynham. Last week, the Hawks' defense put down the clamps in the second half as they blew out Catholic Memorial, 43-7.
Under gray, drizzly skies this afternoon at the Hawk Bowl, Xaverian held Brockton's vaunted triple-option attack to just 70 yards of total offense, sealing the game late with a 57-yard interception return to come away with a hard-earned 14-0 shutout victory.
"I thought our defense played really outstanding, they really bailed us out today," Xaverian head coach Charlie Stevenson said. "We had trouble getting our offense in gear, we'd make a play and then we wouldn't make a play."
The Hawks (4-1) took their initial lead late in the first quarter, starting at their own 45 and stringing together a nine-play, five minute drive that was punctuated by a 21-yard touchdown scamper by quarterback Jake Farrell. The right-handed junior saw pressure coming from his front side, rolled to his left and found a running lane open up, sprinting up field for the scoring scramble.
After that, the Hawks played it conservatively –- mostly feeding the ball to running backs Shayne Kaminski (17 carries, 64 yards), Kenny Kern and Noah Sorrento –- and let the defense take over.
And boy, did they take over. Led by junior defensive end Joe Gaziano (four sacks, two tackles for loss, interception) and Dan Benvie (sack), the Hawks dropped Boxers (2-3) quarterback Pat Burke for six sacks on the afternoon. The Boxers have been known to create confusion at the point of attack with its "Flex Bone" option scheme, but there were no such tricks today, as the Hawks routinely filled the interior gaps and muddied what has been at times a pretty crisp three-headed backfield.
Perhaps most impressive was the Hawk defense's ability to get off the field quickly. Brockton had just two first downs on the afternoon and crossed the 50-yard line into Hawk territory just twice, both times coming in the fourth quarter.
The Hawks sealed it late in the fourth quarter when Burke's screen pass attempt was broken up, then returned 57 yards to the house on a tip-drill pick-six. Sorrento was there to greet the Brockton running back in the right flat, squaring up his shoulders as the back attempted to haul in the pass and slamming into his midsection. The ball took a high bounce off of the player's shoulder pads, and Kerns was there to pluck the ball out of the air and take it down the left sideline to paydirt.
"I'm really happy with the way our guys hung in there," Stevenson said. "They [Brockton] are a really physical team. They're getting much better from week to week. When I see the way they played early on to now, they're playing very very well defensively."
Brockton has allowed just 20 points in its last two games, but its offense has some kinks to work out following a second straight shutout loss. The Boxers have not scored a point in the last eight quarters, and have produced just 182 yards of offense over that same timespan.
Joe of all trades:
Of all the Swiss Army knives in Stevenson's drawer this fall, Gaziano might be the sharpest. Few athletes in the Catholic Conference have demonstrated as much versatility as the 6-foot-3, 230-pound five-technique end.
Offensively, he had one of the most impressive plays of the game at tight end, hauling in a 21-yard pass from Farrell in which he used his long outstretched arms to wrestle the ball away from two Brockton defenders dogging him all over. He also factored into the running game, setting the edge for the Hawks' stable of backs.
In special teams, Gaziano is everywhere. His punts at times can pin the opposition deep, and he registered a touchback today kicking the ball off. In the return game, he is a constant threat to block a punt (the Hawks registered another one today), and also excels at blocking for returners.
Defensively, his prowess is already well-known. He is a rangy player with a long, athletic frame, that they take full advantage of. In one second-half play, Gaziano got hang time as he leaped high to pick off a middle screen from Burke. Gaziano is also called on occasionally to drop back into pass coverage from the defensive end spot.
"Gaziano is a beast," Stevenson said. "Gaziano had a great game today, he picked off the screen pass they tried and sacked the quarterback at huge times –- it's not just that he had a sack, [he had them] at huge times in the game. He's a good player for us, and I'm glad he's going to Xaverian High School again next year. He's just getting better week to week.
"We certainly were concerned about their perimeter game, we didn't want to let their speed guys outside, so he was coming up field a little more than we normally do. He's such a good athlete that he can do that kind of stuff and come back down inside if we need him to. As you guys know, he's a jack of all trades."
XAVERIAN 14, BROCKTON 0

BR 0 0 0 0 --- 0
XB 7 0 0 7 --- 14
First Quarter
Jake Farrell 21 run (Matt Rogers kick) :06
Fourth Quarter
Kenny Kern 57 interception return (Rogers kick) :47
August, 27, 2013
8/27/13
2:02
AM ET
By
Brendan Hall
| ESPNBoston.com
BROCKTON, Mass. -- The No. 8 Brockton Boxers hosted No. 11 St. John's of Shrewsbury in their annual preseason scrimmage late Monday afternoon, at Marciano Stadium.

Since Brockton coach Peter Colombo and St. John's coach John Andreoli -- former teammates at Holy Cross -- began scheduling this yearly, it has become one of the most anticipated scrimmages of the preseason. In three 10-play series each of varsity on varsity, the Boxers scored twice while the Pioneers scored once.

A few notes and observations from Monday's scrimmage:

Ground and Pound: In last year's installment of this annual scrimmage, Brockton debuted a Georgia Tech-style "Flex Bone" scheme, a radical departure from the multiple offense the Boxers had been running for decades. But the look suited the exploits of tough-as-nails quarterback Augie Roberts very comfortably, and they put together one of the state's most fluid rushing attacks en route to the MIAA Division 1 Eastern Mass. Super Bowl.

There had been some light speculation during the offseason as to how much longer they would stick in the scheme, with Roberts graduating, but it looks like the Boxers are staying with it. Good thing, because it looks like they will be sharp once again, with Pat Burke assuming the reigns under center, fleet-footed seniors Aaron LeClair and Jamal Williams at the wingback spots, and promising sophomore Kerry Raymond at fullback.

"People thought we might have to abandon this when Augie left, but Pat's done a pretty good job with it," head coach Peter Colombo said. "He doesn't have to do everything Augie did, but spread it around."

By far, the most effective play was the "rocket toss", sending either LeClair and Williams circling in motion from the backside and pitching to them on the perimeter at full speed. The Boxers called the play three times on the first series, out of two-receiver sets, and gained a total of 52 yards.

Eventually, more ripples will be added as the new backfield pieces get accustomed -- Williams, for one, is already pretty familiar, having run a similar scheme at Taunton High last year.

"We've gotta be able to throw off of it, and do other things off of that," Colombo said. "We're just working on base stuff right now, but we'll add in some [more] throws, and some misdirection, and just keep getting better at it, because no matter how much ... it's hard to defend. It puts stress on them side to side, widen things out, and then we hit you in between. We'll see where it goes, but it's a good start with that."

The Boxers are hoping Raymond can provide a good counterpunch to the shifty LeClair and Williams. Already measuring 6-foot and close to 220 pounds, there are high hopes that he can be tough in between the tackles, and today's returns were encouraging. It's not every day you have a back this size in Brockton, which had Colombo recalling back to some of the most successful Brockton teams of the last few decades.

"He's a throwback to the Junior Penn, Darnell Campbell, Rudy Harris type of back," Colombo said. "Again, just a sophomore, so he's still just learning his plays. We've got him playing some fullback and some tailback, and I think at times he's confused about exactly what the concepts are. But with the ball in his hands, going north and south, he's a load, definitely.

Colombo added with a laugh, "He's not a fun guy to tackle -- not that I've ever tried, I'm just glad I don't have to. He's a big strong kid that we have to take advantage of."

Davon dazzles: One of the most interesting camp questions this preseason was where star athlete Davon Jones would line up on the offense. Jones, a starter at free safety since his freshman season of 2011, is already being hailed as one of the state's best defensive backs, named a Preseason All-State selection last week by ESPN Boston. Offensively, Jones is expected to have a bigger role this fall following the graduation of Shadrach Abrokwah at running back.

Today, Jones played wide receiver exclusively, mostly lining up opposite the strength of the formation in isolation, and he made several highlight-reel plays. On the fifth play of the first series, with his defender playing five yards off the line of scrimmage, Jones took one step forward and turned back to the line of scrimmage, where quarterback Andrew Smiley threw him a ball on the numbers. Jones turned back to his defender, shook his hips, and then juked another defender for good measure.

In the second series, Jones went deep down the left sideline on a go route, and Smiley delivered a deep ball towards his back shoulder. With a safety coming over the top, Jones looked back to the ball, turned mid-air, and acrobatically came down with the ball, his arms outstretched behind his head.

"He's always around the ball," Pioneers head coach John Andreoli said. "On both sides of the ball, he's an impact player that we need to have on the field. Offense, it's good to have him in the slot, open area, and we can get pretty good matchups against him."

Asked if Jones will stick at wide receiver, Andreoli said, "We like him there, because it gives us a matchup in space."

Monteiro shows promise: Right now, this is a young offensive line that is green with talent, breaking in a slew of new blood. But this is also a big line, consisting of tackles Dan Estrella (6-2, 235) and Sebastian Porter (6-2, 240), guards Aaron Monteiro (6-5, 290) and Junior Silva (6-0, 230), and center Terrence Thorpe (6-3, 240).

"The line is a work in progress, and they're working hard. I see definite hope there," Colombo said.

The Brockton coaching staff is especially excited about the potential of Monteiro, who showed flashes of potential in the run game, getting out into the second level, but also in the passing game. On the Boxers' second touchdown, a 40-yard strike from Burke to Watna Cunha, Monteiro initially chipped the nose guard in the gap to his right, then recovered and sealed off the defensive tackle attacking his outside gap.

Monteiro is an aggressive run blocker, but his technique is still raw. Right now, he plays a bit stiff, and has a tendency to over-extend himself. His intangibles, though, have plenty of folks in Brockton excited about what he could become.

"He's athletic for a big, big kid," Colombo said. "He plays basketball, so he's used to moving his feet. When he puts a year of experience under his belt, with another year in the weight room, I think he's a Division 1 prospect. We'll see what the other guys think, but certainly he's got the part you can't coach -- the frame, athleticism and the size to play at the next level."

Big hits: Of all the years St. John's and Brockton have been scrimmaging each other, this was one of the more intense meetings. There were plenty of loud, popping hits delivered on both sides; a brief scuffle also broke out in the end zone following a St. John's score, though no punches were thrown.

In the second series, Williams took a quick pitch on the perimeter and shuffled his feet, attempting to juke Jones. But Jones simply squared his shoulders and lunged at Williams' thighs, undercutting him with a loud pop. The next play, Brockton's Justin Ahanon took a swing pass in the flat, turned upfield and ran over Jones on his way to the sideline, one of the day's biggest hits, which fired up the Brockton sideline.

Then early in the third series, Brockton safety Devin Duarte read Smiley's eyes and picked off his pass over the deep middle. Duarte broke to the left sideline, picked up about 20 yards then lowered his shoulder to flatten a would-be Pioneers tackler.

Early rust, but passing marks for Smiley: First scrimmages never go smoothly, and Smiley -- a 2012 ESPN Boston All-State selection -- threw a bad pick early, his intended target having his back turned. But once he got going, he was accurate, hitting receivers in the flats and deep downfield for a number of positive gains. Smiley -- a Navy lacrosse commit -- is one of the state's most dangerous dual threats, and leads an offense that runs parallel to Oregon's "Blur" attack and last year led the state in offensive yards (442 yards per game). But today's gameplan did not call for him to run much.

"We had five sophomores on the offensive side of the ball today due to a couple guys being dinged up, but overall I thought he made some good decisions, threw some good balls," Andreoli said. "He got the ball to guys in space, and that's our offense. We didn't run it a lot today, but he's progressing right along nicely. Where he was now compared to a year ago at this time, he's a completely different player."

Combs comes through: Andreoli feels comfortable sticking Jones at wide receiver, and that's because the Pioneers have picked up a nice running back in junior transfer Shane Combs, who has moved into the area from St. Louis.

Combs took a vicious hit from Jonathan Deroulas on the second play of the day, stuffed on a dive up the middle after a minimal gain and his back looking like it got the worst of the collision. Looking dazed, Combs struggled to get to his feet, but he returned to the field two plays later and was serviceable the rest of the day.

He also scored the first St. John's touchdown, cutting back on an outside zone to the left and scampering 25 yards to paydirt.

"He sees the field pretty well, is able to run off blocks and change direction without really losing a step," Andreoli said of Combs. "And he can catch out of the backfield too, which is a really nice dimension for us."

Leg Up: Keep an eye on sophomore placekicker Ryan Clifford, who played for Brockton's soccer team last year and has an impressive boot. In the first series, Clifford attempted a 35-yard field goal that sailed wide left, but had plenty of distance.

Clifford is among a small minority of kickers in the MIAA that kick directly off the ground. High school rules allow for the ball to be elevated up to two inches off the ground on field goal attempts, and most kickers use some sort of platform.

"Eventually, I think he's a big strong kid who might play some tight end or some other position for us," Colombo said. "And he kicks off the grass. He's not used to using a tee, and as you saw that was plenty of distance. It's a nice weapon to have."