Boston High School:

Pat Driscoll
January, 19, 2014
1/19/14
2:48
AM ET
By
Mike Abelson
| ESPNBoston.com
MALDEN, Mass. -- The Delbarton School was a terrible guest Saturday at the Valley Forum.

The Green Wave, of Morristown, N.J., controlled the tempo and disrupted Malden Catholic's offense for most of the game to escape with a 2-1 win over the host Lancers.

"Delbarton's a good team," Malden Catholic assistant coach Pat Driscoll said. "They beat us to a lot of pucks. I thought in the third period we picked it up a bit, but the bottom line is that when you play a team like that you got to play three periods."

The Lancers had scored at least three goals in every game they had played this season before being shut down by the Delbarton defense. The Lancers top line of Ara Nazarian, Tyler Sifferlen and John McLean was responsible for MC's lone goal -- a McLean tally in the third -- but were silenced for the bulk of the 45 minutes otherwise.

The Delbarton defensive pairs of Sean Petrie-Andrew Petrillo and Matt Savarese-Will McCarthy shined. They held their lanes on the back check and poke checked successfully throughout the game.

"I thought our gap control was exceptional," Delbarton coach Bruce Shatel said. "MC's got some real talented players up front, and we took away their space a little bit in the neutral zone. Our back pressure was good, but I've got to credit my defensemen for keeping those high-powered forwards in check for the most part."

Petrillo stepped up to the moment on both ends of the ice. The sophomore scored on a wrist shot from the point on the power play with 2:40 to go to put the Green Wave ahead for good. Tyler Kobryn put Delbarton ahead with a goal early in the second period.

"He's been our shutdown guy all year," Shatel said of Petrillo. "We tried to match him against [Nazarian] and [Sifferlen] all game. I think for the most part he did a real good job against them.

"It's funny in hockey, you draw things up and 99 percent of the time it doesn't work. We talked about Andrew getting his hips around the puck in the middle of the ice because they were butting us with the aggressive rotation on our shooters. It worked out."

These two squads met last year with Malden Catholic cruising to a 5-1 win. Petrillo said the biggest differences in this year's game was determination and physicality.

"I think it was just focus," Petrillo said. "They got a lot of talented, physical guys on that team, but we do as well. We're tough. We're physical. So I think we were able to keep with them."

The Lancers had their chances but were unable to convert. A pair of shots clanged off the post, including one from Sifferlen in the third period.

YOUTH SERVED IN GOAL: Both goalies yesterday were freshman and both played up to the occasion. Delbarton's Troy Kobryn turned aside 23 shots while Malden Catholic's Kyle Casey stopped 18.

"Kyle came out with a couple of big saves," Driscoll said of Casey. "They had a couple of power plays, and he came up with a couple of doorstop saves. He had a great day."

Kobryn showed his mettle in the second period when the Lancers were able to put 10 shots on cage.

"He was fabulous," Shatel said of Kobryn. "He's been terrific for us all year. He's a young pup, but he's getting older every time out because we're throwing him into some pressure situations and he's responded every time."
May, 3, 2013
5/03/13
10:45
PM ET
By
Richard Murray
| ESPNBoston.com
DORCHESTER, Mass. —- Despite going 0-for-3 in his first three at bats, BC High's Luke Catarius came through in the clutch during extra innings as the Eagles walked off with the 2-1 win against Catholic Conference rival Malden Catholic.

Catarius was up with the bases loaded in the bottom of the ninth inning against Malden Catholic (7-5) relief pitcher Joe Velozo. He started his at bat by missing a bunt, which resulted in Tom Russo being picked off third base as BC High (8-2) had the suicide squeeze on.

After failing to connect on the bunt, Catarius smashed a single to right. Pinch runner Billy Mitchell slid past the tag of Austin Batchelor at the plate giving the Eagles the win on the dramatic walk off play.

"I knew I had to make up for [the bunt]." Catarius said. "It would have bad if I didn't make up for it. The ball was on the outside part of the plate. I just slapped it to right, I saw Bill come in to score, so I was just like lets go and got all amped up."

BC High's starting pitcher, Trent Berg, threw the first five innings, and limited the Malden Catholic offensive attack to only one run. Berg struck out five and although he had some control issues (3 BB) he battled through his start.

"Trent did a nice job for the most part," BC High coach Norm Walsh said. "The walks are still an issue, but he battled through it, which is the most important far."

The Eagles' bullpen was called upon to throw four innings, and they did not disappoint keeping the Lancers at bay. Both Matt Nielsen (three innings) and Chris LaLiberte (one inning) combined for four scoreless innings of relief work.

"Neilsen is always rock solid, and LaLiberte came in and threw a big inning," Berg said. Usually we don't have to go that deep into our pitching, but today we proved that we have a strong [pitching] staff."

Malden Catholic's starter, Paul Campbell had a gutsy performance leading the Lancers into extra innings. Campbell threw eight strong innings striking out 11 and only allowing one run. Campbell only surrendered four hits and issued two walks during his eight innings of work.

"Campbell did a great job, and he is a bulldog," Malden Catholic coach Patrick Driscoll said. "He loves to compete, and he went out there and compete all day today. He gave us a chance to win.

The Lancers drew first blood in the first inning, as Austin Batchelor who had singled was able to come in on a past ball. The lead did not last though. Jake Morotta laid down a perfect bunt scoring Nick Petchell on the suicide squeeze.

In the fifth inning, Malden Catholic was pressuring the Eagles with runners on first and third. Chris Lanzilli ripped a line drive down the third base line, but BC High third basemen Tom Russo nabbed the ball and tagged the runner out at third to turn the inning ending double play.

"The defense was unbelievable for me today, and Russo is always there to bail me out," Berg said.

The BC High defense did not stop there though as Jake Morotta made a diving play in the hole at shortstop with the winning run on third base. Morotta got up and rifled the ball to first base just in time to beat Malden Catholic's Steve Passatempo to first base.

With BC High's timely defensive plays, the Eagles set themselves up for victory in extra innings.
April, 27, 2013
4/27/13
5:56
PM ET
By
John McGuirk
| ESPNBoston.com
WORCESTER, Mass. -- With the minimal amount of run-scoring opportunities each team had, both Malden Catholic and St. Peter-Marian needed to play beyond the Saturday's seventh-inning affair to claim a victor.
It finally came in the bottom of the ninth. With two out and Jon Roy standing on first base, Guardian right handed batter Desi Garcia ripped a Joe Velozo fastball deep into the gap between right and center field. With Roy, who was running on contact, chugging around the bases, the senior was sent all the way home by head coach Ed Riley once Riley noticed Lancers' center fielder Dan Marini slip on the grass after retrieving the ball of the fence.
[+] Enlarge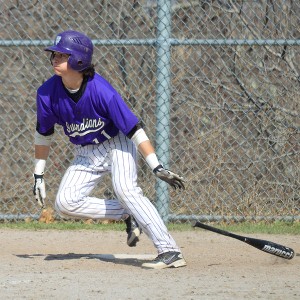 Brendan Hall/ESPNSenior Desi Garcia scored Jon Roy from first in the bottom of the ninth to make it four straight wins for St. Peter-Marian.
As Roy crossed the plate, the senior was mobbed by jubilant teammates in celebration of SPM's hard-earned 2-1 triumph.
Velozo and Guardians starter Zach Zona refused to give an inch against one another in this duel between two of the state's top hurlers. Both were outstanding in attacking zones and shutting down the opposition's offense. Velozo, a Merrimack College commit, allowed six hits and struck out 10. Zona, who is UMass-bound, worked eight innings, surrendering five hits and also recorded 10 Ks.
"This was an absolute team win," said Riley, his team now 5-5 after starting the season 1-5. "The pitching on both sides was phenomenal. Zach came out and pounded the strike zone. That's a very good baseball team on the other side and, to date, the best team we have played against this year.
"They're a very good fastball hitting team so our game plan was to pitch a little backwards to them where we go off-speed early and fastballs later in the count. For Desi, he really deserved that. He's been with me since his freshman year and this is the first year he has had an opportunity to get into the lineup regularly. I couldn't be more happier for him to come up with a hit like that."
In the top of the ninth, MC (6-4) threatened to grab the lead after loading the bases with one out. After issuing a single and walk to begin the frame, Zona was removed for Steve Albert. Following a sacrifice bunt and a walk, Albert, a junior, got out of the jam after striking out Nick Turco and Jeremy Roberts.
In the bottom of the inning, Velozo opened by walking Roy. After retiring the next two Guardian batters, Garcia, on an 0-1 pitch, lined his run-producing shot as the Lancer outfield was playing straight up against him.
"I had been seeing the ball good all day but just hadn't hit the ball square," said Garcia, a senior. "(Velozo) had really good movement on his ball so I tried to stay back. I was able to hit a nice seed the other way into the outfield and Johnny Roy got in to win the ball game. As a team we feel really good right now. We have momentum and we are a team. We've all been working very hard and now we're starting to get wins. Hopefully more will come."
Zona and Velozo were locked in from the outset, keeping the game scoreless through the first five innings. SPM had an opportunity to go up in the first inning after loading the bases. But Velozo, a lefty, got out of the fracas unscathed.
"Velozo pitched a great game," said Lancers coach Pat Driscoll, whose club defeated SPM 3-1 back on April 13th. "That's how he has been all year for us. He throws strikes, attacks the zone and gives us a chance to win every time he's out there. It was two great pitchers going at it today. They capitalized in the end and we didn't.
"When you have two good starters on the mound for both teams like today it's going to be a difference of who gets a timely hit with two outs and who executes. Today they got that hit and we didn't."
In the top of the second, MC's Steve Passatempo doubled to lead off the frame and took third following Cam Lanzilli's sacrifice bunt. But the junior got no further as Zona rung up Dan DiMare and Paul Garozzo to get out of the inning.
The Guardians would break up the scoreless deadlock in their half of the sixth. Velozo quickly retired the first two batters he faced before Brandon O'Connor belted a triple to left. Roy followed with a ground single up the middle for a 1-0 lead.
Just three outs away from a complete game victory, Zona began things by striking out Passatempo. With Lanzilli next up, the junior drove Zona's first offering deep over the left field fence to knot the game at 1-1. Following the home run, MC put two more runners on base with only one out. But Zona bore down by getting the next two hitters and avoid further damage.
"To hold a team like that to one run over nine innings, that's no mistake," Riley said. "It says you have some pretty good pitching. Both Zach and Steve Albert did a great job today."
April, 9, 2013
4/09/13
1:16
AM ET
By
Brendan Hall
| ESPNBoston.com
MALDEN, Mass. -- As far as league openers go, you can't get much better than Ryan Tufts' night.
Beneath the lights Monday night at Maplewood Park, the Virginia Tech-bound third baseman shone his brightest for Boston College High when it mattered most, in the Eagles' Catholic Conference opener against host Malden Catholic. Facing fireballing MC sophomore reliever Austin Batchelor with one out in the top of the seventh, tied 1-1, Tufts sat fastball and didn't have to wait long to get his pitch.
[+] Enlarge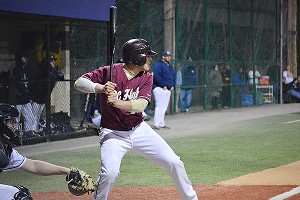 Brendan Hall/ESPNVirginia Tech-bound third baseman Ryan Tufts' sacrifice fly to deep center scored the winning run in the seventh inning for BC High.
Tufts blasted one deep to center, a ball that was eventually dropped but scored Dan Dougherty from third to make it 2-1. The Eagles then sealed it in the final frame with a double play, to improve to 3-0 and 1-0 in the conference.
"He's clutch, he can hit anybody," Eagles coach Norm Walsh said. "In fact, that ball might have been a little up and out of the strike zone, but he's got such talent that he just did the job for us. That was one fantastic baseball game."
Said Tufts of seeing the drop, "I was pumped. Any time you can get an extra baserunner there, it's really big, especially when we're trying push across a few runs."
BC High took the initial 1-0 lead in the top of the second with some smart baserunning from Ryan Tropeano. After reaching first on a fielder's choice and stealing second, the sophomore scampered home after the second baseman dropped the ball trying to tag out Sean Webster trying to steal second.
MC fired back in the bottom of the fifth with a dramatic shot from pinch hitter Paul Garozzo. Facing a full count with two outs and a runner at third -- Cam Lanzilli, who led the inning off with a triple -- Garozzo sliced one just inside the foul line down first base for an RBI triple and tie ball game.
McDonald grins and bears it:
Clearly, there are divided schools of thought amongst MIAA coaches as to how to handle pitchers in the first month of the season, when temperatures are still cold and arms are still getting broken in after a winter with limited live throwing.
Some like to keep starters regimented around 60 to 70 pitches, approaching the subject like a faberge egg; then there are those like Walsh, who let senior righthander Tommy McDonald throw into triple-digits, watched as McDonald took a ball off his left knee trying to bare-hand a comebacker in the final frame, and said, "You can't get mad at him though, because he's just so competitive."
"He wanted to make that play," Walsh said. "I think [second baseman] Jake [Marotta] would have had it, but he's such a competitor. You can't fault him for that."
Said McDonald, "I had the adrenaline running, it didn't even faze me. I'm just glad I stopped the ball from going into centerfield."
McDonald, a UMass commit, threw close to 115 pitches in a complete-game effort, striking out seven and walking none while scattering five hits and allowing the one earned run.
"At this point, he's thrown a bunch of bullpens in the preseason," Walsh said when asked about pitch count. "He's not going to start again for eight or nine days. He was throwing strikes, he was pounding the zone. I talked to [catcher] Luke [Catarius], Luke said he was really throwing the ball well still, so at this point no. He was probably up around 115 or so, and that's reasonable for him. He's our horse."
It's easy to see why the reigns are a little looser on McDonald. The 6-foot-2, 225-pounder demonstrates good command of his fastball, locating it around the zone, and doesn't labor on the mound. He generates much of his power from his legs, and is the kind of type-A personality you want as a starting pitcher -- asked how he'd characterize himself, he laughed, "I'm kind of a jerk out there...I don't want to give anything up."
Asked how he felt after racking up a high pitch count this early, McDonald said he felt fine.
"I was going into this thinking four or five innings, and leaving the rest for the bullpen," he said. "But my adrenaline was going and I felt in mid-season form. I just feel really good right now."
Seamless transition:
Forgive the Eagles if they've been spoiled the previous three seasons with Bobby Melley behind the plate. The UConn freshman catcher was one of the state's most feared hitters a season ago, hitting .370/.557/.685 totals with 13 RBI and drawing 22 walks to earn a spot on ESPN Boston's All-State Team.
But it looks like the equally-bulky Catarius, bound for Princeton University as a linebacker at a burly 6-foot and 230 pounds, will keep everyone comfortable despite his limited varsity experience. Catarius batted .267 a year ago in just 17 plate appearances.
Confidence around Catarius is apparent immediately.
"We didn't lose anything, he [Catarius] picked up right where Melley was coming back from," McDonald said. "Good presence behind the plate, good presence in the dugout, good presence with everything...He knows where I like to throw [and] where, inside, outside. He knows when to go out there, when I'm having a tough time."
Said Walsh, "[Luke] is a really tough, competitive kid. He's the heart and soul. He's got that fire to him."
Velozo battles:
In five complete innings of work, senior lefty Joe Velozo worked his way out of jam after jam on the mound for MC. In the third, he retired the first two batters (K, 6-4) then loaded the bases up, then put out his own flames with some high heat to Tom Russo, getting him swinging up and out of the zone.
The next inning, he evaded trouble again thanks to a 3-2 double play from first baseman Steve Passatempo to Batchelor. Passatempo dove to his left for an unassisted out at first, then fired home to Batchelor, who made a terrific block at the plate for a tag on Tropeano. In his last go-around, the fifth, he struck out the first two batters then allowed batters to reach second and third before ringing up Russo again to end the scoring chance.
Velozo finished with six strikeouts and scattered six hits while walking three. Nick George relieved him in the sixth, followed by Batchelor in the seventh.
"Very little fazes him," MC head coach Pat Driscoll said of Velozo. "I think he likes being in the big pressure situations. He wants to be that guy in that situation, making the pitches and getting his team back in there to hit."
November, 8, 2012
11/08/12
3:09
PM ET
By
Brendan Hall
| ESPNBoston.com
Malden Catholic today announced the elevation of Pat Driscoll to head baseball coach and Athletic Director, both from interim status.
Driscoll took over the head baseball job in late May, just before the start of the MIAA playoffs,
after Steve Freker resigned suddenly
. Driscoll had also been the school's interim athletic director as the late Chris Serino's health deteriorated. Serino passed away last month.
Driscoll had held the position of Assistant Director of Athletics at Malden Catholic since 2006, and he has been a member of the school's coaching staff since 2001.
"Pat Driscoll has extensive experience as a coach at the high school level," Malden Catholic headmaster Edward C. Tyrrell said in a statement. "He has proven his ability and value to our sports program as Assistant Athletic Director. He is a leader who focuses on the values, ideals, and mission when working with our students, families, faculty and staff. We consider Pat a true asset to Malden Catholic and to the Malden Catholic Athletics Program."
Over the past 12 years, Driscoll's coaching experience has included hockey, baseball and golf. He is presently MC's assistant varsity hockey Coach and junior varsity golf coach. He was Austin Prep's junior varsity hockey coach from November 2003 to 2005, and served as a coach of the Intercity Baseball League from June 2002 to 2007.
Driscoll is a member of the Massachusetts Baseball Coaches Association, the Massachusetts Hockey Coaches Association and the National Interscholastic Athletic Administrators Association.
March, 14, 2012
3/14/12
3:04
AM ET
MALDEN, Mass. -- Malden Catholic hockey's season had an auspicious start when head coach Chris Serino announced he was stepping aside for the season to deal with health problems in December.

The program was entrusted to John McLean, who took over as head coach in the interim, along with fellow longtime assistants Phil Antonelli and Pat Driscoll.

The Lancers haven't disappointed as the No. 1 team in our Top 25 poll throughout the season. But the pressure will mount on Wednesday, as they look to advance to the TD Garden and secure their second straight Division 1A title. Still, the biggest goal the Lancers hope to live up to is the ability to deliver another title in honor of their ailing coach, who is undergoing treatment in a bout with throat cancer.

We visited MC's practice on Monday to file this story: