Boston High School:

Pat Hurley
December, 23, 2012
12/23/12
10:49
PM ET
By
Terrence Payne
| ESPNBoston.com
HOLYOKE, Mass. -- Catholic Memorial used a series of runs throughout Sunday's game to take control against St. Raphael (R.I.) and put it out of reach, en route to an 87-46 victory in Day 4 at the BasketBull Hoops Fest at Holyoke Community College.

The most important run of the game happened at the start of the second half with the No. 13 CM(4-0) leading 42-25. The Knights forced three St. Raphael (4-1) turnovers, including back-to-back steals and finishes by senior guard Pat Hurley, to spark an 11-0 run, taking a commanding 56-25 lead.

"St. Raphael is a good team and I know they were capable of making three's in bunches," CM head coach Denis Tobin said. "We stressed at the half that we wanted to extend it and put them away, so if they did hit a couple of three's we would have enough of a cushion."

Tobin was right about the Saints, they could get hot from behind the arc and they did. Following the run, St. Raphael connected on three consecutive 3-pointers – from Graham Lynch, John Conney, and Charles Correa – to cut the lead to 56-34. The Saints shot 9 of 24 from deep on Sunday.

"At that point, by the 11-0 start, we were OK," Tobin said.

That was the only run the Saints would get on the day. The Knights controlled the glass, outrebounding the Saints 25-16, while forcing 16 turnovers in the game.

"The energy off the bench really helped us," sophomore guard Gullien Smith said. "Our defense really picked up, we closed out on the shooter really well."

Catholic Memorial started the game with a 7-0 run led by the senior backcourt of Hurley and D.J. McClure. Against the zone defense to start the game Hurley found McClure for a 3-pointer from the wing to start the game. Hurley would make a pair of free throws and a layup, before hitting McClure on a fast break lay-in, forcing St. Raphael (4-1) to call a timeout.

The Knights built a double-digit lead with a 6-0 run late in the first quarter to take a 10-point advantage into the second quarter. With the Saints threatening to cut the lead to single-digits heading into halftime, the Knights put together another 7-0 run to close out the half leading by 17.

"It's a big court up here," Tobin said. "The whole plan was to run bodies at them. Pressure them both defensively and then make them run back in transition and hopefully wear them down."

Smith led CM with 16 points, four assists and three rebounds. Hurley was solid all-around with 12 points, four assists, four steals, and two rebounds, while Gerard Adams chipped in 12 points as well, to go along with nine rebounds.

St. Raphael was led by an injured Correa, who had 13 points, five assists, and three steals. Conney led the Saints in scoring with 16 points, including four 3-pointers.

"We caught a break with Charles [Correa] playing with one hand; his weak hand," Tobin said. "But we'll take it. I think it's the best we've played this season."

GUTSY PERFORMANCE
Correa, one of the top players in Rhode Island, was held to just 13 points. It seems like a good defensive performance on paper, keeping a dynamic scorer like that in check. However, Correa was playing with an injured right hand – his shooting hand – forcing him to play the entire game with basically one hand.

"I still have a good left hand," Correa said. "I couldn't let my team down. If we were going to lose, we were going to lose together."

After the game Correa said he had never shot left-handed before. He mentioned a game back in 2005 when then Indiana Pacer Jermaine O'Neal hurt his elbow on a foul from Denver Nuggets center Francisco Elson. O'Neal went to the line and was forced to shoot his free throws left handed.

"He's just an unbelievable athlete. He hurt it the other night in the game," St. Raphael head coach Thomas Sorrentine said. "He could really only go left, so we set him up to go left. He gave us everything he had out there. Obviously he wasn't 100 percent."

Correa was still able to be effective. He was second on the team in scoring with 13 points, he had five assists and came away with three steals in 26 minutes of action. With just his left hand he was still tough to guard, finding his way into the lane.

In the second quarter he knocked down back-to-back left-handed 3-pointers – he had three on the day – to go along with two other lefty layups in the second half.

"That's very courageous of him. A non-league day, out of state, it's very impressive," Tobin added. "Left-handed, he's still very, very good."

Correa injured his right hand two days earlier in a win against Mount Pleasant. The right hand was completely wrapped and as he iced it after the game, the area around his pinky was still swollen. Sorrentine said they will have the an X-ray of Correa's hand soon.

"I couldn't handle the ball with my right hand," said Correa. "I had to keep going back to my left."

CATHOLIC MEMORIAL'S BALANCED ATTACK
This year is different for Tobin. He doesn't have a consistent scorer every night, but he does have multiple players he can rely on game in and game out.

"We're not like past teams, where we've had big go-to guys," he said. "On any given night we have four or five guys capable of scoring 12-15 points.

"I'm very impressed with our unselfishness as well. Everybody's willing to share the ball. We've all bought into the team concept."

In Sunday's win, six players scored eight or more points, 10 players came away with at least one rebound and seven players recorded two or more assists. The team was also solid defensive team in both the full court pressure and well as in the half court set.

The five starters –Hurley, McClure, Smith, Adams, and John McDonough – all contributed in different areas, while Kevin Claflin and Rich Lopez provided a lift off the bench.

"No one is selfish on this team," Smith said. "No one is trying to go out and score 20, we just want to win."

The undefeated Knights have a few days off before heading to Newton as part of a Christmas tournament with Newton North, Newton South, and Lexington.

"We've been there for four or five years and we haven't won it yet," Tobin said. "We'd like to take care of that."

"We have another non-leaguer with Woburn on Jan. 2 and then the rest of the month of January is the league and that's what we're looking forward to."
December, 12, 2012
12/12/12
2:27
AM ET
By
Brendan Hall
| ESPNBoston.com


FRANKLIN, Mass. –- Almost right away, one can tell this is a vastly different Catholic Memorial squad from the one that claimed the Catholic Conference outright a season ago.

Gone are two 1,000-point scorers, as well as the starting backcourt (one to prep school, one to an ACL tear during football). And with it has seemingly gone the offensive wizardry –- at least for now.

But on this opening night of the 2012-13 season, in front of a familiar foe's hostile crowd, the Knights proved they can at least hold their own in the defensive end. Behind an oppressive 2-2-1 full court press and some very physical play on the boards, the Knights built a double-digit lead early over rival Franklin and made it stick, prevailing 66-56 in both teams' season-opener.

"We just played hard," said CM sophomore Giulien Smith, who led all scorers with 18 points. "We just have to cut down on the turnovers and we should be good for the season."

It was a tightly-contested game early, but late in the first quarter the Knights capitalized on several turnovers in the press to close out with a 7-0 run and take a 20-14 lead. In the second quarter, Franklin was held to just 2-for-12 from the field, as the Knights went into the break with a 36-25 advantage.

Trailign 48-40 headed into the final stanza, Franklin was on the cusp of building some momentum when CM senior forward and captain John McDonough, the Knights' pugilist under the glass, went to the bench with a fourth foul just one minute into the quarter. Craig Anderson then sunk both of his free throws to make it 50-44.

That was as close as the Panthers cut it, however. Coming down the other end, Smith pulled up for a 15-footer near the charity stripe, then the Knights immediately went to their familiar press to force another turnover.

Two minutes later, Rich Lopez (14 points, six rebounds) came up with a layup, then laid out for a loose ball going the other way after 6-foot-6 sophomore David Watkins (six rebounds) stretched out for a deflection in the press. From his knees, Lopez hurled the ball downcourt to D.J. McClure, who was fouled and hit the front end of two shots for a 57-48 lead with 3:30 to go.

The next time down, McDonough chucked a long lob over the top of Franklin's press to McClure for another easy basket, followed by a great dish from Pat Hurley to Lopez in transition to give the Knights an 11-point lead with less than two minutes to go.

"Typical first game, lot of sloppiness out of both teams," CM head coach Dennis Tobin said. "I was very happy with the effort that we gave. We're a physically tough team this year. We get a lot of the 50-50 loose balls, we get a lot of the rebounds we shouldn't be getting.

"They made a nice run down the stretch at us and cut it to like six or five. But we kept our poise, moved the ball and were able to get a couple layups out of that."

Stalking Sammy: Senior point guard Sam Bohmiller is an early leading candidate for Hockomock League MVP, and the identity of the Panthers' program with his even all-around game, but the Knights made life difficult for him tonight. The 5-foot-10 Bohmiller is known for his accuracy from the perimeter, and ended up with 13 points, but that came on a forgettable 5-for-15 effort from the field.

Simply put, CM made Bohmiller work for his points.

"Basically we wanted to use three or four bodies to tire him (Bohmiller) down," Tobin said. "He's a terrific player and we wanted to make it hard for him to get the ball once he gave it up in the half-court. Then, look to help, try to make the other guys beat us and not let Bohmiller beat us."

In the post-game, Franklin coach Dean O'Connor found himself absorbing all the blame, telling reporters "That's on me, I didn't have them prepared for the intensity that they had." When it came to Bohmiller, O'Connor cited his team's struggles screening, and attributed Hurley to much of the troubles.

"They were doing a good job off the ball and Hurley did a good job," O'Connor said. "Not too many guys can contain him off the dribble, but he did a good job of keeping him in front and the other guys did a good job of denying it.

"We turned into a lot of dribble and not screening and cutting, which is what we want to do. We didn't make good use of the dribble. Then they got all the hustle plays -- rebounds, loose balls, things like that."

Bottled Up: In trying to break the Knights' press, the Panthers countered with diagonal passes through the zone, but some terrific awareness and activity in the backcourt by the Knights made that strategy difficult all night.

The Knights' press tonight rotated Hurley, Dennis Tobin Jr., and Kevin Claflin way up top, pressing the inbounders; behind them at midcourt were a rotation of Lopez, Smith and Watkins near midcourt on either side of the circle; and way back near the free throw line was McDonough playing centerfield.

Making it all work seamlessly was Lopez, whom the elder Tobin called "probably our toughest player".

"If you see a ball on the floor he's going to get it," Tobin said. "He takes charges, does all the things that we ask of him, has a nice soft shot that he really didn't demonstrate tonight but I would say he's the heart and soul of the team."
July, 9, 2012
7/09/12
9:58
PM ET
Bay State Games communications coordinator Craig Kaufman sends along results from today's action, which included the first games of baseball and softball:
WOBURN, Mass. –- The opening day of scholastic competition saw the softball and baseball tournaments of the 2012 Bay State Summer Games get underway from the campus of Bentley College and the Veterans Field Complex in Waltham, Mass. Three baseball games and six softball games began the showpiece events of the 31st Bay State Games.

BASEBALL

Southeast 7, Metro 2
Metro took a 2-1 lead in the third inning on a two-run single by Malcolm Nachmanoff (Boston), but Southeast scored the next six runs, with pairs in the third, fifth and sixth. Pinch hitter Sean Roche (Rockland) scored twice and Southeast took advantage of two late errors to score three unearned runs.

Patrick Hurley (West Roxbury) was dominant in relief for Metro, striking out five in two innings but was victimized by those miscues. Third baseman Cameron Hanley (Walpole) was on base twice for Southeast, scoring a run, stealing a base and driving in a run with a single to left field in the third.

Northeast 4, Coastal 3
Northeast clinched a walk-off victory in the bottom of the seventh when pinch hitter Colby Ingraham (Georgetown) delivered a bases loaded single up the middle to score pinch runner Mike Driscoll (North Reading).

Coastal shortstop Jimmy Gamache (Mattapoisett) was 2-2 on the afternoon, scoring two of Coastal's runs and swiping a base in the process. He hit a triple in the fourth inning and crossed the plate on an RBI single by Ryan Kowalski (Taunton).

Andrew Deloury (Andover) had himself a 2-2 day and drove in a run in the fifth, scoring Brendon Canavan (Carlisle) to give the Northeast a 3-2 lead, before Coastal re-tied the game a half-inning later.

Coastal starter Matthew Peterson (South Dennis) went three innings of work, yielding two hits and no earned runs, while not issuing a walk and striking out three. Victor Molle (Peabody) got the victory for Northeast.

Coastal had a chance to take the lead in the top of the seventh, but Drew Wethington (Fairhaven) was tagged out trying to score from third base on a passed ball.

Mike Bruemmel (Bridgewater) and Ian Chaney (Fall River) also drove in runs for Coastal.

West 2, Central 0
Andrew Ringie (Pittsfield) rocked a triple to left center field in the fifth inning to score catcher Dan McGuill (East Longmeadow) and break a scoreless tie. The West added another run in the bottom of the sixth when Justin Carey (Shutesbury) walked, stole second and advanced on a groundout before scoring on a wild pitch. McGuille almost made the score 3-0 with an RBI double, but Liam Nolan (Pittsfield) was called out on an appeal play for missing third base and the teams went to the seventh inning with the West up 2-0, where pitcher Asher Young (Amherst) closed the door.

The West pitching was superb, holding Central hitters to three hits, one by Mike Woll (Millbury) in the fourth, who reached second base but was caught stealing trying to swipe third, ending the best threat for the Central on the day.


SOFTBALL

Coastal 3, Southeast 1 (10 am)
Coastal scored first in the 4th inning by Julia Sullivan (Sandwich) who also scored in the 6th by an in the park home run by Ashley Truman (Berkley). Sullivan had 2 hits in the game. Southeast got there only run in the 7th taking advantage of two errors by the Coastal team. Danielle Burgess (Millis) who was on base 3 times had the only run for the Southeast team.

Northeast 7 Metro 0 (10am)
After a slow start for both teams Northeast was the first team to score in the 5th inning. Marissa Cammarano (Bedford) came across the plate for Northeast to score their first run followed by Mikayla Wallace (Peabody) and Courtney Green (North Andover). In the 6th the Northeast bats came alive again erupting for 4 more runs to seal the win. Gia Raczkowski (Stoneham) scored twice along with Danielle Moran (Lynn) and Terri Ferrazzani (North Reading) each scored one run. Metro had three hits in the 5th inning but had one runner cut down and left the other two on base.

Metro 5 Central 0 (noon)
Metro came out on fire in the 1st inning scoring two runs by Courtney Leddy (Cambridge) and Marlene Sullivan (Waltham). Sullivan started things off in the 3rd by hitting a single following Allison Caloggero (Medford) hitting a double who both came into score in the 3rd. In the 5th to seal their win, Alexandria Craig (Waltham) hit a single and came into score. Central put up a fight the whole game. Nicole DeFazio (Northbridge) hit a single for them along with Alicia Wagner (Uxbridge) also having a single. Their efforts came up short with Metro getting the win.

West 9 Southeast 1 (noon)
West started things off in the first inning with an inside the park homerun by Tasha Polaner (Orange). Sami Stolar (Hampden) then followed with a double and was driven in by Mary Greco (Hatfield) who hit a double. The West bats came alive again in the 4th where Polana hit her second in the park home run of the day. Stolar and Greco followed with singles. An additional three runs where scored by Rebecca Carkhuff (Amherst), Brooke Fairman (Huntington), Courtney Newsome (Sunderland). Stolar also scored in the 6th. Southeast battled with two hits by Danielle Burgess (Millis) and Meghan Shay (Abington) a piece along with Caroline Shay (Abington) having one hit on the day. Christine scored the Southeast only run off of a double by M. Shay. Due to their efforts they fell short to West.

Coastal 4 West 3 (2pm)
Megan Logan (Westfield) West started things off in the 4th by walking, where she was then driven by MacKenzie Yelle (Belchertown) who hit a double. In the 5th inning, Polana hit a double followed by Stolar hitting a single both players scored in that inning. Coastal came alive in the 7th, where Jackie Kielty (Middleboro) got on base due to a third baseman error. Meghan Riley (North Reading) then came up to the plate; hit a single, which scored Kielty. Mickayla Cobb (Middleboro) hit a single followed by Juliana Fergurson (Sandwich) getting walked. Katie Wood (Westport) and Sullivan both hit singles to score Cobb and Fergurson to win the game.

Northeast 9 Central 1 (2pm)
Northeast started things off in the 2nd scoring three runs by Rachel Couto (Chelmsford), Meaghan Leary (Andover) and Jordan Day (Andover). In the 3rd and 4th inning they scored Olivia Brothers (Peabody) and Couto. In the 5th Leary, Cori Simmons (Salisbury), Day, She Carney and Couto to put the Northeast in good standing to clench the win. Central put up a fight having hits by Olivia Peterson (Westford), Nicole DeFazio (Northbridge), Mackenzie Brisbois (Douglas) and two hits by Samantha Wise (Uxbridge) who was also the only one to score for Central.
June, 3, 2012
6/03/12
8:48
PM ET
By
Eric Adler
| ESPNBoston.com
HYANNIS, Mass. -– The Barnstable baseball team knows that it only needs to put up a couple of runs at most when Willie Nastasi is on the mound. But with their lives on the line in the first round of the MIAA Division 1 South tournament, they made sure to give their senior ace plenty of support.
[+] Enlarge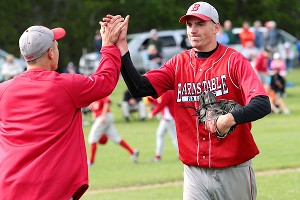 Eric Adler for ESPNBoston.comBarnstable ace Willie Nastasi had another solid outing, going the distance while striking out seven and scattering five hits against Catholic Memorial.
The Red Raiders scored six unanswered runs –- including four in the fifth –- to back a solid, complete-game effort by Nastasi, who struck out seven and yielded just five hits and a walk to lead Barnstable to a 6-1 victory over Catholic Memorial this afternoon.
No. 4 seed Barnstable improves to 15-4 and will take on the winner of BC High and Framingham in the quarterfinals on the Cape Tuesday. No. 13 seed Catholic Memorial bows out with a 12-9 record.
"The team has a lot of confidence in Willie, so much so that if we just get two runs, we feel like we're more than likely going to win the game," Barnstable coach Joe DeMartino said. "We know Willie is going to give us a great game, so it's all up to our bats after that."
The Red Raiders' offense has been spotty at times this season, and worse, they were facing a formidable foe in Catholic Memorial starter Patrick Hurley, who tossed a seven-inning no-hitter in his previous start against Brockton (May 21). But that didn't deter them from winning their third straight opening-round playoff game.
Everett Walsh and Sam Holway had two hits each for Barnstable, which hammered out 10 hits altogether and eight off Hurley, who fanned five and walked four over five-and-two-third innings.
"Patrick wasn't at his best today, but our defense didn't help him at all," Catholic Memorial coach Hal Carey said. "We knew we were playing a very good team with a very good pitcher and that we'd have to play close to perfect to win, but we made too many errors. We hit the ball OK, but they made every play. Their defense was much better than ours."
Nastasi, who struck out 16 batters in his now infamous 155-pitch effort against Taunton earlier in the year, was coming off a rare loss in his previous outing vs. Dennis-Yarmouth (May 24). But in a do-or-die setting, he wasn't about to let his team down.
"I definitely felt a little more pressure in this game because it's the state tournament," said Nasasti. "I was anxious all day and had a lot of adrenaline going between innings, but I felt like I needed to get the job done and I did."
The Knights did their best to rattle Nastasi from the start.
Kevin Murphy smacked the first pitch of the game to deep right for a triple and came home two batters later on Sean Heelen's sacrifice fly. But that's all the visitors could come up with against the UConn commit.
Nastasi retired 11 of the next 13 batters, and in between, picked off a runner at first.
"Early on, I couldn't throw my cutter for a strike and I couldn't get my change-up where it needed to be, but working in the bullpen between innings helped," said Nastasi. "Playing catch allowed me get more comfortable with the grip."
Barnstable knotted the game in the third when Tyler Adams reached on a fielder's choice, moved over two bases on Dylan Morris' hit to left and an error on the same play, then dashed home on a wild pitch.
In the fifth, the Red Raiders opened the floodgates. Dennis Beynor and Luke Besse drew walks before Adams executed a perfect bunt single down the third base line. Morris was hit by the very next pitch to plate the go-ahead run.
Walsh grounded into a 4-6-3 double play, but was able to bring home Besse. Mark Brodd followed with a run-scoring double to right, and Walsh capped the attack with an RBI single in the same direction to give the Red Raiders a commanding 5-1 lead.
Barnstable added its final run in the sixth thanks to back-to-back errors by the Knights –- one in the infield and one in the outfield -– allowing Besse to score.
The production proved more than enough for Nastasi, who got out of a two-on, one-out jam in the eighth, and induced a pair of ground balls plus a pop-up in the final frame to secure the win.
"Anybody is going to have a tough day against Willie when he's on, and he was on today," said DeMartino.
Nastasi's fielder's were also at the top of their game. Adams (at second base) and Derek Estes (at shortstop) finished with four assists, and Brodd (the third baseman) helped record the final two outs of the eighth.
As satisfying as the win was against CM, which blasted Barnstable 19-0 in the tournament two years ago, the Red Raiders put it past them shortly after the final put out.
"The last two years we've won the first game in the states then got bounced, so we know we've got some work to do, but we've got pitching," said DeMartino, who will hand the ball to strong-armed senior Keegan Dellacona on Tuesday. "And pitching is the best way you can win in the tournament."
May, 19, 2012
5/19/12
6:13
PM ET
By
Mike Scandura
| ESPNBoston.com
WARWICK, R.I. -– Whoever said a team can never have enough pitching must have had Catholic Memorial in mind.

Including Saturday's non-league game at perennial Rhode Island power Hendricken, the Knights are in a stretch where they play five games in eight days.

"We have six guys that have pitched this year," coach Hal Carey said after the Knights clipped the Hawks, 7-1. "(Pat) Hurley is our clear number one. But after that, everyone can throw well on a given day.

"We're going to need them all because we have five games in eight days. Two are makeups (including a Sunday game against Malden Catholic)."

Since junior right-hander Sean Heelen went the distance it allowed Carey to avoid using any relief pitchers –- which means the Knights (9-6) could be in good shape as they seek to qualify for the MIAA playoffs.

Heelen allowed four hits and three walks (the run was unearned), and struck out six. Moreover, he threw 59 of 95 pitches for strikes.

"I tried to give it all I had on the mound so we could save our pitchers for next week, especially with some big Catholic Conference games coming up including Xaverian and Malden Catholic," Heelen said. "And we have a big game against Brockton on Monday. "I tried to give it all I had and coach was happy."

One reason Heelen was able to muffle the Hawks (16-3) was that he utilized a new pitch.

"I've been trying to incorporate a slider and this was the first game I actually threw it," he said. "So, I tried to come in with a lot of off-speed (pitches), which I usually do. And I try to work as quickly as I can so the batters don't any time.

"I try to go out there and throw strikes and try to keep my team in it. I had some help from the catcher, Kevin White."

Arguably nobody appreciates a pitcher's ability to work fast more than the position players.

In this game, Heelen retired nine Hawks on three pitches or less; the Knights only made one error; and the team turned a double play.

"I try to stay in a rhythm on the mound so the fielders don't get lethargic, especially in the outfield," Heelen said. "As long as I throw strikes and they put the ball in play I know my teammates will make plays."

Perhaps the most notable Hawk Heelen kept in check was senior pitcher/outfielder Tom Pannone, who already has signed a letter of intent to play his college baseball at the University of Miami.

Pannone was robbed of a hit in the first when his blooper to left was snared by Garrett Ewanowski who made a head-first dive.

First baseman Todd MacDonald made a nice pick on a hard grounder in the third.

And Pannone went down swinging in the fifth.

Heelen helped himself by going 2-for-four with an RBI while Brian McCann smacked a pair of doubles plus a single and drove in two runs.

Hendricken's lone run came in the second when Rich Bacon reached on CM's lone error and scored on Justin Finan's double. But when Finan tried to stretch that hit into a triple –- with nobody out -– he was gunned down a perfect relay from Ewanowski to shortstop Joe Presti to Mike Perry.

"We're 9-6 playing a tough schedule," Carey said. "Our defense has been good all year. And Sean throwing great today was a huge boost for us.

"We want to try and get it done in these next few days (i.e. qualify for the playoffs). We're good enough to beat anybody in (Massachusetts) and Rhode Island. But anyone on our schedule can beat us, too."