Boston High School:

Pat Kramer
February, 15, 2014
Feb 15
12:52
AM ET
By
John McGuirk
| ESPNBoston.com
MARLBOROUGH, Mass. – It's no secret that these are desperate times for the St. John's Pioneers.

With the regular season down to a few precious days, St. John's is pulling out all the stops in an effort of convincing the powers that be within the Super 8 tournament selection committee that they should be one of the 10 teams represented later this month.

On Friday night, the 12th ranked Pioneers made a strong case for themselves after grinding out a 4-4 tie against No. 2 BC High at New England Sports Center.

"I'm very pleased with the effort tonight," said St. John's head coach Mike Mead, whose club has now recorded ties in its last four contests "This was a playoff-like game. It gets you tournament-ready and that is what this last week of the season does for us. I think this result will definitely open some eyes. We are a team that is playing very well at the right time of the season. We can control only what we can control. If we are meant to be in the Super 8 then great. But if we're not then we're not."

The Pioneers travel to Coyle-Cassidy Saturday night before hosting Xavier (Conn.) on Monday before wrapping up the regular season Wednesday at Xaverian.

St. John's (9-4-6), which is still postseason bound (Division 1 North tournament) even if the Super 8 does not come calling, knows it probably should have came away victorious on Friday.

Kevin Quinlivan's rebound score coming at 13:08 of the third period pushed the Pioneers in front, 4-3. With a little more than a minute to go, the Eagles pulled goaltender Brandon Payzant for the extra attacker. It paid off. With only 58 seconds remaining, junior Pat Kramer blasted a shot from just inside the blue line. The puck appeared to tip off the stick of teammate Tim Larocque and sneak through the leg pads of Pioneer goalie Mario Pizzeri for the equalizer.

Officials credited Kramer with the goal but Larocque had positioned perfectly in front of Pizzeri to redirect the shot.

Throughout the course of this contest, BC High (12-1-4) held a distinctive edge offensively, out-shooting St. John's 38-21. But due to Pizzeri's performance, the Eagles were not able to pull away.

"They did a better job taking care of the puck then we did," BC High head coach John Flaherty said. "We had more chances but we didn't capitalize. Mario is a very good goalie and we knew that coming in. We knew that team would come ready to work because they need to. They know what is at stake for them. We knew that and shame on us for not responding. I'm happy that we pulled the tie out but what led up to that needs to be fixed."

Every time BC High took the lead, St. John's always seemed to have an answer. The Eagles went up first at 7:33 of the opening frame after Larocque sent a saucer pass over to Aidan Foley in front of the St. John's crease. The senior flipped a shot over Pizzeri's left shoulder giving his club a 1-0 lead.

At times, the Pioneers appeared to be puck watching instead of attacking the Eagles once they moved inside the offensive zone. However, Pizzeri (34 saves) was there to bail his club out on numerous occasions.

With just over two minutes remaining in the opening period, St. John's finally started getting its offense to click. Garrett Lehan, skating inside the Eagle zone, let go of a shot that caromed off of Payzant's pads. Alertly, junior forward Dan Barlok was positioned perfectly to pick up the rebound and send it into the net, knotting the game at 1-1 heading into the first intermission.

BC High, a 5-2 winner over St. John's back on Jan. 29, continued its offensive prowess for much of the middle period. The objective was simple enough – shoot as many pucks towards Pizzeri as possible and try to create traffic in front. The Eagles did just that but could not get anything past the senior.

"That was one of the most enjoyable games that I've ever played in," Pizzeri said. "I think we are a different team than the first time we played them. Our goal coming into this game was to make a statement and show the rest of the state that we deserve to be in the Super 8 tournament. I think tonight we did just that."

At the 9:39 mark, and with St. John's short a man after a too many men on the ice penalty, BC High regained the lead following a blast by Kramer's from the perimeter. However, the Pioneers late period magic would arise once again.

Off an errant shot that landed behind the Eagles net, Payzant went back to retrieve it, unknowing to him, that a pair of St. John's forwards were closing in on him fast. After losing control of the puck, the sophomore tried in vain to retreat back inside his crease. But he was a little late in doing so as Mike McGillicuddy was able to lift a backhand an open left side of the net at 12:14 to even things at 2-2.

For as much offensive output that BC High was demonstrating throughout, the only thing that mattered was the scoreboard. The Pioneers knew they were being out-played, particularly inside the defensive zone. But heading into the locker room deadlocked after 30 minutes certainly had to be a confidence booster.

That feeling didn't last long though. Just 37 seconds into the third, forward Steve DeForge muscled his way between two St. John's defenders and, with bouncing puck dancing on his stick, he managed to tuck a shot underneath Pizzeri's right arm and give the lead back to the Eagles 3-2. Things remained that way until Quinlivan's rebound tally midway through the period. A few moments later, St. John's let a golden opportunity to pad the lead slip through its fingers after Barlok broke in alone on Payzant (17 saves).

Aiming for the left side the net, the junior's hard wrist shot, instead, rang off the left post. As fate would have it. That missed chance would come back to haunt the Pioneers once BC High came back to tie the game in the waning seconds to no fault of Pizzeri.

"As I've said before, Mario does everything he can for us," said Mead. "He's a great leader. We aren't going to win many games 8-0. We're going to win games 3-2, 4-3, et cetera. It all starts on how Mario plays for us."
January, 23, 2014
Jan 23
3:39
AM ET
By
Jeff Cox
| ESPNBoston.com
DORCHESTER, Mass. – At the halfway point of the season, if any team is primed to knock Malden Catholic off its perch as the three-time Super 8 champions, it is the No. 1 BC High Eagles.

John Flaherty's team proved that again on Wednesday night with a convincing 5-1 victory over No. 5 Xaverian.

"We tied [Xaverian] a few weeks ago," Flaherty said. "They worked hard and out worked us. We knew we were going to have to put a lot of shots on net in order to have success. The goal coming out was to be aggressive, use our speed and get a lot of pucks to the net."

One of the region's top uncommitted defenseman got the Eagles on the board first with an absolute rocket from the blue line. Sophomore Ryan Shea one-timed a pass from Sam Topham into the back of the net at the 9:57 mark of the first period.

Recent Merrimack commit Pat Kramer picked up the secondary assist.

"It was a good pass by Sam Topham. It really got the team going," said Shea, a '97, who began to draw serious attention from college recruiters at this summer's various showcase events.

The Eagles headed to the second period still up 1-0 when Flaherty decided to turn up the pressure on Xaverian by implementing a strong forecheck.

"Our forwards are really fast," Shea said. "Other team's defense have problems breaking the puck out with our forwards. Coach [Flaherty] really hopped on us in the second period and told us to get hard on the forecheck. We started sending two guys in and got a lot of turnovers and pucks on net."

The result was three BC High strikes in the second period that was completely dominated by the Eagles.

Pat Riley scored one from the dirty area in traffic after he picked up a Topham rebound and lifted it right underneath the crossbar to beat Xaverian goaltender Aidan Murphy.

Midway through the second period BC High extended the lead to 3-0 on a quick goal right off a face-off. Riley drew the puck back to Steve DeForge who quickly threw it on goal. Murphy caught some of the puck, but couldn't corral it before finding the back of the net.

With just 1:07 to go in the second period Aidan Foley blocked a shot at his defensive blue line before going in two-on-one towards the Xaverian goal. He looked off his teammate before sliding a hard shot along the ice that beat Murphy to his five-hole.

"We have guys that can skate," Flaherty said. "When we skate and use our gift of speed we can be effective on pressuring teams into making mistakes. Our purpose was to get on our skates and move. We wanted to pressure people and get to loose pucks. We did that better in the second period than we did in the first."

Xaverian's Connor Murphy gave some life to the Hawks just over a minute into the third period when he took advantage of a BC High turnover to snipe one past Brandon Payzant.

Some nice passing by BC High concluded the scoring later in the final period. Ryan Doolin sent a nice pass between two defenders to Foley who roofed one.

BC High (9-0-2) returns to action on Saturday with a showdown against Springfield Cathedral.

Xaverian (6-2-4) also gets back to the ice on Saturday with a matchup against Catholic Conference rival St. John's Prep.
December, 2, 2013
12/02/13
11:31
PM ET
With Monday marking the beginning of MIAA hockey practices across the state, it's as good a time as any to take an initial stab at projecting this year's Super 8 tournament field. So here goes nothing, kicking off the #RoadToTheGarden:

(By the way, look for our full preseason boys' and girls' Top 25 polls, along with All-State teams, starting next Monday.)

1. Austin Prep

Last year's record: 16-2-6

Last year's final ranking: 3

Key returners: F Bobo Carpenter, D Andrew Cross, G Elijah Harris, D J.J. Layton, F Eric MacAdams.

Why they're here: Feeling was that the Cougars were about a year away from contending heading into last season and, low and behold, AP was just a goal or two away from capturing last year's Super 8 title at the Garden. A young and talented nucleus returns largely intact this season, so the expectation is even higher. The goal will be to interrupt Malden Catholic's designs on a four-peat.

2. Malden Catholic

Last year's record: 16-6-3

Last year's final ranking: 1

Key returners: F Matt Filipe, F Austin Goldstein, D John McLean, F Ara Nazarian, D Nick Rolli, F Tyler Sifferlen, F Jake Witkowski.

Why they're here: As a three-time defending champion, it's again the Lancers' derby to lose. There are questions entering this season, as they'll again be breaking in a new goaltender and Casey Fitzgerald moved on to the United State National Team Development Program. However, with returning ESPN Boston Mr. Hockey award winner Ara Nazarian (a UNH commit) returning, anything's possible with this group.

3. Springfield Cathedral

Last year's record: 16-3-4

Last year's final ranking: 7

Key returners: F Peter Crinella, G John Liquori, F Johnny Leonard, F D.J. Petruzzelli.

Why they're here: The Panthers might have the best forward depth of any returning squad, but there are some serious voids to be filled on the blue line, with All-Staters Matt Foley and Jack Williams lost to graduation. However, for whatever Cathedral might lack in experience on defense, three-year starting netminder John Liquori should mask.

4. Central Catholic

Last year's record: 15-7-3

Last year's final ranking: 6

Key returners: F Zack Cote, F Lloyd Hayes, D Alex Lester, G Colin Soucy.

Why they're here: Arguably, there was no bigger breakout star in last year's Super 8 tournament than Colin Soucy. The then-junior goaltender backboned the Raiders in a hard-fought, three-game series against St. John's Prep, nearly earning the upset against the top-seeded Eagles. Head coach Mike Jankowski's teams are always defensively responsible and well-organized through the neutral zone, thus they are perennial staple to the tournament.

5. BC High

Last year's record: 15-5-3

Last year's final ranking: 5

Key returners: F Steve DeForge, F Pat Kramer, F Tim Larocque, F Jake Lemanski, D Ryan Shea, D Sam Topham.

Why they're here: Of course, there's the question of how will take Peter Cronin's place in between the pipes, but the Eagles are deep on returning talent. Sophomore defenseman Ryan Shea has generated a good amount of Division 1 college interest in just one year at Morrissey Blvd. Meanwhile, junior Pat Kramer was among the Eagles' top scorers last year. If the transition in net is smooth, they're likely the second Catholic Conference team in.

6. Winchester

Last year's record: 16-6-3

Last year's final ranking: 11

Key returners: F Brendan Greene, G James Offner, F Nolan Redler.

Why they're here: The Sachems were a couple bounces and a shootout away from a Division 1 state title appearance last season, going down in a narrow defeat to eventual champion and Middlesex League rival Burlington. This year, Winchester could assume the poll position in the state's premiere public school division. The aforementioned Red Devils and last year's Super 8 entrant, Reading, both graduated significant portions of last year's roster, so the time is now for the Sachems to make their run.

7. Archbishop Williams

Last year's record: 13-6-4

Last year's final ranking: 15

Key returners: D Matt Clifford, F Ryan Dunn, F Mike Jessman, F Nick Menzel, F Mike Sorrenti

Why they're here: After an albeit brief appearance at last year's Super 8 tournament – getting trounced by MC in a play-in game – the Bishops should remain a top team in the Catholic Central, which is often a two-bid league at the Super 8 table, with 13 seniors on the roster. They could be the team to push AP in league play, and if everything holds true, they'll be in the picture come tournament time.

8. St. John's (Shrewsbury)

Last year's record: 7-11-4

Last year's final ranking: N/A

Key returners: D Bryan Nelson, G Mario Pizzeri.

Why they're here: Hey, what would a preseason picks segment be without a dark horse? Last year was a bumpy season at best for the Pioneers, but after a one-year absence from the Super 8 (and tournament play for that matter), St. John's could be dangerous behind first-year head coach Mike Mead. The Pioneers are built from the net out, with Mario Pizzeri in goal – a holdover and standout in St. John's Super 8 appearance two years ago.
March, 28, 2013
3/28/13
9:11
PM ET
FIRST LINE
F - Liam Coughlin, Sr., Catholic Memorial
Finished third among all Division 1 players in scoring, while leading the Knights back to the Super 8 for the first time since 2009-10. The South Boston native put up 28-20-48 totals, tied for first among Catholic Conference scorers this season.
F - Ara Nazarian, Soph., Malden Catholic
ESPN Boston's Mr. Hockey award winner this season, Nazarian had 26-22-48 totals for the regular season, along with nine goals and five assists during the Super 8 tournament for the three-time defending champions. The Boxford resident and center is the first underclassman to win the Mr. Hockey award.
F – Brian Pinho, Sr., St. John's Prep
The Providence College commit led the Eagles to a No. 1 seed in this year's Super 8 tournament. The North Andover resident compiled 12-24-36 totals this season and, in January, was ranked No. 117 among North American skaters in the NHL Central Scouting's Midterm Rankings.
D – Casey Fitzgerald, Soph., Malden Catholic
The North Reading resident earned his second Super 8 title with the Lancers, playing on all defensive units and is one of two players making a second-straight appearance on our All-State team. The Boston College commit had 5-17-22 totals on the season and recently was accepted in the United States National Team Development Program's U-17 team.
D – Matt Foley, Sr., Springfield Cathedral
The two-way blue-liner finished third on the Panthers in scoring with 10-16-26 totals this year while leading them to another Super 8 apperance. A Longmeadow resident, the captain is deciding among prep schools for next year, as well as offers to play in college.
G – Peter Cronin, Sr., BC High
The only repeating First-Team All-Stater this year, Cronin finished in the top five among Division 1 netminders in both goals against average (1.40) and save percentage (94.6) while starting all 23 of the Eagles' games. He is currently considering colleges among playing opportunities at the prep school and junior levels.
SECOND LINE
F – Tom Besinger, Jr., BC High
The Eagles' top center and captain was force to reckon with in the circle, in addition to leading the Eagles with 35 points (10 goals and a team-best 25 assists).
F – Cam Owens, Sr., Wilmington
Finished his high school career with back-to-back Division 2 state championships. Owens racked up 30 points, playing alongside All-State honorable mention Brendan McDonough. Owens is currently weighing prep and junior options for next year.
F – Nolan Vesey, Sr., Austin Prep
The senior captain led the Cougars back to the Super 8 for the first time since the 2009-10 season and all the way to a finals appearance at the Garden. Vesey led AP in goals (18) and points (31) while kicking in 13 assists.
D – Nick Gorski, Sr., Central Catholic
A player who head coach Mike Jankowski repeatedly called his "most improved player" since freshman year, the Raiders captain played on all units, leading Central to another Super 8 appearance.
D – Jack Williams, Sr. Springfield Cathedral
A major component to perhaps the state's best blue-line core, Williams did a little bit of everything for the Panthers, including playing forward on power-play units. The Suffield, Conn. resident tallied four goals and 19 assists for 23 points. He is currently weighing his playing options for next season.
G – Colin Soucy, Jr., Central Catholic
The break-out star of this year's Super 8 tournament, Soucy nearly delivered the Raiders to a quarterfinal-round upset of No. 1 seed St. John's Prep in his first year as Central's starting netminder.
Best of the Rest – Honorable Mention
Forwards
Tyler Bird, Jr., St. John's Prep
Tommy Bishop, Sr., Chelmsford
Matt Brazel, Jr., Hingham
Brian Brooks, Jr., Canton
Mike Carbone, Sr., Marshfield
Bobo Carpenter, Soph., Austin Prep
A.J. Couto, Sr., Danvers
Ben Cox, Sr., Medfield
Peter Crinella, Soph., Springfield Cathedral
Cam Curley, Sr., Franklin
Sam D'Antuono, Jr., Hingham
Jordan Dow, Sr., Lincoln-Sudbury
Josh Edwards, Sr., Blue Hills
Brendan Greene, Jr., Winchester
C.J. Grinnell, Sr., Burlington
Marc Happy, Jr., Wachusett
Lloyd Hayes, Jr., Central Catholic
Kevin Hock, Frosh., Catholic Memorial
Mike Iovanna, Sr., Malden Catholic
Andrew Irving, Sr., Beverly
Connor Irving, Jr., Beverly
Ryan Jones, Sr., Coyle-Cassidy
Jack Kilty, Sr., Medway
Pat Kramer, Soph., BC High
Tom Koopman, Jr., Marblehead
Matt Kustra, Sr., Natick
Brendan McDounough, Jr., Wilmington
Anthony Lespasio, Sr., Bedford
Jack O'Hear, Sr., Catholic Memorial
Derek Petti, Sr., Tewksbury
Eddie Pratt, Sr., Xaverian
Nolan Redler, Jr., Winchester
Tyler Sifferlen, Jr., Malden Catholic
Mike Sorenti, Jr., Archbishop Williams
Sean Spohr, Sr., Westfield
Max Turcotte, Sr., Holliston
Max Willman, Sr., Barnstable
Defense
Matt Burchill, Sr., Marshfield
Derek Butler, Jr., Natick
John Carlson, Jr., Hingham
Adam Crowley, Jr., Burlington
Nick Edwards, Jr., Blue Hills
Sean Heelan, Sr., Catholic Memorial
Kurt Leavitt, Sr., Canton
Bryan Nelson, Soph., St. John's (Shrewsbury)
Nick Rolli, Jr., Malden Catholic
Ryan Shea, Frosh, BC High
Sam Topham, Sr., BC High
Goaltenders
Tim Birarelli, Soph., Beverly
Alex Buckley, Sr., Newburyport
Brandon Collett, Frosh., Catholic Memorial
Jordan Davis, Sr., Norwood
Derek DeCastro, Sr., Burlington
Drew Foley, Jr., Wilmington
Nolan Greene, Jr., North Quincy
Elijah Harris, Soph., Austin Prep
John Liquori, Jr., Springfield Cathedral
Al Lynch, Jr., Framingham
Evan Morelli, Sr., Reading
James Offner, Soph., Winchester
Nick Russo, Sr., Waltham
Jimmy Tierney, Soph., Oliver Ames
March, 7, 2013
3/07/13
12:51
AM ET
By
Mike McMahon
| ESPNBoston.com


STONEHAM – After establishing an early lead, Catholic Memorial nearly saw its season end before clawing itself back and beating B.C. High, 3-2, in a shootout on Wednesday night, sending their Super 8 quarterfinal series to a third and deciding game.

CM got on the board first when Liam Coughlin flipped a backhand saucer pass to linemate John Maher on a 2-on-1 and the senior fired a wrister over Peter Cronin's blocker.

The Knights would extend that lead to 2-0 minutes later. On a similar 2-on-1, Jack O'Hear fluttered the puck over to Kevin Hock who finished his wrister over Cronin's glove from the right slot.

The Eagles then began their comeback in the second period, out shooting CM 10-6 and cutting the deficit in half thanks to Patrick Kramer's goal off a rebound at the 4:18 mark.

The Eagles remained down by a goal until 28.4 seconds remained in regulation, when Ryan Shea established a net-front presence and directed a Tom Besigner pass from the bottom of the left circle past CM goaltender Brendan Collett with the B.C. High net empty.

"Ryan's a good player," BC head coach John Flaherty said of Shea. "He's only a freshman but he's highly skilled, that's why he's out there 6-on-5. We drew a couple of things up, but it's execution. The kids do it. We can draw it up as coaches but it's the guys on the ice that got it done."

The teams played a scoreless overtime before going to a shootout.

BC High looked to be on the verge of ending the Knights' season when Besinger and Shea put the Eagles up 2-0 in the shootout with just two shooters left for CM.

But O'Hear and Maher tied with a pair of goals and Collett was able to shut the door at the other end. Freshman Tim Weinstein won the game for CM as the sixth shooter.

BEST BIRTHDAY EVER
For CM defenseman Tim Weinstein, it will be a 16th birthday to remember.

No, he didn't get his driving permit -- that will have to wait -- instead, the freshman potted the game-winning goal in a shootout victory for that nights that kept their season alive.

"We've been working on shootouts in practice," Weinstein said. "I was working on going fast on the goalie, trying to freeze him, and getting him to move left to right. When I saw that opening top right, I went for it. ... We saw glove side tended to be his weakness, if he really even has one because he's a great goalie."

CM head coach Bill Hanson needed to submit his shootout roster before the opening draw, but he didn't tell Weinstein he was on his list.

"That's LTW," Hanson said, "Little Timmy Weinstein. He's a freshman with more skill than any hockey player wearing a black uniform tonight. He's fearless. He was our best defenseman. The way he moves the puck, his offensive skills and his puck poise, his presence in the neutral ice, he did it all night long. He was terrific."


March, 4, 2013
3/04/13
1:06
AM ET
By
Bruce Lerch
| ESPNBoston.com


LOWELL, Mass. - All season long, BC High has gotten serious contributions from a collection of talented skaters who aren't afraid to grind it out and do the dirty work as well.

Junior Steve DeForge has been one of those guys, the 'glue guy' that every coach wishes they had a bench full of. He isn't the only one on the Eagles roster, but he came through the play of the game that resulted from his typical daily output.

During a line change, Catholic Memorial was attempting to clear its own zone. DeForge, forechecking the play as he has done all year long, made a clean theft of the pass at the blue line. The junior took a couple of hard strides into the high slot area and drilled an absolute bullseye to the upper, far corner with 8:13 remaining in the game.

That broke a 1-1 tie, and the No. 3 Eagles were able to add an insurance goal later and held on for a 3-1 victory over the sixth-seeded Knights in the first game of a best of three series in the Div. 1A first round at Tsongas Arena.

"It was just a late change-up, I jumped on the ice, two guys are low so obviously first instinct is third guy high," DeForge said as he described the play. "They had a quick pass to the boards, the kid just popped it out, loose puck and I just got right on it and ripped it. It was perfect. Right spot at the right time."

Added Eagles coach John Flaherty, "He intercepted a pass right in the slot and he put it where nobody could stop it, not that goalie or any other goalie. He put that shot where nobody would get to it."

It is fitting that these two programs should be guaranteed a matchup in the Super 8. After all, no two teams personify the illustrious history of this tournament more than Catholic Memorial and BC High -- not to mention they are celebrating the 50th anniversary of the on-ice rivalry this season.

The Eagles (15-3-3) jumped out first as Tom Besinger won a faceoff directly back to Jake Lemanski, who unleashed a rocket that screamed past Knights (12-7-2) goalie Brandon Collett at 8:53.

Catholic Memorial pulled even in the second as Jack O'Hear put back the rebound of a Kevin Hock shot. Aside from that one marker, however, BC High goalie Peter Cronin was superb. The senior made 12 of his 22 saves in the middle frame, a performance which saw him come out on the winning side more than once in a very exciting individual matchup against dangerous Knights forward Liam Coughlin.

"He's a goal scorer, that's what hes good at," Cronin said in praise of Coughlin. "In the second period he came in on a two-on-one and our defensemen did a good job of taking away the passing option. I knew he was going to try and maybe sneak one high glove side and I just threw up the glove. I might have gotten a little bit lucky but when a kid comes down like that you have to expect him to shoot."

BC High tacked on one final mark, showing a little bit of stick-to-itiveness by running the same play twice in succession. It's a backdoor play where defenseman Sam Topham fed forward Patrick Kramer down low. Kramer fanned on the initial attempt but when Topham fed him once again, the sophomore did not miss, giving the Eagles a 3-1 lead with 2:39 left to play.

At the other end, Collett proved himself more than capable in his debut on the state's biggest stage. The freshman made nine of his 17 stops in the first period, and it's hard to find fault with him on any of the three Eagles goals.



"On the first goal, they won the faceoff and our guy skated right by him and they had the shot," recalled Knights coach Bill Hanson. "Theres nothing [Collett] could do there. On the second goal, we preach all the time, chip it up the boards, don't make cross-ice passes in our end. It goes right on [DeForge's] stick and bang.

"Our goaltender played well. We didn't lose the game because of our goaltender. When you score one goal in a game, you're not going to win many games. Especially against a team like BC High with the way they play defense and eventually the way they have the goaltender back there in Peter [Cronin]."


March, 2, 2013
3/02/13
4:52
PM ET
There are less than 24 hours remaining before the puck drops on the Super 8 tournament Sunday at UMass-Lowell's Tsongas Center.

So we're taking this opportunity to break down the final eight. As the tournament takes on a best-of-three format for its first-round matchups this year, we're taking a look at the head-to-head breakdowns for each series, along with predictions:

Series: No. 1 St. John's Prep (17-2-1) vs. No. 8 Central Catholic (14-5-3)

Players to watch: Prep – F Brian Pinho, F Tyler Bird, F Andrew Brandano, F Jack McCarthy, F Cam Shaheen, D Brent Murray, G Billy Price; Central – F Lloyd Hayes, F Corey Webber; D Nick Gorski, D Alex Lester, G Colin Soucy.

Previous meeting: Central 2, Prep 1 on Dec. 26.

The skinny: Central fought its way into the eight-team field with an improbable comeback against Hingham in Monday's play-in game. But they'll have to be ready to go out of the gate against the top-seeded Eagles. Prep is deepest team in the field — from its forwards to its defensemen — and the Raiders will have to weather the Eagles' ability to wear teams down by consistently rolling four lines (Claude Julien surely would love this Prep team). The goaltenders will also be under the spotlight in this series with both Price and Soucy making their debuts in taking over for tournament stalwarts David Letarte and Kyle Williams, respectively. The play of both goaltenders has been a strength for their teams this year.

X-factor: Can the Raiders parlay some momentum gained from their dramatic play-in game overtime victory into a Game 1 win against the Eagles? Also, what kind of a factor will Central winger Mike Kelleher be?

Prediction: Prep in two.

Series: No. 2 Springfield Cathedral (16-1-4) vs. No. 7 Malden Catholic (12-6-3)

Previous meeting: MC 2, Cathedral 1 on Feb. 21.

Players to watch: Cathedral – F Peter Crinella, F Dominic Blad, F D.J. Petruzelli, F Johnny Leonard, D Matt Foley, D Jack Williams, G John Liqouri; MC – F Mike Iovanna, F Ara Nazarian, F Tyler Sifferlen, F Pat Wrenn, D Casey Fitzgerald, D Nick Rolli.

The skinny: While the Panthers enjoyed some down time this week, MC set about making a statement in its 9-1 dismantling of Archbishop Williams in Monday's play-in game. Perhaps no team in the state has been hotter than the two-time defending Super 8 champion Lancers and they'd like to prove that, once again, this is their time of the year. There will be plenty of top-tier talent on the ice when the team's top forward units face off with Cathedral's line of Crinella-Artie Potter-Blad opposed by MC's Iovanna-Nazarian-Sifferlen troika. The key to this series, however, will be which team's second and third lines come to play.

X-factor: Cathedral goaltender John Liquori. As we saw in the Panthers' game against St. John's Prep in the final week of the regular season, he's capable of stealing points and games for them. He'll need to be at his best to curb the Lancers' attack.

Prediction: Malden Catholic in three.

Series: No. 3 BC High (14-3-3) vs. No. 6 Catholic Memorial (12-6-2)

Previous meetings: BC High 5, CM 1 on Jan. 16; BC High 4, CM 3 on Feb. 2.

Players to watch: BC High – F Tom Besinger, F Pat Kramer, F Steve DeForge, F Chris LaLiberte, D Sam Topham, D Ryan Shea, G Peter Cronin; CM – F Liam Coughlin, F Jack O'Hear, F Kevin Hock, F Aaron Clancy, D Dennis Medeiros, D Sean Heelan, G Brandon Collett.

The skinny: Can't get much better than this, right? Right up there with Bruins-Canadiens. The teams will add another chapter to their storied history in the 50th-anniversary year of their hockey rivalry. While the Eagles claimed both meetings against their Catholic Conference counterparts during the regular season, the play was largely even (minus one second-period outburst in BC High's 5-1 win in January). So expect more of the same in this series.

X-factor: Liam Coughlin. The Eagles had success neutralizing the rangy center during their regular season appearance, both in the offensive zone and in the face-off circle. But we've seen Coughlin (25-16-41) take control at times this season, and he'll have to do so for the Knights to advance.

Prediction: BC High in three.

Series: No. 4 Austin Prep (13-1-6) vs. No. 5 Reading (16-1-5)

Previous meeting: N/A.

Players to watch: AP – F Nolan Vesey, F Bobby Carpenter, F Jake McKenelley, F Eric MacAdams, F George Sennott, D Andrew Cross, D J.J. Layton; Reading – F Rob Devaney, F Mike Thomson, F Jake Barbera, F Mark Dente, G Evan Morelli.

The skinny: The Battle of Reading is just one subplot to a group of first-round series rife with context. The high-flying Cougars attack will have to break through a sticky Reading forecheck that can give opponents fits. AP does enter tournament having played some of its best hockey of the year in the final week of the season, wrapping up a Cape Cod Classic championship. The Rockets, meanwhile, will gain the fan bases of the rest of the state as the lone remaining public school entrant in this year's field.

X-factor: Nolan Vesey. Has the potential to be the best player in the tournament. For a young squad such as AP, however, Vesey's leadership will be vital for their long-term Super 8 chances. He needs to set the tone.

Prediction: Austin Prep in three.
February, 19, 2013
2/19/13
1:13
AM ET
By
Brian Fabry
| ESPNBoston.com


FALMOUTH, Mass. -- Austin Prep head coach Louis Finocchiaro couldn't hide his emotions. With the locker room door open for everyone to hear, he exclaimed, "There is no quit in this team and that was the best win I've ever coached."

Finocchiaro was not exaggerating one bit.

The No.5 Cougars stunned No.3 BC High 3-2 in the first of two semifinals at the Cape Cod Classic at Falmouth Ice Arena. Austin Prep trailed by two goals and were being shut out in the final minute of the second period, only to post three unanswered goals to steal a much-needed victory in the eyes of the Super 8 voters.

Nolan Vesey pulled the rug right out from under the Eagles (12-3-3) with two third-period goals, the tying and game-winning tallies, after freshman Jake McKenelley gave the Cougars some hope with 31 seconds left in the second period.

"For us to come back against a team like that is a big time learning experience and character builder," Finocchiaro said. "We were down but there is no quit in that locker room so I'm so proud of every one of those kids in their and it was a big time effort from everyone."

All was not rosy for the young Austin Prep (12-1-6) squad in the first 30 minutes of play as two glaring miscues contributed to their early deficit.

Goaltender Peter Cronin recognized an out-of-synch line change by Austin Prep and fired the puck up the left side of the boards to Patrick Kramer, who then found Connor Noonan on the doorstep of the crease for the 1-0 Eagles' lead. Prep was caught as they switched out defensemen along with the forwards and left the far side of the ice wide open.

Noonan was at it again only minutes later as he stole a bouncing puck in the neutral zone off a Cougars defenseman's stick and went in untouched for the unassisted tally and a 2-0 BC High lead with just under three minutes to play in the second stanza.

Usually, a young team would fold after two huge mistakes resulted in two quick goals the other way, but Austin Prep stormed back with McKenelley's third goal of the tournament right before the trip to the lockers for the second intermission. Bobby Carpenter fought behind the net taking on three BC High skaters to feed McKenelley in the right slot as the freshman forward popped in his own rebound after one of Cronin's 20 saves with 31.4 seconds remaining.

"A line change cost us and then we fumbled one at center ice and cost us again," Finocchiaro said. "I told them, the first period we played well and it was like a heavyweight fight and then in the second we were down two goals. But I came in the room and told them to stay positive because we didn't really play that bad."

Vesey picked up a penalty less then 30 seconds into the third period and it looked like BC High would add to their lead. But just as the Eagles' man-advantage expired, the scrappy Carpenter was at it again, as he slid the puck out of the BC end trying to clear the puck only to find Vesey racing out of the box unchecked.

The senior captain leaped out of the penalty box for a 100-foot breakaway for the easy wrister just under Cronin's outstretched glove to tie the score and send the pro-Prep crowd into a frenzy.

"Up 2-0, we make a mistake on the first goal they got, we have a breakdown we get beat to a puck – we just weren't working hard enough," BC High head coach John Flaherty said. "That team that was on the ice for Austin Prep is a very good team, we knew they were going to be good, we knew they were going to be desperate and we didn't match that. We allowed them to come in and steal a game from us."

Vesey was not finished as he captained a 3-on-1 breakout, only to keep the puck on his stick at the point and beat Cronin glove side with a pretty back-handed flip sliding by the right post for the game-winner with 5:15 remaining in regulation.

"Nolan [Vesey] is such a skilled player and usually you want to mix it up and drop the puck off across the ice for the easier look but you have to figure with skill like that, he gets the green light," Finocchiaro said. "You can't complain too much though because he finished it."

Flaherty added, "[It is] very frustrating as we have to know [Vesey] is coming out of the box, he's their best guy, and one of the most lethal in the state. Once it got to 2-0, the guys in this locker room thought it was over, but it was far from over, and it was proven by the way the game was finished."

FALMOUTH 3, WALTHAM 0
In the second semifinal, Falmouth outlasted Waltham, 3-0, with a first-period barrage that only produced one goal.But Storm Fotiu had a stick on two of the three tallies as the Clippers advance to Thursday's final against Austin Prep at 7 p.m.

Waltham will face BC High in the consolation round on Wednesday night.

Robbie Souza scored for the Clippers (10-5-5) at 9:30 of the first, as Fotiu slid the puck on a perfect string to hit Souza on a break. Souza left Waltham senior goalie Nick Russo on the ice for the period's only goal despite outshooting the Hawks, 12-2.

The second period was a stalemate other than Falmouth racking up penalty minutes. Waltham (11-7-2) couldn't muster much offense, even on the power play, as they finished the game 0-for-7 on the power play.

Fotiu doubled up the lead midway through the third period off a face-off in the Waltham end, as the senior forward dragged the puck across the crease for the top-shelf backhander. Cyrus Wickersham iced it with an empty-netter in the final minute of regulation.

Falmouth outshot the Hawks 32-15 overall as junior goalie Jake Beaton registered his first shutout of the season with numerous quality saves, including a picture-perfect glove save on a Bryan Longmoore breakaway in the final minute of regulation. Russo also played extremely well with 30 saves, including two huge glove saves in the third to keep things close before being pulled for the extra man.

Beaton didn't see much in terms of shots, but has only allowed one goal in two tournament games and has Falmouth on the cusp of winning their own title for the first time since the Cape Cod Classic started.

"If they score with 52 seconds, it is going to be a huge lift for them,' said Falmouth head coach Buddy Ferriera about the breakaway save by Beaton. "He has been bounced around a bit and he's never had a chance to show he's a Number One, but now he is showing it."
February, 8, 2013
2/08/13
4:07
AM ET


BOSTON – The only difference between Wednesday's 2-2 tie by Springfield Cathedral and BC High and postseason hockey is the fact that are no ties in the playoffs. UMass-Boston's Clark Center buzzed with a postseason pitch as two of the state's top three teams battled for the second time this season on the Eagles' Senior Night.

After dealing No. 3 BC High its first loss of the season in a 3-2 win on Jan. 12, Cathedral found itself playing from behind at two junctures during last night's action. However, in both circumstances, the Panthers responded and showed resolve while running their unbeaten record to 13-0-3.

"To go anywhere, you're going to have to be a team that battles through adversity," Panthers head coach Brian Foley said. "We did a good job twice of coming back from a goal deficit."

While Cathedral maintained control on play in the first, BC High (10-2-3) claimed the first lead of the game, as freshman defenseman Ryan Shea pinched in to collect the puck and score from below the goal line at 9:06 of the first.

The Panthers wasted little time drawing even. Eighteen seconds later, Peter Crinella potted the rebound from a Bryce Peritz blast from the point.

The teams went to the room tied, 1-1, but the Eagles reclaimed the lead in the second at Pat Kramer's centering pass from Gretzky's office found the tape of Tom Besinger. The goal at 2:49 of the second stood up till the third period, when Cathedral was again able to find the equalizer. D.J. Petruzzelli deked out an Eagles defender, allowing space for a 2-on-1 to develop down low. Petruzzelli then slid a saucer pass across the top of the goalmouth to a waiting Dominic Blad, who went 5-hole for the game-tier.

While BC High closed out the season series with Cathedral without finding an elusive second point, Eagles head coach John Flaherty felt his team had been acquitted.

"If that's the number one team in the state, we're as good as them," he said. "We play a tougher schedule. I think we're right there with them."

WORK IT LOW, SEND IT HIGH
Cathedral outshot the Eagles 30-23, and the difference in margin came largely due to a strong first period by the Panthers.

Cathedral found great success working the puck down low, all the while drawing BC High's collective defense to sag down below the faceoff circles. With the Eagles playing down low in "the house" area, the Panthers' forwards then looked to send the puck back out to the points for shots on goal.

"[Matt] Foley and Jack [Williams], we know they can shoot the puck and we know they're a focal part of their offense," Flaherty said. "They were zipping it up and going D-to-D, so we knew we had to make an adjustment to try to take that away the best the could."

The Eagles made their corrective adjustments and tightened up the passing lanes to limit the opportunities in front of Peter Cronin (28 saves) in the second and third.

YOUNGSTERS ON THE RISE
A couple of the teams' youngest members made their presence felt on the score sheet.

Shea, who's helped bolster the Eagles' blue line all season with fellow frosh Billy Roche, netted his first goal of the season. Yet, at this stage of the season, the younger members' contributions are viewed as compulsory.

"They've played a lot of hockey," Flaherty said of his first-year defensemen, "so they're not freshman any more."

Flaherty added on Shea, "He's a seasoned player, so we expect that more now even more heading down the stretch."

In addition, Petruzzelli, a sophomore, might be playing his best hockey at an opportune time.

"His last two games have been his best two games of the year," Foley said of Petruzzelli. "He's really coming on strong. He put it right on [Blad's] stick, he got it off quick and we were fortunate it went in."
February, 3, 2013
2/03/13
1:14
AM ET
By
Bruce Lerch
| ESPNBoston.com
BOSTON -- BC High senior captain Tom Besinger was quick to return the No. 18 jersey that he borrowed from teammate Aidan Foley after Saturday's Catholic Conference clash with rival Catholic Memorial. Foley just better hope that Besinger left a few goals in thats sweater for him.
Besinger scored the first and last goals of the game, the latter capping a stirring, three-goal, third period comeback that lifted the third-ranked Eagles to a 4-3 victory over the eighth-ranked Knights in the 13th Annual Ed Wright Memorial Hockey Classic at Walter Brown Arena.
"I gave it right back to him. I'll say I forgot my shirt at home," joked Besinger afterward.
[+] Enlarge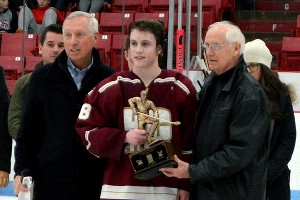 Scott Barboza/ESPNBoston.comOn the 50th anniversary of the BC High-Catholic Memorial rivalry, alumni Jack Parker (CM) and Jerry York (BC High) were on hand to award the game MVP award to Eagles center Tom Besinger.
Besinger was named Most Valuable Player of the game and was presented the trophy by Boston College coach Jerry York (BC High Class of 1963) and Boston University coach Jack Parker (Catholic Memorial Class of 1963). Both were first-line players in the initial game between the two programs in 1962, and they were joined by other members of those squads as well as past Wright Cup MVP winners to help commemorate the 50th anniversary of hockey between the two schools.
What the BC High (10-2-2, 5-1-2 Catholic Conference) captain did not leave at home were his leadership skills and playmaking abilities. Besinger scored the game's first goal at 3:29 of the second period, banging home a one-timer off a feed from Connor Noonan.
Despite giving up the early score, Catholic Memorial (8-6-2, 2-5-0) was in command of the game for the first two frames, piling up 34 shots and getting three straight goals from Liam Coughlin, Beau Starrett and Jack O'Hear to take a 3-1 lead into the third.
BC High head coach John Flaherty knew his team needed a spark and said it was Besinger who provided it, first in the locker room between periods, and then out on the ice in the third.
"Tommy Besinger is a player, he's a competitor. He works hard and I think he took it personal that we were getting outworked the first two periods," Flaherty said. "He was the most vocal in the locker room after the first two periods so I knew he'd be ready for the third. He has the ability to take it to another level and he did that tonight. He raised his game to another level and he put a few away, which we needed. Leadership we needed, and he provided it."
The Eagles responded with their best period of the night and the comeback started when defenseman Sam Topham sniped a shot from the left wing circle at 7:54. Just under two minutes later, a bad CM giveaway at the Eagles blue line led to a breakaway for Patrick Kramer, who raced in alone and shifted to his backhand to tie the game at 3-3.
Then, with 3:42 remaining, Besinger got the game-winner after a strong forecheck resulted in him getting the puck down low and tucked in a wraparound bid.
"We came out real slow in the first and second," Besinger admitted. "We weren't doing what we normally do - chipping pucks low, getting behind their D and trying to get pucks to the net. Come the third period we just knew we had to get a lot of shots on net, keep them low for rebounds and we just had to put them home."
THE GREAT WALL OF CRONIN
With the excitement of the comeback, it can't be forgotten that Eagles goalie Peter Cronin not only gave his team a chance to get back in the game, but also helped the comeback stand up.
The Knights peppered the BC High net with and endless array of shots, 79 total according to CM coach Bill Hanson, with 43 of them getting to Cronin. Some of the senior captain's best work came in the third, when shortly after Kramer tied the game, Cronin (40 saves) stared down a point-blank slapper from Mike Stathopoulous on the left wing dot.
Not long after Besinger notched the go-ahead goal, Cronin stoned Coughlin on another point-blank blast, then turned aside shots on both a 2-on-1 bid as well as a 3-on-1.
"What cannot get lost in this whole thing was Peter Cronin in the third period," Flaherty stated emphatically. "He made save after save after save. I would argue that, they earned their bounces, but they got three very good bounces on those goals. Some goalies would get flustered, some goalies would want to hide in the net and Peter didn't. He attacked, he made the saves. In the third period alone he had three or four point blank shots. Liam Coughlin is probably one of the most dangerous kids in the state and Peter had a point blank stop on him a couple times."
Added Knights coach Bill Hanson, "We put 79 shots out there tonight, [43] on net. [Cronin] played out of his head. We had chances. We had a three-on-one, we had a two-on-one but we just didn't capitalize."
GROWING PAINS CONTINUE
Normally, the Catholic Memorial roster is full of experienced players, bit this group yields just six seniors among its numbers and a number of freshmen are contributing, notably goalie Brandon Collett (23 saves), who has been terrific throughout his rookie season.
Hanson has watched his young team go through several stages and while they remain two points of shy of returning to the postseason after a two-year hiatus with four games left (against Xaverian, Braintree, Central Catholic and Fairfield Prep) he hopes that if his team does qualify, they will have developed into a group that gives others reason to shudder.
"We've had the breakdowns and that first goal was a breakdown," Hanson admitted. "But that's what happens with young teams and we just haven't been able to overcome that. As I said to them, I put the season into three five-game increments. The first five games, we're averaging over five goals a game. Games six through ten, over four. And from 11 through 15 the other other night, we have eight goals and gave up 16. So we have to win by shutouts and we're 0-3-2."
"Tonight we scored enough against a real good goalie to win," Hanson continued. "We had the lead, we're a good third period team but again, they got some fortunate plays. I don't know what their coaches will say but if I was on the other side of the ledger I'd say we escaped with our lives out there tonight."
He added, "I want to make the tournament and when the seedings come out, I don't care where we are. I want everybody to say, 'The one team we don't want to play is Catholic Memorial.'"
January, 24, 2013
1/24/13
2:14
AM ET


BOSTON -- No. 2 BC High had plenty ahead of it entering Wednesday night's Catholic Conference duel with No. 17 Xaverian. Aside from keeping pace in league play, the Eagles had the opportunity to wrap up an early tournament berth

The Eagles did all of the above while remaining unbeaten in the Catholic Conference with a 4-2 win over the Hawks at UMass-Boston.

"It was a qualifying game for us so we wanted to win it, plus it's a big two points for us in the Conference," BC High head coach John Flaherty said. "You have to take those opportunities when they come."

The Eagles (9-1-2, 4-0-2) reestablished a two-point lead over St. John's Prep atop the Conference standings, leading into Saturday's duel at Ristuccia Arena.

But BC High had its hands full with the physical Hawks (4-5-3, 0-3-2), who jumped out to 1-0 first period lead on Brian Cahalane's power-play goal at 12:06. Cahalane cut across the goal line to stuff in backhander to the short side of Eagles goaltender Peter Cronin.

However, BC High struck for the equalizer before the period was out. Seconds after an Eagles power play expired, Chris LaLiberte wristed home a shot with 29 seconds remaining in the period, with assists from Michael Brooks and John Stillman.

Neither team was able to generate much offense in the second period, despite sharing three power-play opportunities. The Eagles held a slim 14-9 lead in shots on goal through 30 minutes.

BC High claimed its first lead of the game at 7:11 of the third period with Brooks tallying his second point of the game, sneaking one past Matt Michals (19 saves) off a broken play.

Xaverian fired back less than a minute later with its second power play goal of the game. Eddie Pratt blasted a slap shot, working the blue line on the man-up unit, from the point off a feed from Jake Farrell.

The momentum shifted back to the Eagles moments later when Pat Kramer scored what would prove to be the game-winner at 9:34. Kramer's wristshot from the right wing circle was set up by an expert drop pass from Eagles junior captain Tom Besinger.

"[Besinger] is able to draw attention to himself and when Pat [Kramer] saw that, he put himself in position to receive a pass," Flaherty said.

BC High closed out the victory with Brooks tallying his second goal of the game and third point of the contest with an empty-netter.

COMMITMENT TO D
Despite having nothing to show for it in the standings, the Hawks were effective on specialty teams, going 2-for-5 on the power play and shutting out BC High on four power play chances.

In addition to their keen defense on the man-down, Xaverian was consistently able to bottle up the Eagles coming through the neutral zone. It limited BC High's scoring chances, particularly in the first two periods, and helped to bog down the Eagles' fleet-footed forwards.

"We've been trying to clog the middle up a little bit more," Hawks head coach Dave Spinale said. "You have [the first forward] take the pass away, then the [second and third forward] fill the middle and try to make them go cross-ice instead of up the middle. I thought we were pretty effective there and that's a big part of their game."

DEAD AHEAD
The Eagles could control their own destiny, in terms of claiming the Catholic Conference title, if they can sweep the season series from Prep on Saturday.

It's one of the goals BC High's leaders set at the start of the season.

"We set a goal to win the Catholic Conference," said Brooks, a senior captain. "We haven't won it, but it's another step closer. This is the earliest we've ever qualified [for the tournament] and that's a good feeling. I've been here four years, so it's a good feeling."
January, 13, 2013
1/13/13
12:32
AM ET
By
John McGuirk
| ESPNBoston.com
WEST SPRINGFIELD, Mass. -- As the lone Division 1 high school hockey program in Western Massachusetts, Springfield Cathedral sometimes doesn't get the credit it deserves.

A trip to last year's Super 8 Tournament did wonders to build up this program's stature but there were still many who walked away believing it was a fluke that they got there.

Making a concerted effort to prove the naysayers wrong, perhaps the Panthers did just that on Saturday after rallying to beat top-ranked Boston College High School, 3-2, in a non-conference battle held at the Olympia Ice Center.

In a contest that played out like a postseason affair, No. 3 Cathedral (8-0-1) scored a pair of third period goals and managed to withstand several late offensive assaults by the Eagles (6-1-2) to secure the triumph.

"This was obviously a huge game against the No. 1 ranked team in the state," said Panthers coach Brian Foley, now in his ninth season there. "It was a chance for us to knock off a No. 1 and undefeated team. So obviously there was a lot of extra excitement taking place."

Trailing 2-1 after 30 minutes, Cathedral came out for the final frame believing it had BC High in its cross hairs. A club that has relied so heavily on its defense throughout the first month of the regular season, it was now time for the offense to step it up and perform.

Just 3:02 into the final period sophomore Peter Crinella did just that. An initial shot laid buried between the pads of Eagle goaltender Peter Cronin (21 saves). However Crinella came in and was able to get enough of his stick on it to push it over the goal crease to tie matters at 2-2.

Moments later, BC High self-destructed a bit after being called for a couple of ill-timed penalties. Defenseman Alec Flynn was whistled for roughing. Moments later the Eagle bench was called for unsportsmanlike conduct giving Cathedral a golden 5-on-3 opportunity.

Failing to perform up to their standards on earlier power play chances, the Panthers weren't about to let this opportunity slip through their grasp, especially with the outcome hanging in the balance.

A blast from freshman Johnny Leonard at the left face off circle deflected off the stick of senior Jack Williams, who positioned himself in front of the crease, and slipped by Cronin for the eventual game-winner coming at 4:23.

"We have a lot of guys who are poised with the puck," Foley said. "I think our power play is a strength for us and it was nice to have that opportunity in the third period. Jack has been the key to our power play. We've been getting a lot of down low games because of him that we hadn't gotten in previous years. Moving Jack [Williams] from defense to offense, he's been great on rebounds and tipping the puck on shots from the point."

For the remainder of the period, the Panthers defense, spear headed by senior Matt Foley, took over and kept the Eagles at bay.

"It goes in the column as a loss and we will get better from and learn from it," BC High coach John Flaherty said. "We have another big game on Wednesday against Catholic Memorial so we need to come back and have an answer."

It took nearly an entire first period before either team would get on the board. The Eagles were the first to do it with only 56 seconds remaining. Forward Patrick Kramer cut through the Springfield Cathedral defense along the left boards and beat Panther goaltender John Liquori (20 saves) with a hard wrist shot putting the Eagles on top, 1-0.

"The two times they scored on us we had two bad line changes," Matt Foley said. "We didn't get the right guys on the ice during those two times. Even though we have started out the season pretty well, this was our first true big test of the season. All of us were very excited for it and fortunately we were able to come away victorious."

Springfield Cathedral answered at 3:39 of the second when Crinella, who earlier in the week made a verbal commitment to play at Holy Cross following graduation, pushed in a rebound to knot this contest at 1-1. But just 18 seconds later, the Eagles responded with Kramer, once again, leading the way. Standing just outside the Panther net, the sophomore lifted a back had over Liquori's catching glove to send his club into the second intermission leading by a goal.

"Pat [Kramer] is playing well and has a hot stick," said Flaherty. "He's shooting the puck and making plays with it. He's a big body and a big presence around the cage. He's making good plays and good decision. He's doing a great job for us."
December, 30, 2012
12/30/12
1:37
PM ET
By
Josh Perry
| ESPNBoston.com
BOSTON -- Two goals in the opening period turned out to be enough for BC High in its Top 5 showdown against Reading on Saturday afternoon at UMass-Boston. The No. 2 Eagles held on for a 2-0 victory (their third shutout of the season), but rode their luck against a spirited No. 5 Rockets squad that had two apparent goals disallowed.

Reading (4-1-1) had plenty of chances to get the goals it needed, but the Rockets went 0-7 on the power play including two, 2-man advantages that each lasted longer than a minute.

BC High head coach John Flaherty credited his team's penalty kill and senior goalie Peter Cronin for pulling out the win.

"The defense battled, but as they always say, your best penalty kill is your goalie," Flaherty said. "We killed some 5-on-3's down the end and we were running around and he made some very big saves there to keep it where it was."

Flaherty added about his star netminder, "He's focused, you know, he's seeing the puck very well right now. He's in the zone. It is little movements but they're important ones."

Reading head coach Mark Doherty also pointed to his team's struggles on the power play as a deciding factor in the team not getting the result against the Eagles.

"Truthfully, I don't think we've dedicated, obviously, enough time to it in practice, which is on me," he explained.

BC High (5-0) took the lead at 2:54 of the first period with a power play goal by Pat Kramer. The sophomore forward redirected a shot from the point by captain Tom Besinger. Sam Topham was also credited with an assist.

With just under eight minutes remaining in the period, the Eagles struck again.

Steve DeForge sent the puck around the boards behind the net to Tim Larocque, who fired a great pass through the crease to the back post where Connor Noonan was on-hand to tap into the open net.

Reading had a great chance to get on the board within five minutes of the start of the second period, but a brilliant 3-on-2 move ended with a shot off the post. Mark Dente and Mike Thomson combined to create an open net opportunity, but Robert Devaney could not apply the finish.

Reading showed the ability to skate with the Eagles and created a number of scoring chances through the team's speed but Cronin was always there to stymie the Rockets.

After the game, Cronin spoke about his team's focus on getting off to a good start in a tough game.

"The past couple of games, we've had pretty bad first periods, so we wanted to come out here and set the tone early on," Cronin said. "We were treading water for a little bit there, but we pulled it out and that's what good teams do."

TAKE-AWAYS
Despite the score line, Doherty was impressed by his team's effort in its third game in four nights and the way that the Rockets competed against one of the top teams in the state.

"I'm proud of my kids' effort for the second and third period," he said. "I thought we fought hard for two periods against a very good hockey team."

The third period was stop-start because a number of penalties on both sides. The best chance down the stretch fell to the Eagles Michael Brooks on a breakaway after Reading defenseman Mike Seibold broke his stick. Brooks flew into the zone but his shot sailed wide of goalie Evan Morelli (18 saves).

Flaherty admitted after the game that his team had to bear down and grind out a result to stay unbeaten ahead of Wednesday's showdown with No. 1 Malden Catholic.

He said, "Reading's historically a very good team and I would say that this as good a team as they've had. They compete and they're fighting for one last shot to make it to the Garden."