Boston High School:

Pat Ruotolo
April, 11, 2013
4/11/13
12:45
AM ET
By
Chris Bradley
| ESPNBoston.com
PEABODY, Mass. –- Beverly's defense was air-tight for 6 and 2/3 innings, but the Panthers couldn't advance the game to extra innings, making two consecutive errors in the bottom of the seventh inning to give Peabody the 1-0 win.

Pat Ruotolo pitched a gem for Peabody, throwing all seven innings in his first start of the year, he struck out 10 Beverly batters and gave up just four hits. He was at his best in crunch time, putting up consecutive three up, three down innings in the sixth and seventh. Coming into the game, it wasn't coach Mark Bettencourt's gameplan to give the UConn-bound righty the start on the mount.

Andrew McLaughlin was supposed to start on the mound for Peabody, saving Ruotolo for Lynn English on Friday, but McLaughlin was very sick for the majority of the day -- something that Bettencourt found out as he got to the field.

"Andrew is a gamer, so if he says he can't pitch, then he can't pitch--he was feeling pretty sick. Although, having Pat as a fill-in isn't bad either," Bettencourt said with a laugh about starting his ace instead.

Ruotolo struggled to command his breaking ball early in the game, something his coach attributed to the jitters of his first start.

"Pat's gonna be Pat," Bettencourt said. "Early in this game, he was a little hesitant about his curve ball. But I think around the third inning you started to see him pick it up a notch, he started to get a little more confidence, you started to see the ball jump out of his hand a little bit more. He got stronger when that game went on."

He finished the complete game victory in 98 pitches.

"And he could have gone another inning or two," claimed his coach.

Beverly got a fantastic performance from their starting pitcher as well. Eric Messina was constantly getting his team out of jams, pitching all seven innings and making a living off of getting Peabody's batters to hit ground balls. For almost the entire game, his infield behind him was rock solid—turning double plays and getting to tough ground balls.

But the defense couldn't hold on in the end.

With two outs in the bottom of the seventh, George Tsonis ripped a grounder that went under the glove of the shortstop, and Bettencourt immediately put in speedster C.J. Alimonti to pinch run for Tsonis at second base.

On the next play, Matt McIsaac (2-for-2, two stolen bases) hit a grounder to third base, and Alimonti came around to score on a throwing error to win the game.

"It's funny, every time we play each other it comes down to who makes the first mistake," Bettencourt said. "Both teams, for 6 and 2/3 innings, played solid baseball. They made some great plays, their kid battled and got out of situations...luckily for us, that's a pressure groundball right there."

The coach went back to his ace pitcher when talking about the difference in the game. Beverly second baseman Cam Rogers went 2-for-3 with two stolen bases of his own, but outside of Rogers, Ruotolo had the Panthers' number for the vast majority of the game.

"I don't care who you are, when you have your first start of the year you're going to be a little jittery -— I don't care if it's Pat Ruotolo or a freshman," Bettencourt said. "I think he got the jitters out in those first couple innings. [Late in the game] he was attacking people, he has the confidence to do it."
July, 12, 2012
7/12/12
12:30
AM ET
By
Brendan Hall
| ESPNBoston.com
Peabody High righthander Pat Ruotolo
verbally committed to UConn earlier today
, just one day after the Huskies extended a scholarship offer.
Ruotolo garnered national attention this spring after throwing three no-hitters in four starts, after which attention to the 5-foot-10 fire hydrant began to crest. But with just one other Division 1 offer at this time, from Northeastern, Ruotolo is putting an end to his recruitment.
ESPNBoston.com caught up with him earlier this evening for a few more comments on his commitment.
Reaction to getting a scholarship offer from UConn yesterday:
"I really liked the school and everything, and they offered me a pretty substantial amount of scholarship money that I couldn't turn down. I really like the school, and it's one of the better programs in the Northeast. I kinda knew wanted go threre since the start from when they first recruited me. They've always been in my top five and everything."
On the relief of his decision:
"It helps me the rest of summer. I've got a few more tournaments to go, and I don't have to try and impress the scouts, just try to win and have some fun."
Was there a temptation for him to wait it out, and see if any other offers would come in?
"There was. I could have waited it out, but I could not have gotten as much money as I did. Some of schools like down South like Virginia Tech really wanted me. Monmouth and St. John's too. But I'd have to pay to visit all of them unless it's an official visit, and then I wouldn't be able to do that until October, and I don't want to wait that long and I really like UConn."
On the familiarity between Peabody's program and UConn (pitching coach Peter Soteropoulos is a Peabody and UConn alum):
"Peter basically got UConn on my radar during the high school season. He still keeps in touch with the coaches, it helped me out a lot."
His stuff this summer:
"I've been sitting at 88 mostly every game, I hit 90 every now and then. I play for Show Baseball [AAU] for Steve Lomasney...I think I've stepped up my pitching a lot more over the summer. My velocity went up a lot, I throw three pitches for strikes."
July, 11, 2012
7/11/12
2:14
PM ET
By
Brendan Hall
| ESPNBoston.com
Peabody High righthander Pat Ruotolo gave a verbal commitment this morning to the University of Connecticut for 2013, his coach Mark Bettencourt confirmed.
The 5-foot-10 Ruotolo caught national attention this past spring after throwing three no-hitters in a span of four starts. He finished the season as the state's runner-up in strikeouts (130). In 76 innings of work, he went 8-1 with two saves, 31 hits allowed and 12 walks, for an ERA of 0.83, to earn Northeastern Conference MVP honors. He has 232 strikeouts since the start of his sophomore season, and over 300 for his career.
For his efforts, Rutolo was named a starting pitcher on
ESPN Boston's MIAA All-State Team
last month.
Ruotolo had varied interest locally from Division 1 and 2 schools, but Northeastern was the only other D1 school to offer him at this time. He also had considerable interest across the Division 2 Northeast-10 Conference, including Merrimack and Southern New Hampshire.
UConn is also the alma mater of Peabody pitching coach Peter Soteropoulos, a Peabody alum who was drafted by the St. Louis Cardinals in the 40th round of the 2003 MLB Draft.
"We had a long talk yesterday about it when they made offer," Bettencourt said of Ruotolo's commitment. "I said to him, don't rush into something just because you're excited and want it to be over. Let's go over the pros and cons, the other offers on the table, see if anyone chimes in late. He was very excited, so I told him to sleep on this, and if you still feel the same way when you wake up then make your decision.
"UConn, they're the beast of the east. They've had some real good teams the last couple of years. I played against [UConn head coach] Jim Penders in college [at Boston College], they're gonna have some good teams there next couple of years. For Pat it's win-win, he's gonna play like I did and Peter did in the Big East, stay close enough to his mother and father that they can still watch him, and get himself a great education. It's good on all fronts."
June, 22, 2012
6/22/12
2:09
PM ET
STARTING ROTATION
RHP – Matt Tulley, Sr., Lowell
The Virginia Tech signee lived up to every ounce of his preseason hype, taking ESPN Boston's 2012 Mr. Baseball Award earlier this week as the state's top player. He earned his third consecutive Merrimack Valley Conference Player of the Year honor, going 7-1 with 90 strikeouts in 59 innings and one save, for a 1.46 earned run average. Opponents batted just .159 against Tulley on the season. At the plate, Tulley batted .306 for the Raiders, leading the team in RBI (20) and ranking second in runs scored (19). For his career, Tulley went 20-2 with a 1.57 ERA and 200 strikeouts in 140 innings.
RHP – Pat Ruotolo, Jr., Peabody
The 5-foot-10 craftsman caught national attention this year after throwing three no-hitters in a span of four starts, and finished the season as the state's runner-up in strikeouts (130). In 76 innings of work, he went 8-1 with two saves, 31 hits allowed and 12 walks, for an ERA of 0.83, to earn Northeastern Conference MVP honors. He has 232 strikeouts since the start of his sophomore season, and over 300 for his career. Ruotolo is considering interest from a handful of Division 1 schools.
RHP – Alex Rozak, Sr., Plymouth North
The UMass-bound Rozak catapulted himself into discussion as one of the state's best pitchers with his postseason play, winning three games as the Blue Eagles made their fourth Division 2 state final appearance in five seasons. He also carried a no-hitter into the final out in the Division 2 Eastern Mass final. For the season, Rozak was 8-3 with 61 strikeouts and 13 walks, with a 1.02 ERA. He won 24 games in his career at North, including a 9-1 campaign in the Eagles' 2011 state championship season.
LHP – Steve Moyers, Sr., East Longmeadow
One of a handful of returning All-Staters, the University of Rhode Island signee is making his second appearance in the "Starting Rotation" after compiling a 7-2 record with 106 strikeouts. Over his last two seasons, he has gone 15-3 with 194 strikeouts, and he leaves East Longmeadow as one of the school's winningest, compiling a 30-3 career record.
LHP – Ben Bowden, Jr., Lynn English
The 6-foot-4, 220-pound southpaw got off to a hot start, throwing a perfect game on April 7, and didn't cool off. On the mound he had six wins, with 82 strikeouts in 51.2 innings for a 2.19 ERA. At the plate, he played a key role in the Bulldogs' stunning upset of Peabody in the Division 1 North tournament; on the season, he batted .394 with 21 RBI, two home runs and nine extra-base hits, and also drew 17 walks.
STARTING NINE
CF – Casey DeAndrade, Sr., East Bridgewater
The speedster joins exclusive company as one of several players to make All-State in two sports, having made the football squad last fall. This spring, he put up .455/.506/.682 totals at the plate, with 25 RBI, two home runs, 19 runs and 15 stolen bases. On the mound, he went 5-2 with 67 K's in 50.2 innings, holding opponents to a .106 average as the Vikings captured their first Division 3 South title since 1993. DeAndrade is headed to the University of New Hampshire in the fall for football.
2B – Chris Hoyt, Sr., Xaverian
Nobody elevated their stock in the playoffs more than the Stonehill College-bound Hoyt, who pounded out eight RBI in the MIAA tournament – including four in the Division 1 state final. Batting out of the leadoff spot this spring, Hoyt batted .411/.477/.526 totals, with 19 RBI, two home runs, stole 19 bases and only struck out three times in 107 plate appearances. He also posted a ridiculous OPS of 1.003.
C – Bobby Melley, Sr., BC High
A returning All-Stater, the 6-foot-3, 200-pound Centerville resident was one of the state's most dangerous power hitters, compiling .370/.557/.685 totals with 13 RBI, three home runs and drawing 22 walks. Behind the plate, only two runners attempted to steal on him, both of which were caught out. Melley will continue his career next year at UConn.
1B – Chris Shaw, Sr., Lexington
A returning All-Stater, Shaw was one of three Bay Staters taken in this year's MLB Draft, going to the New York Mets in the 26th round. This spring, he batted .480 with seven home runs and 27 RBI, and also went 5-0 on the mound with 95 strikeouts in 45 innings. Shaw will be honoring his commitment to Boston College rather than signing.
3B – Frank Crinella, Sr., Springfield Cathedral
In addition to flawless defense, Crinella was a tough out at the plate, hitting .456 on 26 hits, with 27 RBI and four home runs to go along with it as the Panthers went 18-2 before a surprise upset in the Division 1 West quarterfinals. Crinella will continue his career next year at Merrimack College.
SS – Matt O'Neil, Sr., East Longmeadow
Coupled with Moyers, the returning All-Stater formed an imposing 1-2 punch on the mound for the Spartans, who suffered a surprise upset in the Division 1 West semifinals. O'Neil batted four home runs to go along with 21 RBI; on the mound, he was 4-3 with 70 strikeouts in 41.1 innings. O'Neil will continue his career next year UConn.
1B – John Jennings, Sr., Newton South
The Dual County League's Large Division MVP was a force at the plate for the Lions, batting .415 with five home runs and 31 RBI. On the mound, he was 4-1 with 31 K's in 27.2 innings, for a 1.27 ERA. He will continue his career next year at UMass.
SS – Regan Aghdam, Sr., Burncoat
One of the state's premier leadoff hitters, Aghdam was solid at the plate, leading the Inter-High league in batting average (.463). On the mound, he went 6-0 with 43 strikeouts in 49 innings pitched. Aghdam will continue his career next year t the University of Rhode Island.
SS – Brandon Bingel, Jr., St. John's Prep
The Catholic Conference's co-MVP was a driving force for the Eagles, hitting .418 with 25 RBI and five home runs. On the mound, he was 5-1 with a 1.20 ERA in 40.2 innings pitched. Bingel is currently committed to Bryant University.
BULLPEN
LHP – Scott Tully, Jr., Reading
Tully had a breakout junior season, going 8-2 with four saves with a 0.99 ERA and 122 strikeouts in 63.1 innings, tied for third-most K's in the state. Tully also allowed just 27 hits this spring. He is currently committed to Notre Dame.
RHP – Pat Delano, Sr., Braintree
Nearly two years after Tommy John surgery, the 6-foot-7 fireballer found his way back to the top, going in the 35th round to the Boston Red Sox in the MLB Draft, and earning MVP honors in the Bay State Conference's Carey Division. He posted a 1.21 ERA with four wins and 50 strikeouts in 57 innings, and added four home runs at the plate. He was also named a Region 1 All-American by the American Baseball Coaches Association. Delano is currently committed to Vanderbilt, but has until the August 15 deadline to decide whether he'll sign or not.
RHP – Charlie Butler, Sr., Nashoba
A returning All-Stater, Butler was once again dominant on the mound for the Chieftains, striking out 90 in 54 innings for a 0.91 ERA and 6-2 record. At the plate, he batted .365 with 14 RBI and two home runs. Butler will continue his career next year at the University of Maine.
RHP – Mike Walkowicz, Sr., Amherst
Another one of the state's strikeout kings, Walkowicz went 5-4 on the mound as he rang up 112 batters in 65 innings of work for an average of nearly two K's per inning. He will continue his career next year at Endicott College.
LHP – Tyler Buck, Sr., Franklin
One of the state's most elusive lefties, Buck went 7-1 on the mound with 80 strikeouts and a 1.42 ERA for the Panthers, who were the No. 1 overall seed in Division 1 South. He also went .378 at the plate with 18 RBI and two home runs. Buck will play next year at St. Anselm College.
LHP – Mac Curran, Jr., Coyle-Cassidy
The hard-throwing 6-foot-4, 240-pound Lakeville resident was an intimidator for the Warriors, going 6-1 with a 0.52 ERA and 63 strikeouts in 49 innings. He also batted .351 at the plate, and is 14-3 so far as a starter for Coyle. Curran is currently fielding a slew of Division 1 interest.
RHP – Brandon Shileikis, Jr., Dighton-Rehoboth
The workhorse logged 68 innings and struck out 74 while walking just 12, going 9-1 with three saves, an ERA of 1.75 and a WHIP of 0.96. At the plate, Shileikis had .427/.456/.524 totals with 28 RBI and 27 runs. Shileikis is currently fielding various Division 1 interest.
RHP – Keegan Dellacona, Sr., Barnstable
The 6-foot-3 Dellacona formed a dynamic 1-2 punch on the mound along with UConn-bound Willie Nastasi, as the Red Raiders won the Old Colony League outright. For the season, Dellacona struck out 67 in 49.1 innings, for a 4-0 record and 0.89 ERA. He also threw 70 percent of his pitches for strikes, registered a 0.67 WHIP, and held opponents to just a .136 batting average. Dellacona is undecided on college plans.
LHP – Ryan McDonald, Sr., Acton-Boxborough
Another of the state's most deceiving lefties, McDonald went 5-2 with 71 strikeouts in 46 innings, for a 1.98 ERA. He also led the Dual County League in batting average (.468) and plated 16 runs, including two homers. McDonald had previously signed with Bryant University, but is currently uncommitted.
RHP – Lee Albertson, Sr., Westfield
Albertson was the ace of a Bombers staff that won its third Division 1 West title in five years this spring. He went 6-2 on the mount with two saves, and struck out 58 batters in 54 innings. Albertson will be heading to Holyoke Community College next season.
UTILITY
3B – Joelfi Arias, Sr., Springfield Central
The Eagles scored one of the biggest upsets of the MIAA tournament by knocking off Springfield Cathedral, and Arias played a big role. He had five home runs on the season to go with 24 RBI, and on the mount he had 65 strikeouts in 62 innings, logging a 5-2 record. Arias is headed to Juco power Indian Hills Community College, in Ottumwa, Iowa.
OF – Adam Benvie, Sr., Dighton-Rehoboth
One of several mashers on a lineup that batted nearly .400 as a team, Benvie posted .386/.538/.771 totals with 37 RBI and five home runs, scoring 27 runs and drawing 22 walks. Benvie will continue his career next year at UMass.
C – Joe Walsh, Sr., Taunton
The Old Colony League MVP led the Tigers on a surprise run to the Division 1 South final, where they lost to eventual state champ Xaverian. He batted .447 with 31 RBI, 23 runs scored and three home runs, for an on-base percentage of .562. He leaves Taunton a career .379 hitter with a .486 on-base percentage and 50 RBI. Walsh will play next year at Eckard College in St. Petersburg, Fla.
SS – Evan Mondor, Sr., Dighton-Rehoboth
One of several big bats that led the Falcons to the No. 1 seed in Division 2 South, Mondor posted .478/.617/.791 totals with 10 doubles, three home runs, and 20 RBI. Mondor also scored 35 runs and only struck out three times all year. He will continue his career next year at Bentley University.
SS – Brendan Skidmore, Sr., Franklin
Skidmore took home Hockomock MVP honors this season after batting .467 with five home runs and 21 RBI for the Panthers, who won the league outright as well as the No. 1 seed in Division 1 South. Skidmore will do a post-graduate year at Bridgton Academy next season.
OF – Jarrod Casey, Sr., Milford
A returning All-Stater and the reigning Mid-Wach A MVP, Casey put in another dominant season for the Scarlet Hawks, batting .490 with 22 RBI. On the mound, he was 6-2 with 73 strikeouts in 47 innings, for a 0.91 ERA. Over the last two years, Casey has gone 14-3 on the mound.
SS – Sean O'Neill, Sr., Norwood
The senior played a significant impact on the Mustangs' run to the Division 1 South quarterfinals, taking MVP of the Bay State Conference's Herget Division in the process after batting .416 with 16 RBI and a home run in the wood-bat league. O'Neill will play next year at Merrimack College.
SS – Dan Cellucci, Sr., Lincoln-Sudbury
Another returning All-Stater, Cellucci was consistent once again for the Warriors, batting .435 with 18 RBI and two home runs as the Warriors came up short in the Division 1 state title defense. Cellucci will continue his career next year at Bryant University.
1B – Adam Mayhew, Sr., Westfield
His numbers probably don't reflect his importance to the team (12 RBI; 3-0, 15 IP), but his defensive presence was without question as the Bombers won their third Division 1 West title in five years. Mayhew will continue his career next year at Westfield State University.
Photos of Adam Mayhew, Mike Walkowicz, Lee Albertson, Matt O'Neil and Joelfi Arias are courtesy of the Springfield Republican. Photos of Pat Ruotolo, Ben Bowden and Mac Curran are courtesy of the Area Code Games.
May, 23, 2012
5/23/12
10:51
PM ET
By
Brendan Hall
| ESPNBoston.com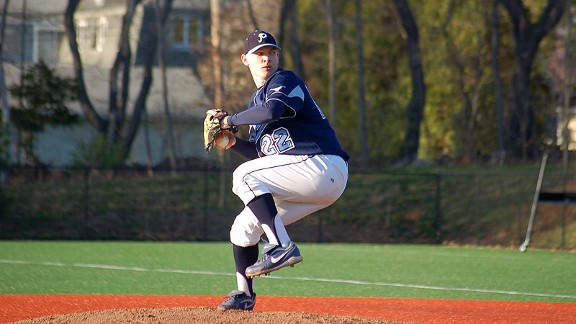 Brendan Hall/ESPNBoston.comPat Ruotolo has been dominant in his last five starts, with three no-hitters and just six hits allowed total. On the season, he's given up just four runs.
PEABODY, Mass. -– Mark Bettencourt can't offer enough praise about his ace righthander Pat Ruotolo as he watches the kid circle the track at Peabody High, from his mild-mannered demeanor to his clean mechanics and aggressive work ethic.
A half-hour into this evening practice session, the Tanners head coach finally meets a question he can't retort. The run this kid's on –- three no-hitters in his last four starts, just six hits allowed in his last five, and four runs allowed all year – what does it compare to over his experiences in baseball?
And for once the eighth-year coach and Peabody alum –- whose path includes a standout career at Boston College, a year in the Cape Cod League, and eight years of coaching in the college ranks -– is stumped. To him, "this is incomprehendible," he concedes.
He turns to assistant coach Pete Soteropoulos -– himself a former UConn standout and St. Louis Cardinals draft pick –- who reminds Bettencourt that among all the accolades of Jeff Allison, a first-round draft pick in 2003 and Peabody's greatest high school export, the former Baseball America Player of the Year only tossed two no-no's his senior year.
Soteropoulos, too, can think of no precedent. So Bettencourt turns to another assistant –- his father, Manny –- and draws back to another North Shore legend and first-round draft pick.
"Hey, did [Jeff] Juden ever pitch like this?" he shouts, recalling the former Salem High ace and 12th overall pick by the Astros in 1989.
Sudden Fortunes
It all started on April 26, with a trip to Marblehead, when he struck out 13, walked three and allowed no hits in a 3-0 win over the host Magicians, his first no-no of the season. From there, it only steamrolled.
Then on May 7 at Swampscott, a 7-0 decision over the Big Blue, he fanned 11, walked one, and completed his second no-hitter in three starts. Nine days later, at Salem, Ruotolo fanned a season-high 15 batters and walked two while allowing no hits.
Ever since, the camera crews and media requests have been rolling in, from both the local news stations and national outlets. Some of it is unnerving the humbled, reserved star.
"It's kinda crazy, all the publicity, it's been kind of overwhelming," Ruotolo says softly.
As for his own school hallways? "I kinda get dumped on a little for breaking up the no-hit streak", he laughs, referring to his performance Monday in a 1-0 win over Lynn Classical (Ruotolo surrendered all three of his hits in the first inning, but struck out 14).
And for senior Gennaro Ciulla, Ruotolo's catcher since little league?
"I love it," he smiles, cracking, "Pat just knows what he's doing, doing his thing. And whenever the cameras are around, I'm in the shot. So, you know, keep throwing no-hitters, right?"
Ruotolo will never be confused for a show-boater, and the sudden fortune hasn't changed him a bit. Still mild-mannered, still speaking at a low volume, he continues to keep to himself.
"Pat respects what he's doing, he understands it's pretty rare to do what he's doing, and he stays humble about it," Bettencourt said. "A lot of times you worry about a kid's hat size getting too big if he starts doing well. But I've never seen that in Pat, never in conversations with him."
On the mound, Ruotolo carries a more insular demeanor. That is to say, he's got a pretty mean poker face when he stares down Ciulla from the plate.
"When he's on the mound, he's just focused in, he's ready to go," says Ciulla.
[+] Enlarge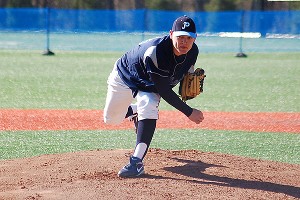 Brendan Hall/ESPN.comRuotolo doesn't win the eye test at 5-foot-10 and 195 pounds, but head coach Mark Bettencourt calls it "a protoypical pitcher's body."
'A prototypical pitcher's body'
This much is known about Ruotolo's ridiculous month from the mound. Five major league draft picks came straight out of Peabody High in a nine-year span from 1995 to 2004, one of the most dominant eras in the history of this storied program, and not one of them had three no-no's in one season -- never mind one month.
And certainly, none of them looked quite like this. That is to say, at 5-foot-10 and a stocky 190 pounds, and armed with a fastball that touches the high-80's, Ruotolo doesn't quite fit the mold of today's prototype power pitcher.
Perhaps that's why, despite the amazing feat, Bettencourt says the phone "hasn't been ringing as much as you'd think" from the college coaches.
Yes, all the usual local suspects are showing interest -– UConn has inquired, as have UMass, Rhode Island, Boston College and Northeastern. But the truth of the matter is, Ruotolo's size is going to turn off some coaches.
Even with the clean action in his delivery, even with the durability, and even with the efficiency of it all.
With a compact motion that keeps his elbows locked close to the body, Ruotolo uses superior leg strength -– built from his winter turns as a stay-at-home defenseman for the school's ice hockey team -– to generate high velocity. Ruotolo couples that with a high arm slot that creates sharp downhill trajectory, which has yielded an improved 12-to-6 drop on his curveball.
Occasionally, he'll drop to a three-quarters slot if hitters are catching on, to which Bettencourt cautiously concedes, "I'm not the one who taught him that, but whoever did, I understand the reasoning."
Unafraid to pitch to contact, Ruotolo's method has led to some pretty economical outings -– a far cry from his days as a freshman, where he might have been prone to racking up 90 pitches by the fourth inning.
In his first outing of the season, a 10-inning loss to St. John's Prep, Ruotolo threw 133 pitches and rung up 10 strikeouts in a no-decision.
Ruotolo hasn't touched 133 pitches again this season. In fact, his pitch counts have been pretty impressive during this scoreless streak. In his last start, he needed just 77 pitches for the 14-K, complete game effort. In the third no-hitter against Salem, he threw 88; the first, against Marblehead, needed just 91.
His two-hitter against Danvers on May 2 required just 87 pitches. Only once in the last month has he gone over the century mark – May 7's no-no over Swampscott, which needed 103 pitches. He'll have one more start this weekend, and will have at least one start to work with when the MIAA Division 1 North tournament commences next week.
Bettencourt knocks on wood as he explains how Ruotolo's frame is built for the long haul. But once again, you can thank the overlap of leg workouts between hockey and baseball for his reliable lower body strength. Ruotolo boasts some big quadriceps and hamstrings to push off the mound with –- he says he has leg-pressed as much as 800 pounds –- and the amount of torso movement on slap shots has given him exceptional core strength.
"And that's what they call a prototypical pitcher's body," Bettencourt said. "If you're not talking about the tall, skinny, lanky guy, you're talking about the heavy lower-body strength guy. And that's where Pat fits in. He's not 6-4, 6-5. His knuckles don't drag on the ground. He's more of a...I call him a 'Clemens type'. You know, wide hips, big legs, and I think a lot of his velocity is generated through his lower-body torque.
"Obviously, he has a live arm –- you don't throw as hard as he does if you don't. And the fact that he works so hard on his mechanics, keeps things fluid, obviously is a major factor. And the way he's able to create the arm speed necessary to throw as hard as he throws, but also to have the looseness to throw that nasty curveball that he throws and not hurt his arm, because his mechanics are very precise."
With his sharp downhill action, Ruotolo is able to get some late life out of his 12-to-6 curve. And with clean mechanics that utilize the leg, the pain ends up in places other than the arms and shoulders.
"Generally, if he gets soreness, it's in his back," Bettencourt said. "And that's usually a good indication that he's using the bigger muscles to help decelerate his arm, and not using his elbow and his shoulder.
"When you're talking about a pitcher, at the point of release, his hand speed's gotta be…You know, if he's throwing 87-88, his arm speed's 88 when he's releasing the ball, and he's only got three or four feet before his arm's got to come to a stop on his follow through, so he's got to use more muscles than just his elbow and shoulder, or he's going to hurt himself. When he says his back is tight, for me that's a good indication."
Don't Even Go There
Someone was bound to try and make the comparison. Because what Patrick Ewing is the Cambridge basketball, and what the Fluties are to Natick football, you can never talk Peabody baseball without recalling Jeff Allison, the superstar with 98 mile per hour heat, seemingly destined for a big league career before off-field issues, including substance abuse, derailed the path.
So let's get it out of the way before this builds steam. Allison's school single-season record of 142 strikeouts is within reach for Ruotolo if the Tanners make a run in the MIAA playoffs. So, too, is the school's career strikeouts record (Ruotolo now has 208 strikeouts since the start of his sophomore season alone, and is close to 280 for his career).
But there's a slim chance Ruotolo will go 16th overall to the Florida Marlins, and even slimmer that he'll ever be named Baseball America's National High School Player of the Year.
Allison's demeanor on the mound was the stuff of legend. Before Lowell's prized ace Matt Tulley took the field last Friday night against BC High, his coach Danny Graham encouraged him to exert some of the same grittiness he saw when watching Allison a decade ago.
Bettencourt puts it more bluntly than we can -– "Jeff, you came away from him saying to yourself, 'Boy, he could probably handle himself in a fight'," he chuckled. That's not the style of the mild-mannered Ruotolo.
But as far as pitching goes...
"Pat doesn't throw as hard as Jeff did," Bettencourt continued. "Jeff was throwing 95, 96, and that was a gift. But the fact that Pat throws 87-88 as a junior, I don't know what Jeff was throwing his junior year...The jury's still out on what the future holds for him, but with the work ethic he has and the time that he's put in, the door is open as far as what he could do over the next year."
Is This It?
Where does it go from here? Or maybe the better question is, when will it end?
In Monday's win over Classical, Ruotolo gave up a leadoff base hit to start the evening, only to allow two hits the rest of the way and shut out the Rams. Bettencourt called it "a huge step for Pat", compared to where he's been in the past.
"You want to see what happens now, if he does start to get hit around a little bit, when they square the ball up consistently," Bettencourt said. "I know in the past that's happened, and I won't say he's crumbled, but there has been a significant difference in the way he pitches. And that's the biggest thing I think college coaches want to see. It's great to see him when he's doing well, what about when he's not doing so well?"
Bettencourt is naturally concerned about his reaction when this all stops. But it's testament to his work ethic, too, that the kid doesn't appear rattled much when opposing bats get hot early. When given an off-day, Ruotolo isn't resting on his laurels.
Perhaps his best quality of all, then, is his short memory.
"For Pat, I remember after Salem game walking over shaking his hand, walking off Salem State's field, and he goes 'I can't wait for Classical'," Bettencourt said. "He's already turned the page, he's already looking for that next start, next challenge. And I think that work ethic that he puts in, goes hand in hand with that type of an attitude."
So maybe this run comes to an end this weekend. Or maybe it continues into next week and beyond.
Either way, he's locked in, with nowhere to go but forward.
May, 2, 2012
5/02/12
11:32
PM ET
By
Andy Smith
| ESPNBoston.com
PEABODY, Mass. -- With the game tied 2-2 in the bottom of the seventh with two outs and runners on second and third, Danvers coach Roger Day made the decision to intentionally walk Peabody's leadoff hitter Genaro Ciulla.

That brought up Casey Grenier, with the bases loaded, to face Ray Arocho. After quickly getting ahead in the count 0-2, Arocho's third pitch hit home plate and bounced away from his catcher, Joe Strangie.

The blunder allowed Steven Leavitt to score from third and give No. 13 Peabody the come-from-behind, 3-2 victory.

Over the first five innings, Arocho gave up only one run and three hits. The only blemish on his scorebook over that period came in the first inning, when back-to-back errors by third baseman Nick Valles put runners on first and third.

Arocho, being a left-handed pitcher, makes his most effective pickoff move to first base. In the bottom of the first, he made a series of pickoff attempts to first to try and catch Stephen Girolamo away from the bag.

Eventually, he caught Girolamo in the midst of stealing, which started a rundown between first and second. Seeing this, Bobby Losanno ran home from third base and scored before Girolamo was tagged out.

In the top of the first, Arocho gave himself a cushion when he hit a home run off Peabody (9-3) righthander Patrick Ruotolo. With a 1-0 count and a runner on, Ruotolo threw a belt-high fastball and Arocho put it over the 340 feet sign in right-center field to give Danvers (9-3) the quick 2-0 lead.

"I missed my spot," said Ruotolo. "It was supposed to be low and away fastball, and I threw it basically right down the middle high. It's his favorite pitch to hit. The kid is a good hitter. I just made one mistake and didn't really look back from that."

Peabody caught a break in the sixth that tied the game. After Arocho walked Losano with two outs, Girolamo ripped a line drive to center field that was falling fast. In a valiant attempt to make a play, Anthony Garron dove at the ball, but it bounced away in front of his glove and continued to roll toward the wall.

Losano scored all the way from first to tie the game. With momentum on its side, Peabody scored in the final frame and won a game it never led until that final moment.

"I couldn't be happier with my team's effort," said Day. "The kids battled hard and to have a chance in the sixth inning up a run with nobody on, I couldn't ask for anything more. We just didn't close it out. We're one pitch away from getting out of that and we'll see what happens."

Ruotolo Resonates: While the bigger story from the game may have been Arocho's control of the Peabody lineup, but Ruotolo should be credited for keeping his team in the game while its bats were silent.

He struck out eight batters and allowed only two hits over six innings after surrendering the home run. He had one-two-three innings in four of the six.

"I just kept thinking, 'I hope Pat doesn't get a loss on a first inning mistake," said Peabody coach Mark Bettencourt. "The whole game I'm thinking, I'm hoping that's not going to be the reason this game ends with us losing is Pat making one mistake to Arocho in that first inning leaving a fastball up.

"Obviously you saw the way the kid competed on the mound. He's a phenomenal, phenomenal competitor. You walk away from that game, and I'm saying to myself, 'I don't care how we won that game,' I'm just happy that Pat Ruotolo, who I think threw a gem today, didn't pick up a loss on one mistake. That would have been criminal if that happened, so I thank the baseball gods for helping us out there at the end."

Wednesday was not Ruotolo's first time pitching, so he was well aware that pitchers need to have a short memory after giving up big hits, especially when his team was not helping him much offensively.

"I wanted to work fast and get my pitch count lower because in the first inning my pitch count was pretty high due to the home run," he said. "I wanted to try and get one or two pitch outs and it worked pretty well. My fielders backed me up pretty well."

The two pitchers shared a moment of mutual respect towards the end of the game. During a prolonged stoppage in play, Arocho came off the mound and headed towards the Peabody on-deck circle, where Ruotolo was standing talking to a teammate. Arocho extended his arm and the two high-fived, a show of respect between two players who know each other and what they bring to the baseball diamond.

"We're buddies," said Ruotolo. "I said to him, 'Uh, you just had to hit that home run didn't you?' The game would have been quicker if he didn't. I've known him for a while though, he's one of my friends."

Master Lock: Arocho did something rarely seen in a baseball game at any level: he picked off four runners. Each time, he caught the runner in the process of trying to steal second. Even after throwing over to first multiple times, the runners would still try to steal second. Then Arocho would throw to first, and the first baseman would throw up to second and the shortstop caught the ball and waited patiently for the runner to slide into the bag.

"You have to give credit where credit is due," said Bettencourt. "Danvers is a very well-coached team. They know we run. How many times did Arocho throw over to first today? He probably threw an entire game to first base today."

"I'm over here playing a chess match, trying to guess when he's going to throw over so we can run. He guessed right several times. He'd guess wrong, but he'd guess right and he was picking us off. We're trying to run on their catcher and we can't get the ball to the catcher, so we shut it down and basically said let's wait for our opportunities."
April, 27, 2012
4/27/12
3:22
PM ET
Tuesday afternoon, Barnstable High senior righthander Willie Nastasi went the distance in a 3-1 win over Taunton, striking out a career-high 16 batters in nine innings while allowing just three hits. But the 6-foot-5 UConn commit also needed 155 pitches to complete the effort, which has since sparked some spirited debate locally about pitch count and what is appropriate. Nastasi has since said it was his own decision to stay in the game. Head coach Joe DeMartino said following the game that Nastasi would not have gone back out if the game went to an extra 10th inning.
Nastasi's performance is one of countless examples of pitchers racking up high pitch counts this season, but one that drew much debate on the Twitter-sphere. Scouts Inc. Baseball Analyst Keith Law went as far as to call it
"Absolutely criminal" in a post on Twitter
. Still others lauded Nastasi for his performance, which improved the No. 11 Red Raiders to 2-0 in the four-team Old Colony League.
Was it the right call? How much is too much? We asked our regular panel of contributors as well as a few special guests:
Eric Cressey
, President of Cressey Performance;
Dr. Luke Oh
of Massachusetts General Hospital, an orthopaedic consultant with the Boston Red Sox; and
Kirk Fredericks
, head coach of three-time state champion Lincoln-Sudbury High.
Dr. Luke Oh
Orthopaedic Surgeon, Massachusetts General Hospital
Orthopaedic Consultant, Boston Red Sox; medical staff member, New England Revolution, New England Patriots, Harvard University Athletics
There has yet to be a high school or college baseball pitcher in his late teens who needed Tommy John surgery that I have seen who demonstrated good rotator cuff strength, periscapular control, and throwing mechanics. If these variables are not optimized, then it becomes difficult for young athletes to negotiate the fatigue and overuse that develops as the baseball season progresses.
At the professional level, there are comprehensive strength and conditioning programs in place that are baseball-specific. This is certainly not the case at the high school level. In fact, you may be surprised by the number of Division I college teams that do not have a baseball-specific program either.
At the high school level, it would be uncommon to find a pitcher who has the required stamina, mechanics, and strength and conditioning to throw 155 pitches per game on a regular basis without having symptoms of overuse. We have to remember that some of these adolescent athletes are still growing, and other may have finished growing with regard to height but have not filled into their frame. Even for those young athletes who appear to be muscular and well-developed, the rotator cuff and other dynamic stabilizers of the shoulder and elbow that are important for throwing tend to lag behind in development. They are attempting to emulate what the professional athletes are doing, but their bodies are not developed to the same degree.
Some people believe that a pitcher needs to throw more, in order to be able to throw more. In my opinion, there has to be a balance between developing endurance and risking injury from overuse. I think like many things in life, after an optimal range, there will be a decrease in the return on investment and an increase in the risk of injury. Well, what is the optimal range? Is there a specific threshold? This depends on each athlete because there is so much variability in physique, skill, technique, conditioning, etc. It may be counterproductive to simply ascribe a set number for the maximum recommended pitch count in high school because it may become misused and not applied appropriately.
Nevertheless, some experts believe that younger pitchers at the high school level should limit the pitch count to under 100 in an effort to reduce the risk of overuse injury. In some major league ballclubs, the pitch count may be monitored over a span of a few games such that if a pitcher throws 140 pitches in one game, for example, then he will likely throw fewer pitches during his next outing. If such precautions are taken at the highest level of competition for our professional pitchers, then it would be prudent to take additional precautions for our high school athletes.
The tremendous stress placed on the shoulder and elbow during the baseball pitch can take its toll over time. My mentor, Dr. James Andrews, and I have both seen a steady increase in injuries to the ulnar collateral ligament among young pitchers. In my practice, approximately 20-25 percent of Tommy John surgeries that I perform are on pitchers younger than 20 years old. Dr. Andrews has said that Tommy John surgery for athletes in their late teens decreased for the first time last year; but every year before that, it increased each year. Perhaps the message is getting out, and people are paying more attention to the young athlete's development, baseball-specific strength and conditioning, muscle coordination, proper mechanics and other variables that are important for injury prevention as well as optimizing performance.
Eric Cressey
President and Co-Founder, Cressey Performance
Kids might feel fine in the short-term and think they can gut it out, but the truth is that they don't know what damage is going on inside their elbows and shoulders, especially as fatigue sets in and more stress is shifted to the non-ideal places. As an example, at the elbow, when the flexor carpi ulnaris and pronator teres start to fatigue, the ulnar collateral ligament (UCL) takes on more stress. At the shoulder, when the rotator cuff starts to fatigue, the biceps tendon picks up the slack - and the loss of control of the humeral head (ball in socket) causes more and more fraying on the labrum.
Pitching injuries are not rolled ankles; a thrower isn't just fine one day, and then injured the next. Rather, these injuries are the culmination of years and years of microtrauma to the tissues that finally hits threshold. The kids having Tommy John surgeries are the ones that have previous areas of calcification on the UCL from injuries they may have never perceived, or partial UCL tears that will never heal perfectly. Shoulder-wise, almost every thrower you come across will have labral fraying and degenerative changes in the rotator cuff.
Pitch counts are a big can of worms to open because every kid is uniquely (un)prepared. Some work hard to make sure that they have stability and mobility in the right places, warm up correctly prior to outings, and hone their mechanics to make sure that they are eliminating potentially injurious flaws in the delivery. Some choose to throw curveballs over sliders (throwing sliders is associated with an 86% increased risk of elbow injury, according to research) to protect their arms. Some kids simply don't throw hard, so it's harder for them to reach threshold (sprinters don't pull their hamstrings if they don't run fast, do they?).
The take-home point is that pitch counts will always be an inexact science, but a valuable one nonetheless because they help protect the majority -- especially those who are unprepared. Unfortunately, about 95% of pitchers aren't just unprepared; they are WOEFULLY unprepared. Time and time again, the primary factor that predicts injury risk in throwers is overuse - both acute and chronic. And, we have to remember that high school kids are particularly susceptible because they are skeletally immature; otherwise, you'd see growth plate injuries in big leaguers all the tike.
Personally, I think 105 pitches for a high school player is a good cap. Anecdotally, kids seem to struggle when they go back-to-back with 100+ pitch outings, too -- especially when they happen with fewer days between starts. This isn't surprising at all, though, as most of the college pitchers I've seen who go on to pro ball comment on how the hardest adjustment is going from a seven-day to a five-day rotation.
I would like to head off one counterpoint, and it's that many coaches will rebut, "We threw way more pitches than that when I was in school, and we never got hurt!" The response is very simple: we are dealing with a different generation on a number of fronts.
First, kids are more unprepared athletically than ever because of early sports specialization (less variety = less development), and because they sit more than ever before, thanks to the popularity of things like Facebook, Twitter, and video games. After-school "play" is a thing of the past.
Second, kids can throw year-round nowadays, if they want to do so. There can be fall ball, winter lessons/clinics, showcases, and summer ball on top of what someone gets for throwing volume during the high school season. This is likely the biggest change from what players experienced more than a decade ago. Their throwing volumes were dictated by the competitive year.
Third, we are better diagnostically and surgically now. In other words, there likely were more of these injuries in the past, but we weren't as good at evaluating them and treating them, so they weren't as publicized.
Scott Barboza
ESPN Boston High Schools Editor
At the risk of sounding like the old school baseball wonk here, we've so lost sight of the way things used to be. In the 1905 World Series, Christy Mathewson pitched three complete-game shutouts in what is considered to this day as perhaps the finest postseason pitching performances in baseball history. What's makes Mathewson's 27 scoreless innings against Connie Mack's Athletics is the fact that he threw all three games within a span of six days. Yeah, maybe it was the dead ball era, but it still happened. The more fitting example would be Daisuke Matsuzaka's line during Japan's esteemed Summer Koshein series, a spectable of national attention. He threw a 17-inning, 250-pitch quarterfinal game; that is ONE DAY after he threw a 148-pitch complete game shutout. Now, we can argue how Matsuzaka's innings load, pitch count and rigorous warm-up routine might have impacted his time here with the Red Sox, but it's not as though he didn't have nearly a decade of rubber-armed action between then and now.
Look, I'm not saying Willie Nastasi is or will be of the ilk of those aforementioned, although he's certainly a fine player in his own right at the high school level and, likely, in college, but the point remains that this week's performance isn't without peer. Now more than ever, those kinds of lines are becoming fewer and farther between, which makes them all that much more remarkable when they occur. But we might be overlooking the real cause of arm fatigue in Little Leaguers and high schoolers, and that is the use of breaking balls at a young age. If a pitcher has proper mechanics and has trained to carry such a load (particuarly with the development of leg muscles), there's no reason why such a pitch count isn't possible. I think the more pervasive danger to young pitchers is the impetus to throw curve balls and other breaking pitches at a young age, which results in added strain on elbow ligaments. The world of baseball might have the right idea, but the wrong argument. Less isn't more; proper instruction is.
So we should celebrate Nastasi's accomplishment exactly as it is, something few us could ever dream to endeavor. That also doesn't mean it's impossible.
Brendan Hall
ESPN Boston High Schools Editor
For some historical context, I reached out to former Whitinsville Christian pitcher Andrew Green, who grabbed headlines back in 2009 for throwing 225 pitches in 15 innings, in what ultimately was a 1-0 loss to Douglas.
The weight training regimen Green says he was put through as a high schooler involved hardly any upper body work, outside of medicine ball work and pushups. Instead, he went heavy on leg presses and curls, and dynamic squats. The philosophy here was that by generating power from the lower body, head coach Kris Bradley could get more innings out of his thin staff, while minimizing the risk of injury.
Green -- who had earlier in the season threw a handful of 120-pitch, complete game outings -- didn't recall any soreness afterwards.
"It was funny, right after the game, my friend was like 'Come over and sit in my hot tub for as long as you want'," said Green, who is currently an assistant with WC's varsity. "I probably sat in there for two hours. My shoulder was stiff the next day -- not sore, just stiff. My body felt pretty tired. But I never really had any pain, that was the great thing about it.
"I did that on five days rest, and I started my next game five days later. There were a lot of people talking on MassLive [messageboards] about, 'You're going to ruin the kid's arm', but I never had any pain afterwards."
To this day, Bradley said pitch count wasn't as big of a concern with Green.
"I had taught him from his freshman year that his build was perfect for a pitcher, he had a large lower body," said Bradley, who had a short career at the University of Pittsburgh. "We started working with him on his lower body to generate power. A lot of coaches are in love with the tired and true, getting to a balance point [in your delivery]. The real way to pitch is to power yourself with your legs.
"You do that, and as Andrew learned, you can throw from quite a long time. It's not uncommon for guys that pitch for me to throw 80 to 100 pitches in a bullpen session, and that's kind of the way Andrew was as well."
Moreso, since Bradley took over as head coach in 2007, he says none of his pitchers has ever been sidelined with injury for an extended period of time. Defense has actually been the issue with Crusaders squads under Bradley, but that is also a function of lack of facilities -- this is the first year WC has ever had a home field, which in the past meant practicing anywhere from a gymnasium to a parking lot. The Crusaders are off to a 1-5 start, but have already seen pitchers go over the 120 threshold.
"I'm 50 years old, and on a weekly basis I throw anywhere from 500 to 1,000 pitches in a week for batting practice," Bradley said. "And I think the number of times I've had arm soreness in my entire life, I can count on three fingers."
Clearly, there are two distinct schools of thought here. There is the school of thought that errs on the side of caution with pitch count, some stricter than others. Then there's the one shared by the Bobby Cox's and Nolan Ryan's of the world, letting players routinely ring up triple-digits with the mantra of building up arm endurance.
Would Bobby Cox or Nolan Ryan let one of their players ring up 155 pitches in an April game in cold temperatures? Let's face it, probably not.
The first baseball game I covered this season, Pat Ruotolo of Peabody threw 133 pitches in an eventual loss to St. John's Prep. I'm sure there are countless other instances around the state this season where a player exceeded a common threshold this early in the season.
I was also in attendance for the Barnstable game in question here, so let's take into account his mechanics. In Nastasi, I see a little bit of Jordan Cote, the lean 6-foot-5 righty from Winnisquam (N.H.) High who turned down a Coastal Carolina scholarship last summer to sign with the Yankees for $750,000. Like Cote, Nastasi stretches out on the mound, keeps his elbow in, transfers his weight well, and as a result generates high-80's fastball power from his lower body. His mechanics are sharp, but most importantly they are also clean.
And like Green, Nastasi can eat innings on the mound. He didn't show any signs of laboring until the ninth inning, and at that they were minimal.
But let's also consider the human element here. The Old Colony League made the switch this year to nine-inning games and wooden bats only; and with only four teams in the league, every one of these matchups is very important. Nastasi had a good thing going, striking out a career-high 16 batters, and had the winning run at the plate in the top of the ninth. Was Nastasi going to tap himself out? No, and I don't think it mattered whether it was April 24 or June 24. Nastasi earned his scholarship to UConn by being a competitor, not a conservative.
In Green's case, it was one of that last games of the regular season, with the Crusaders still trying to quality for postseason. He was also playing at legendary Soldiers Field in Douglas, where Babe Ruth himself once made an appearance. It was also one of the last starts of his senior season, and he wanted to make it count. Like the majority of high school players, his career didn't continue in college (he briefly tried to walk on at NAIA power Malone University, before returning home and enrolling at Quinsigamond Community College).
I'm sure the high pitch count startled the UConn coaching staff -- or maybe it didn't. Maybe it's the part of his competitive makeup that excites coaches the most.
There are many good reasons Nastasi should have left the game earlier, many of them smartly laid out here, many of them concerning the long-term.
They're probably right.
But in the heat of the moment, you're in the fog of war, and how you'll feel a year from now isn't a priority.
You're trying to win a ball game, and that's all you care about at that moment. And at the end of the day, isn't this what high school sports are all about?
Kirk Fredericks
Head Coach, Lincoln-Sudbury Regional High School
Every situation is different as each kid is different. We have a kid that when he throws over 75 pitches, he can't pitch on five days, he has to go to seven days. As a coach, you need to be educated and you have to know your players. When does your kid change his mechanics? When is he tired and going to hurt himself? It isn't like a cut, where you see blood. You don't see the results of the damage until later.
I don't have an answer for what the magic number is. We look at it as what number is he at and where that puts us for the next time out. If we go one more then where does that put us? I guess the general number is 100. Have I gone over that? Yes, because a kid had an easy 100, or we want one more batter, so they get to 110. But a win isn't important enough to be the person responsible for long-term damage. You never know what damage a kid has from previous history that he is coming in with, so it is always good to side with caution.
What is the highest that one of my pitches has gone? 125 in a state championship, and 133 in a state championship. Is that right? I don't know.
John Botelho
Staff Writer, Brockton Enterprise
No pitcher -- not just a high school kid - should be throwing that many pitches. Simply put, that kind of workload on an arm seriously raises chances of an injury.
It is a good thing that Nastasi not only wanted the ball but also was quick to defend the decision that let him throw more pitches than most pitchers do in a game at any level. It means he's a good teammate and truly cares more about his team winning games than he does his own well-being.
We're not discussing what kind of a teammate he is though, and him hinting that it was decision to stay is where my problem with this type of pitch count starts. A decision like that shouldn't be left in the hands of a player. Teams have coaches for that very reason. If we're going to brush off an extreme pitch count because, well a 17-year-old kid trying to win games with his best friends said he was fine, where do we draw the line? If players dictated playing time, wouldn't every kid believe he should be playing all the time, hitting near the top of the order? So how is letting a kid dictate how many pitches is too many okay?
Think about what would happen to a coach if he let a potentially concussed player return to action without ensuring he was 100 percent. It wouldn't take long for people to call for that hypothetical coaches job. I'm not going to pretend that an arm and a head are anywhere near the same thing, but why is a baseball coach allowed to do something that could cause potential to his player? If any professional - a physical therapist, strength coach, orthopedist, etc. -- could prove there was no harm in throwing that many pitches, wouldn't big leaguers throw more than 100 or so a game, especially since teams are shelling out all sorts of money? MLB teams would love to get more bang for their buck, but instead $15 million investments are babied, and protected as much as possible. Why then, are high school kids who are still developing physically thrown to the wolves then?
For those who would argue that, 'Well, of course MLB teams will baby their pitchers. They pay too much money not to,' I contend that those pitchers well-beings should be no more important than a kid pitching for his high school. If that is your argument though, consider that Nastasi is committed to UConn to pitch next season. Last summer, Huskies pitcher Matt Barnes signed for $1.5M as a first round pick -- something that certainly could've been jeopardized if he needed his arm reconstructed. Furthermore, what is the ultimate pay out for adding this type of risk to a high school kids arm? A few extra wins? Is winning games -- even if they result in a league title banner or better record -- more important than a kids health? Even if these were big tournament games, I wouldn't see this as okay, but right now we're talking about games played in cool and pitcher-unfriendly April weather. Knowing how an arm injury can effect a kids future, this juice just doesn't seem worth the squeeze.
I think you'd have an easier time finding a high school kid act like Nastasi did on Tuesday, willing to lay it all on the line to win the game at hand than you would one who would go to his coach and ask out of the game because his pitch count was mounting. High school athletes are stubborn and hard-headed, naive to the world of baseball injuries that is truly out there. And for anyone who thinks no toll is paid for the mileage piled up on high school arms, a quick look at the arms of college pitching staffs tells a much different story. It's easy to spot the tell-tale labrum fixes with the scars around the shoulder. It's even easier to to spot the train tracks running around the inside of an elbow that has had Tommy John surgery. Those injuries are typically hangover from abuse in high school, when kids regularly throw on short rest with little regard for pitch count. That is not the case at the collegiate level, as starters throw once a week, and aren't asked to go complete games every time out because bigger rosters allows for real bullpens. The injuries still pile up though.
For the sake of argument, I'm going to call Roy Halladay the most durable pitcher in the MLB. Since 2006, he has been an absolute horse, tossing at least 220 innings in each season and throwing as many as 250.2 in a given year. Consider that in that time, he never got anywhere near 155 pitches. He never even reached 140. In fact, only three times in his entire career has he even reached 130 (and never more than 133). Just 16 times in 356 career starts has Halladay thrown at least 120 pitches in a game. The information gets more interesting if you consider that Halladay was 26 the first time he reached 120 pitches in a game. He didn't toss 130 until he was 33-years-old, long after his growth plates had closed, long after his development and physical maturation had ended.
I've been told Coach DeMartino planned to take Nastasi out at the end of the nine innings if it went to extras, but why there? Was it because the pitch total was already far beyond a reasonable amount? Or was 150 or so the magic number? I have to think he puts less importance on pitch counts than I do -- and some coaches do -- because I watched Barnstable pitcher Keegan Dellacona throw about 140 pitches in over eight innings in a loss to Bridgewater-Raynham Thursday afternoon. DeMartino is hardly alone in this practice, and maybe the MIAA needs to step in and establish clean cut rules in regards to pitch count and rest - just as they did with returning from concussions -- to ensure that athletes' safety is made priority number one.
Perhaps that means knocking the Div. 1 state tourney games from nine innings to seven or having teams carry bigger rosters, but one thing is for sure: No pitcher should be throwing 155 pitches, or even approaching that mark, in a high school baseball game.
Ryan Lanigan
Founder, HockomockSports.com
Willie Nastasi had an incredible performance in the win over Taunton with a complete game and 16 strikeouts, but did he stay in too long? For me, I see nothing wrong with the decision to let him finish the game. Nastasi said it was his own decision to stay in but in the end, the coach has the final say no matter. I believe both made the right decision to let him finish the game. The UConn commit is an experienced pitcher and knows his own limits. Yes, some will say that his youth and getting wrapped up in the moment could influence his decision, but in the end, he knows his body. Someone with a bright future wouldn't jeopardize it by risking their health and Natasi was confident in his decision to throw the amount of pitches he did.
Ryan Kilian
Founder, New England Prep Stars
It is a tough call because I can see both arguments on the issue but I have to think that with proper training and advanced understanding of the individual pitcher it can be done. I think it really begins and ends with the individual pitcher. I come from the Nolan Ryan and Mike Maddux camp where I believe that pitchers to need to re-trained and not be coddled as much. However, I think mechanics and future in the game are two important factors to look as well. There are definitely some deliveries and styles that are more taxing on the body and arm in particular and without proper diagnosis and training you should lean on the side of caution. I would also look at all the advantages that hitters have, such as aluminum bats and the high strike not being called as much as factors in favor of the hitter and advanced pitch counts.
Some pitchers will never be 130 pitch a game pitchers just like some pitchers will never throw 95 mph or average 1.9 walks per game. It depends on the pitcher.
Ben Larsen
Online Producer, MassLive.com
There are a number of variables at play here. Was he equally effective in the later innings? Was the high pitch count due to strikeouts via deep counts? The question I'm wondering though is why it was his decision to stay in the game? It should be up to the coach. With all that said, I think 155 is too much. You rarely see pitchers at the highest level, with the benefit of a complete spring training regimen, reach that mark. In my opinion, if he needed 155 to get through, he wasn't efficient enough. That is a lot of pitches and this early in the season, surely, it wasn't a 'must-win'. This is a game that could have been left in the hands of the bullpen.
April, 3, 2012
4/03/12
11:29
PM ET
By
Brendan Hall
| ESPNBoston.com
DANVERS, Mass. -- There have been more interesting ways to open the high school baseball season. But not too many.

This afternoon's contest between host St. John's Prep and rival Peabody started out as a grind-it-out pitcher's duel, but things got untracked in the ninth inning. Peabody went up 4-1 to start then top of the inning, before the Eagles came back in the next stanza to tie it, thanks to several errors in the field, and eventually win in walk-off fashion in the 10th on a walk, taking the contest 5-4 in the season-opener for both squads.

"Yeah, kind of a crazy game," Prep head coach Pat Yanchus said. "I thought the pitching was good for the most part."

Peabody head coach Mark Bettencourt was a little more blunt -- "It was a bizarre game," he said.

"You know what it was?" he continued. "Strange things happen in the first game of the year. We're not going to say we didn't play well, because I thought we did play well. I thought when things got tight, we had a little bit of trouble. But so did they."

The Tanners took a 4-1 lead in the top of ninth, loading the bases up without a hit. Cleanup hitter George Tsnosis worked a walk from righthander Mike Driscoll to make it 2-1, followed by a fielding error and a beaning of Stephen Girolamo to make it a three-run lead.

But the trouble for Peabody started in the bottom half of the inning, with two outs. Prep's Brandon Bingel swung at a low third strike, which was misplayed by the catcher and allowed him to reach first on the passed ball. Next up was pinch-hitter David Bornstein, who reached first base safely thanks to an off-the-mark throw from the shortstop.

A single from freshman Keith Leavitt plated Bingel, and a passed ball in the next at bat allowed Bornstein to come home. Tyler Noe then reached first on another error from the shortstop, plating Leavitt and tying the game at 4.

In the bottom of the 10th, junior Nick Bragole worked to a 3-0 count, then fell back to 3-2, before finally drawing a ball low in the zone to plate Anthony Capuano for the winning run.

Starters go to work: Peabody's workhorse junior righty Pat Ruotolo got the no-decision, after striking out 10 in nine innings on 133 pitches, after some unfortunate errors in his final frame. But for most of the afternoon, he and Prep senior righty Rob DiFranco stole the show, battling

Ruotolo's fastball sat in the 83 to 85 range for most of the afternoon. But as the game went on, his 12-to-6 curve had a more defined drop to it, especially in the latter innings. Six of his 10 strikeouts came after the fifth inning; a big part of that was the curve, as well as the high heat he was able to dabble in there.

"When you're facing Patrick, you're going to show us you can hit his fastball before we start doing anything," Bettencourt said. "So we usually try to hold his breaking ball through the first round of the order if we can. I thought he did very well with that today. He established his fastball early, wasn't getting a ton of punch-outs, but a lot of times they were guessing. You saw a lot of pop-ups, fly-outs, to keep them off-balance.

"That's a good-hitting team. Towards the end, he started getting that adrenaline, and that's when that breaking ball starts coming into play."

In the top halves of the innings, DiFranco battled with the Tanner hitters, getting behind in the count but usually not out, striking out six while allowing just three hits and a walk.

"He wasn't getting the first strike over, but he was making them swing and miss," Yanchus said. "When he's down low, his ball sinks a lot, and they were swinging over the ball a lot."