Boston High School:

Paul Ingram
August, 23, 2011
8/23/11
11:00
PM ET
GLOUCESTER, Mass. -- How things can change in just one year.
Last year, the Gloucester Fishermen coasted to another undefeated season (13-0) while taking their third Eastern Mass. Super Bowl title in the last four seasons.
Yet, when the No. 24 Fishermen open the 2011 season with a trip to the Manning Bowl against Lynn English on Sept. 9, they will bear little resemblance to the team that walked off the Gillette Stadium field victorious last December. Legendary head coach Paul Ingram retired in January and his subsequent announcement in February that he had esophageal cancer sent shockwaves through the seaside community. Gloucester also graduated 19 seniors from the 2010 squad; a group that blazed a path with three titles and a combined 50-2 record in their collective high school careers.
As much as things change, however, they often stay the same.
[+] Enlarge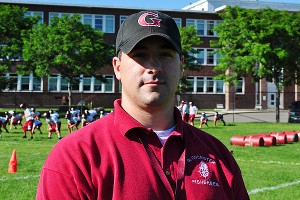 Scott Barboza/ESPN.comFirst-year Gloucester coach Tony Zerilli, a '98 Gloucester graduate, coached and played under former Fisherman coach Paul Ingram.
Ingram is recovering from cancer treatment and trying to regain his appetite. He aims to return to his teaching post at the high school this fall. And, although Ingram is no longer at the helm, the new skipper at the Fishermen's wheel came from within. Tony Zerilli, a 1998 graduate who played under Terry Silva as a tight end and defensive end, earned the promotion from defensive coordinator to head coach.
"When you play for somebody and then you come and coach under them, naturally, you're going to take a lot from them," Zerilli said of Ingram's influence on his coaching style. "We're both very organized, very structured people … Mostly, it's how to treat people with respect. He ran a tight ship and that's what I'm trying to do."
Zerilli played for Ingram while at Gloucester, when Ingram was offensive coordinator under Silva. That master-pupil relationship has evolved over the years and Ingram has seen firsthand the work Zerilli's put into preparing his teams.
"He's very analytical," Ingram said of Zerilli, who's full-time job is at an engineering and consulting firm in Peabody. "The way he'd go about breaking down offenses and, more importantly, he's a good teacher, those are his strengths. He presents the material to the kids so that they would buy into it and really get it. He doesn't take shortcuts."
Zerilli's not about to make any brash departures from the Gloucester way. The Fishermen will still come flying out of the Wing T. While the players running those formations may change, the methodology behind Gloucester's recent success isn't about to go away -- even as hard as it may be to replace a duo like last year's 1-2 combo of Jordan Shairs and Gilbert Brown.
"That senior class last year, every one of them was a leader," said Zerilli, 31. "Were they a special group? Absolutely, how often do you have a group like that? Most of them went to college and about half of them are playing football in college and that's special. But you'll see in this group that there are leaders as well. We move on, every year and we plug in players. We try to find the best fit at every position.
"We have kids that can play but haven't really had a chance to play because of those seniors ahead of them last year. They're getting that chance now and they've been working hard all summer."
It's now time for a new generation of Fishermen to head the call.
"It's a tradition that gets handed down," senior captain Chris Burke said.
That's a tradition that's forged in bumps and bruises, taking the lumps from last year's seniors on the practice field. Those black and blue marks, after all, are the hallmark of Gloucester football.
"Playing with those guys last year, it made us better,"senior captain Kyle Lucido said. "We'd be going at it full speed in practice with those guys hitting us and that made us tougher, especially now that we're stepping into their shoes."
GLOUCESTER AT A GLANCE
Head Coach:
Tony Zerilli (1st season)
Last Year:
13-0 (Div. 1A Eastern Mass Super Bowl Champions)
Key Returnees:
Chris Burke, Sr. TE/LB, 6-2, 205 lbs; Kyle Lucido, Sr. RB/LB, 5-9, 180; Matt Taormina, Sr. DE/T, 6-1, 175; Joe Harmon, Sr. RB/LB, 5-7, 145; Danny Gonzales, Sr. T/DE, 6-0, 190.
Strengths:
Athleticism, quickness, toughness.
Weaknesses:
Game experience.
Outlook:
While the Fishermen's talented senior nucleus was finishing up their run, that didn't leave much playing time for younger player -- save for mop-up duty at the end of games. So the team that Zerilli inherits is pretty green in terms of game experience. Only Burke and Taormina were regular starters with a few others (Gonzales, Harmon) seeing occasion snaps. Early season snaps will be particularly important for this developing group, which boats a deep and athletic junior class that Zerilli is excited about. "We have a lot of kids who haven't played a full varsity game, let alone 11," Zerilli said. "And we're hoping to play more than 11 games." Shairs and Brown leave a glaring hole in the backfield, but Gloucester should have the athletes between Lucido, Harmon and junior Santi Parisi to run the ball with ease, thanks to an athletic offensive line that's led by Burke -- an All-State selection who's poised for a breakout season on both sides of the ball. Juniors Liam McCarthy and Lenny Taormina will battle for the starting quarterback position in preseason scrimmages. "We're small, but we're very athletic," Burke said of the team on both sides of the ball. "Our team fits our system well." To which Matt Taormina added, "I'd say gritty would be a good way to describe it." "If we work as hard as those teams worked in the past, we'll be fine."
January, 12, 2011
1/12/11
3:40
PM ET
Simply put, the time was right for
Paul Ingram
.
After 38 years of coaching and eight seasons at the helm of
Gloucester High
football, Ingram has decided to retire.
He gathered his players at the high school Tuesday afternoon to tell them the news. It wasn't a hasty decision. Ingram had hinted to his staff three years ago that he might retire after the 2010 season, but he wanted to stick around to see things through with the talented group of players he had.
"Just the act of keeping 17 seniors together is hard," said Ingram in a telephone interview Wednesday, "making that commitment to each other isn't that easy in this day and age. I felt obligated to stay with them and not have anything change for them."
Ingram is a biology teacher at Gloucester as well and his retirement is up for review at the end of the academic year.
On the gridiron, Ingram boasts an 84-10 career record with the Fishermen, including back-to-back perfect Super Bowl seasons. He steps down after leading Gloucester to 26 straight wins – including two straight victories over Bridgewater-Raynham in the Division 1A Super Bowl in 2009 and '10. That streak is longest current winning streak in Eastern Massachusetts.
Ingram also led Gloucester to an Eastern Mass Division 2A championship in 2007 and made a repeat appearance at the Gillette Stadium Super Bowl in 2008.
"It was a real surprise [in 2009] when we won because we didn't really know what we had," Ingram said. "But it was really impressive how the kids handled themselves this season. They were really playing with a target on their backs and they were mature enough to handle those expectations."
Ingram stuck around to see it through with his tight-knit group and they shared a mutual admiration and respect for their coach. During their most recent match-up with B-R at Gillette, many of the Fishermen wore t-shirts under their game jerseys that read "Win One For Paul," a hint that Ingram might have been coaching his last game.
"Coach Ingram has taught me everything I know about the game," senior captain
Gilbert Brown
told ESPN Boston after the Fishermen claimed their third title in four years. "All of the coaches have been like fathers to me, but Ingram, especially."
Ingram, who played football at Springfield College, said the hardest part of retirement is being away from what you love, but he wanted to make a decision sooner rather than later so that the program can begin the search for its new head coach.
"It comes down to the fact that I'm just not sure I can keep going the way I want to keep going. I wanted to make a decision that's fair to the players."
However, Ingram also didn't rule out the possibility of returning to the game — eventually.
"It'll be different. It's funny because we all look forward to retirement, but then, when you get there, it's scary. You go to work every day because you want to feel productive and I still feel that way.
"I'm not going to say I won't coach again, but it was definitely time to step back. We'll see what happens after that."
Ingram paused and laughed.
"I'm a not a spring chicken, but I'm not elderly either."
GLOUCESTER REACTS
On the occasion of Ingram announcing his retirement, Gloucester assistant and strength and conditioning coordinator Mike Lattof contributed a few of his thoughts:
"Coach Ingram has been a mentor to me and the rest of the staff. He's probably one of the greatest Wing-T minds out there, from a coaching perspective. He's relentless worker and someone who is so passionate about the players, the staff, the program and the school. I was fortunate to spend the last 16 years with him. Paul's a great coach and his love for the game is second to none, It's been a great privilege to have been coached by him and then to be giving the opportunity to coach with him. He is a man of high integrity, that's what stands out about him to me.
"He leaves the program that is well-established and will keep going. Most importantly, however, is the legacy that he will leave behind. He's always been there for players whenever they needed him. It doesn't matter if you're an all-state player or a scout team player. He wanted you to succeed in football and in life. I think the kids know that he cares a lot about football, but he cares more about them. He did not want his players to accept losing and he always had great preparation to win. He taught his teams to strive to win because that's what life is.
"There were a lot of great kids and a lot of great players that came through Gloucester and I think he has a lot great memories to look back on. I think his biggest legacy is that he had a positive impact on the players that came through the program not just football-wise but in life. I know that what Paul taught about Gloucester Fishermen football will help them the rest of their lives.
"His record of success as our head football coach speaks for itself. Most important is the positive impact he has had on the hundreds of student athletes he has mentored and coached over the years. Their lives have been forever changed through their association with Coach Ingram."
December, 5, 2010
12/05/10
12:05
AM ET
By
Corey J. Allen
| ESPNBoston.com
FOXBOROUGH, Mass. -- To become a champion is a height not attained by many, and there can only be one champion at a time. "E pluribus unum." For the past two years, almost three, Gloucester has been that one team out of the many.

"You don't win 26 games in a row, in the league they're in, and the playoffs for nothing," said Bridgewater-Raynham coach Dan Buron of the team's consecutive streak of victories. "That's a great team. They've got a great program. One of the best around."

Gloucester graduated a number of impact seniors last year, so according to the players, there was talk around Eastern Massachusetts that they could not accomplish what last year's team did.

"A lot of people didn't think it would've gotten done," said senior Joseph Avila. "'Can't repeat, it's too hard, you lose too many seniors'… but we had the right players to fill in and get the job done. It's a real accomplishment. We're a football town."

While this may be the last game some of the seniors will be playing together, it is not without history that these gentleman part athletic ways.

"I've been playing with half of my team since I was ten years old," said senior captain Andrew Mizzoni. "It's going to be sad leaving them, they're like my brothers."

They even have adopted the same attitudes, resulting in a homogenous approach to football and the game of life in Gloucester.

"We're an aggressive town," Mizzoni said. "Aggressive kids, and what we love is defense."

The leader of this group is coach Paul Ingram, who has been the head coach at Gloucester for the past eight years, developing something deeper than a collection of young men that share the Fishermen mentality.

"Coach Ingram is the father of the brotherhood," said Adam Philpott, of Coach Ingram. After the game, there were t-shirts with "Win One for Paul" emblazoned upon them, hinting that the players owed this win to Ingram as this may have been his last game at the helm of the Fishermen, although he told ESPN Boston that he would be considering his options over the next few days.

"That's what he preaches, the brotherhood. I know he doesn't like the attention, but he deserves a lot more than he gets. The success we have is a testament to his hard work. He puts in a ton of hours after school to get us ready, and that time has paid off for him."

"It's a couple of our coaches' last year as well," said Jordan Shairs, after saying that it was the best thing to do for his teammates to score in the Division 2 Super Bowl and possibly referring to Ingram and longtime assistant coach Tom Walsh, who may bow out along with Ingram. "Coach Ingram is the leader of the pack… like the dad. The rest of the coaches are like our uncles."

While some players sat on the bench, others were keeping their composure for video cameras, but senior captain Michael Tomaino was making sure that the cheerleaders felt appreciated.

"Sometimes they don't get all of the thank yous that they should," said Tomaino. "They're always around; they're at every game so they deserve the credit."

After giving praise to the cheerleaders, Tomaino lauded his "brothers".

"I couldn't ask for a better group of guys to do this with, added Tomaino. "We play on various sports teams together, basketball, baseball, everything."

Senior running back, Gilbert Brown, was not donning his usual number 16 today, for what some would consider a freshman move.

"I always put my jersey in my helmet, under my shoulder pads," said Brown, also a captain, smiling. "I guess it fell out when I was walking out, because they found it on the stairs at the school.

"Coach Ingram has taught me everything I know about the game," added Brown. "All of the coaches have been like fathers to me, but Ingram especially."
December, 4, 2010
12/04/10
11:47
PM ET
By
Neil Carroll
| ESPNBoston.com
FOXBOROUGH, Mass. -- In a repeat of last year's Division 1 Super Bowl, the returning champions Gloucester Fishermen won-out again, taking down the Bridgewater-Raynham Trojans 34-13, at Gillette Satdium on Super Bowl Saturday.

Gloucester took a 21-6 lead into halftime and didn't let up, on its way to the Fishermen's second-straight Super Bowl, and third Super Bowl in four years.

"You don't win 26 games in a row -- in the league they're in, and the playoffs -- for nothing." Bridgewater-Raynham coach Dan Buron said of Gloucester. "That's a great team."

In what was likely Gloucester coach Paul Ingram's last game with the Fishermen, the Fishermen had a balanced offensive attack that kept the Trojans puzzled.

"We just want to go out on a good note, he's the best coach I've ever had, personally -- I think he's the best coach in the state hands down," co-captain Jordan Shairs said.

Like most of Gloucester's opponents did this year, Bridgewater-Raynham paid close attention to the running backs Shairs and Gilbert Brown.

However coach Ingram countered that strategy by sucking in the defense with his tight-winged formations and play-action passes. Quarterback Joseph Avila had a solid game under center, completing 6 of 8 passes for 87 yards with two touchdowns and one interception.

One of Avila's passes was a 19-yard touchdown to running back Brandon Cusumano on a pass down the seam. Cusumano, who returned to Gloucester's lineup Tuesday after missing time with a broken collarbone, had six rushes for 63 yards and one touchdown to along with two catches for 36 yards.

The senior running back also forced a key fumble on a sack in the second quarter. After Gloucester recovered the fumble, they punched in a score on a 5-yard Gilbert Brown touchdown run, making it 21-6 before the half.

"Brandon just makes big plays, whether its on the offensive side or the defensive side," Ingram said of Cusumano.

"People can step in for him, but he just brings a whole other feeling to the game," Avila said of the running back. "His field presence is ridiculous."

Trojans' quarterback Billy Zolga led the Bridgewater-Raynham offense. He was 8 of 20 for 74 yards with one touchdown, and also carried the ball four times for 40 yards with a score.

But that was the most productive player for Bridgewater-Raynham on the night. While Gloucester's offense impressed, its defense did not slack either.

"They hit hard, they play hard, and the secondary played very well tonight along with the defensive line too," Ingram said.

"Its really special, its like amazing..." Gloucester's Chris Unis said about the back-to-back Super Bowls. "We're all a bunch of guys that just want to work hard, we don't care who gets the glory, we just come out and play hard for each other."

Bridgewater-Raynham couldn't play from behind, and did not have the offensive firepower to compete with Gloucester.

The Fishremen used their eperience to secure another Division 1 Championship.

"I know I've only lived for 18 years but it's probably one of the best feelings I've ever had," Avila said about the night.

G 7 14 6 7 G 34
B-R 6 0 7 0 B-R 13

First
G - Cusumano 30 pass from Avila (Santo Parisi kick)
B-R - Mike Chicoine 22 pass from Zolga (run failed)

Second
G - Shairs 3 run (Parisi kick)
G - Brown 5 run (Parisi kick)

Third
G - Cusumano 5 run (kick failed)
B-R - Chris Cream 3 run (Joseph Harmon kick)

Fourth
G - Michael Tomaino 19 pass from Avila (Parisi kick)
December, 1, 2010
12/01/10
12:37
AM ET
By
Neil Carroll
| ESPNBoston.com
SUDBURY, Mass. -- What one Gloucester running back started, the other finished off. That was the way it went for the Fishermen, as they eased to a 21-0 win over Lincoln-Sudbury in the Division 1A Semi-final on Tuesday night.

Gloucester came out firing in the first half with wing back Gilbert Brown (19 carries, 122 yards, 1TD), and turned in the second to fullback Jordan Shairs (19 carries, 142 yards, touchdown). Both backs worked the Lincoln-Sudbury defensive line for gaps, and accelerated to the second level after they made it through.

"That was the strategy," Shairs said about sharing the workload. "He was running the ball well and the defense would try to stop him, so then I would get the ball…that's the best part of our offense."

To start the game, Brown worked at wingback and ran a lot of jet-sweeps to stretch the defense across the field, while Shairs ran the traps in the middle. In the second half the roles changed -- as Shairs took more belly-handoffs -- but success remained a constant.

The duo worked as well as they have all season, but was thankful of the effort of their offensive line.

The Gloucester offensive line, led by senior co-captain Andrew Mizzoni, neutralized a powerful Lincoln-Sudbury front-seven. With the help of tight ends Chris Unis and Michael Tomaino, the group kept defensive lineman Zach Smerlas in check.

"The line was the biggest thing for us today," Brown said. "I think they deserve the credit because they work their butts off all year in practice and in games, and don't get noticed."

"You have to give the offensive line a lot of credit," Gloucester coach Paul Ingram said about the success on the ground. "They're a tough group of kids."

Lincoln-Sudbury head coach Tom Lopez decided to ditch his Wing-T background and go with a more spread-oriented offense for most of the game. The Warriors had little success running the ball against the Gloucester defense, but did find pockets of hope airing the ball out.

Early in the second quarter L-S showed signs of life on a 13-play drive that started from its own 26-yard line but stalled at the Gloucester 5, after a fourth-down pass fell incomplete.

Warriors' quarterback Matt Cahill completed 11 of 25 passes for 82 yards with an interception in the game. He and wide receiver Jack Harris showed their usual chemistry and narrowly missed hooking up on a 23-yard touchdown pass that would have cut the score to 13-6 in the second. Cahill lofted a perfect fade to Harris, but the Gloucester defense caught up to Harris just as the ball hit his hands and knocked it loose.

Surprisingly, Gloucester looked as fresh in this game, as they did in the season opener. The team had a familiar spark in its step provided from the return of running back Brandon Cusumano. Cusumano had a few rushes sprinkled throughout the game, but hauled in a 25-yard touchdown pass from quarterback Joseph Avila to begin the fourth quarter. The wingback missed most of the year due to injury, but is back in the lineup and looks healthy again.

With the win, Glloucester advances to the Division 1A Super Bowl at Gillette Stadium, where last year they defeated Bridgewater-Raynham, 33-13.

"The team is fired up," Shairs said about reaching Gillette Stadium again. "That's like our home field…We're not just showing up to for the playoffs, we're going in and we're going in to win."

G 7 6 0 8 -- 21
L 0 0 0 0 -- 0

First quarter
G - Brown 5 run (Santo Parisi kick)

Second quarter
G - Shairs 1 run (kick failed)

Fourth quarter
G - Cusumano 25 pass from Avila (Parisi kick)
November, 12, 2010
11/12/10
4:35
PM ET
Gloucester High School's Paul Ingram was named New England Patriots High School Coach of the Week in recognition of his team's 9-0 start, including Gloucester's 22nd straight win, a 42-18 win over Revere last week.

The New England Patriots Charitable Foundation will donate $1,000 to Gloucester's football program in Ingram's name in recognition of his Coach of the Week selection.

Ingram and senior captains Gilbert Brown, Andrew Mizzoni, Mike Tomaino and Chris Unis were guests at Gillette Stadium on Wednesday to receive the award.
September, 16, 2010
9/16/10
10:48
PM ET
By
Joe Vieira
| ESPNBoston.com
ANDOVER, Mass. -– Andover began its nonleague contest with No. 6 Gloucester last night with a 95-yard kickoff return for Pat Farnham, and ended it with an 8-yard touchdown pass from Tom Dempsey to Ben McQuaide at the final gun.

Unfortunately for the Golden Warriors, those bookends didn't paint an accurate picture of what happened in the time between, as Gloucester rolled to a 38-13 win at Lovely Stadium.

The Fishermen (2-0) responded immediately to the challenge by Andover (1-1), as Jordan Shairs scored on touchdown runs of 8 and 77 yards on Gloucester's first two possessions. In the meantime, the defense (three interceptions) forced three-and-outs on Andover's first two possessions, and then held on fourth down at its own 18.

"When a team does that to you right off the bat, you have to say you know what guys, we're in for a game, get excited and step up," said Gloucester defensive end Chris Unis, who had a sack and overall was a frequent guest in Dempsey's pocket.

"That's what I think our team did a great job of tonight. We responded, took it to them and jumped on them."

Brandon Cusumano scored on a 10-yard reverse early in the second, and Unis caught a two-point pass from Joseph Avila to push the lead to 24-7. Gloucester was forced to go for two-point conversions due to a pre-game injury to its kicker.

After an interception by Gilbert Brown (nine carries for 74 yards) set up Gloucester at the Andover 9-yard line, Shairs carried twice before giving the Fishermen a 30-7 lead at the break on his third and final touchdown.

"They have confidence in themselves, and they were upset that (the kickoff return) happened," Gloucester coach Paul Ingram said of his squad. "I think that may have even fired us up.

"They just sucked it up and we had a pretty good game plan defensively, and offensively kids blocked and ran hard, and (Avila) just really had a good game. He made some real big passes and converted some third-down passes that were big."

Any hope of a comeback for Andover faded quickly in the second half. On fourth-and-5 from the Gloucester 10, Shairs came up with an interception in the endzone. After Andover's defense held on fourth-and-10 from its 31, the Golden Warriors marched back down field, but Dempsey was picked off by Adam Philpott at the Gloucester 36.

""We were inside the (Gloucester) 10 (yard line) three times and got nothing," said Andover coach E.J. Perry. "You can't do that.

"Against a team like this you know they're going to put up points. You can't get to the 10 (and not score) and keep putting the defense out there and expect it to stop them. That killed us."

Avila (8-of-13 for 158 yards) hit Cusumano for a 50-yard touchdown to close out the Gloucester scoring midway through the fourth. Avila also had three two-point conversions (two rush, one pass) on the night.
September, 11, 2010
9/11/10
12:56
AM ET
By
Neil Carroll
| ESPNBoston.com
GLOUCESTER, Mass. -- Running back Gilbert Brown, a sturdy offensive line and a speedy defense led the way for Gloucester High School as they beat down on Swampscott High, 41-14, Friday night.

Brown, Gloucester's co-captain, started the new season with a bang, taking his first carry 51 yards for the Fishermen's first score of the game. He carried the offense for most of the first half and finished the game with 160 yards on 14 carries and three touchdowns.

"The offensive line was superb today," said Brown about his night. "The blocking was unreal, the holes were wide open for me and the other backs. It was like you were running by yourself in the open field."

With only one offensive lineman returning from Gloucester's Super Bowl team last year, the offensive line wasn't an experienced group coming into the game. However, by game's end, they'd showed all the signs of a smart veteran group.

Senior tackle Andrew Mizzoni stood out on a number of counters and reverses where he pulled across the Wing-T set to pick up Swampscott defenders.

Gloucester's defense suffocated Swampscott's rotation of quarterbacks. Neither Swampscott's Michael Walsh nor Jermaine Kelly could earn much against the Fishermen's defensive line.

Mizzoni plays opposite co-captain Chris Unis at defensive end -- creating a frightening combination for opposing offenses. Unis had two sacks to go along with multiple tackles in the backfield for Gloucester.

"Unis is just scary coming off the line," said Brown. "At 6-2 and 225, you just don't want to hit him. It's good because he has Andrew Mizzoni on the other side to get the pass rush down so it works well."

Gloucester controlled the ball on offense throughout the night, leaving Swampscott looking for answers.

"We have a learning curve at quarterback, we have a learning curve on defense with a new system and some new players," Swampscott head coach Steve Dembowski said. "We can't duplicate the speed and the way they execute their offense."

Evidently the quarterback battle has not been settled for the Big Blue. Dembowski rotated Walsh and Kelly every series allowing neither to gather up consistency behind center.

Swampscott scored first with a field goal in the first quarter, but then was held quiet on offense until the fourth quarter.

Midway through the second quarter, Swampscott senior Oliver Narcisse returned a 75-yard kick for a touchdown, giving the Big Blue a momentary buzz on the sidelines.

However, the Fishermen then put together a four-minute, 75-yard drive to stretch the lead to 28-10.

"We knew coming in that this was probably the best team on our schedule … I think they proved tonight that they are a legitimate top 5 team in the state," Dembowski said. "I'd like to see them play anybody, and I'd buy a ticket to go to the game."

The Fishermen showed how tough its defense can be at home, and Unis called it a "statement game."

"Let's keep on rolling, that is the way they feel, that is the way I feel, and I give them credit," Gloucester head coach Paul Ingram said. "They don't miss a beat, and they love playing football and I think you can see that."
September, 9, 2010
9/09/10
12:46
AM ET
Gloucester football head coach Paul Ingram describes preseason practices as such: "It's a drudgery."

Soon enough the Fisherman will embark on their quest to defend their Division IA Super Bowl title.

Is there a chance for a letdown? Not likely.

Are they looking past preparation toward the season ahead? Not so much.

But expectations are high and Ingram's team has emerged from the summer doldrums focused on the tasks at hand.

In a moment of candor, Ingram remarked to a question related to his defense, "Maybe we can do a little better than we did last year."

That's a tall agenda to set for a team coming off a 13-0 season. But Ingram's answer was an honest response.

He believes in his group — not in a cocky or haughty way — but because he believes in his players. After all, there's no such thing as perfection. Things can always be better. That can only be accomplished by a group that is not only talented, but innately driven.

"They have the skills," Ingram said. "We can teach them blocking and all of those things, but they're the ones who just seem to have the vision to play, the toughness. They work incredibly hard as a group."

Lately, there just seems to be an endless pipeline of football players who call Gloucester home.

No Conor Ressel? There's Gilbert Brown to step into the backfield. The senior running back and linebacker runs a 4.6 40; he's also gotten bigger and stronger entering his final season.

Gus Margiotta was the backbone of the Gloucester offensive and defensive lines in 2009. This year, Anthony Latassa will take over the center position and Bryan Ingersoll fills the hole at nose tackle.

One of the Fishermen's best players, tight end and defensive end Chris Unis, didn't even play last year due to an arm injury. But the 6-foot-2, 225-pound senior captain is healthy now and creates a formidable pair of defensive bookends with the athletic 6-foot-4 Andrew Mizzoni.

Maybe there's something in the water.

Whatever it is, the Fishermen come to compete every year.

"What happens from year to year is that the kids see opening for the upcoming year and know they're going to get a chance to play or get a good shot at it," Ingram said. "Every year, we have kids that come into camp and play better than we'd have projected they would."

Even though his group is focused, Ingram admits it's easy for them to get caught up in the monotony of two-a-days and summer practices. So they're itching to get back to meaningful play.

As the hours click away to opening day, Gloucester looks ready to go.

"It's tough keeping kids focused through it all," Ingram said, "but I think we're further along than we've been coming back as we have in a long time."

GLOUCESTER AT A GLANCE
2009: 13-0 (5-0 NEC Large)
Coach: Paul Ingram (eighth year, 71-10)
Players to watch: Chris Unis, Sr., TE/DE, 6-2, 225 lbs.; Andrew Mizzoni, Sr., OT/DE, 6-4, 220 lbs.; Gilbert Brown, RB/LB, 5-11, 185 lbs.; Mike Tomaino, Sr., TE/S, 6-2, 180 lbs.; Anthony Latassa, Sr., C/DL, 6-0, 210 lbs.; Bryan Ingersoll, Sr., NT, 6-2, 250 lbs.
Strengths: Knowledge of offensive and defensive schemes, team unity.
Weaknesses: Experience at quarterback and cornerback.
Outlook: There wasn't much that could be improved upon from last year's Super Bowl squad, but the Fishermen will be without a couple of key contributors who have moved on. Brown will take a majority of the carries that Ressel saw last year. Also gone is quarterback Brett Cahill. It will fall to senior Joe Avila to take the reins of the Gloucester Wing-T. "I'd say that he's won the job so far," Ingram said. "He has a good arm and he's really quick. He's also done a good job of managing the team in practice and managing the game." Although it will have a slightly different look, the offensive line will have Zach Bettencourt Chris Burke, and Marc Sutera stepping in beside Latassa and Mizzoni. The Fishermen return many of key contributors to last year's defense. And Ingram likes what he's seen thus far. "It's like we never missed a beat from last year. It's been a lot of fun for the coaches. This has certainly been fun for us because we can install some more advanced looks early because they already know the system."