Boston High School:

Percio Gomez
February, 1, 2013
Feb 1
12:21
AM ET
By
Chris Bradley
| ESPNBoston.com
HYDE PARK, Mass. –- Call it the biggest comeback of the season.
Sixth-ranked Brighton (10-3) was down by 19 going into the fourth quarter of their showdown with favored New Mission on Thursday night, but behind near-perfect offensive execution in the fourth quarter, the Bengals were able to pull out a 57-52 victory.
Mission (10-3) came out of the gates on a tear, with a 16-2 run to start the game and building up what seemed to be an insurmountable 36-22 halftime lead. Behind 12 points from Percio Gomez and 11 from Juwan Gooding over the first two quarters, the Titans' young guards combined to outscore Brighton by halftime.
Staring down an even larger deficit going into the fourth quarter, Brighton never backed down, even being down by 19 points and getting severely outrebounded over the course of the entire game.
"We just kept pressing on the guys that we just have to keep pressing, keep working, and just keep chipping away," Brighton coach Hugh Coleman said. "I told them at halftime, 'One possession at a time', and we switched up the lineup a little bit, put in a couple different guys who gave us some energy, and it was one possession at a time."
Mojica comes up big:
Junior guard Mark Mojica certainly wasn't expected to be the guy down the stretch for Brighton. Mojica was 0-for-6 on from behind the three-point arc through the first 30 minutes of the game, but knocked down two huge threes in the final two minutes, including two critical steals that helped seal what is perhaps the most impressive come-from-behind win in MIAA hoops this year.
Late in the first half, after Mojica had missed three pointers on two of the previous four Brighton possessions, he hesitated and passed up on a wide open three from the top of the arc. The ball tipped off a Brighton rebounder and went out of bounds, and Coleman berated Mojica while he got back on defense for not taking the shot, especially from a spot on the floor where he likes to shoot the most.
[+] Enlarge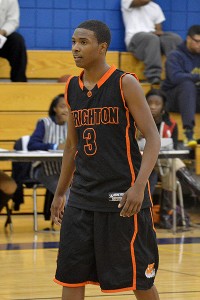 Brendan Hall for ESPNBrighton's Mark Mojica was miserable from the field through the first 30 minutes, but nailed two 3-pointers in the final two minutes to complete the Bengals' wild comeback.
"Mark struggled shooting the ball, he got down on himself. At the end of the first half he hesitated because I guess he had missed a couple in a row. So I took him out of the game, because he didn't shoot the ball," Coleman said.
"I told him, 'I've got confidence in you to shoot the ball, and you need to have confidence in you shooting the ball. I don't take you out when you miss two in a row, but I'm going to take you out when you don't take the next one. You have to think as a shooter I'm going to hit the next two or three'."
Beating the press:
New Mission's 1-2-2 zone press was completely overwhelming for Brighton in the first half. Playing far out of character, Malik James turned the ball over four times in the first half—mainly due to the amount of pressure and swarming that was coming from New Mission's defenders. Even when Brighton didn't turn the ball over, though, they often took quick shots and rarely worked the ball around to get the best shot. It was a problem that Coleman said he addressed with his team at halftime.
"I told Malik to slow down," Coleman said. "Early in with the press they were running at him and making him speed up, and he was turning it over. I told him to slow down, let them come, and then find the open guys. In the second half, they adjusted, they stopped approaching and they laid back. So at that point, we had to try to pick them apart."
Pick them apart they certainly did, Brighton finished with four different scorers in double figures, Mojica, Nick Simpson, James, and Daivon Edwards. Senior forward Nickerson Succes also came up big for the Bengals, coming off the bench with Mojica, Succes scored six points and at times anchored Brighton defensively and on the glass.
"Nick Simpson, Daivon Edwards, and Malik are our nucleus. We rely on them to show up and give what they're supposed to give us, but then guys like Nick Succes and with Mark Mojica, we know what he's capable of," Coleman said.
"Tonight was a great example of those two guys stepping up when we needed it the most. We just want to build up our role players so that they can step up in situations like this."
Foreshadowing of Round 3?
New Mission outrebounded Brighton 34-21, but their defensive lapses down the stretch ultimately cost them the game. New Mission head coach Cory McCarthy was adamant to his team after the game about learning from the loss and moving on. After all, New Mission could potentially see Brighton again, either at the Boston City League championships or in the Division 2 North tournament -- or both.
"I'm not ashamed of my kids at all," McCarthy said. "I told my kids that if they're going to go home and read social media, then yeah, feel that [pain], but the season's not over. We'll be there in the end. We're not going anywhere, I still believe we're the best team in the state.
"We lost, so what, we still have the best kids. Those guys (Brighton) are good, they're good for a reason. They'll be there in the end, and so will we. It's going to be tough to beat a team three times, believe me."
McCarthy was making a reference to the fact that with the win, Brighton got their second consecutive regular season sweep over the Titans. New Mission hasn't beaten Brighton since the 2011 Division 2 North Final, a 55-53 Titans win. Mission went on to capture their second consecutive state title following that win.
"[Tonight] was a total mental breakdown, a mental collapse," McCarthy said. "We didn't execute the way we did in the first half. We may have run out of energy, we were a little bit too amped like we were for the first game. There's still a lot of youth out there, and we don't have one guy that can take over a game and carry us to where we want them to carry us.
"I don't care what happened tonight. We could have lost by 80, but we're still the model program in the city. They get up to play us, they always play well against us. Some teams are just a bad matchup…they're a matchup problem for us."
December, 30, 2012
12/30/12
9:10
AM ET
By
Greg Story
| ESPNBoston.com
BOSTON -- Junior phenom Jared Wilson-Frame led the way for Windsor (Conn.) with 28 points in their BABC Holiday Classic showdown against New Mission, and the Warriors were able to hold off a barrage of points from the Titans in the final minutes, escaping with a 74-71 win.

"Well it's a tough environment to play in, it's a good little gym and they're a good team," Windsor coach Ken Smith said following the game. "I'm pretty sure they're going to make runs. I watched them play the other night [against Mansfield], that's a good team you got there and I'm sure this is going to be a springboard for them."

New Mission trailed by as many as 10 points late in the fourth quarter, but were given a nice boost by Isshiah Coleman in the paint. In the game's final minutes, the senior forward cleaned up on the offensive boards and put back six of his 10 points on the afternoon.

The Titans (4-3) were able to cut the deficit all the way down to one in the closing seconds on a steal and fast-break lay-up from Percio Gomez, but were slow to commit a foul on the ensuing Windsor (5-0) possession and had to settle on sending Wilson-Frame to the line rather than senior Jaquan Harrison.

After Wilson-Frame hit both free throws to extend the lead to three, New Mission, with 7.3 seconds left on the clock, looked to leading scorer Juwan Gooding (18 points, six assists) to send it to overtime. Windsor was ready though, triple-teaming Gooding behind the line as the sophomore tossed up a prayer that found the backboard and the rim, but not the net.

Following the game, New Mission head coach Cory McCarthy attributed his team's loss to their performance at the free throw line (7 of 21), and the effort on the boards by his bigs.

"I'm not upset about the loss at all," McCarthy said. "That's something that the players have to put on themselves. They have to say to themselves 'I have to get better, I have to do better, I gotta help our team win', and that's what it came down to."

"I like Windsor a lot, I like what they did, and I'd play them a hundred times if we could. At the same time, I feel like we didn't stay true to who we were today."

Guarding Windsor: Entering today's game, Windsor averaged just under 80 points per game, including a 94-point performance two weeks ago against South Windsor (Conn.).

The Warriors are led by Wilson-Frame, a 6-foot-4 junior who is drawing interest from Miami, Providence, UConn and UCLA just to name a few.

Included in his 28-point performance was a put-back that put a halt to a 7-0 scoring run in the closing minutes for New Mission, two free throws that found nothing but net with the game on the line in the final seconds, and a silky-smooth drive to net throughout the game that is surely leaving scouts drooling.

"We came out in a diamond and one [press]," McCarthy said. "It was pretty effective against him but he hit some huge hero shots. He played Superman for them tonight and he delivered. I thought our diamond and one bothered him early, and then when Nate [Anderson] came out of the game we had less length on him."

McCarthy was also quick to credit Windsor point guard Tyler Rowe who, despite being listed at just 5-foot-6, gave New Mission fits on the glass and on the floor through out the afternoon.

"He was tremendous, every decision he made was 100 percent right," McCarthy said. "He was totally efficient, and I have no problem with that."

Grueling three-day swing: No matter what the future may hold for this year's New Mission team, no one can look back at the end of the season and say they played a soft schedule.

For that reason, McCarthy likes his team's chances going forward.

In the past three days, the Titans have taken on a Christ The King team thought by many to be No. 1 in the state of New York; beaten previously-undefeated Mansfield, ranked number No. 4 in ESPNBoston.com's statewide poll; and hung until the final minutes against a Windsor team that is also ranking in at No. 4 in Connecticut.

"You will see in the middle of January, how much better we are because of this," McCarthy said of the three-day stretch. "This is no disrespect to anybody else, but we won't see three more teams as good as the three teams we just played for the rest of the year.

"If we can play above, or at that level that we played at for the last three days, I'm confident of where we will be in the end."

Asked what his motivation was to schedule three straight games against three teams of that capability, McCarthy pointed to building his team's character.

"I just want my guys to get tougher," he said. "I want to deflate some egos. If we start reading the clippings, and thinking that we're better than everybody else...It humbles guys.

"So we see that sort of level. Can we match that level? Can we win on that level? I think we can, I think we have some little things that we can work on to get it done."
December, 15, 2012
12/15/12
2:01
AM ET
CHARLESTOWN, Mass. -- It was a physical contest to open the loaded Boston City North slate for both squads. But more importantly, at least for New Mission, it was an ugly contest.
History shows that when New Mission is "playing ugly"
like they did in their 2010-11 state championship season
, they tend to win. So while the No. 4 Titans' 87-60 win over a green Charlestown squad was full of turnovers and fouls, it was also full of floor burns, hard elbows and overall just getting nasty with one another.
Just how head coach Cory McCarthy likes it.
"If you remember my previous season [2010-11], we've never been pretty," McCarthy said, alluding to his 2011 MIAA Division 2 state champion squad. "Last year, I think we got a little too pretty, trying to do cute things like hit three's off of curls and stuff like that. So I think this year, we just got dirty again. We scratched, scathed and clawed again. That's New Mission basketball."
At the same time, there was something organic about the Titans (2-0) when sophomore point guard Juwan Gooding (23 points, five 3-pointers, seven rebounds) was in his element. The 6-foot Dorchester resident accounted for the Titans' first 11 points, including back-to-back-to-back three-pointers, to kick things off and put the Townies (0-1) in hurry-up mode early.
"I was just feeling it," Gooding said of the opening minutes. "I had my stroke going. When I hit one, I just thought I'd keep going."
At the other end, Gooding at times brought frenetic energy, meeting the ballcarrier at half-court and tried to pin him to the sideline, keeping his arms and hips active in an effort to try and jar the ball loose. Towards the end of the first quarter, this led to an easy breakaway layup by Shaquan Murray (14 points) that made it 17-10. Gooding finished with four steals total.
That defensive mentality -- harrass your man, invade his personal space, make him uncomfortable -- has permeated for years. But on this night, Gooding's hot hand from the outside was just as contaigious.
The Titans hit 11 three-pointers in all, seemingly none more important than the back-to-back sequence that made it 60-42 with less than three minutes to go in the third quarter. First, Percio Gomez (11 points) caught a sideline inbounds pass from Murray at the right elbow, then immediately kicked it back to Murray, who had strafed towards the corner. The next time down, Gomez took the ball at the right wing and drove deep baseline, kicking back out to Gooding for the 18-point advantage.
Mission closed the third quarter leading 71-45, after Gomez was award three free throws at the buzzer, having nailed five 3-pointers in that stanza alone. Six-foot-4 junior Fred "Bam" Rivers provided some muscle underneath, coming up with 10 points and nine rebounds.
Charlestown got a bulk of its production from 6-foot-6 transfer juniors Freddy Oliveira (15 points, eight rebounds) and Allijah Robinson (11 points, eight rebounds).
Breaking the Zone:
Charlestown broke out of a midseason slump last year by switching to a 2-3 zone (for seemingly the first time in school history), and rode that all the way to a Division 1 Eastern Mass. championship berth at TD Garden. Head coach Edson Cardoso says he still plans to mix things up between zone and man this season, but early on the Townies had some great possessions in the 2-3 zone defense, getting deflections up top from Robinson and Jimmy Edwards, as well as junior Taris Wilson.
Yes, the Titans attacked the zone with perimeter shots, hitting 11 three's. But on some nights, perimeter shots is not how you beat the zone -- sometimes, that's how the zone beats you. Mission, however, turned it on Charlestown by throwing some 2-3 offense right back at them.
"Most teams set up in a 1-3-1 against a 2-3, we run a 2-3 against a 2-3," McCarthy said. "We bring the three against the two, so we just go odd-even, our odd against their even, and then we just weave them. Then eventually, we duck a big in and throw it over the top, and we have isolation. So, that helps us playing against man or zone.
"For me, I struggled last year trying to figure out how our offense works. I think we have something that works, because I have such smart guys in the high post -- Chima [Ebele], Fred [Rivers], Nate [Anderson] when he's healthy. We're versatile, and we're not the same team as last year."
Anderson easing back:
Six-foot-7 senior center Nate Anderson has been slowly making his way back into the lineup, after being hamstrung the last week or so with an ankle sprain. Tonight, he got most of his minutes late in the game and nearly unnerved McCarthy when he went up for a dramatic tomahawk dunk in transition, missed, and hit the floor hard with a hard foul.
A few possessions later, Anderson broke to the top of the key for a deflection and steal, then broke away for a thunderous one-handed slam, drawing a wild reaction from the crowd with about two minutes to go in the game.
"Nate sideline to sideline is just disruptive," McCarthy said. "And he has it now, he has the passion now."
Bridges remains out:
Sophomore point guard Greg Bridges remains out of the lineup, and McCarthy says the 5-foot-7 spark plug isn't even practicing with the team right now.
Bridges started as a freshman last season for the Titans, and built up some hype for 2012-12 after an explosive showing at AAU Nationals last July, reportedly hitting 11 three-pointers in one game.
"He needs to take some time off, that's all," McCarthy said.
And the reason?
"Nothing really, other than to really focus on his future -- and he has a future," McCarthy said. "And we want to make sure we secure a future for him. He's a good kid, he just has to have some maturity."
The next Rony?
Cardoso was asked about the play of Gooding, and he brought up a familar name in Townie basketball folklore -- Rony Fernandez, the point guard who catalyzed the Townies to their first North sectional title since 2005 last March, and subsequently was named to ESPNBoston.com's MIAA All-State Team.
"He reminds me of Rony a little bit," Cardoso said. "Similar game, you know, Rony could shoot from deep, Juwan can handle it...He's a tough matchup, he's going to hurt a lot of teams."
November, 30, 2012
11/30/12
12:03
PM ET
By
Chris Bradley
| ESPNBoston.com
CAMBRIDGE, Mass. -– Notes and observations from last night's scrimmage between talented ISL squad BB&N and Boston City League power New Mission, considered one of the favorites to make a long run in the MIAA Division 2 basketball tournament:
Pressure D the key:
New Mission set the tempo from the tip-off, getting in the face of BB&N's guards with a 2-2-1 full court press, and then falling back into man-to-man. With their guards getting jumped every single time they crossed halfcourt, BB&N had a hard time getting anything going offensively early on, and New Mission had many 2-on-1 lay-ups in transition as a result.
Anderson Playing Inspired
: Forward Nate Anderson was an enigma last year for New Mission, to say the least. However, the 6-foot-7 senior has come back this year and completely transformed his body, effort, and inside game. Defensively, his effort was top-notch while he showed a combination of versatility and aggressiveness in his offensive game. On many occasions Anderson ignited the fast break, distributing the ball on the offensive end of the floor or finishing it himself inside. He's playing faster, stronger, and with much more energy; if he keeps that effort going for a whole season, coach Cory McCarthy's team is a state title contender.
Isshiah Coleman will also be a force on the post this year for the Titans. The 6-foot-5 senior has long arms and great timing, and as he proved on Thursday night, he will be one of the most intimidating shot-blockers in the MIAA.
Titans Deep At Guard:
There will be no shortage of playmakers are guard this year for the Titans. With sophomore point guard Greg Bridges serving a suspension due to an unexcused absence from practice, junior Shaquan Murray and sophomore transfer Juwan Gooding stepped up and did a lot of New Mission's scoring, standing out especially in the first period where New Mission beat BB&N 26-5.
Gooding, a Bay State League all-star last year at Milton High, has the talent to become one of the MIAA's most prolific scorers. His jumper from the outside is lights out, he uses a quick first step to get to the rim at will, and yet he still manages to give more effort on the defensive side of the ball than on offense, as seen by the several turnovers he forced in the game.
New Mission guard Percio Gomez was a pleasant surprise. Gomez is a senior whom McCarthy says has truly earned the minutes that he will get this year. He's a strong, quick guard with a great-looking outside shot who can be expected to be an underrated rotation guy for the Titans.
Underrated Prospects
: BB&N has a couple of talented sophomore guards to keep an eye on the next couple years.
Koby Antwi's athleticism was very impressive, several times finishing tough shots around the rim. On one occasion, he crossed up Gooding and finished an acrobatic lay-up through two New Mission defenders, drawing "ooh's" and "ah's" from the crowd.
The other guard, Nick Jacobs, was playing his first game since an ACL injury, and did a nice job of managing the BB&N offense. As he continues to get back to full strength, he will be a tough player for ISL opponents to stop.
Nick Tarantino, a 6-foot-6 junior, had a hard time with Anderson and Coleman early on, but started to play a lot more aggressive in the final period. He didn't seem afraid to throw his body around, he was all over the glass, and he showed that he can step out and hit the three.
December, 28, 2011
12/28/11
12:12
AM ET



CHELSEA, Mass. -- St. John's Prep head coach Sean Connolly was reminded of his team's 18-2 run to start the nightcap of Tuesday's slate of games at the BABC Holiday Classic, and offered some pointed praise.

"We've been disappointed with our defense early on in the season, and we came out and played a lot better defense today," he said following his Eagles' 69-60 win over the Titans, which puts them in Thursday's finals. The Eagles also beat New Mission in the opening round of the "Class A" division last year's BABC tournament.

Down the other end, New Mission head coach Cory McCarthy was reminded of the start, and offered one of his trademark long, exaggerated groans.

"They kept five guys in the paint, and they dared us to shoot the ball," he said. "And the problem was, we couldn't stretch the floor."

Losing one of their leading scorers Percio Gomez (18 points per game) for disciplinary reasons, and playing star forward Isshiah Coleman for less than 20 minutes due to foul trouble, didn't help matters. But it was domination on both ends of the floor to start the game for Prep (4-0), which opened the game in a sagging man-to-man defense aimed at filling the lanes to force perimeter shots from the Titans (3-1) and taking away dribble-drive penetration.

When the Titans did try to go inside, the Eagles were usually in proper position for drawing contact and using aggression against them; three charges were called on Mission in the opening stanza.

"We were scared of them penetrating, so we really wanted to get the help defense in, and make them have to beat us from the outside," Connolly said. "We did a good of helping up, and stepping in and taking charges."

It was very efficient to start, as the Eagles led 18-2 after one quarter and 37-22 at the break. Mission stormed back in the fourth quarter with a 15-5 run, cutting the Eagles' lead to 56-53 on a Leroy Hamilton (16 points) layup from the baseline with 3:51 to go. But the Prep was particularly efficient in free throws in the fourth quarter to ice it, with the Eagles hitting 15 of 16 from the line -- including a perfect 8 of 8 by Owen Marchetti (12 points).

For the game, the Prep was a very respectable 35 of 38 from the free throw line.

"Our team shot pretty good from the line," said senior guard Mike Carbone, who led all scorers with 18 points. "I don't know how many we missed, but that was definitely our best game from the line."

Senior Steve Haladyna had yet another double-double with 14 points and 10 rebounds, while Freddy Shove also had 11 points and six boards.

Rinse and repeat: As impressive as the Eagles' game-opening defensive stand was, they were also just as efficient in breaking the Titans' 2-2-1 full court press. Over and over again, the Prep ballhandler would push the ball up one sideline to halfcourt and heave it down court towards the opposite sideline as a second trapping defender approached.

"We wanted to throw it over the top," Connolly said. "We'd seen them before, and thought they really overextended those two back guys, so we wanted to try to beat it over the top. We felt dribbling through it wasn't a good option for us, we wanted to pass over it."

McCarthy admitted his players were "a little undisciplined" in their press, "because we were too anxious."

"Usually, our idea of our pressure is to challenge the ballhandler," he said. "We backed up. We were just so inexperienced, that we'd be looking at the score as we were running back on defense. The score concerned us so much today. But you know, it happens. We're talented, but we can't be on a pedestal because we have a lot of growing pains to do."

Carbone steps it up: Connolly praised Carbone's effort the last few games, after getting off on a shoddy start to the season.

While not incredible, consider tonight a spin in the positive direction. The spunky 5-foot-8 senior came out firing, with a little bit of his customary swagger, and was 3-of-5 from three-point range, his only field goals of the night (he was 3 of 9 from the field overall). From the free throw line, he was a perfect 9 for 9.

"I haven't been shooting the ball that well lately, and it's gotten to my head," Carbone said. "In practice, I've been focusing on my shot more than anything else I've done. I don't know, it's just the adrenaline, you know? I got into it."

Fab Froshies: One of the most intriguing subplots of this game was the matchup between two freshman point guards, Prep's Marcos Echevarria and Mission's Greg Bridges. Both are undersized for their position, but are quick off the dribble and demonstrate maturity and an overall even keel when it comes to shot selection and distribution.

When the Titans mounted their comeback in the second half, it was Bridges that kick-started it. The 5-foot-5 waterbug notched six assists in the third quarter alone, and eight overall for the game. Echevarria won't be lighting up the score sheet on many nights, what with the Eagles' four seniors' abilities, but he showed a good understanding of Connolly's motion offense, and initiated ball movement.

"I thought their kid played well, he didn't turn the ball over," McCarthy said of Echevarria.

As for Bridges, McCarthy continued, "He has to learn to force the action a little bit, because even as a freshman he makes good decisions. He could do that [six assists in third quarter] all the time. He's still a freshman, still a young boy, so I think what ended up happening is he didn't try to do too much when I wanted him to do more.

"It's scary to say that of a freshman, but he's so talented that he should do a lot more. He should look for his shot, look for the action, and I know that's crazy to say about a freshman but he should force the action. He has to be involved, and he wasn't involved the way he should have."