Boston High School:

Peter Anastos
May, 23, 2013
5/23/13
12:52
AM ET
By
Ryan Kilian
| ESPNBoston.com
READING, Mass. – No. 8 Concord-Carlisle lacrosse stormed out to a 5-0 lead after one quarter and never looked back as they defeated No. 16 Reading, 9-7, behind an intelligent and disciplined defensive effort.
Despite a furious second-half comeback, Reading (16-2) cou;d not overcome a six-goal second half deficit on Wednesday in both team's final tune-up before post-season play begins next week.
[+] Enlarge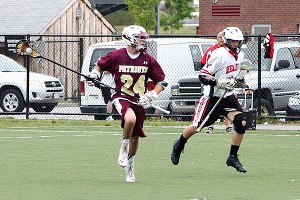 Ryan Kilian for ESPNConcord-Carlisle long-stick midfielder Nick Brozowski collected eight ground balls in the Patriots' 9-7 win over Reading.
The Patriots would maintain their 5-0 lead through the second quarter and in to the half as their senior defensive unit of Evan Boynton, Sam Barrett and Javier Flores did an excellent job of containing the explosive Reading attack unit.
"This is the best we have played defensively," Concord-Carlisle head coach Tom Dalicandro said after the game. "I was really worried about the match-up because the have three really good attackmen. Sam Barrett had his best game of the year for us today and Evan [Boynton] and Javy [Flores] also played well. They are three all-league kids on defense and I think they rose to the occasion today."
Don't look now but the defending Division 2 state champion Patriots (12-5) have won four games in a row and seven of their last eight, including wins over Lincoln-Sudbury and now Reading, as they head into tournament play with plenty of momentum.
"We feel really good about ourselves," Dalicandro said. "I think we can compete with anyone but we need to do the three key things we talk about. We need to value and share the ball, play great team defense and get saves from our goalie."
Concord-Carlisle completely dominated the start of the game and led 6-0 until 2:58 on the clock in the third quarter when Greg Connery would score the Rockets' first goal of the game.
Reading goalie Matt Comerford (10 saves) would then come up with a big save as the clock ticked down in the third quarter and Conor Frazier would take a deep outlet and find Charlie Colvin (2 Goals) for a goal with point-one seconds remaining on the clock.
Trailing 6-2 heading into the final quarter of play, Reading would come to life and begin to get out in the open field as they would cut the Concord-Carlisle lead to 8-4 with 6:36 to play.
"We want to play our style of lacrosse," Reading head coach Charlie Hardy said. "We are a little more run and gun and we want to get out in transition."
After Reading (16-2) started to seize momentum, Concord-Carlisle attack Tim Badgley (2G, 1A) would score and important ninth goal with 5:40 on the clock to give Concord-Carlisle a 9-4 lead.
Reading would not let down, however, as Charlie Colvin, Mark Dente and Eric O'Brien all netted goals to cut the C-C lead to 9-7 with one minute remaining in the game.
"I think the kids put a lot of spirit into the comeback," Hardy said. "The team you saw at the end is the team that we have."
C-C middie Will Blumenberg would help the Patriots secure a key late possession in the final minute of play to seal the win.
Blumenberg led C-C with three goals on the day while middie Peter Anastos (1G, 1A) also played well offensively for C-C.
"You can't spot a team like that goals," Hardy said. "They are too sophisticated and they are too well coached."
Concord-Carlisle and Reading will now both await the seeding selection for Division 2 on Friday to see whom they will face next week.
"We love playing them as it is a character game," Hardy said of the annual end-of-year game with C-C. "We want to play them at the end of the regular season so now we get to see what we need to work on."
Concord-Carlisle also received a strong game from long stick middie Nick Brozowski, who had his usual strong game on groundballs, scooping up eight, and using his quick stick to force multiple turnovers.
Andrew Kielar also played well in net for C-C as the sophomore came up with five of his nine saves in the first half.
April, 18, 2013
4/18/13
3:24
PM ET
By
Bruce Lerch
| ESPNBoston.com
CONCORD, Mass. -- Charlie Painter is an attack player by trade, but with teammate and top midfielder Will Blumenberg still recovering from a football injury, Painter proved pretty adept as a middie in his own right despite next to no practice time at the position.

Painter and Blumenberg each recorded hat tricks to help lead the Patriots to an 11-6 victory over Winchester in the final game of Day One of the Coaches Challenge Cup tournament at Doug White Memorial Field.

Blumenberg, a three-sport star who quarterbacks the football team and serves as the basketball team's point guard, suffered a foot injury during the Patriots Thanksgiving football game against Bedford. He missed the hoops season and is playing at far less than his full capacity thus far on the lacrosse fields. C-C coach Tom Dalicandro elected to move him to attack to save him some wear and tear while turning to Painter, one of the team's captains, to handle midfield duties.

"We kind of yo-yoed (Painter) because he's a really smart kid," explained Dalicandro afterward. "We put Will at attack and we let him play middie without really coaching him that much. He's a really smart kid, he knows how to play and he's a kid we can move around a little bit. We expect him to compete for us and do a good job as one of our captains."

The move also benefitted Blumenberg, who turned in his best effort so far, adding a hat trick and 10 faceoff wins to his game totals.

"This was the best he's played all year," Dalicandro said. "Will's probably about 50 percent athletically of what we was from last year because of his foot injury. Will's a middie but for us he's been struggling getting up and down the field so we played him mostly at attack and he took some faceoffs. Sometimes he just makes plays, which we need. He can carry the ball a little bit and has a good shot. I thought this was the best he's played. This was back to the Will from last year."

Winchester (3-2) was the team that got off to the stronger start, however, as Tim Mangano and Evan Carey both scored to stake the Sachems to a quick 2-0 lead. Concord-Carlisle (4-2) responded with the first of two goals from Jack Barrett and proceeded to run off six straight before Gerald Nluve stopped the bleeding for Winchester right before the half.

The Patriots blanked the Sachems in the third while scoring five of their own as Painter, Blumenberg, Barrett, freshman Aidan Cyr (two goals) and Peter Anastos all found the back of the cage to push the lead to 11-3. Winchester fought the entire way and made things interesting in the final frame as Tyler Calnan got one and Dan Marx scored twice, the second coming with 2:56 to go, but C-C was able to hold on from there.

"The thing I was very pleased about was that, even in our youth and our immaturity and our inexperience, we competed hard," said Winchester coach John Pirani in praise of his team. "I don't think we competed smart for 48 minutes but we competed hard for 48 minutes. And you could see our inexperience. Three sophomore attackmen, a couple of freshmen playing at midfield and we just didn't take advantage of what a good team gave us. They gave us a few things, we just didn't take advantage of it. But the thing that comes through here in the middle of April, and hopefully in preparation for the end of the season, is that we'll learn those lessons and get more consistent and tougher all the way through."

WELLESLEY 7, ANDOVER 4: New players stepping means new nicknames for kids who will go by "Risky Biz" and "No Name Bobby" for the time being. The hope is that those players, and others whose nicknames we've yet to learn, will help the Raiders continue to improve with each practice and game day.

Tucker "No Name Bobby" Dietrick scored twice, as did John Caraviello, and Mike "Risky Biz" Riskind made 12 saves to lead Wellesley (3-3) while Andrew Eriksen had two goals to pace the Golden Warriors (2-2).

Andover built a 3-1 lead at the half on goals from Eriksen, Jesse Greaves and Justin Bresnan while the defense did a tremendous job of limiting the Raiders to just a lone tally from Kerry Lyne.

Senior captain Andrew Volkman changed the momentum by owning the faceoff X in the third quarter, sparking Wellesley to a four-goal spurt that gave them a 5-3 advantage to take into the final frame.

"Volkman did a great job at facing off today, had some good help from the wings," praised Raiders coach Rocky Batty. "Tucker Morgan, who was out there with him on the wing, I thought did just a fantastic job of keeping it on the ground and giving us a chance to win the ball."

Eriksen fired in his second score early in the fourth to pull his team to within a goal but Caraviello put in his second, then Brian Pedersen capped the scoring with a beautiful transition goal off an Andover turnover with 55 seconds remaining.

"At the end of the third, I think we had taken the lead by then," Batty recalled. "The three coaches got together and said, 'We're still not running an offense. We're kind of getting hustle goals.' And I can't think of the last time a coach argued about a hustle goal, but after that we had to run some offense. We had possession, we struggled with transition all day and then we finally got that last one which, maybe that leads to a lot of transition from here, we'll find out."