Boston High School:

Peter Chiarelli
June, 23, 2012
6/23/12
1:40
PM ET
[+] Enlarge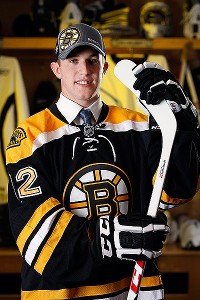 Gregory Shamus/NHLI/Getty ImagesBruins draft pick and Charlestown native Matt Grzelcyk will play at Boston University next season.
After making waves with their first-round pick on Friday night, the Boston Bruins kept things close to home for their third-round selection in the NHL entry draft.
With the 85th overall selection, the Bruins tabbed United States National Team Development Program U-18 (USHL) defenseman Matt Grzelcyk. The 5-foot-9, 171-pound, puck-moving blueliner is a Charlestown, Mass., native who grew up a stone's throw away from the TD Garden.
Being drafted by the Bruins isn't Grzelcyk's only link to the Bruins. His father, John, is a longtime member of the "bull gang" at the Garden.
The 18-year-old will bring his hockey game back to Boston next season when he joins Boston University. Grzelcyk was also a member of the gold medal-winning Team USA squad that claimed its fourth straight title at the IIHF World Men's Under-18 Championship in April.
• Here's a snippet of Grzelcyk's reaction to being taken by the hometown team today, courtesy of the Bruins communications staff:
On whether he had any indication from the Bruins that they might draft him
: "I met with them, so I mean I kind of had a rough idea, but you know I didn't really come in with high expectations. So, it's kind of a shock, but I couldn't be happier."
On whether 84th was where he hoped and expected to be picked:
"Not really, no, to be honest. You know I wasn't ranked that high, I'm kind of a smaller guy, so it was pretty unexpected, but what can you say, you can't go wrong."
On going through the draft with so many New England players:
"It's great to see. I've known these kids ever since I was young, so it's kind of a surreal feeling to be here with them and I'm just happy to share it with them."
On how his time with USA Hockey has helped him develop as a player:
"It was probably the best two years of my life, you know I feel like I really needed the development and that's exactly what I got. Being a part of that gold-medal team was just the best feeling I've had in hockey so far and couldn't be happier that I stayed and had my time there in Ann Arbor."
On whether he's ready to handle the pressure of playing for his hometown:
"Yeah, definitely. I mean obviously there's going to be a lot of people like my family and stuff, but I've always had this dream to play for the Bruins and hopefully that comes true one day."
• Bruins general manager Peter Chiarelli touched on Grzelcyk's game earlier this week during his pre-draft conference call with the media. Here's what
Chiarelli had to say
:
"The Grzelcyk kid's a very good, mobile defenseman. He's later on down but he's got a good head on his shoulders."
• Here's what Bruins director of amateur scouting Wayne Smith had to say on Grzelcyk's selection today:
"Well he's the type of kid that plays much bigger than he is. He's got a Bruin mentality. He plays to win; he plays hard; he's hard to play against; he plays a virtually mistake-free game. His decision-making and his ability to move the puck is second-to-none in this draft. Obviously, it's a great story that his father has worked at the Garden for [45] years. We brought him in to Boston in particular because we had keen interest in him, and after meeting with him, we just feel that he could be a part of helping us win another Stanley Cup."
June, 22, 2012
6/22/12
2:26
AM ET
The NHL Draft commences tonight in Pittsburgh and there is a host of New England-based high school, prep school and junior league players who hope hear their name called in the next two days.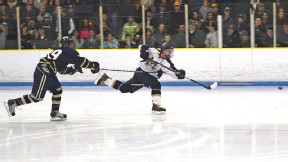 Scott BarbozaMalden Catholic forward and ESPN Boston Mr. Hockey award winner Brendan Collier could be a sleeper in this weekend's NHL draft.
More than 20 local players were represented on the
NHL Central Scouting's final draft rankings
, released in April. So we took the task to the Northeast regional scouts of an Eastern and a Western Conference team to give their evaluations of some of New England's best and brightest.
The region is moving into somewhat of a renaissance. Folks might like to wax about the good ole days, but there's plenty of talent to be found around the local ponds right now. That fact was not lost on Bruins general manager Peter Chiarelli, who earlier this week during his annual pre-draft media availability, spoke about this year's bumper crop.
"It is fairly deep," Chiarelli said. "It's the deepest that I've seen since I've been here and that's a good sign. It's a good sign that the registration numbers – usually, it means they're going up – and obviously the quality of players for the NHL is increasing, too."
So here's a look at some of the local skaters to watch out for and their scouting evaluation.
(Players appear by NHL Central Scouting ranking among North American skaters.)
27. Cristoval "Boo" Nieves, Kent School, C
Scout's take: "He's an incredible skater, a tall, rangy kid. He's more of a playmaker than a goal-scorer and finisher, but that's what his role is, a playmaking-center man. His skating ability is as good or as close to as good as you'll find in this draft."
36. Sam Kurker, St. John's Prep, RW
Scout's take: "He's got great size, a big strong kid. He's a great straight-line skater up and down the wing. [He's got a] big, hard shot and she shows a willingness to play in the hard areas in front of the net, in the corners on the wall."
54. Brian Hart, Phillips Exeter, RW
Scout's take: "He's got a huge shot. He's real strong on the wall. He's a very strong skater, in flight, he can really move.
Scout's take on his soccer prowess as New Hampshire's reigning Gatorade Player of the Year: "You know that overall athletes usually make the best players in whatever sport they decide on."
69. Chris Calnan, Noble & Greenough, RW
Scout's take: "Got better and better as the year went on. He started to play physical and use the body, which I think is everybody was waiting to see. He's got a bomb of a shot. And he's got a commitment to BC now, that was nice to see."
Chiarelli's take: "I mean there are some good kids in the prep leagues and the Calnan kid's a good player – a big strong kid – very physically mature, power-forward type."
76. Danny O'Regan, St. Sebastian's, C
Scout's take: "He's a smaller, undersized forward, but plays with a ton of hockey sense. He's very strong on his skates and plays with a little bit of jam. His intelligence and hockey sense really stick out."
77. Jimmy Vesey, South Shore Kings/ Belmont Hill, LW
Scout's take: "The best player in the area. I don't care where it's at, 100 points is a 100 points [scored with the Kings last season]. He grew a few inches and he's just coming into his own. Harvard stole him. BC and BU were sleepwalking on him. He slid through draft last year, but I thought someone would take a shot. Someone's going to be happy with him this year."
Chiarelli's take: "You've got in the EJ [Eastern Junior Hockey League], you've got the Vesey kid's a good player. He's second time through the draft, but very skilled, had a breakout year there, can really make some really good plays with the puck, whether it's shooting or passing."
79. Devin Tringale, Lawrence Academy, LW
Scout's take: "Talk about a vastly underrated player. I think he's going to go later than he should, but someone's going to get a steal in this draft. He's going to be a big asset at Harvard when he gets there."
88. Frank Vatrano, USA U-18 (East Longmeadow, Mass.), C
Scout's take: "If you were to put him in the Catholic Conference or prep school hockey, he's a 50-goal scorer. He's got an NHL shot right now, he's got such a quick release. He's very hard to knock off the puck. He's become a very good hockey player [with Team USA]."
99. Doyle Somerby, Kimball Union, D
Scout's take: "He's got great size, as a forward turned D-man, so he's a pretty good puck mover. He's more of a stay-at-home defenseman, but a big, rangy kid. Good smooth stride for a kid his size and good speed in flight."
101. Adam Gilmour, Noble & Greenough, RW
Scout's take: "He's got high skill, sets guys up. He's going to get stronger. He's a tall lanky kid. He'll go to BC and that's his type of game, playing a type of run-and-gun game, he'll do fine there."
143. Brendan Collier, Malden Catholic, LW
Scout's take: "We hear this about him, he's just a pure hockey player. Goal line to goal line, he works so hard, got a good compete level. I think he's going to be a great college player. He's got some potential because he just works so hard."
Chiarelli's take: "A couple of interesting one's, the Collier kid, [he is] kind of under the radar a little bit, but a real gritty kid."
177. Matthew Grzelcyk, USA U-18 (Charlestown, Mass.), D
Scout's take: "I love him. His hockey IQ is up there with kids who are taken in the top 15 in the draft. If had to pick one kid to make the right play getting out of the zone, it's him. He thinks the game. He finds the seams. He's a hockey player. I think he'll be running the PP at BU last year. He's that David Warsofsky, Matt Hunwick type of player."
Chiarelli's take: "You've got some kids that kind of went to the U.S. Development Program but are from the area. The Grzelcyk kid's a very good, mobile defenseman. He's later on down but he's got a good head on his shoulders."