Boston High School:

Peter Field
June, 27, 2012
6/27/12
2:07
PM ET
By
Marc Thaler
| ESPNBoston.com
Fundraising totals between the teams competing in the inaugural New Hampshire East-West High School Football All-Star Game couldn't have been much closer.

The game itself? That's a different story.
West's all-stars – widely considered underdogs for the June 23 contest at the University of New Hampshire – proved too tough. The combination of overpowering offense and dominant defense led to a 33-point halftime lead and 44-12 final score.
Thaddeus "Junior" Brown was toughest to cover. Manchester Central High's 6-foot 3-inch, 180-pound receiver made all four of his catches for 87 yards in the first half. Three receptions went for touchdowns, including a 50-yard down-the-right-seam dagger that helped Team West build a 37-6 halftime lead.
"This means a lot. I worked hard for it," Brown, the game's first Bo Dickson MVP, said of the trophy he was handed for his efforts. "The coaches helped me out a lot. I just busted my butt for 10 days. The outcome was this MVP."
Off the field, the outcome of Brown's efforts, as well as the 73 other all-stars, was even more impressive.
Teams East and West combined to raise $51,301.21 for Children's Hospital at Dartmouth-Hitchcock (CHaD) in Lebanon.
Team East was designated the home team. It earned use of UNH football's locker room for winning the head-to-head fundraising contest. Coach Bill Raycraft's players raised $25,751.21 – a mere $201.21 more than West's standouts.
In total, $301,000 was raised for CHaD.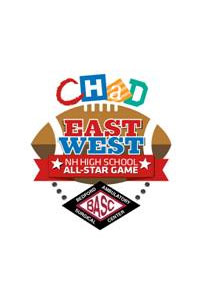 BASCTBD by editorial
"These kids came together and did a heck of a job for a great cause," said Team West coach Keith Jones, whose 6-year-old son, Harris, a CHaD patient, participated in the pre-game coin toss.
Harris was involved in a freak snowmobile accident three years ago. His father has said many times if not for CHaD, right-leg amputation would have been required.
On gameday, the soon-to-be first-grader made an appearance in Team West's locker room prior to warm-ups. It gave the players an additional boost, which carried over to kickoff.
Several playmakers fueled Team West's 37-point first half.
Brown caught a pair of 9-yard TD passes from Manchester West High's Aaron Martin, who also used his speed to sneak inside the left pylon for a 2-yard rushing score.
Merrimack High's Jackson King returned an interception 19-yards for a TD.
Nashua South's Johnny Bieren was crucial to posting a second-quarter safety. He also forced and recovered a fumble on one of his three quarterback sacks.
Central's Stephen Grzywacz – who raised a players-best $5,965 for CHaD – converted five extra points (6-for-6 overall).
East's all-stars committed five of the game's eight turnovers. The favored squad fell behind, 30-0, before Salem High's Jerickson Fedrick returned a kickoff 96 yards to paydirt.
Fedrick, and Pinkerton Academy of Derry stars Kevin Davies and Emmitt Smith, were all neutralized. Combining to rush for 4,649 yards and 57 TDs last fall, the trio managed 99 yards – 28 through two quarters.
Conor Donovan of Division VI cooperative team Inter-Lakes-Moultonborough scored East's second TD early in the third. Derek Paradis of Nashua South answered with an up-the-gut run.
"The first series, I thought we did pretty well. We stopped them (but) right away turned the ball over," Raycraft said. "That's not the way you want to start an all-star game. From there, we pressed a little bit more than we probably should have and, because of that, created more turnovers.
"But, like I told the kids, I had a blast these last (10) days," he added. "I couldn't have asked for a better group of kids. It's going to be fun watching where they go from here. The score will fade, but they set the tone for fundraising."
BASEBALL CHAMPS
Division I
: Dillon Emerson's extra-inning hit snapped two droughts, including a lengthy one for Concord High.
The senior's single down the right-field line scored Pat Cannon and gave the top-seeded Crimson Tide a 5-4 walk-off win over No. 3 seed Merrimack High in the state final June 16 at Northeast Delta Dental Stadium, home of Double-A baseball's New Hampshire Fisher Cats.
Emerson's hit snapped an 0-for-4 skid in the title game and earned Concord (18-4) its first crown since 1980. The Tide lost the state final in 2011.
"I was in the dugout upset over all the missed opportunities I had when coach [Scott Owen] came up to me and said, 'Stick with it. You'll get your at-bat and you'll come through.' He was right," Emerson told the
New Hampshire Sunday News
.
April, 21, 2012
4/21/12
4:31
PM ET
By
Marc Thaler
| ESPNBoston.com
DERRY, N.H. -- Dylan Kelleher dreaded the idea of making the 2-hour bus ride back to Longmeadow High after losing to the same Granite State boys' lacrosse power for the fourth consecutive season.

The senior attackman's four goals – and a monster effort from his teammates – helped ensure a far different outcome in the latest meeting with Pinkerton Academy.

Kelleher contributed to a 12-goal second half for the No. 18 Lancers, whose emphatic 14-9 win Saturday at Memorial Field snapped a losing streak to the Astros that started in 2009.

"Last year, they came out and smashed us right away (15-7). Two years ago, they beat us in overtime (12-11), which was unfortunate," said Kelleher, whose club improved to 7-0. "I'm not really sure about my freshman year, but I know we lost (17-8).

"This is my senior year," he added. "My goal was to beat Pinkerton. Finally."

After the first period, Pinkerton appeared poised to win in a rout. Joe Appolonia (two goals) one-hopped a shot that gave New Hampshire's No. 2 team the lead just 34 seconds into the contest.

The Astros possessed the ball throughout the first frame. They forced turnovers with timely stick checks, won ground balls, recovered nicely when caught out of position, and built a 4-1 lead.

"We came off the bus a little slow. Down, 4-1, it showed the character of the team to battle back," Longmeadow coach John Rauseo said. "We outscored them, 13-5, after the first quarter. That's a nice win."

Momentum began to shift in Longmeadow's favor just before halftime.

Coming out of a timeout, Bennett Leveillee (three goals) scooped a deflected pass and, atop the crease, popped a quick shot past Pearce Connal (eight saves). It was the period's lone marker, registered with 12.2 left on the clock.

Pinkerton (4-2) regained its three-goal cushion after the break. Evan Sweeney charged in uncontested after Cody Desmarais forced a turnover at midfield.

Then, the game-changer: An unnecessary roughness penalty on the Astros. The flag was thrown a moment after the Lancers were whistled for a cross-check.

"It was 5-2 when we get the penalty on them and we decide to retaliate because we were upset that the kid pushed us down, and kicked the kid in the face to get the matching penalties," Pinkerton coach Brian O'Reilly said. "They scored two quick goals and the game wasn't the same after that."

Leveillee buried his chance in 5-on-5 play. Keegan Dudeck (three goals, assist) fired from the top of the restraining box. The goals, scored in a 41-second span, pulled the Lancers within 5-4.

But they were only heating up.

Leveillee again capitalized on a ground ball with a quick pick-and-pop near the crease. Kelleher finished an easy catch-and-shoot from the left post to briefly give the Lancers their first lead.

Drew Kelleher was also instrumental, particularly in the second half. The sophomore took 19 of the game's 27 faceoffs. He won possession for his team 10 times.

Pinkerton's Dom Corsetto (three goals, assist) whipped a game-tying, man-up goal past Glenn LaFountain (seven saves), the unsung hero of the third period. The senior stopper made point-blank saves on Josh Gallant and Peter Field midway through the stanza to prevent Pinkerton from stopping the onslaught.

Longmeadow simply crushed it in crunch time. Eight goals. Five different goal scorers.

Ryan Coombs (two goals, assist) pulled the Astros even at 7-apiece with a long-distance submarine-style shot from the top-right corner.

But, as the clock dipped under 11 minutes, Eric Barsalou (two goals) snapped the deadlock. The Lancers, on top for the third time, didn't relinquish the lead.

Instead, they poured it on.

"Pinkerton is always a good challenge for us," Rauseo said. "It helps us gauge where we are."

Where might that be?

"We're 7-0," Rauseo said. "That's all I know."
April, 13, 2011
4/13/11
2:48
PM ET
By
Marc Thaler
| ESPNBoston.com
There was a time when, before the season's first face-off, predicting the champion in Granite State boys' lacrosse was a pointless exercise.

Even in the preseason, Pinkerton Academy always had the crown locked up.
The Derry program's rich lacrosse history dates back decades, well before the NHIAA sanctioned the sport in 1994.
Coach Brian O'Reilly – who began his 30th season April 12 with a 400-122 career record – led his Astros to the first four NHIAA titles from 1994-97. O'Reilly & Co. won eight of the first nine championships through the 2002 campaign.
But in the eight seasons since that time, the Astros have won just one title (2006). They last played for the Division I championship in 2008.
"We need to get back to where we were. That's been taken from us the last several years in lacrosse," O'Reilly said. "We're not the defending champions. We haven't been the defending champions in a while."
Yet the Astros are this spring's preseason favorite. They narrowly edge Nashua's Bishop Guertin High, the defending champ that's appeared in six consecutive league finals and won three titles since 2005.
It's unknown whether the Cardinals consider their preseason position a slight. But this much is clear: Depth in Division I is lacking this spring. Pinkerton and BG are the runaway favorites to clash for the championship in June.
"I doubt anybody is talking about us as a top team right now, which is fine by us. It gives us a little more incentive to work hard and be there at the end of the year," said Exeter High coach Gerry Holly, whose reigning runner-up Blue Hawks rank behind Hanover High, the third-best club exiting the preseason.
Several teams, starting with Exeter, were senior-laden a year ago. Pinkerton was an exception. They boast experience, roster depth, speed, toughness and, perhaps most important, balance.